Roasted Butternut Soup with Apple, Ginger and Coconut. This silky fall soup is full of flavor and vegan and gluten free.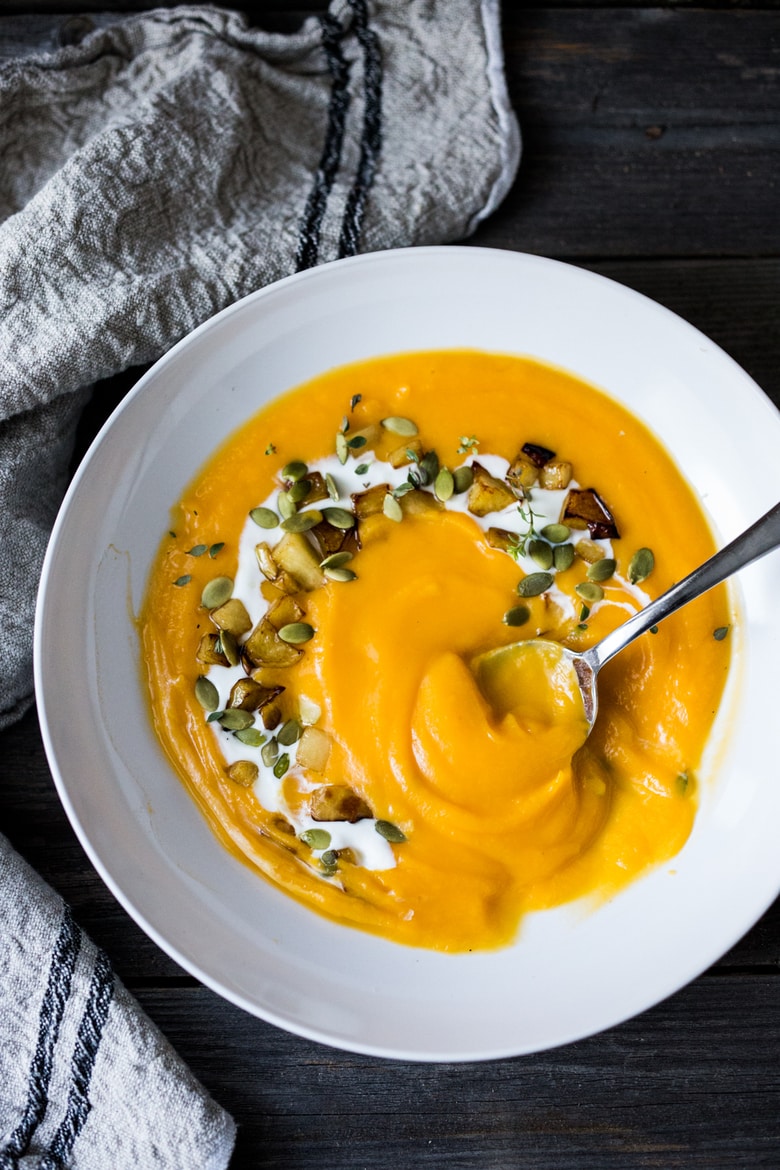 Awareness is like the sun. When it shines on things they are transformed.
~ Thích Nhất Hạnh~
This Roasted Butternut Soup with apple, ginger and coconut is vegan and gluten-free. It's made with very humble,  ingredients, yet feels decadent! It is topped a swirl of warmed coconut milk and pumpkin seeds.
Apples give this Butternut Soup the perfect amount of sweetness and tartness to balance the creamy nutty earthy flavor of the butternut squash. Butternuts and Apples love to be together and compliment each other well. A good marriage.
Roast the butternut squash and sauté the apples, shallots, garlic and ginger.
Blend until smooth and silky with veggie stock and water.  Season and serve.
You can make the soup thick or thin, depending on the amount of liquid you use.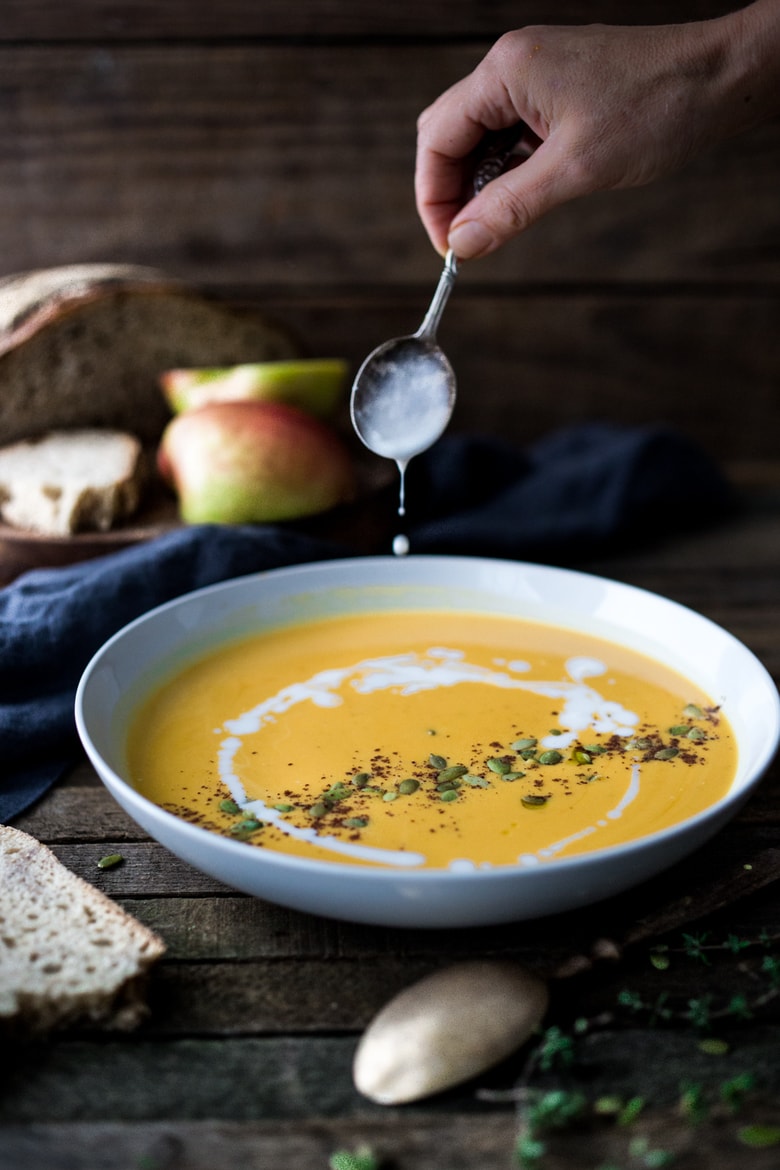 Instead of adding coconut milk directly into the soup, to keep it lighter, just spoon a little over the top, heating it first.
Sprinkle a little sumac for tartness and color if you have it on hand.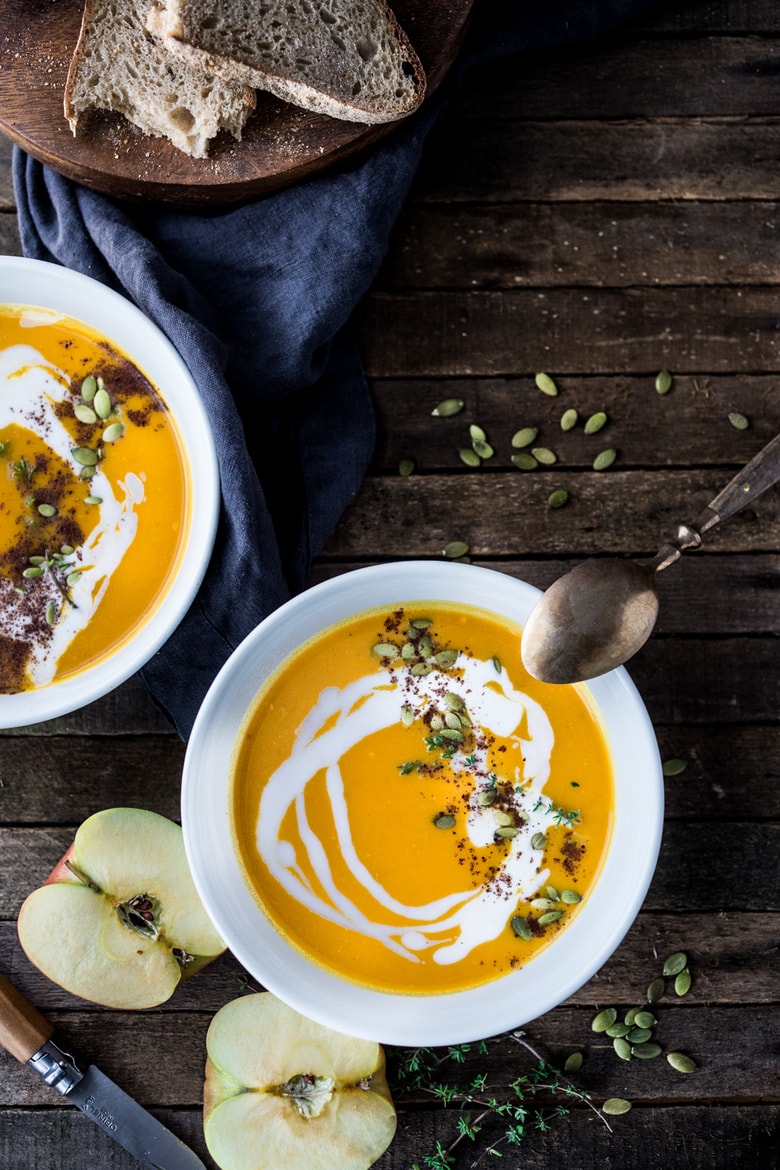 Sprinkle the finished Butternut Soup with pumpkin seeds for added texture.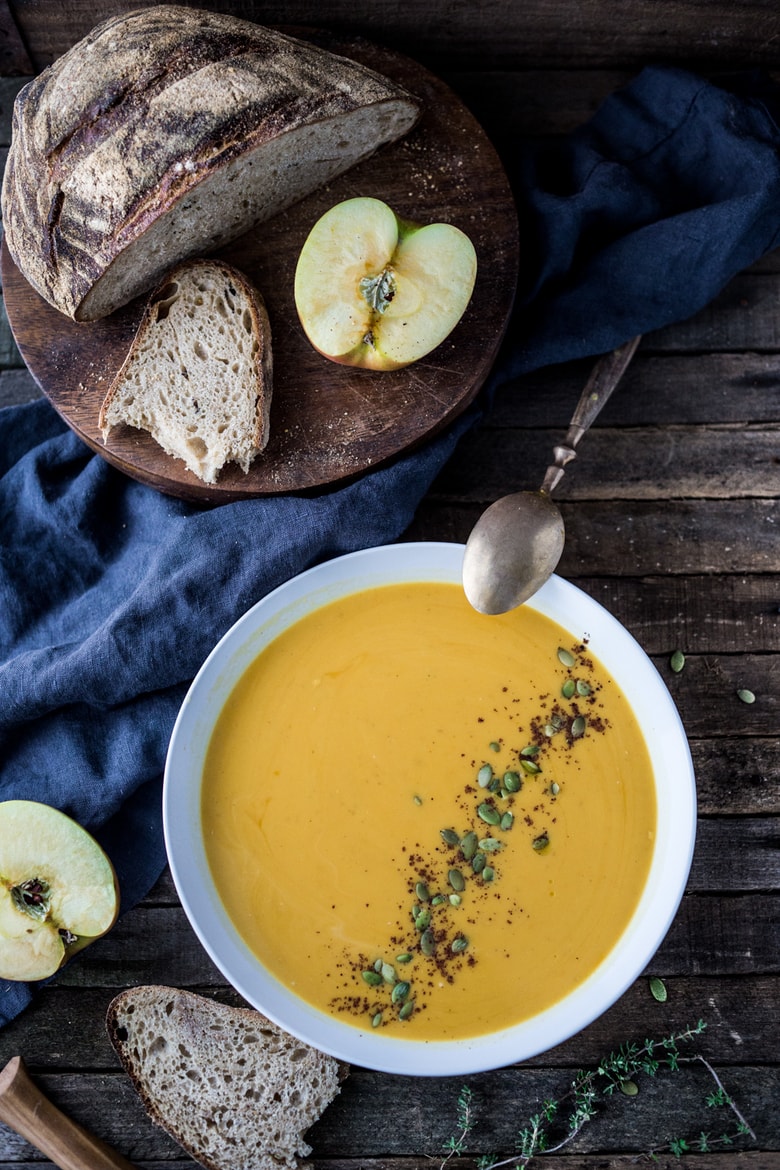 You can also add sautéed, diced apples to the top for texture and a burst of flavor which I did here in this thicker version.
Anyways, it's a tasty soup and easy to make. To make this even faster, roast the butternut ahead, say the night before and store it in the fridge until ready to make the soup. Then the soup only takes 20 minutes.
The leftovers make a tasty lunch. Serve with crusty rustic bread and hard apple cider.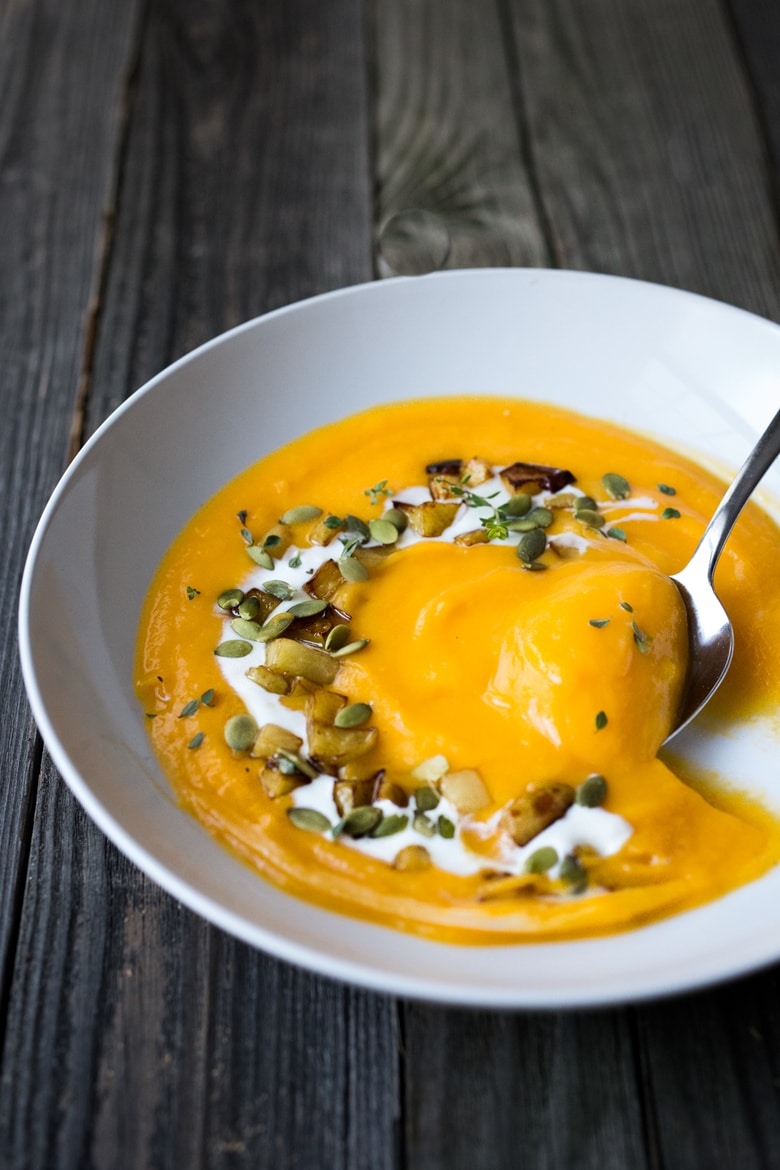 Hope you are getting outside and enjoying this beautiful fall…isn't it sooooo amazing?
Print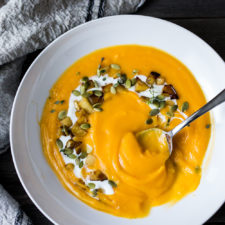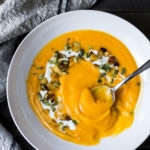 Roasted Butternut Apple Soup with Coconut and Ginger
Prep Time:

20 mins

Cook Time:

30 mins

Total Time:

50 mins

Yield:

4

Category:

Soup, Vegan, Gluten-free

Method:

Roasted

Cuisine:

Northwest
---
Description
A simple recipe for Roasted Butternut Apple Soup with Ginger, Coconut, Pumpkin Seeds and optional Sumac – vegan and gluten free.
---
---
Instructions
Preheat oven to 425F
Split the butternut in half lengthwise, place open side down, on a greased or parchment lined, rimmed sheet-pan. Roast 30 minutes or until easily pierced with a fork, through the skin at the top, narrow end.
While the butternut is roasting, chop the onion, apple, garlic and ginger.
Heat coconut oil in a large heavy bottom pot or dutch oven, over medium heat.
Add onion and apple and cook 6-7 minutes, stirring until golden and tender, then add garlic and ginger, and cook 4-5 more minutes, turning heat down to med low. It will smell divine. Turn heat off.
When butternut is tender, flip them over, let them cool down, enough to handle, then scoop out seeds. Scoop out flesh and place in a bowl, you should have 3 ½ to 4 cups.
Add the apple onion mixture to the same bowl.
Then, blend in batches with the stock and water, in batches until very smooth, using a blender. ( If using hot ingredients, be sure to Hold lid down tight with a kitchen towel–  

to prevent a blender exposion!

) If you like a thicker soup, add less water, thiner soup, more water.
Add the blended soup back into the same pot and warm over low heat. Add salt, maple, apple cider vinegar. Taste.
To serve, divide among bowls, spoon heated coconut milk over top (or stir some into the pot) sprinkle with pumpkin seeds & sumac ( optional) and sauteed apples.
---
Keywords: Butternut soup, butternut apple soup, butternut soup recipes, vegan butternut soup, healthy butternut soup