Cozy up with a bowl of  Roasted Butternut Squash Soup made with roasted butternut squash, apples and sage-  a delicious fall soup that is vegan- adaptable. 
Looking for more? Check out 25 Cozy Vegetarian Soup Recipes!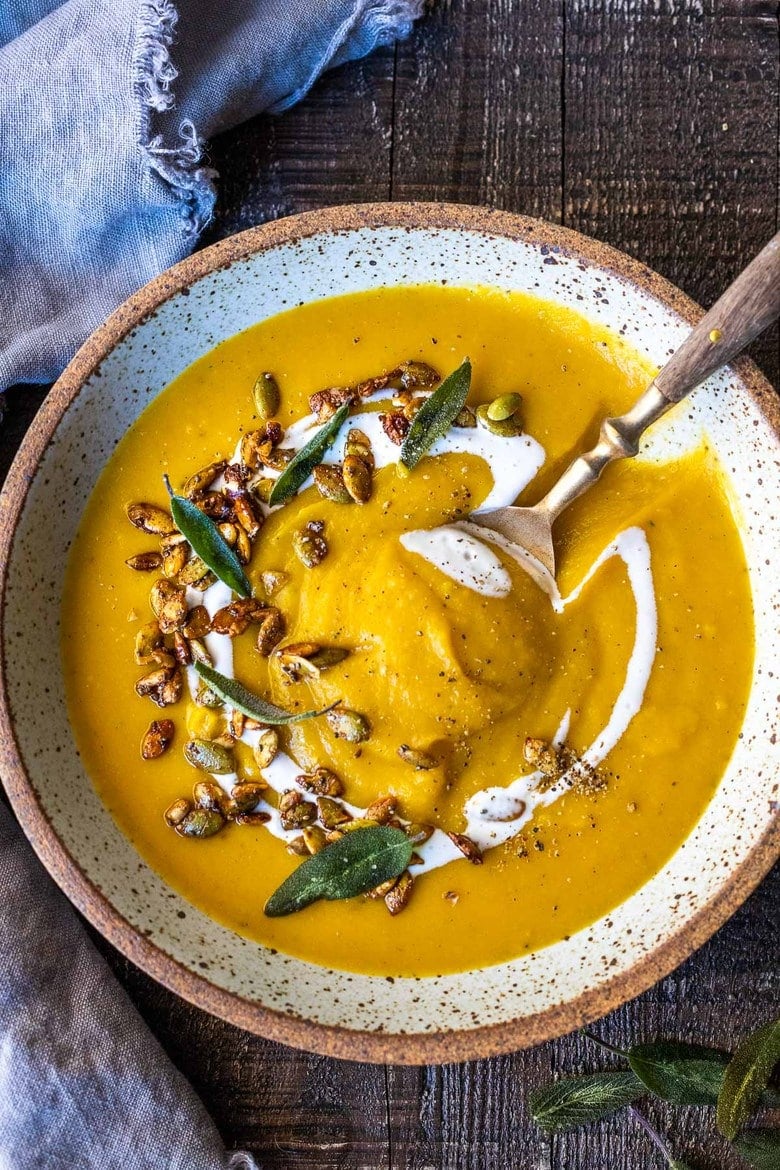 Awareness is like the sun. When it shines on things they are transformed.
~ Thích Nhất Hạnh~
This Roasted Butternut Squash Soup with sage, apple, ginger and coconut is so cozy and comforting.  It's made with very humble ingredients, yet feels decadent! Vegan and gluten-free, it is topped with a swirl of warmed coconut milk and toasted pumpkin seeds.
Apples give this Butternut Soup the perfect amount of sweetness and tartness to balance the creamy nutty earthy flavor of the butternut squash. Butternuts and Apples love to be together and complement each other well. A good marriage.
This soup is so tasty served up with my favorite crusty bread or even sourdough croutons!
 Butternut Squash Soup! | 60-sec Video
What you'll need
butternut squash ( you can also sub other winter squash- Hubbard, delicata, kabocha, etc.) you'll need roughly 4 cups, cooked.
apple- golden delicious, gala, pink lady, honey crisp, – a slightly sweet apple works best here
shallots- or onion
garlic cloves
ginger – fresh or ground, in a pinch.
fresh sage or thyme
 salt and pepper
 coconut milk (or heavy cream, ½ & ½ or other nut or soy milk)
Optional Garnishes- crispy sage, sautéed apple, pumpkin seeds
How to make Butternut Squash Soup:
Step one: Roast the butternut squash

Step 2: Sauté the apples, shallots, garlic and ginger and herbs
Step Three: Blend the onion- apple mixture with the roasted butternut squash and veggie broth, until smooth and silky.  Return to the pot.

Step four:  Add coconut milk or heavy cream (or sub nut milk or half and half).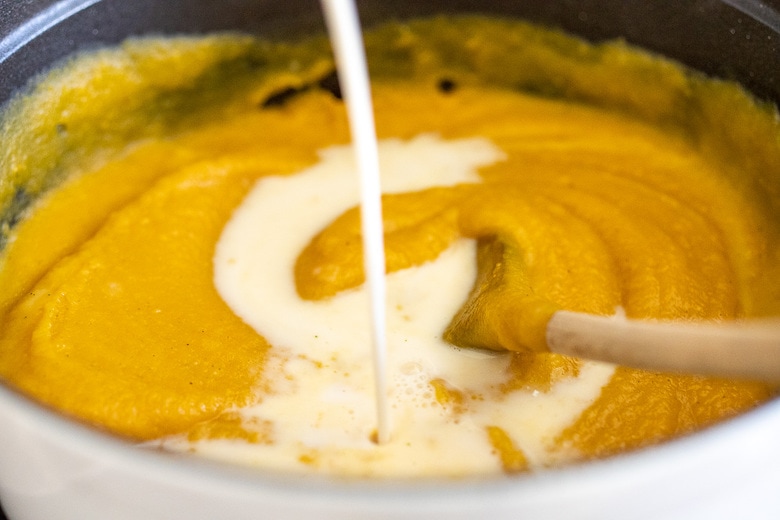 Step five: Season with fresh nutmeg!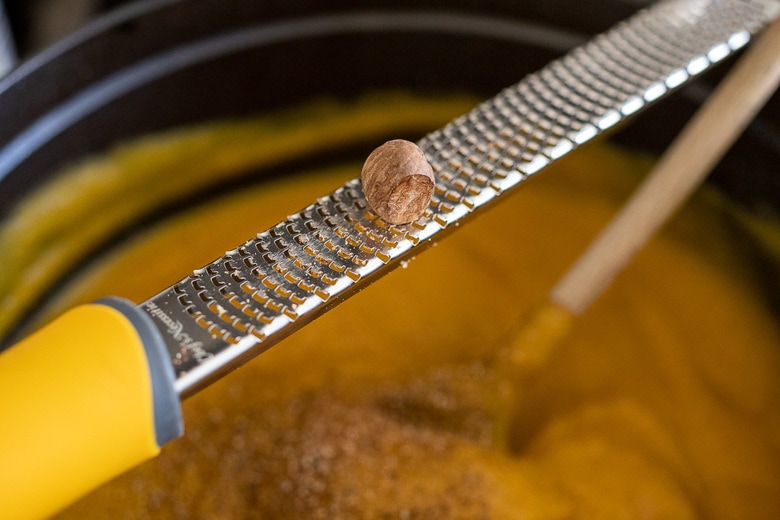 How to make butternut squash soup taste better:
If your butternut soup tastes bland, it may be due to insufficient "depth", spice, sweetness or brightness. This is true for store-bought versions as well.
You can easily add more depth by adding a little miso paste, more onion and garlic, roasted garlic powder, or even half a veggie bouillon cube.  Salt also helps. 🙂
For spice, add a pinch of cayenne pepper. Or branch out and try a little curry powder! A tiny splash of maple syrup can work wonders too to bring out butternut's natural sweetness.
And lastly, sometimes a hint of acid can brighten up a dull soup- a couple of drops of apple cider vinegar, a squeeze of orange. 🙂
Garnish! Here we are using crispy sage and pumpkin seed "brittle".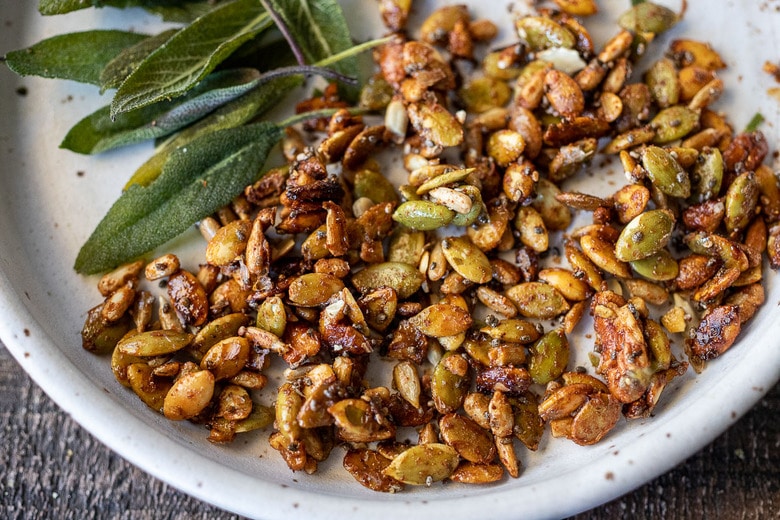 To make the Crispy Sage: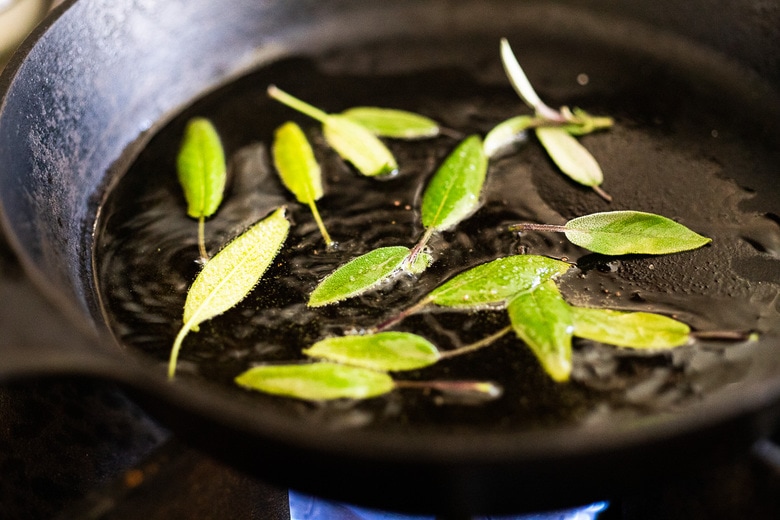 Sizzle the sage leaves in a little coconut oil or butter, until crisp, about 1 minute. Blot on a paper towel.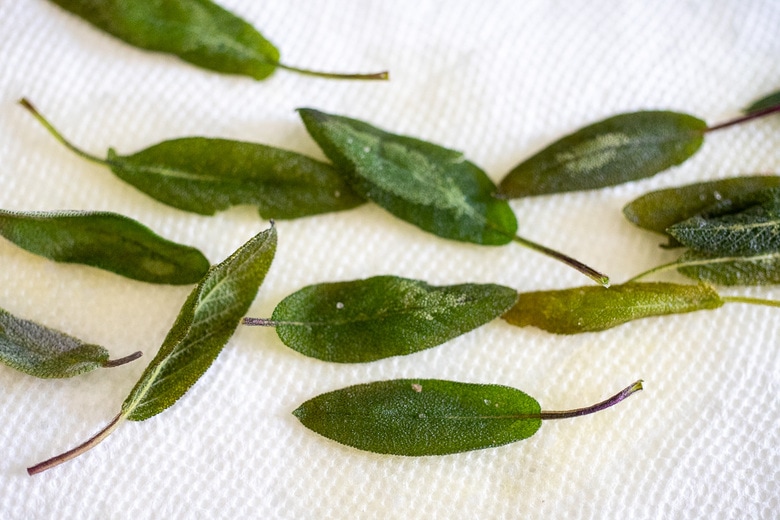 Make the Pumpkin Seed Brittle- see the recipe notes. 😉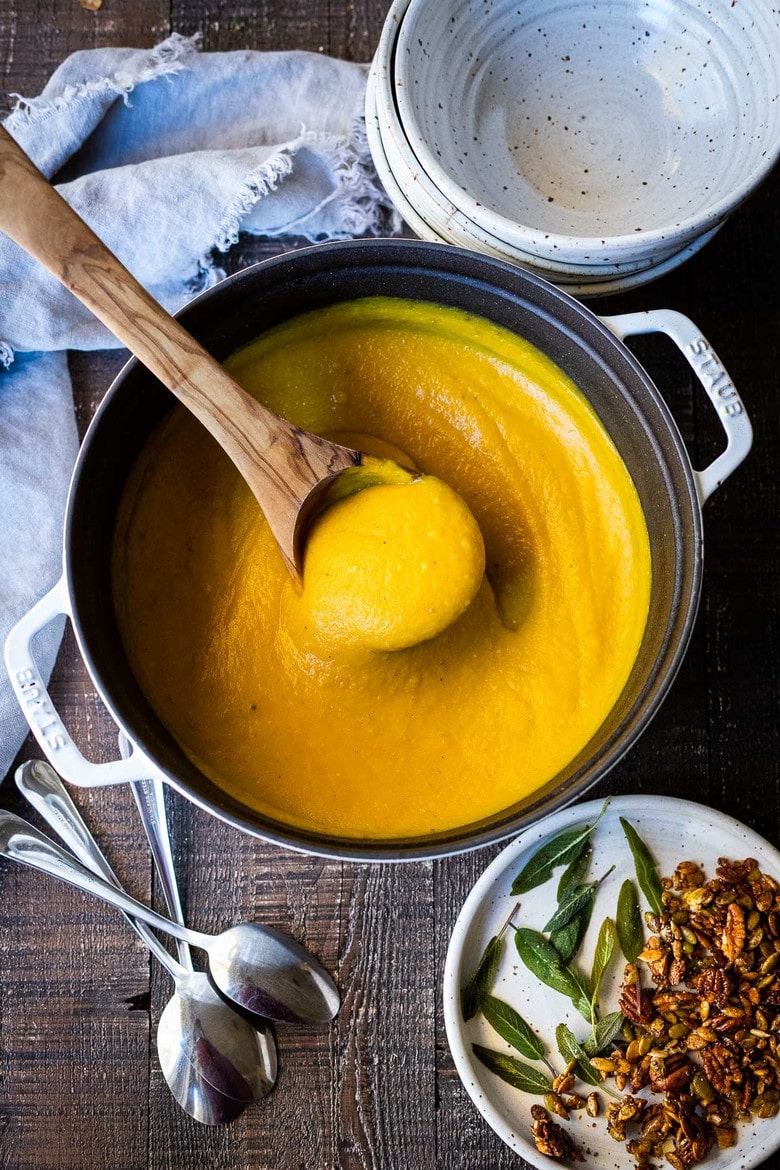 And serve… garnishing with a swirl of coconut milk or cream if you like, the crispy sage leaves and the crunchy pumpkin seed brittle.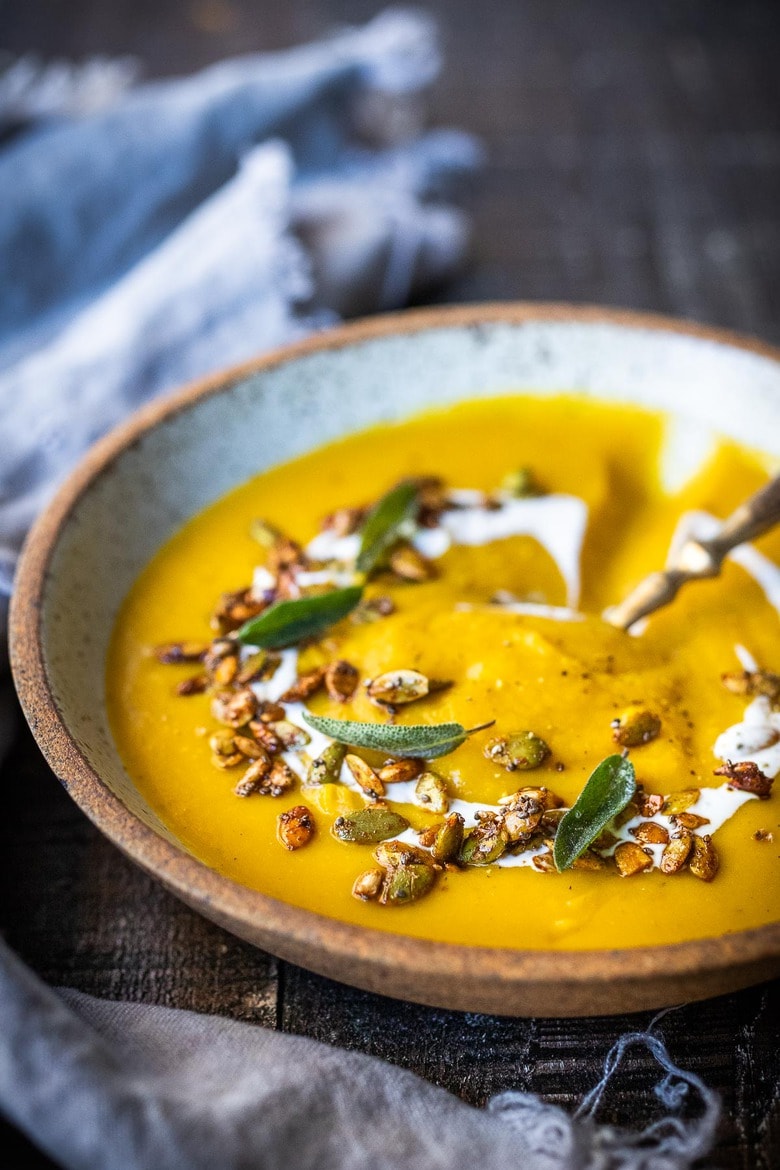 Do you have to roast the butternut squash?
No. That being said, roasting the butternut squash is so EASY and brings out the squash's natural sweetness- just look at that caramelization! That is where all flavor is here but feel to pan sear, pressure cook or even steam. Roasting does give the soup more flavor and truly elevates it. Do what works for you. You'll need 4 cups, cooked.
Do  I need to peel the Butternut Squash before roasting?
No need to peel! Simply cut the butternut squash in half and place face down on a parchment-lined sheet pan or roasting pan. Roast until tender. Scoop out the squash into the blender. Do not use the peels in the soup!
Time Saving Tip
ROAST IT AHEAD: To make this even faster, roast the butternut ahead, say the night before and store it in the fridge until ready to make the soup.
INSTANT POT: You can also cook a butternut squash whole (if it fits) in your instant pot (make sure to place a cup of water below the steamer basket, high pressure for 25 minutes). Refrigerate until using.
More fall soups you may like:
Enjoy the falling leaves. Truly a magical time of year here in the Pacific Northwest. The light is golden and the trees are ablaze. The air feels charged with something otherworldly. ✨
Soak it up, friends.
xoxo
Print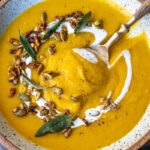 Roasted Butternut Squash Soup with Apple and Sage
Prep Time:

20 mins

Cook Time:

30 mins

Total Time:

50 mins

Yield:

6

1

x

Category:

Soup, Vegan, Gluten-free

Method:

Roasted

Cuisine:

Northwest

Diet:

Vegan
---
Description
A simple recipe for Roasted Butternut Squash Soup with Apple and Sage. Vegan-adaptable and gluten-free.
---
1

med-large butternut squash (3 pounds -or roughly

4 cups

of cooked butternut)

2 tablespoons

coconut oil, olive oil or butter

1

large apple- gala, honey crisp, diced (more for garnish, optional)

2

large shallots (or

1

onion)- diced

5

fat garlic cloves – rough chopped

1 teaspoon

fresh ginger – rough chopped ( or use ginger paste)

1 tablespoon

fresh sage, and more for garnish

3 1/2

–

4

cups

vegetable stock or chicken stock (I used 4 cups water with 2 teaspoons veggie bouillon paste)

1 teaspoon

kosher salt

1/2 teaspoon

fresh cracked pepper
fresh grated nutmeg– optional ( about 1/4 teaspoon, more to taste, feel free to use ground)
pinch cayenne -optional, but tasty here.

1/2

–

3/4

cup

coconut milk (from a can) or use 1/4-1/2 cup heavy cream or half and half. For a lighter version, sub almond milk or just leave it out, thinning the soup with more veggie stock if you prefer.

1

–

2

teaspoons maple syrup (optional- see notes)

1/2 teaspoon

apple cider vinegar (optional- see notes)
Optional Garnishes- crispy sage, Pumpkin seed "Brittle", sumac, warm coconut milk, sautéed diced apple (sauté in coconut oil)
---
Instructions
Preheat oven to 425F
Split the butternut in half lengthwise, place open side down, on a greased or parchment-lined, rimmed

sheet pan

.  (See notes) Roast 30-35 minutes or until easily pierced with a fork, through the skin at the top, narrow end.
While the butternut is roasting, chop the onion, apple, garlic, and ginger and herbs.
Heat oil in a large heavy bottom pot or dutch oven, over medium heat.
Add onion and apple and cook 6-7 minutes, stirring until golden and tender, then add garlic and ginger, and cook 4-5 more minutes, add the herbs,turning the heat down to med-low for one more minute.  It will smell divine. Turn heat off.
When the butternut is tender, flip them over, let them cool down, enough to handle, then scoop out seeds. Scoop out flesh and place in a bowl, you should have 3 3/4 to 4 cups.
Add the apple onion mixture to the same bowl.
Then, blend in batches with the veggie stock until very smooth, using a blender. (If using hot ingredients, be sure to Hold the lid down tight with a kitchen towel–  

to prevent a blender explosion!

) If you prefer a thicker soup, add less water, thinner soup, more water.
Add the blended soup back into the same pot and warm over low heat. Add salt, pepper, nutmeg. Stir in you choice of milk to desired richness.
Taste. If you'd like more sweetness, a teaspoon or two of maple syrup will help. If you need a little acidity, a few drops of AC vinegar, or squeeze of orange juice is nice. Adjust salt.
To serve, divide among bowls, sprinkle with maple-glazed pumpkin seeds, crispy sage leaves, sautéed apple.
---
Notes
Alternatively, you can slice apple and onion and roast with the butternut squash. (You'll still need to saute the garlic, ginger and sage.)
Maple-glazed Pumpkin Seed brittle: Toss 1 cup pumpkin seeds in 1 ½-2 tablespoons maple syrup with a pinch of salt and pepper, and spread out on a parchment lined sheet pan. Bake 11-14 minutes at 350F  stirring ½ way through. Let them get a little toasted. (If they they don't toast enough the maple syrup will not harden). Remove from oven, immediately, fluff with a fork, then let cool on the parchment.
To make Crispy Sage: Heat coconut oil or butter in a skillet over medium heat. Place sage leaves carefully in the hot oil, sprinkle with a pinch of salt, fry unit crisp, about 1 minute. Remove with tongs, from the pan before they get dark, and lay flat on a paper towel.
To drizzle coconut milk over the top, I find it's easier to heat it up a bit first then spoon it over top in a circular motion.
Sometimes, instead of the vinegar, I'll add a squeeze of fresh orange juice- delicious!
Nutrition
Serving Size:

-with ½ cup coconut milk

Calories:

287

Sugar:

14.5 g

Sodium:

770.6 mg

Fat:

14.6 g

Saturated Fat:

11.4 g

Carbohydrates:

36.6 g

Fiber:

5 g

Protein:

5.9 g

Cholesterol:

3.6 mg
Keywords: butternut squash soup, vegan butternut squash soup, vegan butternut soup, butternut squash soup vegan, Vegan Butternut soup, butternut apple soup, butternut soup recipes, vegan butternut soup, healthy butternut soup