These 25 Cozy Vegetarian Soup Recipes highlight the best of seasonal produce.  A beautiful way to celebrate and embrace each season. Includes many vegan soup recipes, and most are vegan-adaptable! 
What is more, comforting than a warming bowl of soup when the weather begins to change? Whether you pull out your dutch oven, slow-cooker or Instant pot, there is something deeply satisfying about cooking up a batch of soup. It just feels good, doesn't it?  And soup is SO good for our bodies! Packed full of nutrients, these nourishing soups are restorative and healing.
Most of our vegetarian and vegan soup recipes are made with fresh seasonal produce, while some utilize simple pantry ingredients, perfect for busy nights.
I hope you enjoy these and get some good ideas….and please let me know your favorites fall soups in the comments below.
---
Our favorite recipe for Homemade Tomato Soup can be made with fresh or canned tomatoes in under 30 minutes. Creamy, easy and Vegan-adaptable!

Moroccan Lentil and Chickpea Soup (aka Harira) is hearty, full of protein and loaded with nutrients.  Warming, fragrant spices make this healthy one-pot meal deeply flavorful!  Vegan and Gluten-Free adaptable.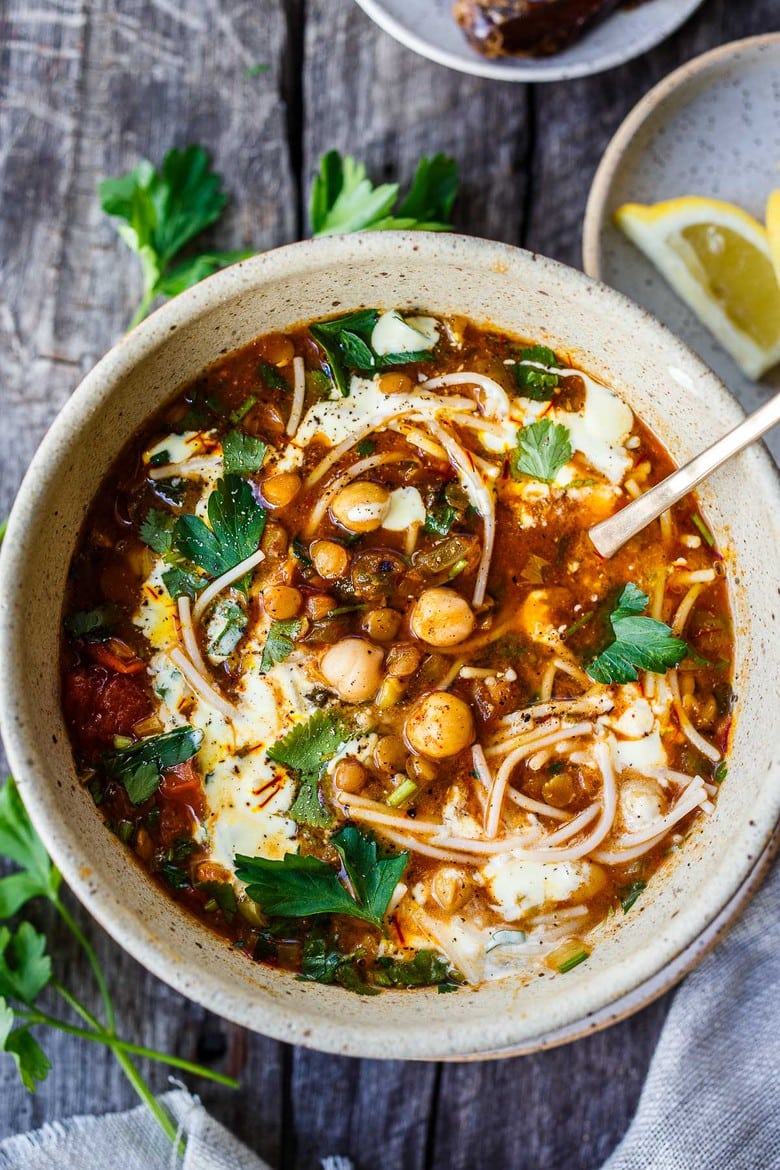 This recipe for Mediterranean Split Pea Soup is healthy and satisfying.  Simple clean ingredients create a hearty soup that tastes even better the next day!  Vegan and gluten-free.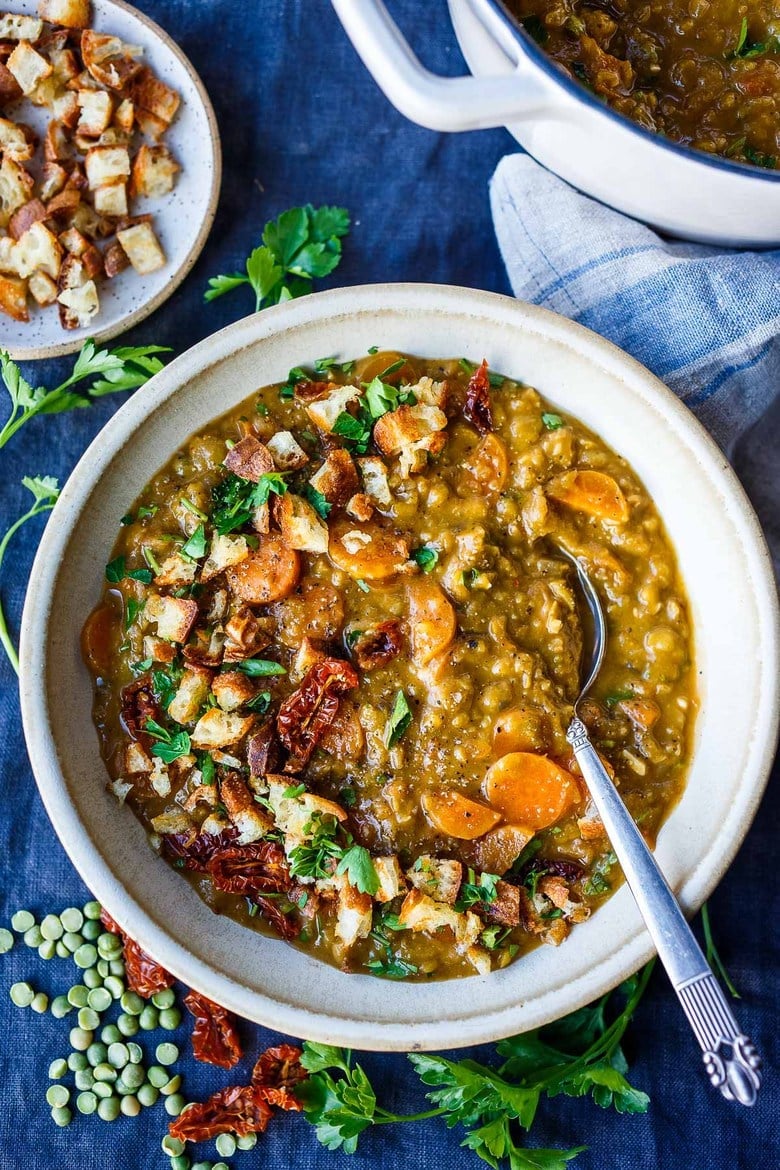 A fast and easy weeknight meal that is loaded up with lots of healthy broccoli! This delicious soup is vegan, keto and gluten-free- and can be made in 30 minutes!

This recipe for Mushroom Lentil Stew with Fennel and Sage is earthy, hearty and richly spiced.  Delicious and vegan!

A simple, vibrant & healthy vegetarian soup, just bursting with flavor!  Vegan Adaptable! If you make one soup this week- let it be this! Seriously- a simple delicious vegetarian soup recipe!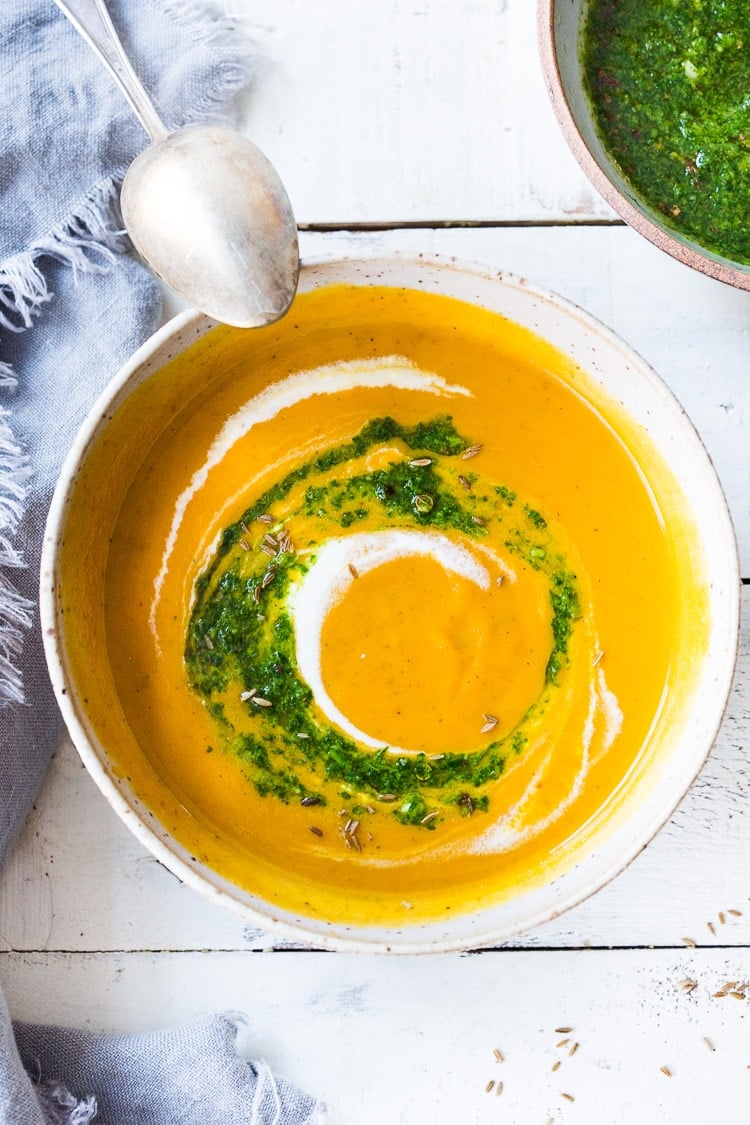 Instant Pot Mulligatawny Soup is so creamy and richly satisfying with bright and spicy flavors.  This vegan adaptable version is delicious as is or can easily be built upon adding chicken, more veggies and rice.  An easy and fast weeknight meal!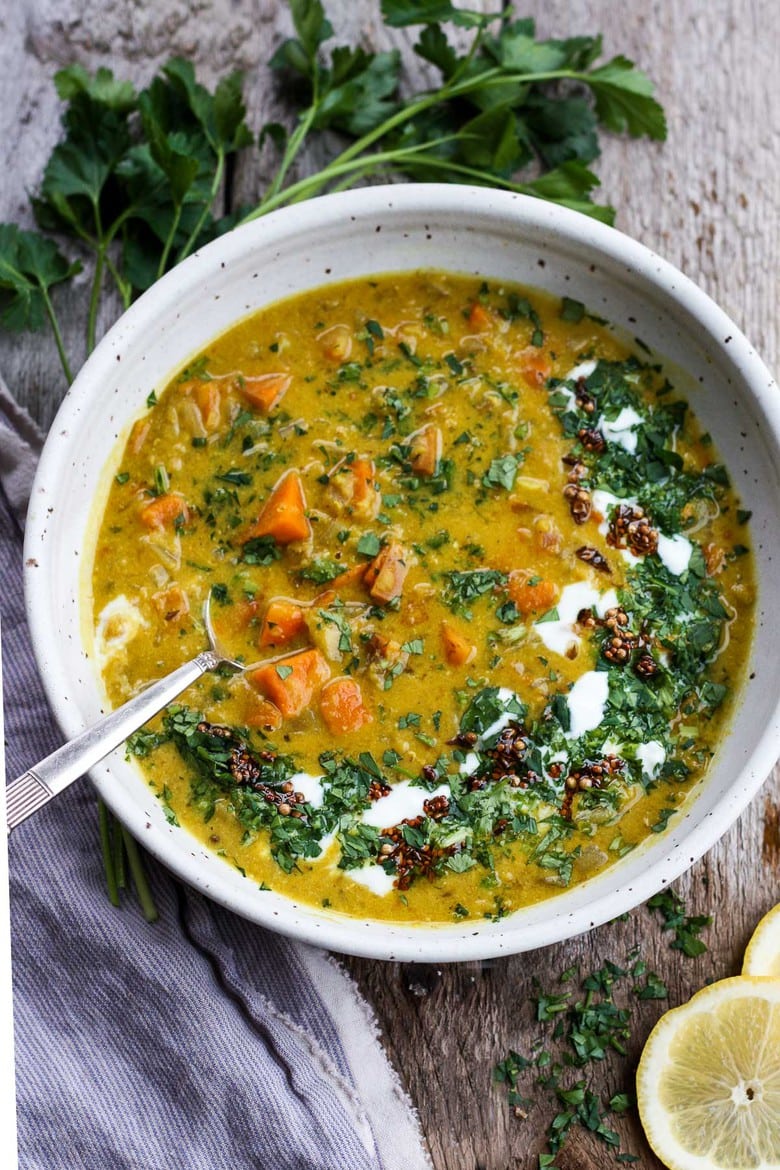 This simple vegan soup recipe is easy to make and loaded with healthy nutrients- a great way to use up all those farmer's market veggies! Great for Sunday meal prep!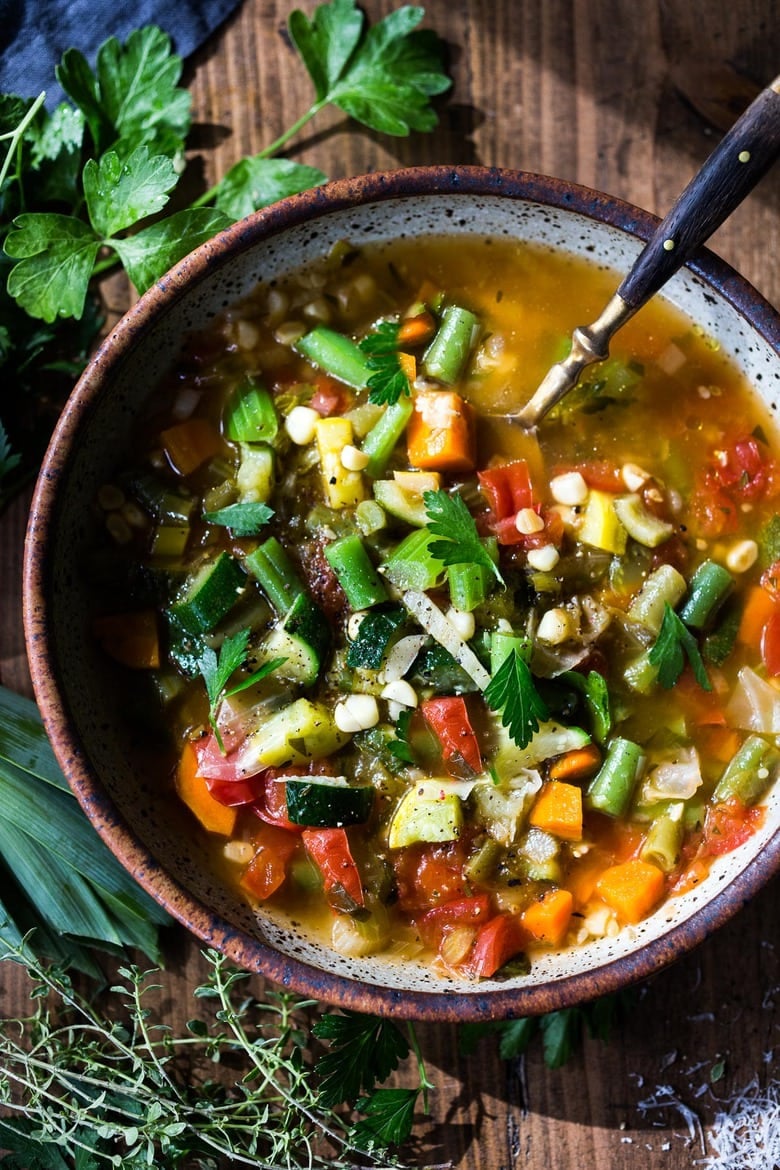 Here's a simple, hearty Smoky Tomato White Bean Soup you can make in your Instant Pot or on the stovetop using dry beans. Smoked paprika and optional Harissa paste give it a delicious flavor that will have you coming back for seconds.  Low in calories, high in fiber, this soup is vegan and gluten-free.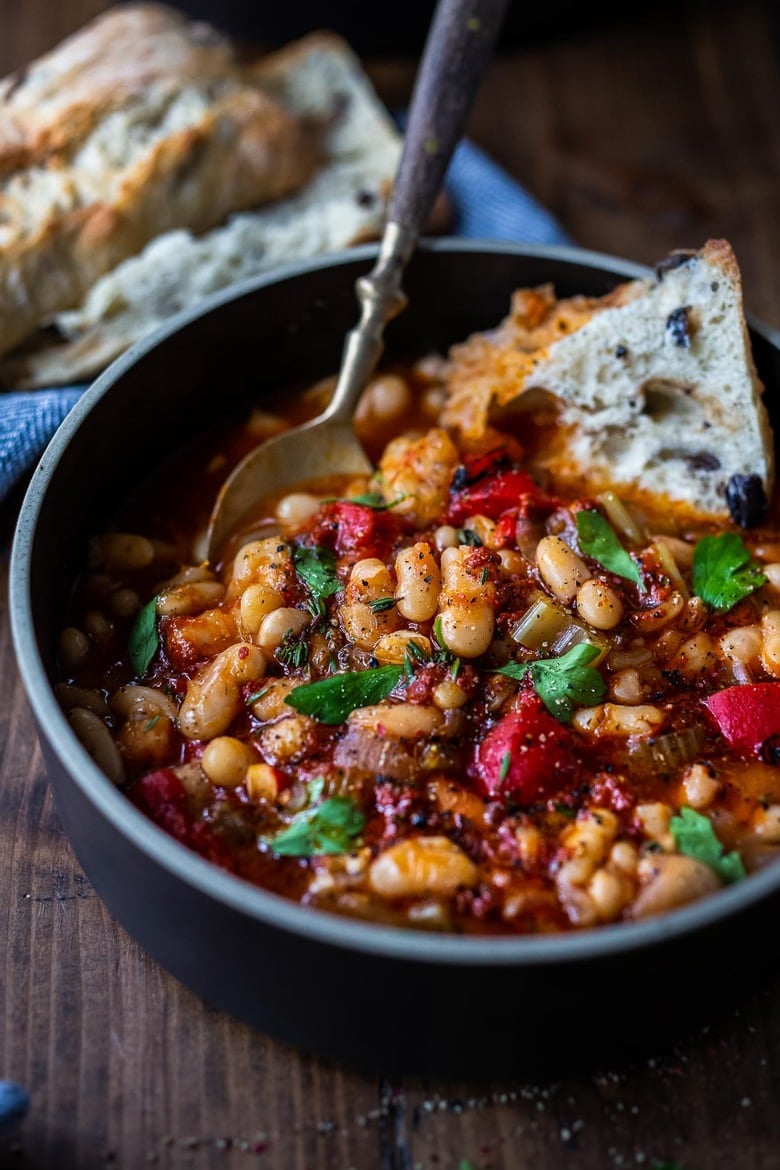 A simple healthy soup recipe that can be made on the stovetop or roasted in the oven. Vegan-Adaptable.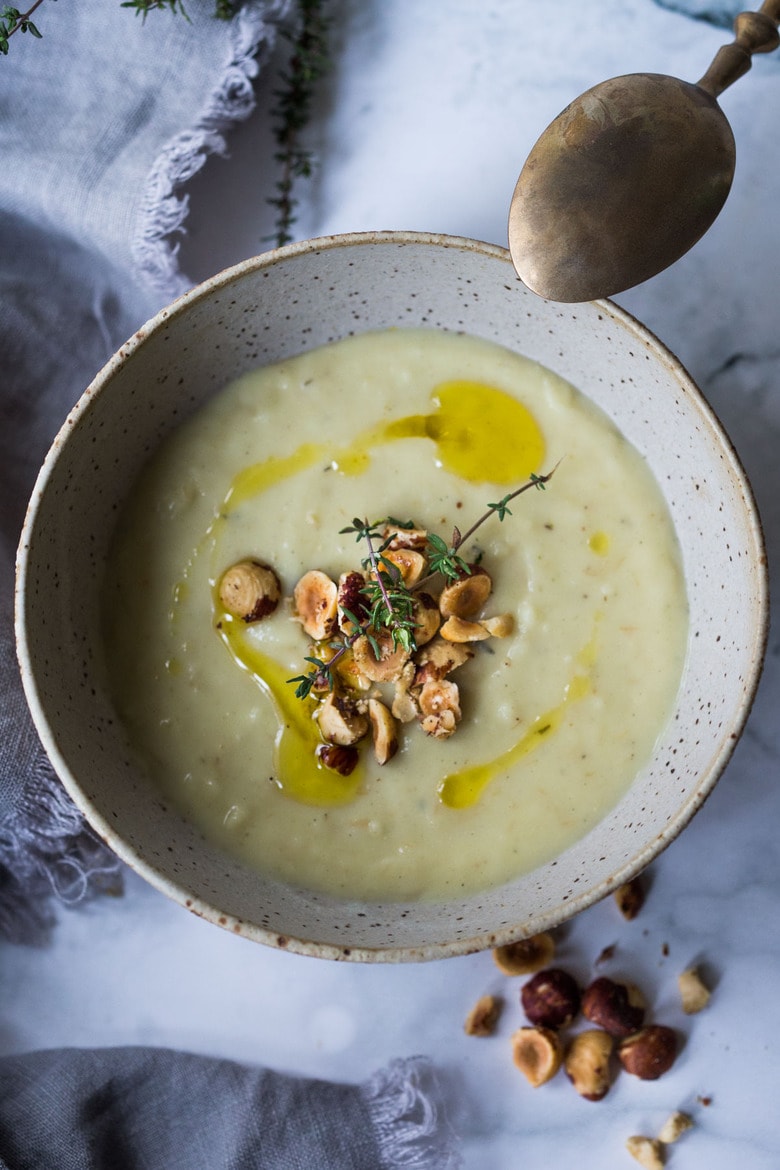 This Tuscan Bean Soup called Ribollita originates from the hilltop villages of Italy. Traditionally, it's made with simple garden vegetables like onions, carrots, celery, kale, tomatoes and cannellini beans (or white beans) in a flavorful broth  This vegetarian soup is also vegan adaptable!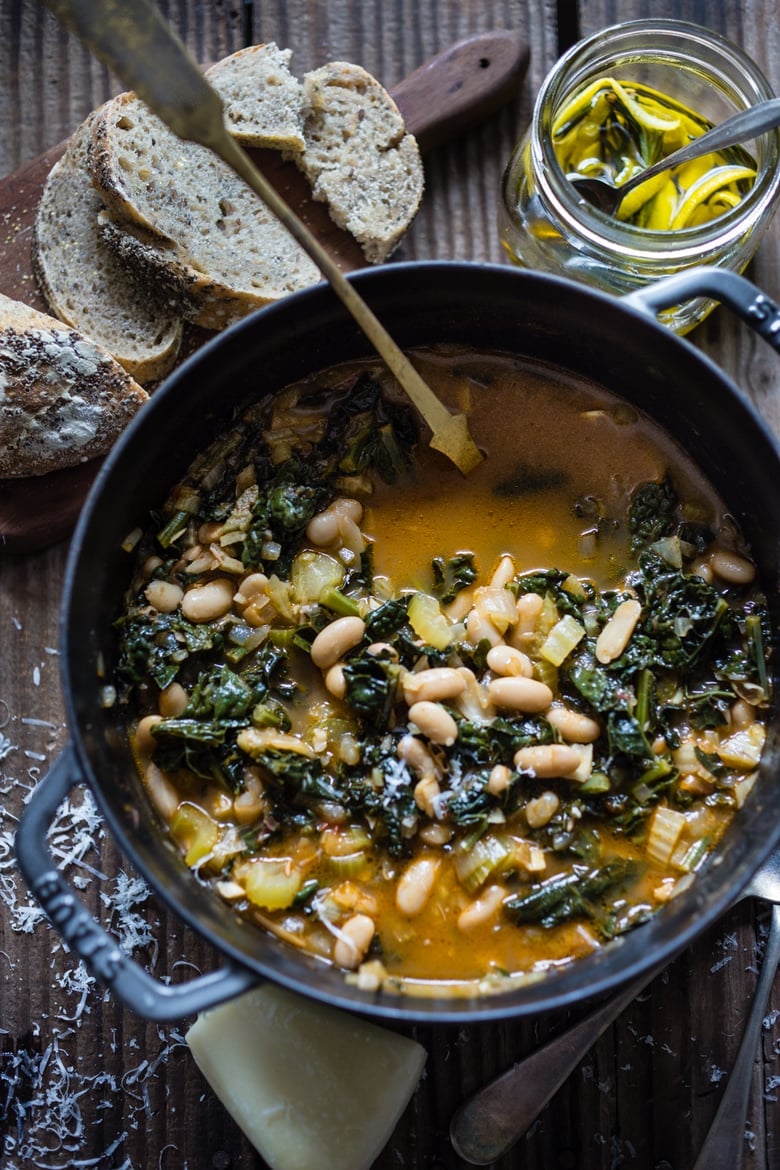 Made with coconut milk, Indian spices, ginger and lime is simple and easy to make, this creamy VEGAN soup can be made in an Instant Pot or on the stovetop!  Healthy and delicious!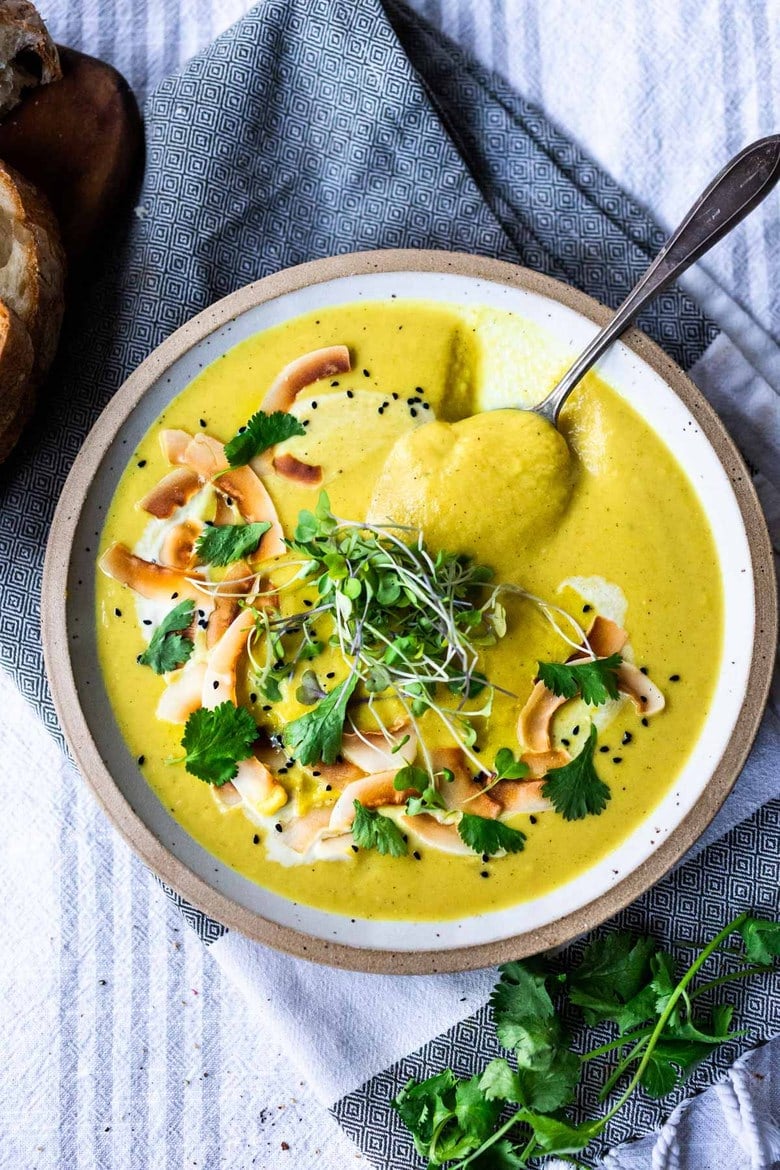 This hearty vegan soup is made with simple ingredients, probably things you already have in your pantry, and it is easy to make and full of delicious flavor! Make this in an Instant Pot or stovetop.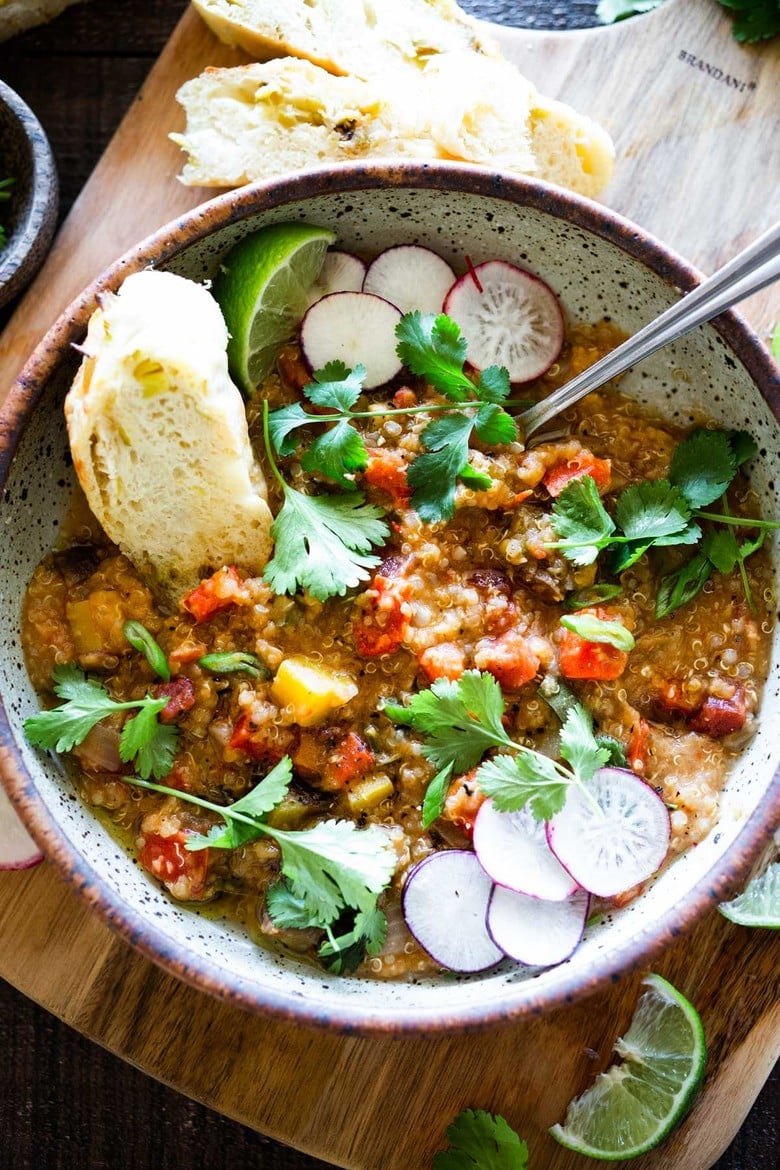 Seasoned with ginger and mint, it is a fast and easy vegan-adaptable soup that is healthy and flavorful, and a great way to use up extra zucchini in the garden!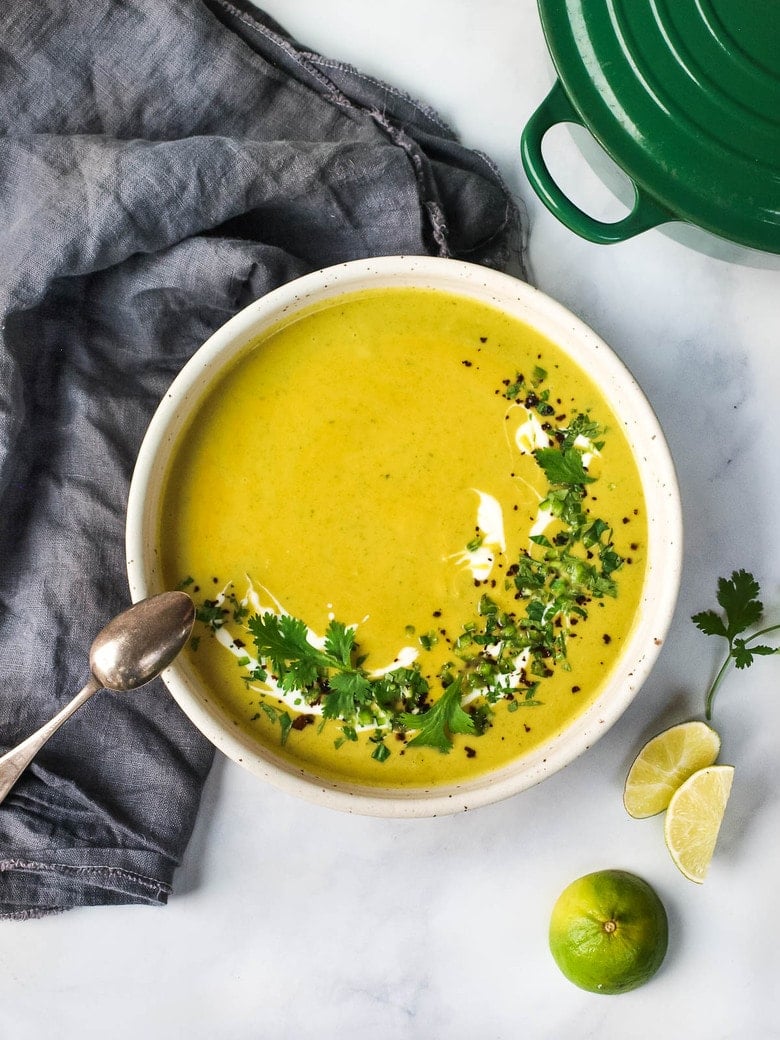 A healing bowl of Celery Soup– comforting, affordable and flavorful, that can be made in  35 minutes. A healthy, delicious vegetarian soup recipe that is vegan-adaptable! One of my personal favorites!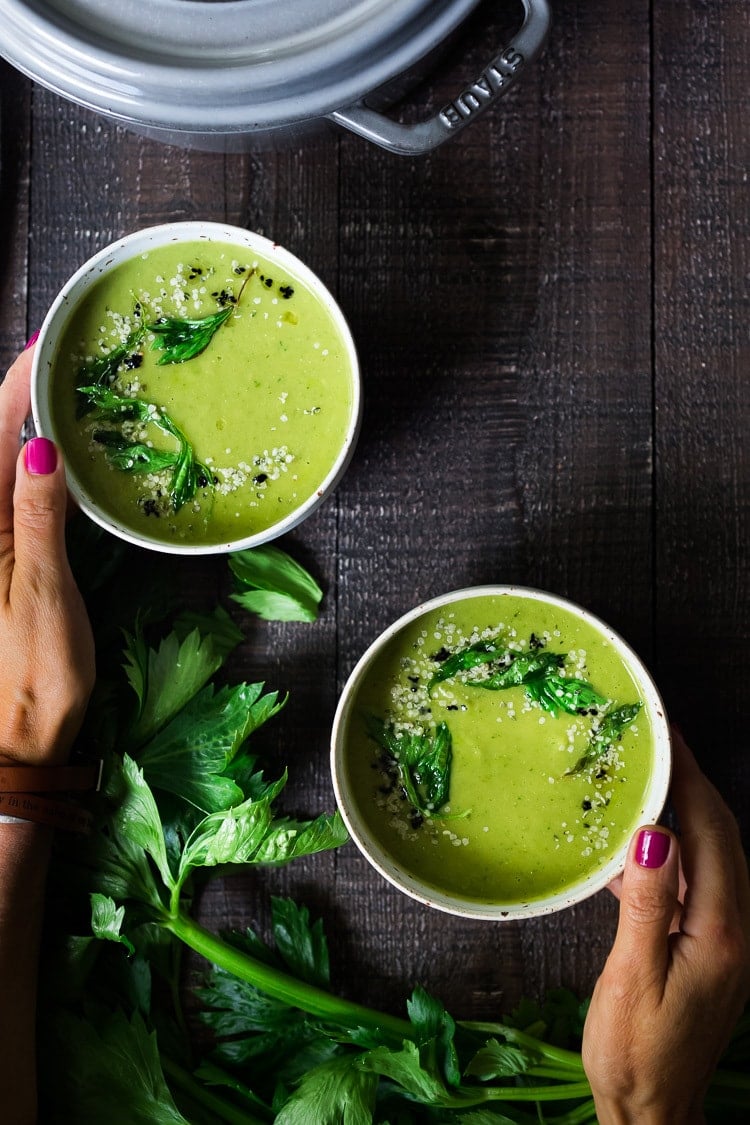 This Roasted Butternut Soup with Sage is one of my favorites and it's full of flavor while being vegan and gluten-free. A cozy vegan soup, perfect for fall nights.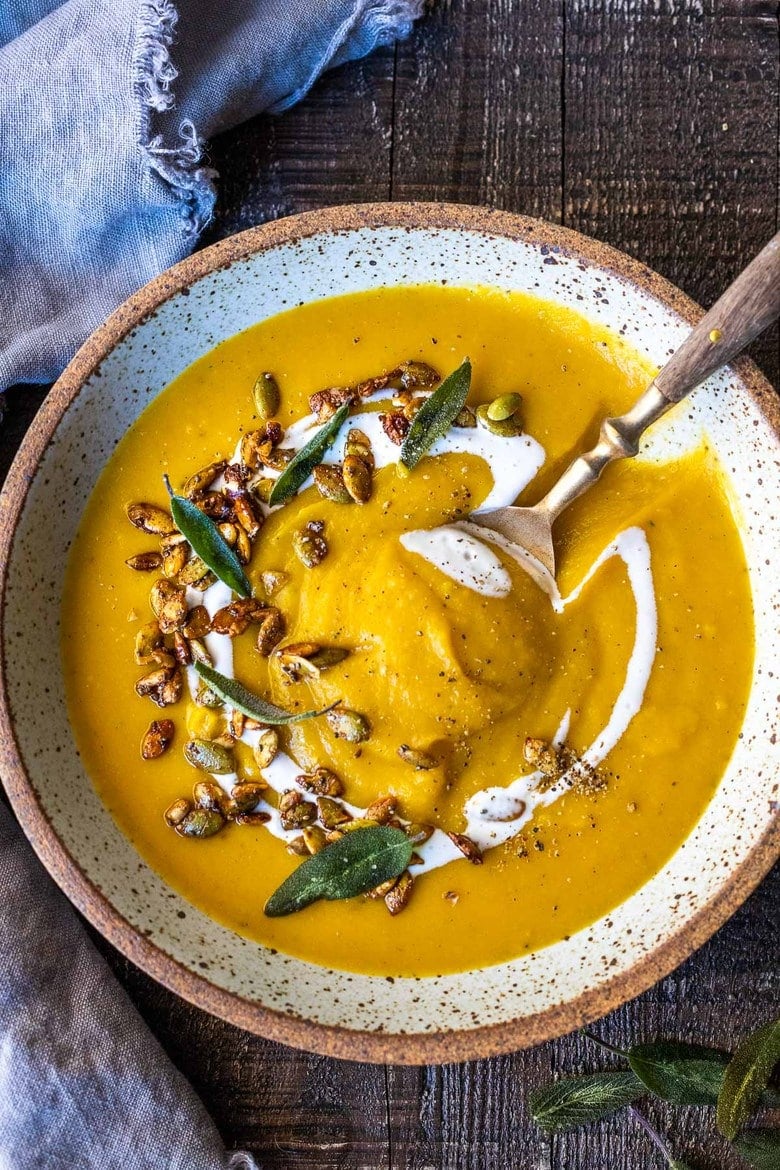 This hearty North African-inspired soup with Chickpeas, Carrots ( and their tops), turmeric, flavorful harissa and optional Yogurt drizzle.

This flavorful Cuban-inspired black bean soup can be made in an Instant Pot with Dry Beans! Simple, easy and surprisingly full of flavor!

A simple Potato Leek Soup that is cozy, vegetarian, healthy and light,  perfect for fall!

Instant Pot Wild Rice Soup with mushrooms and spinach- a healthy vegetarian soup recipe that is easy, fast and vegan adaptable!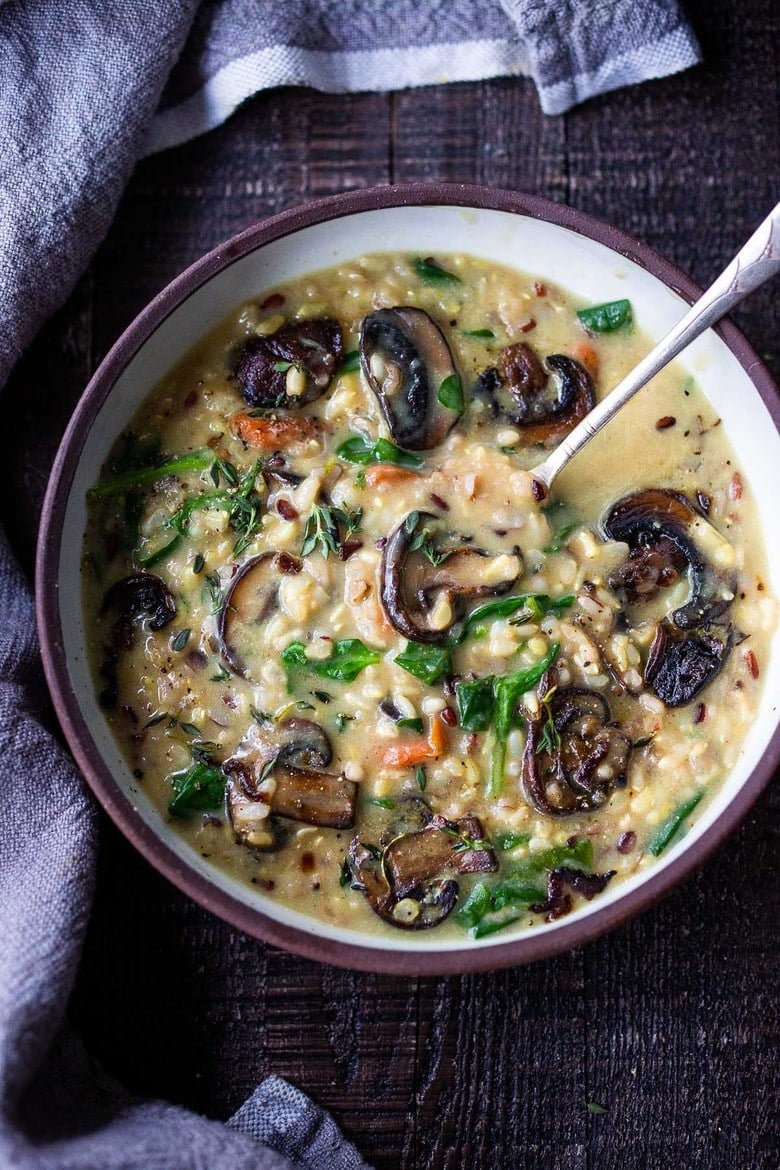 This Asian-style, Soba noodle Soup with Shiitake mushrooms, snow peas and tofu. A hearty delicious brothy soup full of healthy veggies and nutrients. Vegan and GF adaptable!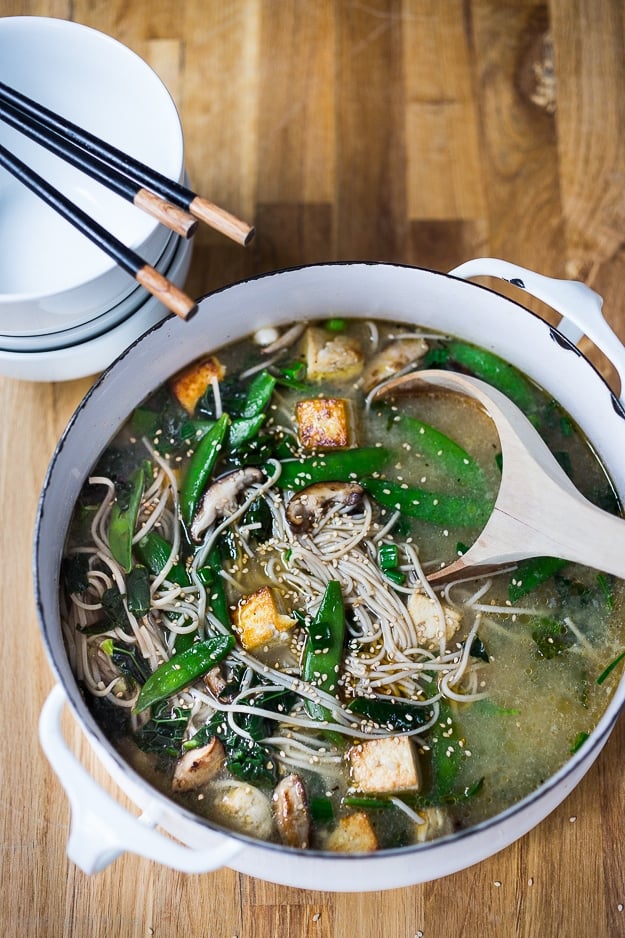 Instant Pot Pinto Bean Stew using dry pinto beans with corn, yams, and poblanos. A flavorful vegan-adaptable soup that only takes 15 minutes of hands-on time.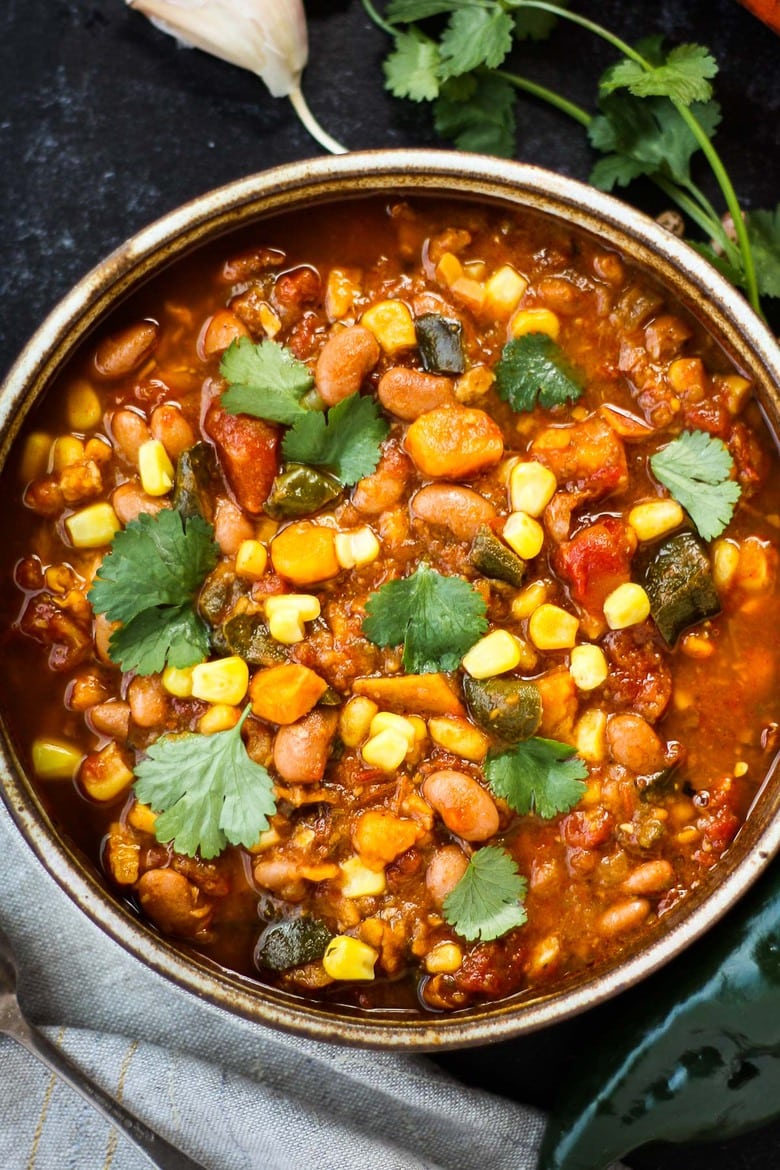 Creamy Mushroom Soup with Rosemary and Garlic Garlic Chips – a delicious easy recipe that is Keto friendly and perfect for special gatherings or simple enough for weeknight dinners! Serve this with crusty bread for a simple hearty meal!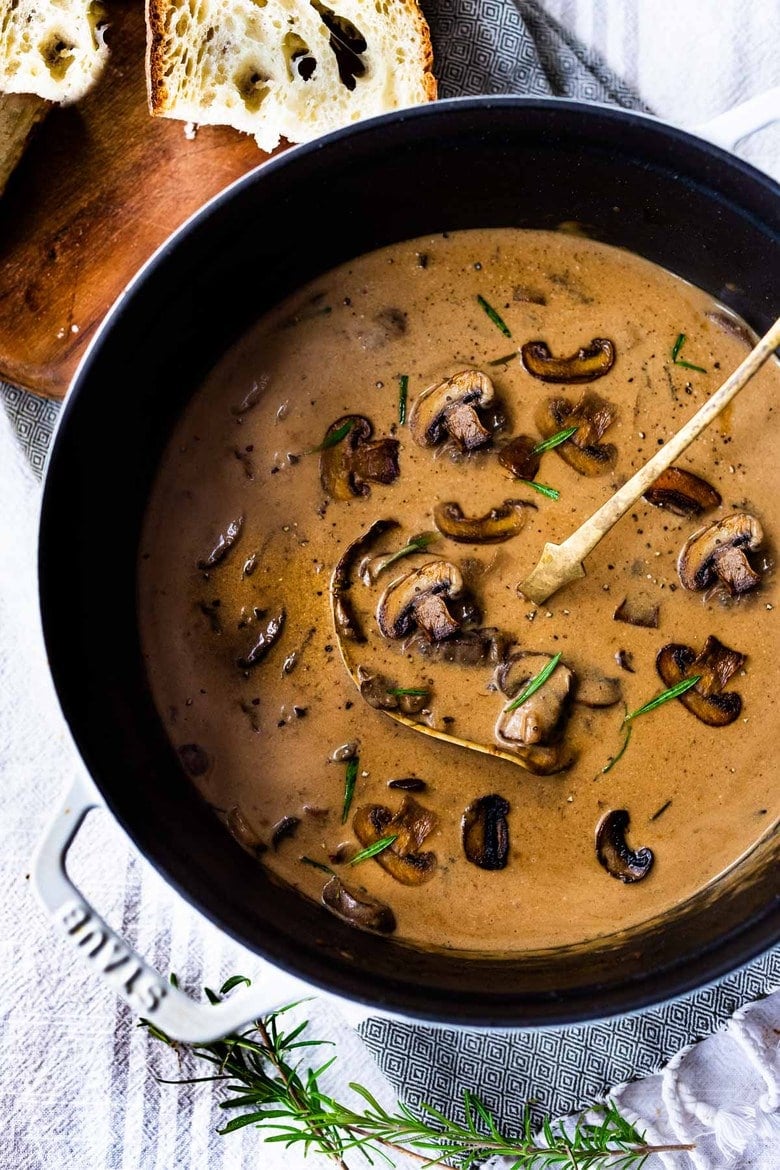 A simple delicious recipe for Borscht– a healthy, beet and cabbage soup that can be made in an Instant Pot or on the stovetop. Warming and nourishing, Borscht is full of flavor and nutrients! A healthy, delicious vegetarian soup idea!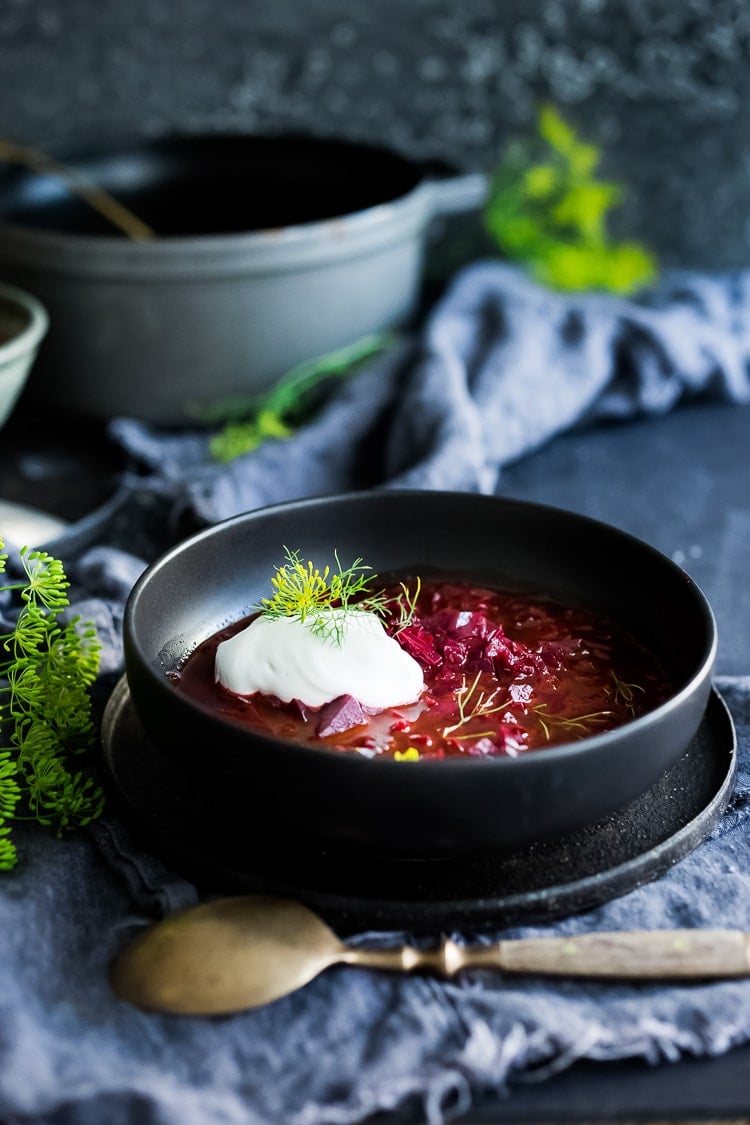 Here's a flavorful recipe for Vegan Ramen with a rich Shiitake Broth. It's loaded up with healthy veggies, and deeply flavorful… and vegan adaptable.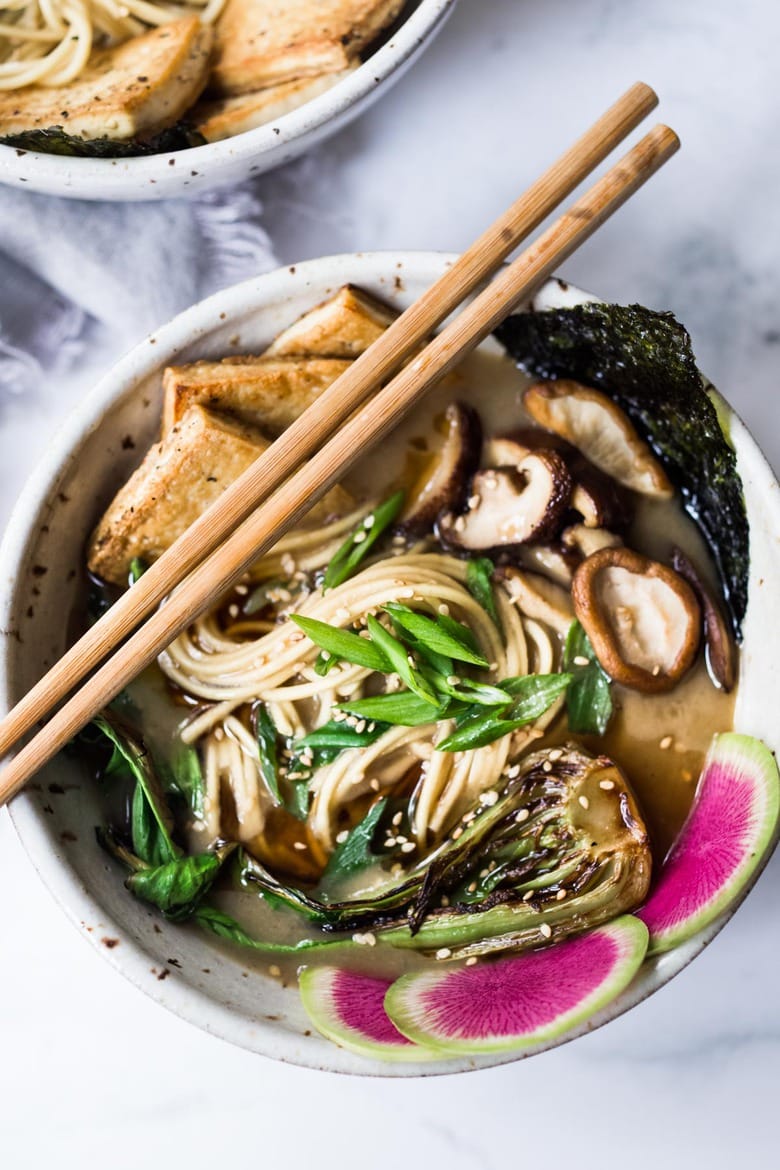 Creamy Cauliflower Soup with Thyme and Sharp Cheddar is easy to love.  Simple to make and Vegan adaptable! (see recipe notes)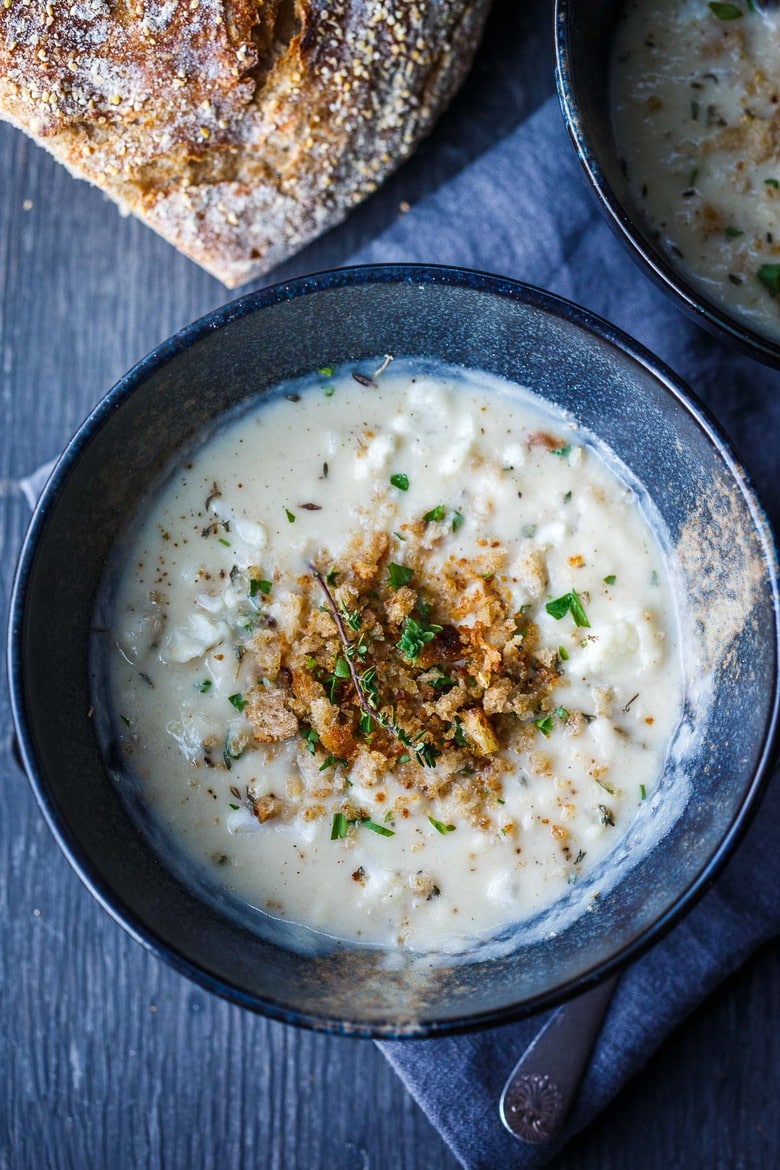 Brothy Tortellini Soup with Spinach, Basil & White beans– a mouthwatering vegetarian soup that can be made in 25 minutes! #vegetarian #vegetariansoup #whitebeansoup #spinachsoup #tortellini #tortellinisoup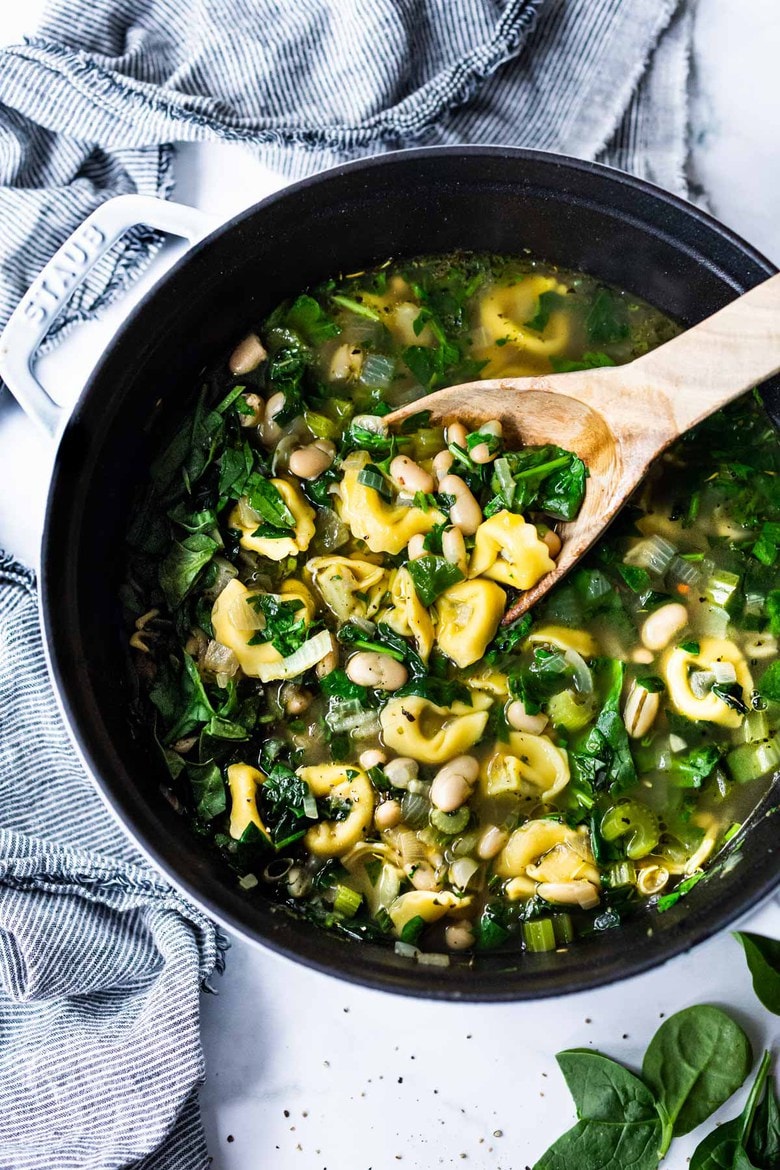 A simple delicious recipe for Thai Broccoli Soup with Coconut – bursting with authentic Thai flavors. Make from scratch in 40 mins! A healthy, delicious vegan soup that is gluten-free adaptable!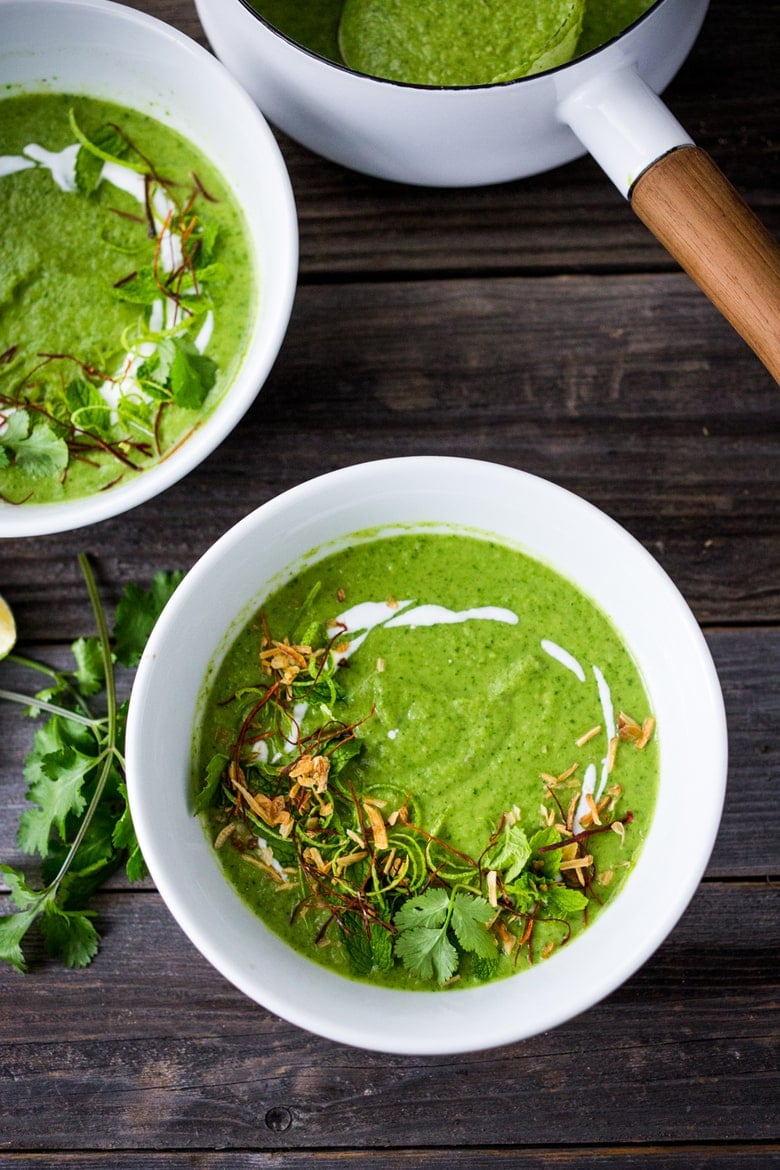 This adaptable Mexican Noodle Soup can be made with chicken or Chickpeas! The vegetarian version is my favorite! Topped with avocado, cilantro and Lime, its full of flavor and comes together easily!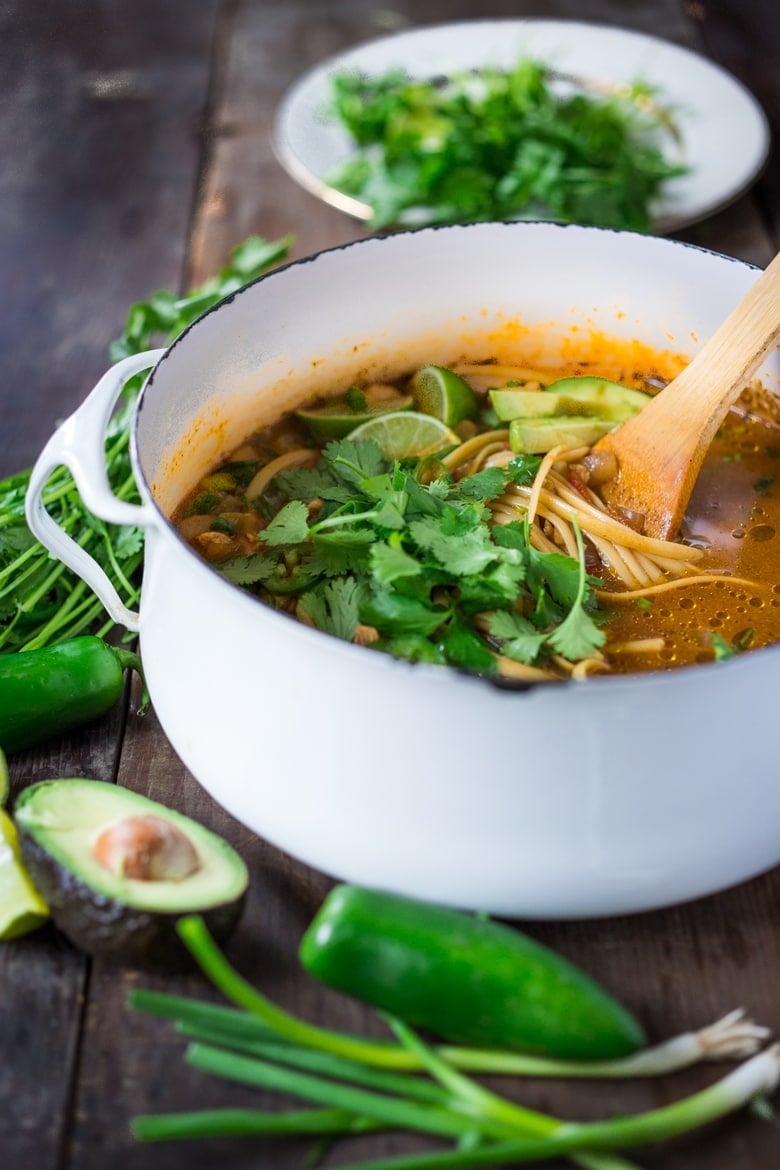 This Quick Vegan Chili – is loaded up with healthy veggies and beans, a deep and complex recipe that will even convert meat-eaters! Make a big batch on Sunday, then serve it during the busy work week!

Thai Sweet Potato Soup- a simple vegan soup with big and bold flavor! Made with lemongrass, ginger and coconut milk, and optional popped sorghum.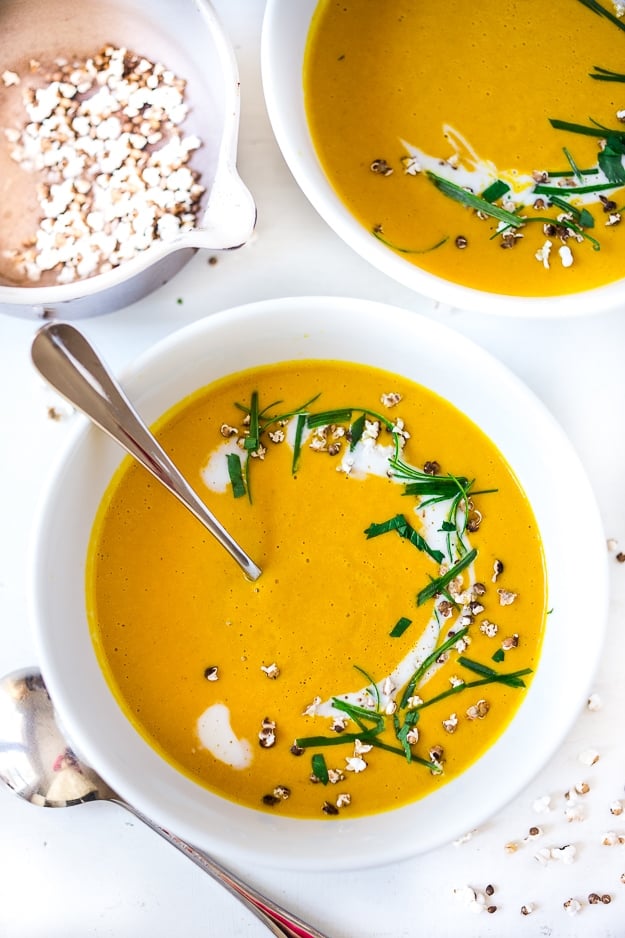 Meatless, Minestrone Soup with pasta and beans– that can be made on the stovetop or in and Instant Pot! A fast and healthy weeknight dinner that can be made in under 30 minutes. Cozy and comforting, this delicious hearty stew is vegan ( or add cheese) and gluten-free adaptable!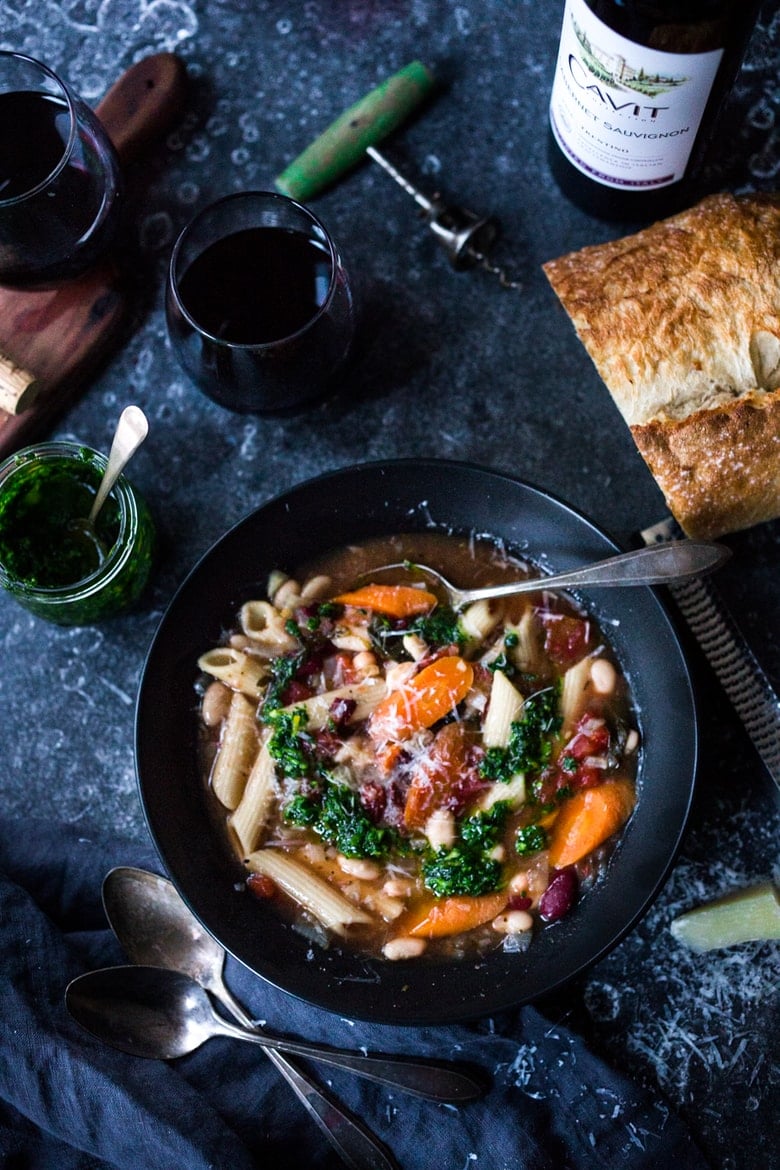 Golden Carrot Turmeric Soup with Coconut Milk is light, luscious, earthy and flavorful. This fall soup contains fresh turmeric root – giving it a hint of the exotic. A healthy, delicious vegetarian soup that is vegan adaptable!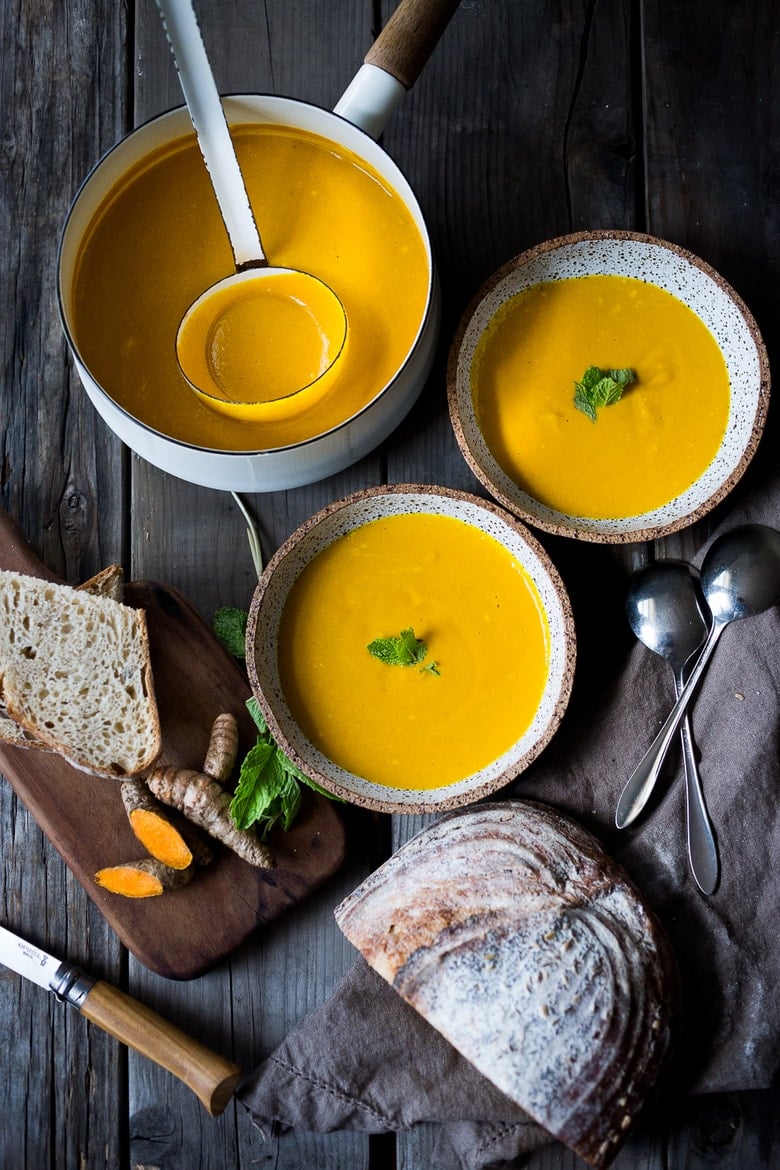 Make Life Simple Instant Pot Lentil Soup- vegan, gluten free and infused with Middle Eastern Spices!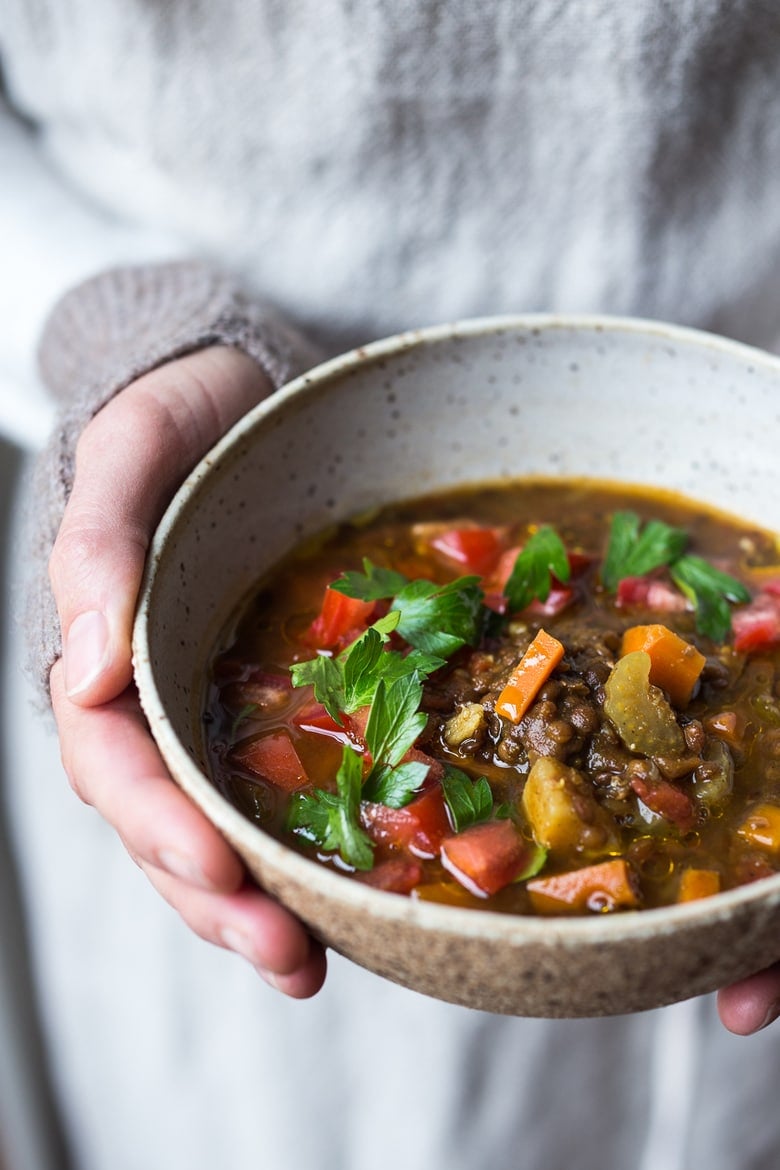 A simple easy recipe for Kimchi Soup- this version is vegan, made with shiitake mushrooms, silken tofu and kale. Serve over rice or noodles! Delicious Korean flavor!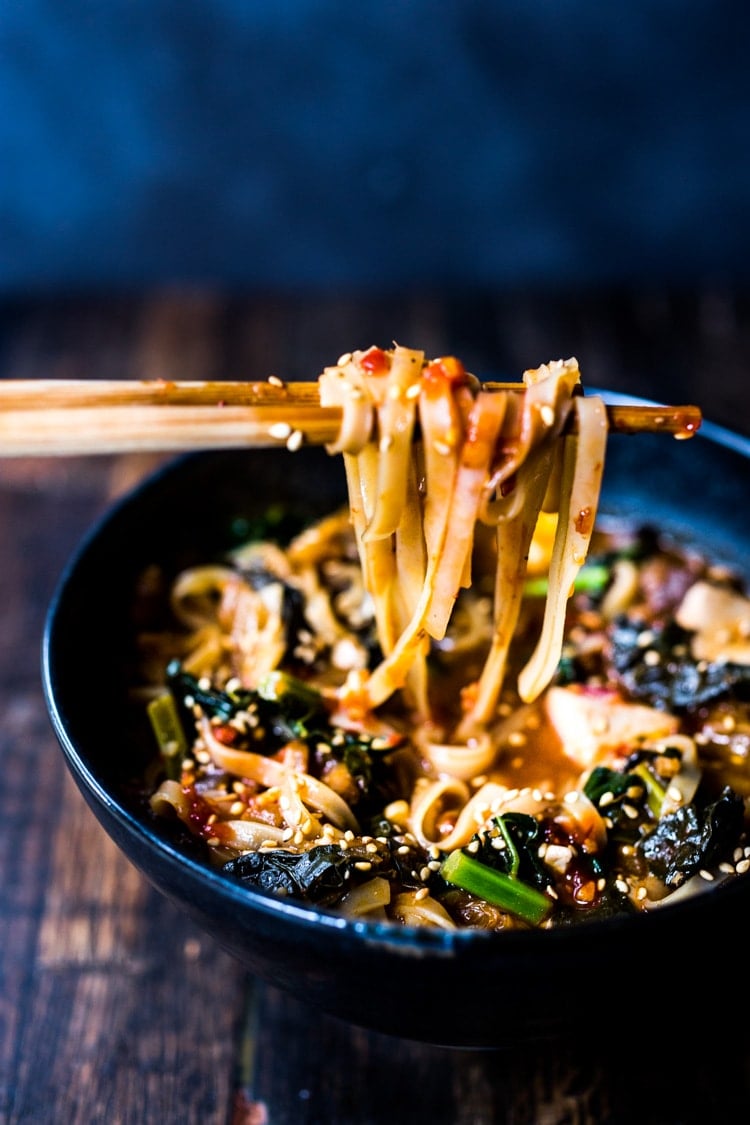 Hope you enjoy this selection of Vegetarian and Vegan Soup Recipes. Let us know any favorites below!
xoxo
Print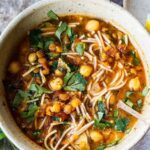 25 Vegan and Vegetarian Soup Recipes
Prep Time:

20

Cook Time:

25

Total Time:

45 minutes

Yield:

4-6

Category:

soups, vegetarian

Method:

stove top

Cuisine:

pacific northwest
---
Description
Here are our top 25 Vegetarian soup recipes for fall and winter that are cozy and comforting. Many are vegan adaptable!
---
winter squash
butternut squash
leeks
carrots
parsnips
beets
legumes
celery
potatoes
pantry ingredients
---
Instructions
Pick out a few to try this week!
---
Notes
Let me know your favorite sin the comments below!
Keywords: vegetarian soup ideas, vegetarian soup recipes, vegan soups, vegetarian soups
Related: 20 Warming Broth Based Soups !