Parsnip Soup with Toasted Hazelnuts
that can be made on the stovetop or roasted in the oven. Easy, delicious and vegan- adaptable! Updated 11/2019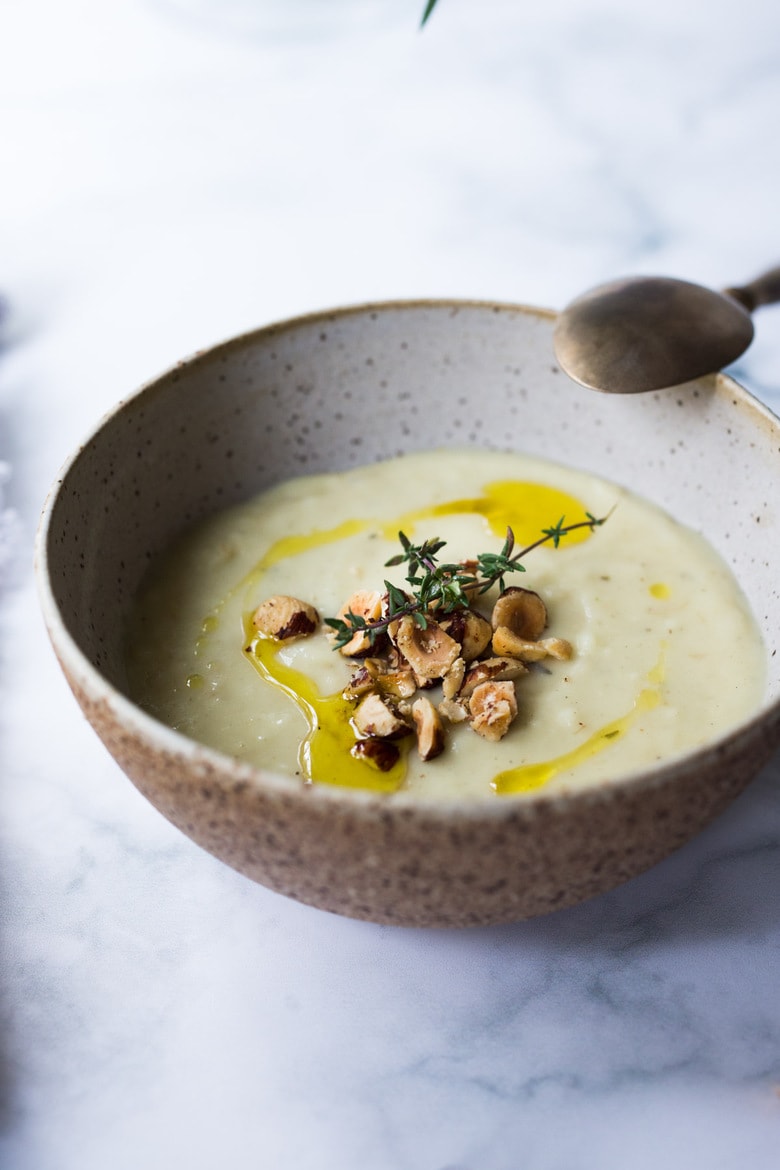 I broke through another layer into joyfulness.
This recipe for Roasted Parsnip Soup with Toasted
Hazelnuts
is elegant enough for the holidays yet simple enough for a casual weeknight meal. Delicious and easy, this recipe is cozy and comforting and easily made vegan.
Make it in one pot on the stovetop, or if you prefer,  take the slightly slower way of roasting the parsnips which will elevate the flavor of the soup- perfect for lazy Sundays.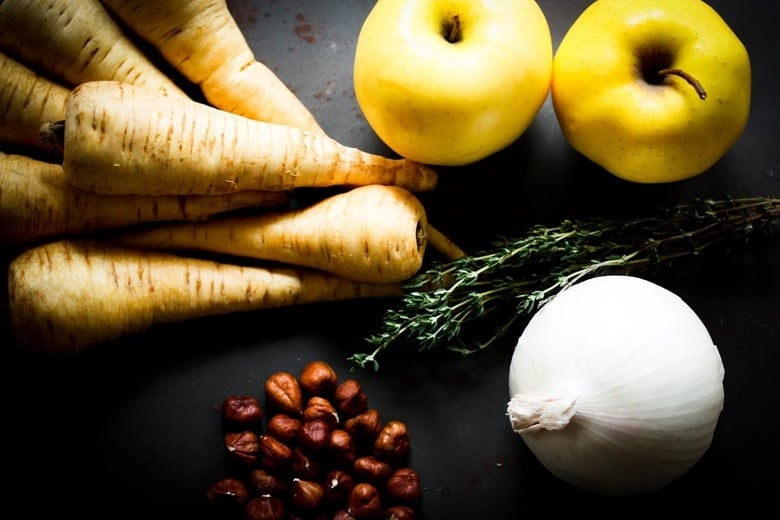 To be here in winter, one must look for the gifts… even the small ones. They come in many forms, usually right in front of us.
I often find them in the kitchen, little messages from the universe, that take the form of produce.  😉
The rough-skinned parsnips remind me that beneath tough exteriors often resides the tenderest and sweetest of souls, and how important it is to look beyond surfaces.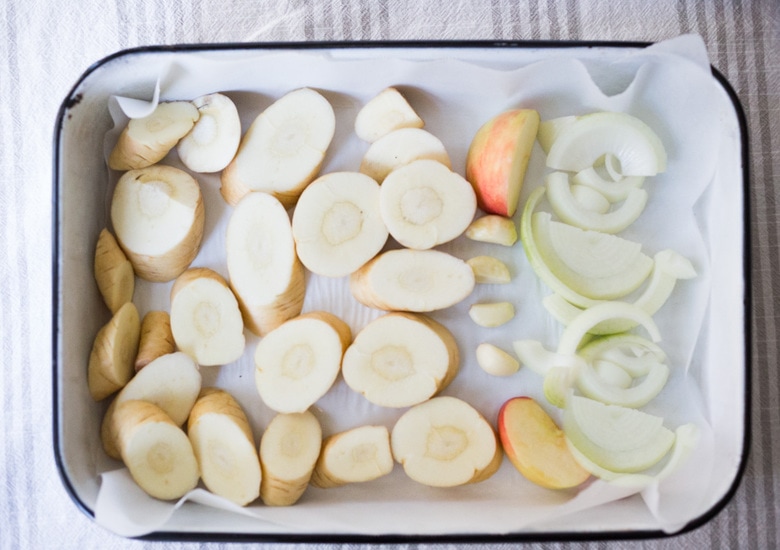 Parsnips have come to be one of my favorite winter vegetables.  They are called a "winter vegetable" because their flavors are not fully developed until the roots have been exposed to near-freezing temperatures for 2 to 4 weeks in early winter.
Their exterior is quite tough-looking, but when you get past their surface, there is something extraordinary about them.  They have a sweetness, an earthiness and a complexity that makes them interesting and memorable.
Like my favorite kind of people.
This soup is fairly easy to make if you do it on the stovetop. One pot, 30 minutes flat!
But if you have a little more time,  roast the ingredients in the oven… which will a little more complexity and depth to the soup.
Because Parsnips, onions and apple roast at different speeds,  they are cut into different sizes to ensure they don't get overcooked, or undercooked. The apple is cut into big pieces- it will cook the fastest. Place them on a
parchment
-lined, high sided pan, in separate sections. Tuck the garlic cloves in whole.
Cover tightly with foil.  Place in a 400 F oven and set your timer for 20 mins.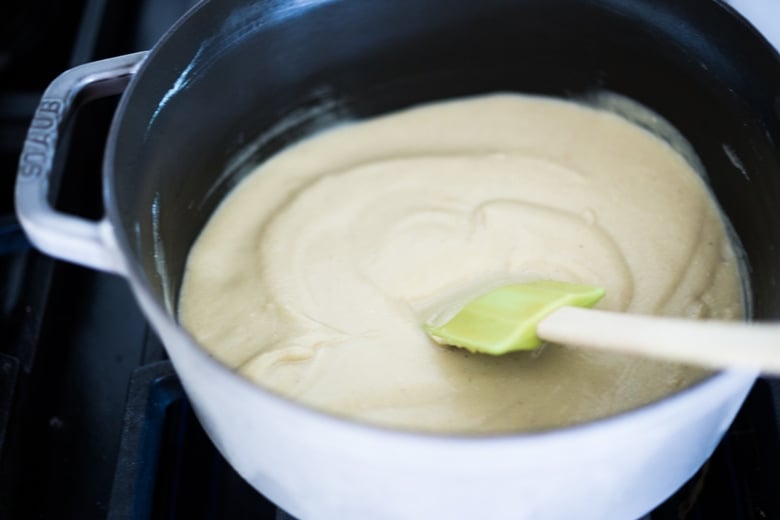 Then simply puree in a blender with the broth and seasonings.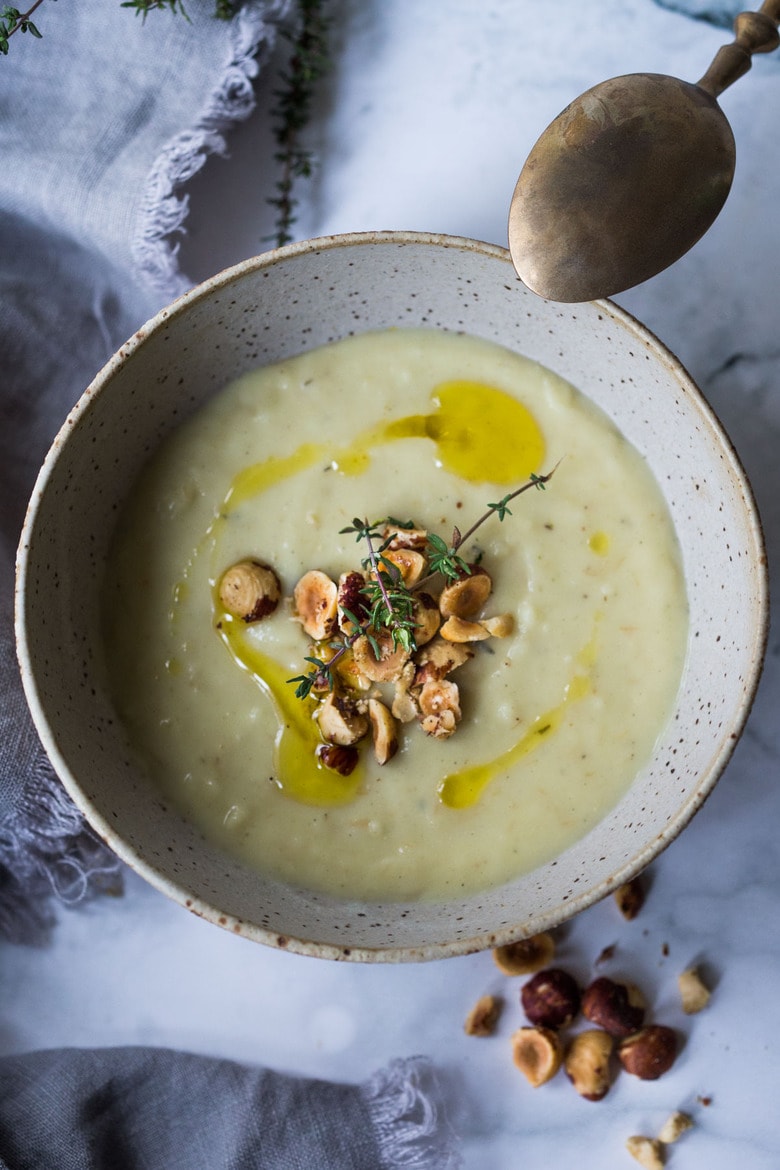 This soup is also great for freezing. Make a batch and freeze andy leftovers. ( Remember to leave 1-2 inches space at the top of the jar for expansion.)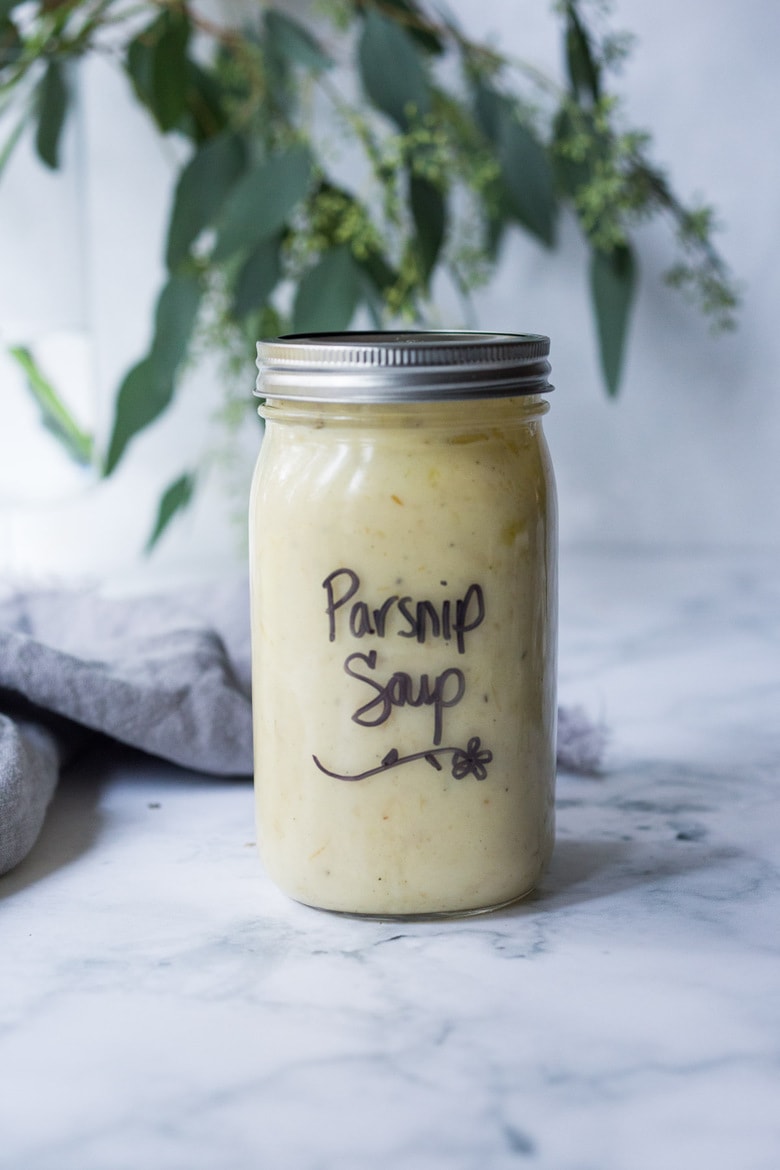 If you happen to have hazelnut oil, a little drizzle is really nice here for finishing.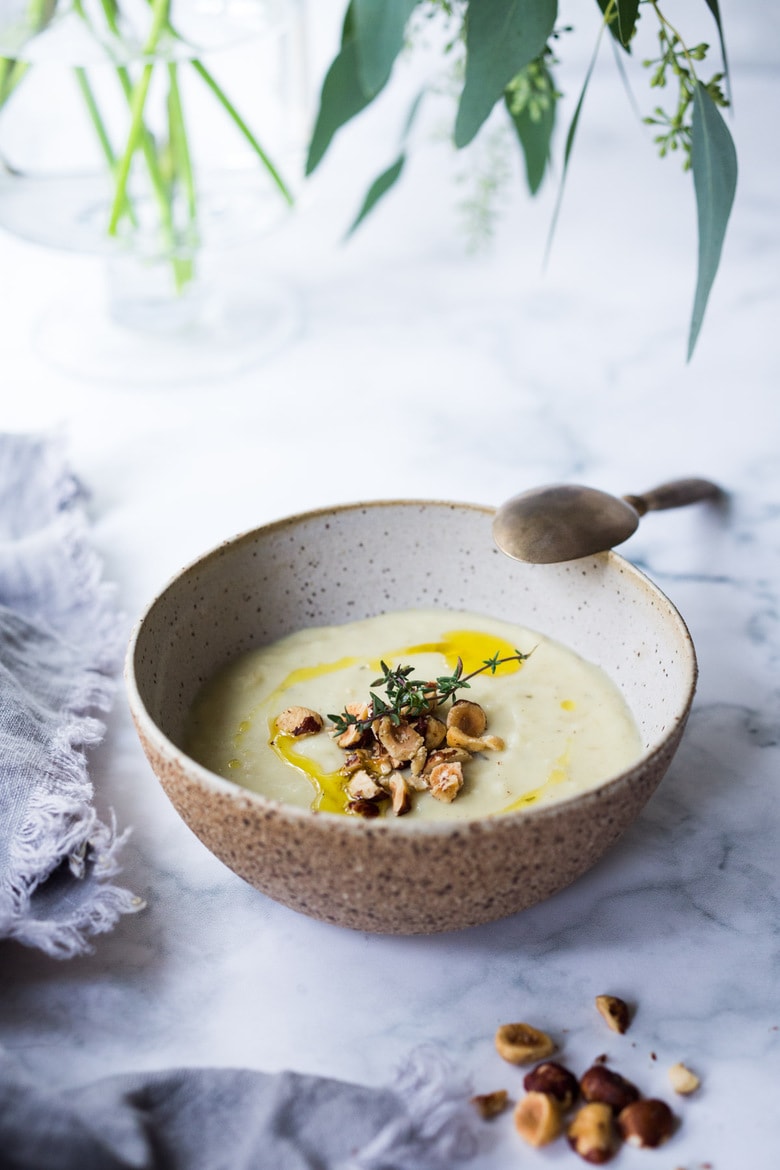 On the homefront: It's Christmas Eve 2011. Our catering work is finally done for the season and all we have left to do for the next few days is relax.
As as I type snow begins to fall… just in time for a white Christmas. The last few days have been dreamy and beautiful. The trees are perfectly flocked. The sun breaks through this morning and everything shimmers, the air is glittery, sparkling with snow dust. It catches me by surprise, the beauty of it all. And for a moment everything stops… I feel awestruck.
The holidays are difficult without the ones we love. Last year especially -Brian and I both lost our mothers. The holiday table was heavy with sadness and bewilderment.
But in its gradual way, the loss has become a little easier to hold. Somehow our hearts have become a little lighter over time. Joyful even, brief moments, that glitter.   I don't understand it, but I take them greedily.
Perhaps because loss teaches us that nothing lasts, life has become so precious. Everything so beautiful. Even parsnips in their own unique way.
Have a beautiful holiday season!
I hope you enjoy this Parsnip Soup!
Print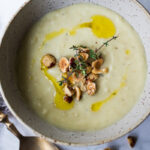 Parsnip Soup with Toasted Hazelnuts
Author:

Sylvia Fountaine

Prep Time:

15 mins

Cook Time:

20 mins

Total Time:

35 minutes

Yield:

4

-6

1

x

Category:

soup, vegetarian

Method:

stovetop or roasted

Cuisine:

Pacific Northwest

Diet:

Vegetarian
---
Description
---
3 tablespoons

oil or butter

one

onion, diced ( see instructions in notes, if roasting)

6

garlic cloves, rough chopped

1 tablespoon

thyme (or

1 tsp

dried thyme)

1/4

th of an apple, sliced

1

lbs

parsnips, washed and sliced to 1/2 inch thick disks

4

cups

stock- veggie or chicken
salt to taste

1/4 teaspoon

cardamom

1/8 teaspoon

white pepper

1/2

cup

heavy cream, half and half or vegan cream (all optional- see notes)
Garnish: toasted hazelnuts ( or walnuts), crushed. A drizzle of hazelnut oil (optional). Thyme sprigs.
---
Instructions
Stovetop version:  ( see notes for roasted version) 
---
Notes
Roasting: 400F oven.
You can roast the parsnips, onion, apple and garlic in a large baking dish.  (You may need two baking dishes ). Leave the garlic whole and cut the 1/4th apple in 2 pieces. Slice the onion and parsnips into 1/2 inch thick disks. Drizzle generously with olive oil and sprinkled with salt and pepper.  COVER TIGHTLY WITH FOIL.
Roast until really tender, about 20-30 minutes. Puree with the stock or broth. Place in a pot add fresh thyme leaves and continue with stovetop instructions, adding salt, spices, cream etc.
Roasting will elevate the flavor, but will take longer and add another pan to clean. 🙂
For a lower fat version- you can leave the cream out of this soup for a lightened up version. Parsnips are so naturally creamy, you may not need it, or need all of it.
Nutrition
Serving Size:

1.25 cups (with heavy whipping cream)

Calories:

224

Sugar:

8.5 g

Sodium:

403.4 mg

Fat:

13.3 g

Saturated Fat:

3.6 g

Carbohydrates:

26.7 g

Fiber:

6.6 g

Protein:

2.2 g

Cholesterol:

11.3 mg
Keywords: parsnip soup, parsnip soup with apples, vegan parsnip soup, roasted parsnips, roasted parsnip soup, parsnip recipes, parsnip soup recipes