How to make authentic Harissa Paste! – a north African condiment that will add depth and smokey spice to meats, stews and roasted vegetable dishes. Here are two different ways!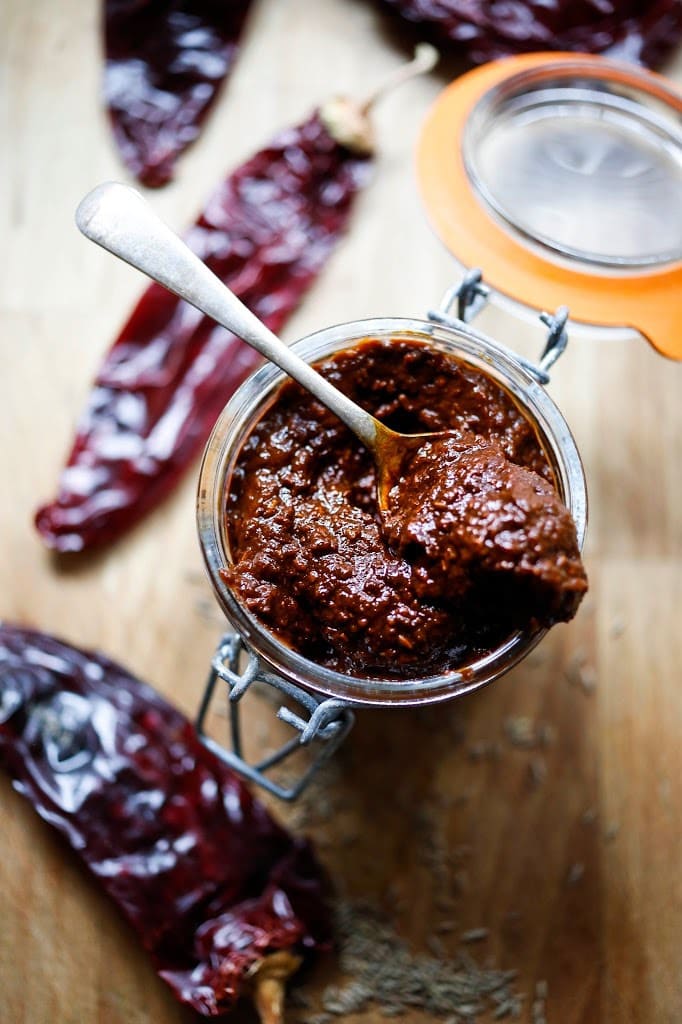 Meet my new favorite flavor bomb. Harissa Paste! I've been using it on practically everything lately – and loving its spicy smoky heat. This is a North African condiment, a flavorful chili pepper paste made from dried chilies, garlic,
olive oil
and toasted cumin seeds, caraway seeds and coriander seeds. The paste can be made from scratch or these days, purchased at most grocery stores. It is so addicting!
Here's an authentic version of Harissa Paste, with an additional Quick 5 minute "cheater version" in the recipe notes. Either way, you will love it!
Swirl it into soups for a flavorful kick, whisk it into vinaigrette's, whip it into
mayo
for a zesty aioli, spoon over a piece of grilled fish, or rub down a steak with it. Harissa recipes vary according to region. It's thought to have originated in Tunisia, spreading to the surrounding countries of Morocco, Libya and Algeria.
In hotter Saharan regions, Harissa takes on a smokier quality which I really enjoy and couples well with roasted sweet potatoes and cauliflower. In Morocco, they add
preserved lemons
which gives it a delicious brightness.
I've found, the secret to making a good Authentic Harissa Paste-one that is flavorful yet not overwhelmingly hot – is to use a mix of different kinds of dried peppers.
If short on time or ingredients, see the recipe notes for QUICK 5 Minute "cheater version"!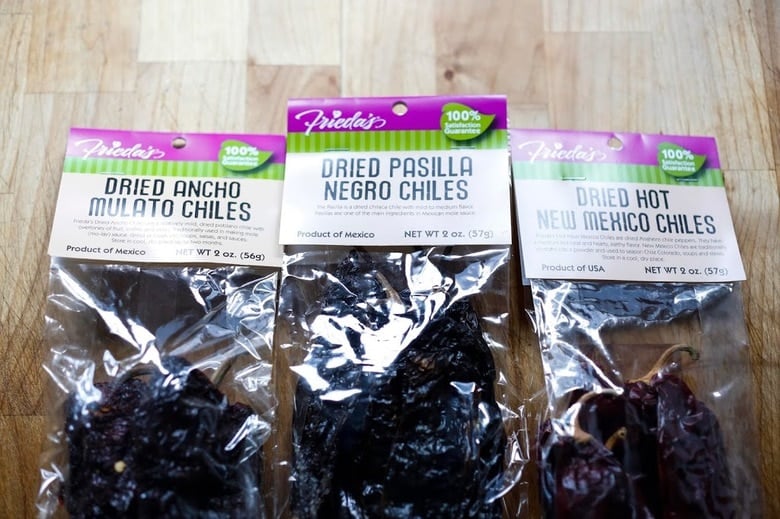 I prefer to use mostly mild to medium chilies, and just one or two hot ones. Often I will add a smoked chili or two – like chipotles packed in adobo sauce for added depth, smokiness and layers of flavor. The more variety, the more dimensions to the paste.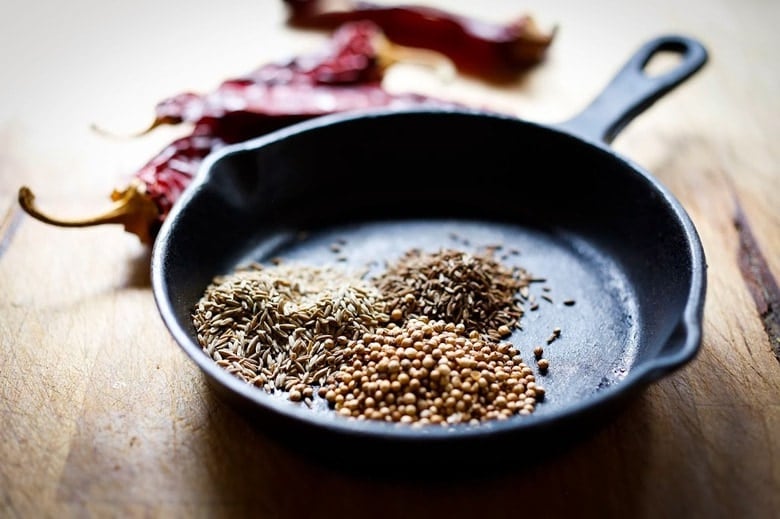 Make sure to toast your spices to add layers of flavor. Traditionally, the three spices of harissa are cumin seeds, coriander seeds and caraway seeds.
But I encourage you to be playful. Listen to what draws you… and create your own version. Sometimes I'll add cinnamon, smoked paprika or even a little clove, deepening on what I'm using it on. Often I'll add fresh herbs…. like cilantro or parsley.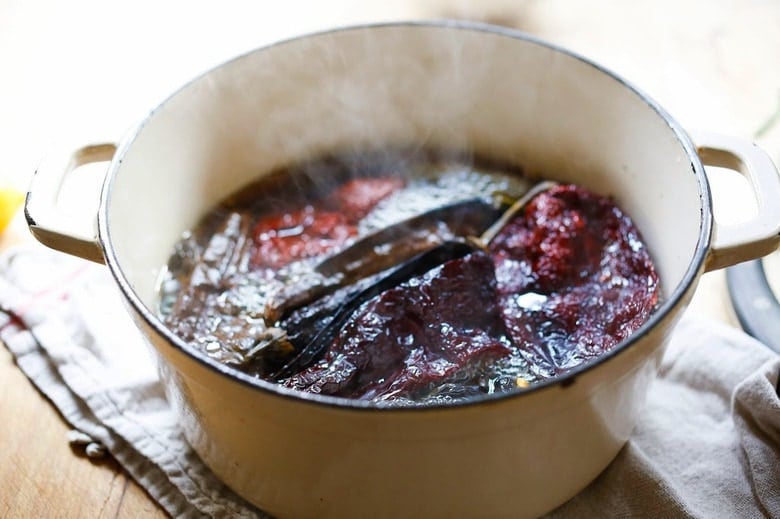 Bring dried chilies to a boil in a large pot of water. Turn heat off, cover, and let soak for 1 hour or even overnight.
Drain and remove the seeds and stems, rinsing under running water.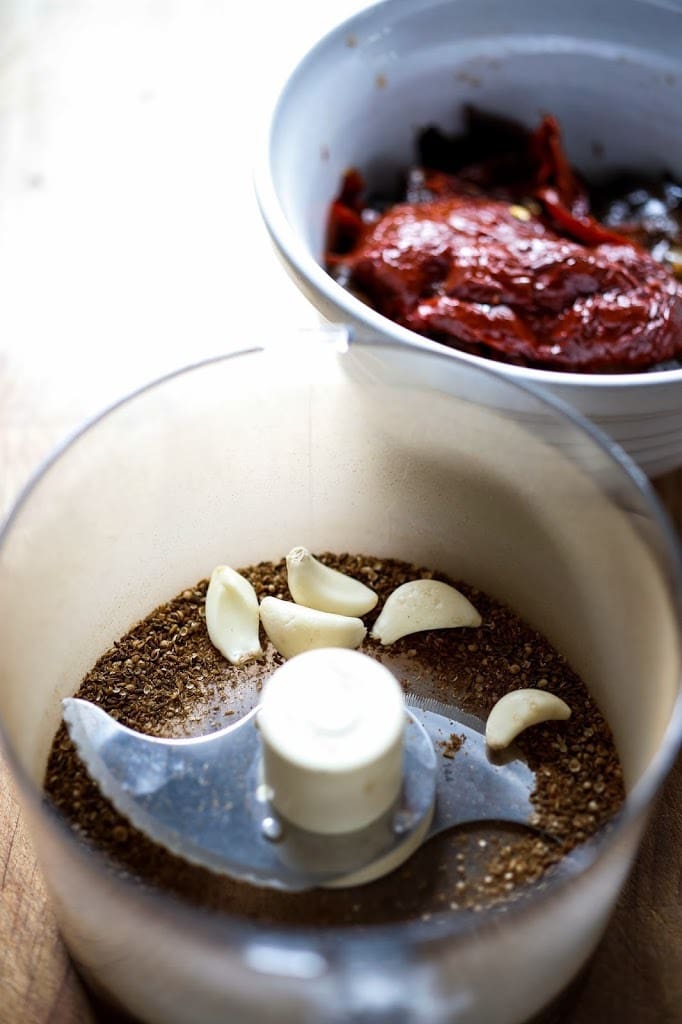 Grind your spices and place in a food processor. Add garlic, salt, chili peppers, olive oil and lemon juice. Then add the peppers.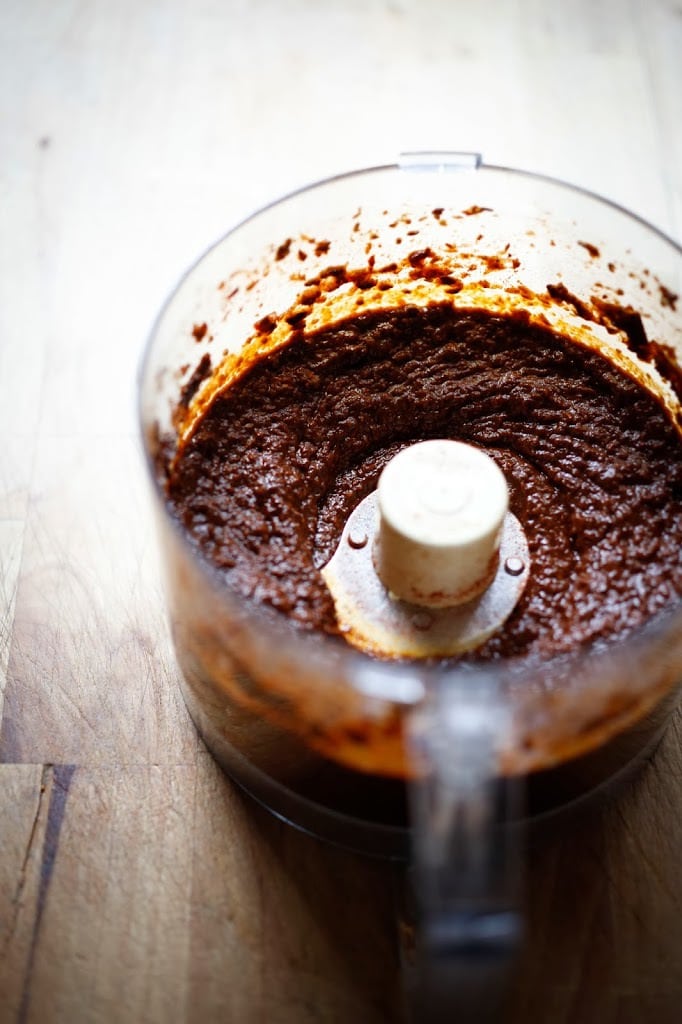 This recipe makes a cup and a half.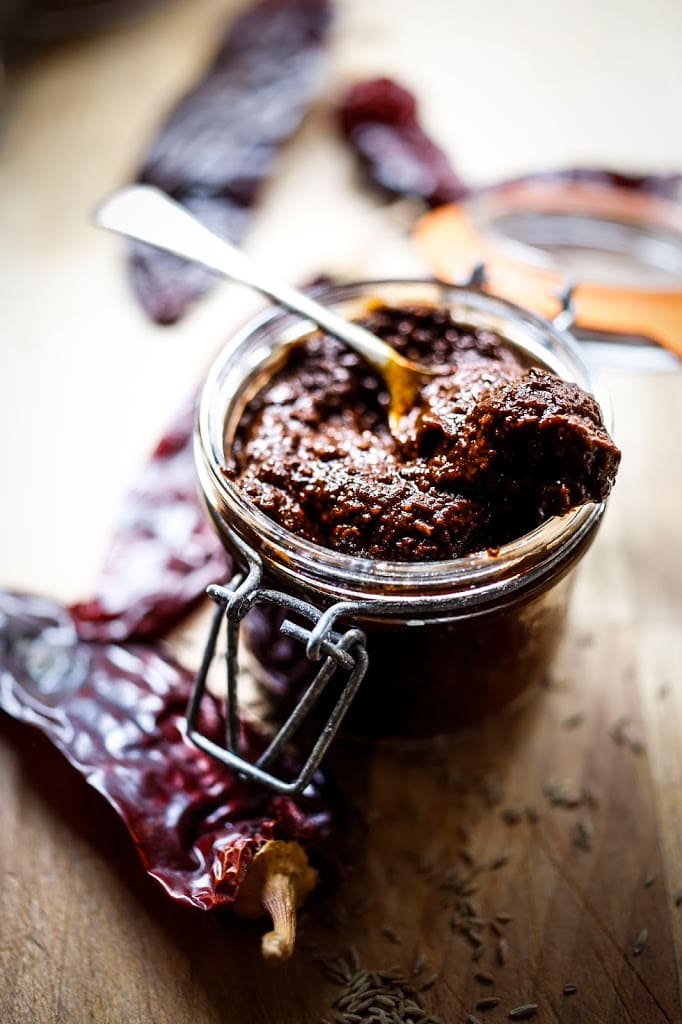 Harissa can be stored in the fridge for months, by covering the top of it with a thin layer of
olive oil
after each use.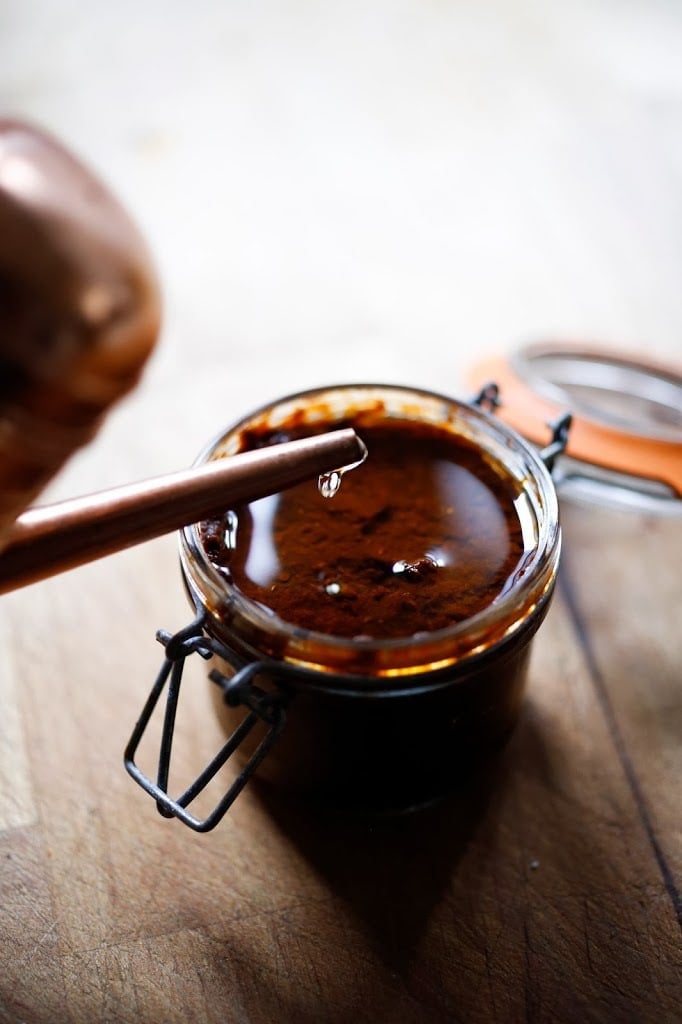 Enjoy!
Print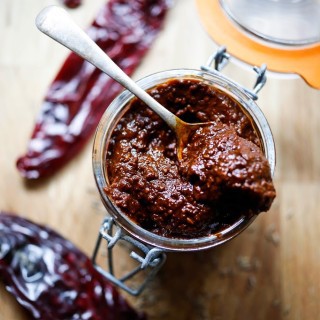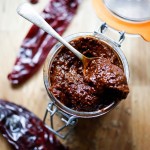 Authentic Harissa Paste Recipe
Prep Time:

20 mins

Cook Time:

1 hour

Total Time:

1 hour 20 mins

Yield:

1 ½ cups

Category:

Condiment

Method:

Blended

Cuisine:

North African
---
Description
Authentic Harissa Paste Recipe – a north African condiment that will add depth and smokey spice to meats, stews and roasted vegetable dishes. PLUS a 5 minute cheater version! See notes.
---
---
Instructions
Bring chilies to a boil in a large pot of water, turn heat off, cover, let sit 1 hour or overnight. Toast spices and grind them.When the chilies are soft and rehydrated, drain and remove seeds and stems ( you can rinse them under running water to get them cleaned up . Place all the ingredients in a food processor and pulse until desired consistency. If you like a "looser" style add more oil.
To store, place in sealable jar and drizzle olive oil over top after each use, to preserve. It will last 1-2 months in the fridge.As long as it's covered with a layer of oil , it should keep well.
---
Notes
The preserved lemon, is especially authentic and delicious if you can find it.
FOR a Quick harissa paste, simply mix the following together in a bowl.  Not authentic, but a tasty quick option! 
¾ cup olive oil
1 teaspoon vinegar (apple cider, red or white wine)
2 tablespoons plus two teaspoons ground cumin
2 tablespoons plus two teaspoons smoked paprika
1 ¾ teaspoons cayenne or chipotle powder
1 ¾ teaspoons salt
10 garlic cloves, finely minced
Keywords: harissa paste, how to make harissa paste, best harissa paste, harissa paste recipe
SaveSave
SaveSave
SaveSave
SaveSave