BEST EVER Potato Soup! Light and healthy, this easy, lightened up version is simple to make with great flavor! Vegetarian and gluten-free! Creamy and Delicious!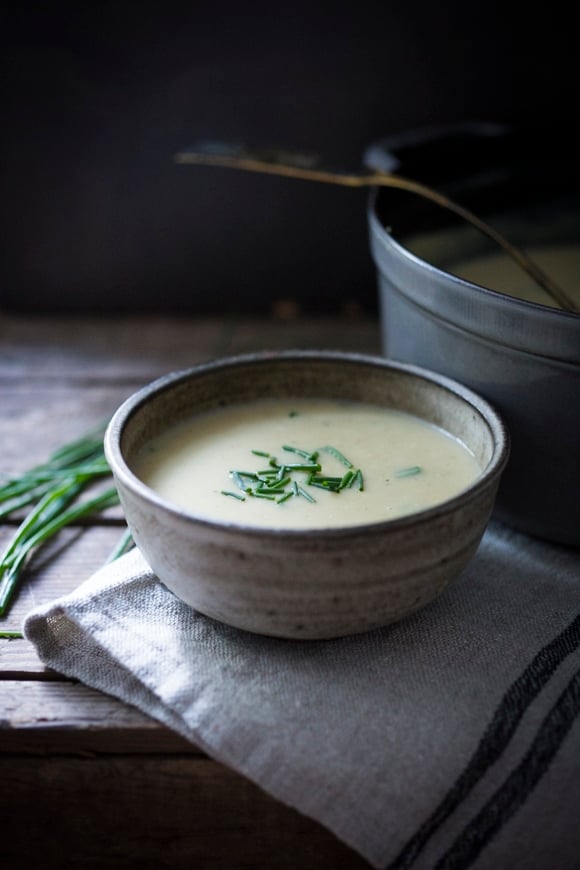 Here's a simple easy recipe for creamy Potato Soup. This version is vegetarian and lightened up with sour cream instead of using heavy cream or bacon. Leeks add delicious depth and subtle sweetness, that elevate this soup to the next level. The best part… just simple humble ingredients! 
There is something very satisfying about creating a delicious meal from a few simple ingredients. Potatoes and leeks come together deliciously in this classic pairing. To be honest, in the past I have tended to shy away from Potato Leek Soup, because of the many occasions when ordered, it arrived bland and lifeless. This version, I assure you, is not. It's rich and flavorful, all the while staying light and healthy. Served with crusty bread, it makes for a gratifying and nourishing meal.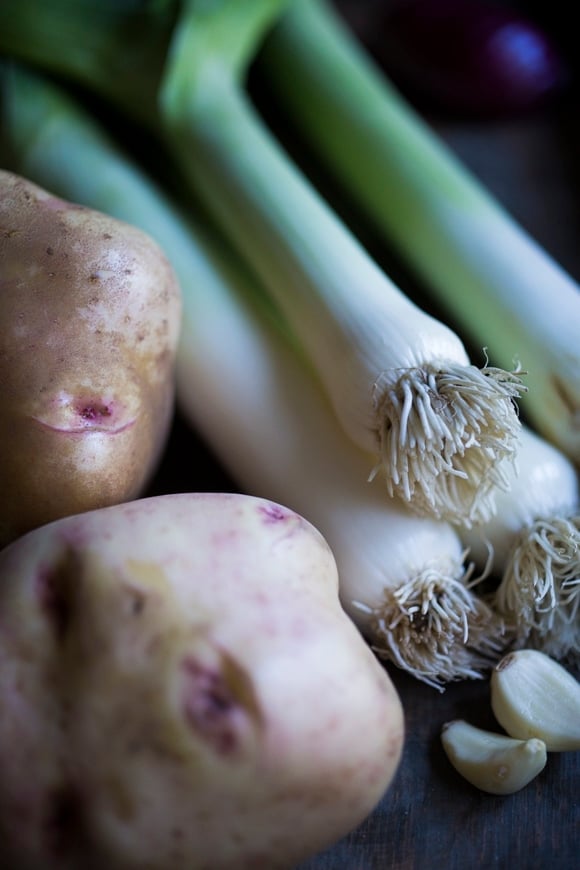 This time of year, local farmers' markets are filled to the brim with the vibrant colors of fall. Pumpkins, apples and winter squash dominate the scene with their rich warm hues and bright pops of color, but venture a little deeper, and you will discover the subtle shades of fall potatoes. Deep blues and purples, rosy reds and soft buttery yellows – nowadays, there are hundreds of different kinds in all shapes and sizes – and the farmers' market is a great place to find these unique varieties.
With so many kinds available, how do you decide which potatoes to purchase? It all depends on how you plan to cook them. Potatoes, in general, are divided into three groups; starchy, waxy and all-purpose, based on their level of starch. And it's their starch level that tells us how to best prepare them, some lending themselves better than others in recipes, impacting the outcome.
Starchy potatoes, like russets and bintjes, are very low in moisture. When cooked, their cells separate, becoming aerated and fluffy. They absorb whatever you pair with them – ideal for buttery fluffy mashed potatoes or baked potatoes. Their low moisture content, and high absorption makes them ideal for frying, perfect for french fries or potato pancakes. But these high starch potatoes can also too easily absorb water, so they fall apart when boiled, making them not the best choice for salads.
Conversely, waxy potatoes, including red potatoes, fingerlings, most new potatoes, and some blue potatoes, are low in starch with flesh that is characteristically creamy, firm and moist that holds its shape well after cooking. They're typically great for roasting in the oven, blanching, pureed in soups and baked in casseroles. Because they have a more cohesive cell structure and don't get overly mushy, they are an ideal candidate for potato salads.
All-purpose potatoes have a medium starch content falling somewhere in between the starchy and waxy potatoes. They're a true multi-purpose potato, and can be used in just about any cooking application. The most popular example is the Yukon Gold potato. Other varieties include, yellow fins, and some purple and white potatoes. They're moister than high-starch potatoes yet hold their shape a bit better.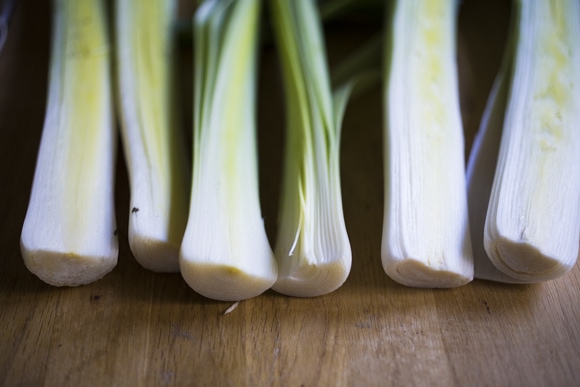 This is also the time of year that leeks are in season – so it makes perfect sense that they be paired together. The addition of onion and garlic gives the soup added dimension and complexity. Instead of butter, use
olive oil
. Instead of cream, use light sour cream. The tanginess of the sour cream gives the soup a little oomph and hint of brightness, which to me, makes all the difference.
Cut the leeks lengthwise, and rinse under running water to remove any dirt. Slice into ¼ inch slices using the white, yellow and pale green parts.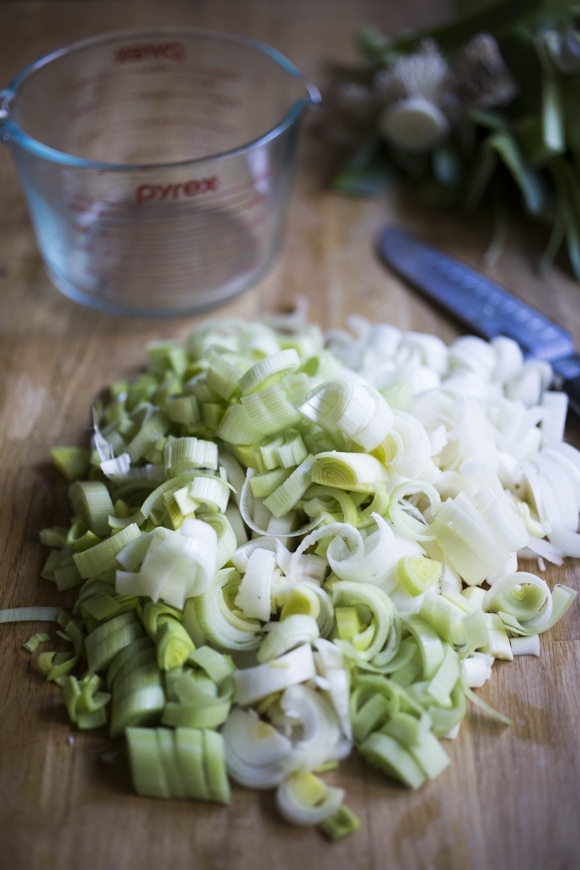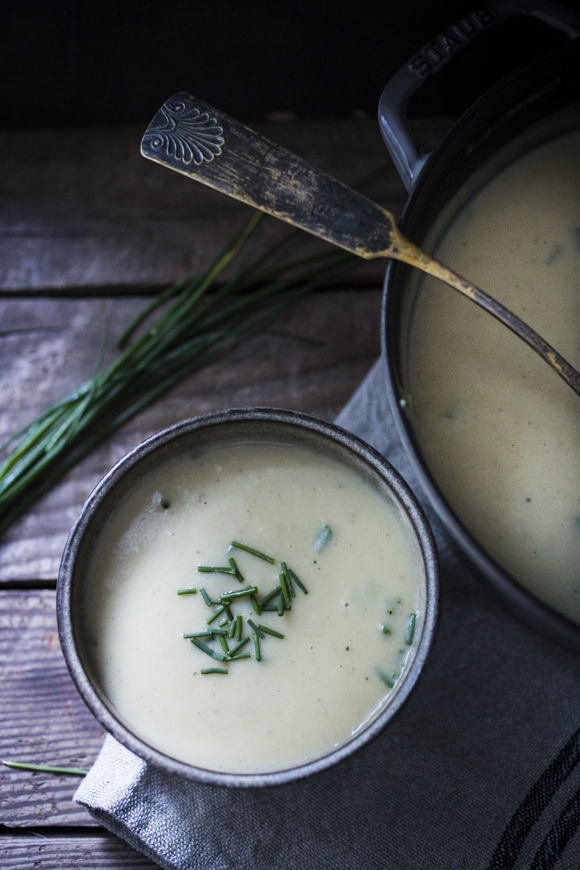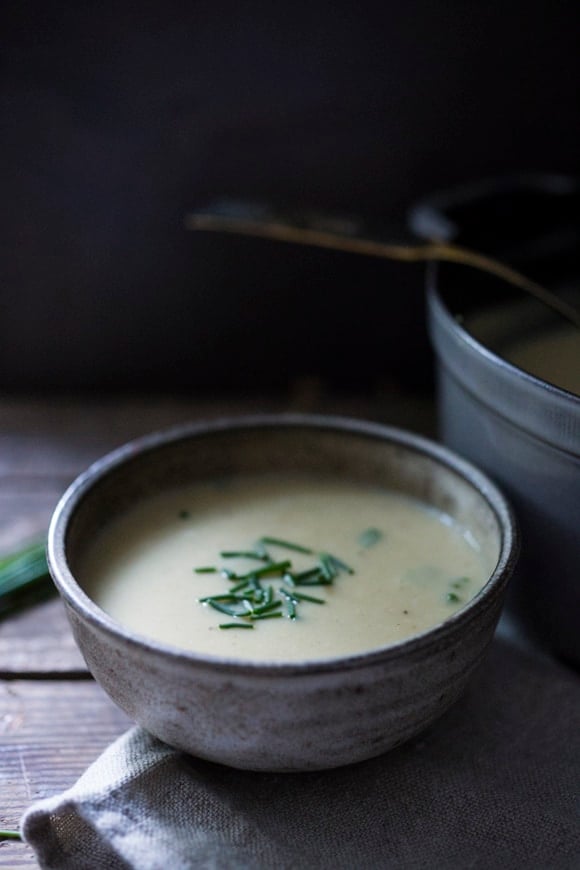 Hope you enjoy this easy healthy Potato Soup recipe!
xoxo
Print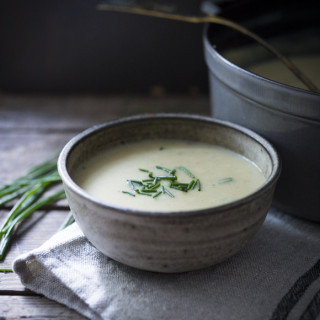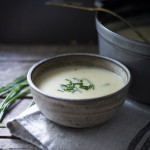 Best Ever Potato Soup!
Prep Time:

10 mins

Cook Time:

20 mins

Total Time:

30 mins

Yield:

4-6

Category:

Soup, stew, vegetarain

Method:

stove top

Cuisine:

Northwest
---
Description
BEST EVER Potato Soup! Light and healthy, this version is simple & easy with great flavor!
---
Ingredients
3

Large leeks -1 ½ inch -2 inches in diameter (

3 cups

) Or sub 3 cups diced onion.

4 Tablespoons

olive oil

4

cloves garlic-rough chopped

1

pound yukon gold potatoes- diced

6 cups

chicken stock (or veggie stock) or use ½ water

1 tablespoon

fresh thyme (or substitute

1 tsp

dry thyme or herbs de provence)

1 teaspoon

salt, more to taste

½ teaspoon

fresh cracked pepper

½

 cup sour cream

2 tablespoons

fresh chives ( or scallions)  for garnish
---
Instructions
Cut leeks in half length wise. Rinse to remove any dirt. Slice leeks into ¼ inch half rounds. Heat oil in medium sized heavy bottom pot or dutch oven, over medium heat. Add leeks and sauté until tender, golden and fragrant, 8-10 minutes.
Add garlic and sauté for 3 more minutes.
Add potatoes, stock and fresh thyme. Bring to a boil, turn heat to low and simmer, covered,  for 15-20 minutes, until potatoes are fork tender.
Add salt and pepper.
Blend in batches, until very smooth and silky —remember, you don't want to fill up a blender with hot liquid, or you will have a soup explosion –so blend in small batches, less than half full, with the lid held down very tightly, holding lid down firmly covered with a kitchen towel. Or use an emersion blender. 
Return the silky smooth soup to the pot, bring to a simmer over low heat, and stir in the sour cream. Taste and adjust salt and pepper.
Serve with fresh chives.
---
Keywords: potato soup, best potato soup, potato soup vegetarian, potato leek soup, vegetarian potato soup, healthy potato soup, easy potato soup