Savory Leek Bread Pudding with Gruyere and Thyme – a delicious vegetarian side dish, perfect for the holiday table or special dinners.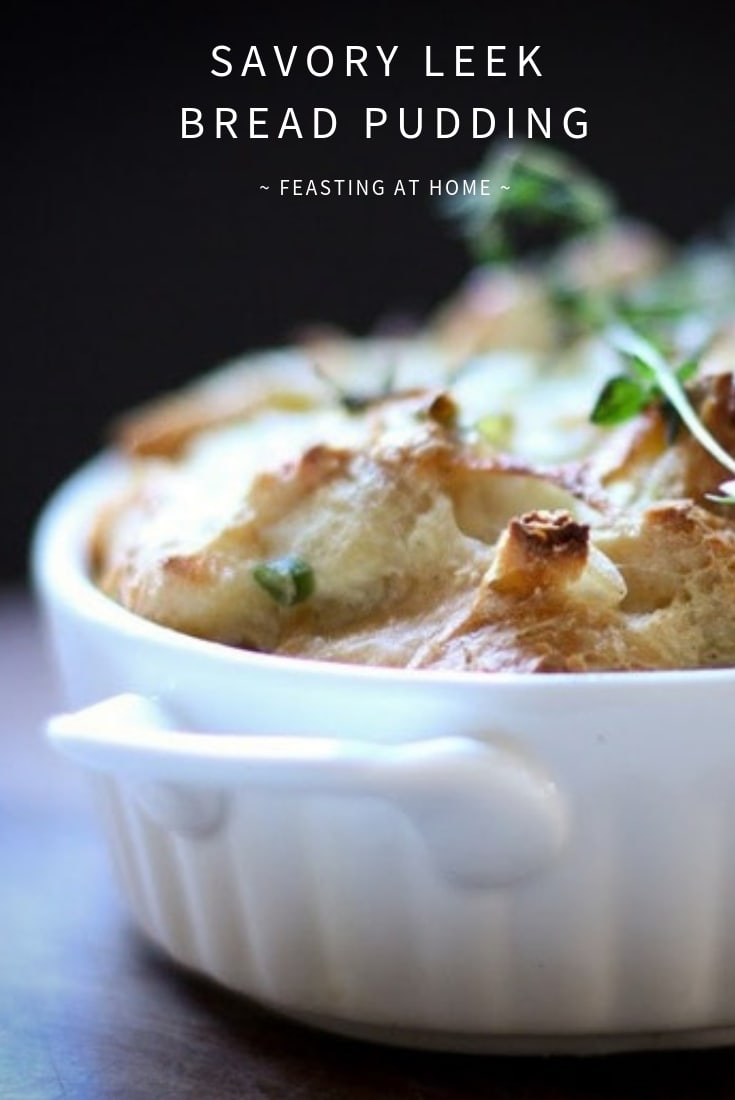 The cold outside makes me want to hunker in and bake… and this Savory Leek Bread Pudding Recipe is like a warm cozy blanket on frigid days like these, so comforting and warm.  We often think of bread pudding as sweet, something to have for dessert, but turned savory, it's a hearty flavorful sidedish, pairing well with almost any main.
Now I won't lie to you, this is a rich, decadent thing of beauty, a once-a-year kind of recipe. It's pretty caloric, but still, I love it.
It's perfect for special gatherings or the holiday table – or serve it as we do at home- as a simple, hearty vegetarian main, along with a big helping of salad.
I often think of this as a grown-up alternative to mac and cheese. Pure comfort food.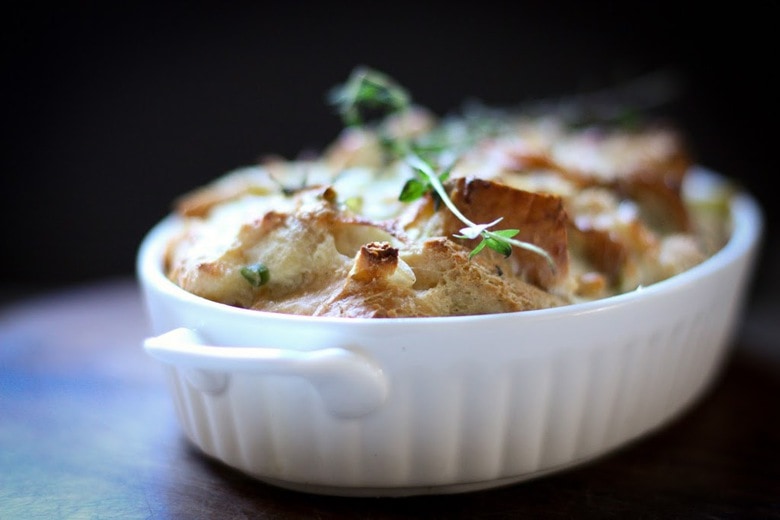 What I love about this recipe, is you can make it in one large baking pan, or divide it into individual portions using separate ramekins or small baking dishes ( like we do in catering) for a beautiful presentation.
The wonderful thing about this is how amazing your whole house will smell when this is in the oven.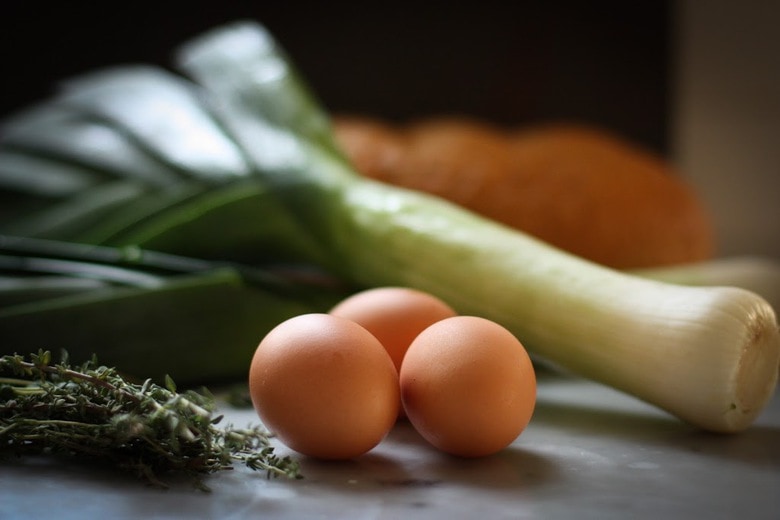 The caramelized leeks give this the BEST flvor!
The flavor of a leek is more subtle and sweet than an onion. Like onions, scallions and garlic, leeks too are an allium and belong to the Amaryllidaceae family -a family of blooming bulbs related to the lovely Amaryllis. Their Latin name is Allium Porrum.
Have you ever really looked at a leek?  For some reason, they are especially beautiful to me right now with their range of colors and symmetry and layers.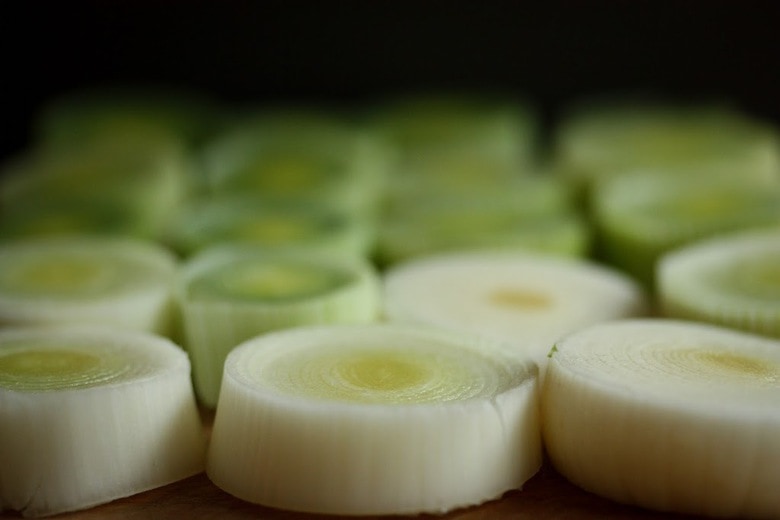 Generally,  you'll want to use the lighter parts of the leek because that is where the flavor is.
The darker parts are great for stock or this beautiful emerald LEEK OIL -no need to waste any part!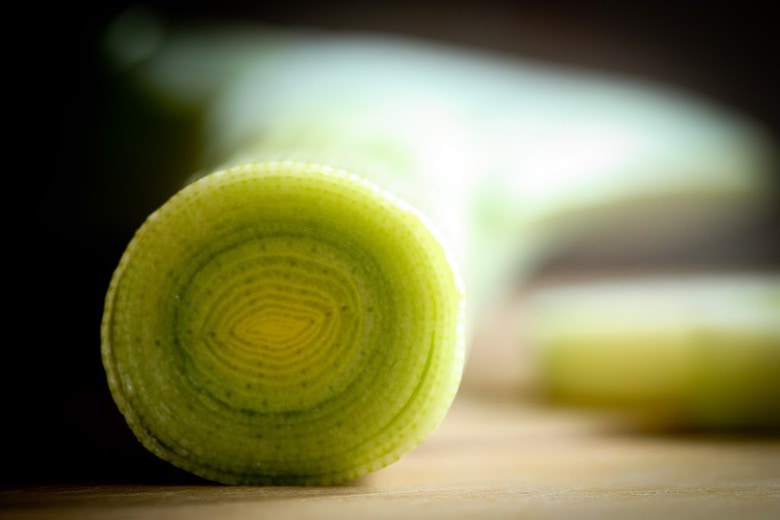 As you will discover, between the layers, there may be flecks of dirt. Sometimes even clumps.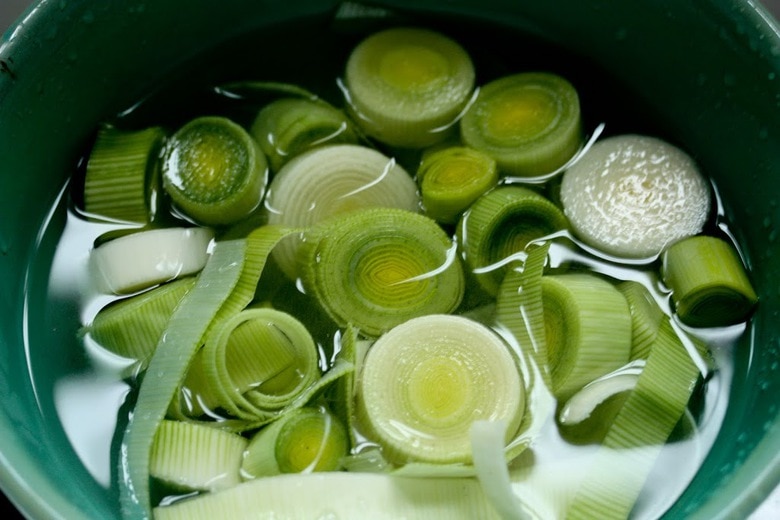 An easy way to remove the dirt is to soak the sliced leeks in a bowl of tepid water for about 10 minutes, stirring occasionally. Most of the dirt will fall to the bottom. Remove them with tongs or with your hands careful not to stir up the dirt that falls to the bottom.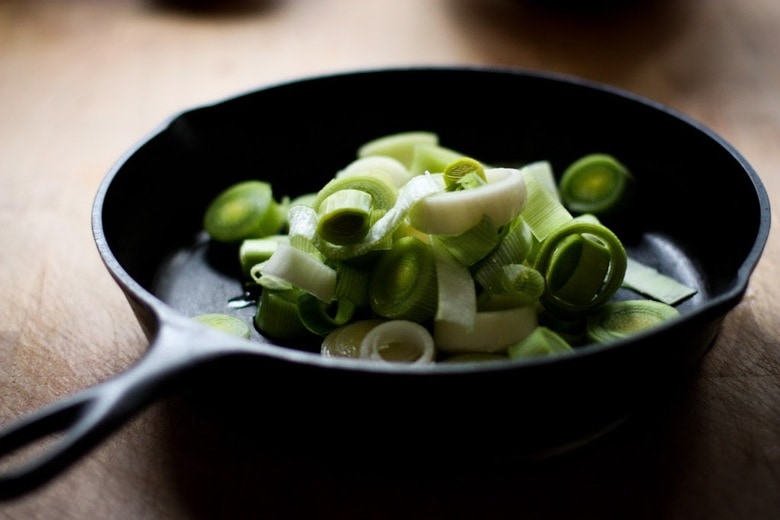 Blot dry. Saute the wet leeks in a dry (non-oiled) heavy-bottomed pan for 5 mins on Medium-high heat, stirring constantly.  Once they begin to soften, add
salt
and butter and cover… stirring every 10 minutes or so until they are very tender …this will take some patience.  About 30 minutes.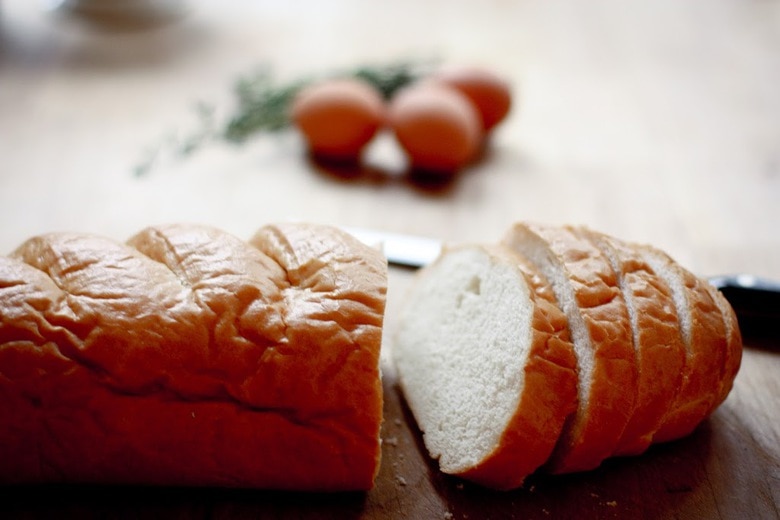 In the meantime,  cut up a loaf of French bread into 1-inch cubes and toast in the oven on a sheet pan for 15- 20 mins until brown and dry.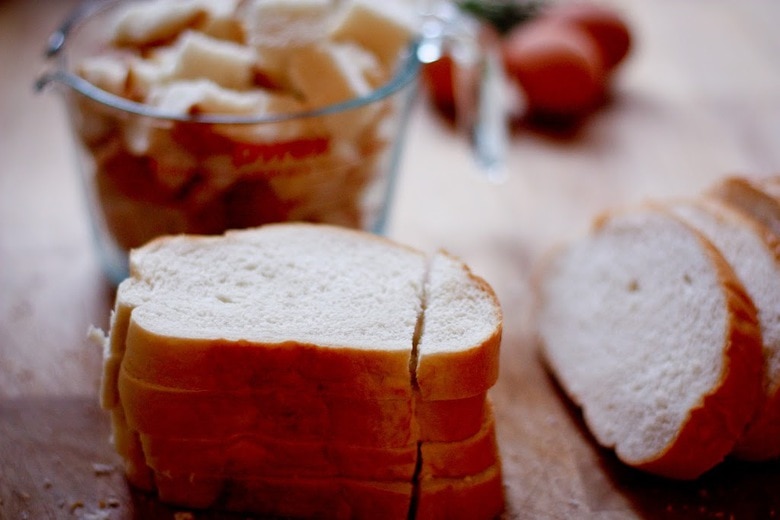 Here is quick way to cut bread. Stack it up before slicing. Toast until dried out.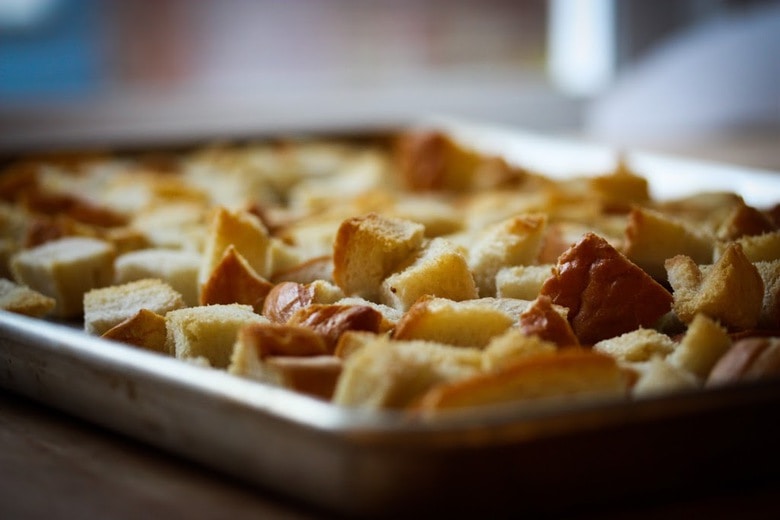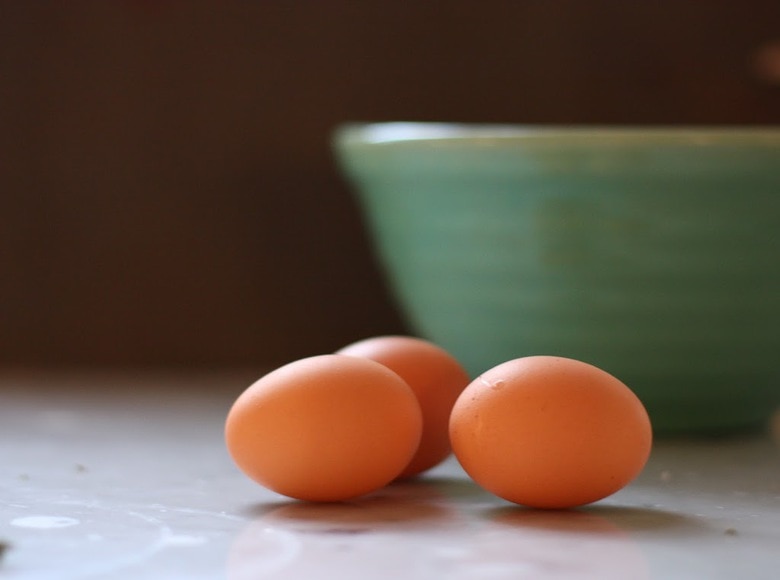 Once the bread cubes are in the oven, make the egg mixture.
Crack eggs in a medium-sized bowl.
Whisk well and add milk or half and half …..and whisk some more.  You may be tempted to use all half and half, or heavy cream.  I've done this, and it was WAY too rich for me, but do as you please.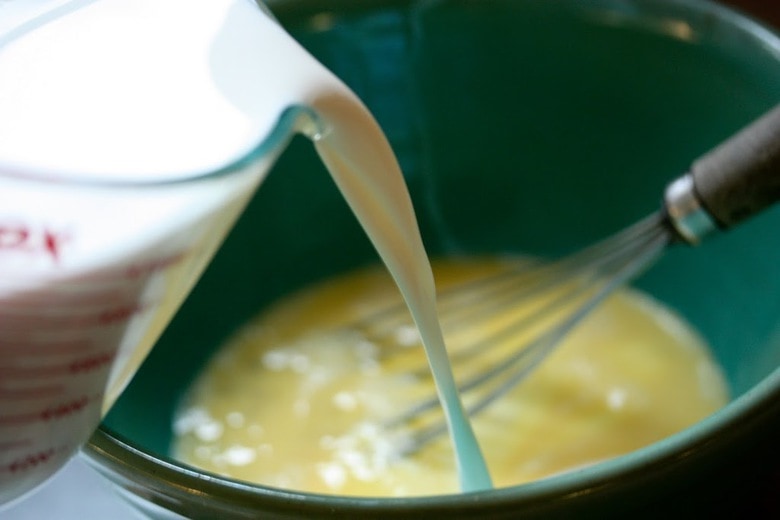 Add salt, thyme, chives, fresh nutmeg and white pepper.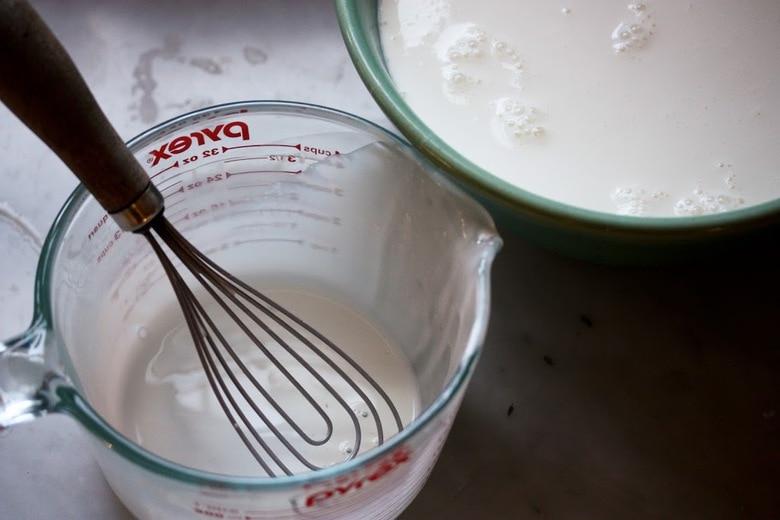 Grate some gruyere or gouda.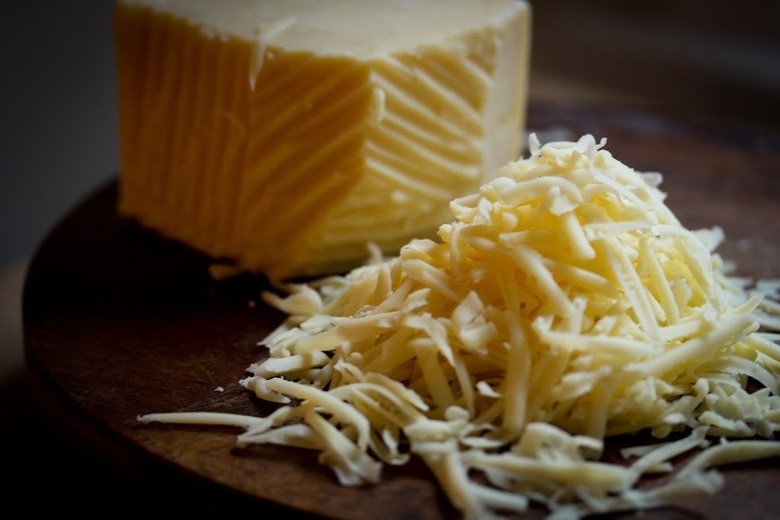 By now your leeks should be deliciously tender …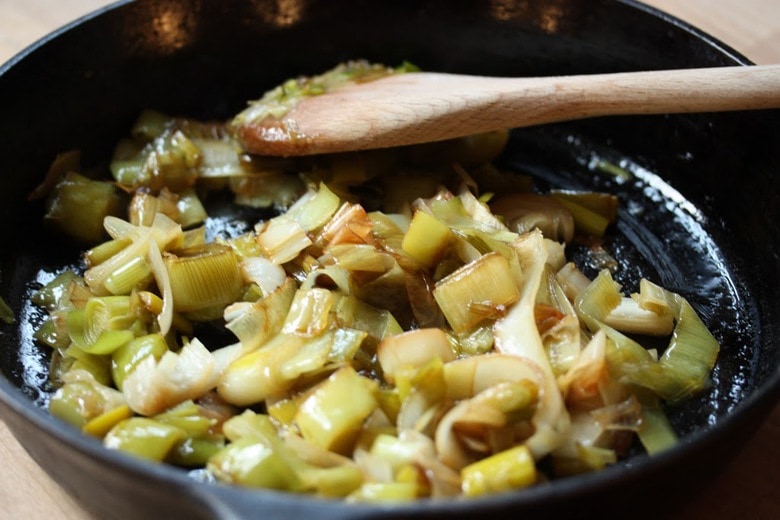 Place your toasted bread in a large bowl and add the leeks.
Grease your baking dishes. You could do this in one large deep 9 x 13 baking dish or in small individual-sized ramekins as well.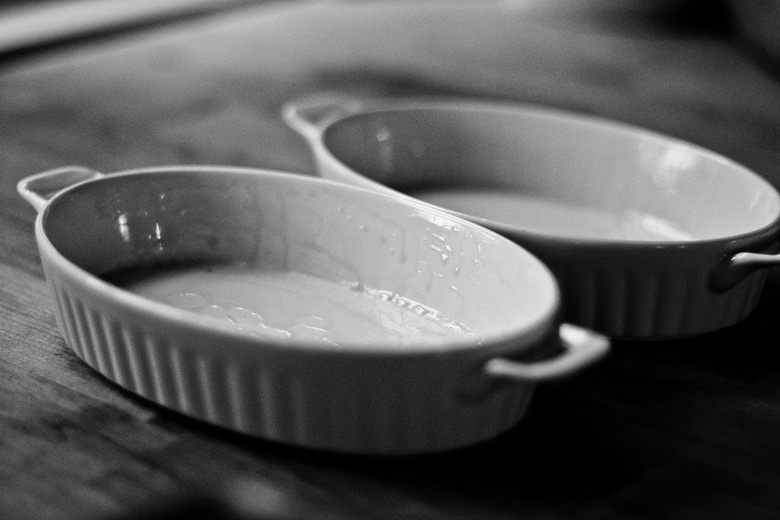 Layer cheese and bread leak mixture. Pour enough custard over the top while gently pressing down the bread so it soaks in the custard. Let sit 10 minutes and pour the remaining custard allowing some of the bread cubes to protrude.
Top with the remaining cheese, and a sprinkling of salt.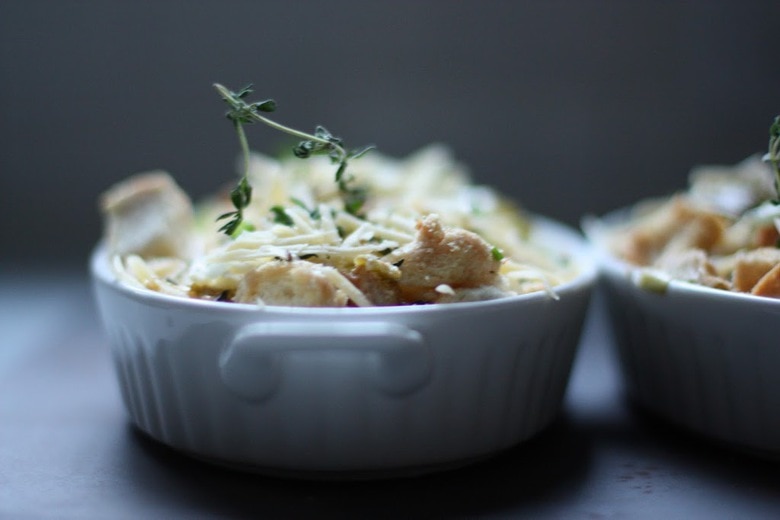 Bake for 1 1/2 hours.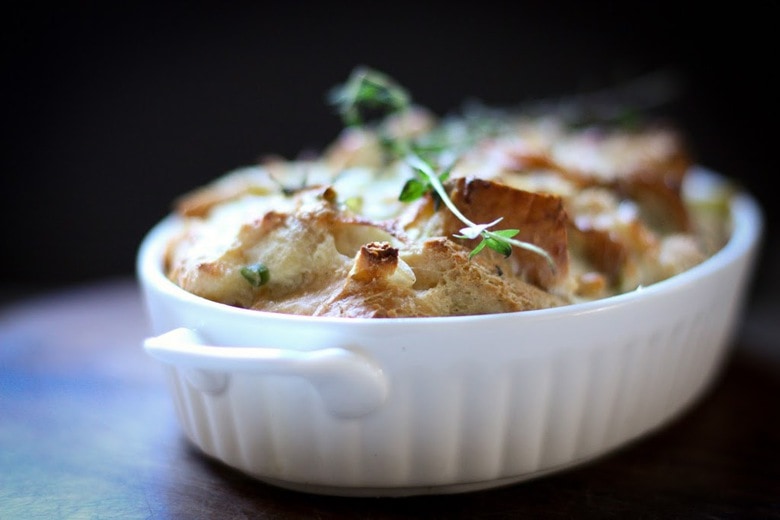 When it comes out it will be beautifully puffed and golden. Your home will smell heavenly. 
Serve the Savory Leek Bread Pudding as a delicious, vegetarian side dish or as the main course with a BIG salad.
xoxo
More recipes you may like:
Our BEST Thanksgiving Side Dishes
Cornbread Stuffing with Cranberries and Pecans
Wild Mushroom Stuffing with Fennel and Leeks
Print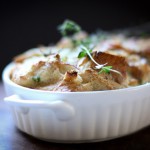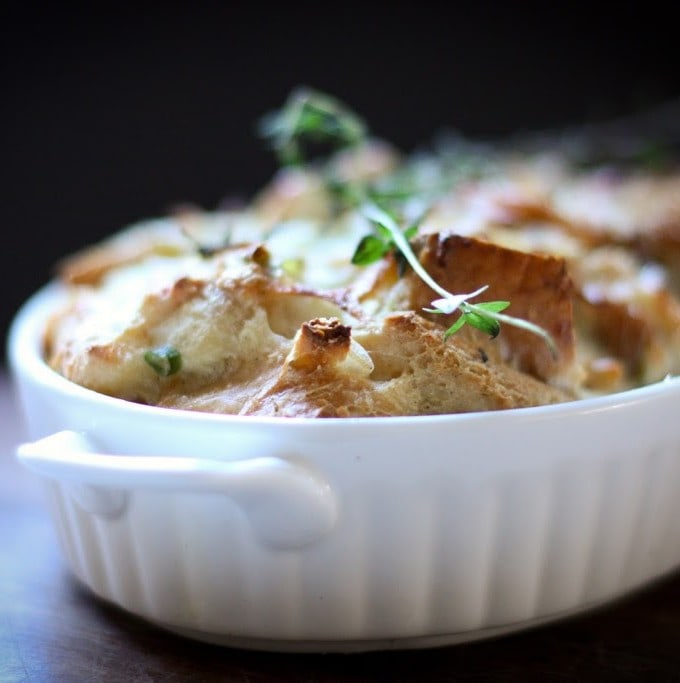 Savory Leek Bread Pudding
Prep Time:

45 mins

Cook Time:

90 mins

Total Time:

2 hours 15 mins

Yield:

1

0

1

x

Category:

side dish

Method:

Baked

Cuisine:

French

Diet:

Vegetarian
---
Description
Savory Leek Bread Pudding- a comforting vegetarian side dish perfect for specia dinners or the holiday table. (Adapted from Thomas Keller's recipe- but a little lighter!)
---
3

cups

leeks (about 3-4 leeks depending on size)

1/2 tsp

kosher salt

2 tablespoons

butter

2 tablespoons

olive oil

1/4 tsp

white pepper

12

cups

bread cubes ( about one large french bread loaf)

1 Tablespoon

chives or scallions

1 Tablespoon

fresh thyme

4

large eggs

4

cups

milk

2

cups

half and half

1/2 teaspoon

fresh nutmeg

1 1/2

cups

shredded gruyere, gouda, or comte or Emmentaler cheese
---
Instructions
Preheat oven to 350 F.
Cut leeks into 1/2 inch rounds using only white and light green parts and place in a bowl of lukewarm water to remove dirt. Mix several times and let any dirt settle to the bottom. Rinsing in water also helps soften the leeks when sauteing.
Set a skillet on med-high heat. Strain the leeks and addd them to the un-oiled pan. Season with salt and stir for 5 minutes. As leeks begin to soften, lower the heat to med-low. Stir in the butter and olive oil and cover the pan, stirring every 10 minutes for 20-30 mins, until tender.
Meanwhile, cut the bread into 1-inch cubes and toast on a sheet pan for 20 mins until golden and dry. You may need to mix or turn mid-way so they are evenly browned. Transfer to large bowl.
Grate 1 ½  cups of cheese. Set aside.
In a medium bowl whisk 4 eggs. Add milk and half and half. (Don't be tempted to use all half and half, it will turn out very rich)  Whisk. Add salt, thyme, chives, a pinch of fresh nutmeg and white pepper.  Whisk.
Add your now tender buttery leaks to the toasted bread and toss well.
Assemble: Grease a 9x 13-inch baking dish and sprinkle the bottom with ½ cup cheese. Spread 1/2 of the leek and bread mixture in the pan and sprinkle with ½ cup more of the cheese. Add the rest of leek mixture to the pan. Mix the custard once more and carefully pour enough of it to cover the bread mixture, gently pressing on the cubes of bread allowing it to soak in. Let sit 10 mins.
Then add remaining custard, allowing some of the bread cubes to protrude. Sprinkle with the remaining cheese.
Bake in the middle of the oven until nicely puffed and lightly browned  about  1 1/2 hours.
---
Nutrition
Serving Size:
Calories:

365

Sugar:

9.8 g

Sodium:

635.3 mg

Fat:

19.6 g

Saturated Fat:

9.9 g

Carbohydrates:

39.5 g

Fiber:

2 g

Protein:

19.6 g

Cholesterol:

121.2 mg
Keywords: savory bread pudding, leek bread pudding, thomas keller's bread pudding recipe, savory leek bread pudding, bread pudding recipes, vegetarian side dishes

SaveSave