A delicious recipe for Creamy Celeriac Soup with Fennel and Parsley oil – a fast, easy and healthy soup that can be made in 35 minutes!  One of my favorite winter soups on the blog! Creamy yet LIGHT!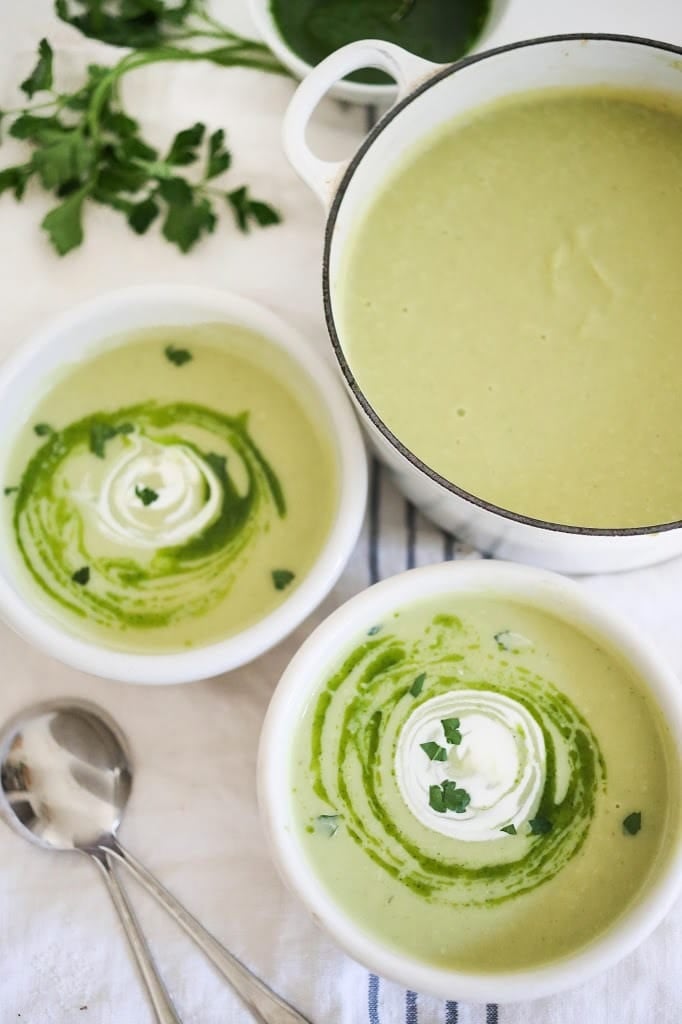 I will love the light for it shows me the way. Yet I will endure the darkness for it shows me the stars. 
Og Mandino



In a few short days, the sun will pause as it reaches its most distant point in our Southern sky. Winter Solstice will arrive, and with it, our longest night. With the sun rising at its lowest altitude above the horizon, the ancients believed the sun could easily slip out of sight and slide into the abyss, leaving us in the dark forever.
To show appreciation for the sun's warmth and spark of life, the ancients lit bonfires during Solstice, to light a path that would show the sun the way back North.
Solstice reminds us to take a pause, like the sun. Tapping into nature's cycle of dormancy and stillness we emerge feeling refreshed and alive -with space for new things to grow.
During mid-winter, in our area, the growing cycle too, takes a pause. Fresh locally grown produce comes to a halt. But there are always root vegetables. A little under-appreciated and misunderstood, they often get passed up for showier green vegetables. But don't be fooled by their stodgy and dull exteriors – like most things, there is usually more than meets the eye.
If you get past appearances, you'll discover a whole world of flavor. Grown in summer, harvested in late fall -root vegetables like yams, parsnips, turnips, beets, and celeriac, just to name a few, are resilient enough to be wintered over – all the way into the light of Spring.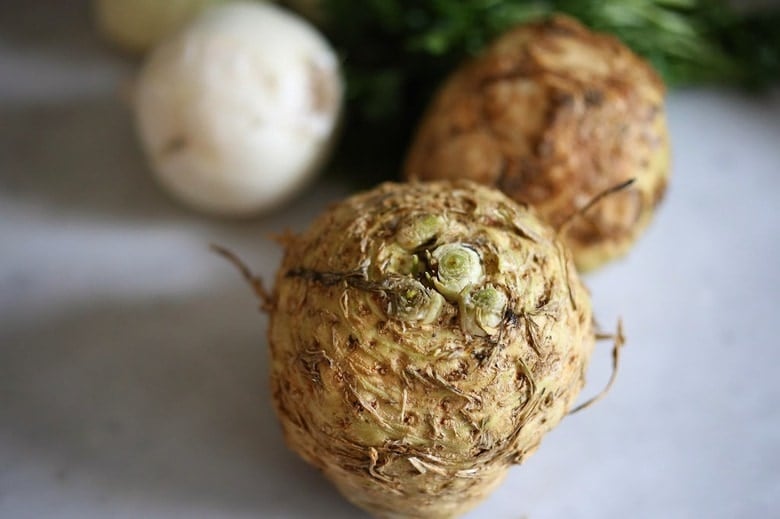 Holding the celeriac (aka celery root) in my hands, I am amazed, quite frankly, at how anyone would have been brave enough to eat it. It looks terrifying with its twisted roots and hairy tendrils.
But beneath its rugged exterior resides the tenderest of hearts. And given proper consideration, one discovers a huge and amazing secret -its incredible flavor. You may feel as if you've known it all your life.
And you have, because Celeriac is a very close relative of celery. Light familiar flavors of celery and parsley flirt with the palate, while underlying notes of earthiness, nuttiness and spice, add mystery and depth. But to unlock theses flavors you must brave the beast.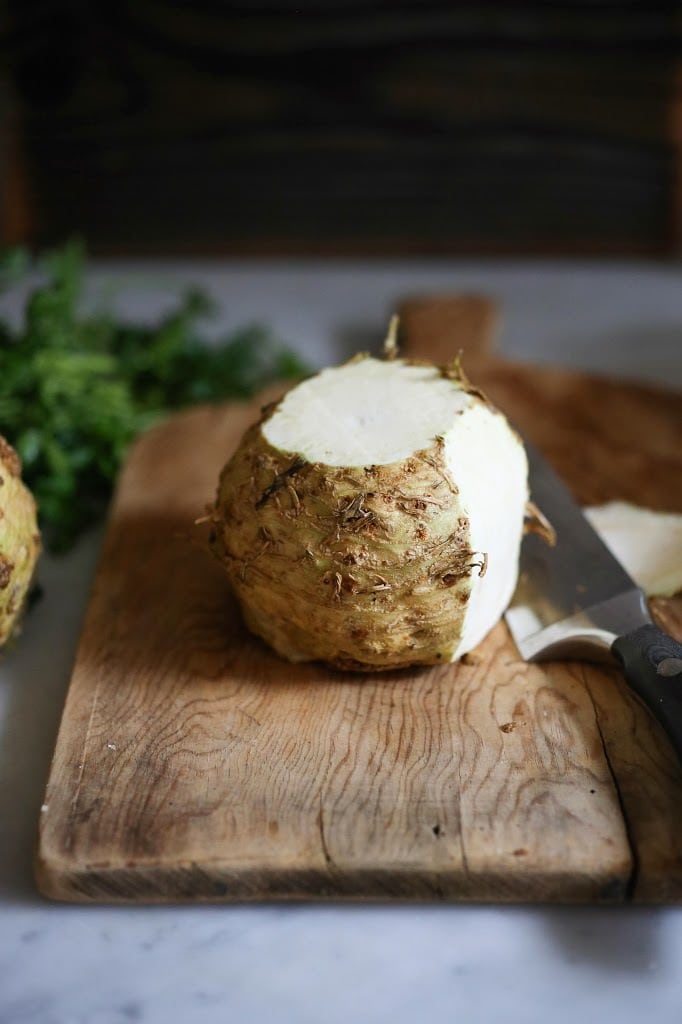 Arm yourself with a good knife. Slice away the top of the root and then the bottom, creating a steady base, and cut the remaining peel off in vertical strips from top to bottom, following the shape of the root, until all of the rough mottled skin is removed.
The interior – crispy when raw, is delicious and crunchy in salads. Cooked, it's luscious and decadent, making it the ideal candidate for healthy low-fat soups or mashes. It would be hard to guess, that this recipe for Creamy Celeriac Fennel Bisque is vegan. The celeriac gives the illusion of cream.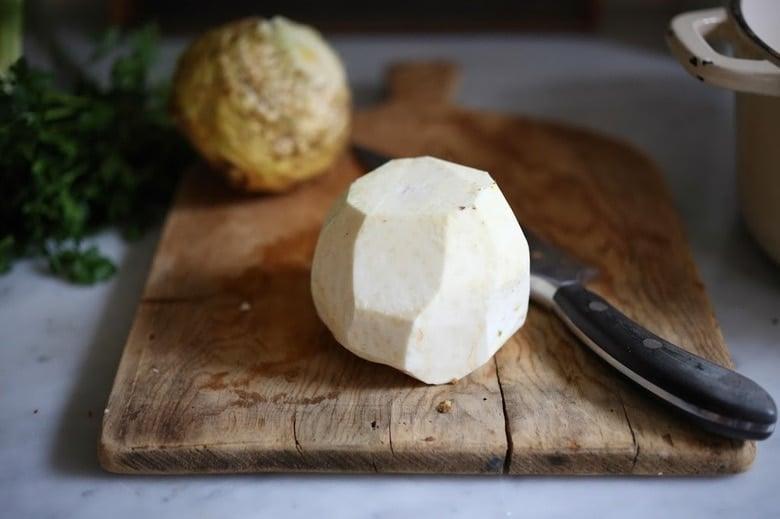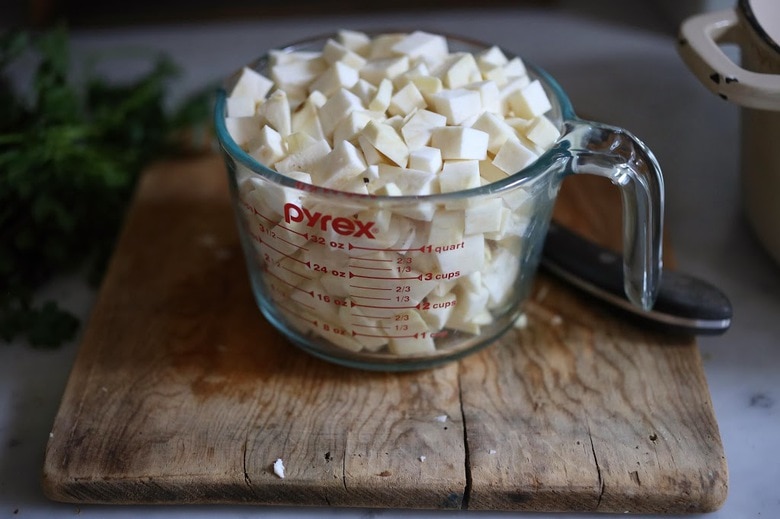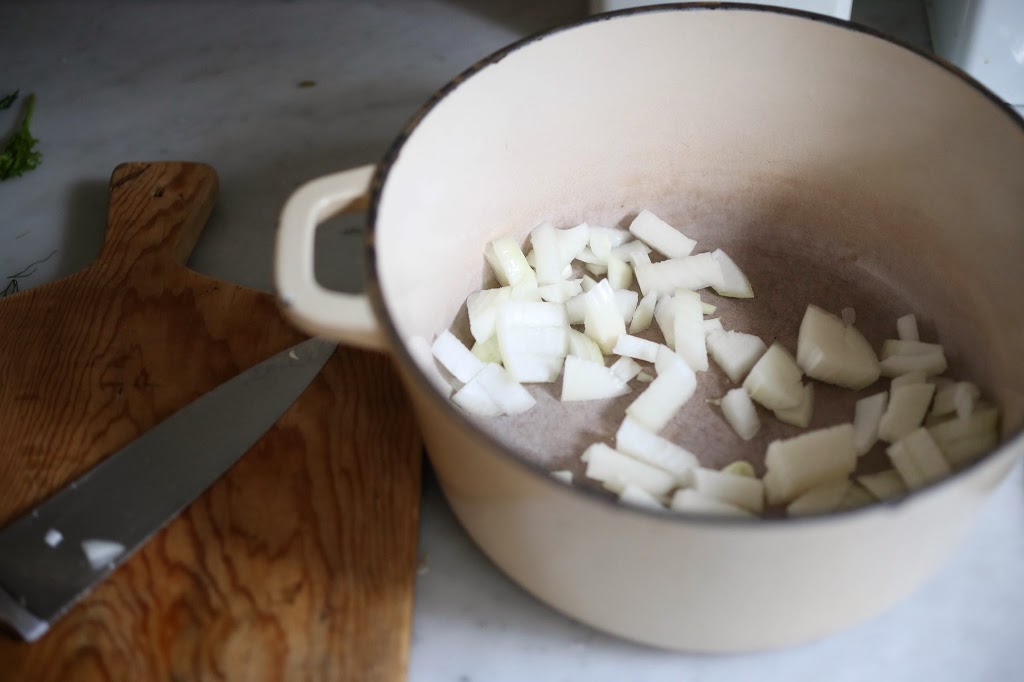 Onion is sauted, then fennel and celeriac are added to the heavy bottom pot.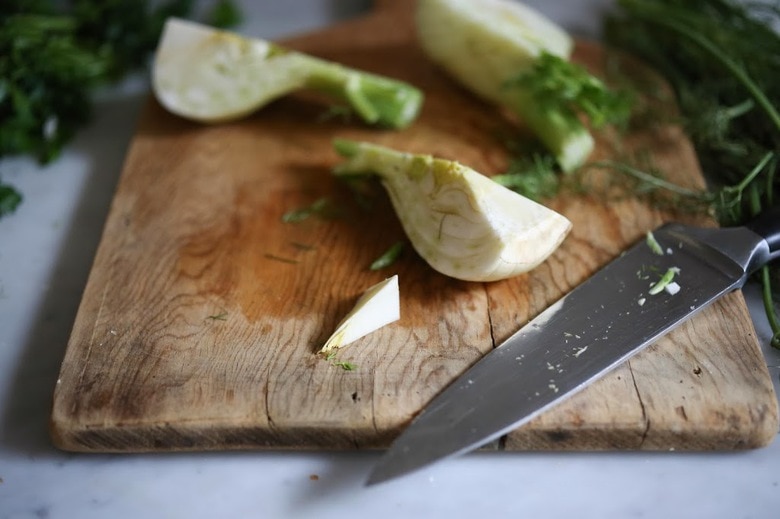 Fennel Bulb couples well with celeriac and gives the soup a hint of sweetness.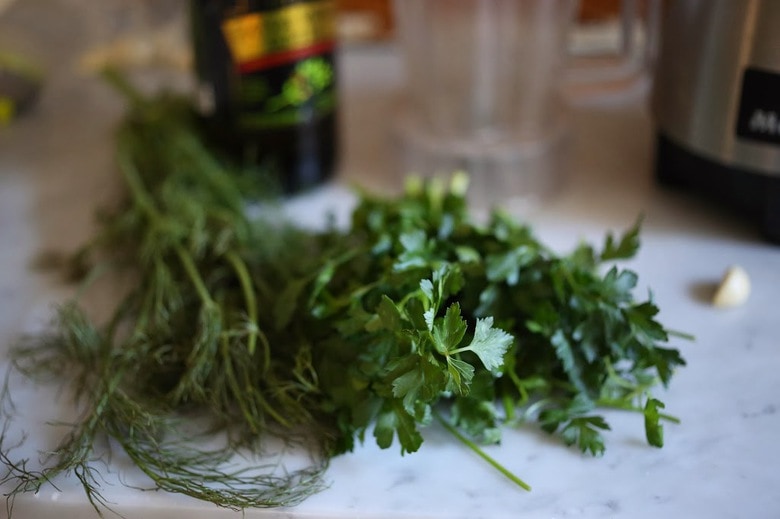 Whip up parsley oil in your blender for a little boost of color and flavor. I always tuck in a few sprigs of the fennel for good measure.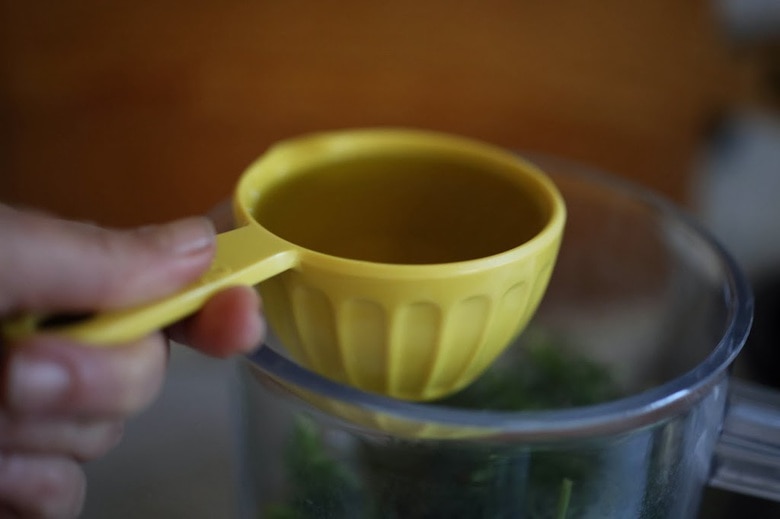 After the celeriac, fennel and onion are tender, stock is added and brought to a simmer. The soup is blended until creamy and smooth. For extra color, blend in the same blender you make the parsley oil in ( don't rinse).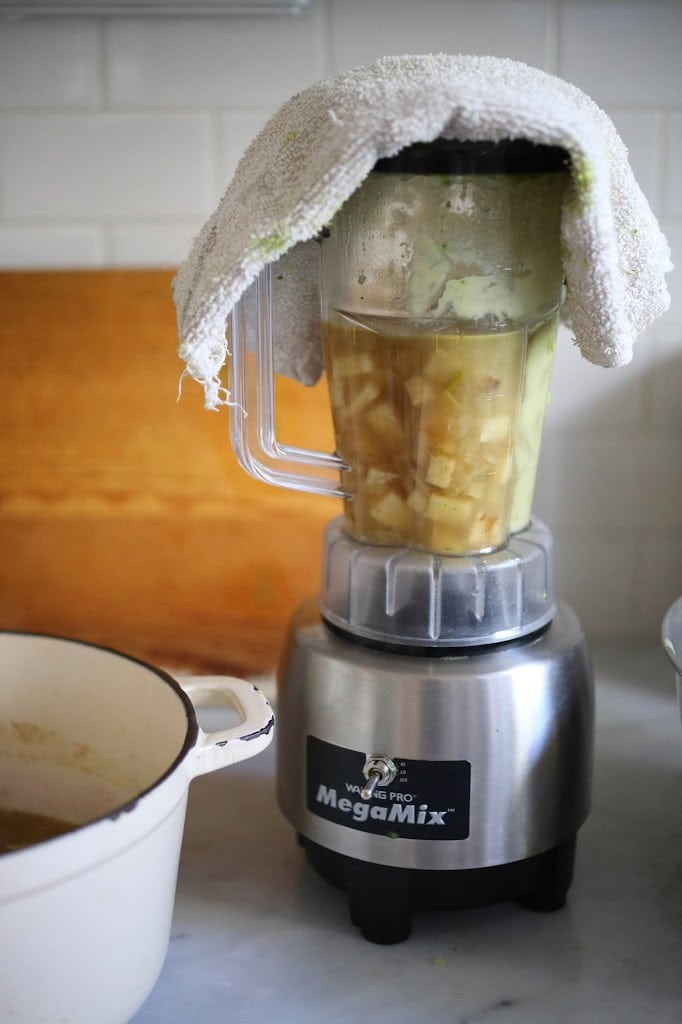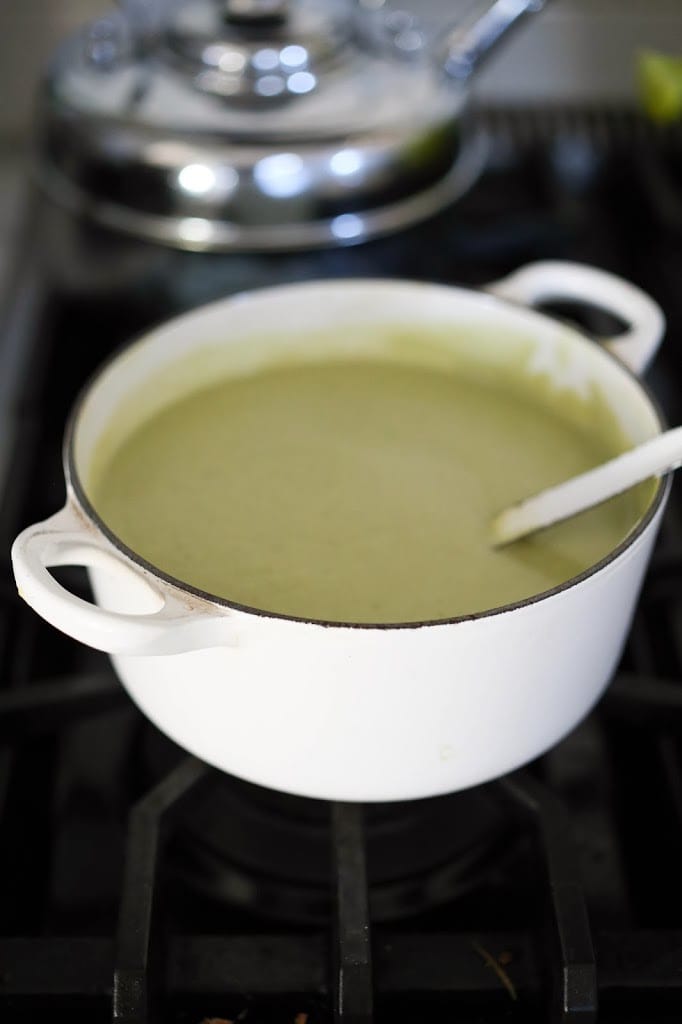 The Celeric Soup tastes great without the parsley oil or the creme fraiche, but if you like the look of it, swirl in a
little.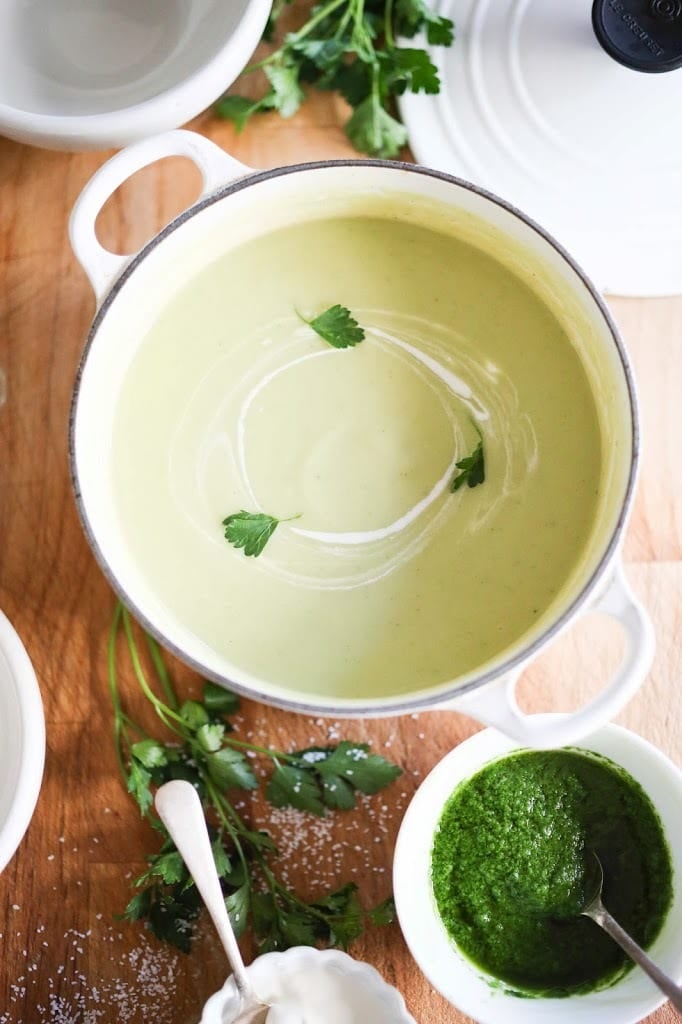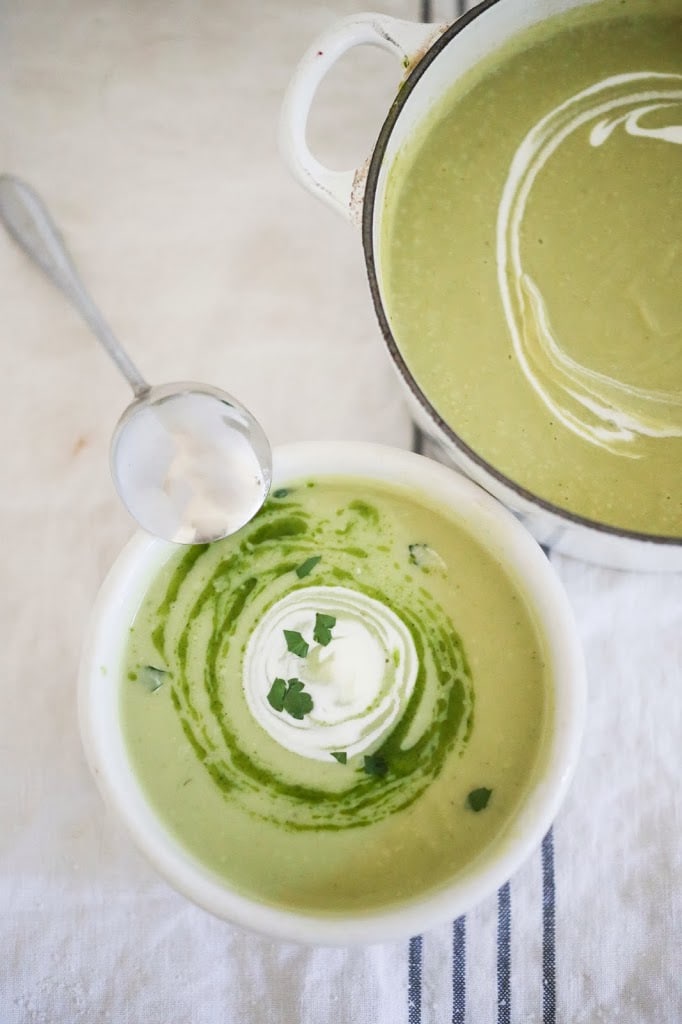 I hope you enjoy this Celeriac Soup with fennel and  Parsley oil – a fast, easy and healthy soup that can be made in 35 minutes!
Print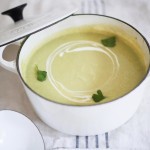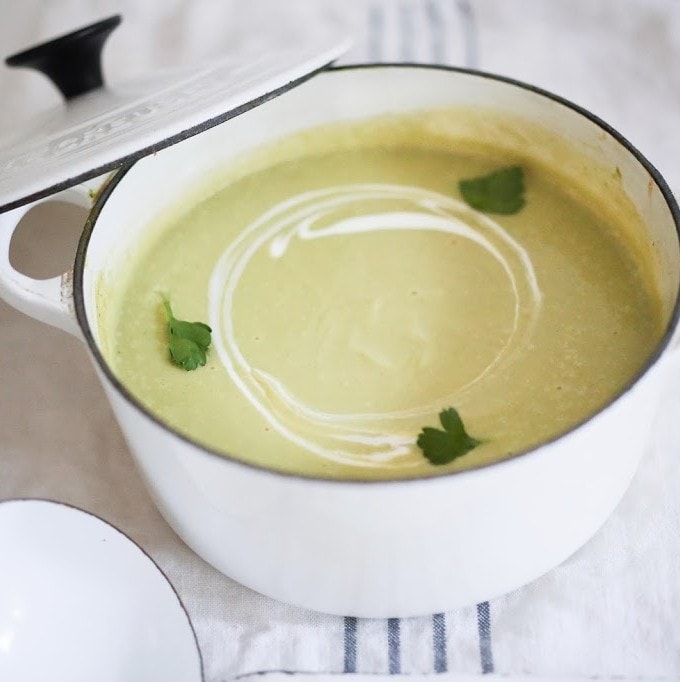 Creamy Celeriac Soup with Fennel
Prep Time:

15 mins

Cook Time:

20 mins

Total Time:

35 mins

Yield:

8 cups

1

x

Category:

Soup

Method:

Stove top

Cuisine:

Northwest
---
Description
Celeriac Soup – A healthy lightened up Celery Root and Fennel Soup, creamy and luscious! Vegan adaptable!
---
1

large fennel bulb, cored and diced ( about

1 1/2 cups

)

1/2

white onion-diced (

1 cup

)

1

–

2

Tablespoons olive oil

2

grapefruit-sized celeriac- peeled and diced ( about

4

–

5

cups)

8

cups

Chicken or Veggie stock

1/4 teaspoon

white pepper
salt to taste

1/4

cup

creme fraise or sour cream for garnish ( optional)
Parsley oil -for garnish- ( optional)
1

cup

packed Italian parsley ( stems ok)

1/2

cup

olive oil

1/2

clove garlic

1/4 teaspoon

kosher salt

2 teaspoon

lemon juice
---
Instructions
In a large heavy bottom pot, saute diced onion in 1-2 Tablespoons olive oil, over medium high heat until tender, about 5 minutes. Add fennel. Turn heat to medium-low and saute until fennel begins to caramelize, stirring occasionally about 12 minutes. Add celeriac, pepper and 8 cups chicken stock.
Turn heat to high, bring to a simmer, lower heat, cover, and continue simmering until celeriac is very tender, about 15-20 minutes.
Using a blender, blend until smooth -in batches, only filling blender 1/2 full. (Remember when blending any hot liquid, cover the blender lid firmly with a kitchen town, and only fill blender 1/2 full, and start on the lowest speed, to prevent a blender explosion.)
Return to the pot. Warm before serving and adjust salt.
Garnish with a swirl of creme fraise or sour cream (optional)  and a little drizzle of  parsley oil.
Parsley Oil
Pulse all ingredients in a blender or food processor until combined.
---
Nutrition
Serving Size:

1 cup

Calories:

275

Sugar:
Sodium:
Fat:
Saturated Fat:
Trans Fat:
Carbohydrates:
Fiber:
Protein:
Cholesterol:
Keywords: celeriac soup, fennel soup, celery root soup, celeriac recipes, celery soup,
SaveSave