This recipe for Tomato Soup is simple and easy and can be made in under 30 minutes. It's cozy, comforting, and perfect for bridging the season between summer and fall. Vegan-adaptable.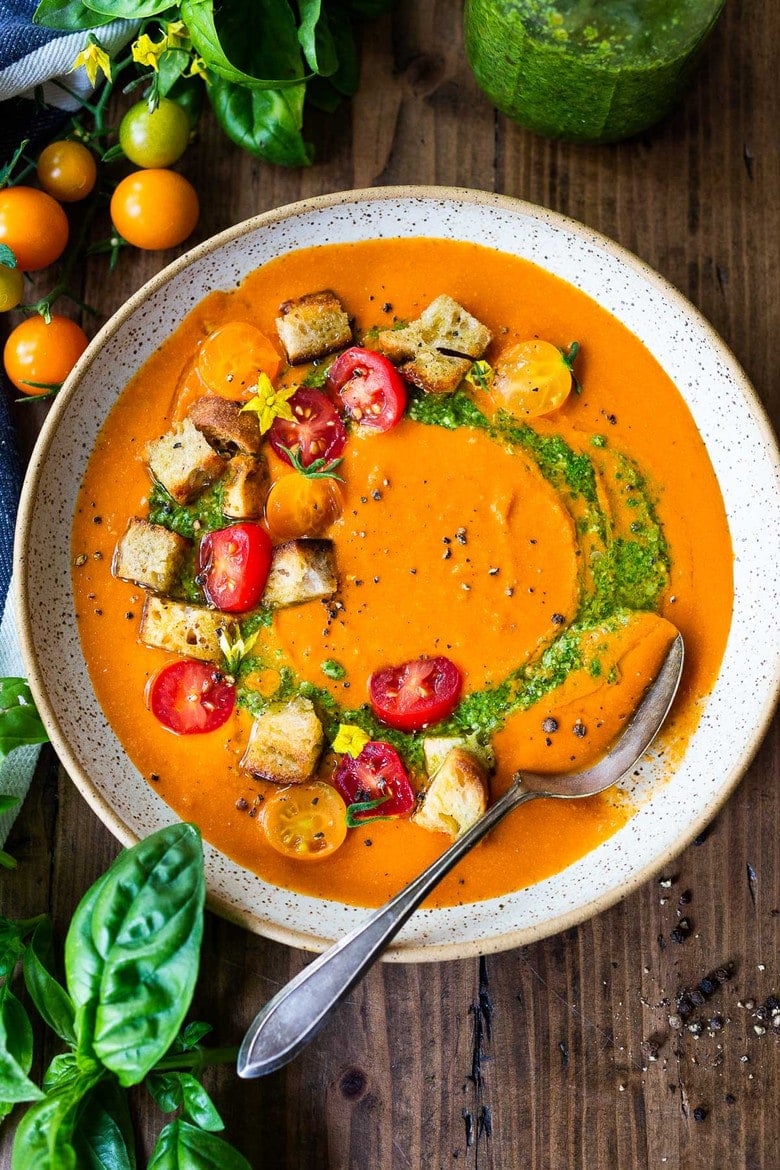 The soul has been given its own ears to hear things the mind does not understand. ~ Rumi
For the last month, this Simple Tomato Soup has become a weekly occurrence at our home. Both Brian and I are kind of addicted to it. I've been making jars of it to give away to busy friends and serving it up as dinner with a few slices of homemade sourdough (or sourdough croutons) and a swirl of Arugula Pesto.
Even though it's just soup, it feels like a meal.
What I love about this recipe is that it can be made with fresh tomatoes like we are using right now, or with canned Roma tomatoes in winter when fresh tomatoes are long gone. It can also easily be made vegan.
Our neighbors have a big basil patch which they've generously shared, so I wander over there and a handful of basil to make the arugula pesto to go with this. But the soup doesn't need the arugula pest0 – it's just as good on its own.
Simple Tomato Soup | 60-Sec Video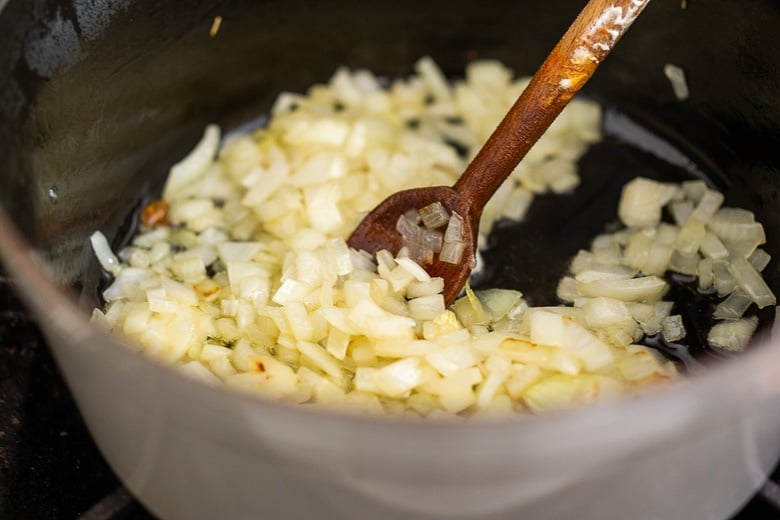 Ingredients in Tomato Soup:
onion
carrot (or celery)
tomatoes (fresh or canned)
broth
seasonings
basil
cream or cashews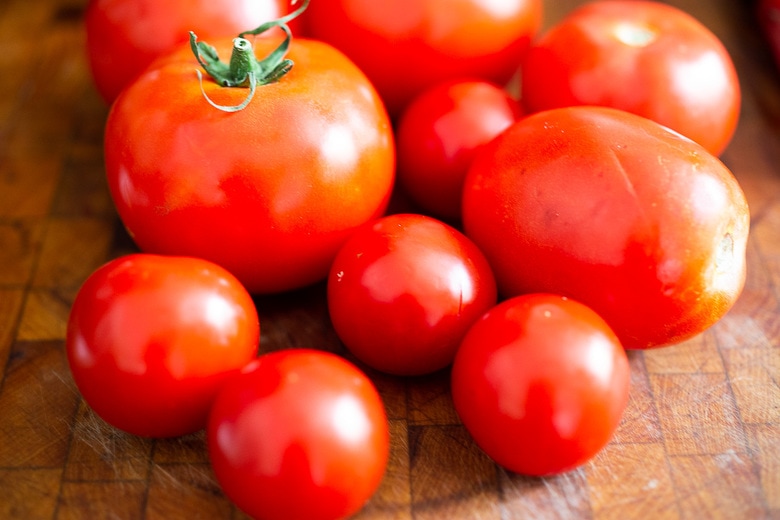 How to make tomato soup (in a nutshell):
Saute onion and carrots.
Add tomatoes, broth, and salt and simmer 10 minutes.
Add basil and blend
Add cream (or sub cashews)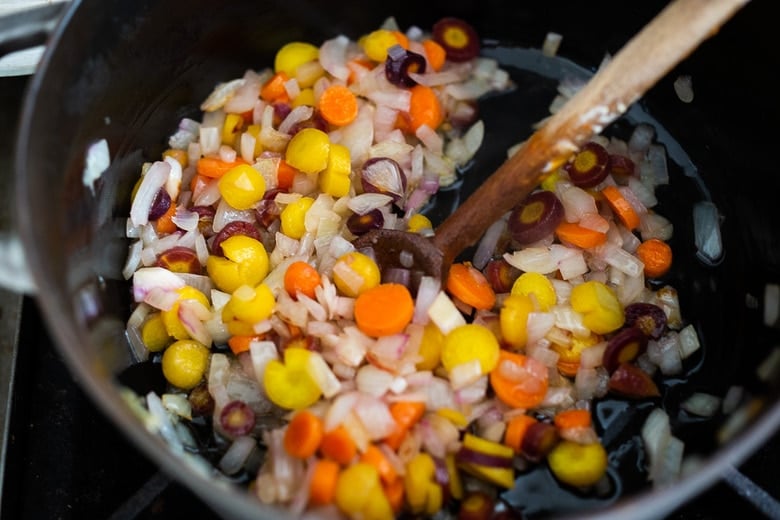 Use Fresh or canned tomatoes. If using canned, use San Marzano, if you can find them.
I love using fresh tomatoes when in season- it makes the BEST tomato soup.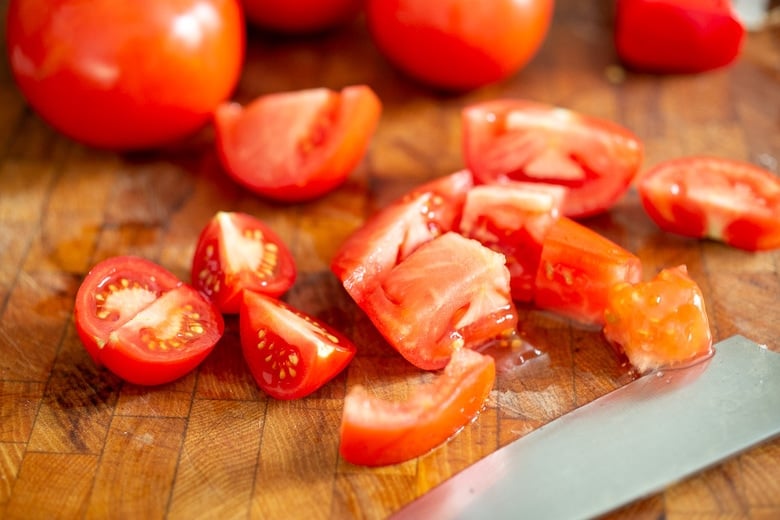 Quarter the tomatoes and simmer with the broth, covered, until broken down, about 10-15 minutes.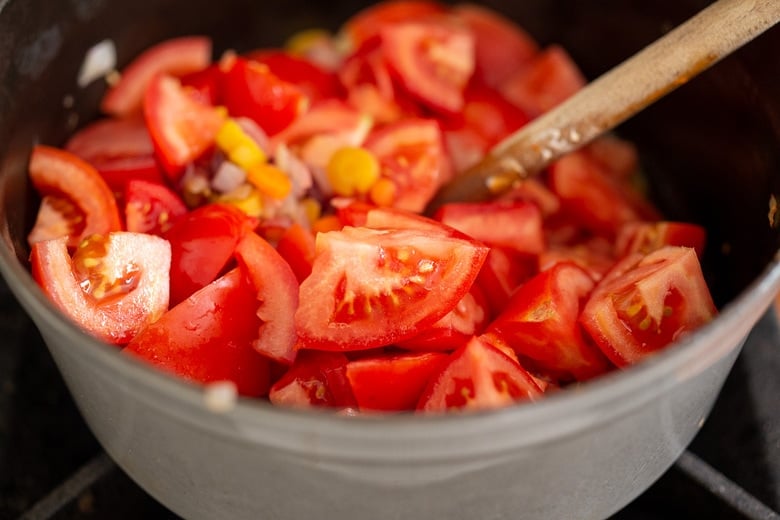 Using an immersion blender makes this especially quick and easy.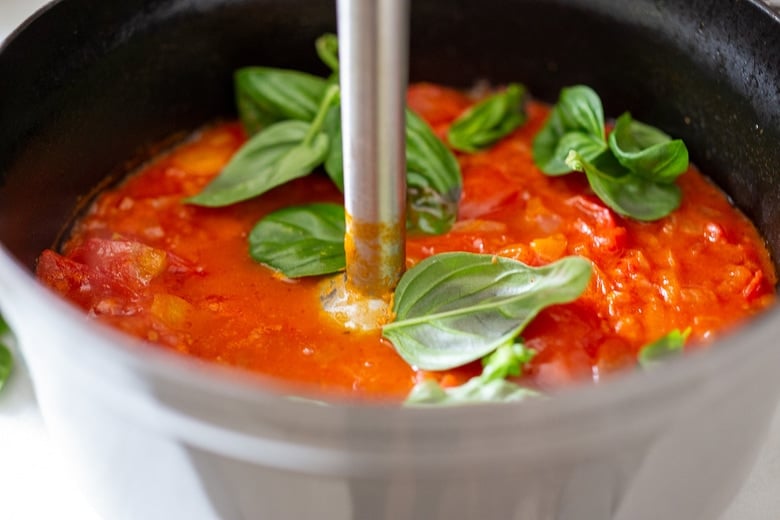 Then add cream or half and half. (Or, for a vegan option, add raw cashews to the simmering tomatoes to soften before blending.)
Serve the tomato soup up with a few basil ribbons, homemade arugula pesto, sourdough bread, or sourdough croutons!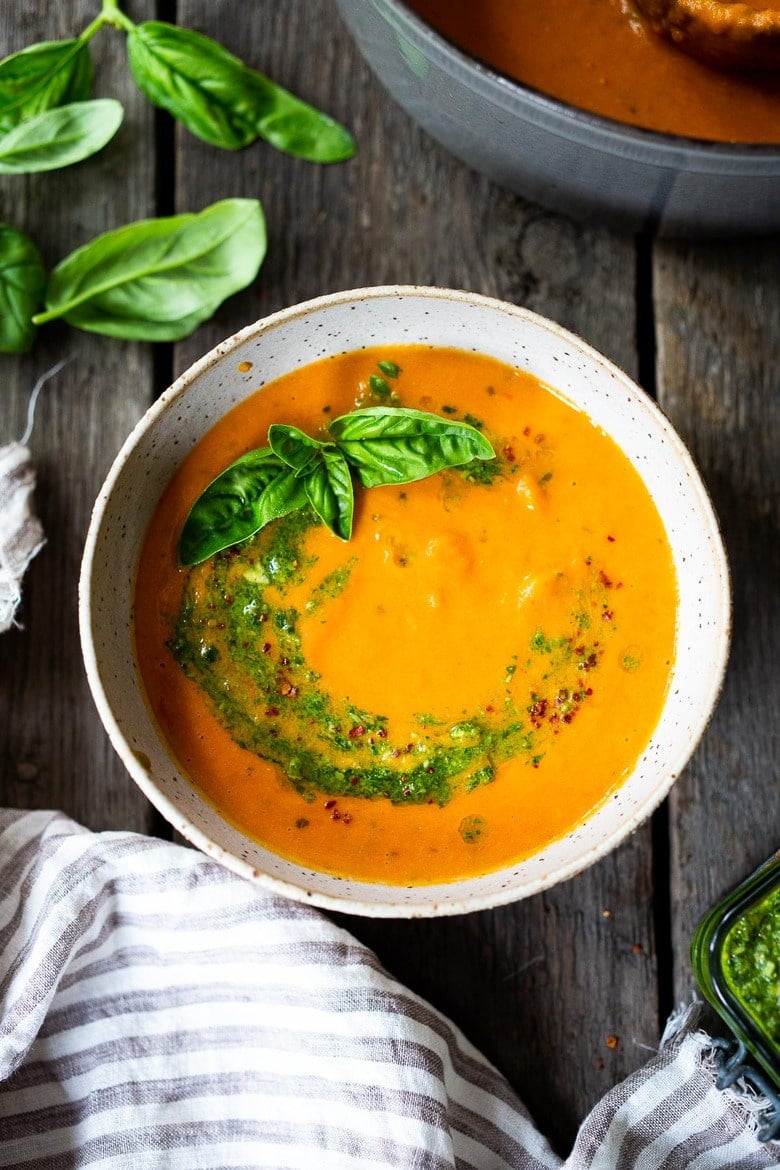 Keep it simple or add chopped tomatoes for more texture.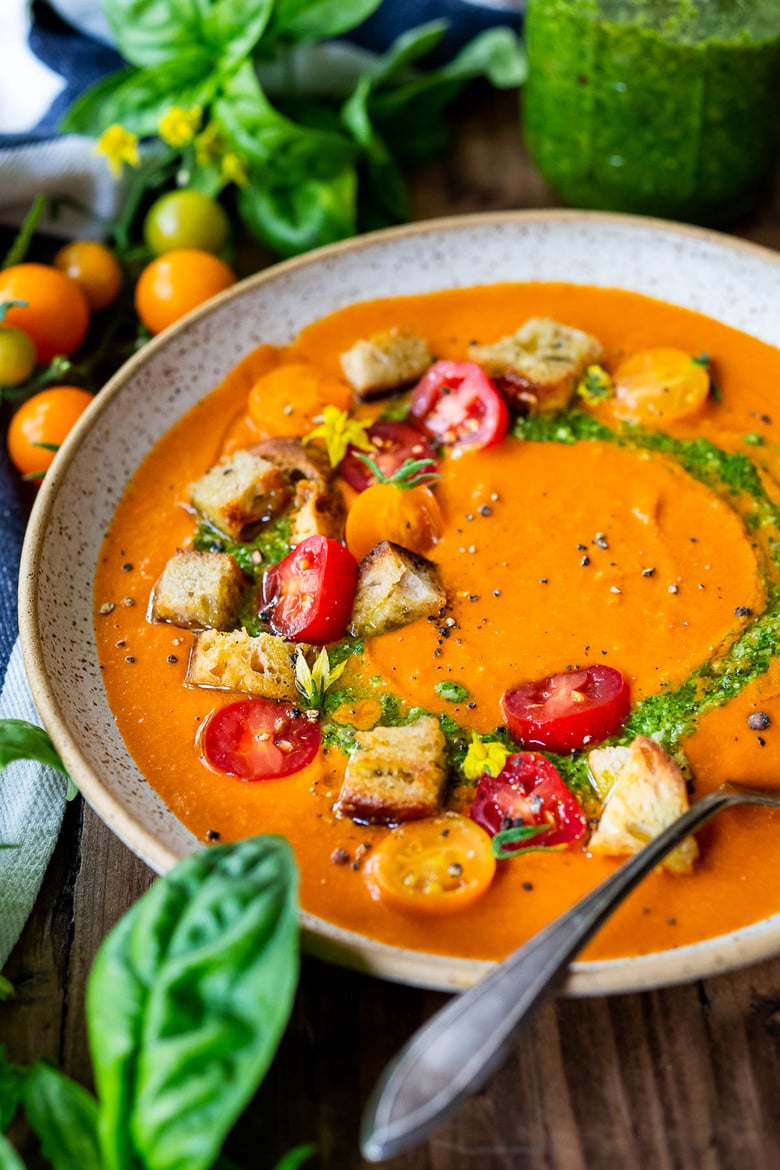 For extra richness, add pecorino or parmesan to the homemade tomato soup.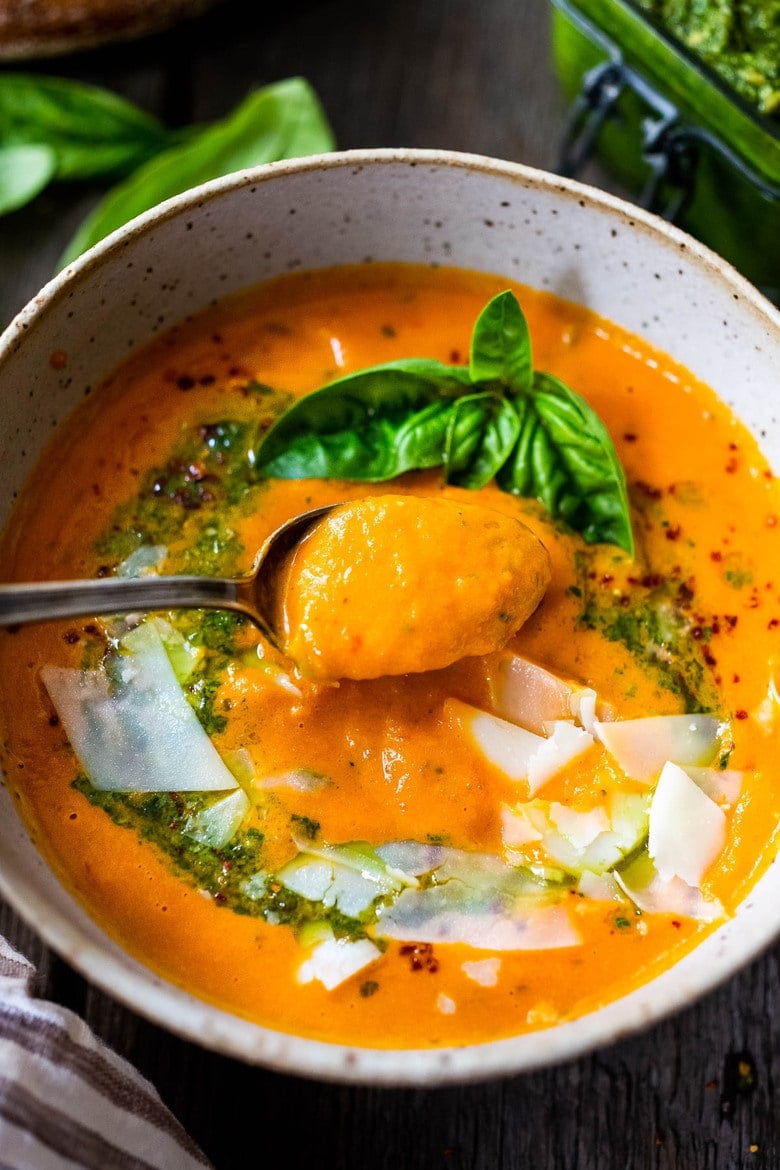 On the homefront:
The morning sun is dusty orange on my hands as I type. The smoke from the fires reached us a week ago and it has been eerily dark and gloomy here. We've been inside waiting it out.
I am reminded of how connected everything is. The fires, though far from here, affect us here hundreds of miles away. Even the earth echos the idea, that when one person suffers, we all suffer.
It's easy to create a bubble around ourselves. Around our families. I'm guilty of this. But we are not bubbles. Like trees, our roots connect underneath the ground, hidden, whether we choose to believe this or not.
I walked past a woman the other day that looked forlorn. She had a suitcase and looked as if she had traveled miles. It tugged at my heart. But I did not stop to ask if she was ok.
I debated. I got in my car and deliberated. I can't help everyone, I thought. I'm haven't eaten all day- I'm starving and in a hurry. And then, This will open a whole can of worms I don't want to "deal" with right now, I kept arguing with myself.
So, I drove off.
Guess what? In the middle of the night, the time around 2 am, when your conscious comes to call, that scenario came back to me. I felt ill. I totally failed that day. I knew it in my core. I knew she was hungrier than me.
Later the next day I heard a whole town burnt to the ground, just a couple hours from here. Out of one hundred homes, eight remained. I think of that woman, and wonder if she was from there. I'll never know, I didn't bother to ask.
So I've been feeling pretty disgusted with myself, truthfully. I realize I can't help everyone, but I can help those who cross my path. Those, who tug at my heartstrings. Not out of guilt, but of a knowing, that we are all connected.
Why is it, I'm telling you this? So maybe you can do better than I did. We all need to be better than this.
Our hearts know. Our heads talk us out of loving every single time.
So there's that. Still learning…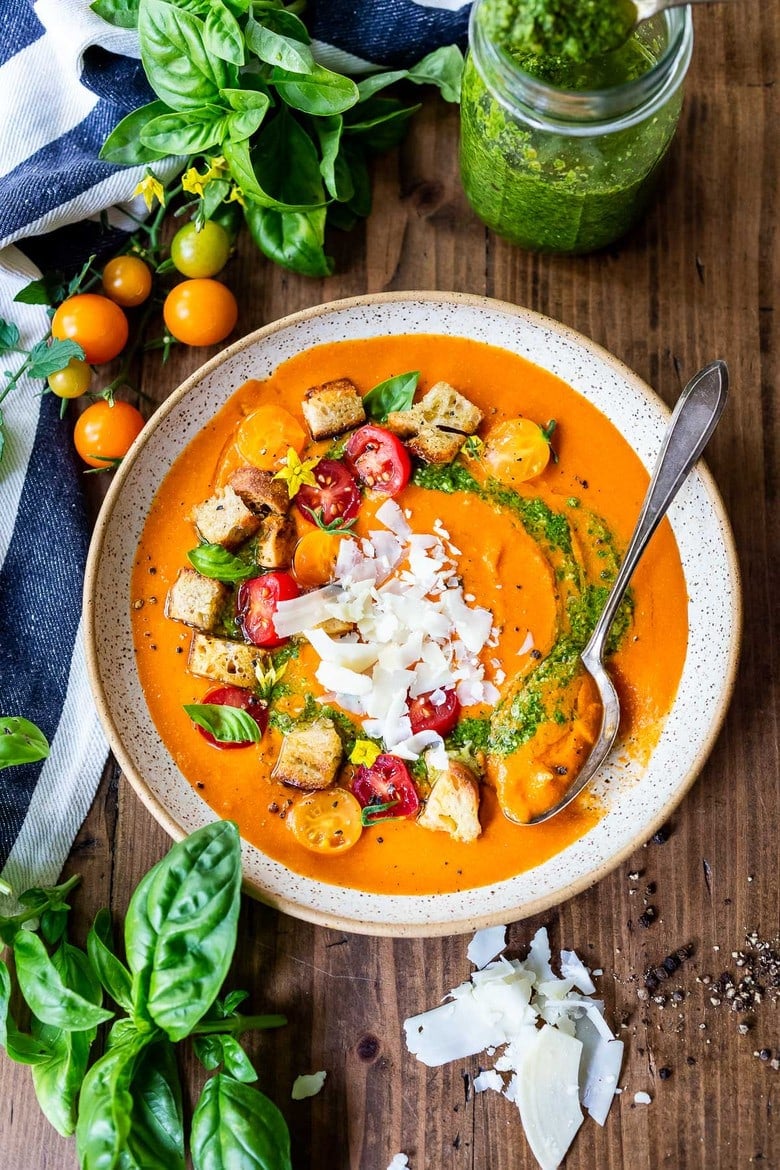 Other recipes you might like:
Enjoy this simple Tomato Soup. Make it for a friend, or do something kind with it this week.
xoxo
Sylvia
Print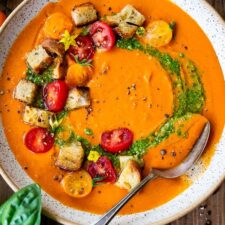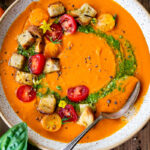 Simple Tomato Soup
Prep Time:

10

Cook Time:

20

Total Time:

30 minutes

Yield:

4-5 cups

Category:

soup, vegan,

Method:

stovetop

Cuisine:

American

Diet:

Vegetarian
---
Description
Homemade Tomato Soup made with fresh or canned tomatoes, made in under 30 minutes. Creamy, easy and Vegan-adaptable (see notes)!
---
1

extra-large onion, diced

1 cup

carrots,

thinly sliced

(or sub celery or red bell pepper)

2

lbs fresh tomatoes ( or one, 28-ounce can of San Marzano Tomatoes)

1 cup

water plus 2 bouillon cubes (chicken or veggie)

1 teaspoon

salt, more to taste

1/2 teaspoon

pepper

10

–

15

basil leaves
pinch cayenne (optional, but good)

1/2 cup

cream or half and half (or sub-cashews-see notes)

1

–

2

tablespoon sour cream- optional!
---
Instructions
Heat butter in a heavy bottom pan over medium-high heat. Add the onions, and saute until softened about 3-4 minutes. Add the carrots, lower heat to medium, saute 3-4 minutes more until onions are golden and fragrant.
Add the tomatoes, water, bouillon cubes, honey or sugar, salt and pepper. (If making this vegan, add cashews now-see notes.) Stir, increase heat and bring to a simmer, cover, then lower heat to low, so it's gently simmering.  Simmer 10-15 minutes until the tomatoes have broken down and carrots are tender. Remove from heat.
Return it to the pot. Stir in the cream.
Whisk in the sour cream if you like.
---
Notes
If making this vegan, add 1/3-1/2 cup raw cashews to simmering tomatoes to soften before blending. You will need to blend the soup a little longer.
To use broth or stock instead of bouillon cubes- feel free, but you will need to increase the salt to taste.
STORE: Soup will last 4 days in the fridge or freeze for winter in mason jars with 1-inch headroom (for expansion).
Keywords: tomato soup, tomato soup recipe, easy tomato soup, vegan tomato soup, creamy tomato soup, best tomato soup, tomato basil soup