Grilled tomatoes are the epitome of summer! Juicy, flavorful, and tender, they become even sweeter on the grill as their sugars caramelize. A delicious healthy side dish, perfect for summertime gatherings.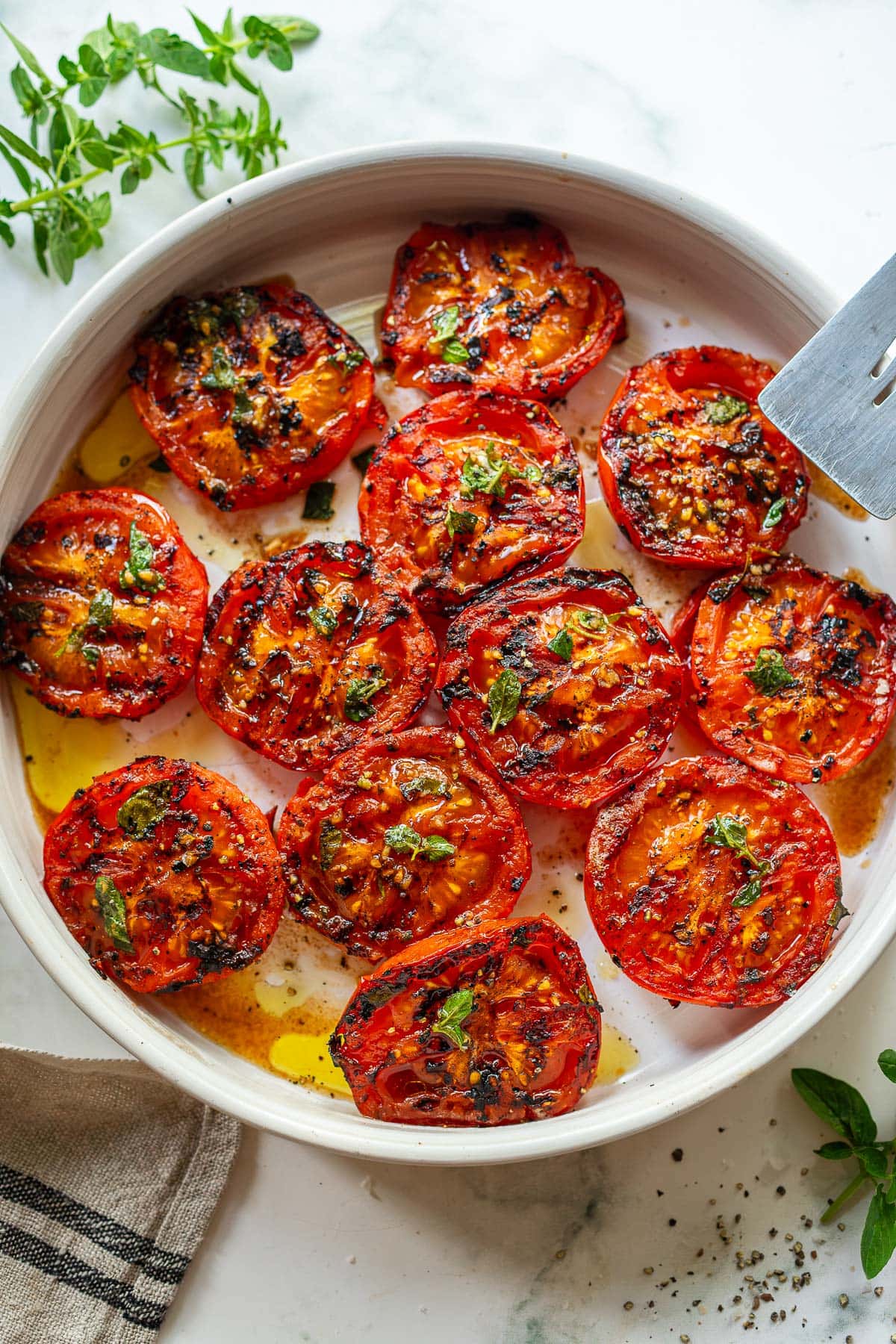 Back when we were catering, these delicious little guys often happened during our summer events. People were quite enamored with them. Grilling tomatoes brings out their incredible flavor- allowing the sugars in the tomato to caramelize and concentrate, bringing out their inherent sweetness. Here we add oregano and garlic, giving them a savory Mediterranean flavor profile.
What I love about them is how they go with everything! And the leftover tomatoes can be repurposed in many ways (scroll down!)—a quick summer side dish with a huge payoff.
Ingredients in Grilled Tomatoes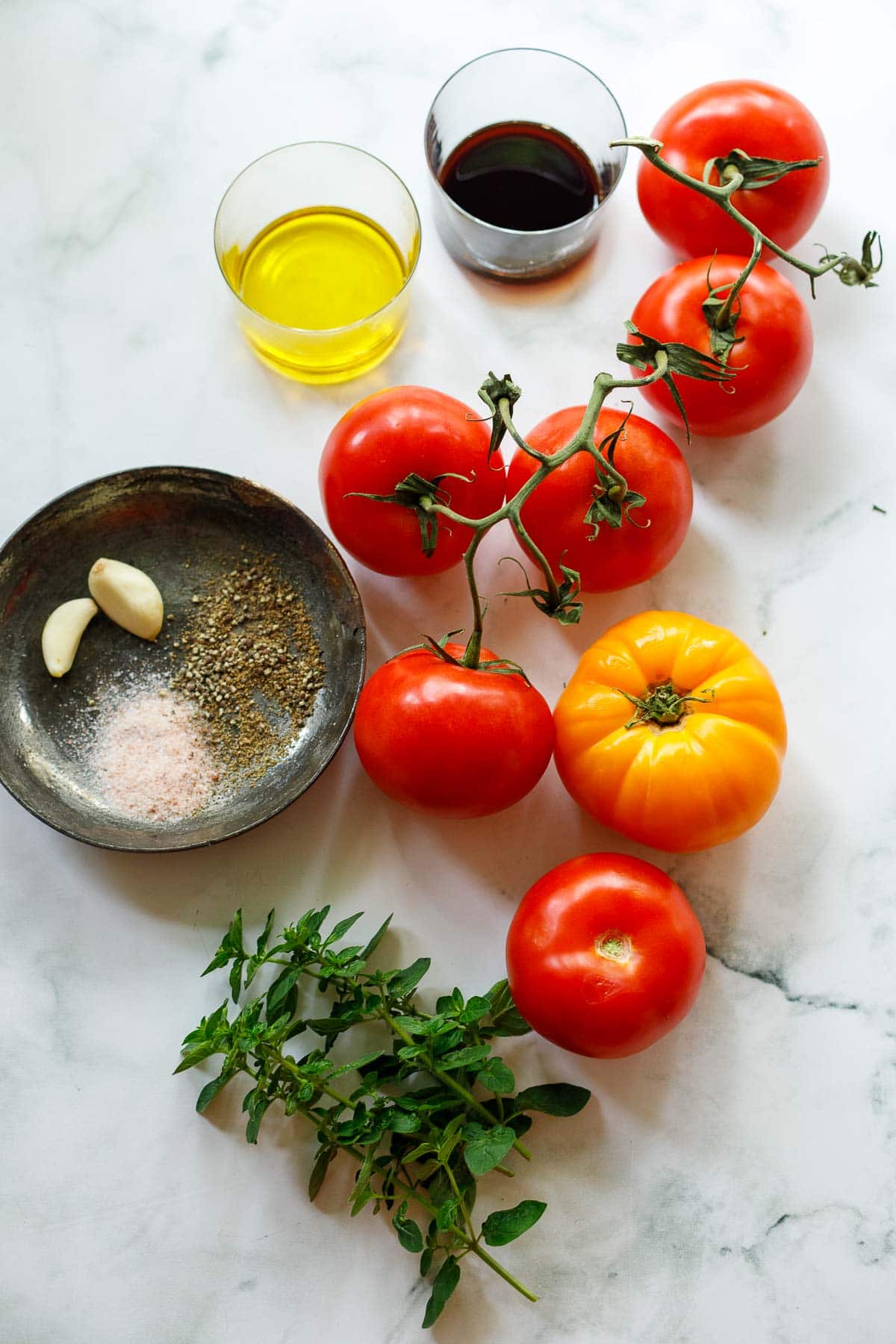 Ingredient Notes
Tomatoes– use semi-firm tomatoes, ripe but not overly soft. Vine-ripened, Heirloom, Roma, or any tomato 2-4 inches in diameter. Best to use similar sized tomatoes
Extra Virgin Olive oil
Balsamic vinegar– or swap out red wine vinegar
Fresh Garlic Cloves– to add a punch of flavor
Fresh oregano– fresh oregano gives this such a lovely Mediterranean flavor here, but basil will work too.
How To Grill Tomatoes
Core the tomatoes, then cut them in half. If using Roma tomatoes, cut them through the stem end.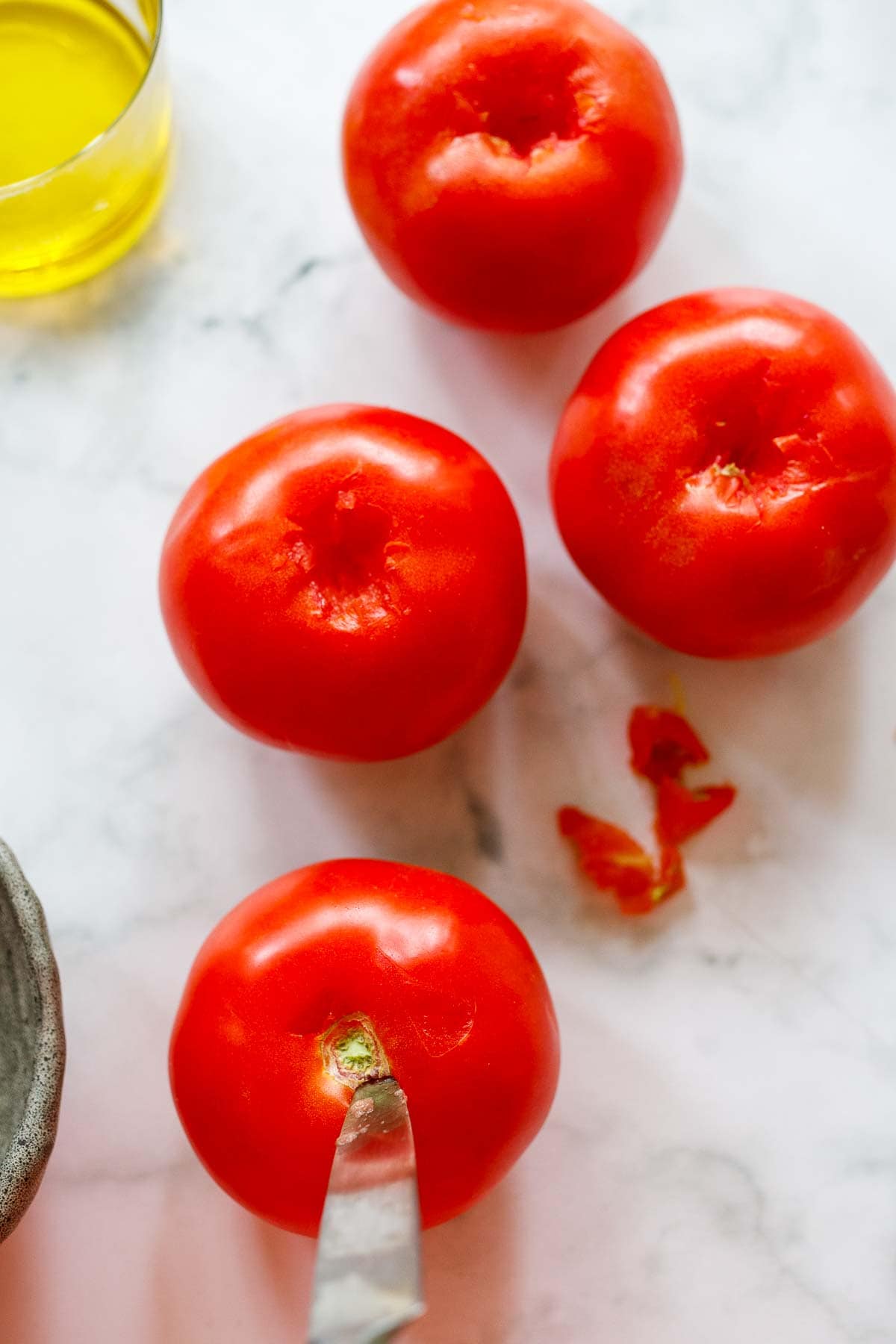 Whip up the simple marinade: olive oil, vinegar, minced garlic, salt and pepper, then toss with the tomato halves, adding the fresh oregano.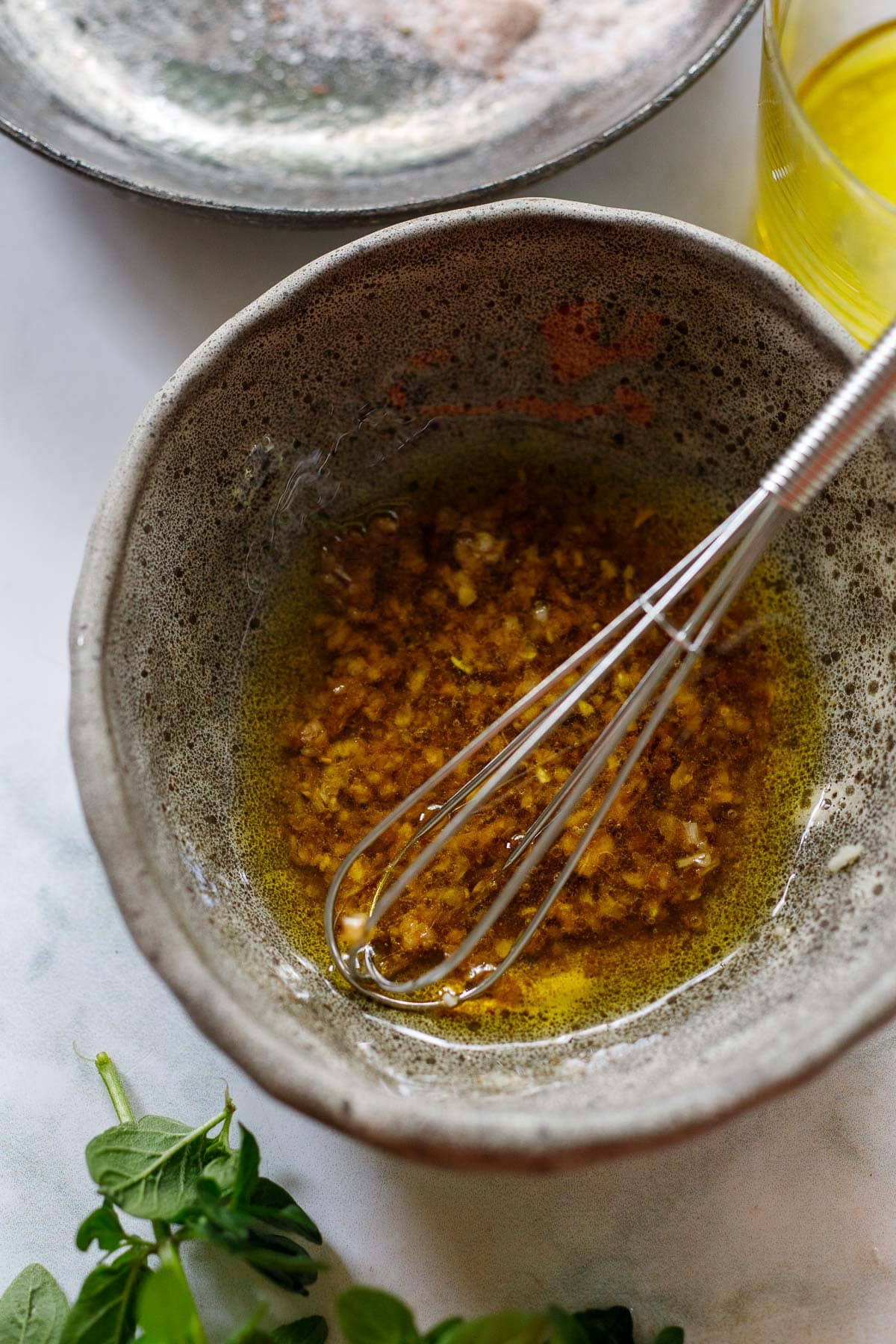 Grill over medium-high heat, on a clean, greased grill. Saving any extra marinade, place tomatoes open-side down on the hot grill, cover, and grill 5-7 minutes (longer or shorter, depending on size) or until good grill marks appear. Turn them over using a flat metal spatula. If they are sticking, grill a couple of minutes longer until they release themselves.
Continue grilling right side up, covering, until tender but not collapsing- another 5-ish minutes.
Alternatively, you can grill on a greased, cast iron grill pan on your stovetop.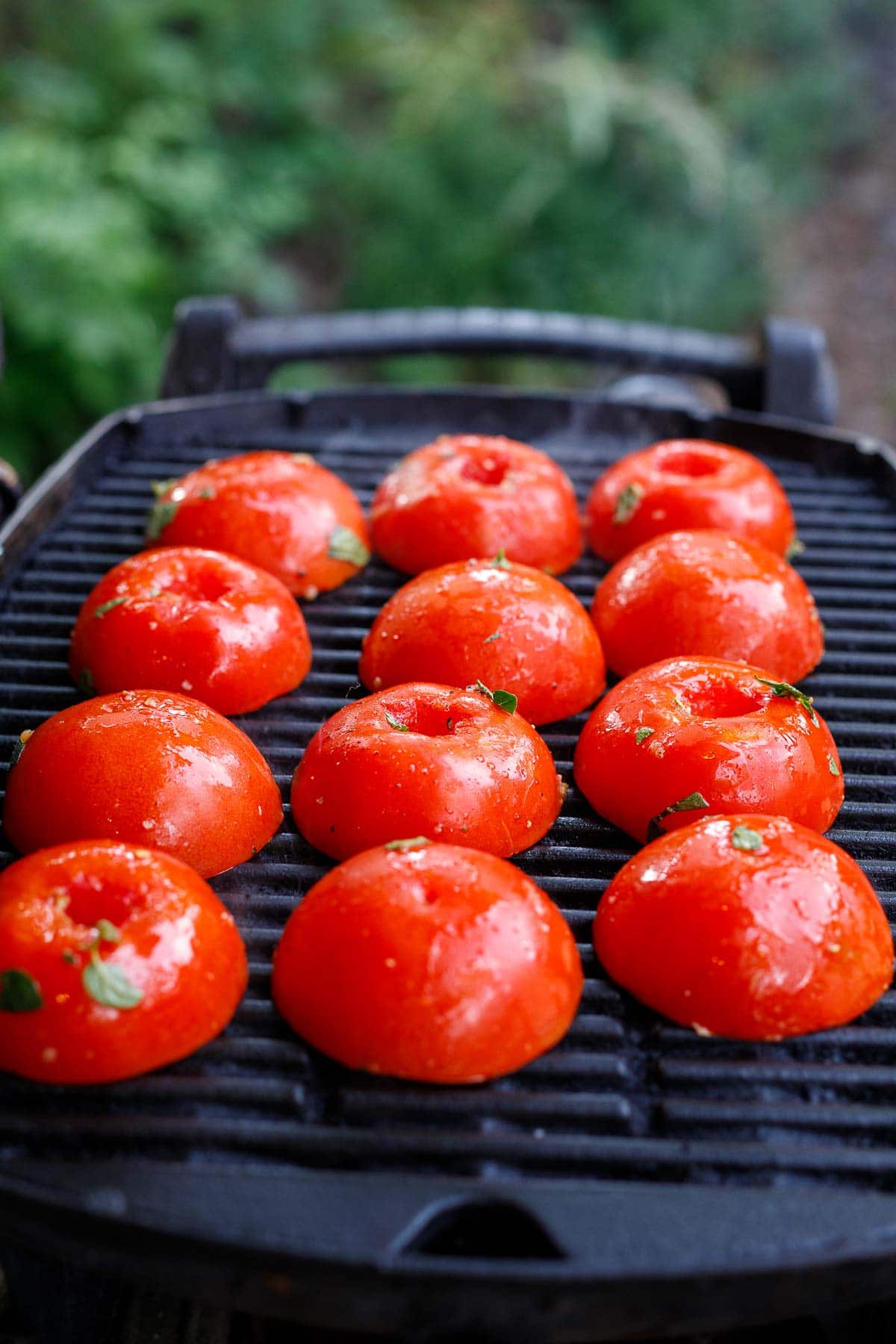 One tender place on a serving platter, and pour any extra marinade over top. I like to make sure there is a little oregano on each tomato.
If grilling other things, keep tomatoes in a warm oven or serve at room temperature.
ways to use Them!
Whenever I make these I usually make more than I need because I love them as leftovers. They are really good chilled and I love them in Mediterranean salads,
As a side dish. Perfect with grilled fish, meat or grilled tofu.
Blend or mash into a lovely sauce. Think marinara, but with a smoky flavor- so good!
Add to salads! I like cutting them up small add adding to salads during the week.
Add to soups. Dice them up and think of them like fire-roasted tomatoes!
Make Bruschetta. Chop them up small and make bruschetta.
Enhance Mezze Platters. Quarter them and add to Mezze platters or serve over hummus or baba.
Recipe Faqs
Why grill tomatoes?
Grilling tomatoes brings out their sweetness! As they grill, the sugars in tomatoes caramelize, and the flavors become more concentrated.
Which tomatoes are best to grill?
Use semi-firm tomatoes- Roma tomatoes, vine-ripened, heirlooms or any others, that 2-4 inches in diameter. If tomatoes are too ripe, they may collapse on the grill.
Can you grill tomatoes whole?
You can, but they will split and pop, often sending shooting hot tomato juices everywhere- so be warned!
Can you grill on the stove?
Yes, use a well-greased cast iron grill pan and grill on your stove.
Print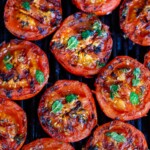 Grilled Tomatoes
Prep Time:

10

Cook Time:

15

Total Time:

25 minutes

Yield:

6

1

x

Category:

side dish

Method:

Grilled

Cuisine:

mediteranean

Diet:

Vegan
---
Description
Grilled tomatoes with oregano, olive oil, garlic, and balsamic vinegar- a summery side dish that can be made in 25 minutes. 
---
2

lbs

tomatoes, semi-firm (Roma, Vine ripened, Better boy, Heirloom) 3-5 inches in diameter

2 tablespoons

olive oil, more for finishing

2 tablespoons

balsamic vinegar

2

–

4

garlic cloves, finely minced

2

–

3

tablespoons fresh oregano, chopped

1/2 teaspoon

salt, more for finishing

1 teaspoon

pepper
---
Instructions
Preheat the grill to medium-high heat. Clean and grease the grill well.
Remove the core of the tomatoes using a sharp knife. Cut in half. If using Romas, cut through the core. If using round tomatoes, cut perpendicular to the core. See photos.
Place tomatoes in a bowl. Stir olive oil, balsamic vinegar, minced garlic, oregano, salt and pepper together, and pour this over the tomatoes, gently mixing to coat well. 
On a well-greased grill, place tomatoes open side down- and SAVE THE REMAINING MARINADE in the bowl. Cover and grill 5-7 minutes (longer if bigger) or until deep grill marks appear. Using a thin metal spatula, turn them over, continue grilling, covering, checking every few minutes, until they begin to soften. You want them to the point where they are softening, but not totally collapsing, so watch closely at the end.
If grilling multiple things, you can keep these warm in a 350F oven until ready to serve. If your tomatoes are particularly large the oven will continue to soften which can be a good thing.
When ready to serve, place tomatoes on a platter and pour any leftover marinade over the tomatoes, arranging the oregano so there is a little on each tomato. Drizzle with more olive oil if you like (I like) and sprinkle with salt (a flakey finishing salt is really nice here). 
Serve warm or a room temp.
---
Notes
Semi-firm tomatoes work best here. Overly ripe tomatoes will collapse.
Feel free to grill on the stove using a grill pan.
Leftover grilled tomatoes will keep up to 4 days in the fridge, and taste great cold! Cut up and use in salads, soups, chop up and make bruschetta, mash or blend and make a sauce. You'll love these. 🙂
Nutrition
Serving Size:

1 whole tomato

Calories:

77

Sugar:

4.8 g

Sodium:

203.1 mg

Fat:

5 g

Saturated Fat:

0.7 g

Carbohydrates:

8.1 g

Fiber:

2.4 g

Protein:

1.6 g

Cholesterol:

0 mg
Keywords: grilled tomatoes, grilled tomato recipe, how to grill tomatoes, grilling tomatoes