A simple, authentic Indian recipe for Garam Masala that can be made with ground or whole spices. Make this aromatic spice blend in under 15 minutes! Flavorful, fragrant and easy! Video.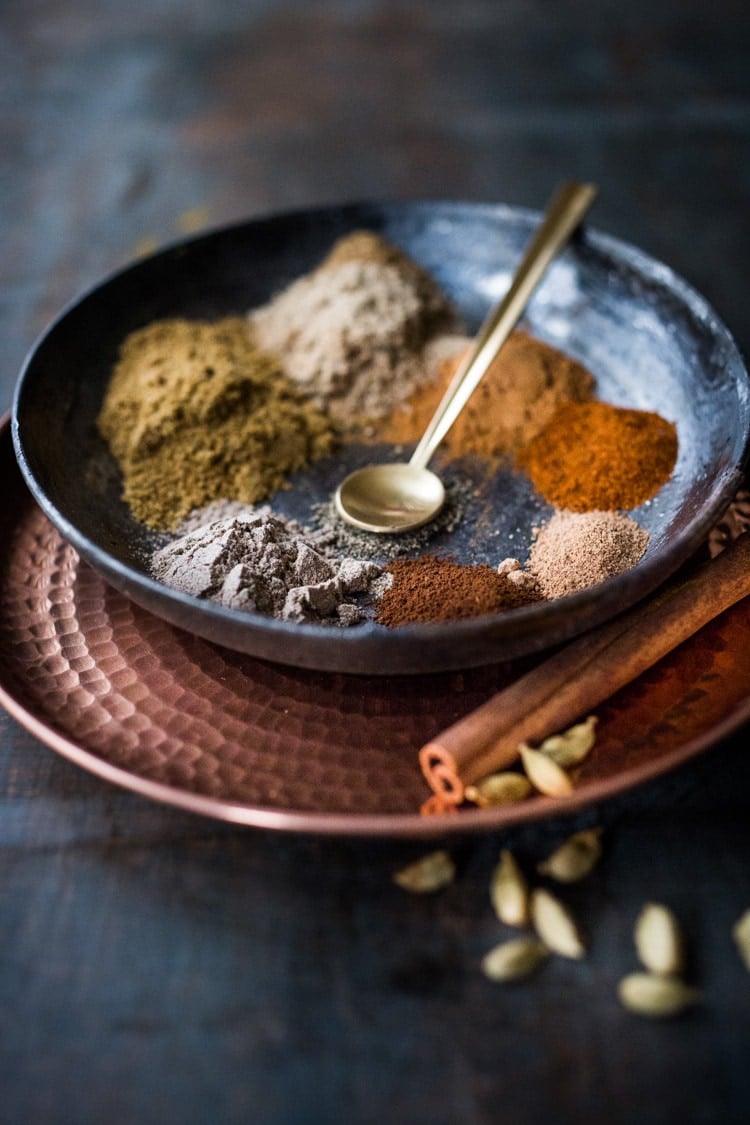 While in Mumbai recently, I visited a spice market and met a kind man who blended his own spices. He sweetly and generously walked me through his way of making Garam Masala. He then told me how his wife's version was different, each of them having their own personal blend. Of course they each thought their own blend was better.
What is Garam Masala?
If unfamiliar, Garam Masala is an essential Indian spice mix, a fragrant combination of aromatic spices used to season many Indian dishes.  It varies greatly across India, depending on the region, household and personal preference.
It would not be an exaggeration to say, that each household's version is different and unique – and that's what makes Garam Masala so special and nuanced.
Homemade Garam Masala | 60-sec video
Are Garam Masala and curry powder the same?
You may be wondering what the difference is between regular yellow curry powder and Garam Masala, both being a combination of different spices.
One of the main differences between these two spice blends is that curry powder is more savory and is often based around turmeric, hence the typical golden, yellowish color.
Garam masala is richer and deeper in color, and tastes warming and slightly sweet in comparison-due to the addition of cinnamon, nutmeg, cardamom, cloves.
A completely different flavor profile.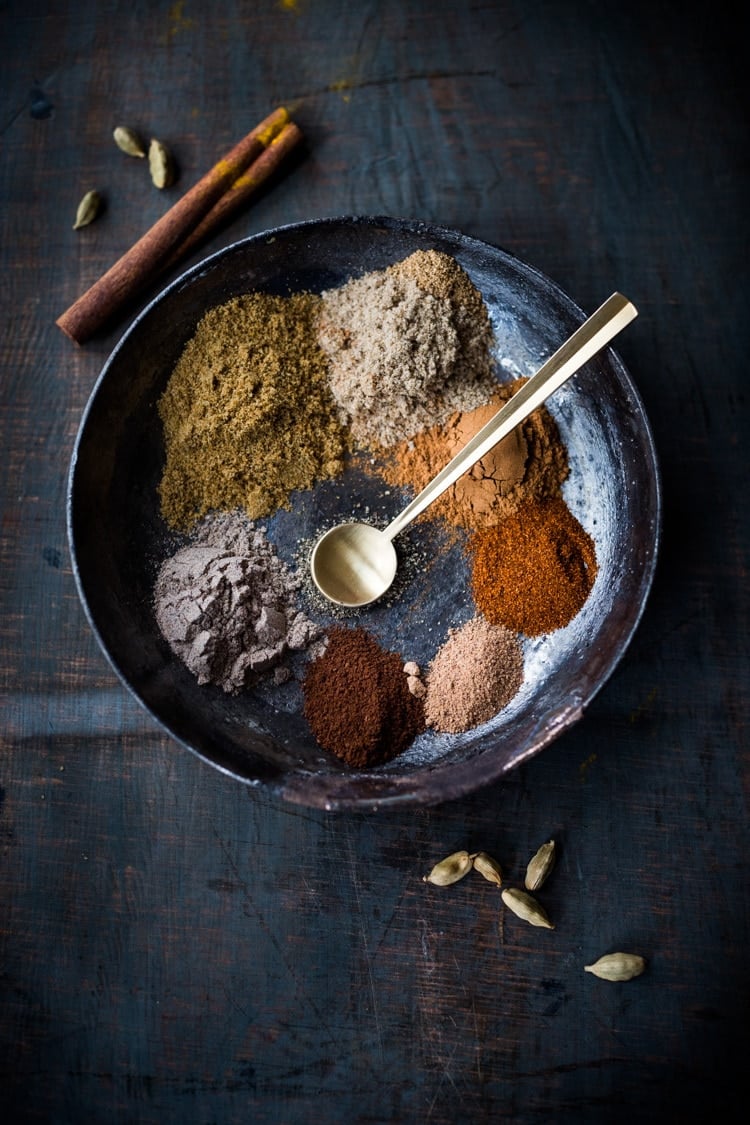 What Spices are in Garam Masala?
The most common spices in Garam Masala are:
Green Cardamom Pods or Black Cardamom pods
Cloves
Bay leaves
Black Peppercorns (or black pepper)
Mace
And the quantities, combinations and variations are endless.
These spices are typically toasted whole, then ground down into a fine powder. An incredibly fragrant process.
Can I use ground spices?
Yes. To simplify this, I've taken simple ground spices and mixed them, leaving out the bay leaves and substituting cayenne for the dried chilies – no grinding required.  To enhance their flavor, simply dry toast in hot skillet before using.
And for you adventurous cooks – there are directions in the recipe notes if you want to make Garam Masala from whole spices – a more authentic Garam Masala recipe.
How to make Garam Masala
Step One: Dry-roast whole spices in a skillet, until fragrant. This will help them release their oils and revive their aroma.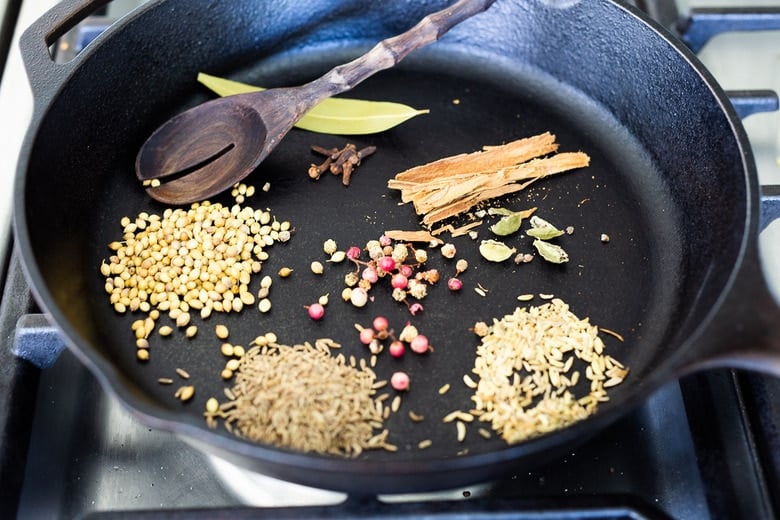 Step Two: Grind the toasted spices in a spice grinder, coffee grinder, or use a mortar and pestle.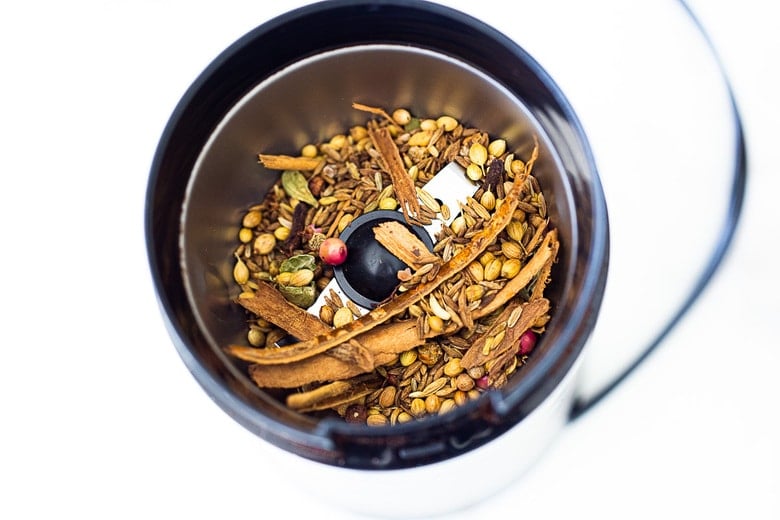 Step Three: Store in an air-tight container for a shelf-life of up to 6 months.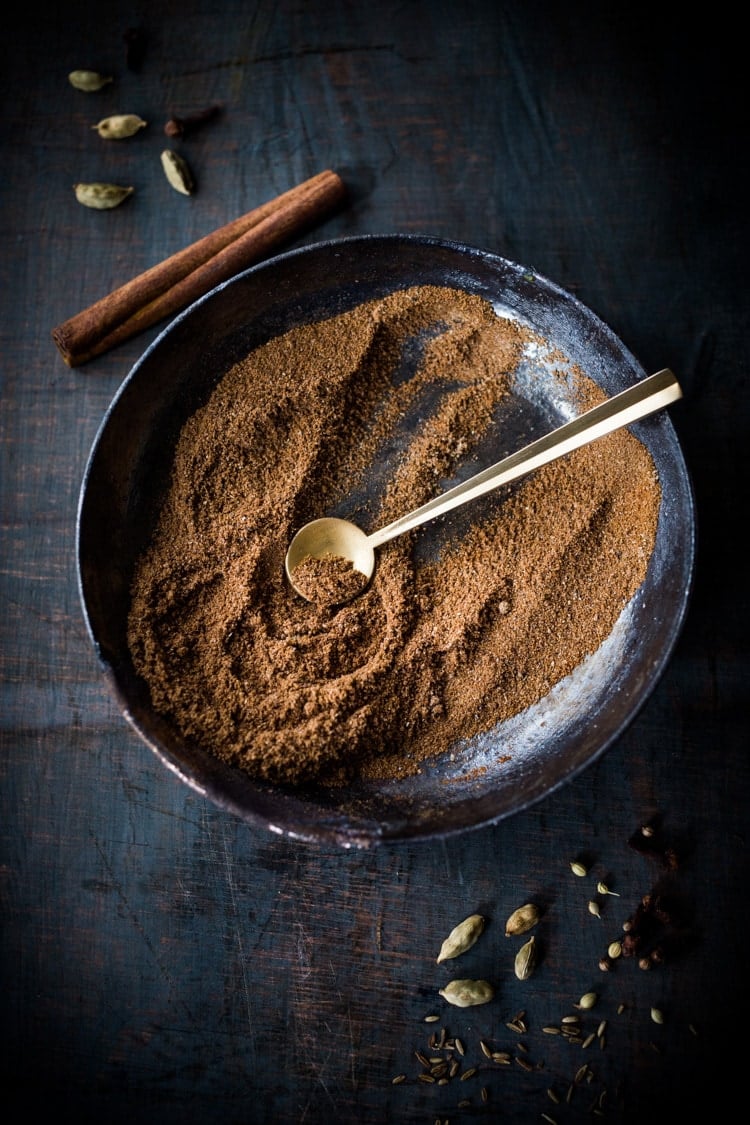 Lastly, and very interesting to me personally, are the Ayurvedic properties of Garam Masala. 
Healing Properties of Garam Masala:
Ayurveda is the ancient, traditional Hindu system of medicine that is based on the premise that balance is key to our body's health.)
In Ayurvedic medicine, it is thought that when there is not enough heat in our bodies, our bodies can become sluggish and may be slow to remove toxins. The word garam means to "heat the body," and these warming spices are actually believed to elevate body temperature and boost metabolism in Ayurvedic medicine.
Other beliefs about the healing benefits of garam masala include boosting our immunity
promoting weight loss
aid digestion
lowering blood sugar
lowering inflammation
And what I've noticed personally is Garam Masala's mood-boosting qualities, especially on cold dark winter days. The warming spices not only warm the body, they warm and uplift the spirit.
You'll find a million uses for Garam Masala but here are a few recipes on the blog that use Garam Masala!
Ways to use Garam Masala Spice
Print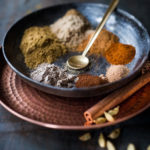 Garam Masala Recipe
Prep Time:

10

Total Time:

10

Yield:

⅓ cup

1

x

Category:

Spices, Spice blend

Method:

Mix

Cuisine:

Indian
---
Description
A simple homemade Garam Masala Recipe that can be made in 10 minutes – with ground fragrant spices you already have in your pantry. Easy, healthy and authentic!  See notes for toasting whole spices.
---
---
Instructions
Mix all ground spices together in a small bowl and store in a sealed jar.
To bump up the flavor and fragrance, lightly toast the amount called for in a recipe, just before using, in a dry skillet, over medium heat, stirring until fragrant and lively.
---
Notes
To make a more authentic version of Garam Masala using whole spices, toast the following in a skillet.
Lightly toast over medium heat in a dry skillet, until crackling and fragrant, stirring often, being careful not to scorch. Grind in a
Spice grinder
or blender until ground into a fine powder. Store in a sealable jar.
---
Keywords: garam masala, best garam masala recipe, garam masala recipe, easy garam masala recipe, how to make garam masala, garam masala substitute, what is garam masala, garam masala spices,