This fall-inspired recipe for Roasted Butternut Tikka Masala can be made with chickpeas or chicken. The fragrant tomato coconut sauce is infused with Indian spices. Vegan-adaptable  & Gluten Free! A healthy delicious vegan dinner recipe, perfect for fall!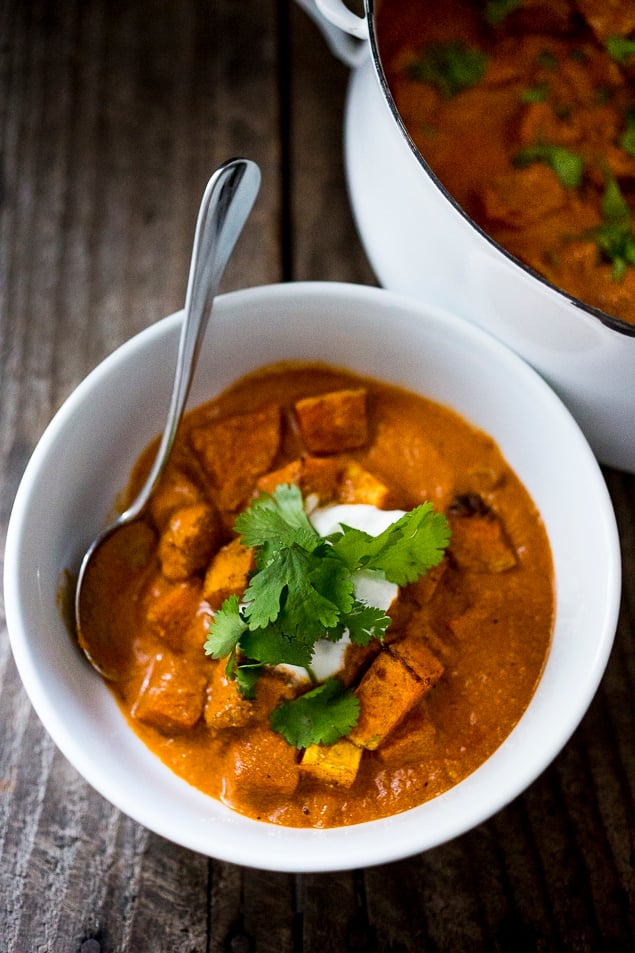 This aromatic, flavorful recipe for Roasted Butternut and Chickpea Tikka Masala is bursting with Indian flavors.
 Traditionally, Tikka Masala is made with chicken, bathed in creamy tomato curry sauce seasoned with
garam masala
.
In this recipe, roasted butternut is added to the mix, a nod to fall, giving it a hint of sweetness. Feel free to add chickpeas, chicken,
crispy tofu
or
paneer
for added protein.
The traditional heavy cream is replaced with either plain Greek yogurt or
coconut milk
, making for a lighter meal without sacrificing the richness that the dish needs. Serve this over
fluffy basmati rice
or with
naan
bread and enjoy the warming flavors.
An added benefit to this Tikka Masala Recipe are the leftovers, which get even tastier as the ingredients have time to meld- perfect for weekday lunches during the week.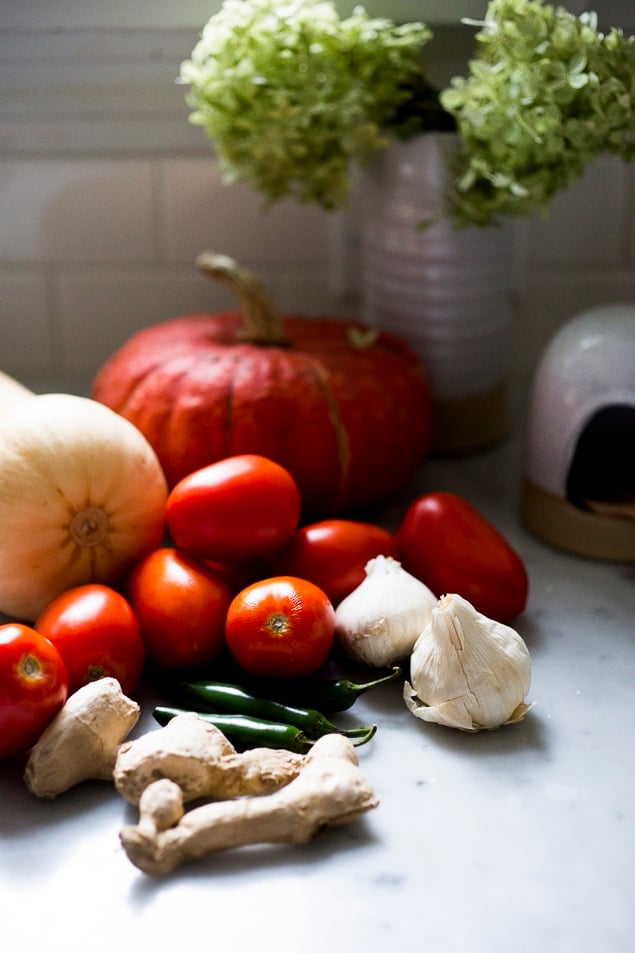 It starts with fresh ingredients. Butternut squash, ginger, garlic, Serrano chilies and roma tomatoes.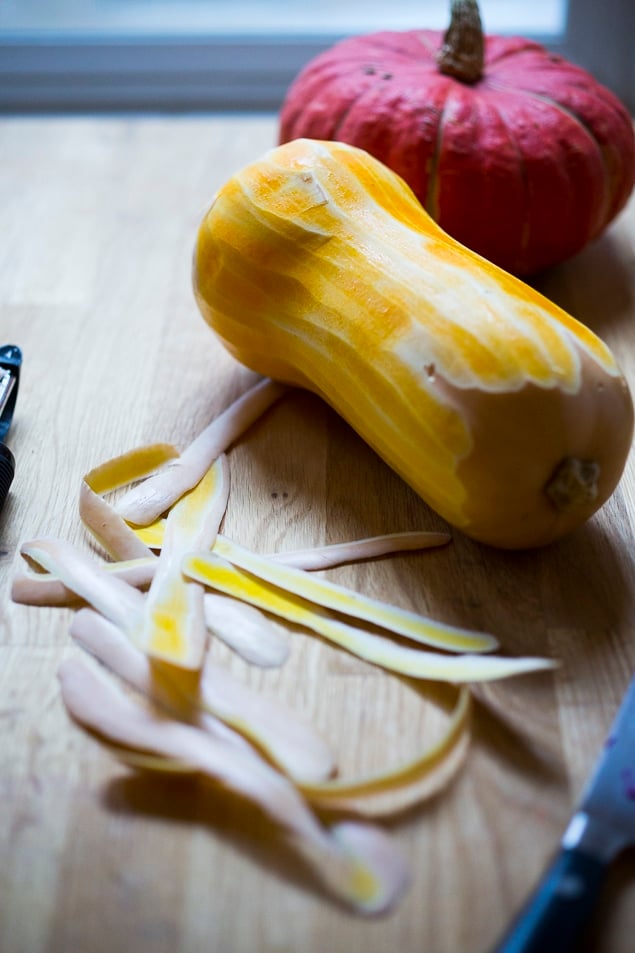 Butternut squash is peeled and cut into 1 inch cubes.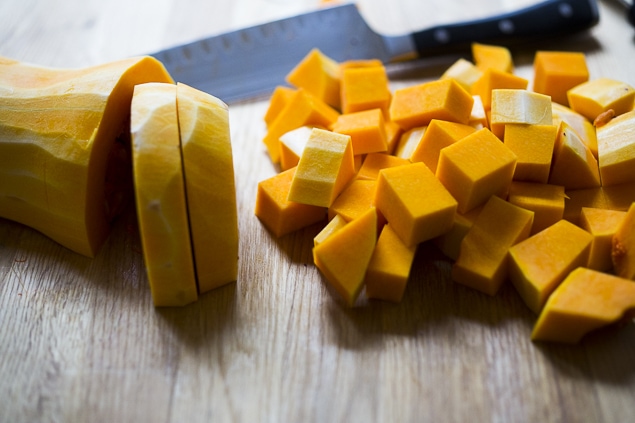 It's tossed with olive oil, garam masala spice and salt and roasted in the oven.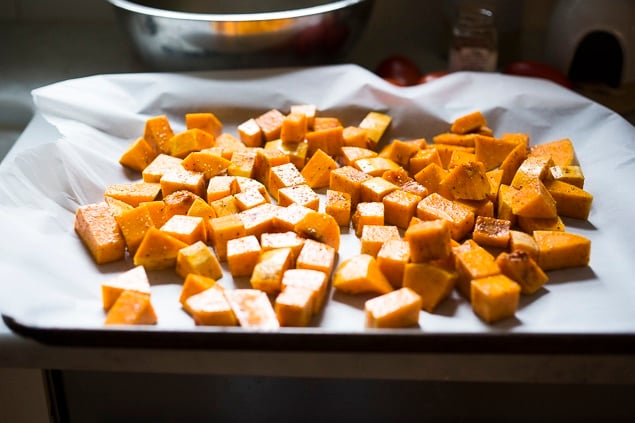 It comes out tender and crispy. Roasting, rather that steaming, helps prevents the squash from falling apart in the curry, giving it a good texture. It's actually quite good just served like this too.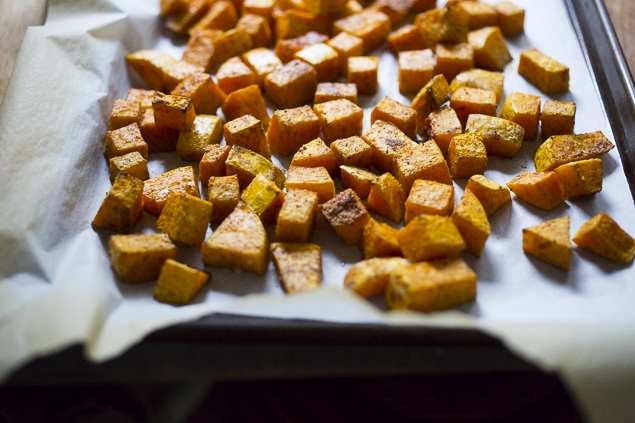 While the butternut is roasting, make the sauce.
Ginger, garlic and chilies are chopped finely in a food processor.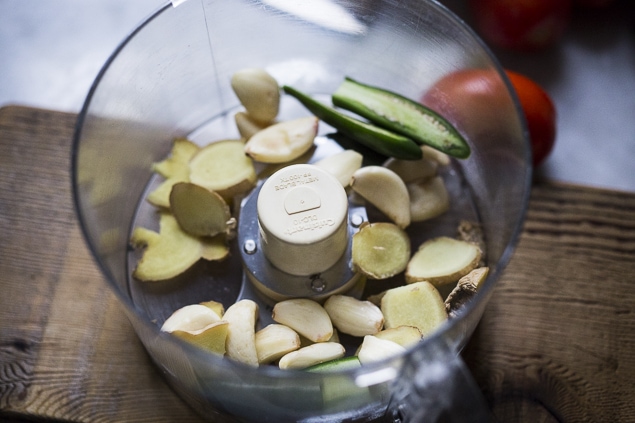 Make a flavorful paste with garlic, chilies and ginger.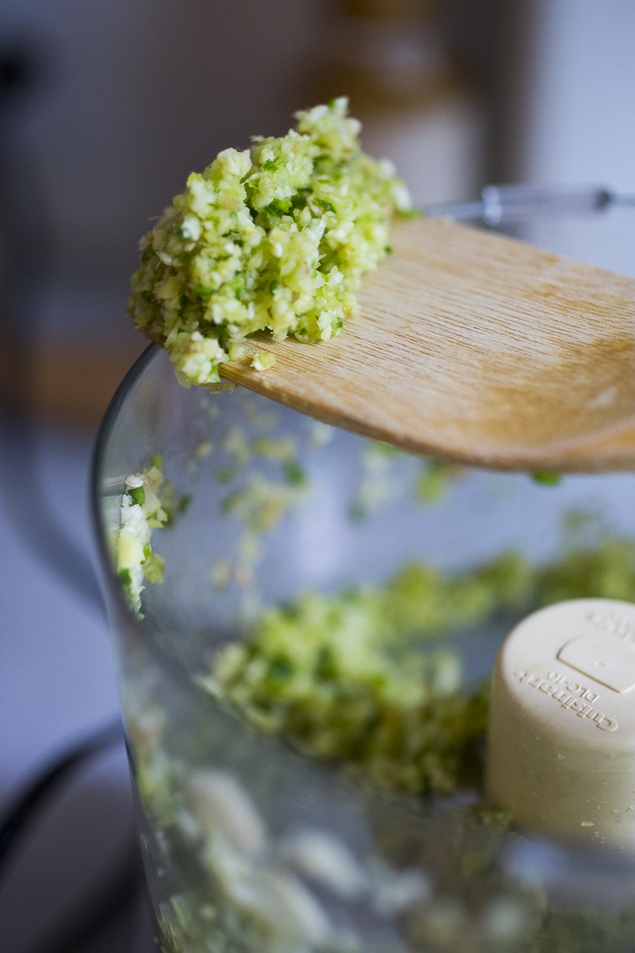 Saute the paste in olive oil or ghee until lightly browned and fragrant.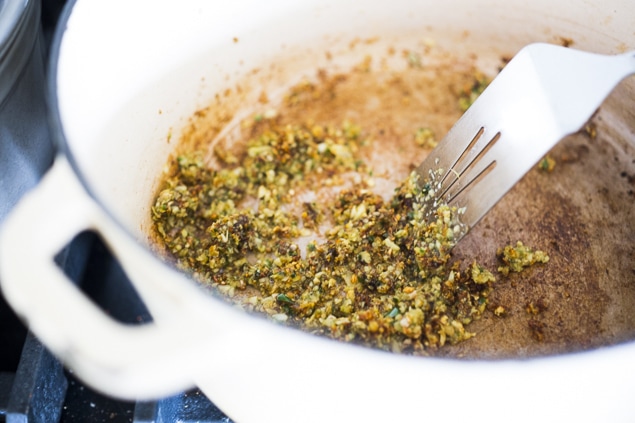 Tomato paste is added to the ginger-garlic mixture, and also "browned" to give the Tikka Masala Sauce a little depth.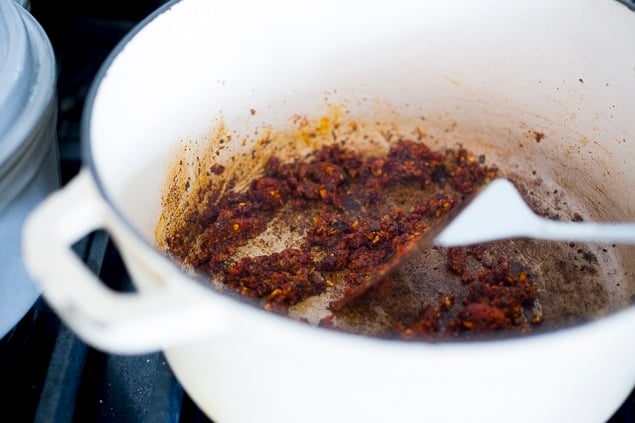 Fresh Roma tomatoes are added in next.  Roughly chop them… the sauce will eventually be blended!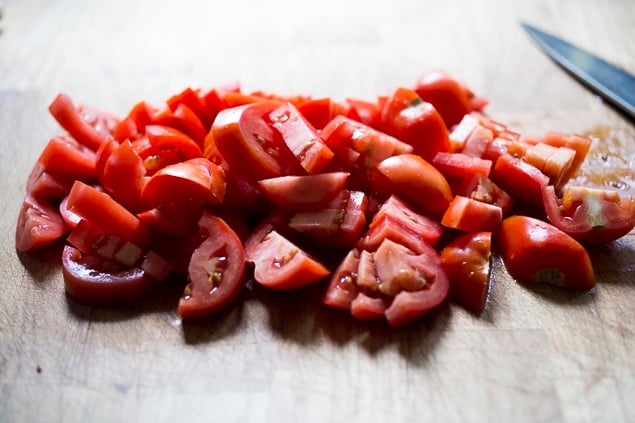 Add water and spices and let this simmer on the stove for 20 minutes, then blend until it's smooth.
Whisk in yogurt and finally add the roasted butternut and chickpeas (or chicken) to the pot.
To serve, place in a bowl over basmati rice and garnish with cilantro and a dollop of plain yogurt .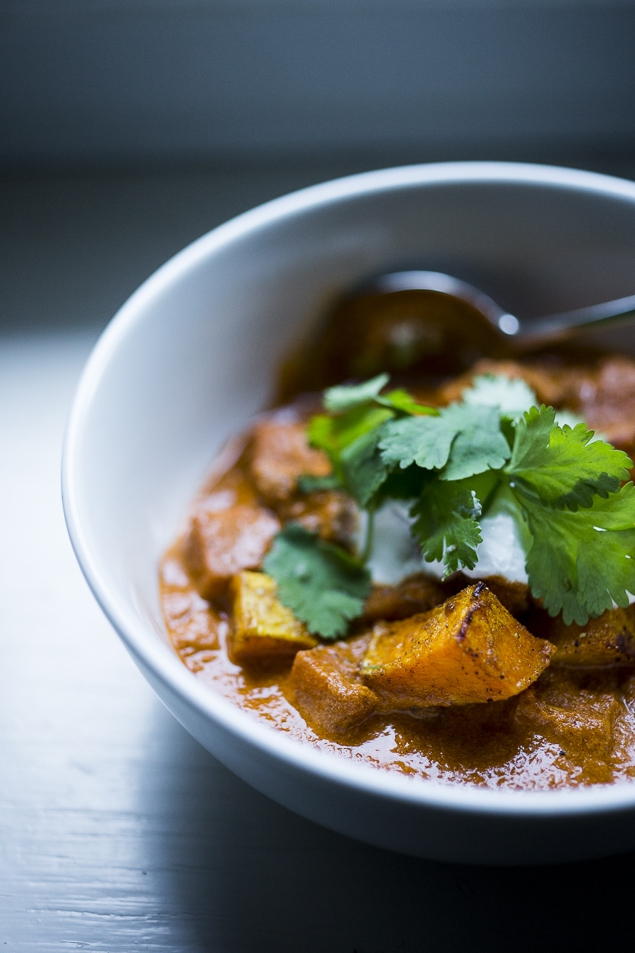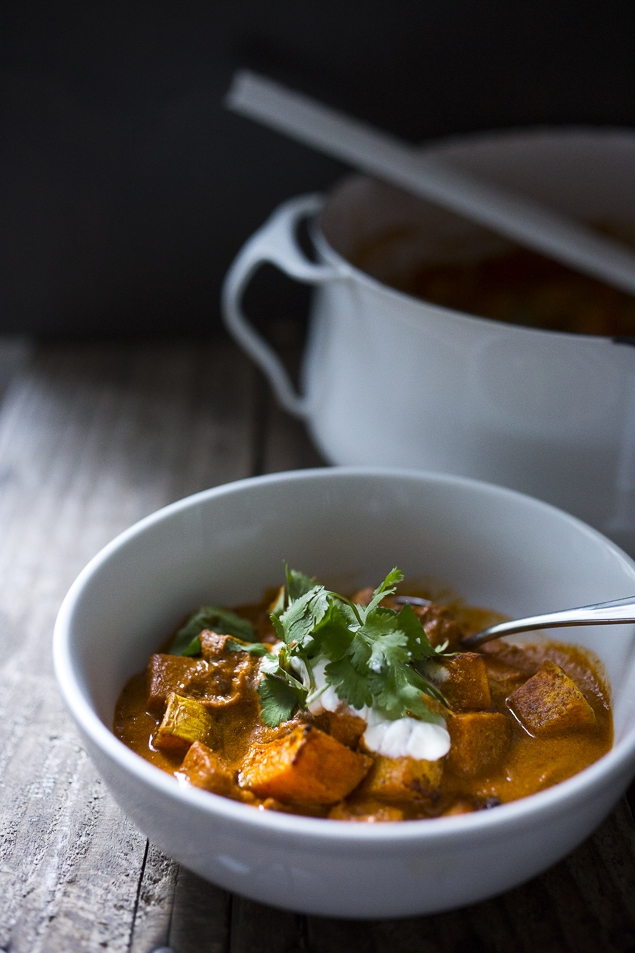 So wholesome and delicious!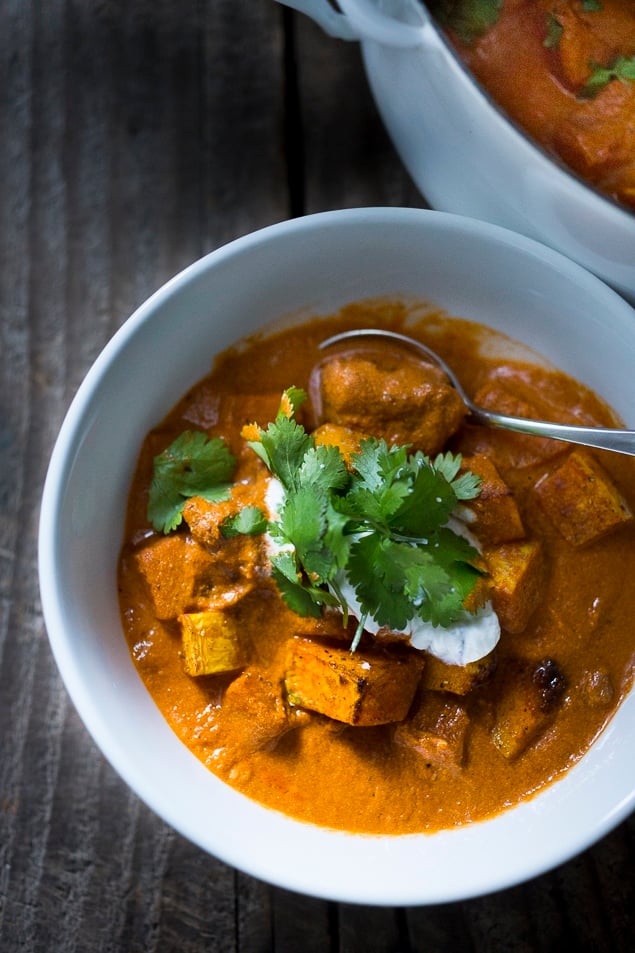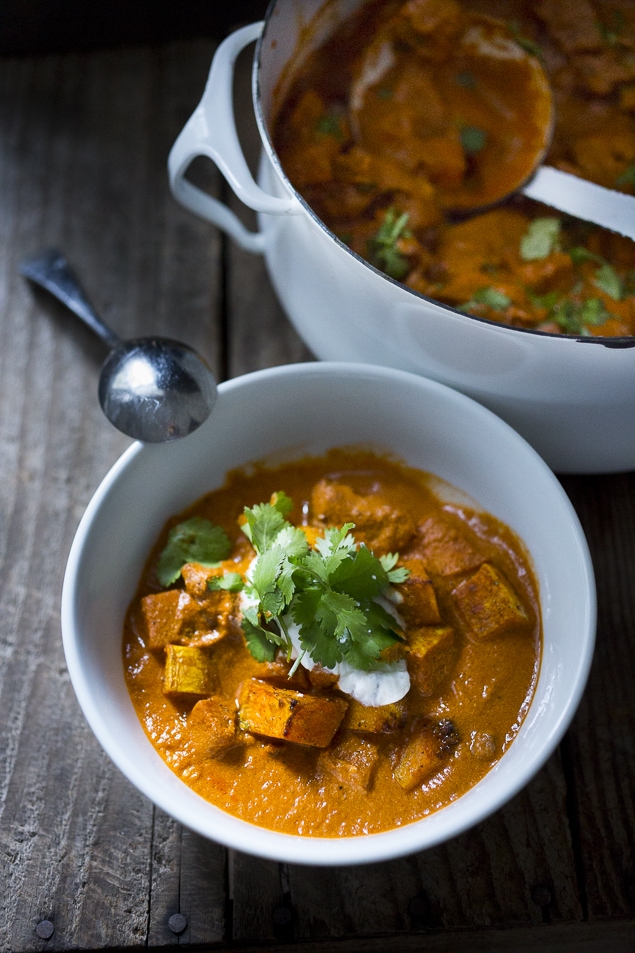 Hope you enjoy this recipe for Butternut Tikka Masala as much as we do! Let me know in the comments below!
xoxo
Print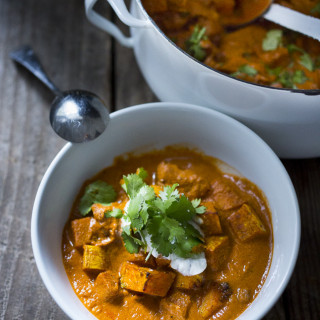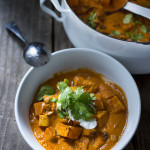 Roasted Butternut Tikka Masala
Prep Time:

30 mins

Cook Time:

30 mins

Total Time:

1 hour

Yield:

6

Category:

Vegan Dinner Recipe, Vegetarian, Entree, Fall

Method:

Stove-top

Cuisine:

Indian
---
Description
This fall-inspired recipe for Roasted Butternut Tikka Masala can be made with chickpeas or chicken. The fragrant tomato coconut sauce is infused with Indian spices. Vegan & Gluten Free! A healthy delicious dinner recipe, perfect for fall!
---
Ingredients
1

small butternut squash, peeled and cubed into 1-inch cubes ( about

6 cups

)

2

T olive oil

1 ½ teaspoons

Garam masala Spice Blend

½ teaspoon

salt

1

can chickpeas, drained (or sub

1

lb boneless chicken thighs cut into bite-sized pieces)
Tikka Masala Sauce Ingredients:
1/4 cup

sliced ginger

¼ Cup

garlic (

10

cloves)

2

fresh serrano chilies- cut in half lengthwise

2 Tablespoons

tomato paste

1 teaspoon

garam masala (see below)

1 teaspoon

cinnamon

1 teaspoon

paprika

8

roma tomatoes- rough chopped ( sauce will be blended)

1 ½ teaspoon

salt

½ teaspoon

pepper

1 ½

C water

1 Tablespoon

dried fenugreek leaves (optional but AMAZING)

¾ cup

plain, full-fat yogurt (or 3/4  can coconut milk, or

½ Cup

Cream)
—-

¼ Cup

chopped cilantro for garnish
Serve with basmati rice or naan bread
---
Instructions
Preheat oven to 400F. In a medium bowl, toss butternut with 2 T oil, garam masala and salt, until evenly coated. Spread out on a parchment-lined sheet pan and roast in the oven for 30 minutes.
(If adding chicken, place cut up chicken into the same bowl. Drizzle with 1-2 teaspoons olive oil, 1 teaspoon salt and 1 teaspoon garam masala, and toss to coat. Place on another baking sheet or baking dish, and bake for 25 minutes or until cooked through. Broil for a minute or two to get a deeper color.
While the butternut is roasting, make the Tikka Masala sauce: Place sliced ginger, garlic and chiles in a food processor. Pulse until finely chopped. Heat the ghee or oil in a heavy bottom pot or dutch oven. Saute garlic ginger and chili paste over medium heat until nicely browned for 6-8 minutes, stirring often, scraping up brown bits with a metal spatula. Cook until golden. Add tomato paste, and sauté for 1-2 minutes, or until color deepens. Add spices, and cook for 2 more minutes.
Add tomatoes, salt, pepper,  water and optional fenugreek leaves. Bring to a simmer, lower heat and simmer on low heat for 20 minutes.
Blend the Tikka Masala Sauce in batches in a blender, covering the blender with a kitchen towel and firmly holding the lid down (to prevent an explosion). Return the blended sauce to the pot. Whisk in the yogurt (or coconut milk or cashew cream, or heavy cream). This sauce could be made ahead and reheated!
Add the roasted butternut squash and chickpeas (or roasted chicken) and bring to a simmer.
Serve over fluffy basmati rice, or with naan bread with a side of raita!
---
Notes
Notes: If making the Easy Garam Masala, know that using whole seeds and toasting them, then grinding them, will make an even more flavorful spice blend.
---
Keywords: Butternut Tikka Masala, Butternut Masala, Vegan tikka masala, chicken tikka masala, fall tikka masala recipe, butternut recipes
SaveSave
SaveSave
SaveSave
SaveSave