How to make Furikake Seasoning- a Japanese spice blend made with dried seaweed (nori), toasted sesame seeds, salt, spices  and optional bonito flakes. Use on rice, veggies, fish or avocado toast! Vegan and Gluten-free.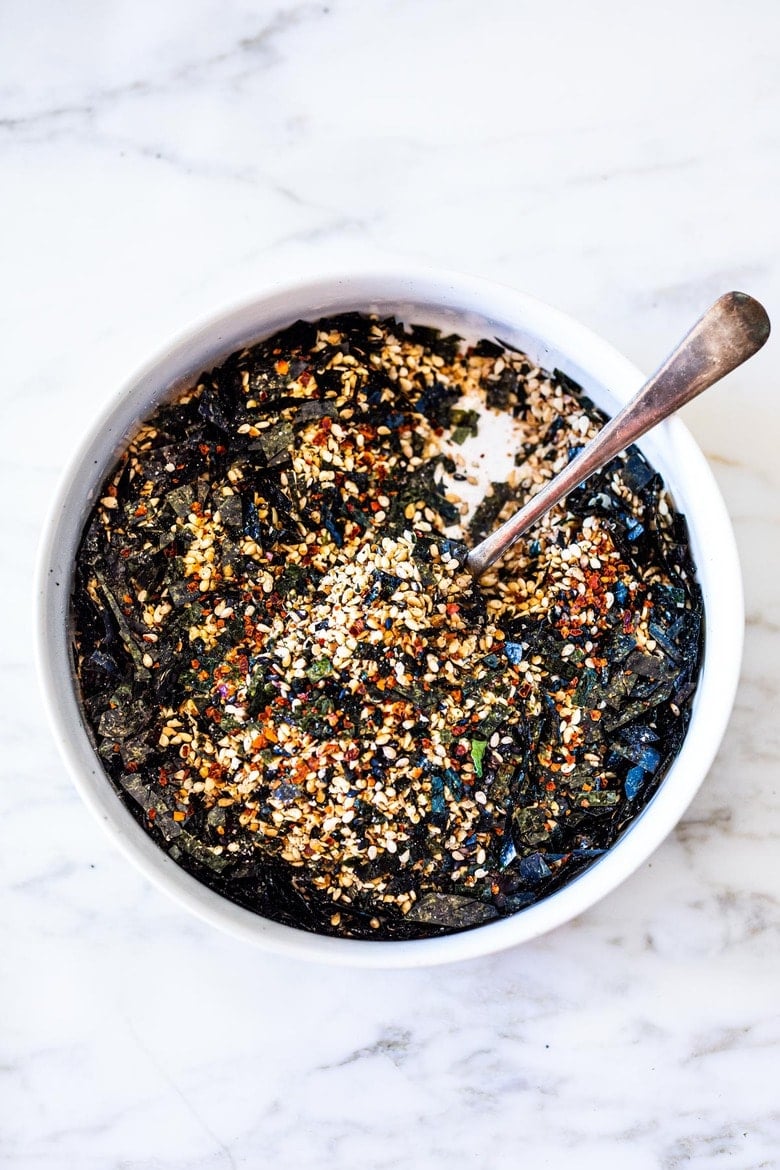 If you've been here a while, you have probably noticed Furikake being featured in some of the recipes over the years. It's a Japanese seasoning blend that really enhances the foods we are already making.
Recently a reader asked me how to make it because where she lived, it was nowhere to be found. These days it is pretty accessible in urban areas, easily found at most upscale grocery stores, Asian Markets, and even at Trader Joes.
But if you, like her would like to make it yourself, it is very easy and doable! My friend Tonia created this simple recipe for us and I've found I like it much better thans store-bought
PLUS Homemade Furikake would also make a beautiful hostess gift!
What is Furikake?
Furikake is a Japanese seasoning typically made with toasted sesame seeds, nori, salt, sugar. It varies from region to region can also include anything from bonito flakes, to chili flakes to miso powder to shitake powder to poppy seeds. Some verisons even include dried shiso leaves (another thing to do with your shiso leaves next summer).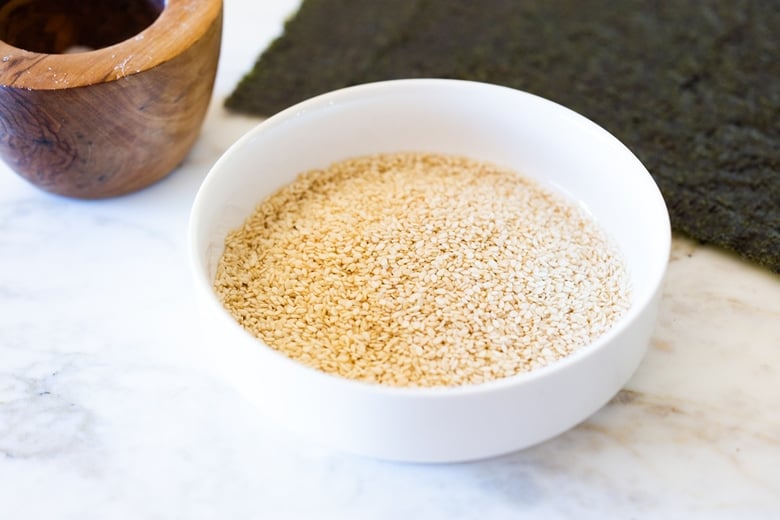 How do you Make Furikake? 
Lightly grind sesame seeds to release their oil.
Toast sesame seeds until fragrant and golden.
Mix with shredded nori.
Season with salt and sugar.
Optional: Add chili flakes, bonito, dried shiso, shiitake powder or miso powder.
Store in an air tight jar for up to 6 months.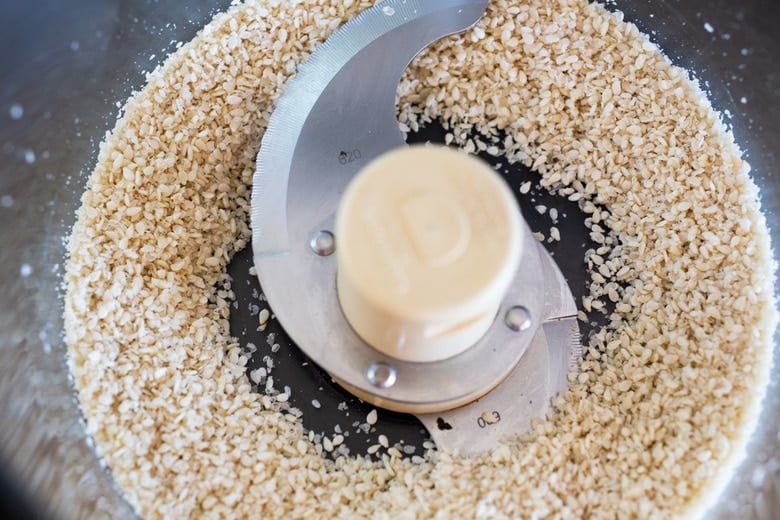 Lightly grinding the sesame seeds, releases their oil, making them more flavorful when toasted.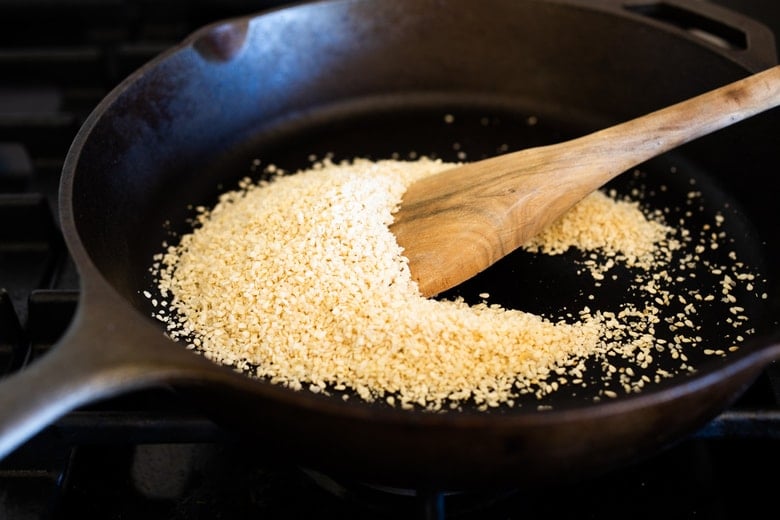 Toast until nutty and frangrant, constantly over very low heat for 8-9 minutes.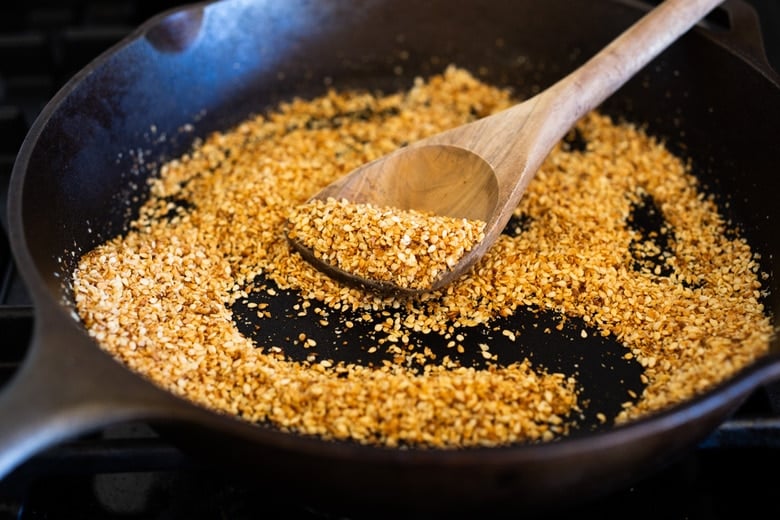 Shred, crumble or cut nori sheets.
To crumble Nori sheets, tear into small pieces, then crumble with your fingers.  Or cut with a knife or scissors.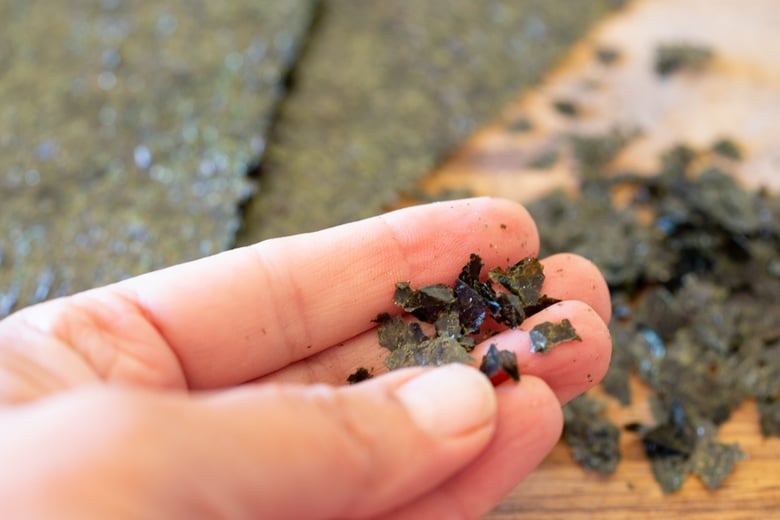 Stacking and folding the nori before slicing makes for faster and easier work.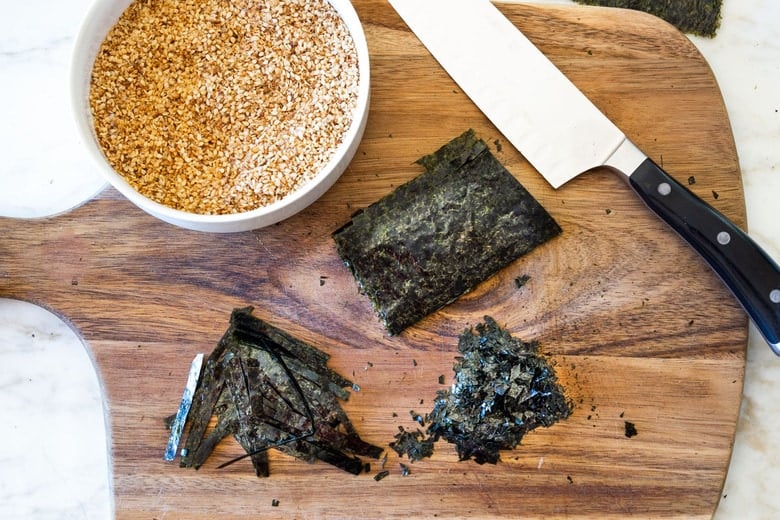 Then just mix everything together in a small bowl, adding salt and sugar.
Add any additions you like: (all optional)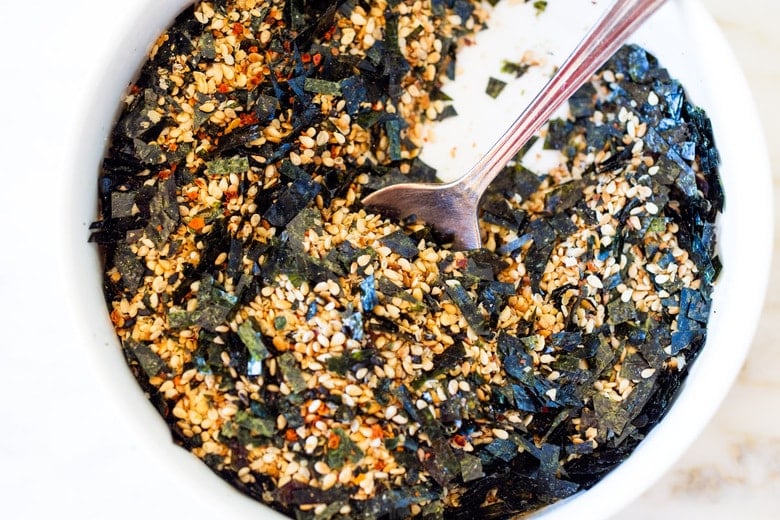 Store in a sealed jar for 4-6 months.
How to use Furikake Seasoning? 
sprinkle over rice
sprinkle on sushi
sprinkle on avocado toast
over eggs
on veggies
over fish, or smoked salmon
over tofu
Sprinkle over ramen or sushi bowls
sprinkle over Poke salad or poke bowls
Over egg salad or tuna salad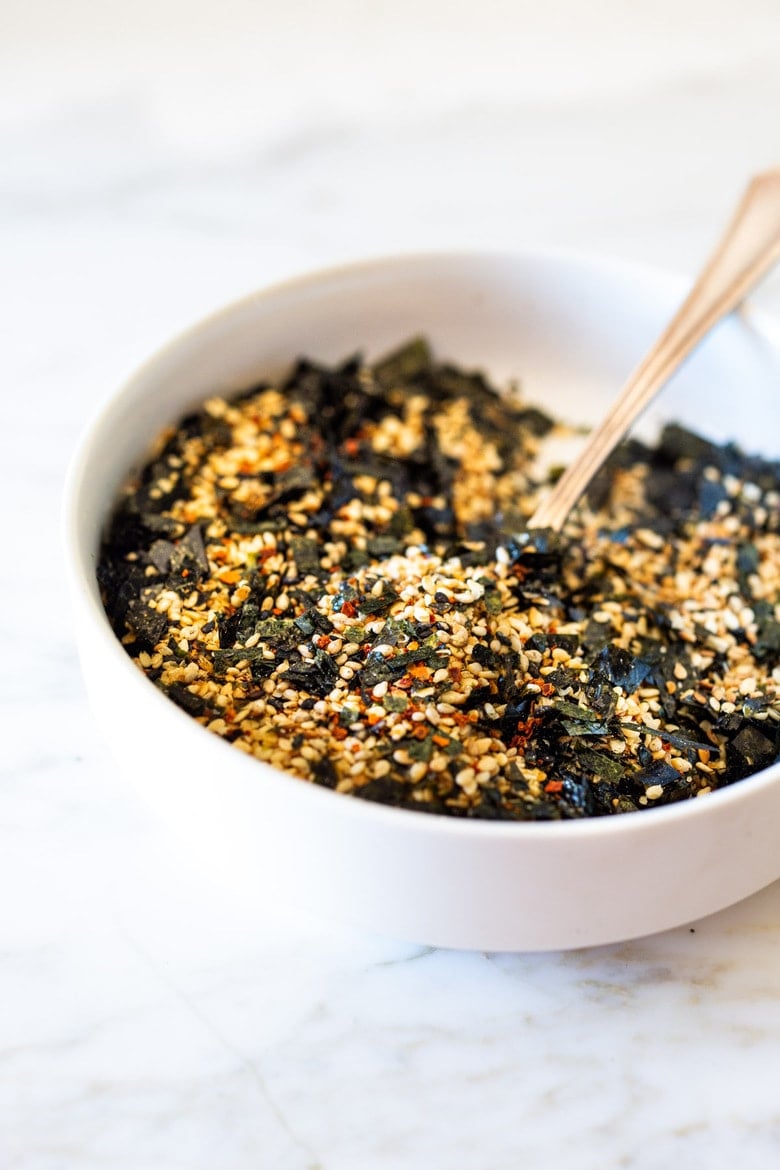 Here are a few recipes that use Furikake Seasoning:
Hope you give this a try and enjoy!
Happy seasoning,
Sylvia
Print
Furikake Recipe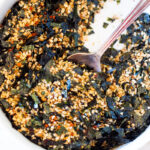 How to make Furikake- a Japanese spice blend made with seaweed, toasted sesame seeds, salt and optional bonito and spices. Use on rice, veggies, fish or avocado toast! Vegan and Gluten-free. #furikake
Scale
Ingredients
Basic Furikake Base:
½ cup

white sesame seeds (see notes)

2

–

3

seasoned nori sheets (or plain)

½ teaspoon

salt, more to taste

½ teaspoon

sugar (optional, but good)
Optional additions:  (The proportions are just a starting point.)
Instructions
In a spice grinder, pulse sesame seeds 1 or 2 times so that the seeds are partially ground, leaving some whole, taking care they grind quickly.
Place seeds in a cast iron pan (or sauté pan) on low heat, stirring every minute or so until they become fragrant and lightly toasted, 7-8 minutes.
Stack, fold and cut nori into small strips then cut into small pieces, or you can also crumble with your hands.

 

Add to sesame seeds in a small bowl, along with salt and sugar.

 

Add any additional ingredients ( see ideas and get creative!)
Store in an air tight container for up to 6 months.
Notes
Grind the seeds just a little – to better incorporate the salt, sugar and optional ingredients more evenly and help release the sesame oil.
The sugar is optional but gives a sweet savory balance.
Nori sheets – use regular, seasoned can add great flavor (wasabi, sesame oil, chili)
If using already toasted sesame seeds, no need to toast again.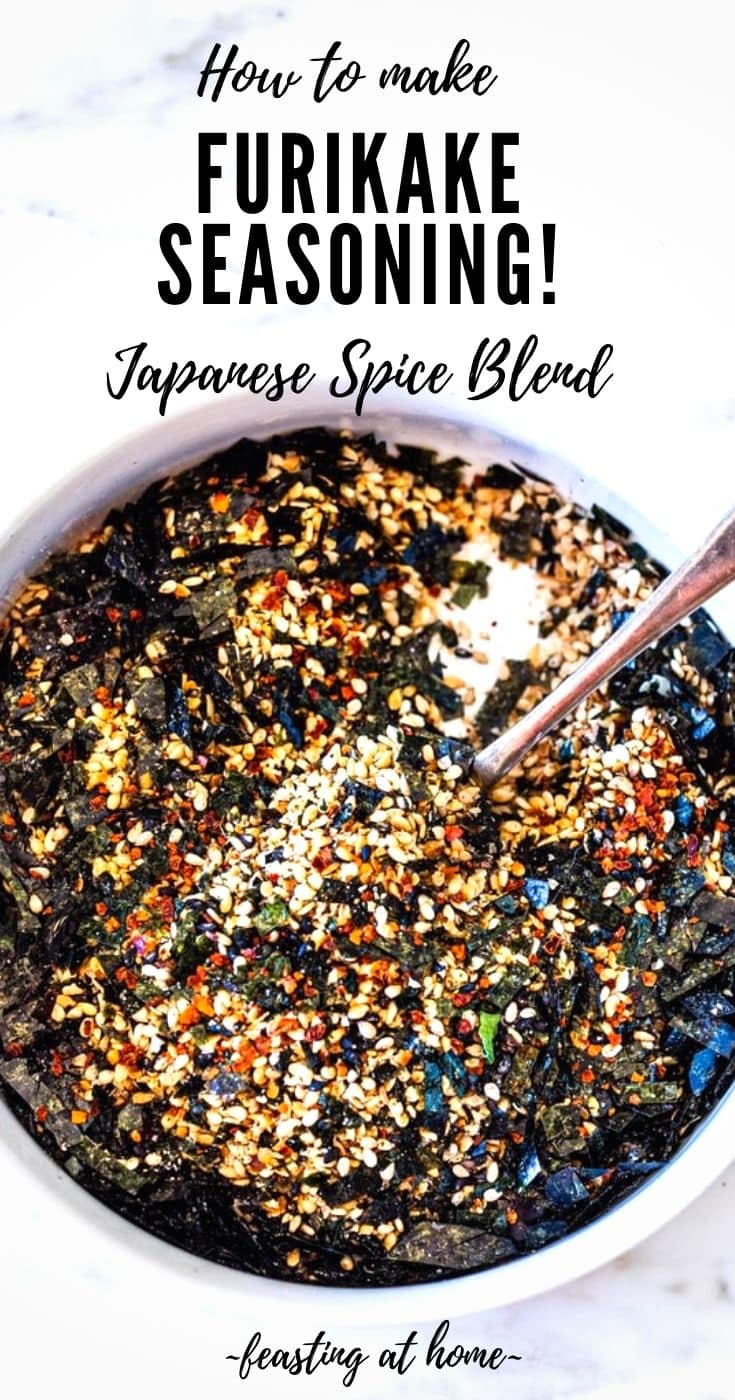 Reader Interactions