Here's a very easy recipe for Simple Chicken Enchiladas made with shredded chicken, chilies and cheese, and either 5-Minute Enchilada Sauce or Roasted Enchilada Sauce.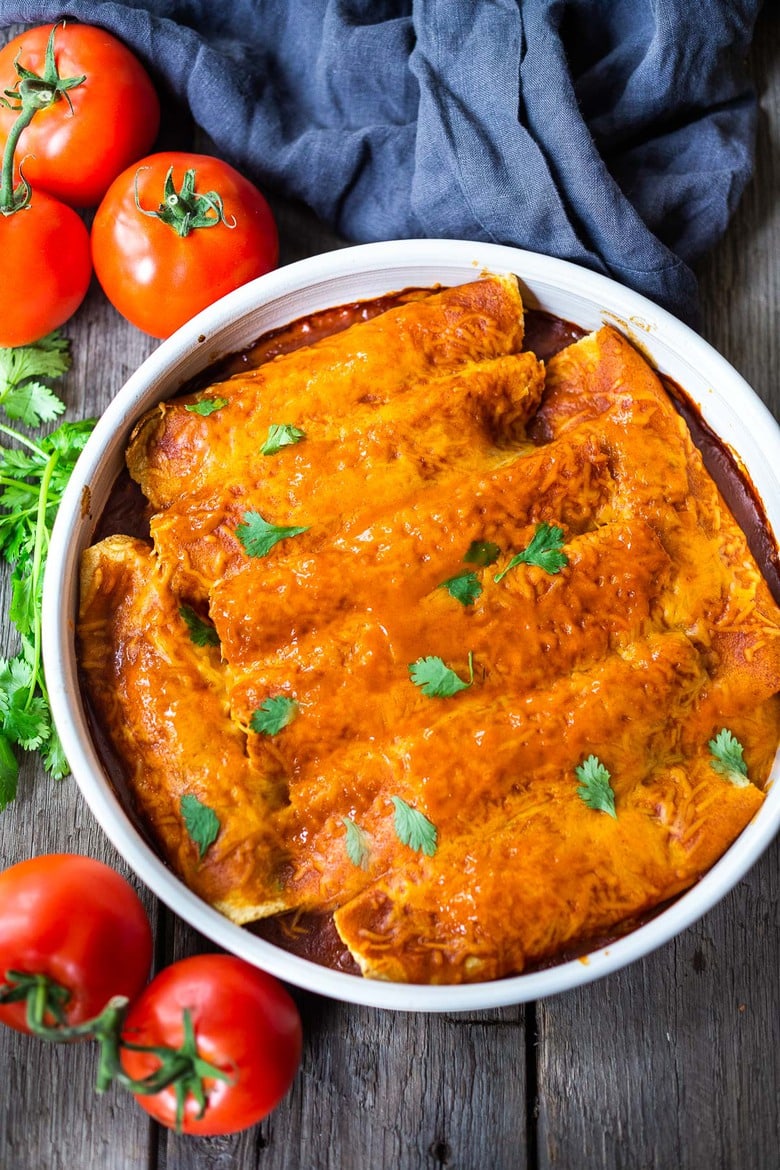 We have a couple of picky eaters in our extended family. I love them to pieces, and I'll be honest here, it's been a bit of a challenge at times cooking for them because they don't really love veggies. And pretty much I love to put veggies in everything.
But contrary to what you are thinking, this has actually been really good for me, because, it's taught me how different we all are and how different our tastes buds are, and how not to fight it, but rather adapt.
So this is how this recipe came to be, and it got the stamp of approval from them last week, so I wanted to share it with you!
It is a really simple recipe for Chicken Enchiladas that may come in handy this season. You can make this with store-bought enchilada sauce, roasted enchilada sauce from last week or try this 5-minute enchilada sauce that you make in a blender.
There are many Enchilada recipes on the blog- Veggie, Butternut, White Enchiladas, Verde, Enchilada Pie and these Spaghetti Squash Enchiladas (obviously, we really like them around here) but not one for just simple basic Chicken Enchiladas.
I had just happened to make a batch of Shredded Chicken the day before and had leftovers in the fridge, so it worked out perfectly. The shredded chicken worked really well here.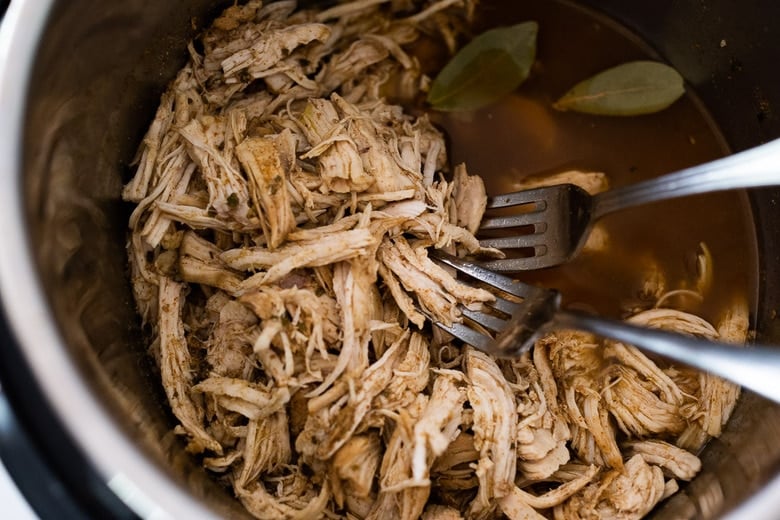 CHICKEN ENCHILADA INGREDIENTS:
Chicken: Use this Shredded chicken recipe or shredded rotisserie chicken or this simple baked chicken.
Onion and diced green chiles: to bump up the flavor.
Tortillas: Corn tortillas are typically used in enchiladas, but I prefer to use a corn and flour blend because they are much easier to roll. Use what you like.
Cheese: Use Cotijo, shredded Pepper Jack or Mexican-blend shredded cheese work best, but any melty cheese can work here too. Even vegan cheese!
Enchilada Sauce: Make the 5-Min Enchilada Sauce or the Roasted Enchilada Sauce! Or use store-bought.
Toppings: Cilantro or scallions, sour cream, avocado, hot sauce!
The recipe starts with making this Shredded Chicken. You can use an instant pot, slow cooker or make it on the stovetop. You can also buy a pre-cooked rotisserie chicken and shred this. No judgment ever!
Then make the 5-minute Enchilada Sauce or the Roasted Enchilada Sauce.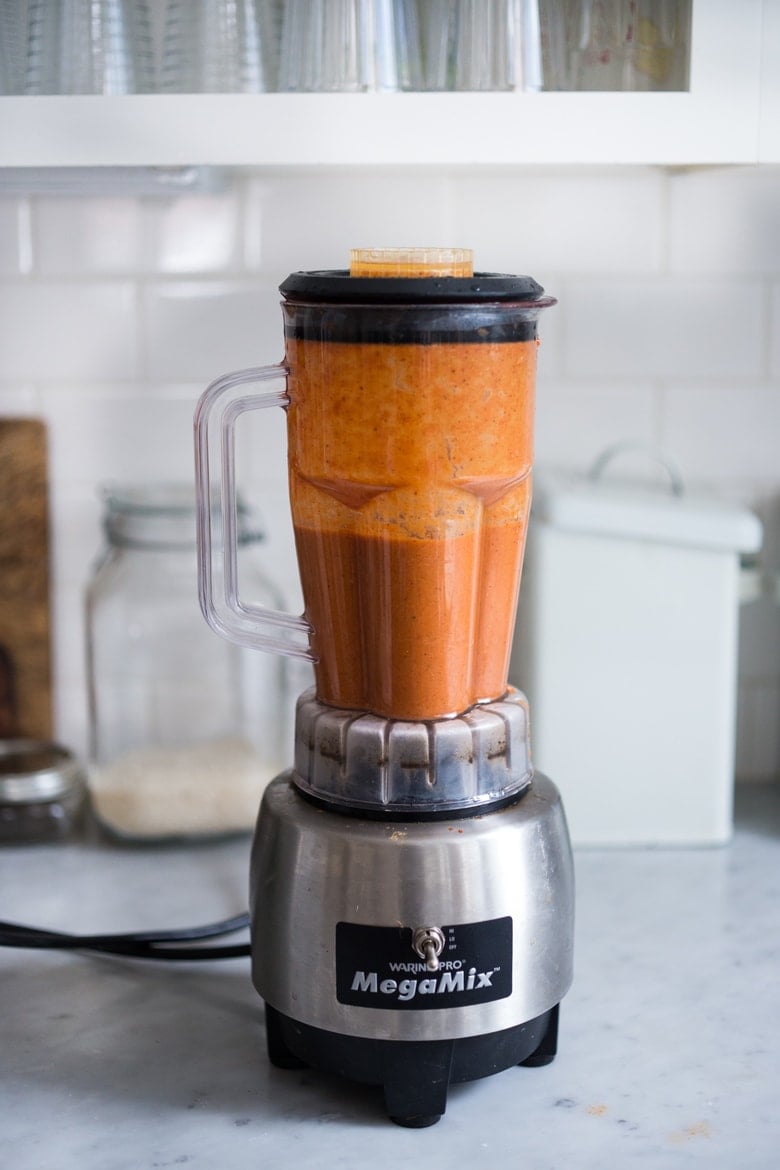 The roasted Enchilada Sauce takes a little more time, but offers great flavor. You can make a green or red sauce.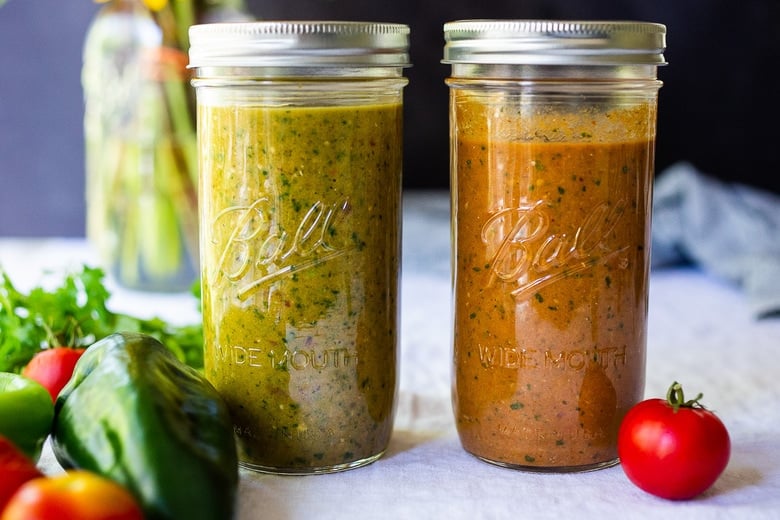 Or use store-bought enchilada sauce. Again, no judgment! You'll need about 2 cups. Traders Joe's brand is pretty good!
Here I'm using the 5-minute Enchilada sauce.
Spread a greased baking dish with a layer of enchilada sauce.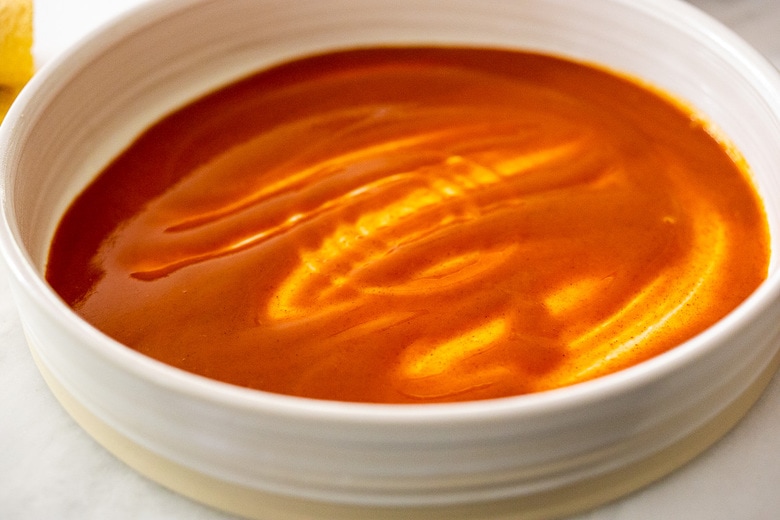 Then start rolling the enchiladas.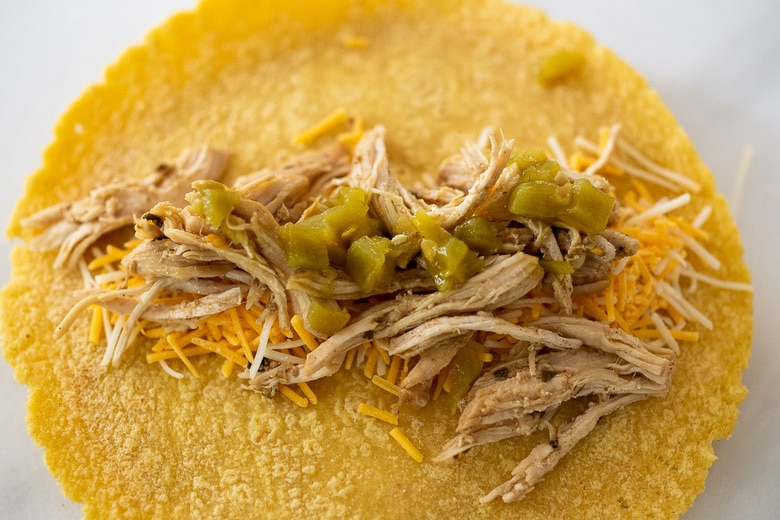 Tips on the BEST way to roll enchiladas:
Warming the tortillas makes them pliable and bendy so they don't crack or break. You can wrap in towel and microwave, or toast briefly on a gas burner or lay them out on the rack of a warm oven.
Start with the cheese, which, when the roll is turned over in the baking pan will melt over the chicken instead of pooling in the bottom.
Fill all the way to the ends.
Place seam-side down.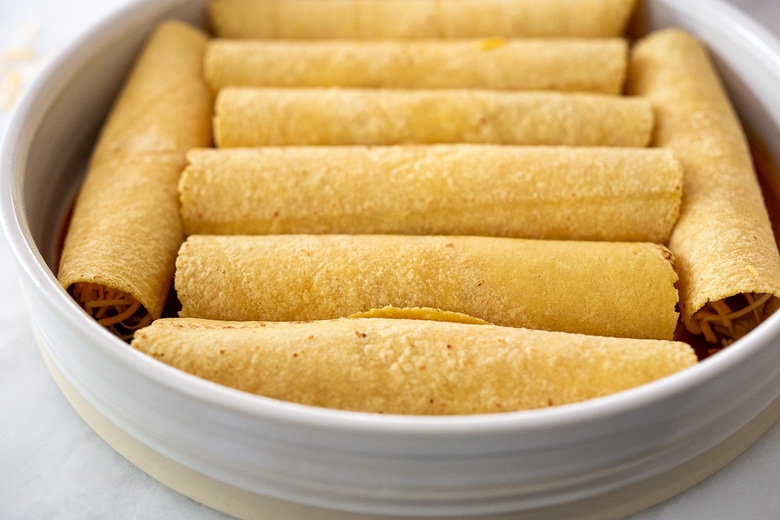 Place in a baking dish.
Lather up with Enchilada Sauce.
If you like your edges crispy, leave the sauce off the edges and brush with olive oil. they will get crisp.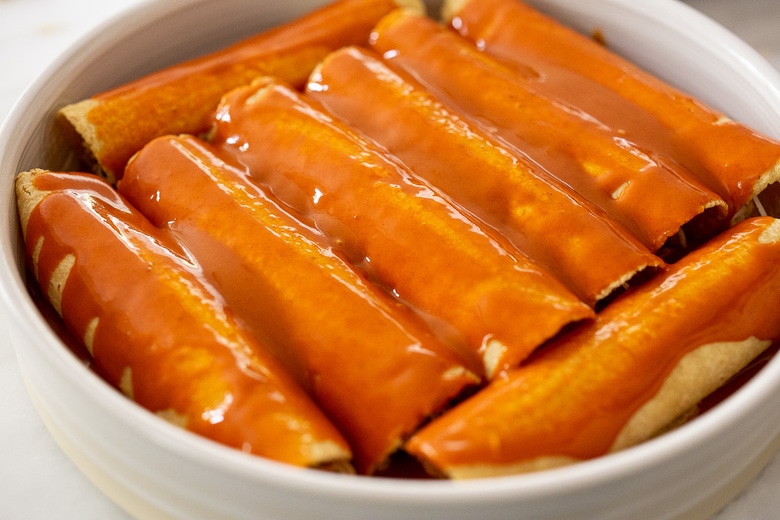 Add cheese.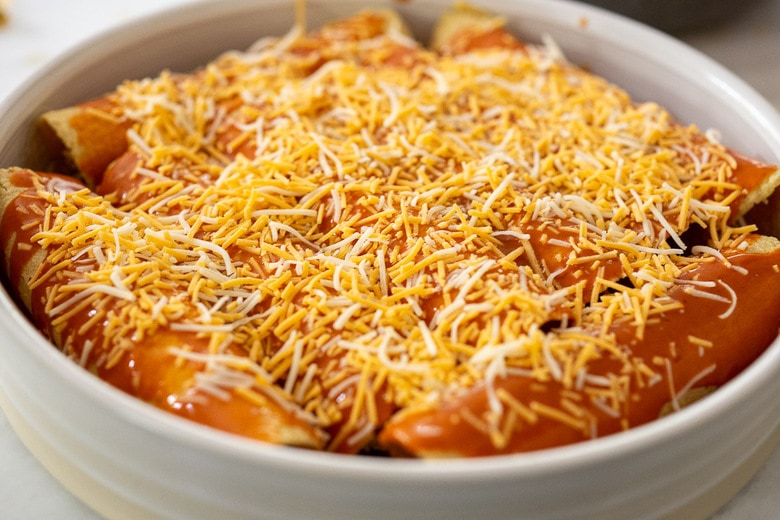 Then bake!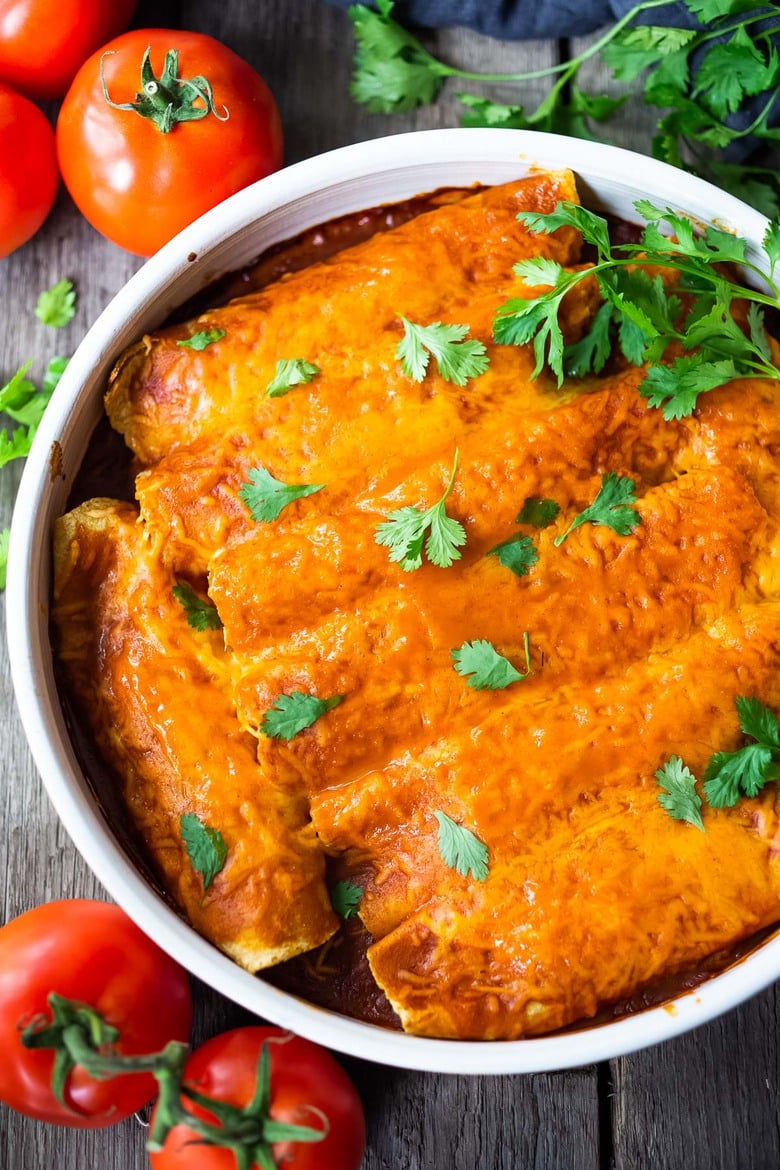 How easy is that? 😉
On the homefront: It feels especially quiet around here this morning. Brian is on an outdoor adventure he's been planning for months, and so it's just Bell (our cat) and I holding down the fort. So far, Bell has made it clear that, between Brian and me, I am not her first choice. She's been moping around the house since the minute he left looking forlorn and heartbroken. I'm trying to not take it personally.
It has been an interesting week. So much anxiety in the air, it's hard not to feel it. I try not to amplify it, turning inward to the peace inside myself. Trusting that even this is enough.
We celebrated an anniversary a few days ago, and then felt the weight of loss, on the birthday of my friend who left this world several months ago. I am continually amazed at how much our hearts can hold.
The sun is out this morning. The smoke has cleared, the rain came and washed it all away. A gentle breeze moves through the trees casting flickering shadows on the counter where I sit. And here, right now, all is well. I hold it as long as I can…
More Enchilada Recipes you may like:
Let us know how you like these Chicken Enchiladas and ways you adapt them to your needs!
Print
Simple Chicken Enchiladas
How to make Simple Chicken Enchiladas with the BEST enchilada sauce! Fast and Easy with the 5-minute enchilada sauce!
Author: Sylvia Fountaine
Prep Time:

40

Cook Time:

20

Total Time:

1 hour

Yield:

4-6

Category:

Main

Method:

baked

Cuisine:

Mexican
Shredded Chicken (you'll need 4 cups)

4

-ounce can green chilies

5

-minute Enchilada Sauce or Roasted Enchilada Sauce (

2 cups

)

8

–

10

tortillas  (corn and flour blend)

2 cups

cheese- cotija, shredded Mexican blend, shredded jack, etc.
optional filling additions: frozen corn, black beans, sauteed bell pepper, etc.
garnishes: olives, sour cream, cilantro, scallions, avocado
Instructions
Make the Shredded Chicken (or shred a rotisserie chicken-see notes) drain, set aside 4 cups of the chicken and stir in the small can of green chilies.
Preheat oven to 350F
Make the 5-Minute Enchilada Sauce
Heat the tortillas until they are pliable, to prevent cracking when rolling-especially if using corn tortillas.  (In a microwave -wrap the stack in a kitchen towel for 20 seconds, or spread out on the rack in a 350 F oven, or lightly toast over a gas burner using tongs)
Grease a 9×13-inch baking dish. Spread 1/2 cup Enchilada sauce, or enough to coat the bottom.
Roll the Enchiladas: Place 1/4 cup cheese down the center of a tortilla, top with 1/3-1/2 cup chicken filling all the way to the edges. Roll tightly and place seam side down on top of the enchilada sauce. Repeat until the baking dish is full.
Brush the remaining sauce over top.
Sprinkle with cheese.
Bake uncovered for 20-25 minutes or until warmed through and cheese is melty.
Top with garnishes before serving!
Notes
This can be assembled ahead, refrigerated, and baked right before serving.
This can be made, baked and frozen for later.
You can make the chicken and sauce in batches the day before and then assemble the day of.
If using rotisserie chicken, season it with taco seasoning, or add salt, cumin and chili powder to taste.
Feel free to cut back on the chicken and add corn or sauteed peppers and onions, or even black beans. 🙂
Nutrition
Serving Size:

1 ½ Enchiladas

Calories:

400

Sugar:

3.8 g

Sodium:

1023 mg

Fat:

16.3 g

Saturated Fat:

8.1 g

Carbohydrates:

30.9 g

Fiber:

6.4 g

Protein:

31.1 g

Cholesterol:

84.6 mg
Keywords: chicken enchiladas, easy chicken enchiladas, easy enchiladas, best chicken enchiladas