Flavorful Enchiladas Verde (Green Enchiladas) with sweet summer corn and the most delicious Tomatillo Sauce. A simple healthy Mexican-inspired meal that is vegetarian adaptable– make it with shredded chicken, smoked chicken,  baked chicken , or keep it vegetarian with black beans!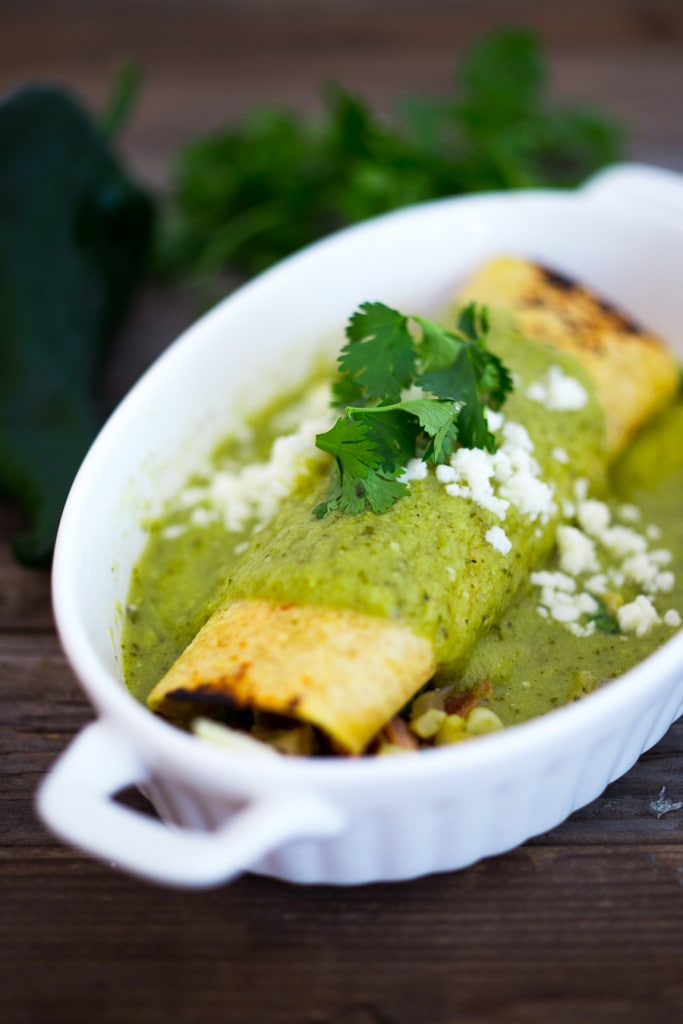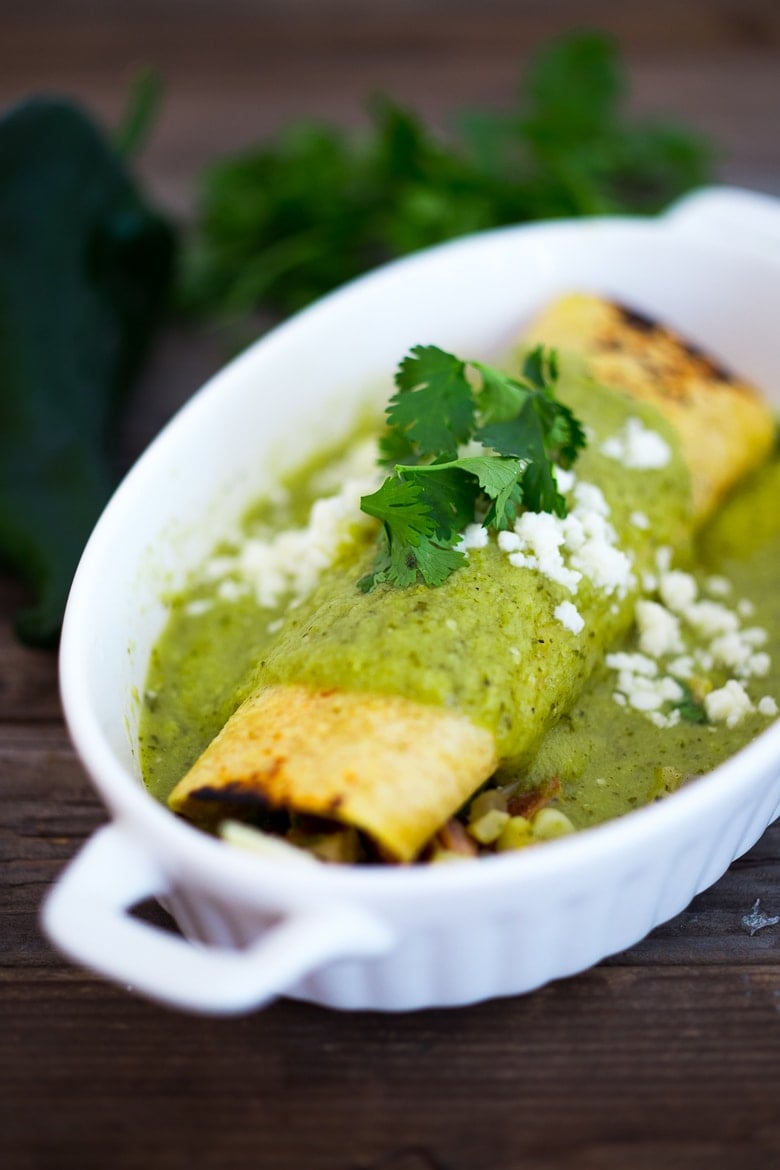 Here's a simple tasty recipe for Enchiladas Verde with chicken (or black beans) and corn lathered up in a flavorful Verde Sauce (aka, green sauce).
You can easily adapt these, keeping some vegetarian while adding chicken to others. In the colder months, I love tucking in roasted cubes of sweet potatoes for extra heartiness. Up to you!
What is Enchiladas Verde?
Enchiladas are slathered in a "green sauce" typically made from tomatillos, roasted poblanos, onion, garlic and spices. Traditionally the ingredients are roasted or blistered over an open flame, then blended into a flavorful sauce.
Why I love Enchiladas Verde
The FLAVOR! The Verde Sauce, tangy and grassy, and paired with the smokey, spicy, sweet flavors from the filling really complement each other- I love the combination here!
It can be made ahead! Or make it in stages -make the filling one day, make the Verde Sauce on another, and assemble the day of.
It's adaptable! Make some with chicken, or make some with black beans and corn- great for mixed households.
Great for repurposing chicken. Use leftover rotisserie chicken or roast chicken,  baked chicken or Instant Pot shredded chicken,  Grilled chicken or smoked chicken. All you need is two cups cooked chicken- breast or thighs.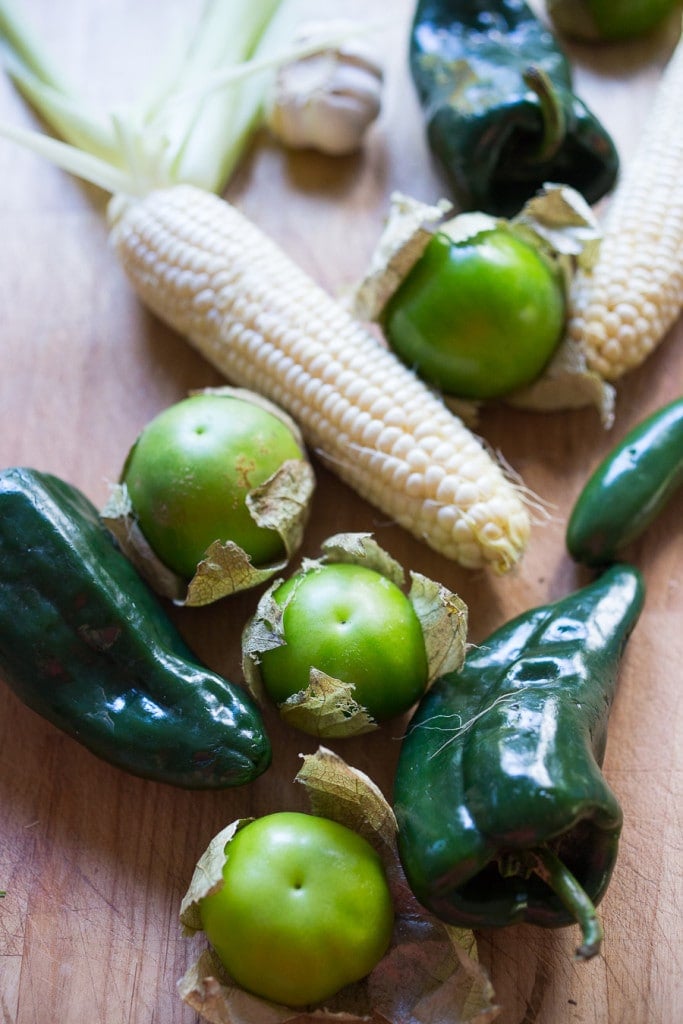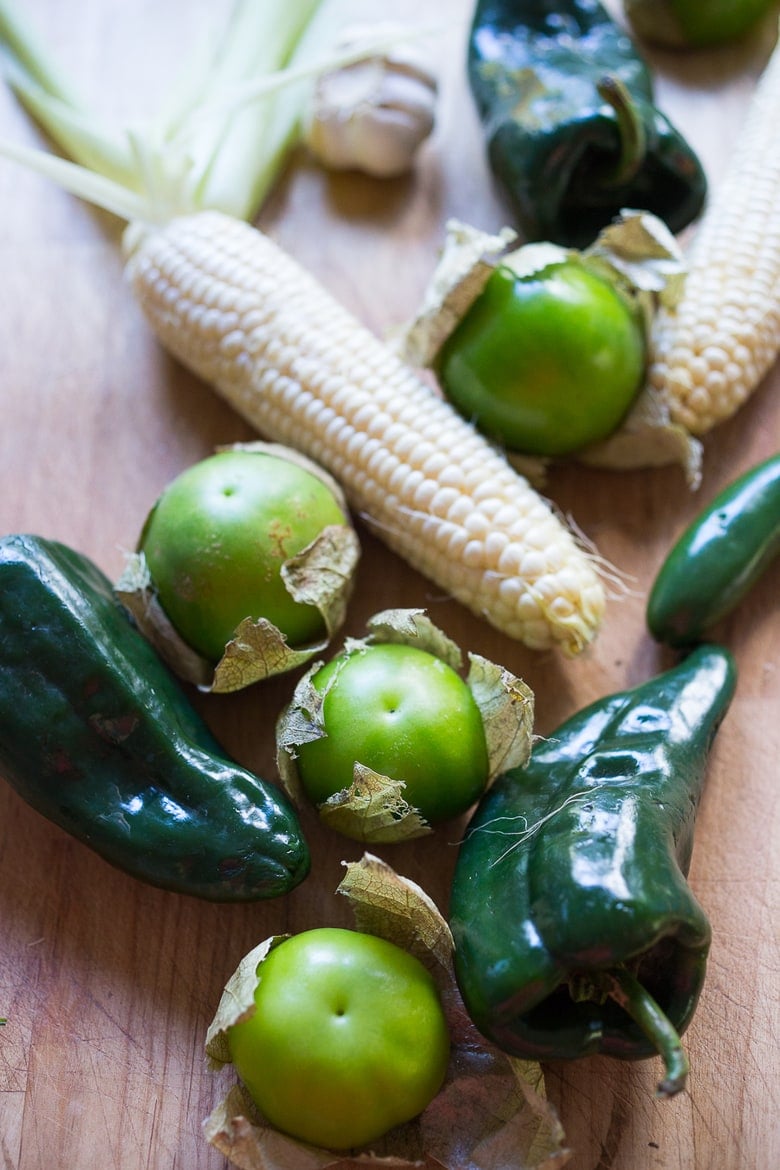 How to Make Enchiladas Verde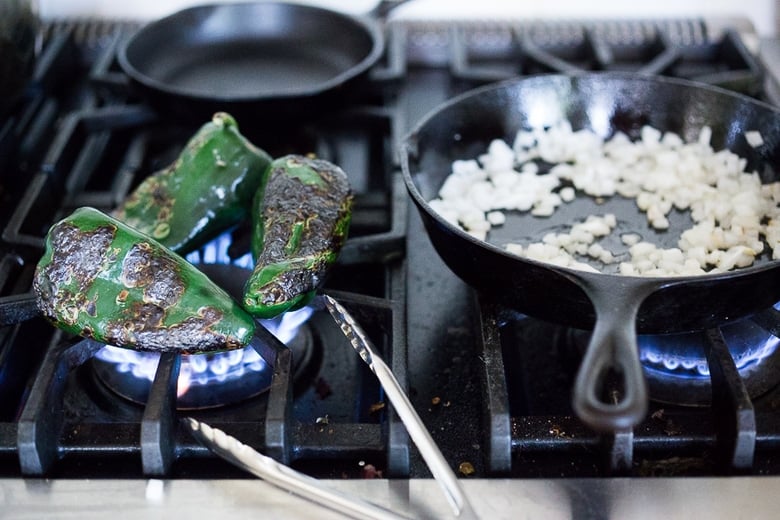 Step 1: Make the Verde Sauce
To make the Verde Sauce, roast or grill the poblanos.  It's very easy to roast poblanos directly on a gas flame. Get them black on all sides turning with tongs (the blackened skin will all be removed).
If you don't have a gas burner, you can roast in your oven or place on a hot grill.  (TIP: You can also dice them and simply saute them in a little oil until tender to save time.)
After they are blackened, wrap them in foil for 5 minutes so they continue steaming. Rinse under cool water, rubbing the skins off with your fingers.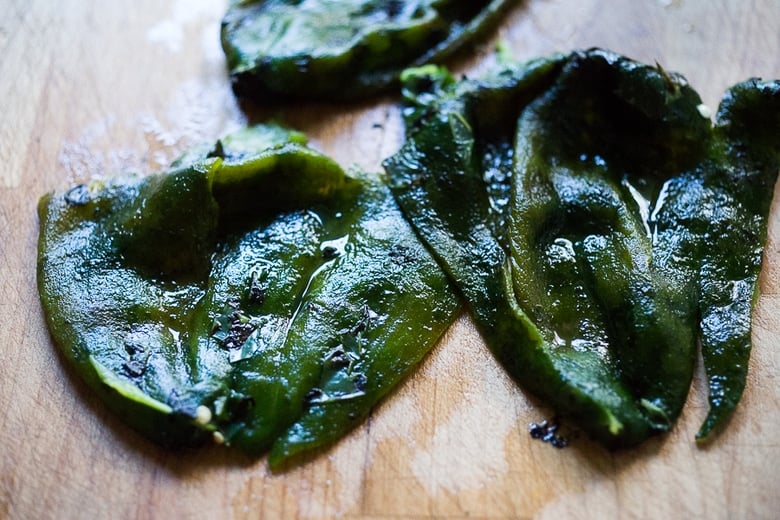 Blend up the Verde Sauce ingredients in a blender.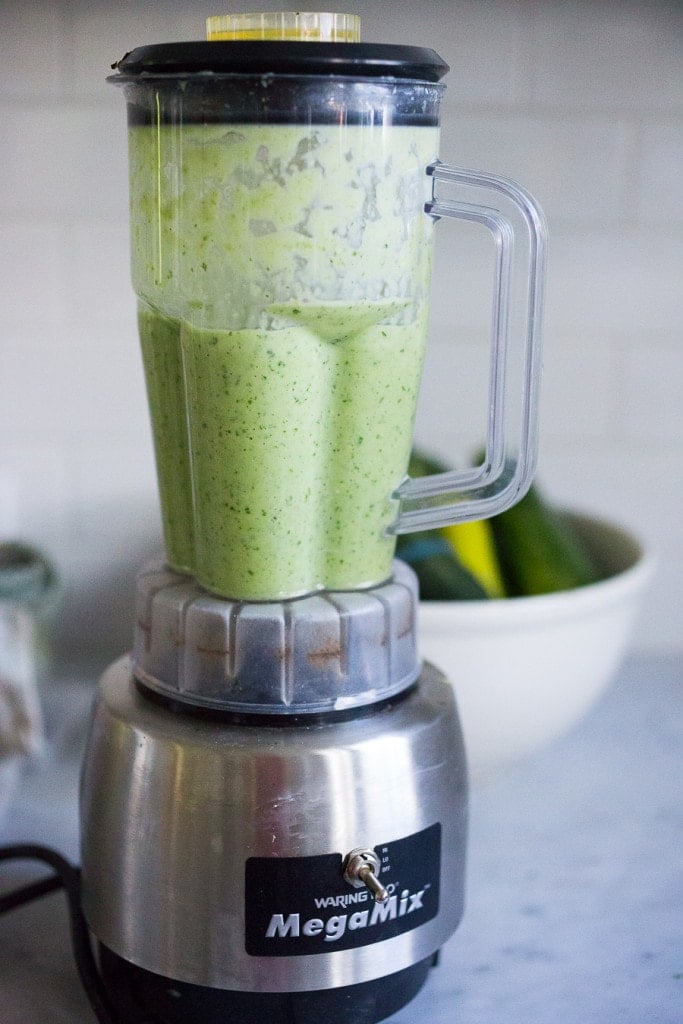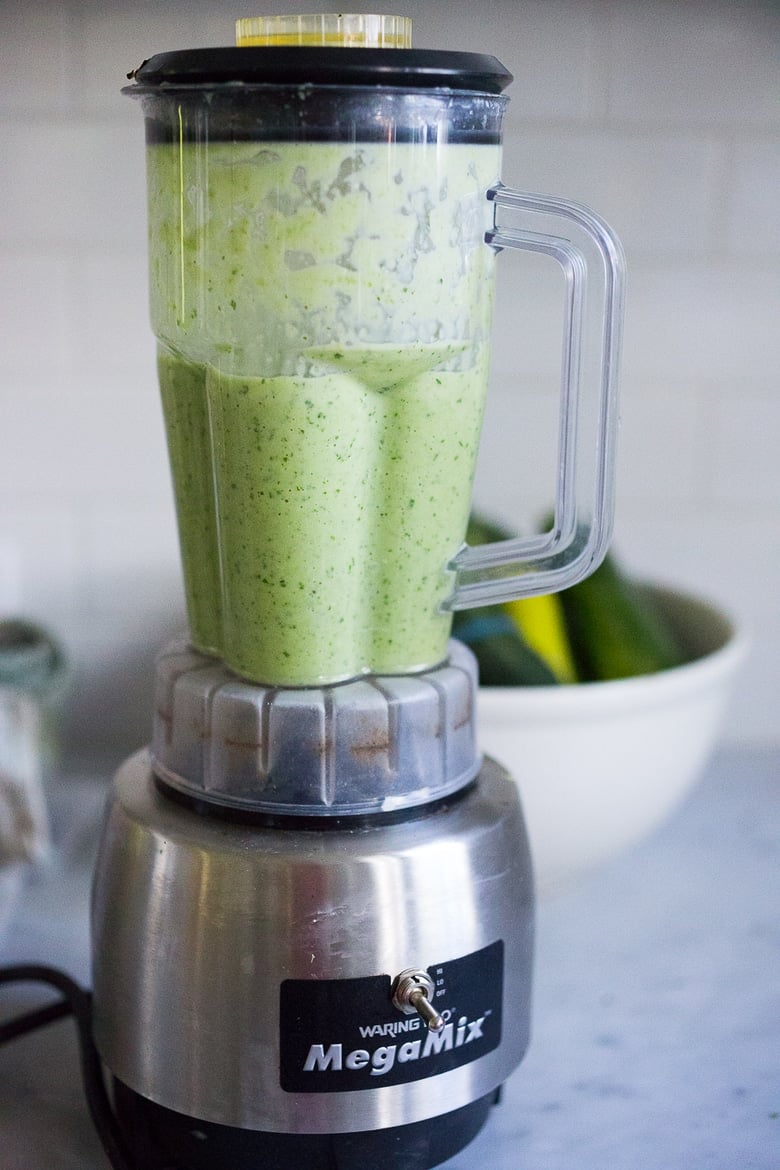 Some of the roasted poblanos will go in the flavorful Verde sauce you see here, and some will go inside the enchiladas.
Step 2: Make the Filling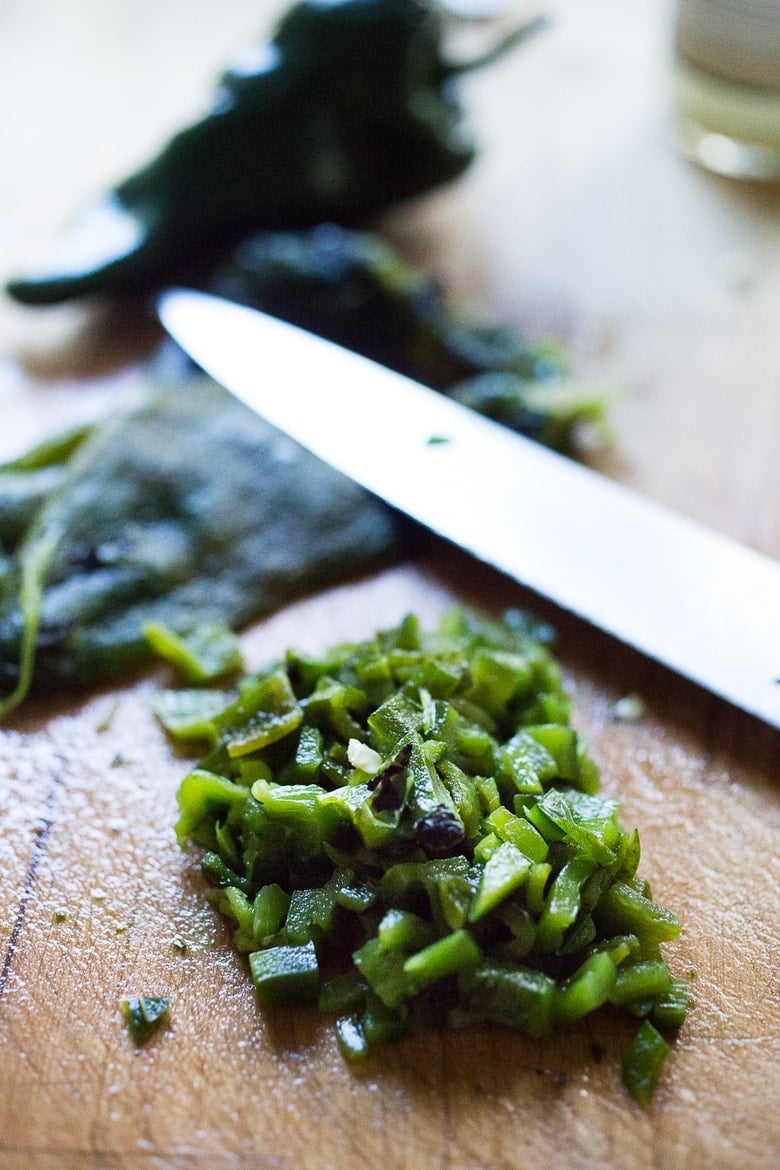 Dice up the roasted Poblanos finely for the enchilada filling.
Chop or shred the cooked chicken.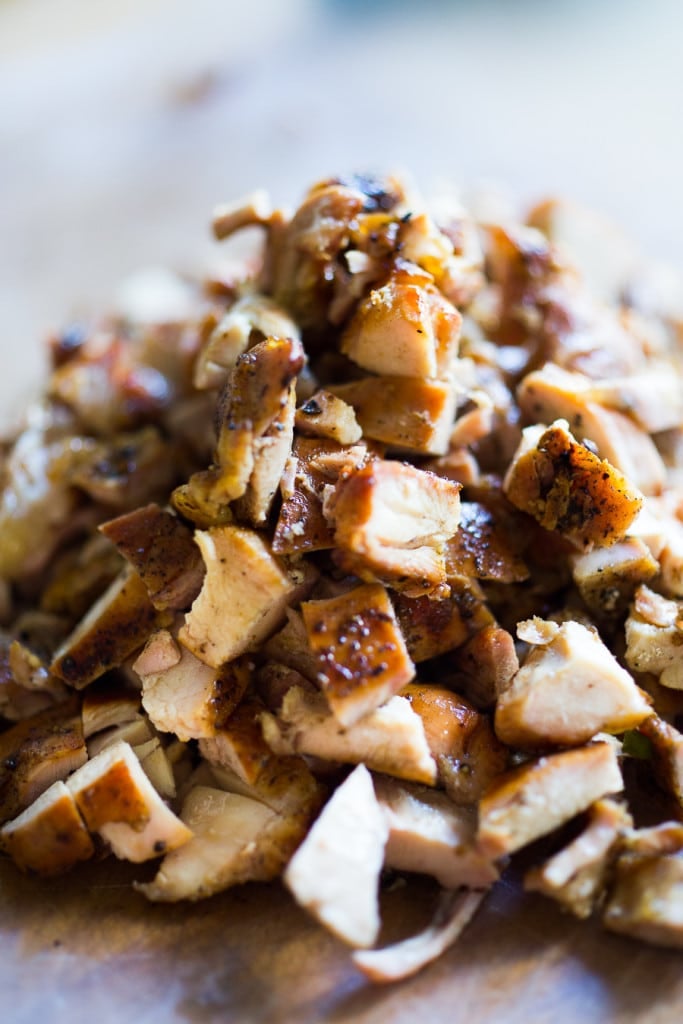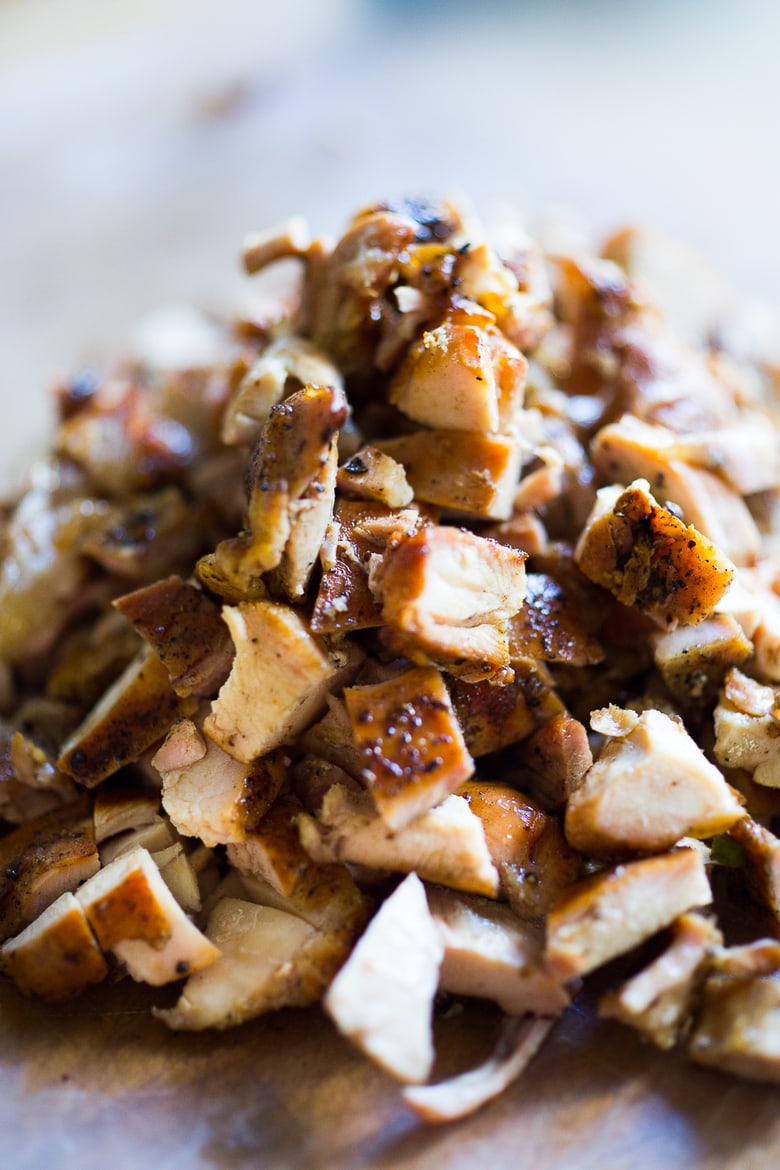 Cut the fresh corn off the cobb.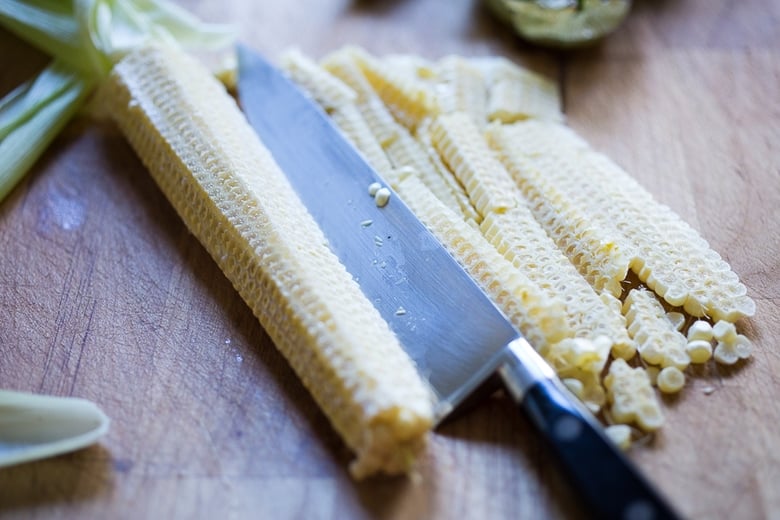 Saute onion,fresh corn, garlic, and spices, then add the diced poblano chiles and the chicken (or sub a can of drained black beans.)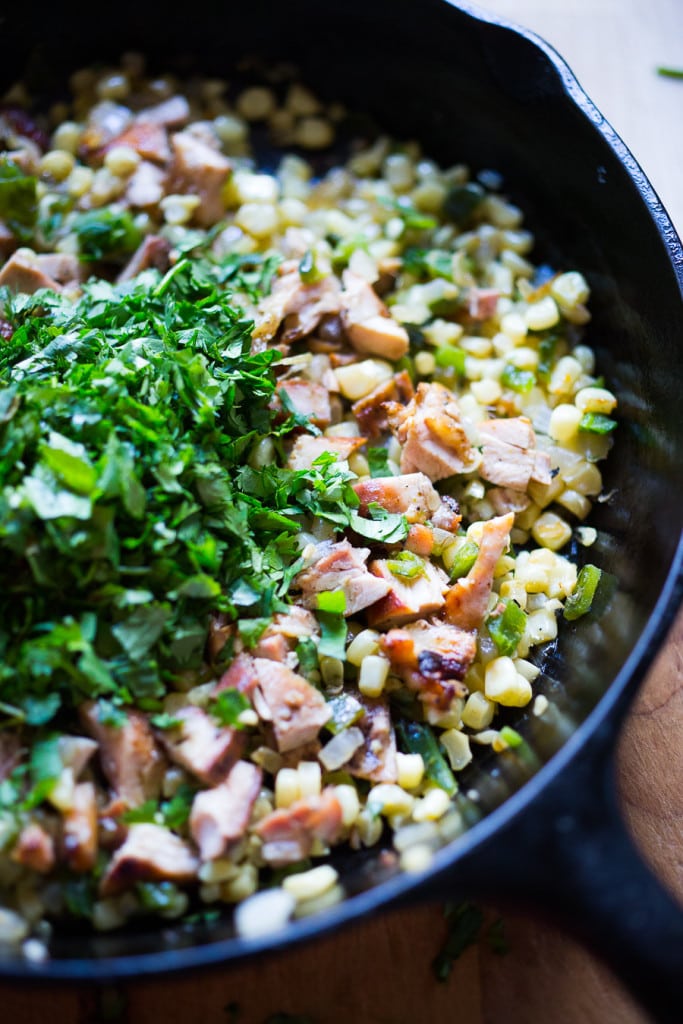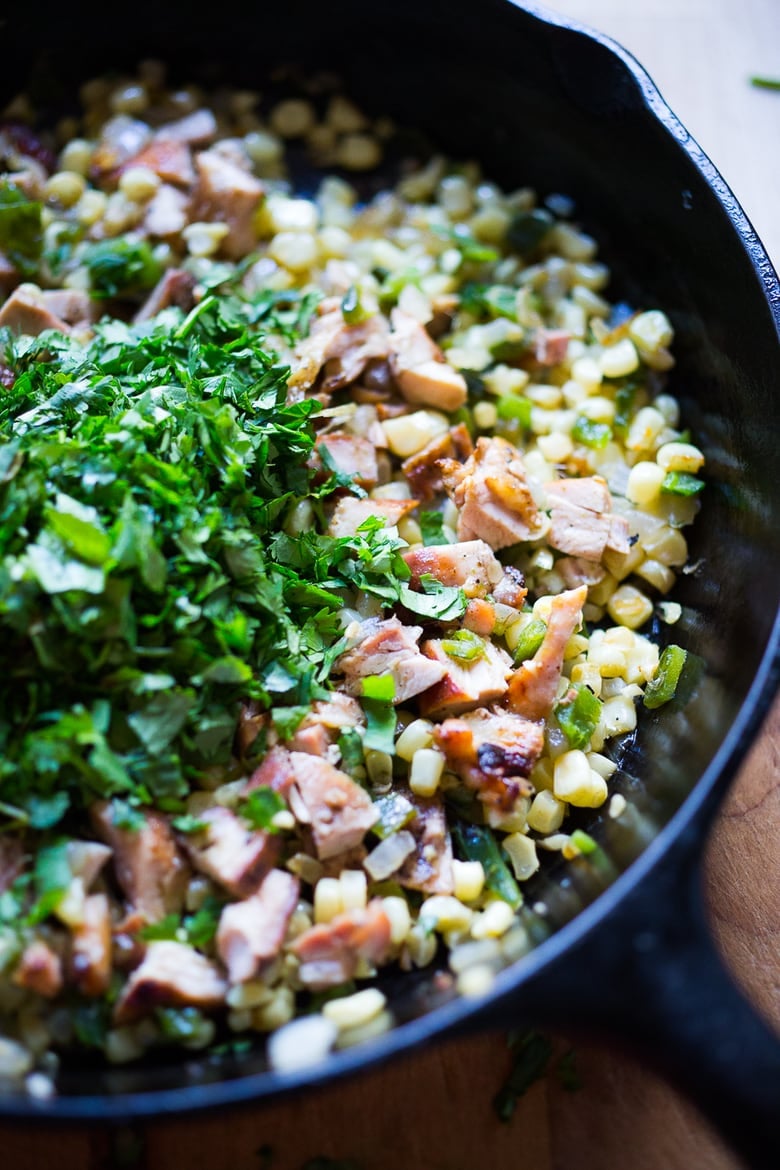 Sprinkle with a good amount of cilantro.
Step 3: Assemeble the Enchiladas Verde
Warm the tortillas so they are pliable.  Warm them in the oven, grill over a gas flame, or in the microwave. Stack them up and wrap in a towel and have everything near you to begin filling the tortillas.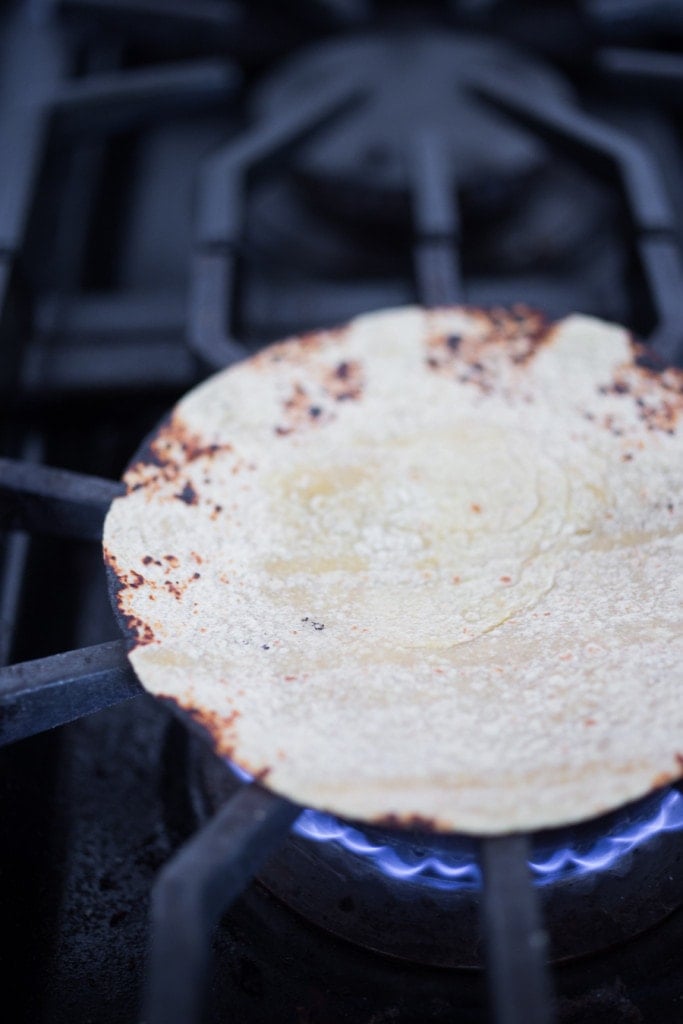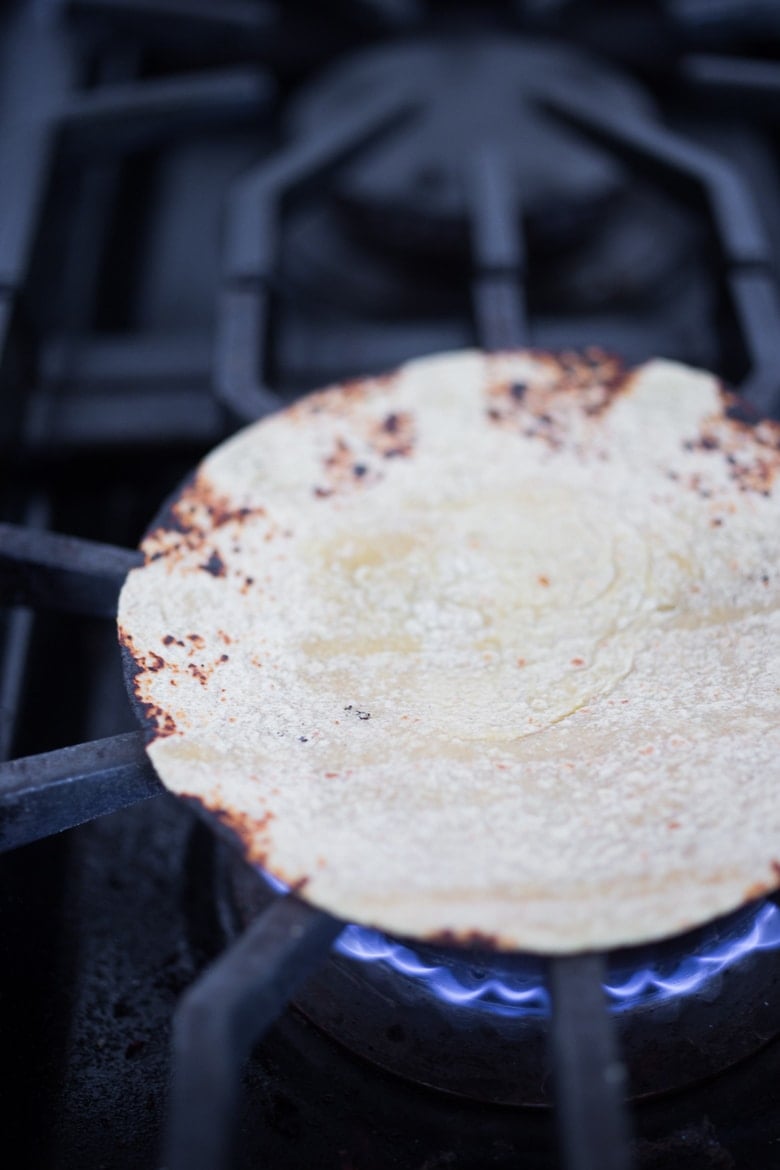 In a greased 9 x 13 inch baking dish, place a little of the Verde Sauce, just enough to coat the bottom.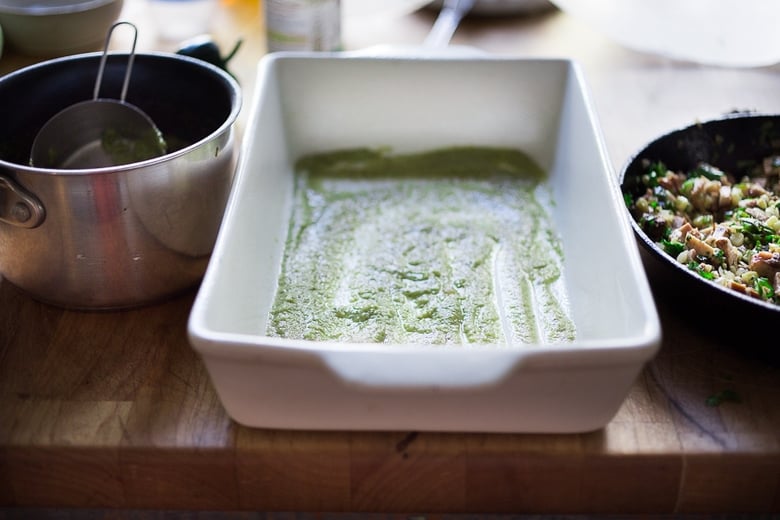 (You can also bake these in individual baking dishes like the opening photo- great for mixed households with both vegetarians and meat eaters. We often do this when it's just the two of us and I fill them especially full.)
Then begin filling the tortillas with the filling and a little queso fresco or cotijo cheese, making sure to go all the way to the edges of the tortillas.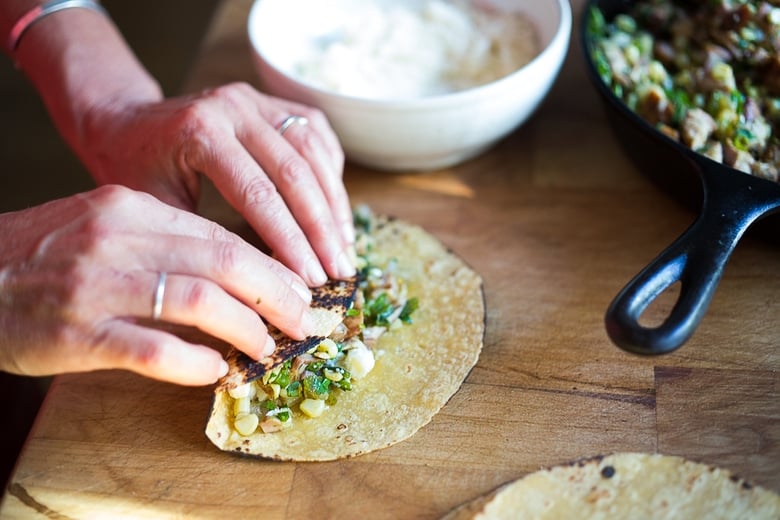 Place them seam-side down in the sauce.
You will have more filling than you need for 8 enchiladas, so either spoon the remaining filling along the edges of the enchiladas, make a few more enchiladas in another smaller dish, or save the filling and use later in tacos or quesadillas.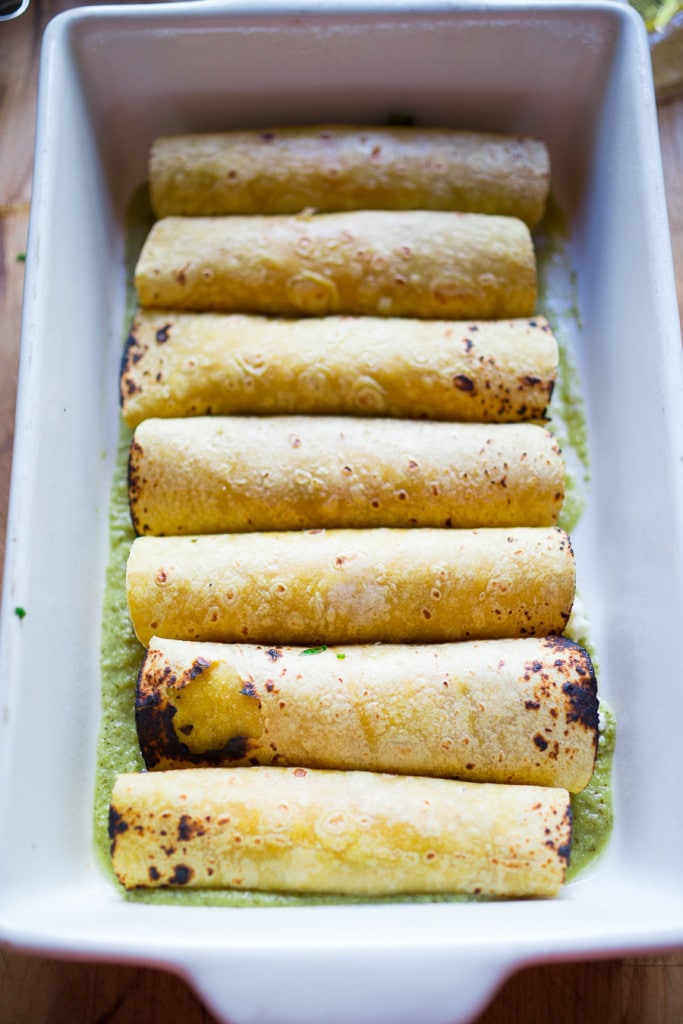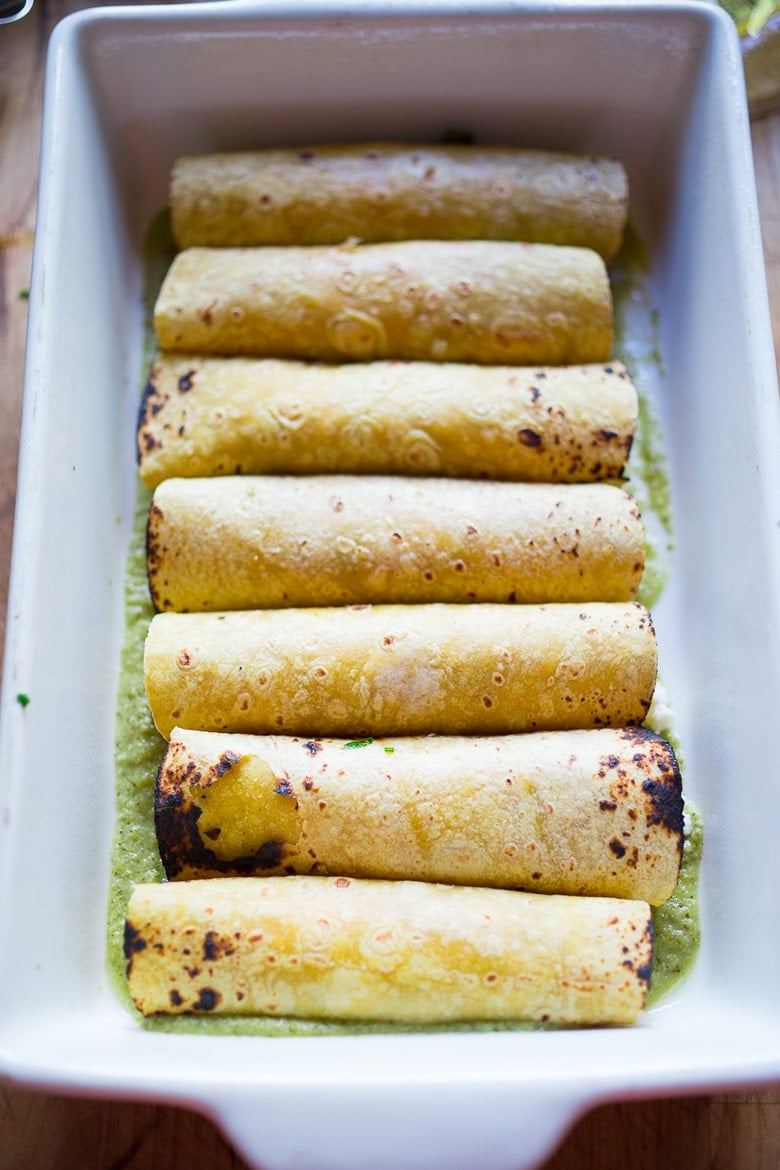 Top with the Verde Sauce and little cheese.
Step 4: Bake!
Bake uncovered in a 350F oven for  20-25  minutes until the cheese is melty.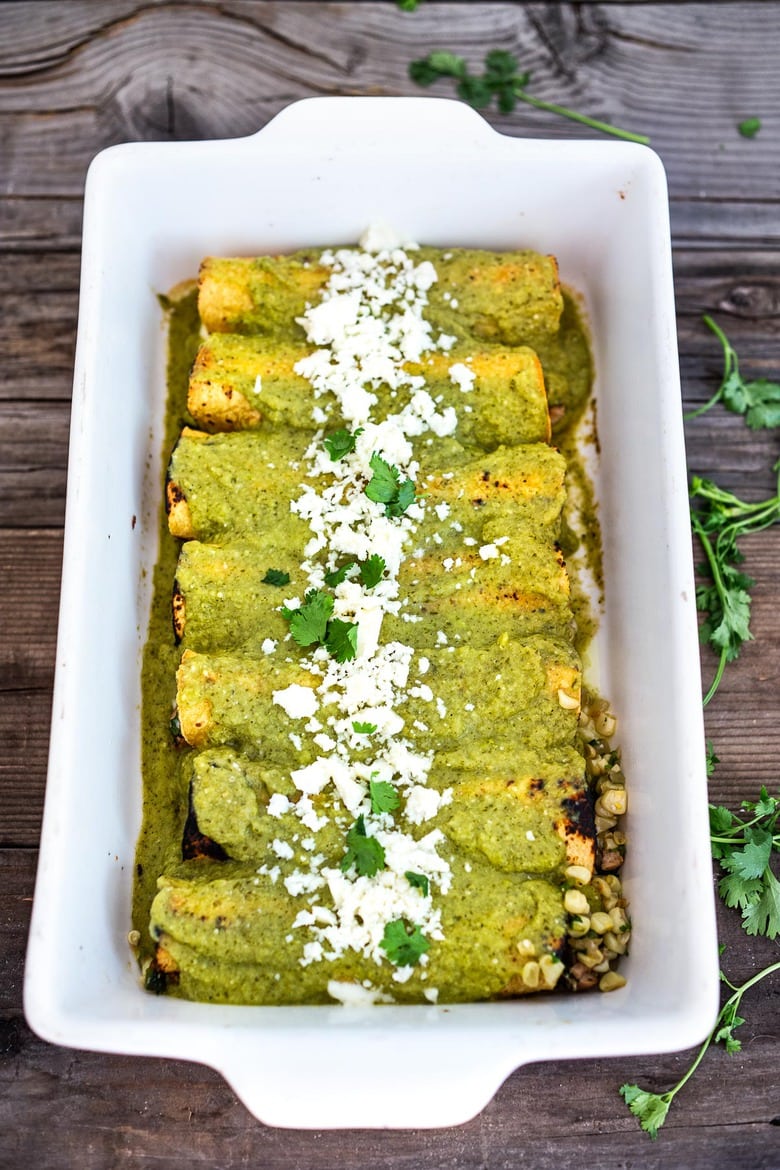 Garnish with fresh cilantro, a dollop of sour cream and hot sauce.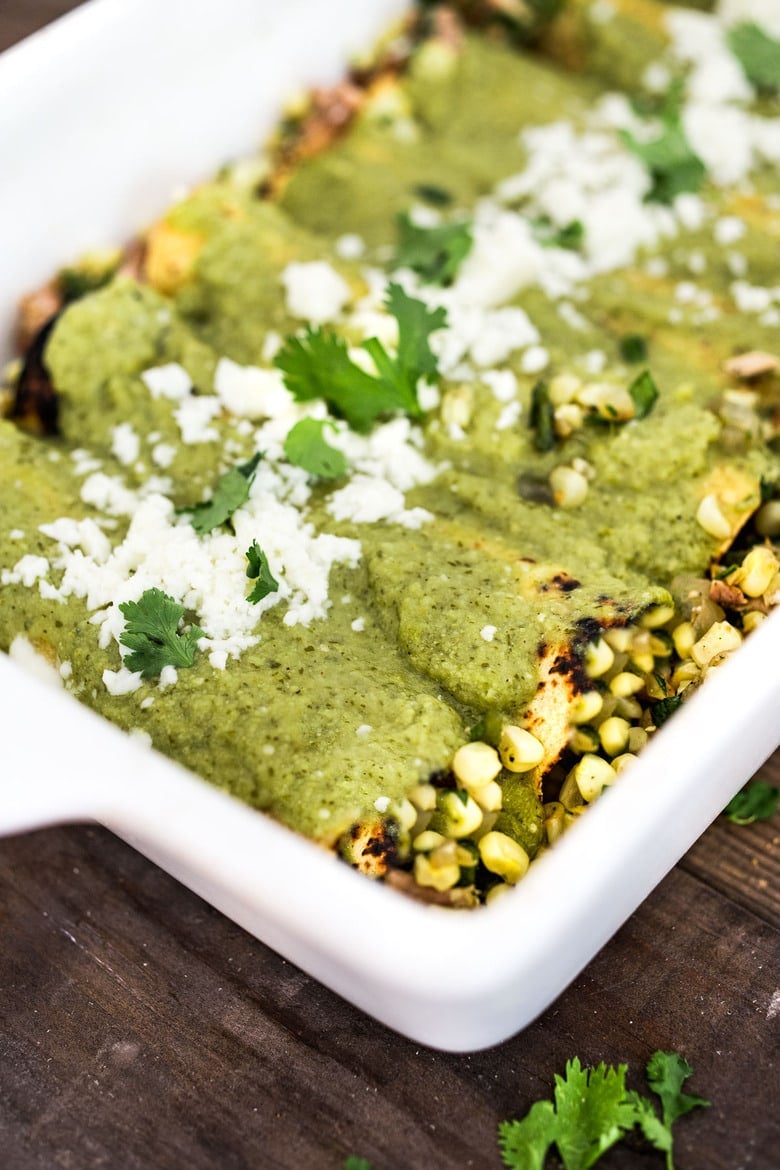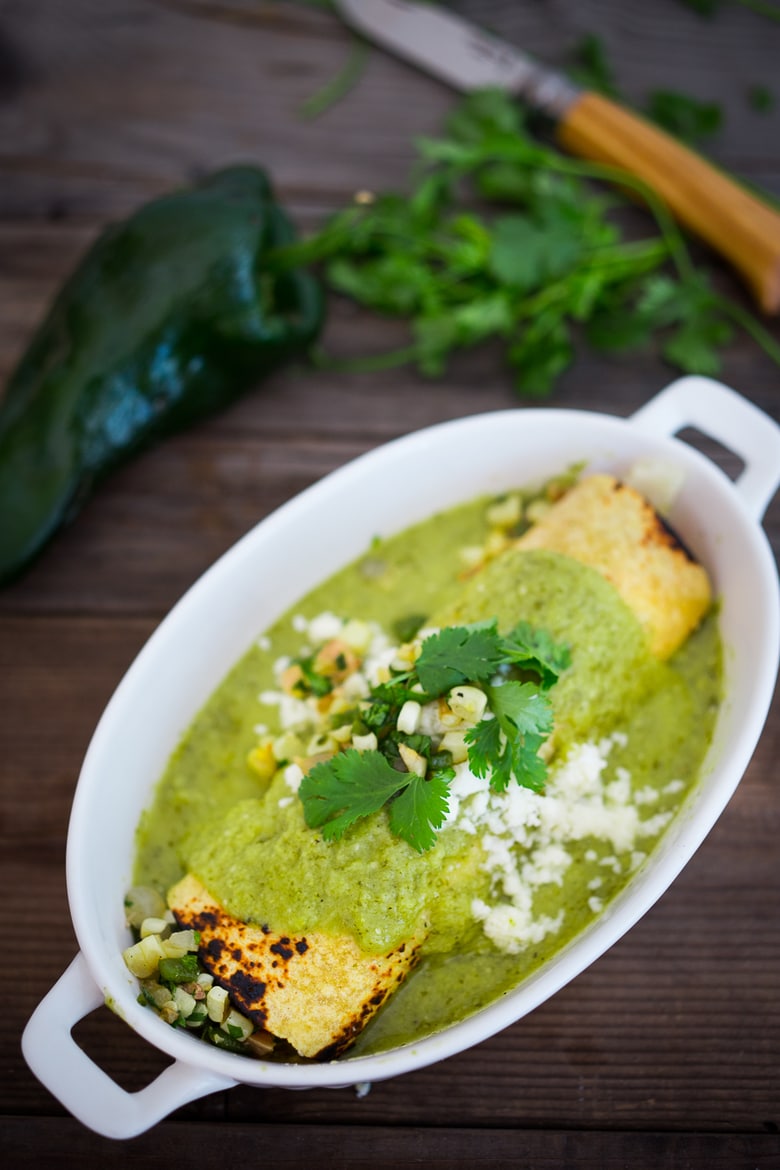 On the home front: we are halfway through our wedding catering season. Brian and I are still talking (mostly) – although we do seem to retreat into our own corners of the house often. As you know, because I'm sure I've said this a hundred times before – working together has its challenges. Especially when you both want to be the "boss".
As I sit here and write this quiet morning, he sits across from me on the couch, deeply involved in his reading, each in our own world. Yet my feet gently rest on his calf, and somehow it is enough. Our quiet mornings together are so healing, washing away the grit of the previous day.
Here before the "busy-ness" of the day, I feel most deeply myself, most deeply connected,  present and awake. My practice continues to be, how to carry this with me throughout the rest of the day.
It is always a challenge. Sometimes I literally feel like two different people. I'm sure many of you can relate…
Ok. Make some Enchiladas Verde and have a beautiful weekend!
xoxo
You may also like: 
Print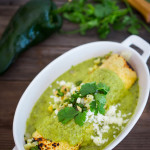 Enchiladas Verde
Prep Time:

45 mins

Cook Time:

55 mins

Total Time:

1 hour 40 mins

Yield:

8

1

x

Category:

Main, vegetarian main,

Method:

Baked

Cuisine:

Mexican
---
Description
A delicious recipe for Enchiladas Verde with corn, chicken (or black beans) and flavorful Verde Sauce ( Green Enchiladas!).
---
3

large poblano chiles, divided –save half for the Enchilada Sauce

1 Tablespoon

olive oil

1

cup

onion, diced

4

garlic cloves, rough chopped

1

corn on the cob, shucked and kernels removed (or use

1 cup

frozen )

2

cups

cooked

chicken breast or thighs – either grilled chicken, smoked chicken, baked chicken breast, shredded chicken or leftover rotisserie chicken, or sub 1 can black beans (drained) for vegetarians.

1 teaspoons

cumin

1/2 teaspoon

coriander
salt and pepper to taste

8

ounces

crumbled queso fresco cheese (or use shredded Mexican cheese blend)

1/4

cup

cilantro

8

x 6-inch corn/flour tortillas
Enchiladas Verde Sauce:
1

pound

tomatillos, husks removed, washed and quartered (leave raw!)

1

cup

diced white onion or two shallots

2

garlic cloves

1/2

–

1

jalapeno (optional)

1/2

cup

water

2 teaspoon

coriander

1 teaspoon

salt

1/2 teaspoon

pepper

2 Tablespoons

olive oil

1 teaspoon

lime juice

1 tsp

of sugar
—–

1/2

C cilantro- chopped
Garnishes: fresh cilantro, sour cream and hot sauce
---
Instructions
Char all sides of the 3 poblano chilis over a gas burner, a bbq …or broil or roast them in an oven. Once nicely charred, or tender, wrap in foil or paper bag and let steam for 10 minutes until softened. 
Make the filling: In a large skillet, heat 1 tablespoon oil over medium-high heat and add the onion. Stir for 3 to 4 minutes until tender, turn the heat down to medium and add garlic. Saute 2 minutes until fragrant. Add the corn, turn heat to medium-low and continue cooking 5 more minutes. Add diced chicken or black beans and season with salt, pepper and spices, sautéing until warmed through.  Turn heat off.
Remove poblano chilies from the foil and rinse under running water, rubbing the charred skin off with your fingers. Remove seeds and stem. Dice the chilies and add half of them to the filling, reserving the other half for the Verde sauce. Add the cilantro to the filling and set aside.
Pre-heat oven to 350F
Make the Verde Sauce: To a blender, add the remaining roasted poblano, tomatillos, onion, garlic, jalapeno, water, coriander, salt, pepper, olive oil, lime juice and sugar.  Yes, the tomatillos are raw here! Blend until smooth. Pour into a medium pot and bring to a simmer over medium heat. Simmer 5-6 minutes. Turn heat off and stir in chopped cilantro. Mix 1/4 cup of this Verde sauce to the chicken filling.
Warm the tortillas over a stovetop gas burner using tongs, or toast in the oven or over a grill, or in a microwave. You just want to warm up them so they become pliable, to prevent breaking while rolling. Wrap in a towel.
Assemble enchiladas: In a large 9 x 13 greased baking dish, pour just enough Verde sauce to lightly coat the bottom. On a warm tortilla, place 2 -3 tablespoons cheese in a line down the center. Top with a ⅓ cup of filling.  Roll tightly, placing it seam side down in the baking dish right on top of the sauce. Continue assembling the enchiladas until the baking dish is full. You should have 8 enchiladas.
Surround the sides any remaining filling (Or save the filling for quesadillas or tacos!) Smother the tops with the remaining poblano sauce, sprinkle with the remaining cheese.
Bake uncovered for 20-25 minutes, or until warmed through and cheese is melty.
Serve with a dollop of sour cream, fresh cilantro and hot sauce.
---
Notes
Leftovers will keep up to 4 days in the fridge. This can be made ahead and frozen.
Instead of charring the poblanos, you can dice them and saute them in a little oil- no peeling required.
Nutrition
Serving Size:

- using chicken

Calories:

404

Sugar:

7.9 g

Sodium:

800.7 mg

Fat:

20 g

Saturated Fat:

7.8 g

Carbohydrates:

31.9 g

Fiber:

6.7 g

Protein:

25.1 g

Cholesterol:

65.8 mg
Keywords: green enchiladas, enchiladas verde, verde enchiladas enchiladas with poblano sauce, black bean enchiladas, enchiladas with greens sauce, poblano sauce recipe