This Everyday Cucumber Salad with Chili and Lime pairs with so many things! Cool and refreshing, serve it alongside grilled fish or meat, or tuck it to into tacos, buddha bowls or simply spoon it over a bowl of nutty quinoa during the busy workweek. Make a big batch and let the flavors marinate in the fridge. A delicious, seasonal companion to just about everything!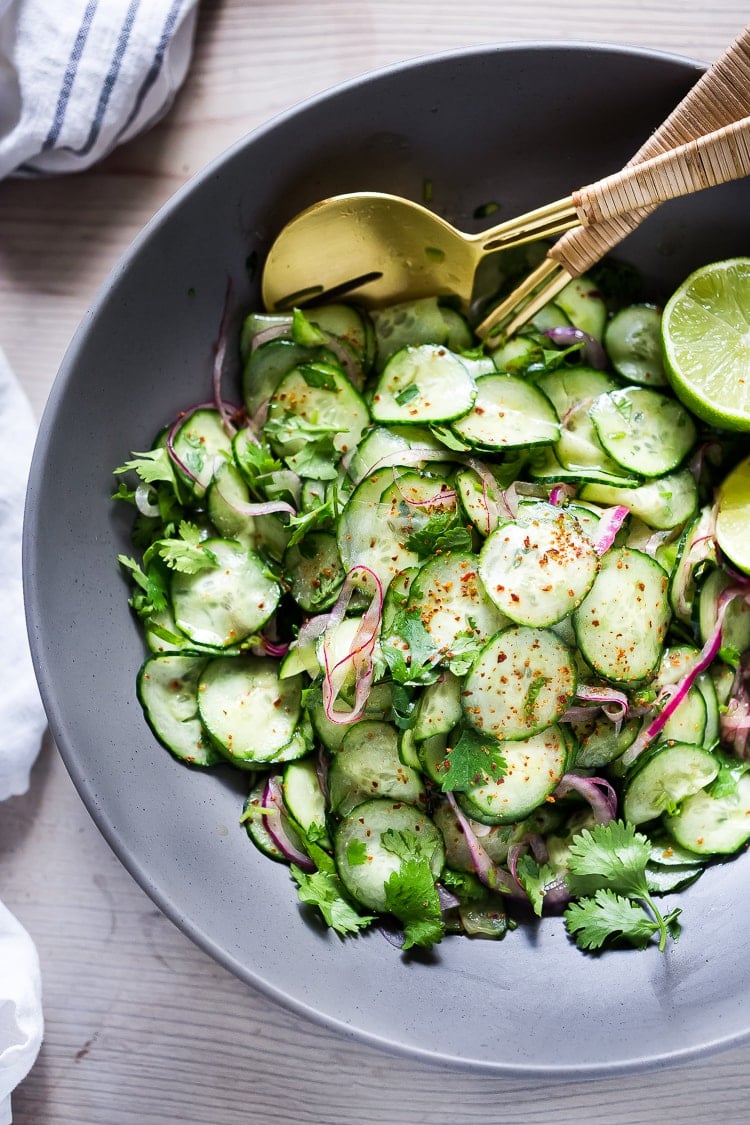 I love how cucumbers come into season right when we need them most. Cooling and refreshing, they are just what our bodies crave on these hot summer days. Mother nature, she's a smart one, she is. 😉 This Everyday Cucumber Salad with chili and lime is a welcome reprieve to the summer heat, and this time of year, cucumbers are aplenty! This salad is designed to be made in a big batch, then served throughout the week, alongside what you are already making. Pair it with grilled fish or meat, tuck it into tacos, spoon it over buddha bowls, or simply serve it over a warm bowl of quinoa for quick and healthy meal, so tasty! I find myself reaching for it when I need a quick afternoon snack – flavorful, low-calorie and no carbs, this salad is one of my favorites!
And the nice thing is the salad gets better and better as the cucumbers have time to marinate in all the flavorful juices.
But the best part – it is very adaptable! Borderless. What first started off as very Mexican in my mind, later felt very Middle Eastern, with the swapping out of lemon for the lime. A splash of fish sauce and pinch of sugar will take this to South East Asia. Substituting dill for the cilantro and lemon for the lime will take it up to Scandinavia. So many options here friends.
So tasty, so healthy, so fast and easy, this adaptable Everyday Cucumber Salad is perfect for these hot summer days. Do yourself a favor and make it! you will loooooooove it!
I'm keeping this short and sweet this morning, chomping at the bit to get outside and enjoy all this loveliness. Hope you are having a beautiful week.
Sylvia
PS. If you like the gold and rattan salad servers, we offer them over at our Bowl and Pitcher Store.
Print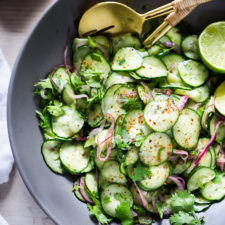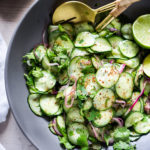 Cucumber Salad with Chili and Lime
Author:

Sylvia Fountaine

Prep Time:

15

Total Time:

15 minutes

Yield:

4

Category:

Salad, vegan, summer salad

Method:

Sliced

Cuisine:

Global
---
Description
Everyday Cucumber Salad with Chili and Lime can be adapted to pair with any ethnic cuisine. Here it's seasoned with cilantro, lime and Aleppo Chili, but scroll down to the notes and discover all the possibilities. Cool and refreshing, this vegan cucumber salad is a delicious, healthy accompaniment to just about everything! 
---
2

large English Cucumbers, thinly sliced ( skin on) see notes.

¼

of a red onion, very thinly sliced

1

jalapeno, seeded and finely diced (optional see notes) 

3

tablespoons fresh lime juice ( or use lemon) 

2 tablespoons

olive oil

1/2

teaspoon salt, or more to taste

½ teaspoon

Aleppo Chili flakes ( or regular chili flakes)

½ teaspoon

coriander (optional)

½

bunch cilantro, or Italian parsley, or dill  (

½ cup

chopped, more to taste)
---
Instructions
Place all ingredients in a bowl, and gently toss. Taste, adjust salt and acid. You want this to taste flavorful!
See recipe notes below for other flavor combinations.
This version above is a good "all around" salad- paring well with American, Middle Eastern or Mexican Food.
I love using a mandolin for the cucumbers and onion, for an extra thin slicing.
The salad with get very "juicy" as it sits in the fridge, and I like to use the flavorful juice over cooked quinoa or rice. It's really flavorful and refreshing- so make sure to add enough salt and acid. 🙂
---
Notes
Cutting the cucumbers thicker with keep them crisper longer. I actually really like them cut thinly (⅛ inch)  and personally don't mind when they get soft after a few days in the fridge…but this is my own personal preference.  If you prefer them to stay crispy, cut them into thicker, ¼ inch slices. 😉
For a Scandinavian twist, sub dill for the cilantro and lemon for the lime. Leave out the jalapeño.
For a Southeast Asian twist – add a splash of fish sauce ( or vegan fish sauce) , teaspoon of sugar and Chili Garlic Paste ( Sambal or Sriracha) to taste.
For an Italian Twist- use basil instead of cilantro, lemon instead of lime, no jalapeño
Greek- Try mint and parsley with lemon, no jalapeño.
Middle Eastern – lemon instead of lime.
Mexican- add a pinch of chipotle powder for smokiness ( start very light)
Keywords: Cucumber Salad, cucumber salad recipe, mexican cucumber salad, asian cucumber salad, cucumbers salad, cucumber onion salad, cucumber salads