Refreshing and creamy Turkish Cucumber Salad with fresh dill, mint, lemon and yogurt is simple to make and full of incredible flavor. Pairs well with Mediterranean-style dishes like grilled chicken, fish or even falafel! Can be made ahead!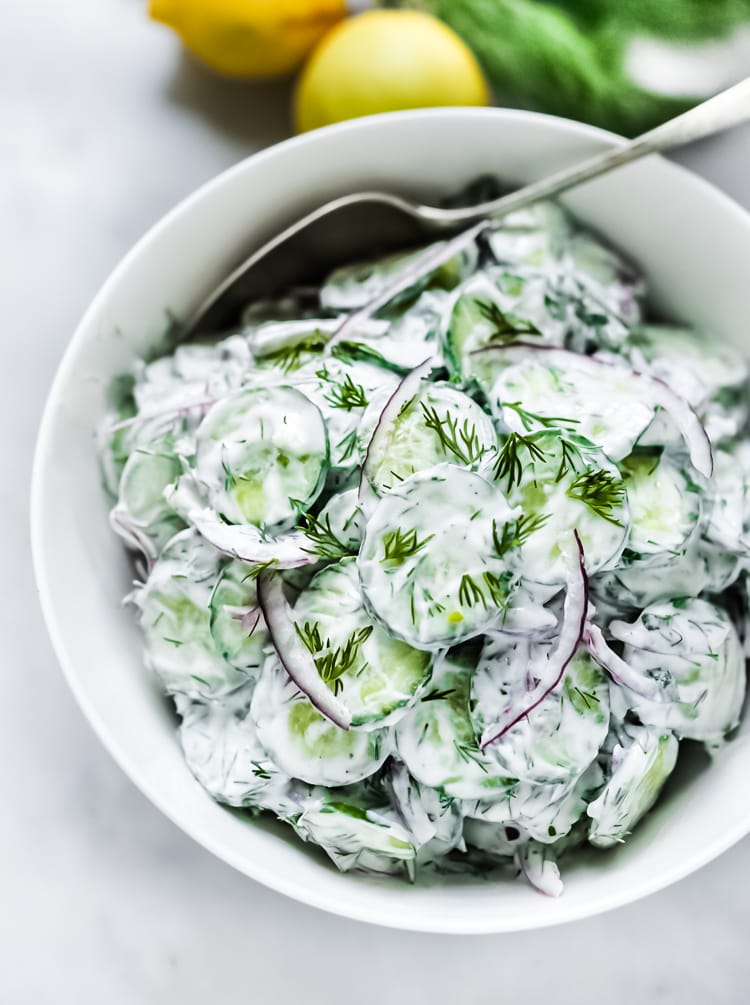 It is what you are that heals, not what you know.
Cool, crunchy and refreshing – Turkish Cucumber Salad, also called "Cacik" is made with small sweet Persian or Turkish cucumbers, and tossed in a creamy yogurt dressing with fresh mint and dill. It's a perfect compliment to grilled meats and fish, offsetting heat and heaviness. I especially love this salad with grilled chicken shawarma, or other Middle Eastern spiced grilled meats. The next day, I like to spoon the leftover sala
d into warm soft
pita bread
for a light refreshing lunch.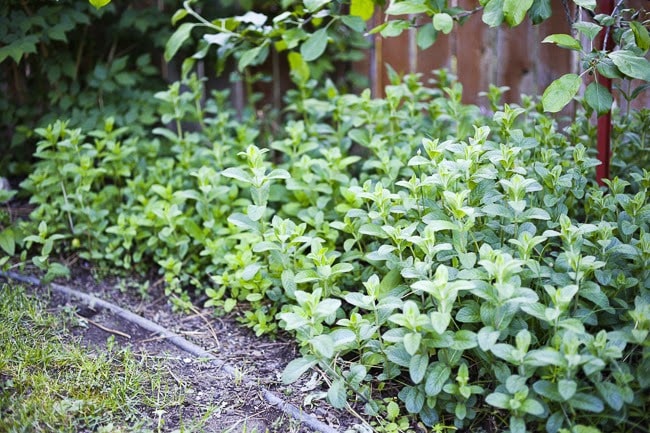 The herbs are up, and every time I look at them, I feel happy and inspired to cook. This salad came about from spending time in my ever expanding mint patch yesterday.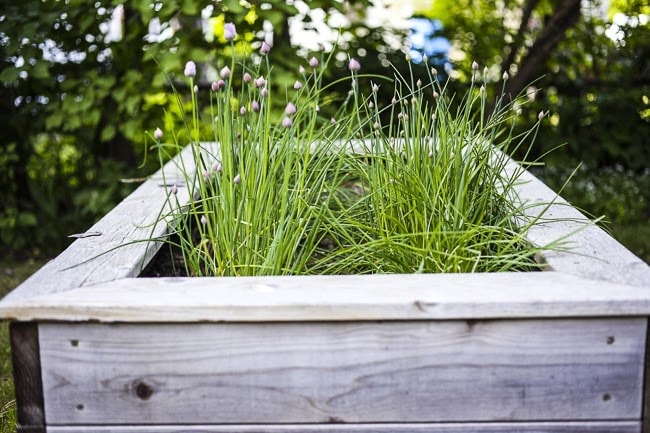 Persian cucumbers, if unfamiliar, are technically like all cucumbers, a fruit, but are usually treated and eaten as a vegetable. They are members of the gourd family, Cucurbitaceae. When it comes to cucumbers, there are three classifications: slicing, burpless and pickling. Persian cucumbers are classified as burpless cucumbers, which tend to be less bitter, milder in flavor and thought to contain less of the burp-causing compound, cucurbitacin.

Their skin is smooth and thin their flesh is crisp, sweet, succulent, and void of developed seeds. They have an amazing capacity to retain water and to remain cool. In fact, it has been found that their interior flesh may be up to twenty degrees cooler than their skin. The perfect Persian cucumber measures 4 to 6 inches in length, as this is the size when they are at their peak of sweetness. If allowed to grow bigger, bitter tasting seeds can develop which compromises the cucumber's sweetness.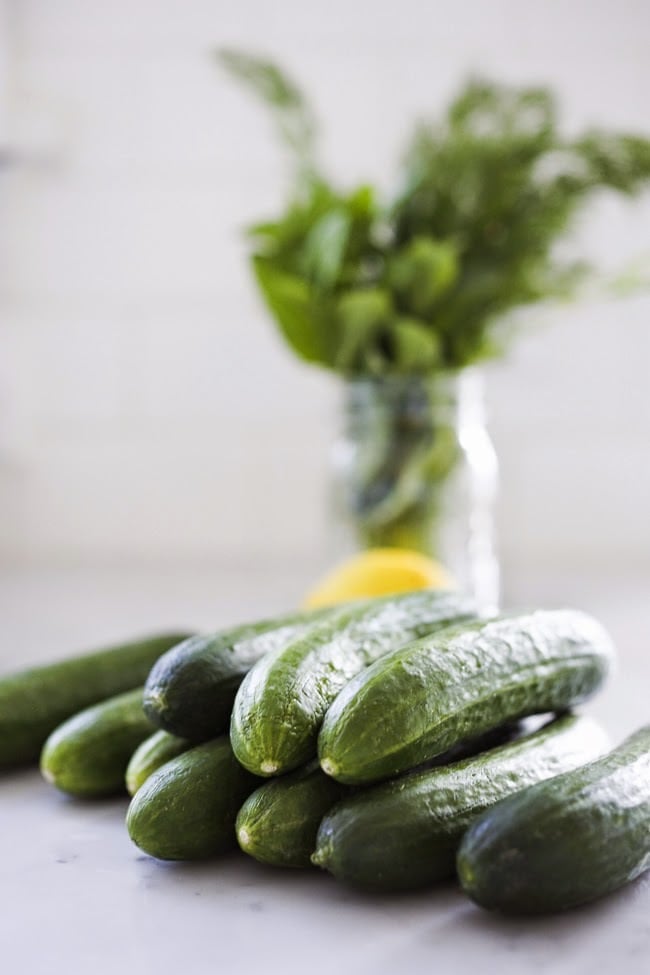 The recipe is fast and easy. Slice the cucumbers, make the creamy yogurt dressing and combine everything in a bowl.
Using a
mandolin
makes this especially fast and easy.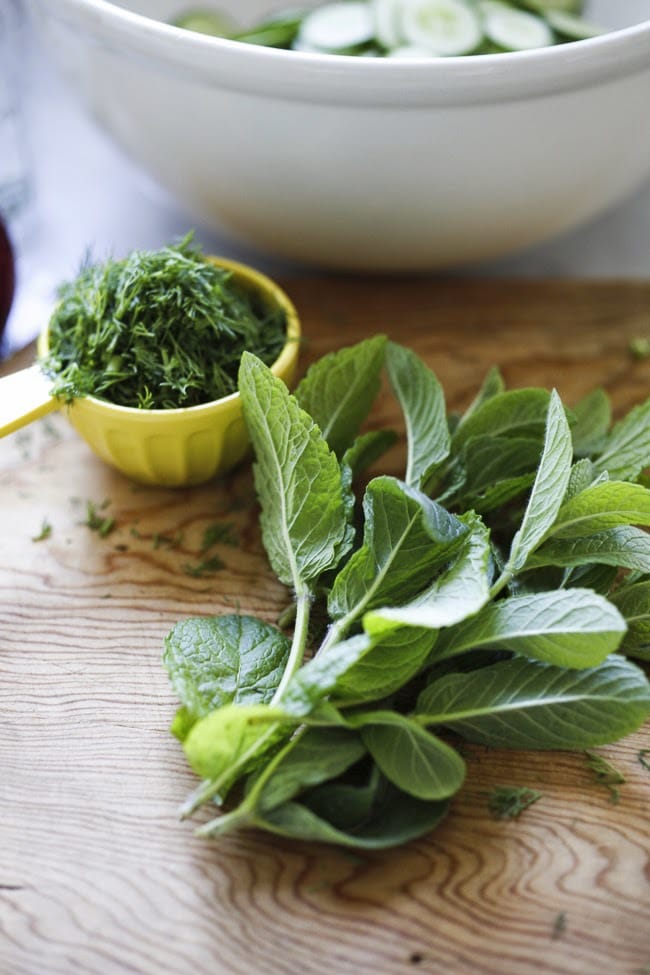 Fresh herbs make the Cucumber Salad shine!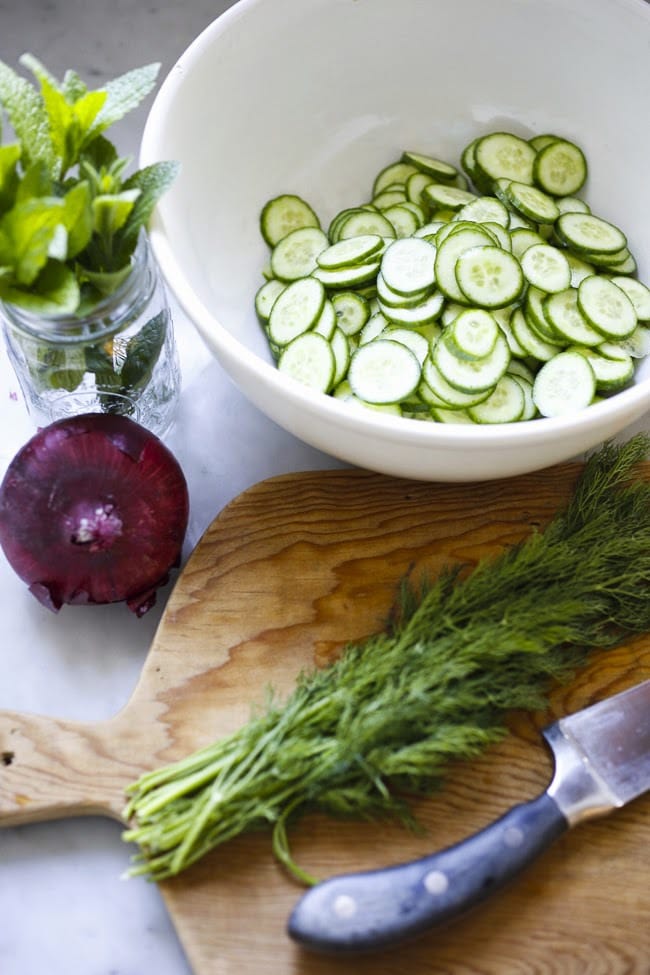 Red onion gives this Creamy Cucumber Salad it just the bite it needs.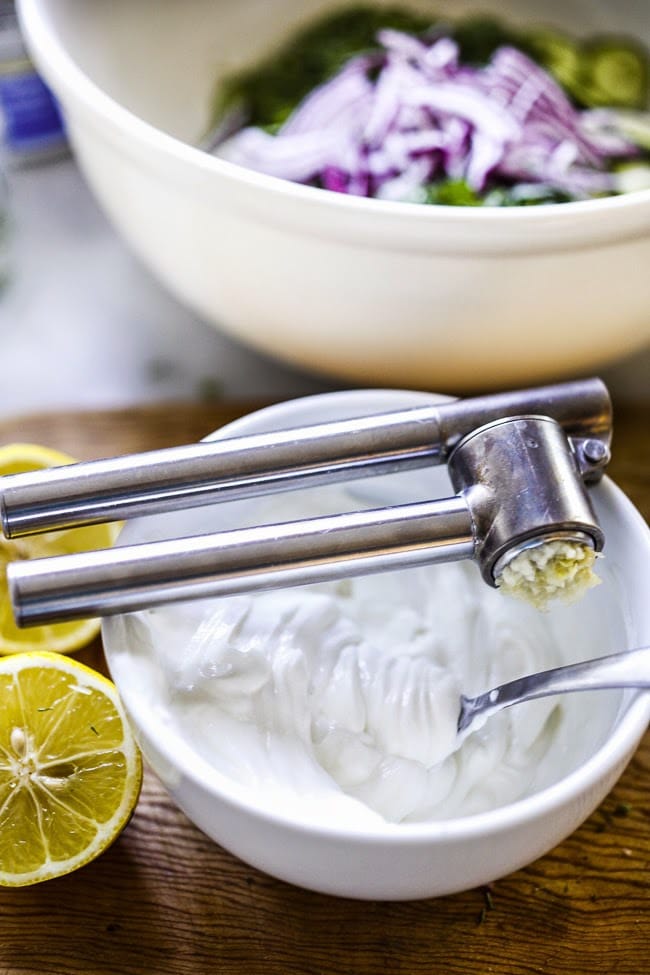 And the creamy dressing is a combo of greek yogurt and sour cream with zesty lemon.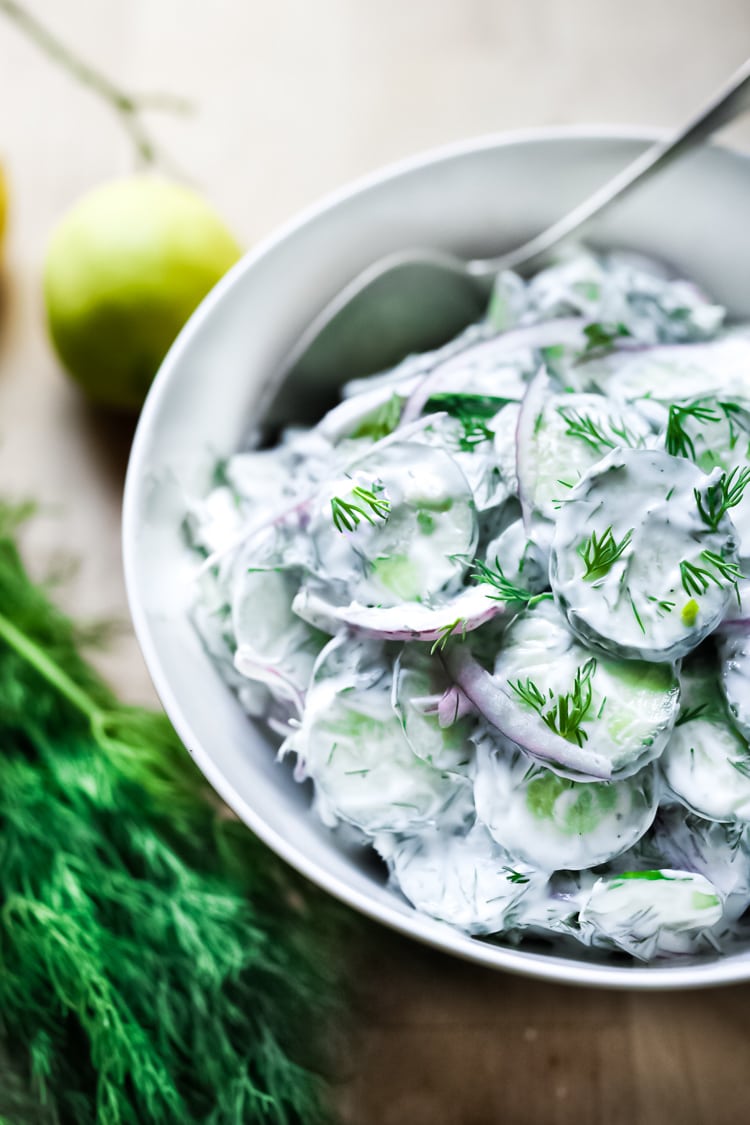 Toss it all together and voila!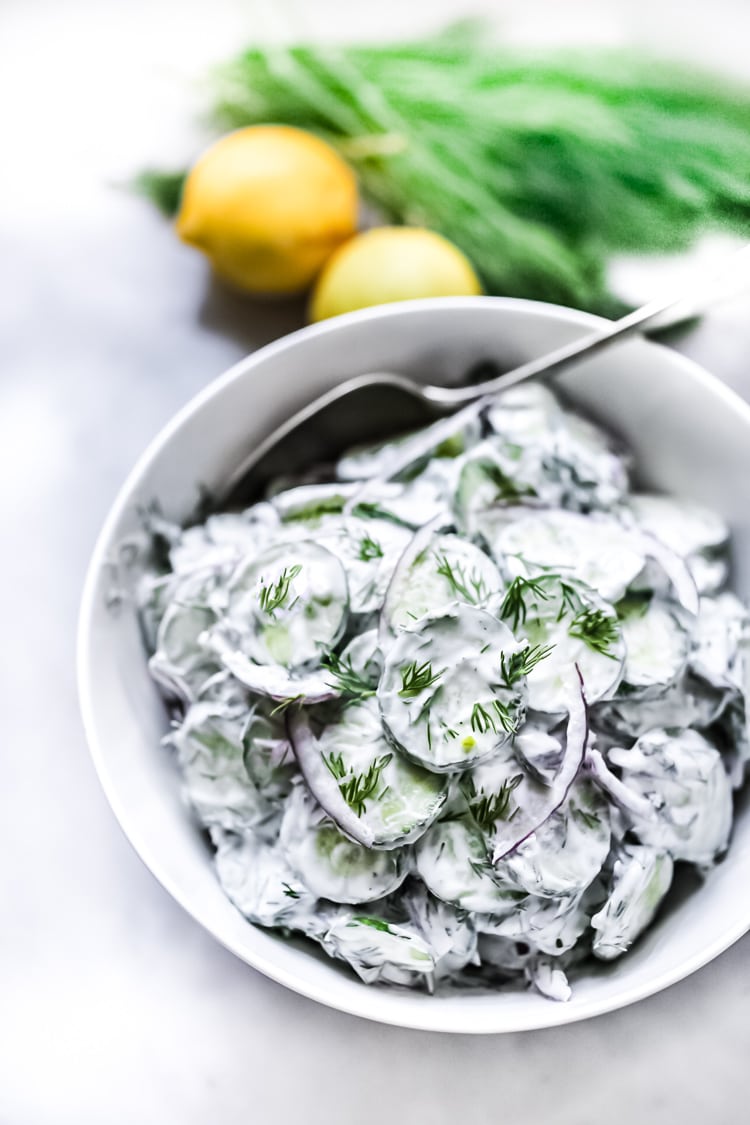 Have a great week!!
Print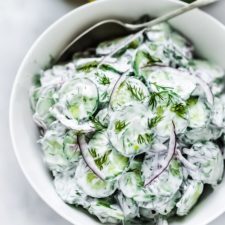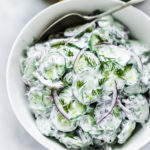 Creamy Turkish Cucumber Salad
Prep Time:

25

Total Time:

25 minutes

Yield:

4-6

Category:

salad,

Method:

tossed

Cuisine:

turkish
---
Description
Creamy Turkish Cucumber Salad with fresh dill, mint, lemon and yogurt – the perfect side to Mediterranean-style grilled meats and fish.
---
1 ½

lbs Turkish cucumbers (

7

–

8

small cucumbers or 2 English Cuc's )

½ Cup

to 1 Cup fresh dill- chopped

½ Cup

fresh mint- chopped

⅓

C finely sliced red onion

3/4

C plain Greek yogurt

½

C Sour cream ( or sub yogurt)

⅛

C fresh lemon juice, plus more to taste

2

garlic cloves- finely minced or grated

½ tsp

kosher salt
cracked pepper
generous pinch sugar

1

T olive oil

⅛

C water
---
Instructions
Rinse cucumbers under cold water. If using Persian or English cucumbers, leave peels on. Using a mandolin, or sharp knife, slice into thin uniform disks and place in large bowl. Add chopped dill, chopped mint and thinly sliced onions.
In a small bowl, combine the rest of the ingredients -yogurt, sour cream, lemon juice, minced garlic, salt pepper, sugar, olive oil and water, and stir until smooth. Pour over cucumbers and stir to combine. Taste for salt, and lemon, adjusting if necessary. Refrigerate until ready to serve.
Details
Prep time: 15 mins Cook time: Total time: 15 mins Yield: 6
---
Keywords: cucumber salad, creamy cucumber salad, cucumber salad recipe, cucumber salads, turkish salad, best cucumber salad recipe, cucumber salad recipes, creamy cucumber salad