Grilled Chicken Shawarma is bursting with Middle Eastern Flavors! Serve it up with Israeli Salad and Basmati Rice (or Naan Bread) with a side of Tzatziki or Baba Ganoush! The perfect combination of flavors. No grill? Try this Baked Chicken Shawarma!
One of my favorite recipes on the blog- packed with Middle Eastern spices, this recipe for Grilled Chicken Shawarma is bursting with amazing flavor and turns out delicious every single time. It comes together easily and it's one we use a lot at home and in our catering business. The flavors are out of this world! Serve it up in three different ways!
How to Make Chicken Shawarma!| 60-sec video
Why You'll Love Chicken Shawarma
Bursting with Flavor: Chicken shawarma is incredibly flavorful and aromatic. The combination of spices like cumin, coriander, and garlic, makes every bite a delight for your taste buds.
Versatile Serving Options: Chicken shawarma can be served in various ways, giving you the freedom to enjoy it according to your preferences. Whether you prefer it in a sandwich or wrap with tzatziki sauce and fresh vegetables, or over a bed of refreshing Israeli salad, there are so many delicious ways to enjoy chicken shawarma.
Juicy and Tender: Using boneless, skinless chicken thighs in the recipe ensures that the meat remains moist, tender, and full of flavor. Grilling or baking the chicken adds a beautiful char and smoky flavor, making every bite juicy and satisfying.
Easy to Make: This grilled chicken shawarma recipe is simple and easy to make at home. With just a few steps and basic ingredients, you can recreate the flavors of the Middle East in your own kitchen. Marinate the chicken, grill or bake it, and then slice it up for a mouthwatering meal.
Perfect for Gatherings: Chicken shawarma is a fantastic dish to serve when you have guests over or for special occasions. Its vibrant flavors and appealing presentation make it a crowd-pleaser, and you can easily scale up the recipe to accommodate a larger group.
Ingredient Notes:
See the recipe card below for a full list of ingredients and measurements.
How To make Chicken Shawarma: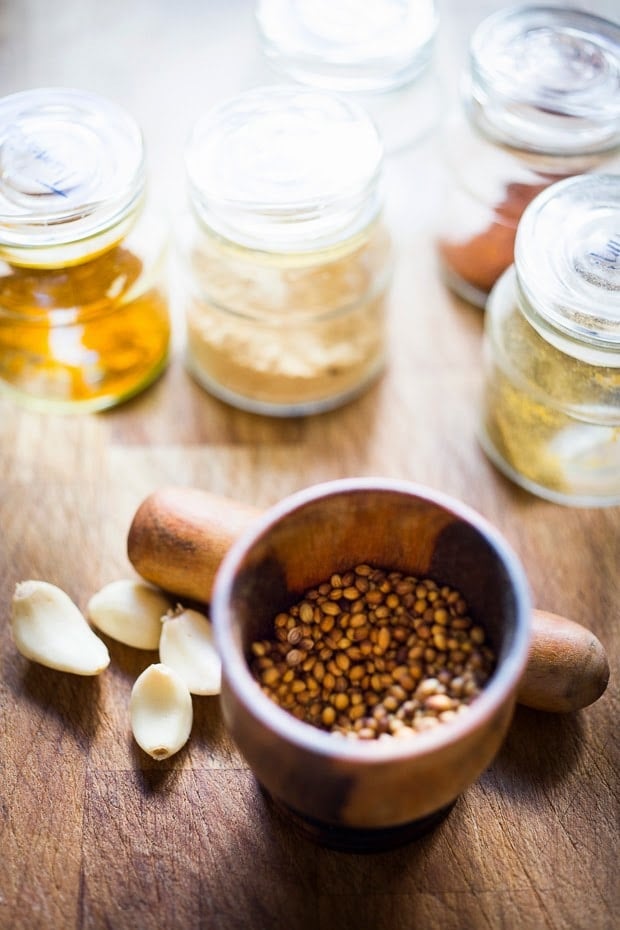 STEP 1: Make the Shawarma marinade, using whole or ground spices- and stir the spices with garlic and olive oil (or pulse in a food processor) to create a flavorful paste. Tip: if making a big batch, I often place it in a food processor.
Step 2: Coat the chicken thighs well with the shawarma marinade, keeping in mind the longer you marinate the better the flavor. A minimum of 20 mins, or up to 48 hours in the fridge!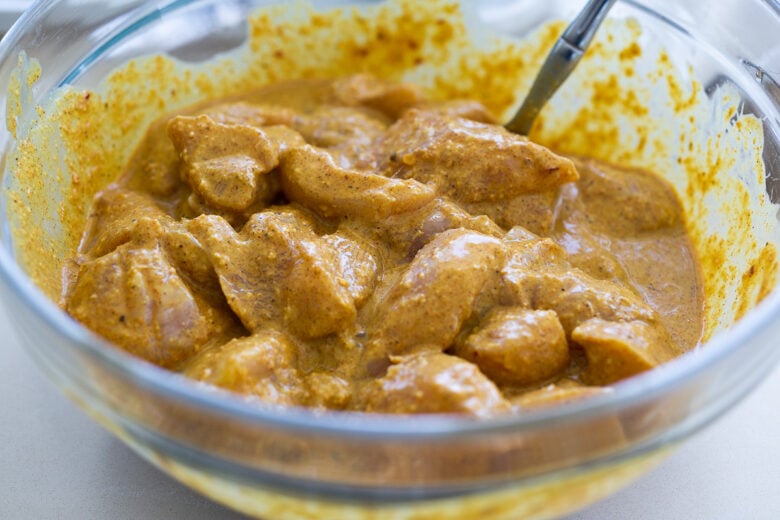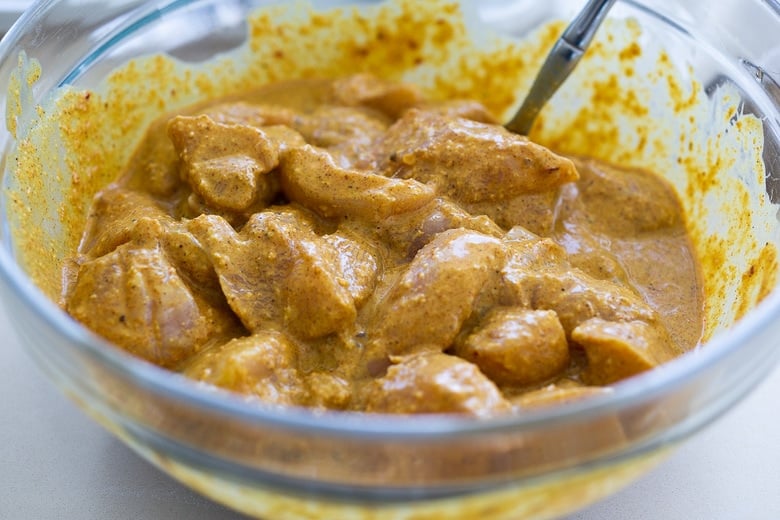 Tip: For this recipe, I use boneless, skinless thighs, as thighs end up being extra tender and juicy. Keep the chicken thighs whole or cut into bite-sized pieces for skewers.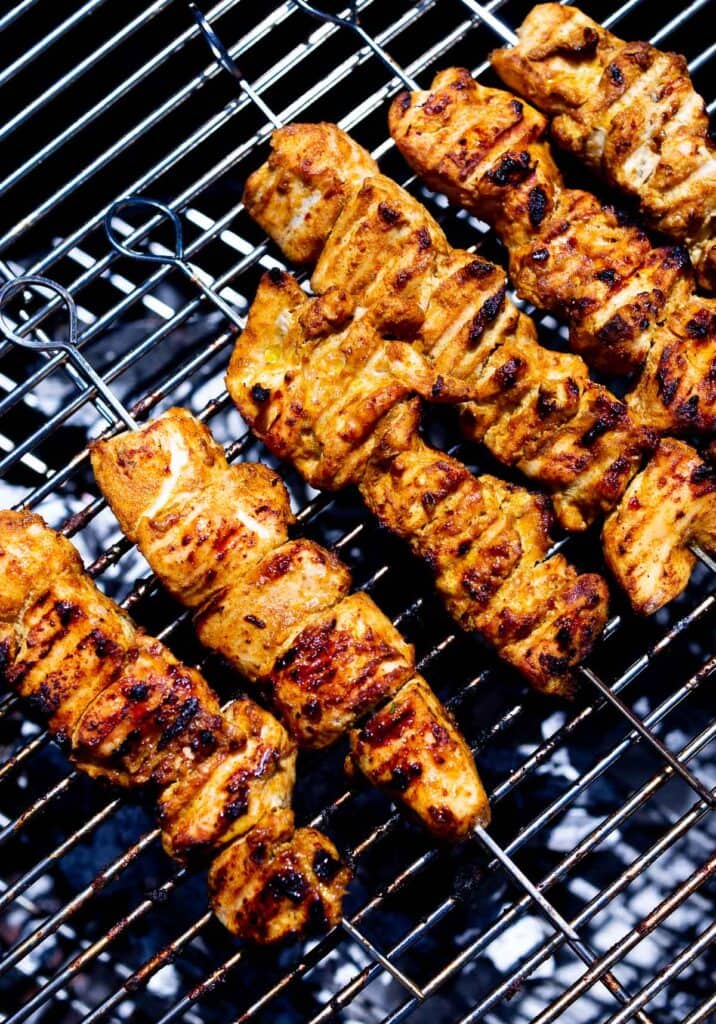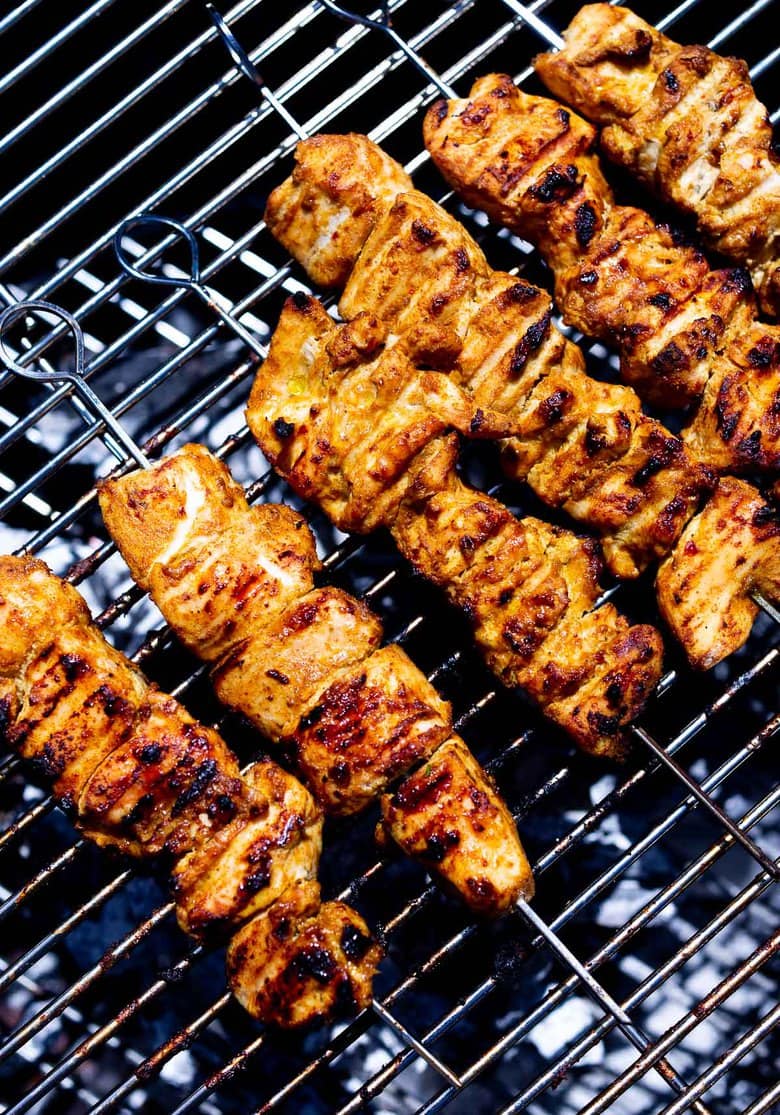 Step 3: Grill the chicken either whole or on skewers over medium-high heat, until good grill marks appear.
Step 4: Once the chicken gets a nice char, either turn the heat down and cover, to cook through, or place into a 350 F oven until chicken thighs are cooked all the way through( to 170F).
Ways to Grill Chicken Shawarma:
Since most of us don't own a rotisserie or a vertical turning spit, the next best way to mimic this technique is to grill the shawarma. You can use a gas grill or charcoal grill. We can do this in two different ways:
Make Kabobs or skewers!
Grill whole chicken thighs, then slice.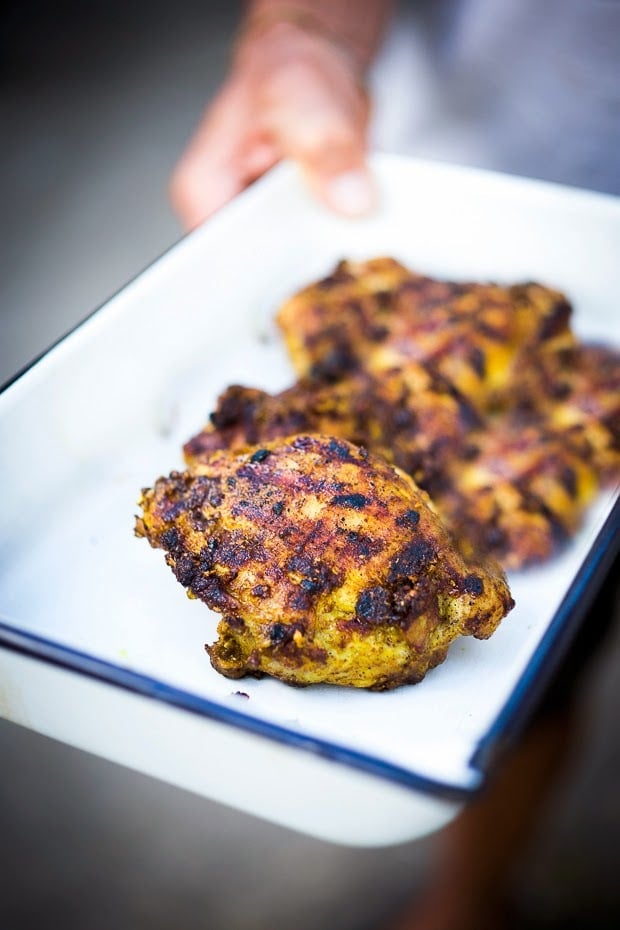 Step 5: Cover the chicken shawarma with foil and let rest 5-10 minutes.
Step 6: Thinly slice!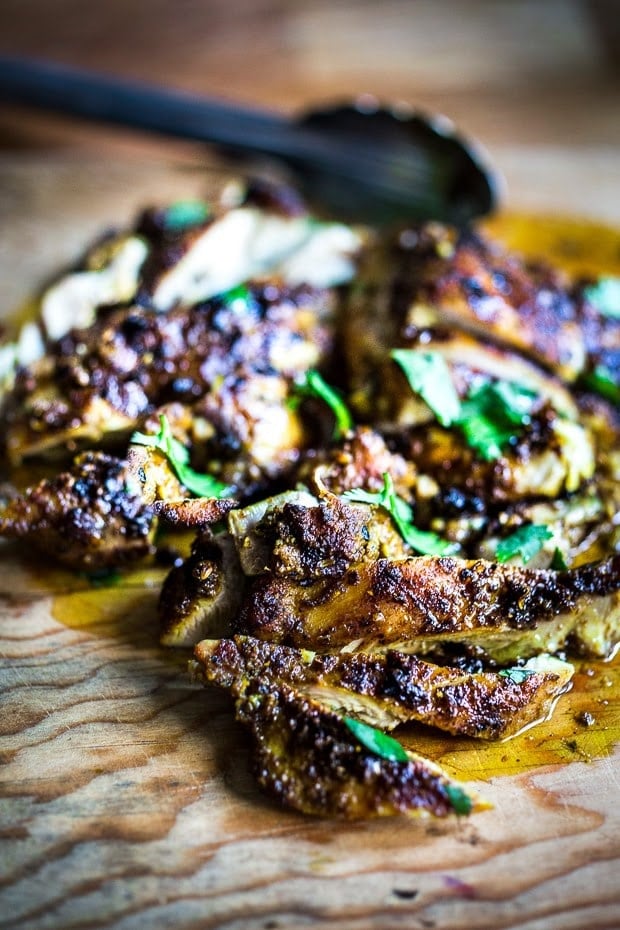 Shawarma is often served with a "White Sauce" that can be whipped up in a food processor or blender. It is typically made with garlic, lemon, salt and olive oil. More often than not, I prefer serving shawarma with yogurt-based Tzatziki, but I'll include this white sauce in the recipe below.
Here I've sliced up the whole Chicken Shawarma to place over a big bowl or Israeli Salad. Light and refreshing!
I love the warm grilled chicken over the cool and refreshing salad, so good!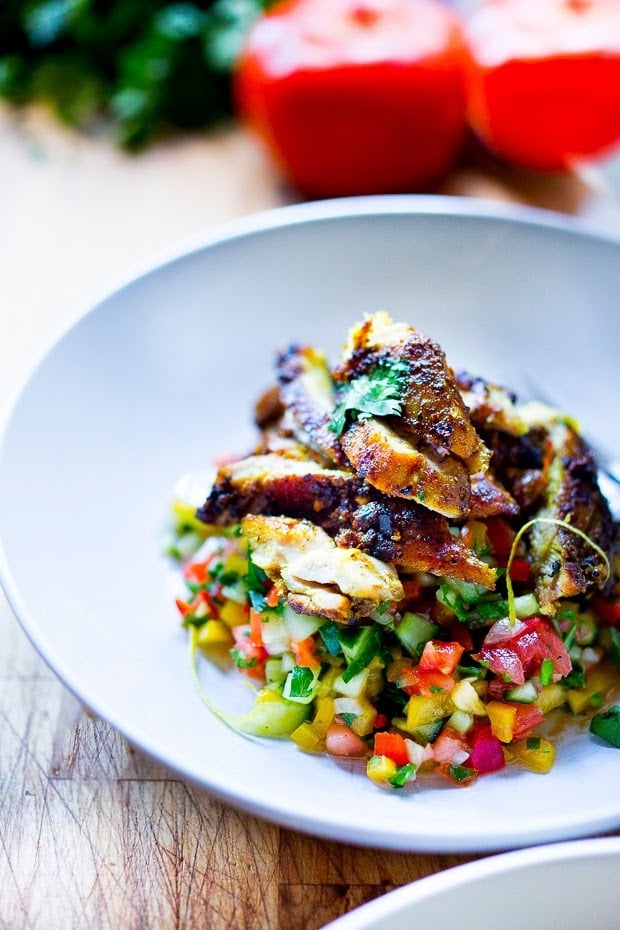 What To Serve With Chicken Shawarma
Chicken Shawarma FAQs
What is shawarma?
Shawarma originates from the Middle East and in essence, is deeply seasoned, marinated meat (typically lamb, beef or chicken) that has been stacked on a vertical spit, to roast low and slow for hours on end while slowly turning, nestled up to the gas-burning grill. Shawarma translates to "turning" in Turkish. Once roasted, the meat is tender, juicy, and full of incredible flavor from the spices, and is often thinly sliced and folded into pita, or wraps, or made into a shawarma plate.
How do you serve chicken shawarma?
Serve as a Sandwich: Wrap the chicken shawarma in a pita or wrap with tzatziki sauce or tahini sauce with tomatoes, cucumbers, red onions or pickled onions and serve as a flavorful sandwich or wrap.
Serve as a Salad: Serve Chicken Shawarma over a bed of a chilled Israeli Salad – a salad made of very finely diced summer vegetables and fresh herbs. The combination of hot grilled juicy chicken, together with the chilled Israeli Salad is refreshing and delicious.
Create a Shawarma "Plate" with Lebanese Slaw (or Israeli Salad), Basmati Rice, Tzaziki, or Baba Ganoush, or Hummus, or Labneh!
What spices are used in chicken shawarma?
Toasting whole spices gives the shawarma marinade a more intense flavor, but using ground spices is quicker and easier and works well too! Use toasted whole seeds or ground spices, or a combo! Cumin, coriander, garlic cloves, salt, cayenne pepper, turmeric, ginger, black pepper, and allspice.

What is shawarma sauce made of?
Shawarma is often served with a "White Sauce" that can be whipped up in a food processor or blender. It is typically made with garlic, lemon, salt, and olive oil, similar to a creamy aioli (but without the egg). More often than not, I prefer serving shawarma with yogurt-based Tzatziki.
Can I use a grill pan on the stove?
Though we prefer the flavor of a real grill here, a grill pan or skillet works in a pinch! We also have a recipe for Baked Chicken Shawarma on the blog.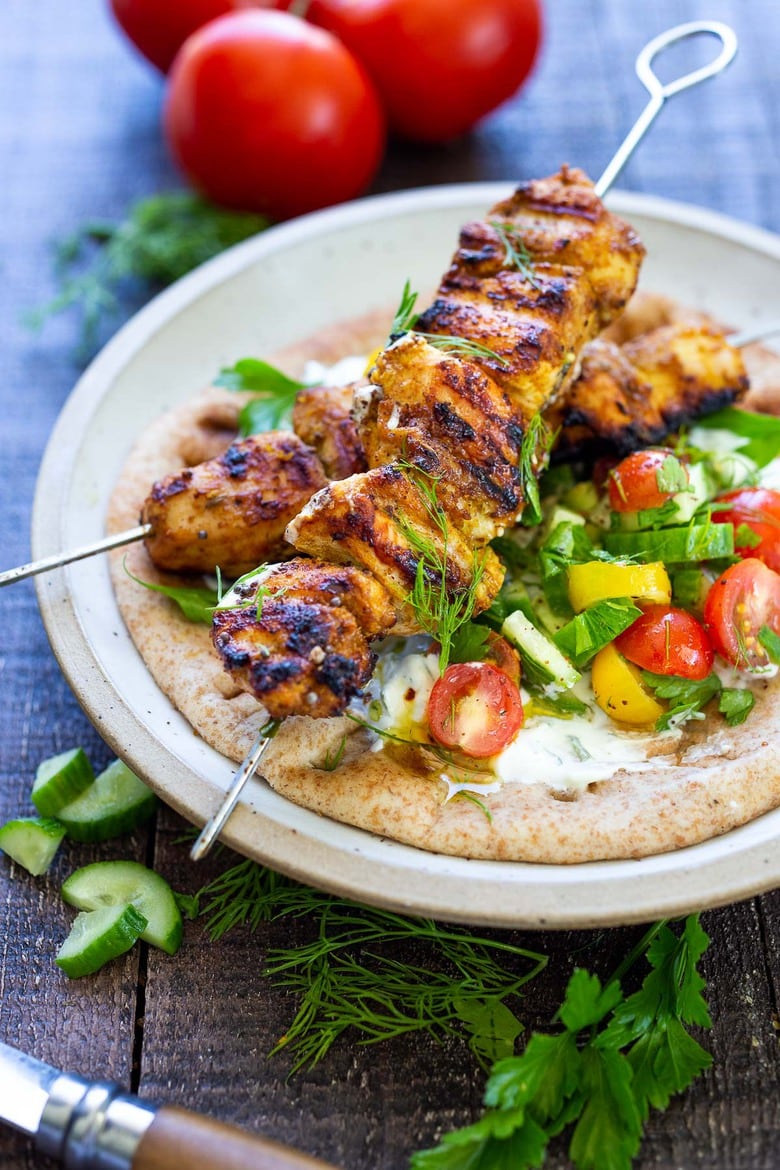 More Recipes You May Enjoy
Give this EASY Grilled Chicken Shawarma recipe a try! You will loooooooove it. I promise! And btw leftovers are amazing!
xo
Love this recipe? Please let us know in the comments and leave a 5-star ⭐️⭐️⭐️⭐️⭐️ rating below the recipe card.
Print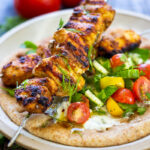 Grilled Chicken Shawarma Recipe
Prep Time:

30

Cook Time:

25

Total Time:

55 minutes

Yield:

6

1

x

Category:

Chicken, Grilled

Method:

grilled

Cuisine:

Middle Eastern

Diet:

Gluten Free
---
Description
A simple delicious recipe for chicken shawarma that can be grilled or baked – full of Middle Eastern flavor. Serve with homemade pita bread and tzatziki or over Israeli Salad.
---
2

lbs

to 2 1/4 lb chicken thighs (boneless and skinless, or skin on- see notes)
Shawarma Marinade:
2 tablespoons

ground cumin

2 tablespoons

ground coriander

8

garlic cloves, minced

2 teaspoons

kosher salt

6 tablespoons

olive oil

1/4 teaspoon

cayenne pepper

2 teaspoon

turmeric

1 teaspoon

ground ginger

1 teaspoon

ground black pepper

2 teaspoons

allspice
White Sauce:
juice of

one

large lemon

12

–

15

garlic cloves

3/4 teaspoon

salt

1

cup

olive oil, or grape seed oil
---
Instructions
Soak skewers in water if using.
Place all marinade ingredients in a bowl and mix, or pulse in a food processor to make a paste.
Rub chicken on all sides with the marinade and let sit at minimum 20 minutes (or up to 24-48 hours refrigerated). You can also cut the chicken into 1-inch cubes and marinate for skewers.
Grill chicken on a pre-heated Grill, on medium-high heat, closing the lid to the BBQ, until all sides have nice grill marks, about 8 minutes each side. Move to a cooler part of the grill or finish cooking chicken in a 350 F oven until cooked all the way through ( 170F) , about 10 minutes. (Alternatively, you can bake the chicken thighs in a 375 F oven for 30-40 minutes)
Enjoy the chicken shawarma over Israeli salad, tabouli, Lebanese Slaw, or with rice and veggies, or as a sandwich with tzatziki, pita bread, tomatoes, cucumber and red onion.
To make the White Sauce, place garlic, lemon and salt in a blender or food processor and pulse until relatively smooth, scraping down the sides. Whilst the motor is going, very gradually drizzle in the olive oil to create an emuslion. Pour into a bowl or jar and refrigerate until serving. (This will keep 4 days, refrigerated.)
---
Notes
Feel free to use boneless skinless chicken breasts, understanding grilling time will shorten. I prefer thighs because they are pretty hard to overcook/dry out.
If using skewers: Make sure to soak wood skewers in water, at least 30 minutes so they don't burn. Marinate the cubes of chicken in a bowl for at least 20 minutes, before skewering.
Nutrition
Serving Size:
Calories:

314

Sugar:

0.2 g

Sodium:

1088.3 mg

Fat:

18.5 g

Saturated Fat:

3.4 g

Carbohydrates:

4.8 g

Fiber:

1 g

Protein:

32.3 g

Cholesterol:

149.1 mg
Keywords: chicken shawarma, grilled chicken shawarma, chicken shawarma recipe, chicken shawarma calories, chicken shawarma calories, chicken shawarma marinade, grilled chicken shawarma