Lebanese Chicken with fragrant 7-Spice, caramelized onions, almonds and roasted lemon. A simple flavorful Lebanese-inspired dinner, with only 15 minutes of hands-on time, before roasting in the oven. (See recipe notes for grilling!)  Video.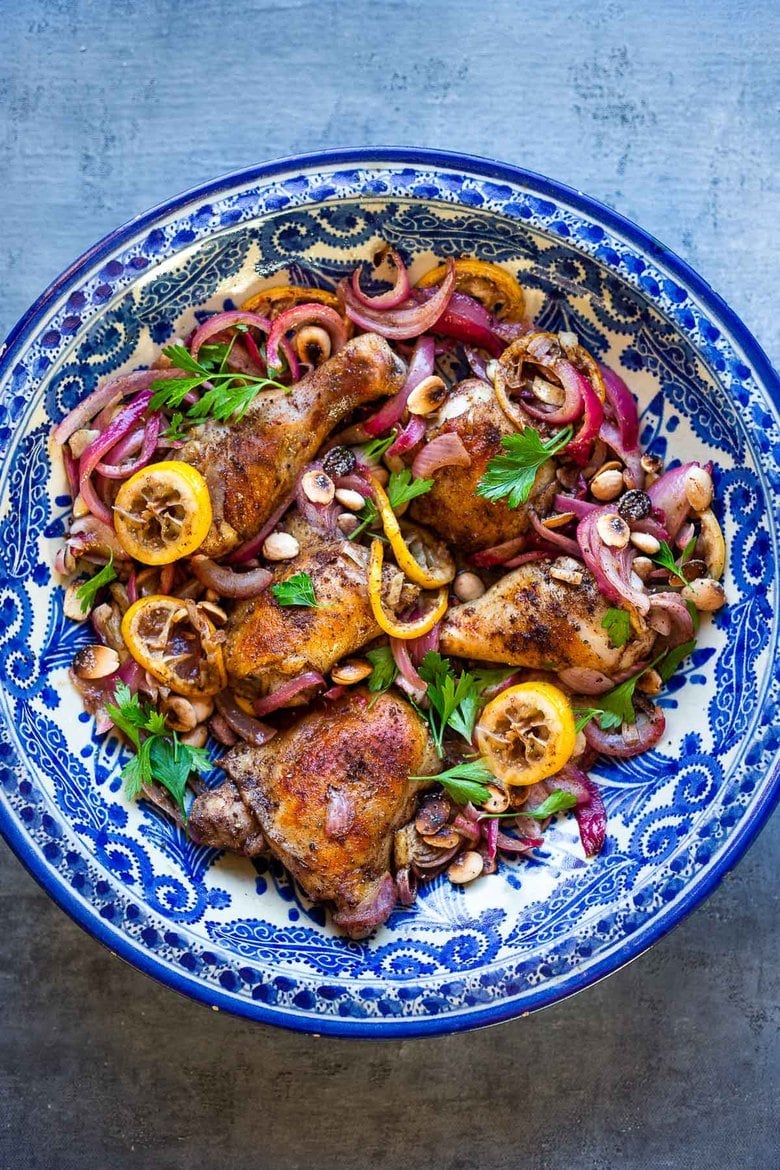 To listen to the quiet spaces inside you, you must allow every part of your experience to be the way it is.~ Adyashanti
When I asked my husband what he wanted for dinner the other night, he very enthusiastically said "MEAT"!  We've been fairly plant-based of late, but every so often his active body tells him he needs more protein.
There was a big batch of Tabouli in the fridge, which left me with some extra Lebanese 7-Spice that needed to be used up.  So this is how this Lebanese Chicken with 7-Spice came to be.  So probably not traditional, more like Lebanese-inspired.  Not only was it very simple and easy to make – the flavors were lovely! 😊
Serve this with a side of basmati rice (the Middle Eastern Version) and Lebanese Tabouli  (or our Lebanese Slaw ) and you'll have yourself a scrumptious dinner, simple enough for a weeknight, or special enough for Sunday Supper.
Here I've used bone-in, skin-on chicken but the recipe is easy to adapt if going boneless, or skinless. Simply lessen the cooking time.
This would also be perfect on the grill, see recipe notes!
Lebanese Chicken with 7-Spice | 60-Sec Video
This recipe was inspired by something we enjoyed at Cafe Munir in Seattle.   In fact, if visiting Seattle I highly recommend tracking it down. Here is a recent article in Redfin- you may find useful, that we were featured in: Uncover the Best of Seattle: The Ultimate Seattle Bucket List.
The recipe starts with Lebanese 7-Spice. If you are making the Tabouli I posted a few days ago, you'll use this 7-spice in both. It's simply a blend of 7 spices you most likely have in your spice rack. If you are missing one, don't fret. I'll give some alternatives in the recipe notes.
Like most spice blends, 7-spice varies from region to region, household to household.  There are no set rules here, only preferences.
The most important of the 7 spices include allspice, cinnamon and cumin.
Typical Spices in Lebanese 7-Spice:
Other common substitutions/additions: Parika, black or white pepper, sumac
Once you've made the 7-Spice, then simply toss the chicken in a bowl with olive, oil, salt, pepper, 7-spice, onion wedges, garlic and lemon slices. If you have preserved lemon on hand, add a tablespoon or two.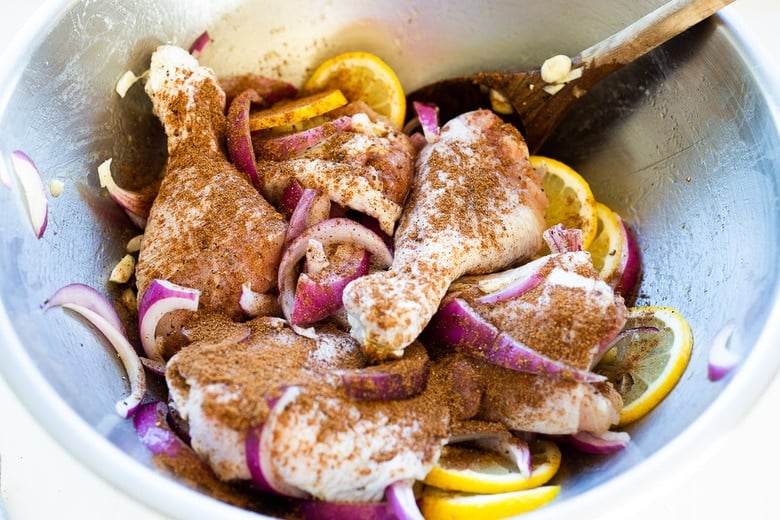 Spread this out in a sheet pan and bake at 400F until cooked through about 40-45 minutes.
Then broil the skin until it gets golden and crispy.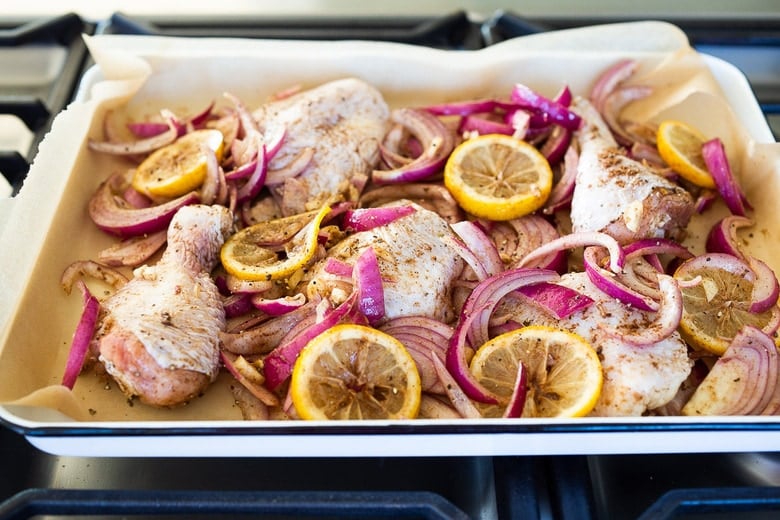 The onions will carmelize, your kitchen will smell heavenly and the Lebanese Chicken will come out golden and crispy and full of flavorful juices.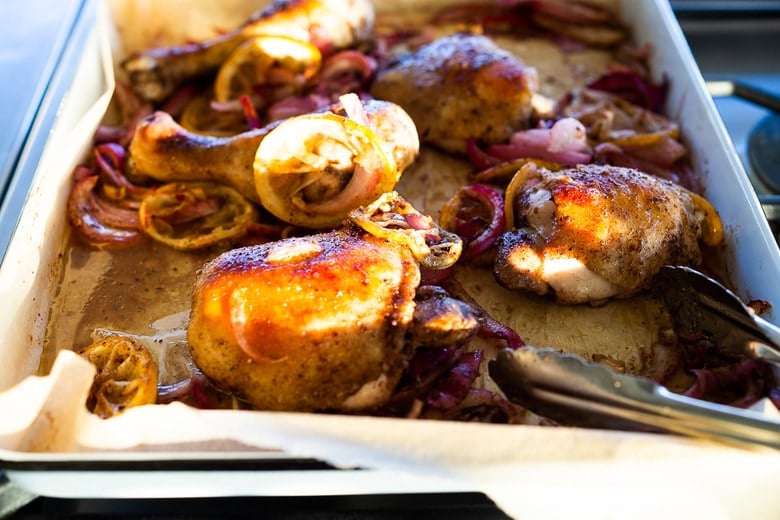 I love adding warm Marcona almonds to this, toasting them in a skillet and adding a little olive oil and salt. Pinenuts would be a good substitution.
Arrange on a platter, and pour the flavorful juices over top. Scatter with the roasted onions, roasted lemon slices (which are tasty), sprinkle with fresh parsley and the warm Marcona almonds.
The melting onions are really incredible, you could even double them up.
Serve Lebanese Chicken with: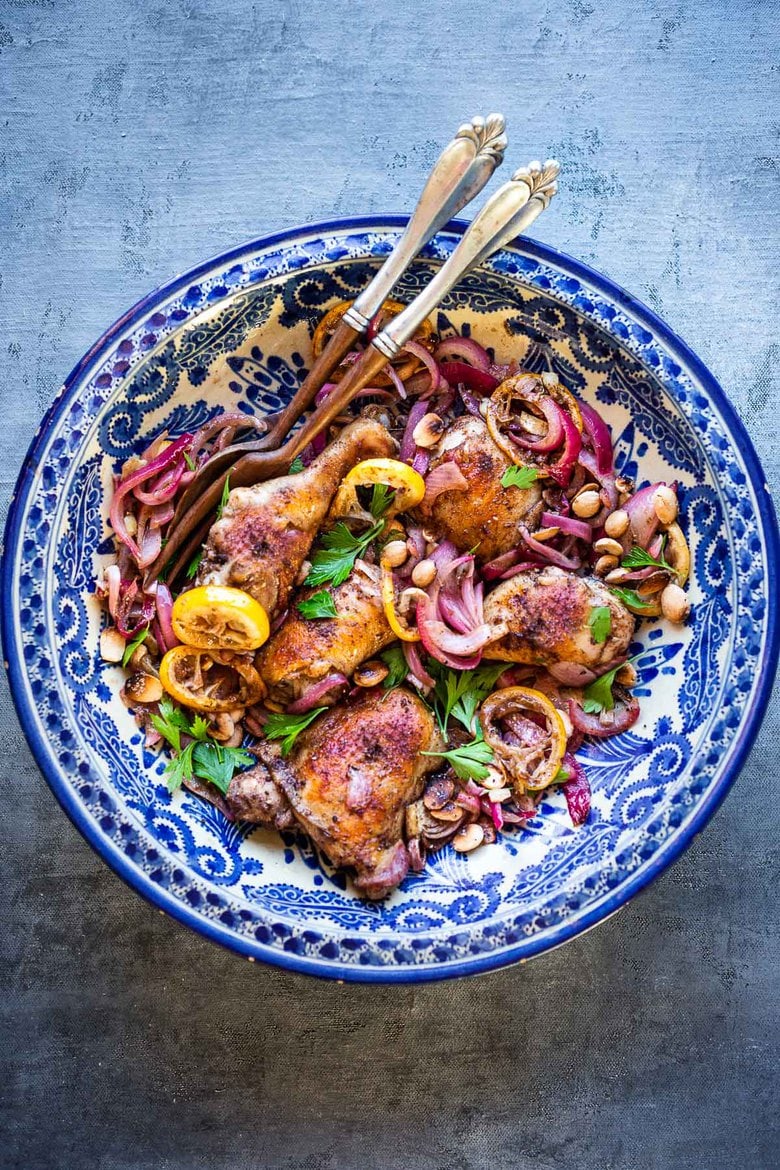 We really enjoyed this, and hope you do too. Let me know your thoughts in the comments below.
Happy Weekend.
xoxo
Print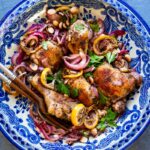 Lebanese Chicken with 7-Spice
Prep Time:

15

Cook Time:

50

Total Time:

1 hour 3 minutes

Category:

chicken, dinner recipes,

Method:

roasted, grilled

Cuisine:

Lebanese

Diet:

Gluten Free
---
Description
Lebanese Chicken with 7-spice, caramelized onions, almonds, and roasted lemon. A simple flavorful Lebanese-inspired dinner, with only 15 minutes of hands-on time. See notes for grilling!
---
2

lbs

chicken, skin on, bone-in thighs and legs (see notes, for boneless, skinless options )

2 tablespoons

olive oil

2 1/2 teaspoons

salt (use

1 teaspoon

salt per pound of chicken plus an extra

1/2 teaspoon

for the onions)

1

–

2

teaspoons cracked pepper

2 tablespoons

Lebanese 7-spice ( see below)

1

extra-large red onion, sliced into

1/2

inch wedges

4

garlic cloves, rough chopped

1 tablespoon

preserved lemon, chopped (totally optional)

1

lemon, sliced thinly
—-

1/4

cup

Marcona almonds, or slivered almonds or pinenuts
parsley for garnish
Seven Spice Recipe: 
These are in order of importance. Feel free to sub paprika (not smoked) for something, or leave the cardamom cloves or nutmeg out.
---
Instructions
Preheat oven to 400 F (see notes for grilling)
Place the chicken in a bowl and toss with olive oil, salt, and  7-spice mix. Add onion, garlic,  preserved lemon and sliced lemon and toss again well. Spread out on a parchment-lined sheet-pan.
Bake for 35-45 minutes- or until cooked through. Broil for a few minutes to get the skin crispy and nicely golden, turning if necessary (especially if using skin-on chicken)
While the chicken is baking, warm and toast the almonds/pinenuts in a little butter or olive oil. Season with salt and pepper. Set aside.
Place the fragrant chicken on a platter, scattering with the onions and lemon slices (which are edible.)  Pour any juices from the pan, over top.  Garnish with the toasted nuts and sprinkle with a few parsley leaves.
---
Notes
CHICKEN: Feel free to use skinless boneless chicken, but note that cooking times will shorten, so just check sooner. 20-25 mins for skinless breasts, boneless 30-35 minutes for thighs.
GRILLING: Set grill to med-high. If grilling skin-on chicken, skip the oil, make a rub out of the salt, pepper and spices. Add 2 teaspoons granulated garlic to the rub. Make sure to use 1 teaspoon salt per pound of chicken. Rub spices generously over the chicken. In a bowl,  toss the onions and lemon slices with a little olive oil, salt and pepper and a pinch of the 7-spice. Grease the bbq grates. Sear the skin side of the chicken until deeply marked, 3 minutes or so, turn over, move to a cooler part of grill (or lower heat to medium) and continue cooking, covered, until cooked through (to 165F). Grill the lemon slices and the onions, at the same time. Let chicken rest 10 minutes before serving. Platter like above.
If grilling skinless chicken, make a paste. Mix the salt, pepper, spices and 2 teaspoons granulated garlic in a bowl. Add just enough oil to make a thick paste, stir. Rub this paste all over the chicken. You could do this the day before for extra flavor. Grill like above, along with onions and lemon slices.
For a little heat, sprinkle with Aleppo chili flakes if you like.
Nutrition
Serving Size:

skin-on, bone-in legs and thighs

Calories:

473

Sugar:

3.5 g

Sodium:

1084 mg

Fat:

35.7 g

Saturated Fat:

9 g

Carbohydrates:

11.5 g

Fiber:

3.2 g

Protein:

27.8 g

Cholesterol:

122.4 mg
Keywords: Lebanese chicken, Baharat chicken, recipe for middle eastern chicken, 7 spice chicken, seven spice chicken, 7-spice recipe,