How to make delicious fluffy Pita Bread at home! A simple, easy step-by-step recipe that turns out perfectly puffed and golden every time! Feel free to use whole wheat, spelt or buckwheat flour!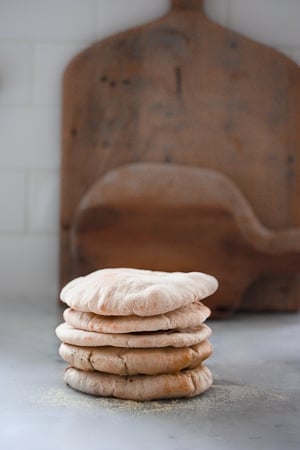 Here's an easy recipe for Simple Homemade Pita Bread that turns out perfectly puffed and golden every time! Though this takes a little under 2 hours to make, most of this time is hands-off, rising time.
Such a fun little project to make with kids, I have such fond memories of my own mom and I making this together when I was a child. Imagine the surprise of seeing the fragrant pita bread puff up in the oven for the first time. Pure magic!
You'll find a million uses for homemade pita bread!  Serve it with delicious falafels, creamy Tzatziki Sauce, chicken shawarma together with the Israeli Salad, or this amazing, slow-roasted lamb shawarma or even this simple Balela Salad. So yummy!
Or simply brush with olive oil and sprinkle with zaatar for a tasty treat!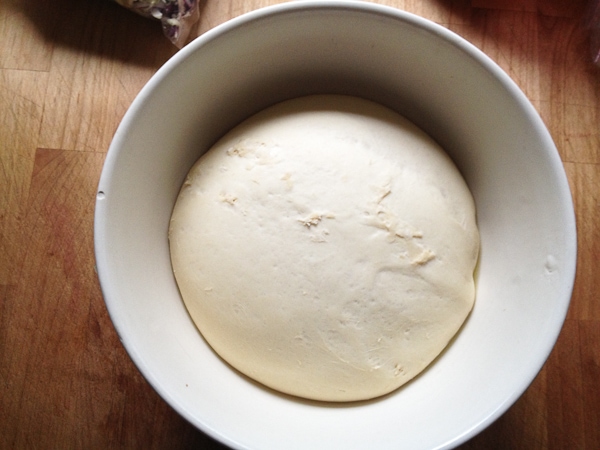 A few tips to make pita that will puff up in the oven:
1. Let the dough rise until it has doubled in size. This is really important. Using quick-rising yeast will cut your time down significantly!  Once the dough has risen and you have made the balls, let them rise again for at least 15 minutes, before rolling out.
2.When ready to bake, make sure the oven is thoroughly preheated to 500F  with the baking sheet or stone in it.  A baking stone is even better! The baking sheet or bread stone should be hot. If it is not, your pita may not puff up. Bake on the lowest rack.  They cook very quickly, so don't walk away.
3. Resist opening the oven door until ready to flip them.
4. When done, place them in covered bowl or basket, which will keep the steam in and keep them from drying out.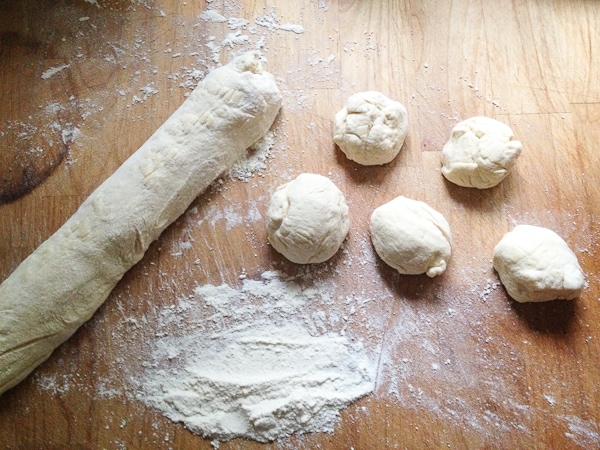 For basic 6-inch pita bread, roll the dough into a log and divide into 8 golf ball-sized balls. Let rest 10-15 minutes, covered with a towel.
On a floured surface …roll out balls to 1/4 inch thick rounds, about 6 inches in diameter.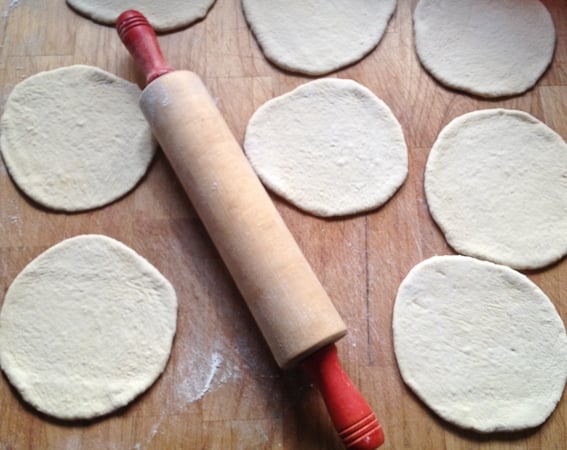 Place the rounds on the hot pan or stone and bake for 3-4 minutes. Resist the temptation to open the oven door, and look in through the window if possible.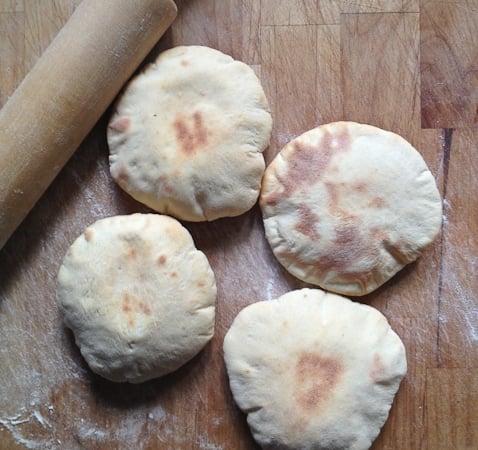 After 3-4 minutes, pita should puff up. Turn over and bake 1-2 more minutes.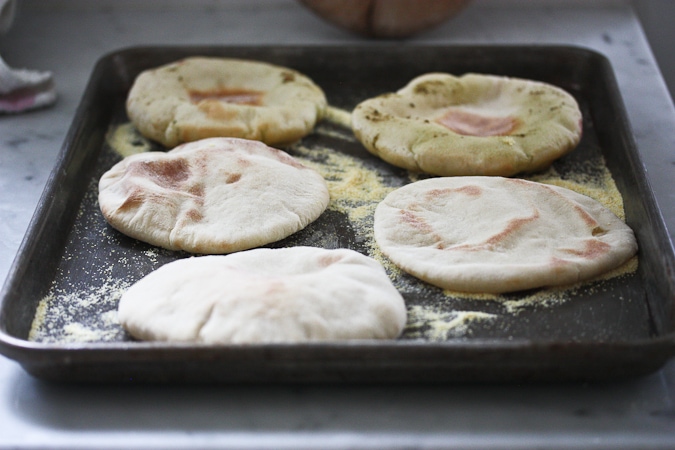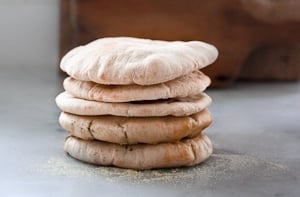 Play around with using different kinds of flours if you like. Above I used 1/2 whole wheat.
Below I used mostly whole wheat with a 1/2 cup of buckwheat flour, giving it this amazing color!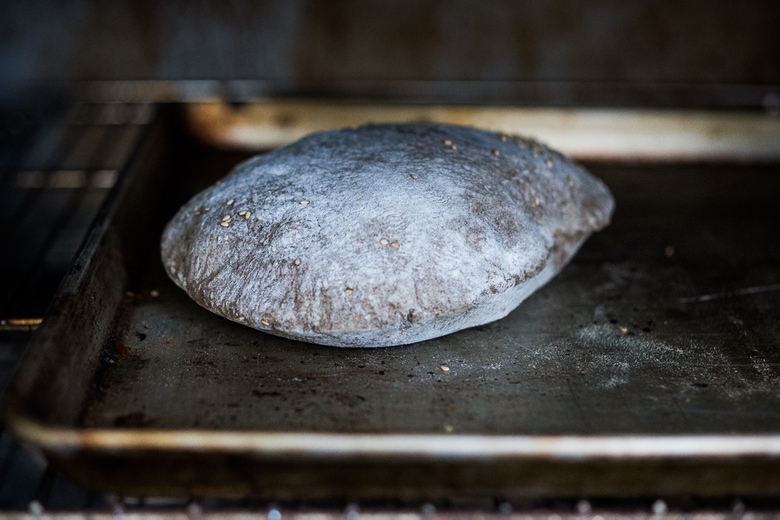 Here below I tried it with half spelt flour and half whole wheat.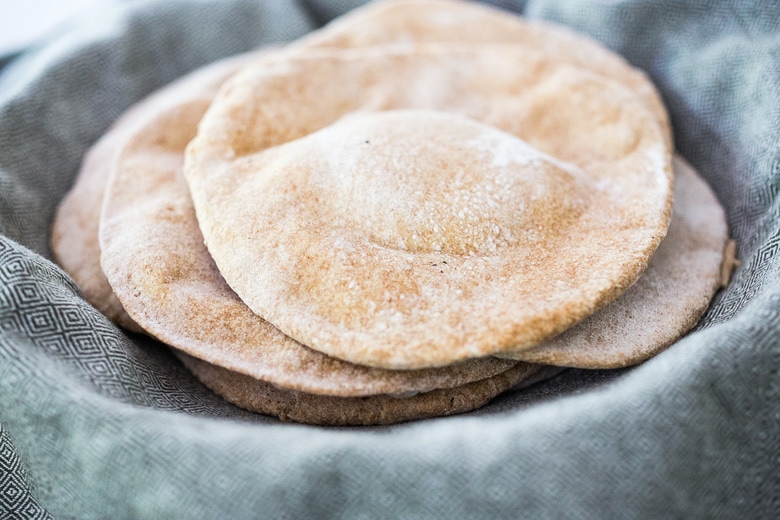 Give them a whirl and let me know what you think!
xoxo
Print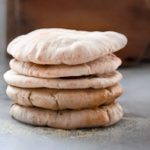 How to Make Homemade Pita Bread!
Author:

Sylvia Fountaine

Prep Time:

3 hours

Cook Time:

15

Total Time:

3 hours 15 minutes

Yield:

8 small pitas

Category:

Bread

Method:

Baked

Cuisine:

Middle Eastern
---
Description
How to make homemade pita bread- a simple step by step recipe that turns out perfect every time! Feel free to use ½ whole wheat flour for a more nutritious version!
---
Ingredients
Pita Bread Recipe
2 teaspoons

Active Dry Yeast ( if using fast-rising Instant Yeast, my preference, please see notes)

1/2 teaspoon

granulated sugar

1 tablespoon

olive oil

1 cup

warm water (or sub

1/2 cup

plain yogurt for 1/2 of the water and skip the oil)

1 teaspoon

salt

330

–

350

grams flour ( all-purpose white or whole wheat, or a mix of both ( see notes for other fun options)   About  2 1/2 cups. More for rolling.
---
Instructions
In a large bowl or stand mixer, stir yeast, sugar and lukewarm water. Let sit for 15 minutes uncovered, until water is frothy and yeast is activated. ( If using instant yeast, see notes!

Much faster and easier

!)
Using wood spoon or a paddle attachment mix in oil, salt and flour, and mix until combined. Dough should feel tacky and slightly wet.
Use the dough hook in stand mixer and kneed on med-low for 3 minutes- or kneed right in the bowl with the palm of your hand – folding, turning, folding, turning.
Coat the bowl and dough with olive oil. Cover with plastic wrap, then a kitchen towel and place in a warm spot for about 2 hours ( 1 hour if using INSTANT YEAST), or until the dough has doubled in size. ( I like to place dough on the stovetop with the oven turned on to low.) At this point you could refrigerate for later use, letting the dough come to room temp before using.
Preheat oven to 500 F (

with the sheet-pan or pizza stone inside)

and make sure the oven rack is on the bottom of the oven, with no additional racks above.  You'll need this room to maneuver and prevent burning yourself.
Once the dough has doubled, on a floured surface, gently shape dough into a rope, and divide into 8 equal pieces, rolling into balls. Don't mess with them too much. Place the balls on a floured surface. Let sit covered with a kitchen towel for 10-15 minutes. ( You can make smaller ones or bigger ones, no problem)
Roll out each ball of dough with a rolling pin into 6-7 inch rounds, about  1/8- ¼ inch thick. Let them rest for a few minutes before baking. By the time you get done rolling them all out, the first ones will be ready to bake.
Bake each pita for 3-4 minutes or so, until the pita bread puffs up. Carefully, using a kitchen towel or oven mitt, turn over and bake for 1- 2 more minutes. ( Using tongs may puncture the pita, deflating them!) It's good to start with one tester. If your pita is not puffing up, make sure your oven is truly at a very hot 500 F and make sure your pan or stone is hot too. If pitas are rolled too thin, sometimes they will not puff up all the way.
Carefully remove each pita with a spatula from the baking sheet and add additional pitas for baking.
Immediately place baked pita in a dish or basket, lined and covered with a kitchen towel … this will keep the steam in and keep them warm and moist. Serve soon, while warm.
If making ahead, let them cool slightly, then seal in a ziplock bag to retain moisture. Reheat until pliable in a toaster oven.
---
Notes
If using quick rising yeast or instant yeast (

which I LOVE and recommend

)  you do not need to dissolve it in water first (the granules are smaller) just place it along with

all

the other ingredients into a stand mixer or large bowl, and mix, then kneed with your hand or with dough hook for 3 minutes.

Rising time will shorten by half! 

If using all whole wheat flour, start with 300 grams, adding more as needed. You want a slightly wet tacky dough.
Often in Middle Eastern cooking, yogurt is substituted for some of the water- so in this case you could sub ¼- 1/2 cup plain full fat yogurt for equal parts of the water, which will add a nice chewiness. Up to you.
I often play around with using different flours, with good success. Sometimes I'll sub 1/2 a cup of buckwheat flour  or rye for deeply colored pitas. Spelt is a great option too! If unsure, blend with white or whole wheat. Key is a tacky, elastic dough- not too dry! Have fun!
Keywords: how to make pita bread, pita bread, pita bread recipe, pita breads recipe, how to make pita bread, easy pita bread recipe, pita recipe, whole wheat pita, whole wheat pita bread recipe, easy pita bread recipe,
SaveSave
SaveSave
SaveSave
SaveSave
SaveSave
SaveSave