This post may contain affiliate links. For more information, please see our privacy policy.
The BEST Grilled Naan Bread with a delicious, Indian-style, Garlic Scape Chutney! Easy, step-by step instructions, perfect every time! Full of great flavor!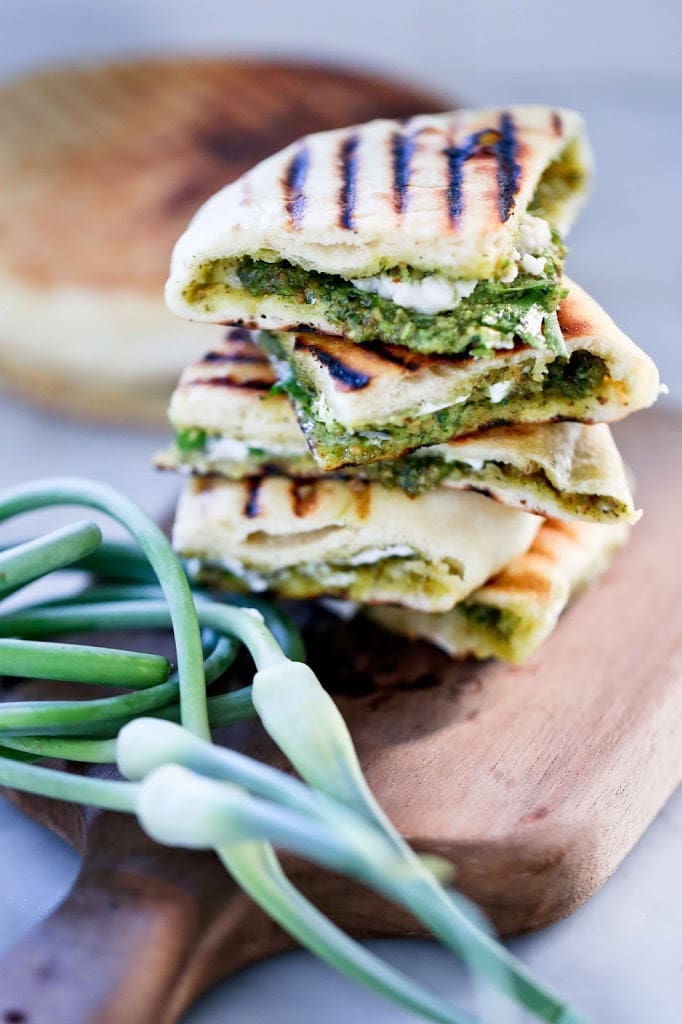 You must not ever stop being whimsical. And you must not, ever, give anyone else the responsibility for your life. ~Mary Oliver
It all began here in front of the garlic scapes. Whimsical creatures, these are the curly green tops of garlic bulbs, also known as garlic shoots.  Like garlic, these too are edible, with a milder garlic flavor, and can be used in many different ways.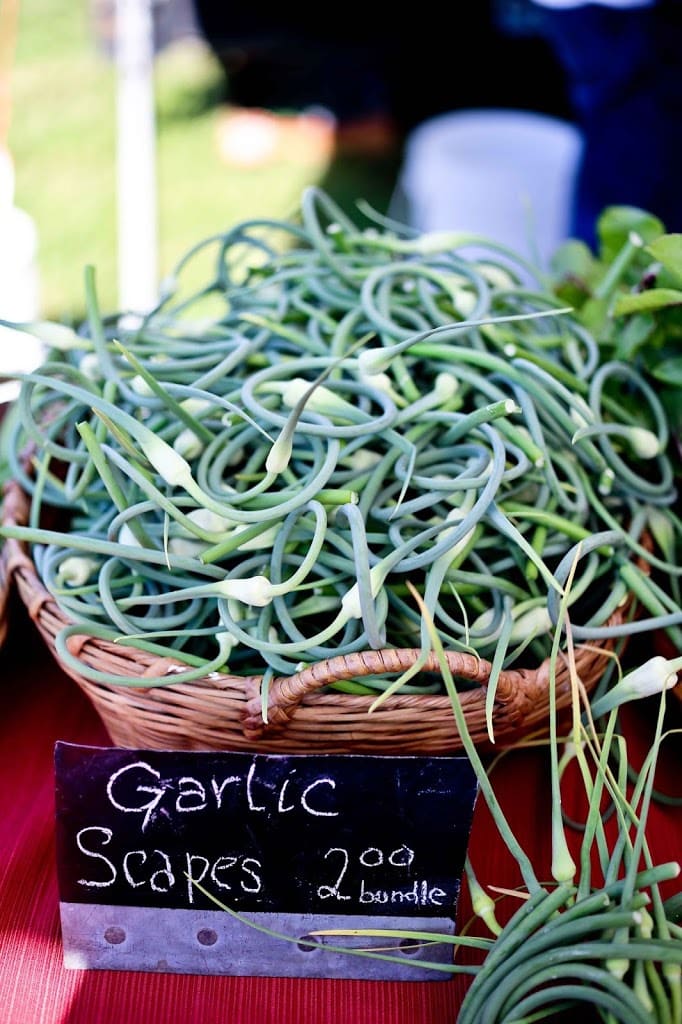 Never mind that they will probably disappear next few days or if we're lucky, weeks.
Standing here, my mind went down a long list of possibilities. Garlic scape pesto, garlic scape
hummus
, stir-fried beef and garlic scapes, sautéed or grilled garlic scpes, garlic scape pasta,  creamy garlic scape soup.  I wasn't quite sure what they would end up in, but I bought a few bundles and hoped for the best. Looking at them, they really want to be be playful.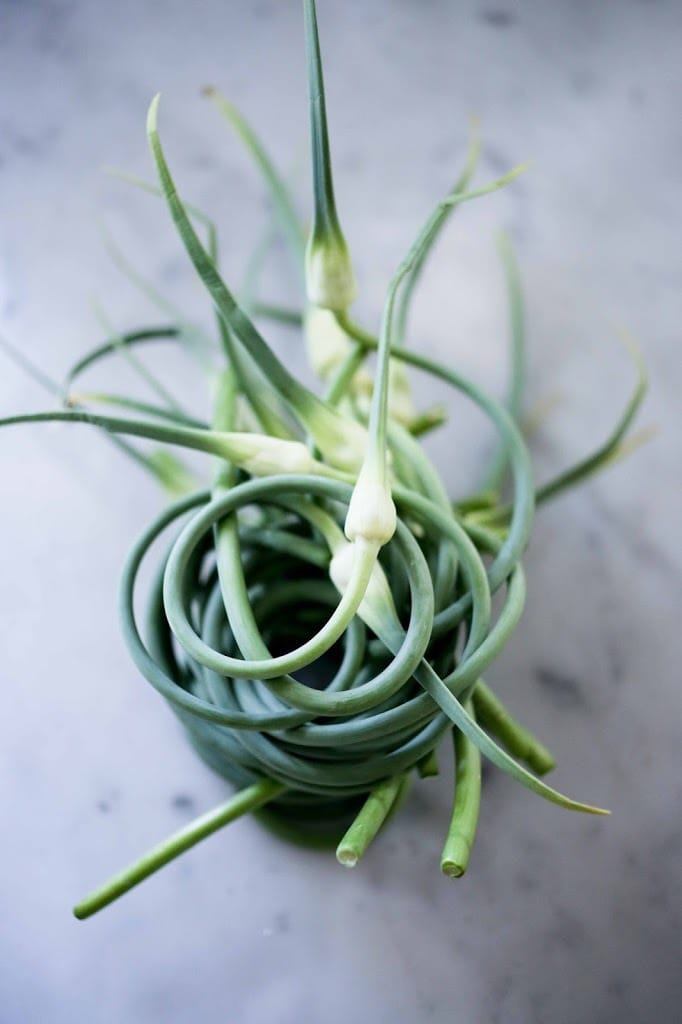 On a whim, I settled on grilled
naan
bread, stuffed with melty cheese and garlic scape chutney- mostly because I have been feeling gluten deprived and cheese deprived… and so it happened.
Normally the chutney would be served on the side, and of course you could do this instead, but today, I felt the need to be efficient and put it all together into one perfect bite. The melty cheese together with the flavorful chutney and warm pillowy
naan
, was delicious.
You don't have to use garlic scapes for the recipe- if you can't find them. Substitute Italian parsley or cilantro and a few cloves of garlic.
And if you are not a fan of "green stuff", feel free leave it out entirely. The grilled
naan
with melted cheese alone is tasty too. You could try adding things like
roasted garlic
, caramelized onions or if feeling very lazy, use a little
granulated garlic
powder.
Naan Bread is an Indian flat bread, pillowy and elastic, traditionally baked in a very hot tandoor clay oven. Many people use their own oven at home, set at a vey high temperature. Because I like to keep heat outside of the house in summer, I tried something different and fired up the grill. And it worked great. You could also use a heavy duty grill pan on your stove top.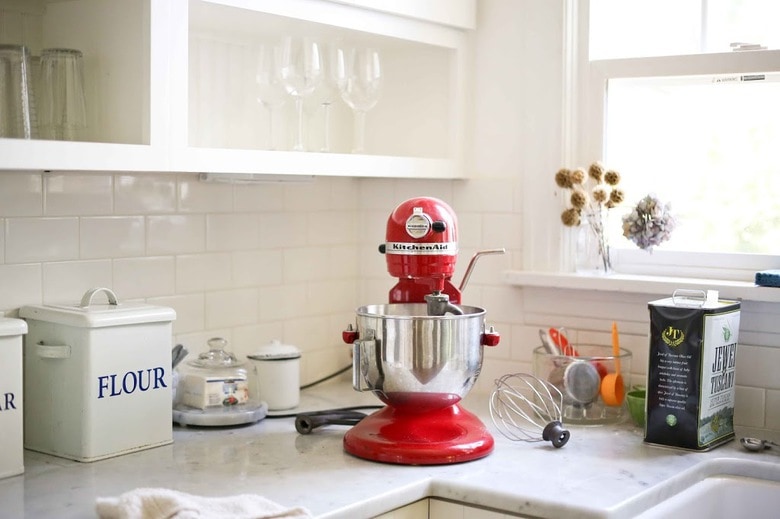 The dough for the naan bread  is simple and un-yeasted. It's also very quick, only needing about one hour to rest before rolling out. If you have a stand mixer, it really takes all the work out of it.
Follow the recipe, mixing the wet ingredients into the dry ingredients to form a dough.
Divide the dough into 10 equal portions and form into balls. Place on a floured baking sheet.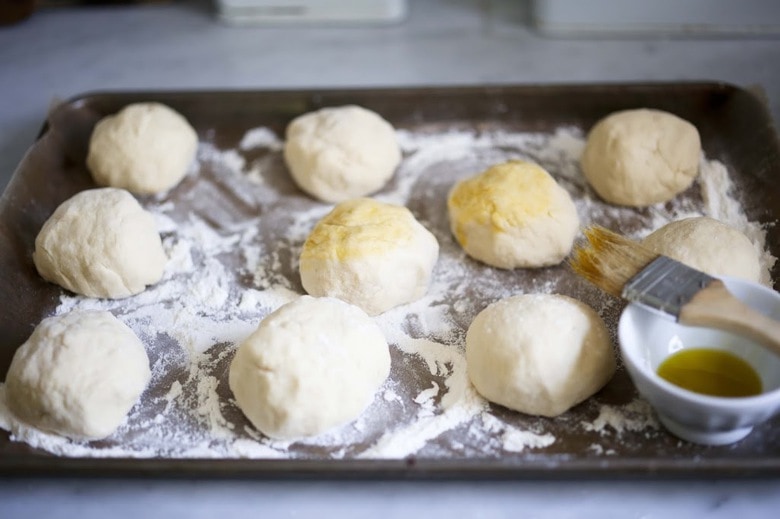 Brush with a little
olive oil
, cover with plastic wrap for one hour.
While the dough is resting make the garlic scape chutney.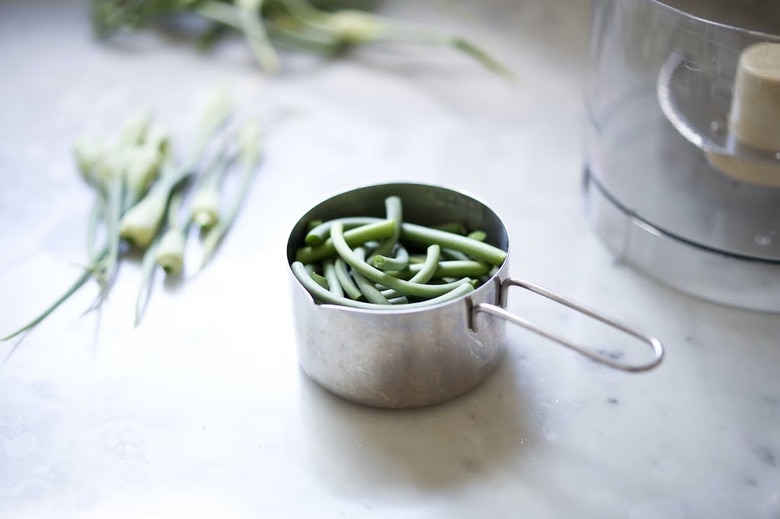 Remember to remove the flower buds from the garlic scapes and just use the tender stems.
 Place all ingredients in the
food processor
, and pulse until it resembles a fine crumb. I added roasted almonds to the chutney, which is not traditional, but adds a little crunch and heartiness.
I also added half a Serrano Chili, for a little kick.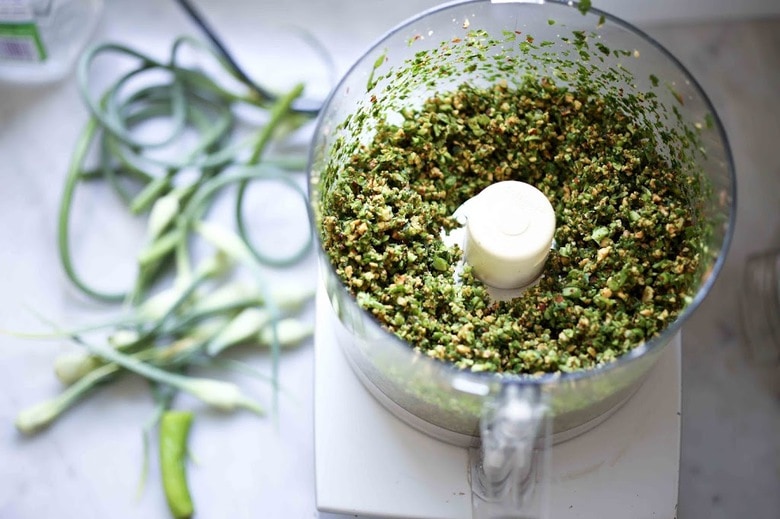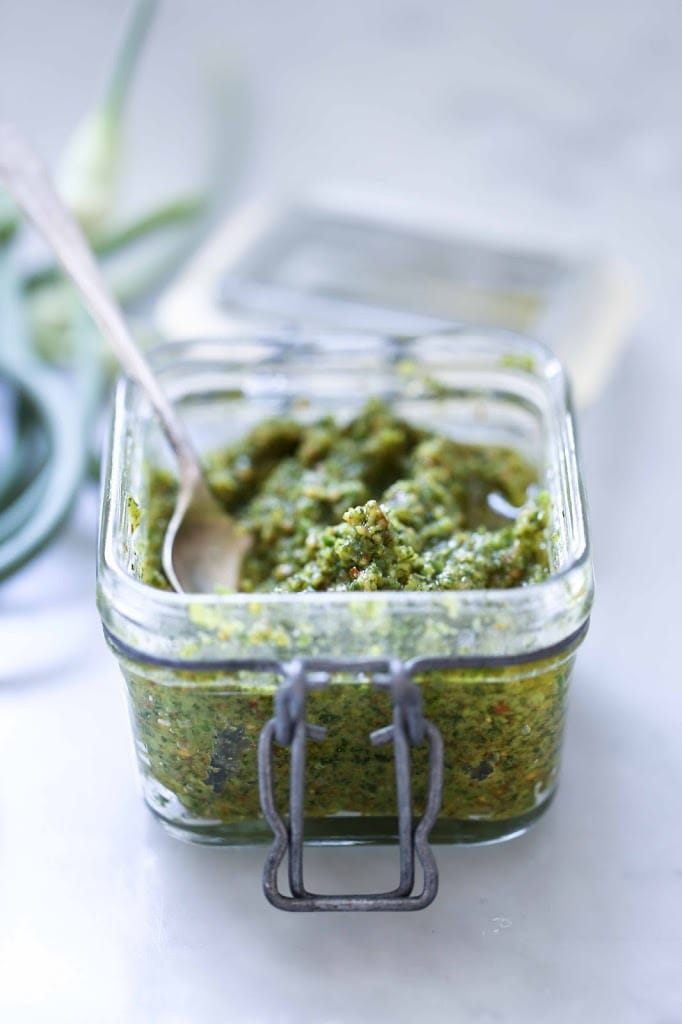 The extra can be saved in your fridge for a few days.
When the
naan
bread dough has rested, roll the balls out into 5 inch diameter circles, on a floured surface. Keeping them at this size or slightly less will help prevent the stuffing from seeping out the thin walls.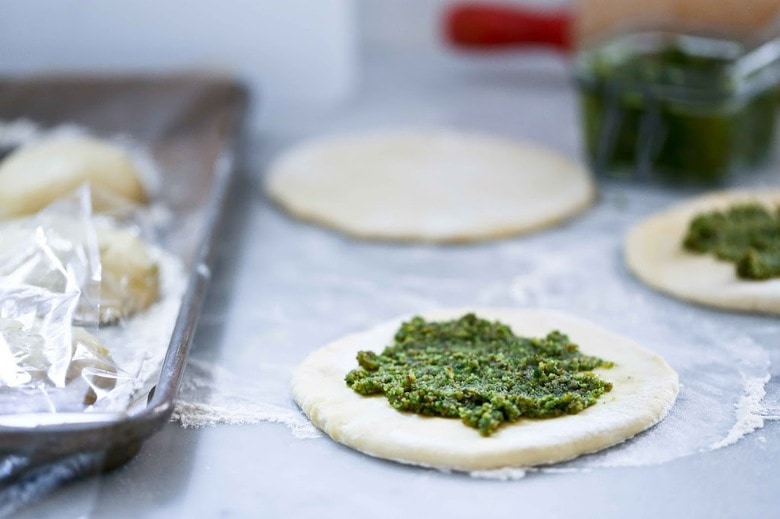 Spread the garlic scape chutney leaving 1/2- 1 inch space around the edges.
Sprinkle a tablespoon or more of your favorite meltable cheese- like queso fresco, mozzarella, or paneer.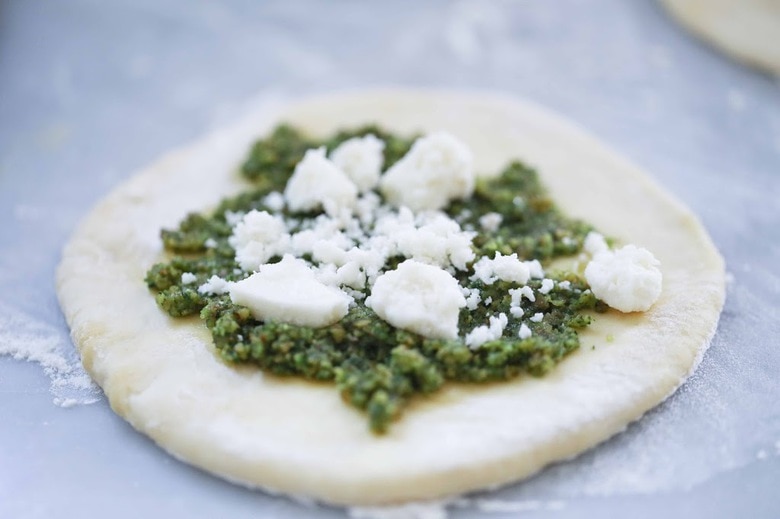 Bring all the edges together and pinch.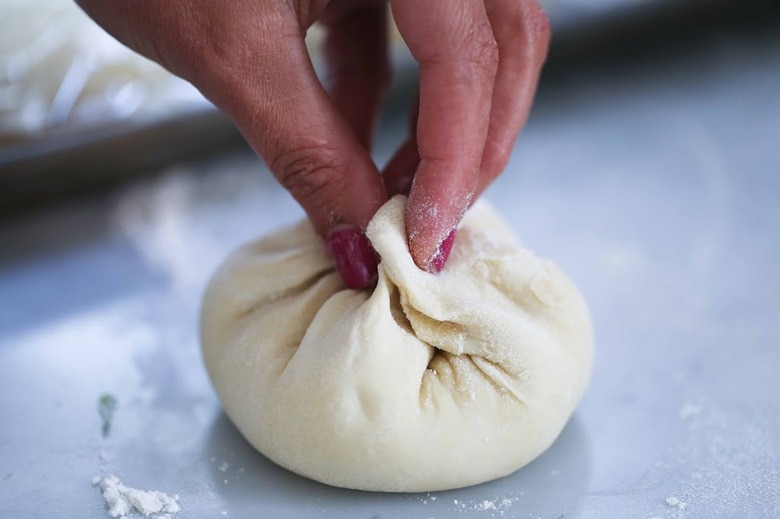 Gently turn over and gently flatten with the palm of your hand.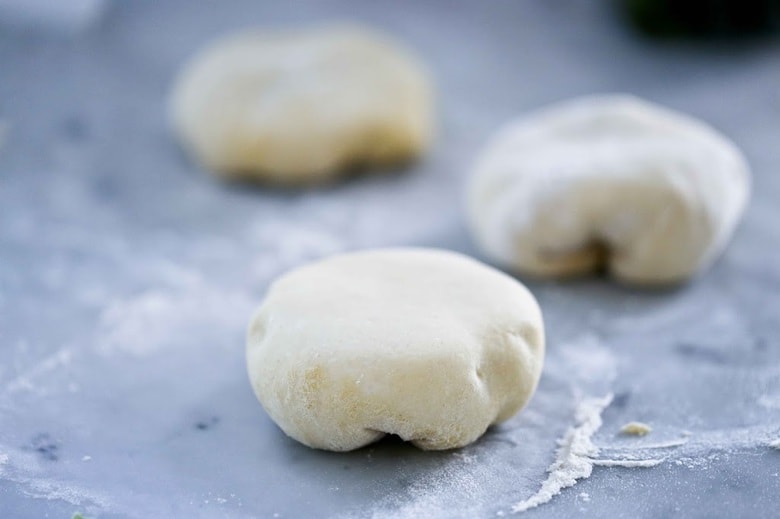 Gently roll out into 6 inch disks, with the cheese and chutney inside,  stacking and layering with parchment paper.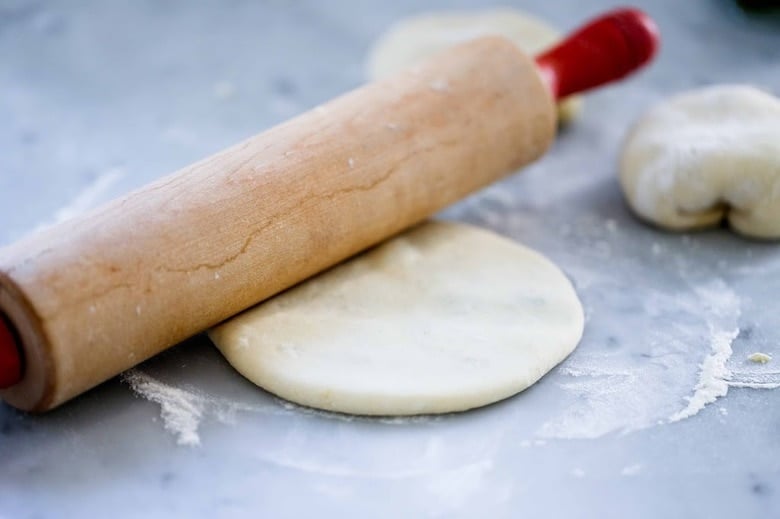 Grill on a preheated grill set at Medium heat. Oil down the grill rack by using a paper towel with a little oil on it and a pair of
tongs
. Start with one
naan
first before you put more on, to get the hang of it.  Place the
naan
on the oiled rack, cover and grill for 2-3 minutes or until
naan
puffs up a little. Turn over and grill for 2-3 more minutes.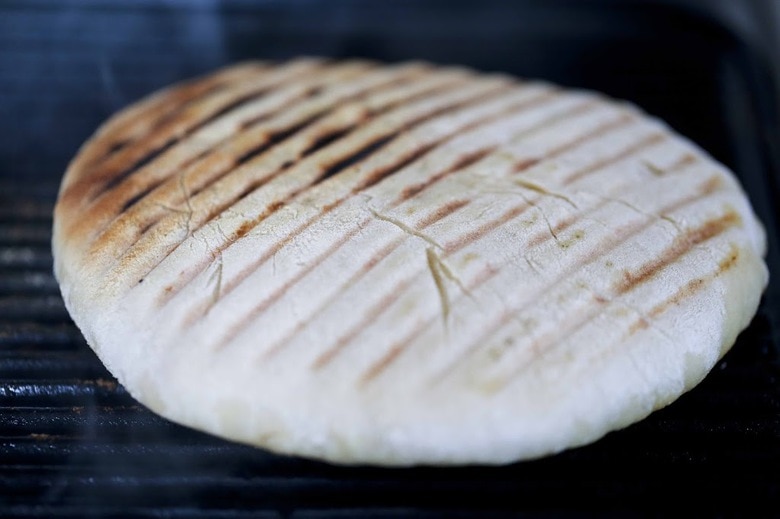 Stack the
naan
bread until ready to serve. Serve whole or cut.
Naan
is best right off the grill but leftovers can be stored in the fridge and reheated.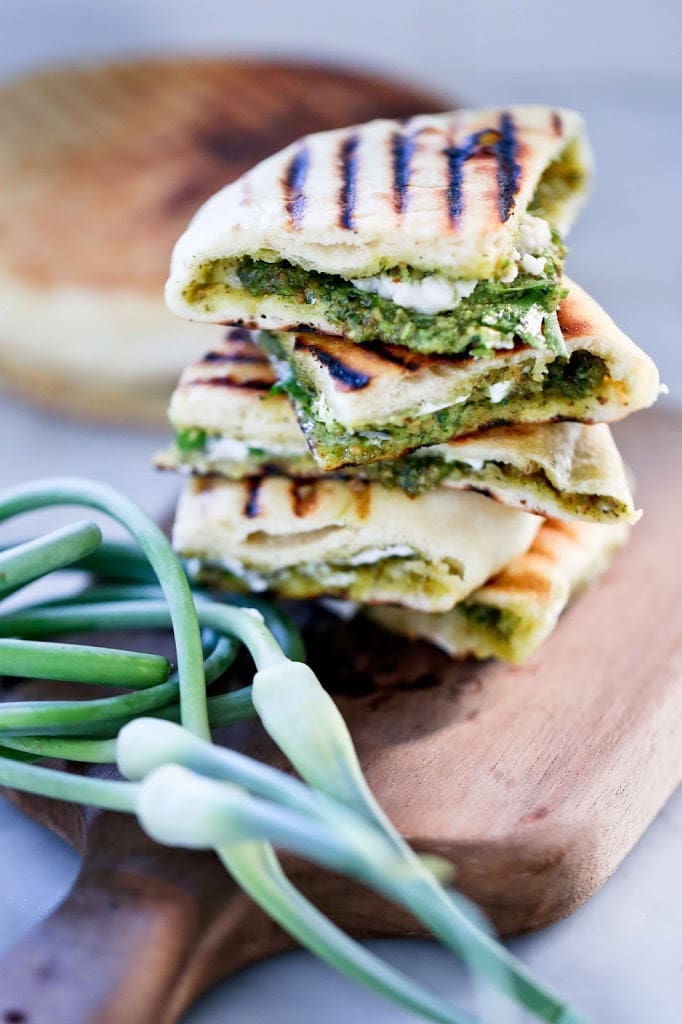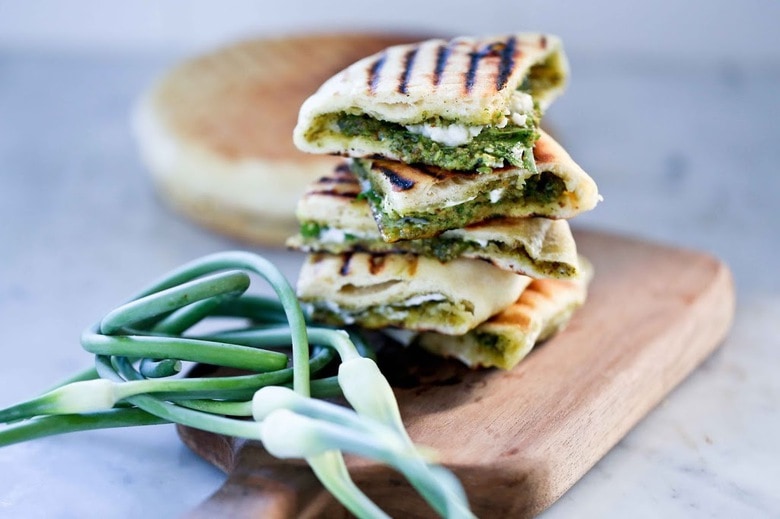 A delicious Naan Bread Recipe that is stuffed with an Indian Garlic Scape Chutney…..give it a whirl!
xoxo
Print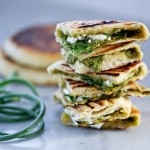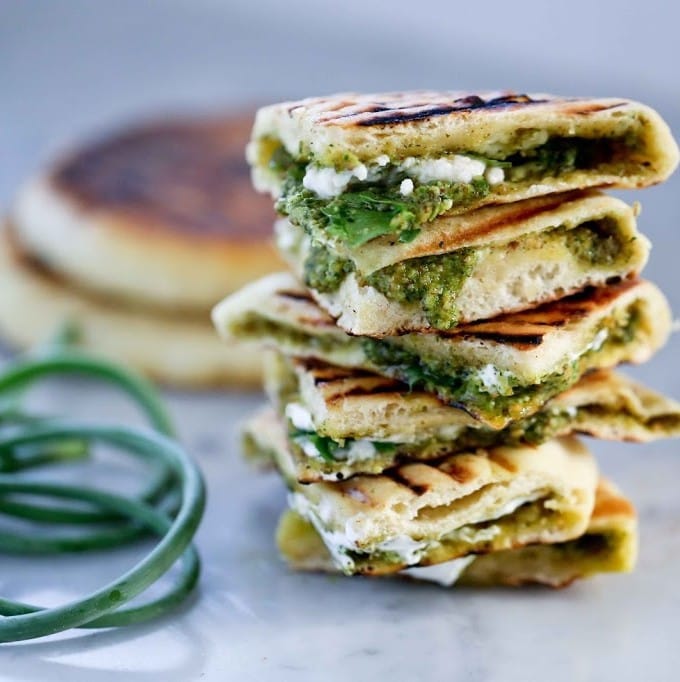 Grilled Naan with Garlic Scape Chutney
Prep Time:

90 mins

Cook Time:

15 mins

Total Time:

1 hour 45 mins

Yield:

1

0

1

x

Category:

bread

Method:

baked

Cuisine:

Indian
---
Description
The BEST Grilled Naan Bread with a delicious, Indian-style, Garlic Scape Chutney! Easy, step-by step instructions, perfect every time! Full of great flavor!
---
Dough:
5

–

1/4

cups

unbleached all-purpose flour; more as needed (optional: sub 1 Cup whole wheat)

3 tsp

baking powder

1

T kosher salt

1 tsp

sugar

1/2

cup

plain yogurt

1

large egg

1/4

cup

olive oil and more for brushing.

1 1/2

C water
Garlic Scape Chutney:
3/4

cup

chopped garlic scapes, tops removed (or sub Italian parsley or cilantro packed w/ 2 cloves garlic)

1/2

cup

fresh mint packed

1/2

cup

roasted or smoked almonds

1/2 tsp

kosher salt

1/2 tsp

black pepper

1/2

jalapeño or Serrano pepper- for a little kick (optional)

1

T lime juice 1/3 C olive oil
Olive oil or Melted butter for brushing
1 C Melty cheese- such as mozzarella or queso fresco- optional
---
Instructions
Make the dough: Combine the flour, baking powder, salt, and sugar in the bowl of a stand mixer fitted with the dough hook. In a medium bowl, whisk the yogurt, egg and add 1-1/2 cups of lukewarm water and the oil. Mix. Pour the yogurt mixture into the flour mixture and mix on low speed until a soft, sticky dough starts to clump around the hook, about 5 minutes. If the dough seems too wet, add more flour, 1 tsp. at a time.
Line a baking sheet with parchment and dust lightly with flour. Turn the dough out onto a lightly floured surface and divide it into 10 equal pieces. Form each piece into a ball and arrange them on the baking sheet. Lightly brush the dough with oil, cover with plastic, and let sit 1 hour before shaping.
Make the chutney: Place all the chutney ingredients in a food processor and pulse until uniformly granular.
On a lightly floured surface, roll a dough ball into a 5-inch circle. Spread 1 T of the chutney in the center, leaving a 1/2-inch border. Sprinkle 1 tablespoon of cheese over the chutney. Gather the borders to form a pouch (see picture) pinching it to seal in the filling. Turn the pouch pinched side down and, using very light pressure, roll it into a 6-inch circle. Transfer to a parchment-lined baking sheet. Layer rolled out naan with parchment until ready to grill.
Prepare a medium charcoal or gas grill fire and wipe grates with a lightly oiled paper towel. Grill the breads in batches pinched side down, covered, until they puff up and the undersides brown lightly in places, 2 to 3 minutes. Turn over and cook the other side, covered, until grill marks form and the breads are cooked through, 2 to 3 minutes. Just before taking them off the grill, turn the breads pinched side down and brush lightly with butter or olive oil. Serve warm.
These are best, right off the grill but leftovers can be refrigerated and saved for another time. Just place them in a toaster or warm oven before serving.
---
---
Keywords: baked naan, naan recipe, best naan recipe, stuffed naan, stuffed naan bread, naan recipes, garlic scape recipes, chutney recipes