Do you want to know the secret to cooking the most delicious food? It starts with using produce that is in season, picked at its peak of flavor, with the shortest amount of travel time between the farm and you. You personally! Let's celebrate summer with these 35 Must-try Farmers Market Recipes!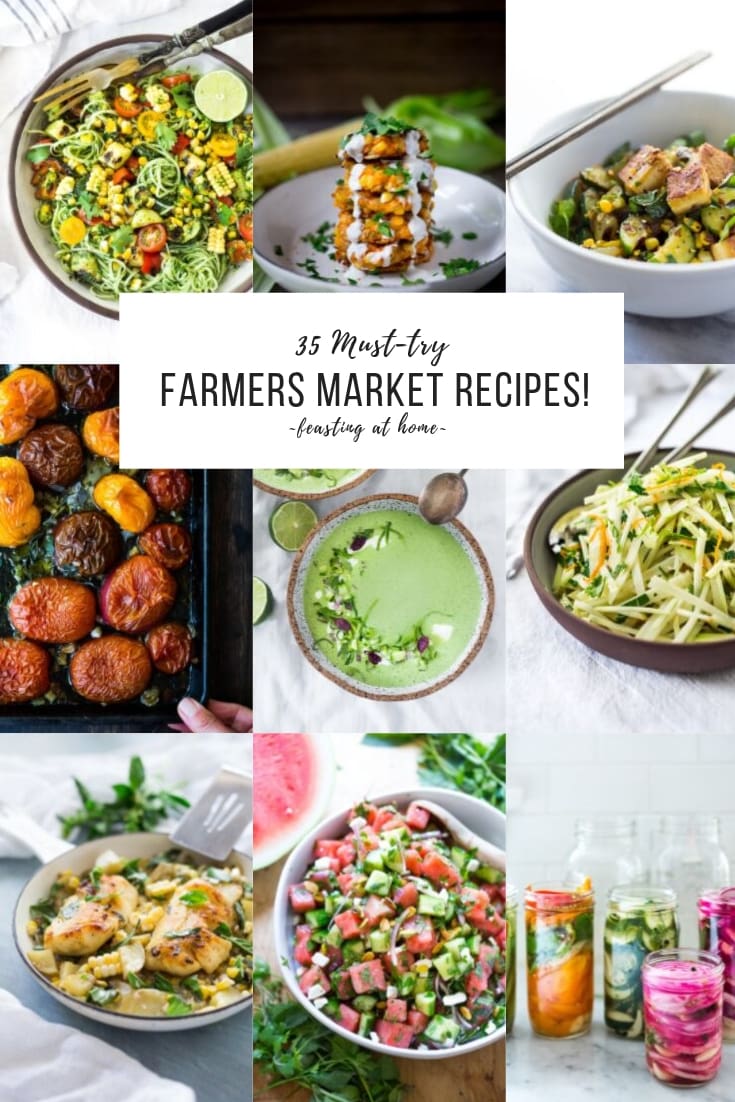 This time of year, our local farmers markets are brimming with beautiful produce. What they have will vary from region to region, but wherever you are, your local farmers have grown these beauties just for you! Let's honor all their hard work, by making a point of showing up for them!
I can't think of a better way to celebrate summer. And in the process, our taste buds and bodies will thank us. It is a beautiful, seasonal ritual that builds community… which in turn nurtures the soul! A gift for all.
Here are my favorite Farmers Market Recipes (or CSA recipes) to try out this growing season! Many are vegan and gluten-free. Click on each photo for the recipe. Happy Weekend!
---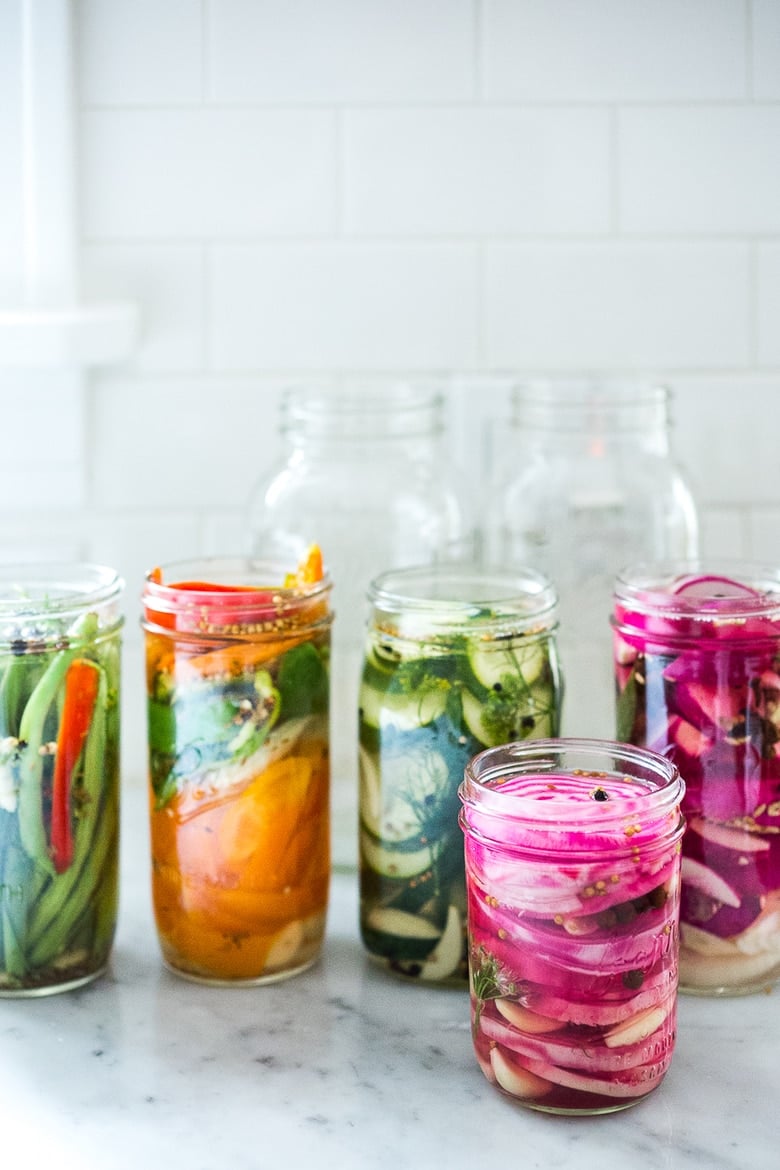 1.) Extend the life of summer produce with this easy recipe for Quick Pickled Veggies! A simple step-by-step guide to creating the most flavorful refrigerator pickles!  I used this recipe a lot when we were getting our weekly CSA box and couldn't keep up with all the produce!
Watch the Video!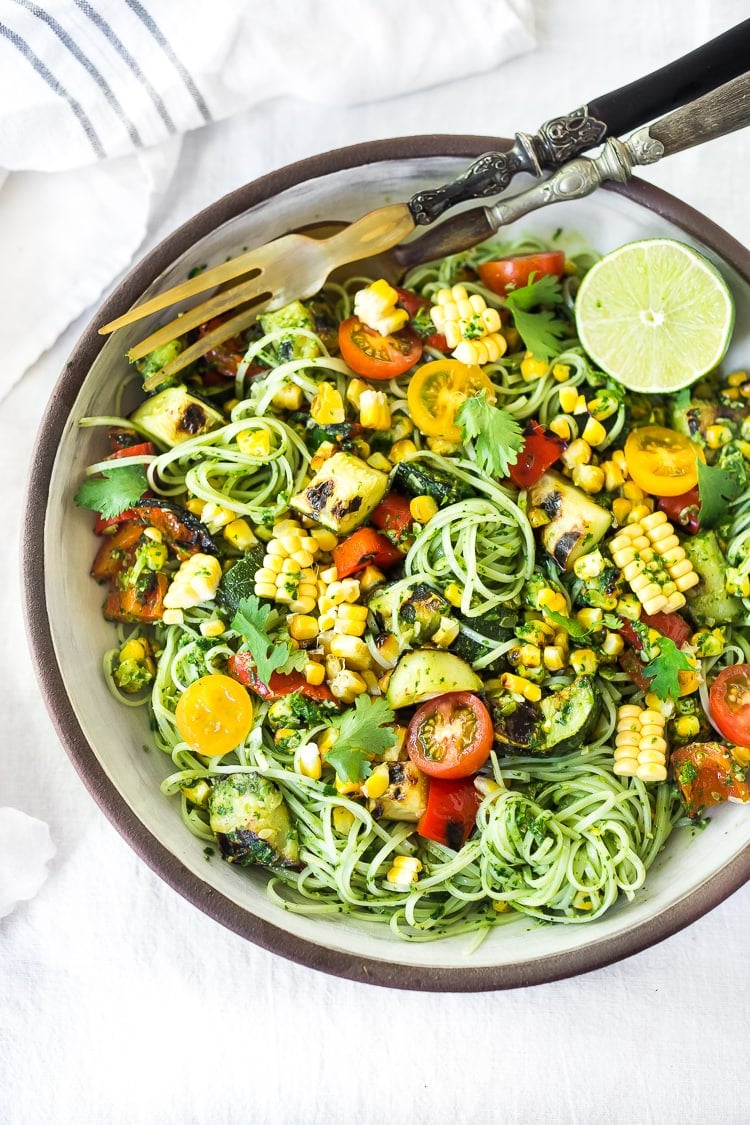 2.) Summer Pasta Salad w/ Grilled Zucchini, Corn and Cilantro Pesto is made with gluten-free rice noodles and loaded up with healthy farmers market veggies, then tossed in the most flavorful Cilantro Pesto…. deliciously addicting! Vegan and Gluten-free! One of my favorite Farmers Market Recipes!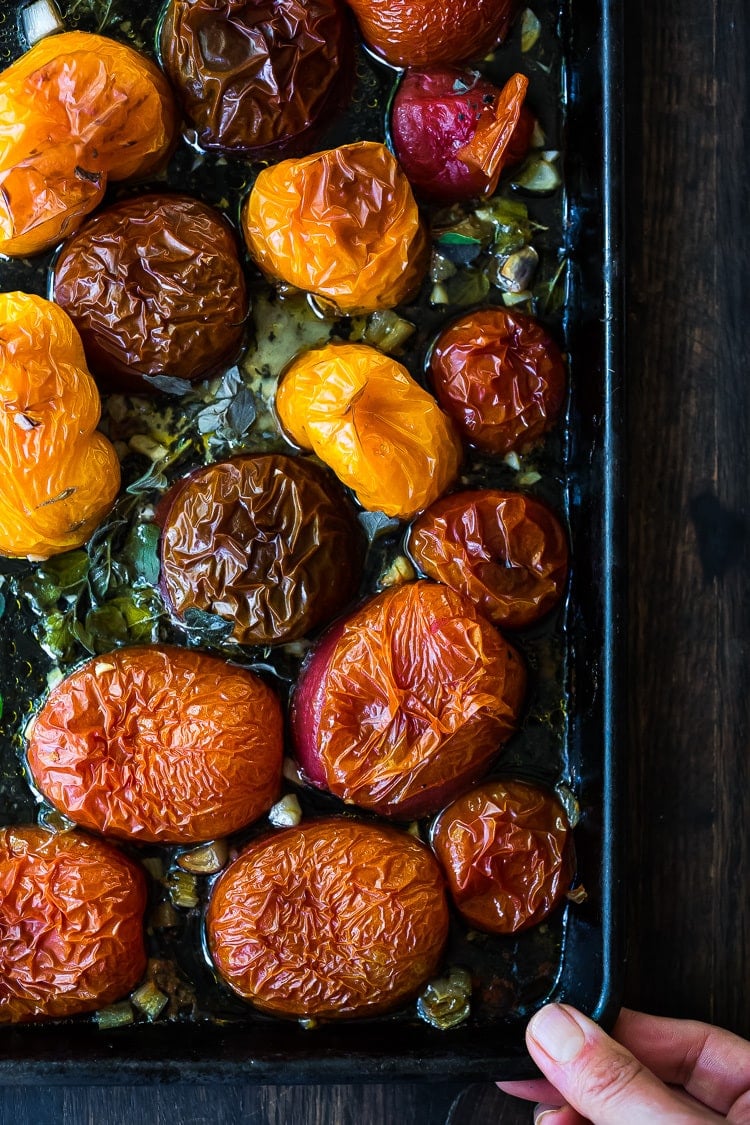 3.) Wait until tomatoes are at their peak of flavor to make this Simple Oven Roasted Tomato Sauce highlighting juicy ripe summer tomatoes. Use this with your favorite pasta, pizza or over grilled fish! A fun, simple way to extend summer's harvest!  May be frozen or canned. One of my favorite Farmers Market Recipes!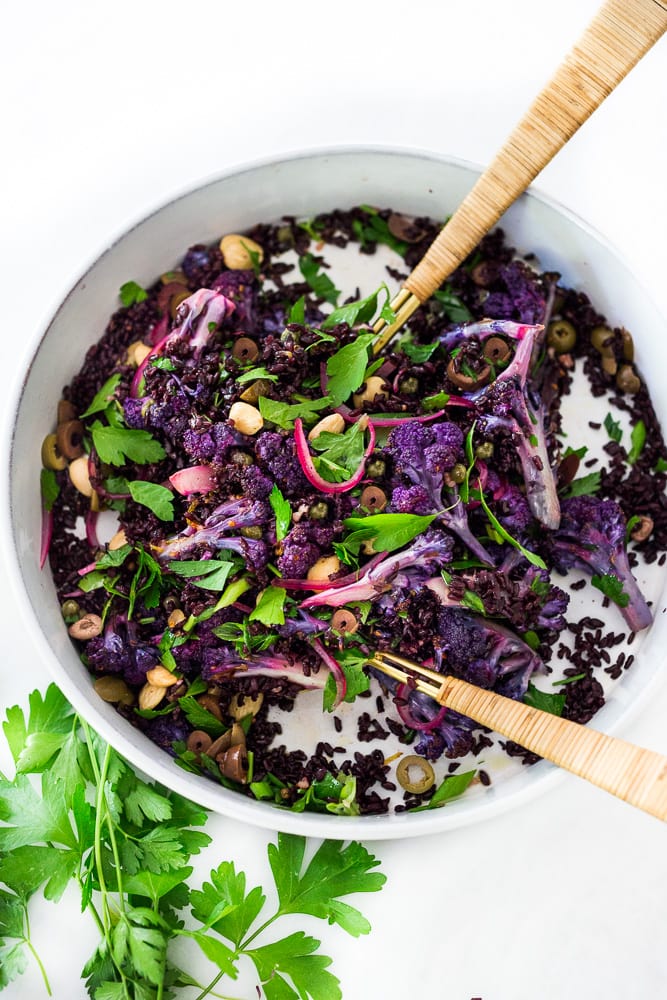 4.) Purple Cauliflower Salad (Sicilian Style!) with olives, black rice, capers, parsley, scallions and pickled red onions. This vegan healthy salad is easy to make and keeps for several days, perfect for meal prep!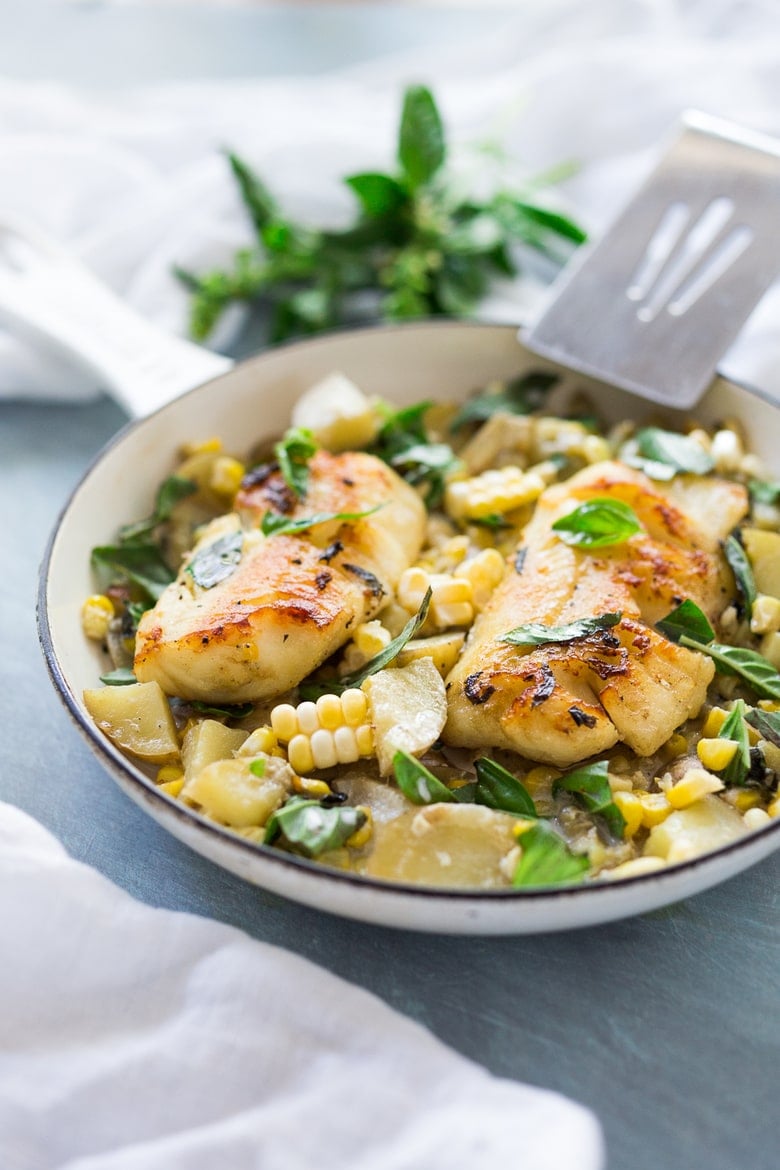 5.) There is nothing like sweet summer corn, and paired with basil, it is a match made in heaven! This light and healthy Summer Corn Chowder topped with pan-seared fish is so dreamy! A simple easy dinner that can be made in under 30 minutes. Use salmon, halibut, cod, or sea bass!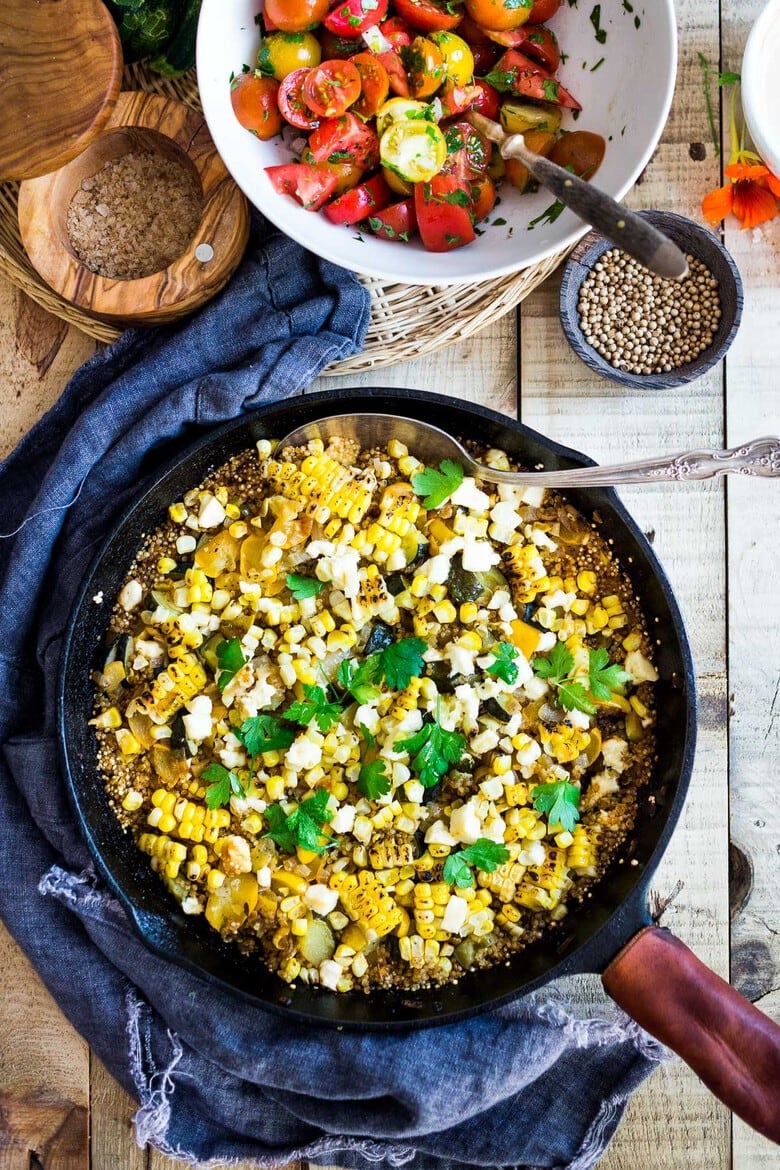 6.) Baked Quinoa with Zucchini, Corn and Feta, topped with a fresh Tomato Relish. A healthy, easy vegetarian dinner recipe, perfect for using up all your farmers market veggies!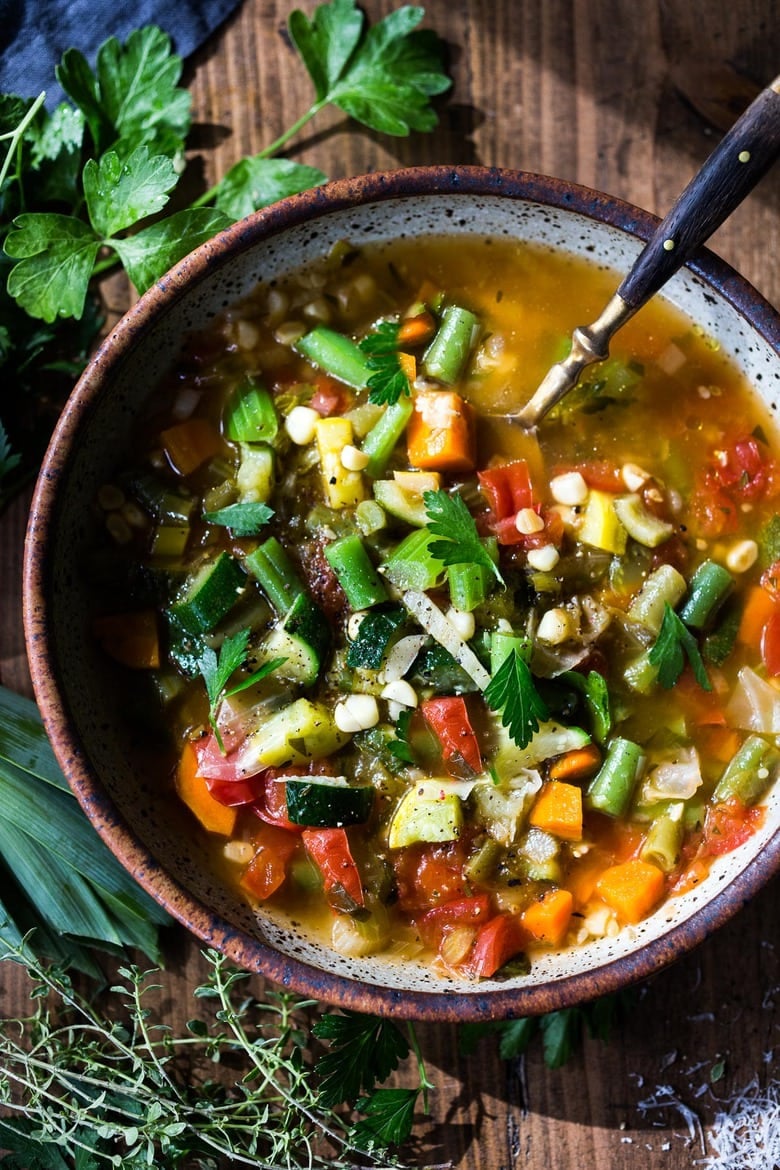 7.) Farmers Market Vegetable Soup– a simple healthy vegan soup that is easy to make and loaded with healthy nutrients- a great way to use up all those farmers market veggies! Great for Sunday meal prep!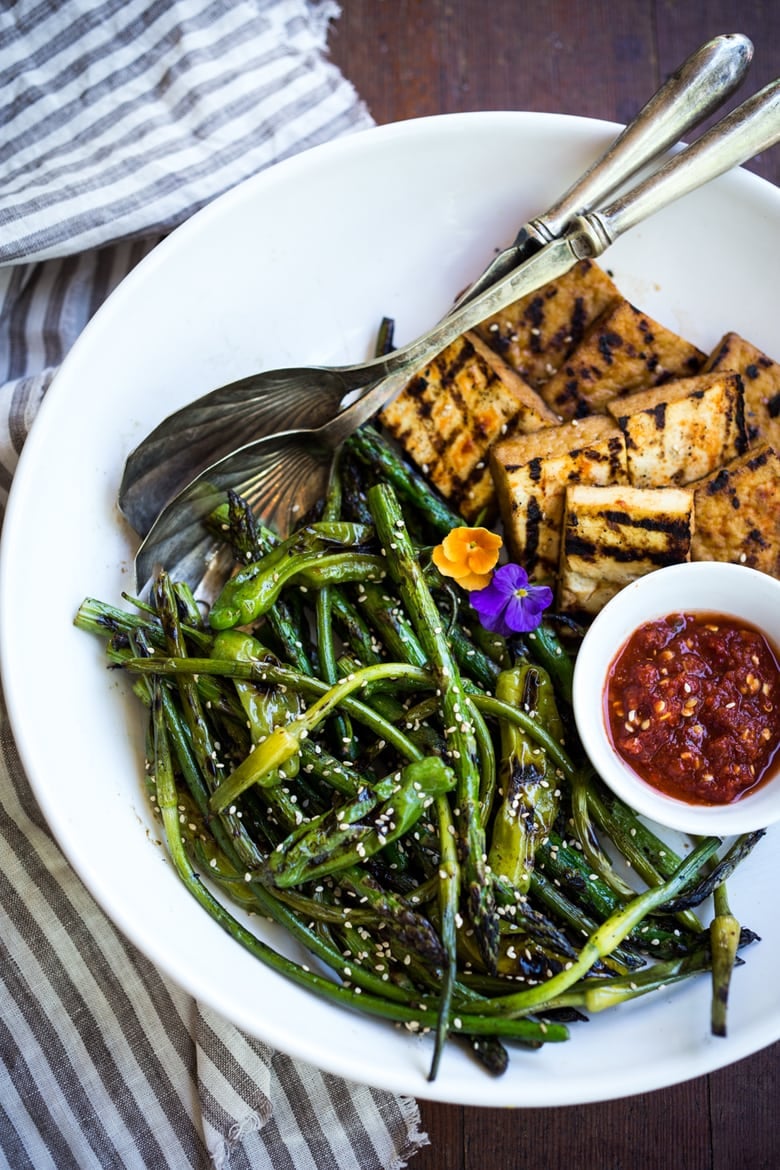 7.) Not sure what to do with garlic scapes or Shishito Peppers? Grill them! Grilled Garlic Scapes, Asparagus and Shishito Peppers with Sesame Dressing – such a delicious combo of flavors that lends itself to Asian style mains. Slightly spicy, this farmers market side dish is perfect alongside grilled meat or tofu.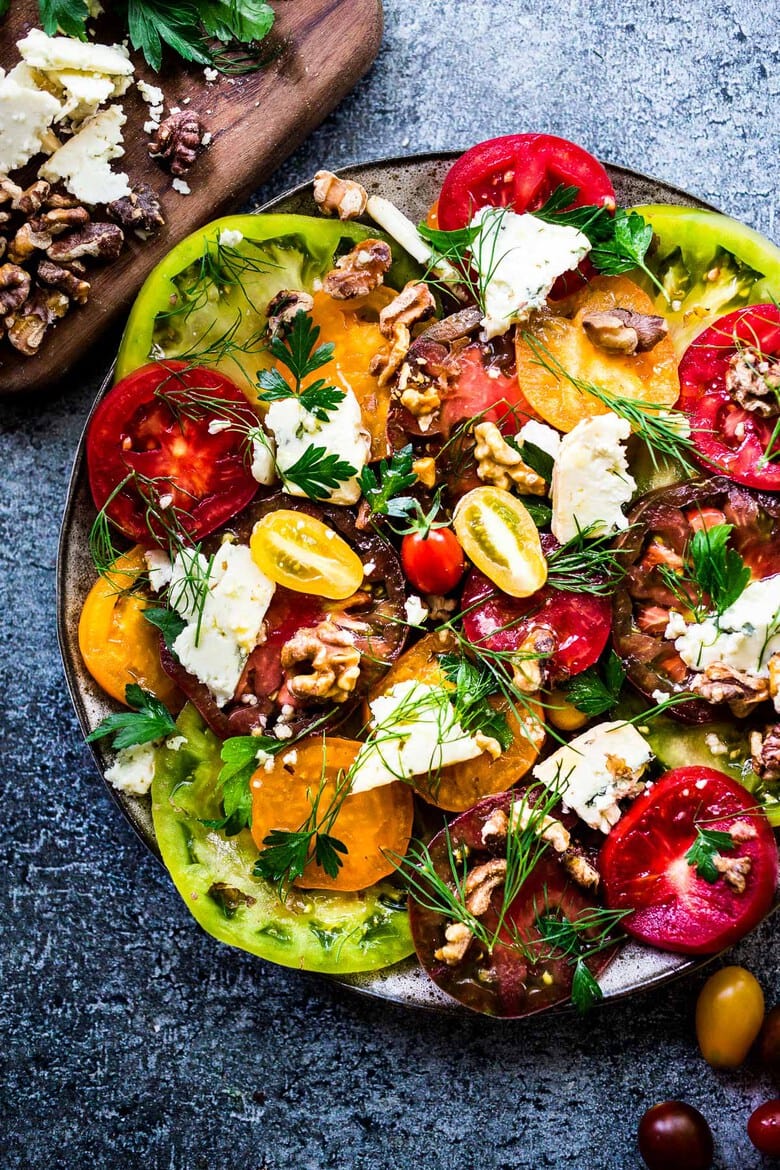 8.) Heirloom Tomato Salad with Toasted Walnuts and Smoked Blue Cheese – a simple farmers market salad highlighting sweet and juicy heirloom tomatoes. Can be made in 15 minutes!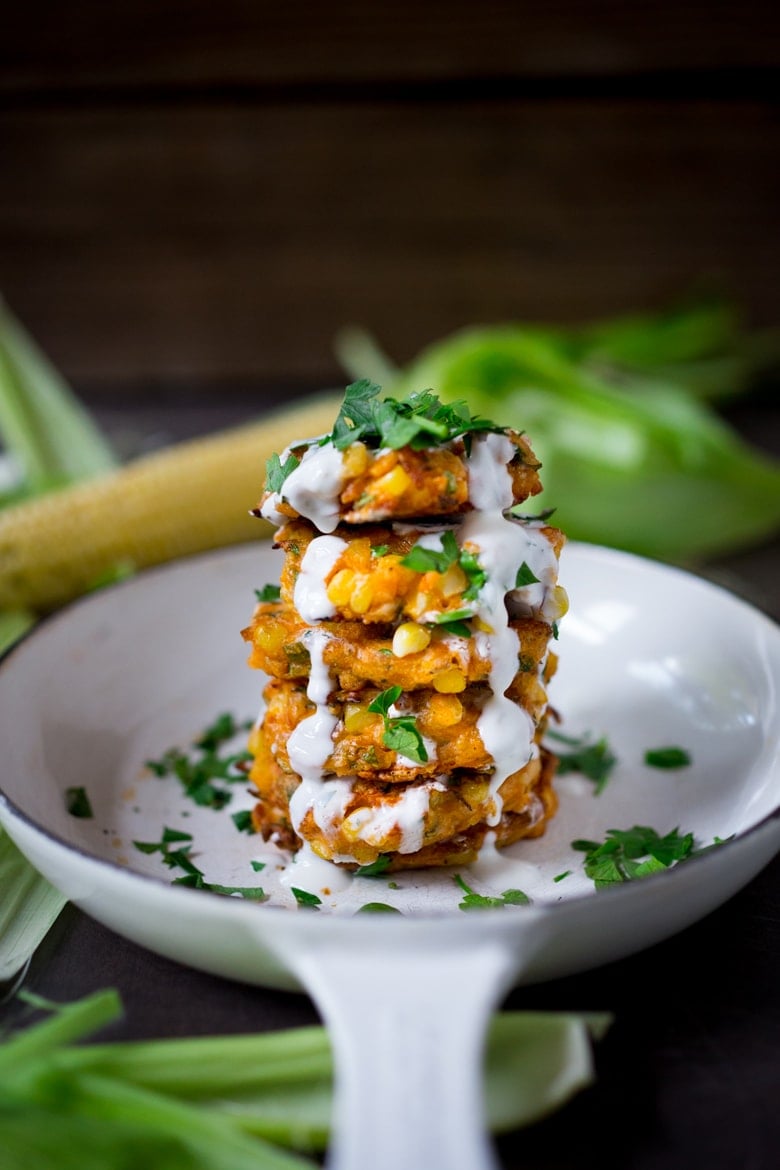 9.) Spicy Corn Fritters with Cilantro Cream – are made with fresh sweet corn, right off the cob. An easy delicious Farmers Market Recipe that works as an appetizer or vegetarian main! So yummy!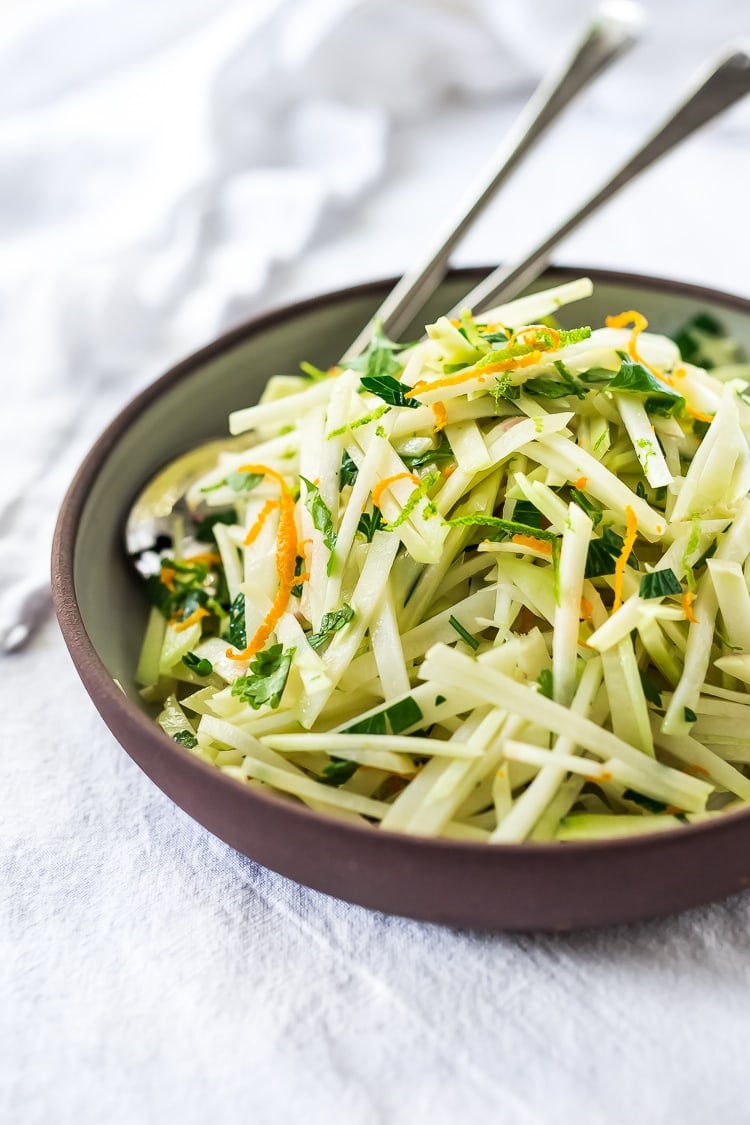 10.) Have you stumbled upon Kohlrabi but not sure what to do with it? This Kohlrabi Slaw with cilantro, jalapeño and lime is delicious, refreshing and super nutritious! A refreshing summer side to your grilled mains. A healthy vegan Farmers Market Recipe!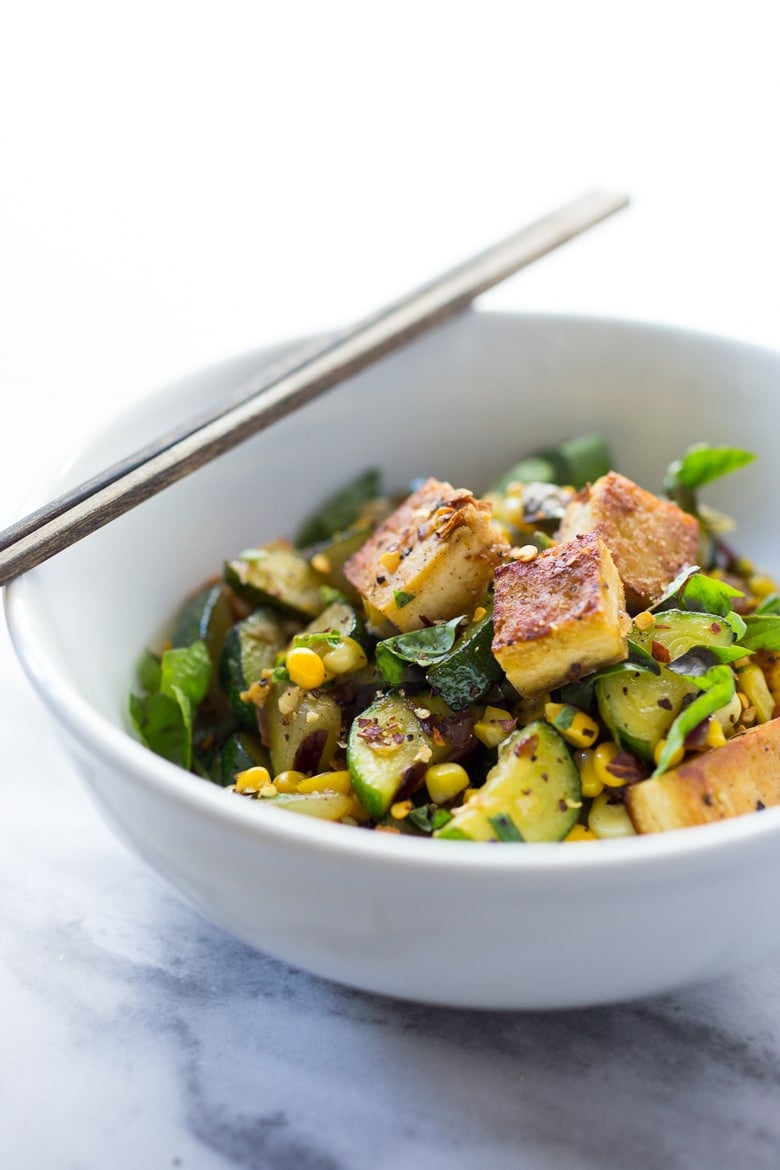 11.) A fast and healthy Farmers Market Recipe – Corn, Zucchini and Basil Stir fry, topped with your choice of tofu or shrimp. Simple and adaptable. Vegan, Gluten-free!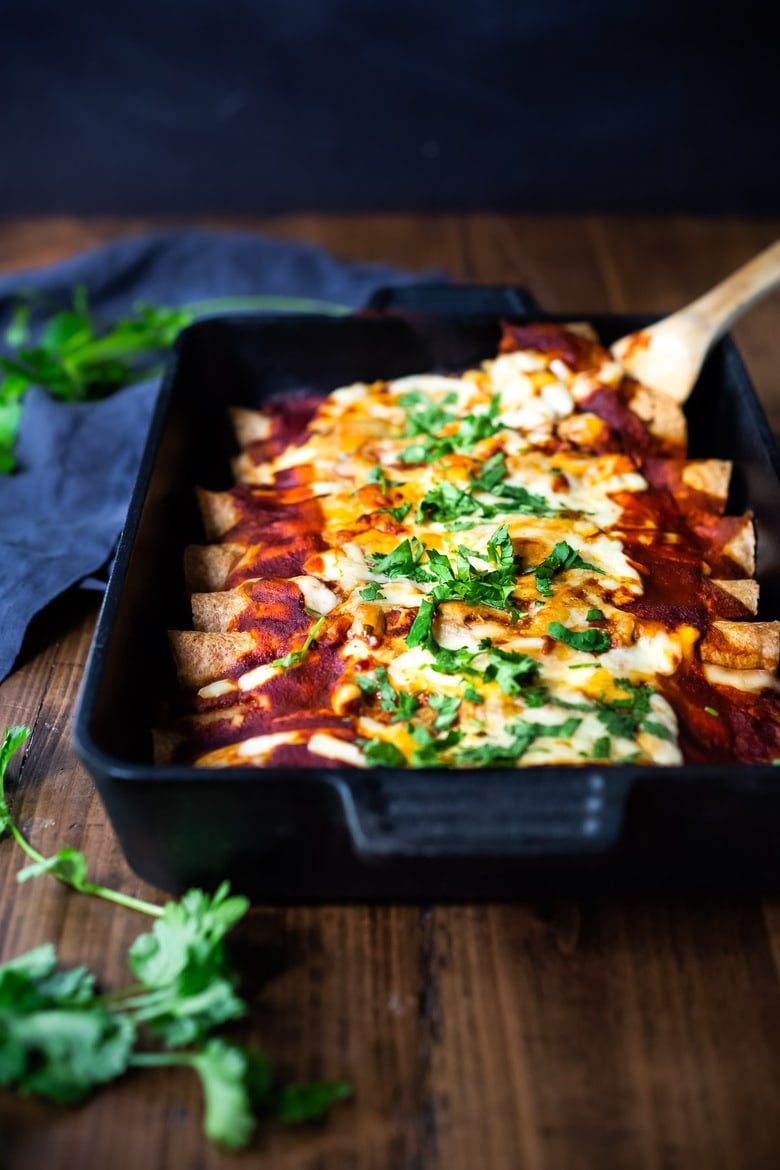 12.) Farmers Market Vegetarian Enchiladas– with black beans and your choice of veggies (like red bell pepper, sweet potato, zucchini or corn)and Homemade 5 Minute Enchilada Sauce! Easy, Healthy and full of delicious Mexican Flavor!Vegan and Gluten-free adaptable!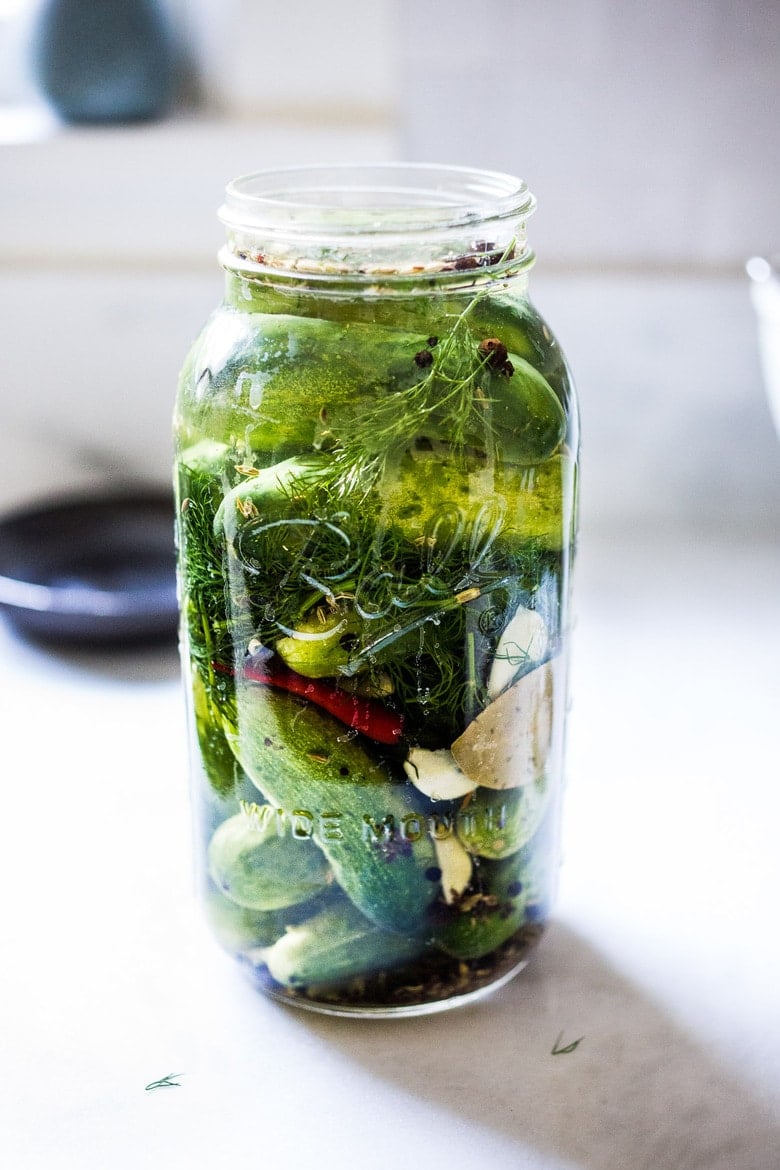 13.) How to make Fermented "Kosher" Dill Pickles! A simple recipe for making the most flavorful, crunchy, tangy, garlic dill pickles with only 15 minutes of hands-on time. Simple easy instructions!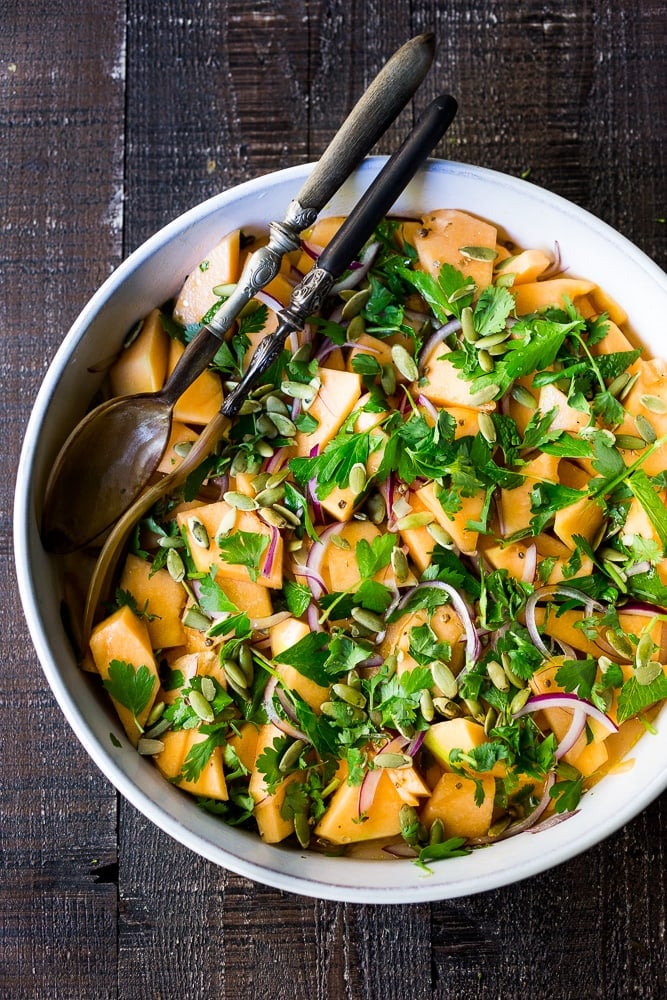 14.) A refreshing Cantaloupe Salad with red onion, lime, cilantro, mint, Aleppo chili flakes, pepitas and optional crumbled feta (optional) – an easy healthy summer salad, perfect for potlucks and gatherings. Vegan adaptable!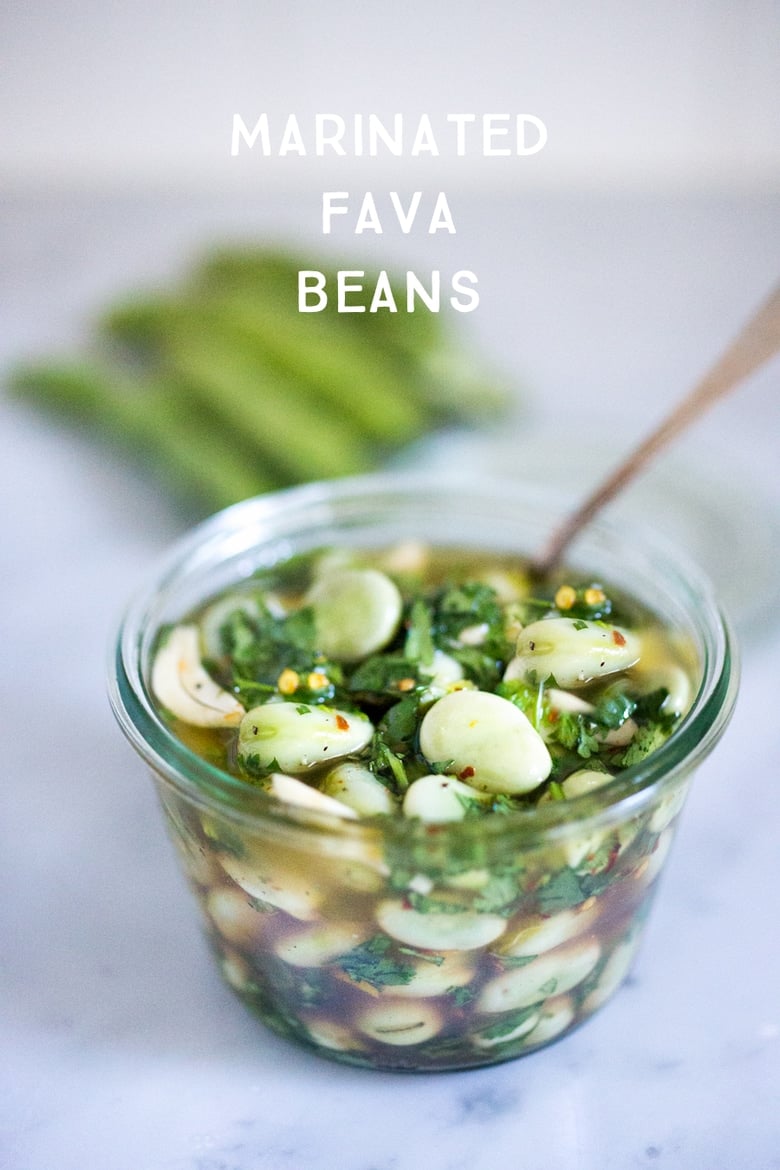 15.) Marinated Fava beans– with olive oil, vinegar, garlic, lemon zest and fresh herbs- a great way to persevere summer shelling beans. Serve on your next mezze platter. Simple and delicious!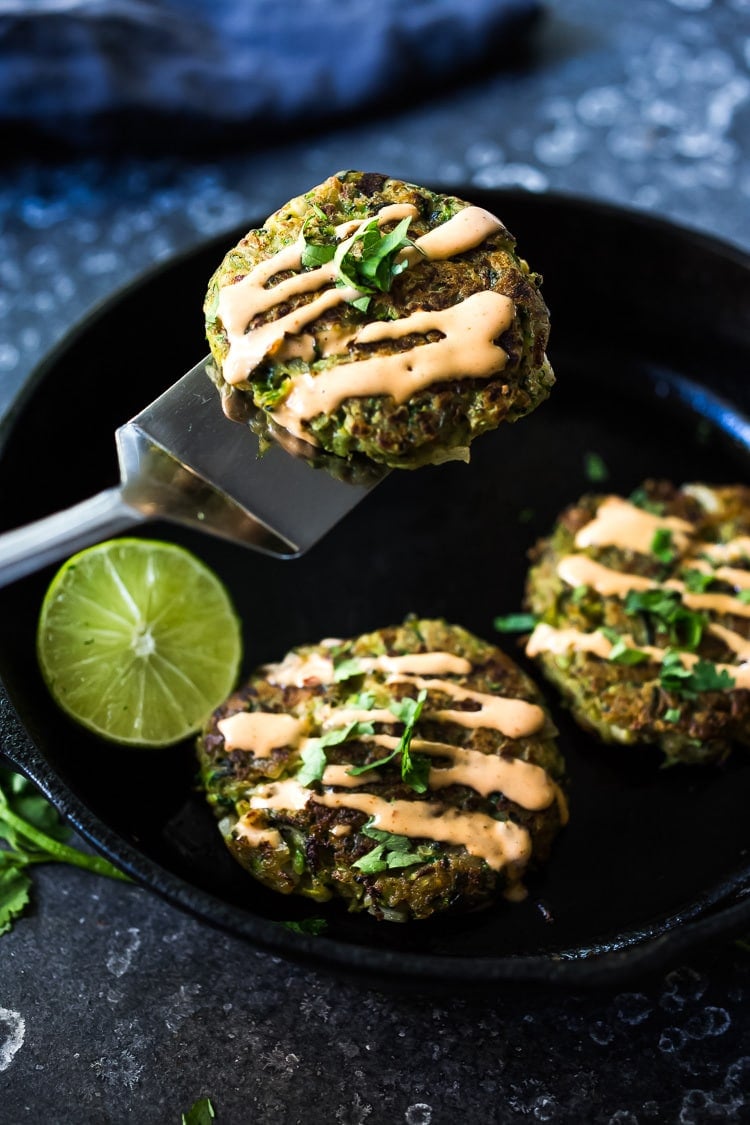 16.) A flavorful zippy recipe for Zucchini Cakes with Jalapeño and Lime. Serve these guys up with Chipotle Aioli and a hearty green salad for a tasty, low-calorie, vegetarian meal.
16. ) Meet my new favorite farmers market salad –Nectarine Salad with cucumber, Basil & Goat Cheese, with red onion and optional Urfa Biber ( Turkish Chili Pepper). A simple delicious Farmers Market Salad you can put together in minutes!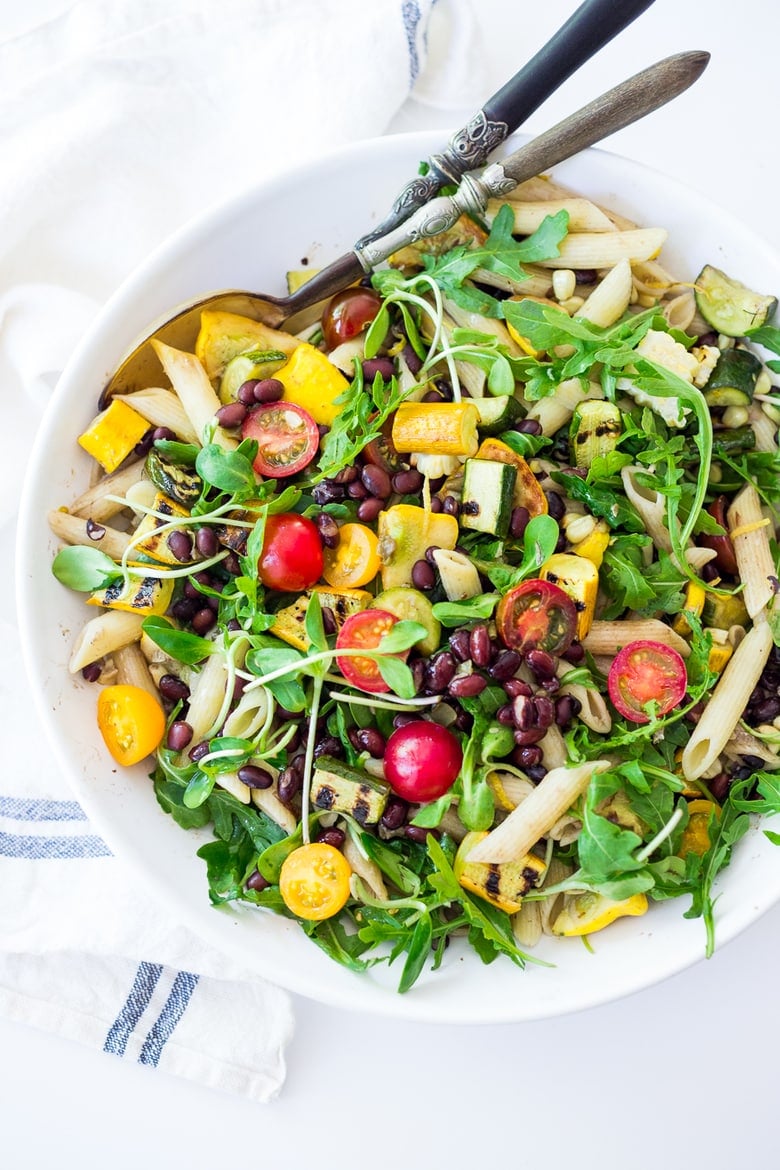 17.) Farmers Market Pasta Salad with grilled zucchini and summer squash, fresh corn, black beans and cherry tomatoes! Serve this warm for dinner and chill the rest for weekday lunches!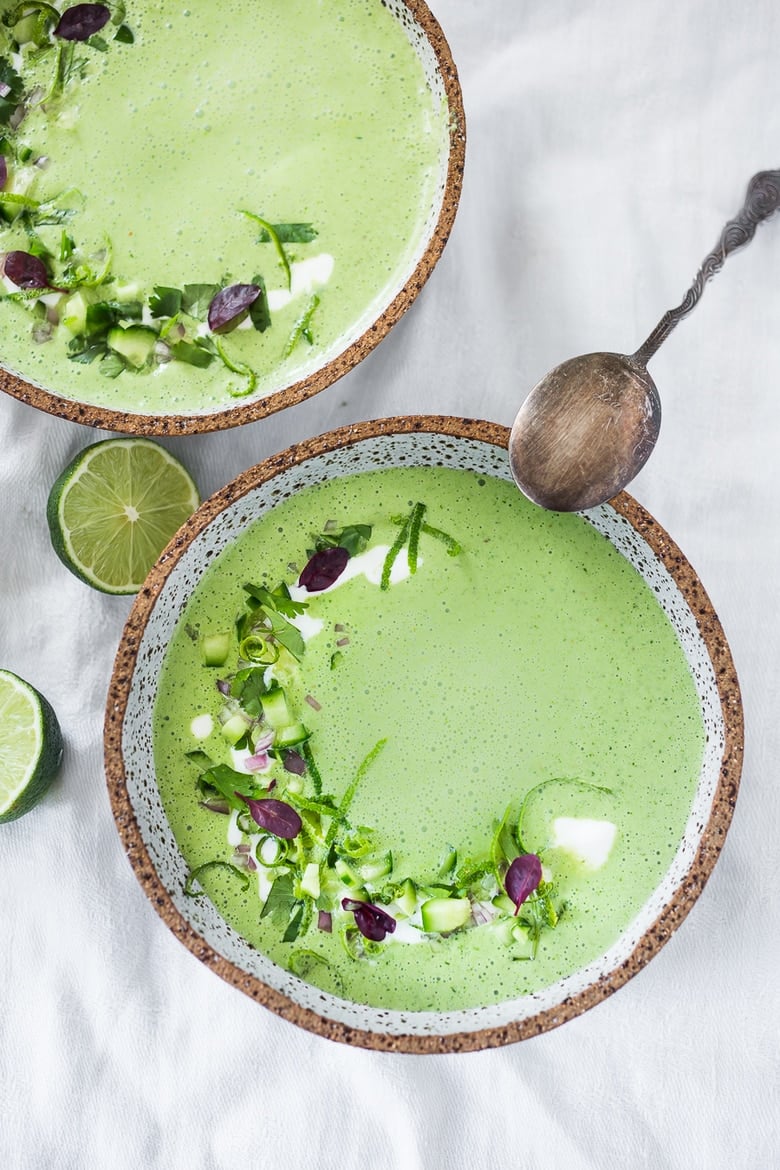 18.) Cool down with this refreshing  Chilled Cucumber Soup (aka green gazpacho) with yogurt, cilantro, coriander and lime. A delicious beginning on hot summer nights!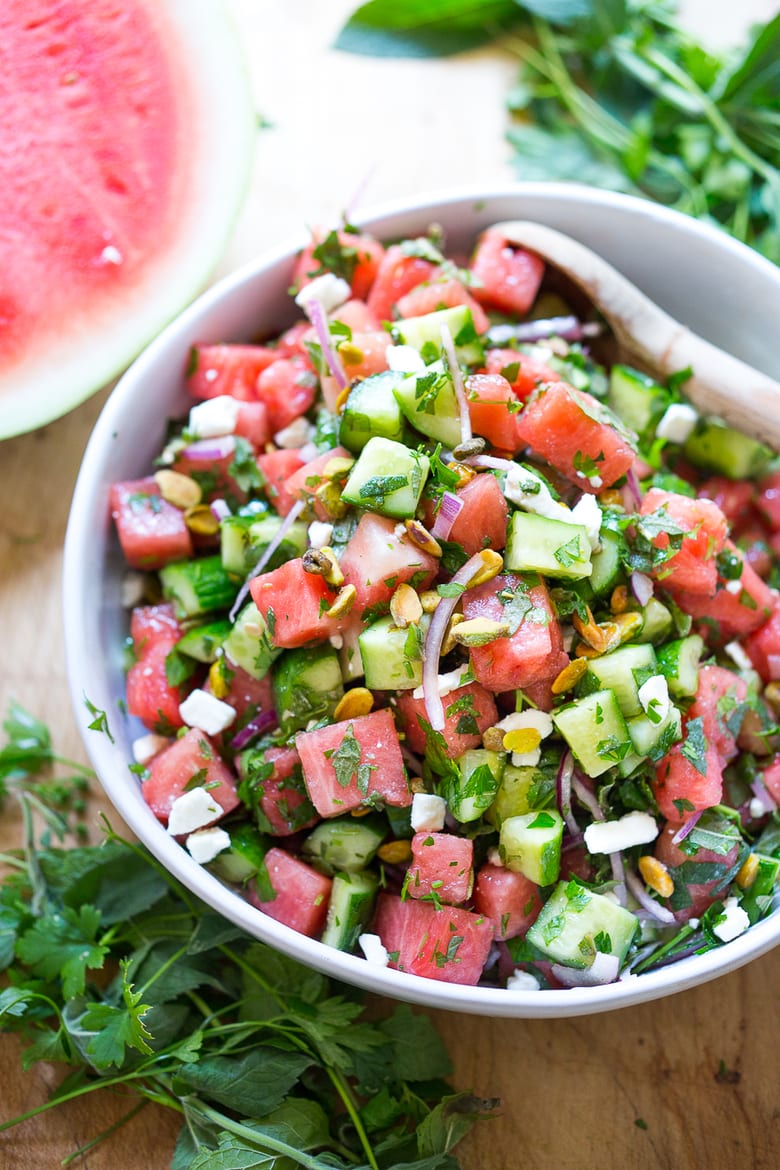 17.) Even my non-watermelon eating husband likes this Moroccan Watermelon Salad with cucumber, mint, pistachios, and optional feta. The hint of clove brings it up a notch. So beautiful, flavorful and refreshing and especially tasty when watermelons are in season! Pick out a firm melon for this one! Keep it vegan or add feta!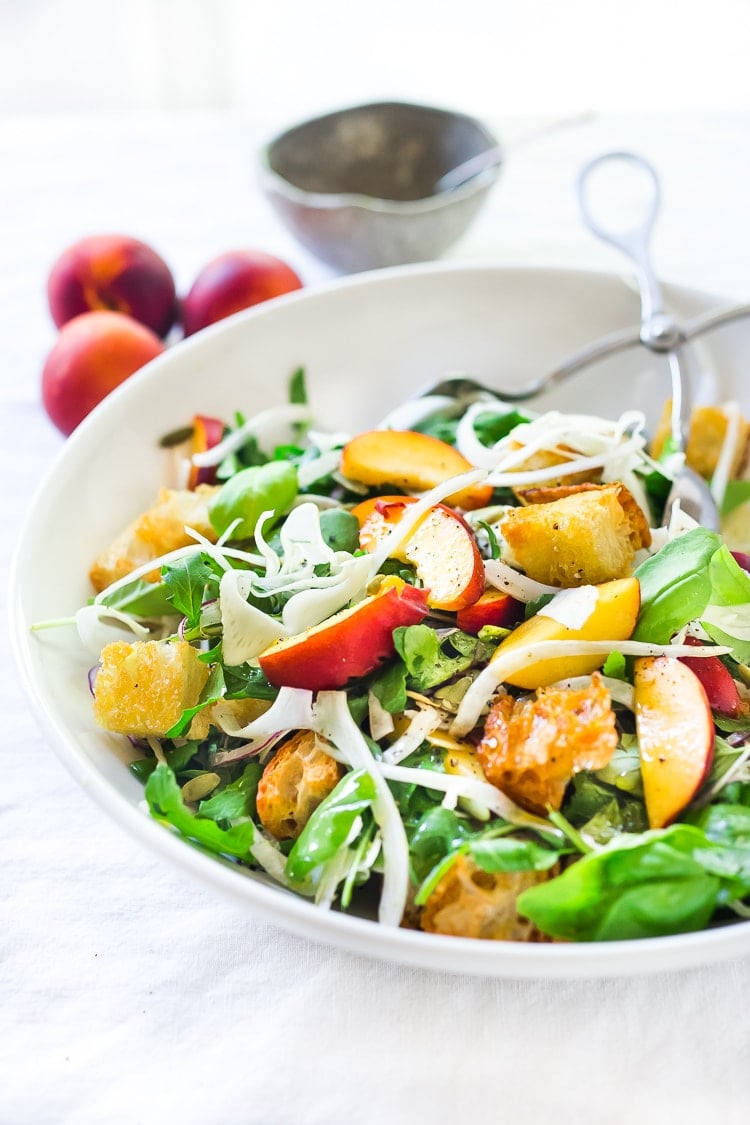 18.) Peach Panzanella Salad with Fennel, Arugula and Basil– a summery Farmers Market Recipe with a delicious combination of flavors. The crunchy homemade croutons add amazing texture.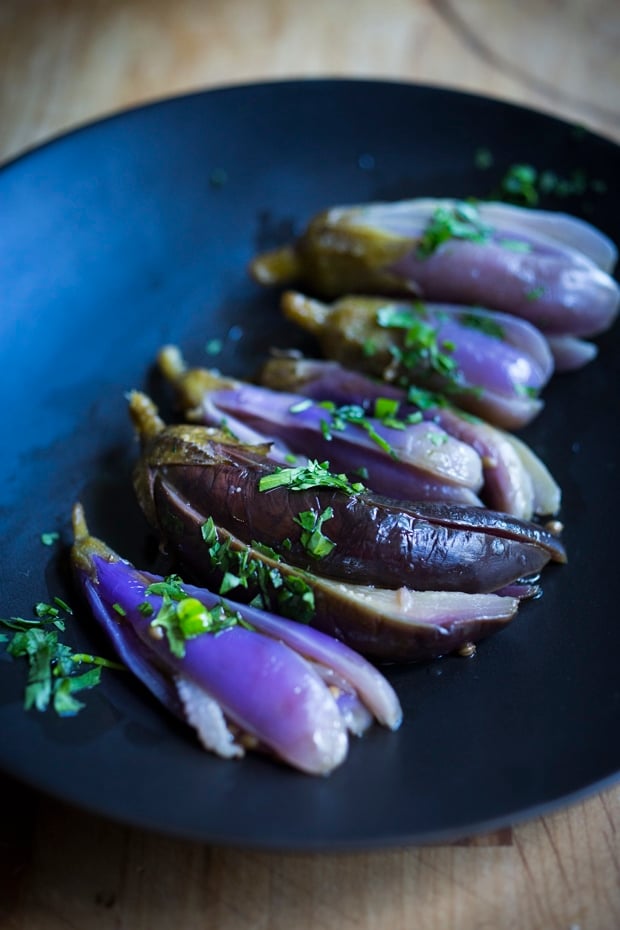 19.) Moroccan Eggplant Pickles with garlic, coriander seeds and cilantro. A delicious way to preserve your garden eggplant just a little bit longer! Drizzle with olive oil and sprinkle with fresh herbs, they make the perfect side to any Mediterranean-style meal.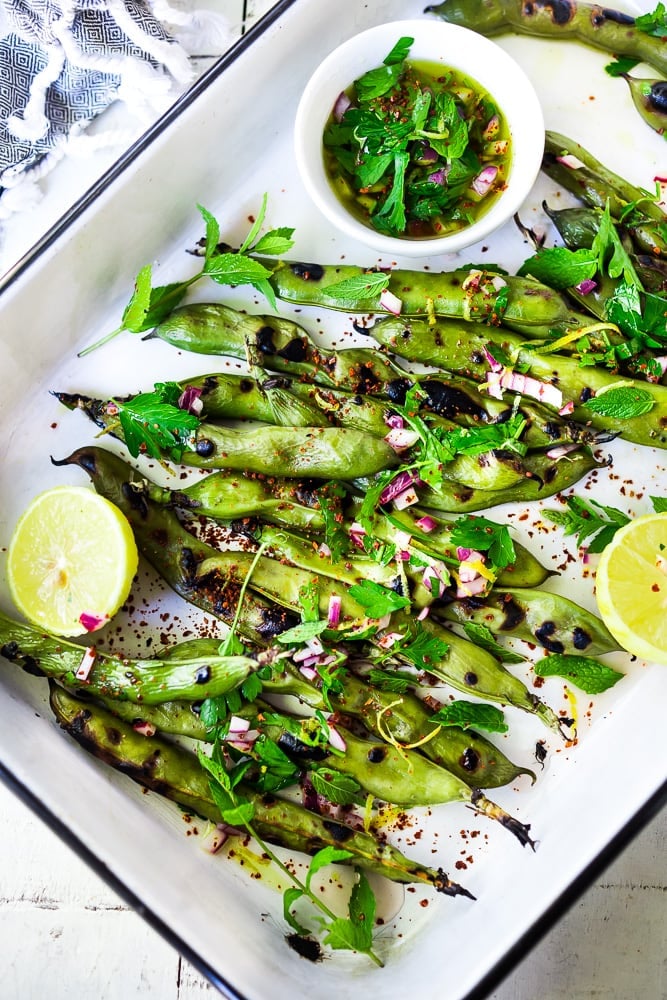 20.) Grilled Fava Beans– with Mint, Lemon & Sumac, a simple, easy way to prepare fresh fava beans on the grill with Middle Eastern flavors.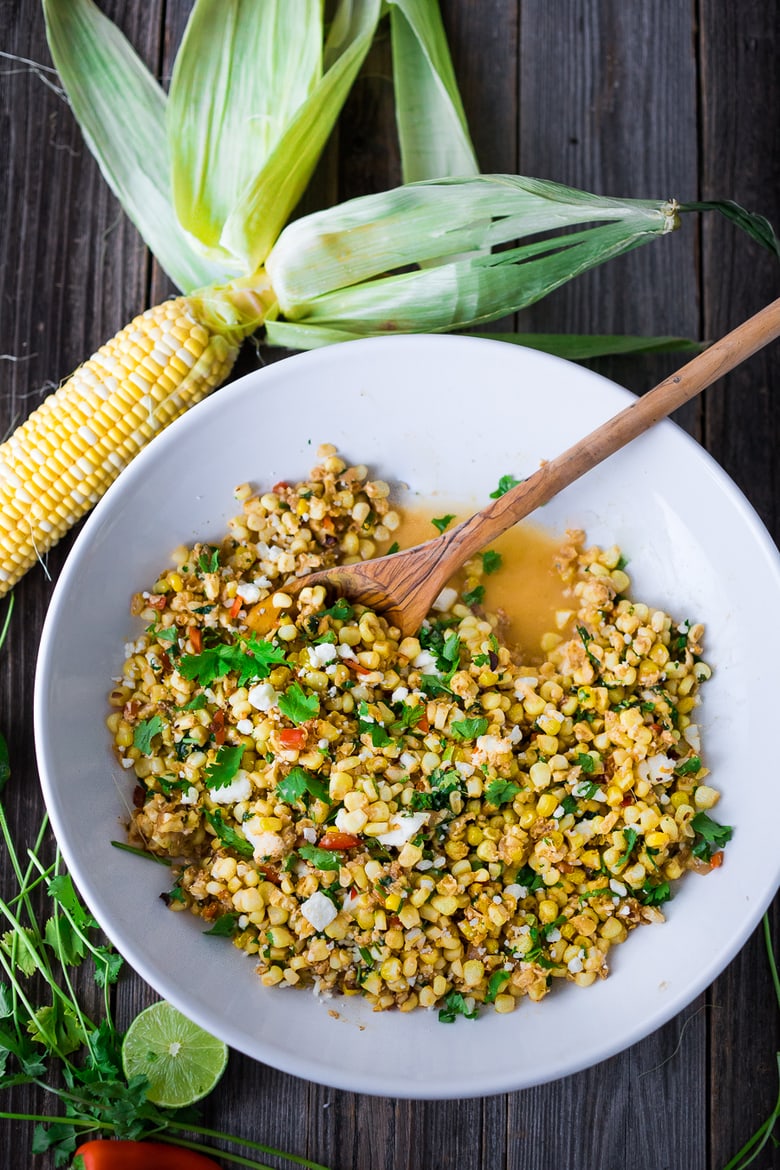 20.) Elevate sweet summer corn with this Elote Recipe – also known as Mexican Street Corn! It is made with chilies, cilantro and lime, and this lighter, healthier version can be grilled or sautéed and can easily be made vegan! Serve as a side, a salad or even a starter with corn chips!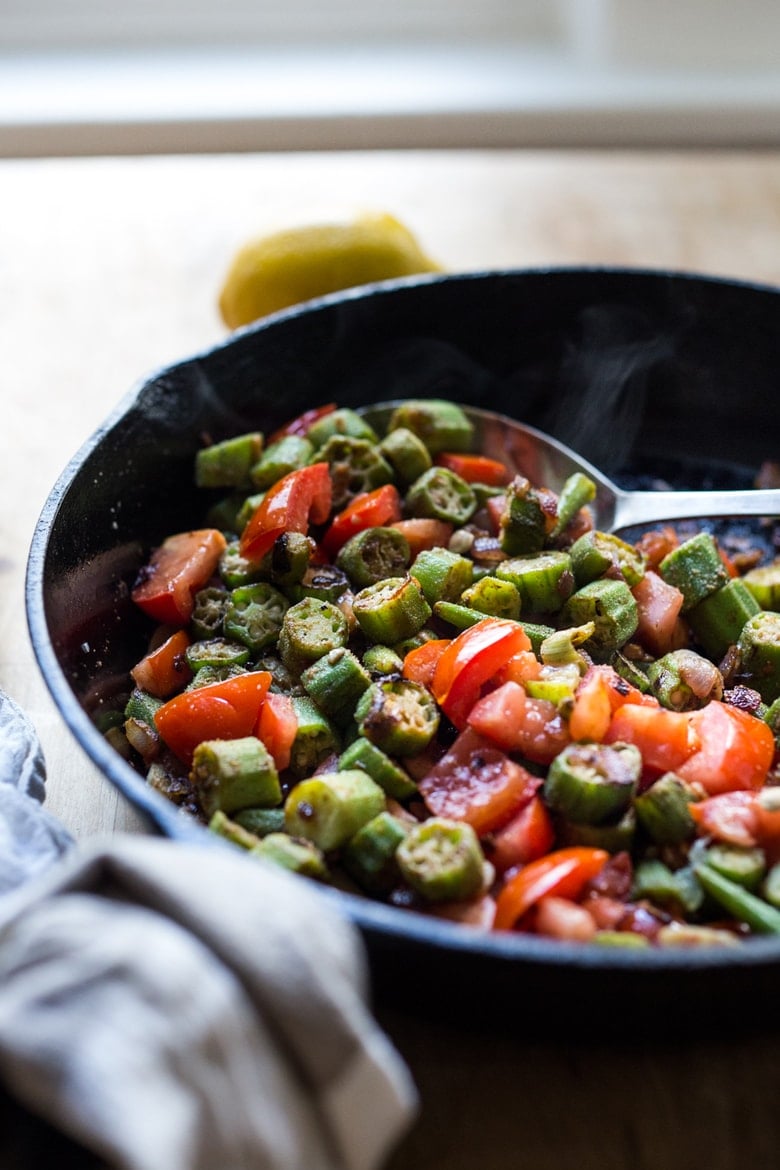 20.) Keep an eye out for fresh okra at your farmer's market! Simply the BEST. Here is my dad's easy tasty recipe for Egyptian Okra with tomatoes, garlic and onion. A delicious vegan side dish or serve it as a main over fluffy basmati rice, for a light vegan meal!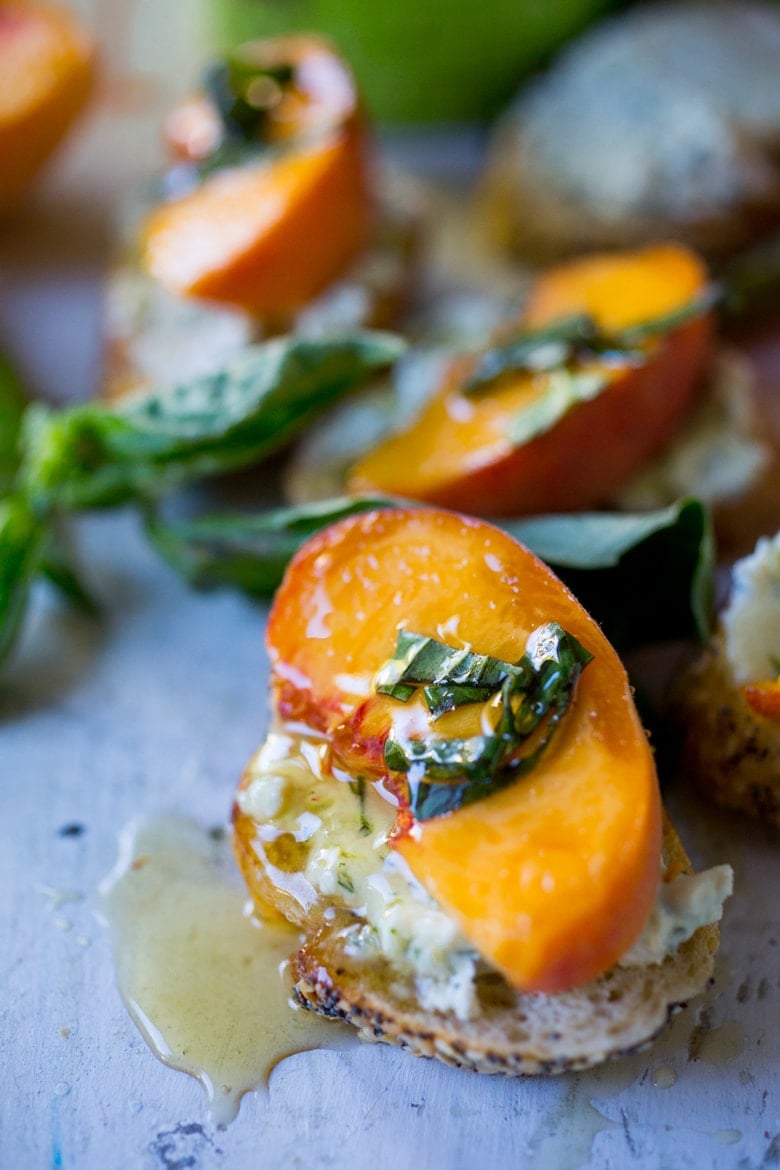 21.) Peach Bruschetta with goat cheese, fresh basil, and infused honey! A simple way to use fresh juicy summer peaches in a savory way! An easy appetizer, perfect for summer gathering or potlucks!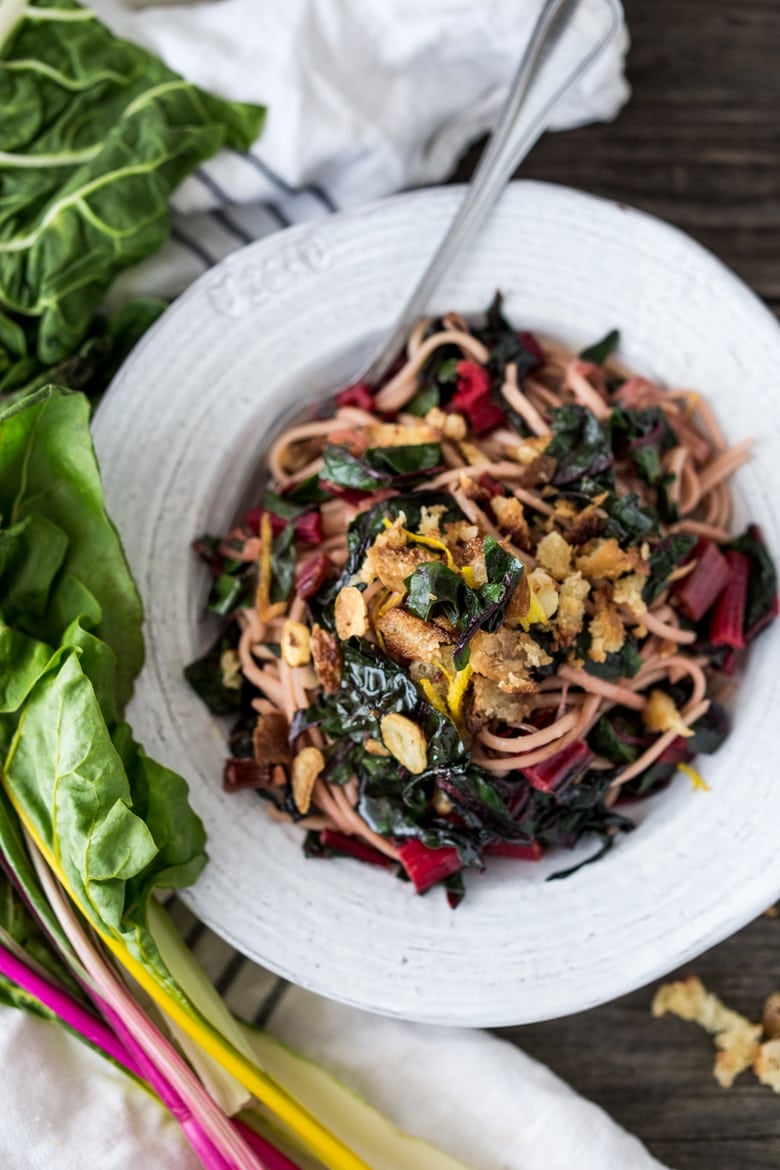 22.) Rainbow Chard Pasta with Lemon, Garlic and Toasted Bread Crumbs- is such a delicious way to use up all that summer chard! A simple, delicious and healthy Farmers Market Recipes!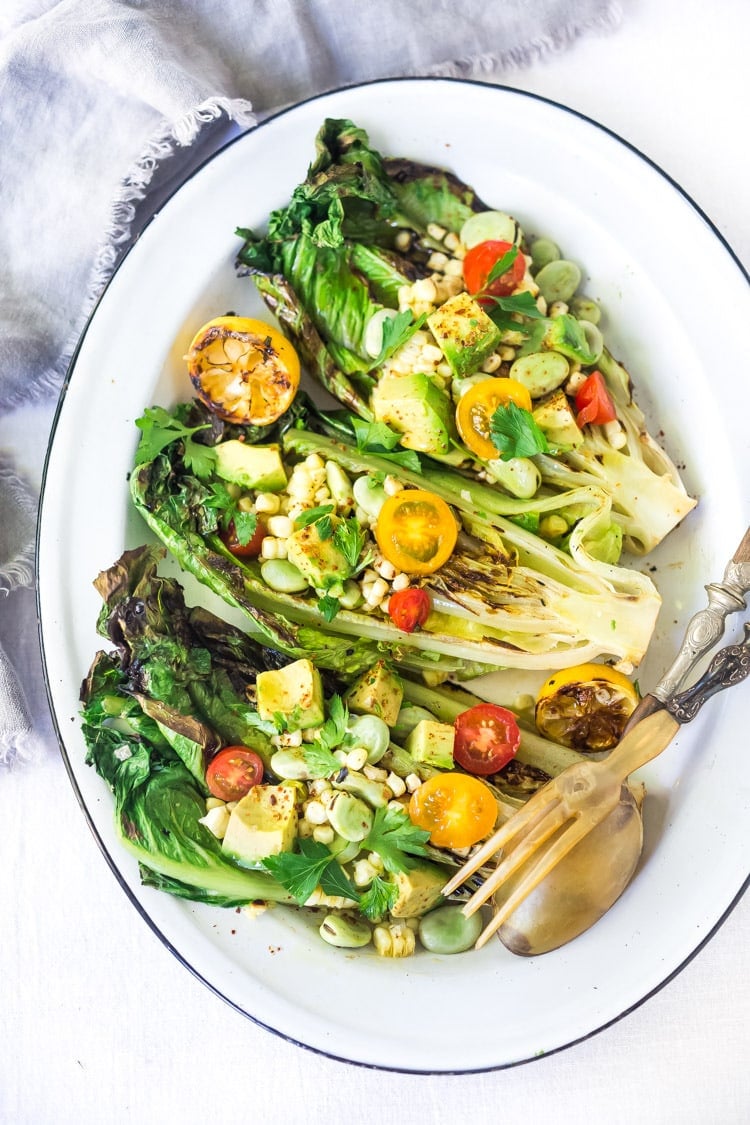 23.)  Grilled Romaine Salad with Corn, Fava Beans and Avocado – a light and refreshing summer meal. Keep it vegan or add grilled shrimp for added protein. Either way, it's sure to be your new favorite salad. Don't have access to fresh Fava beans? No worries, sub edamame!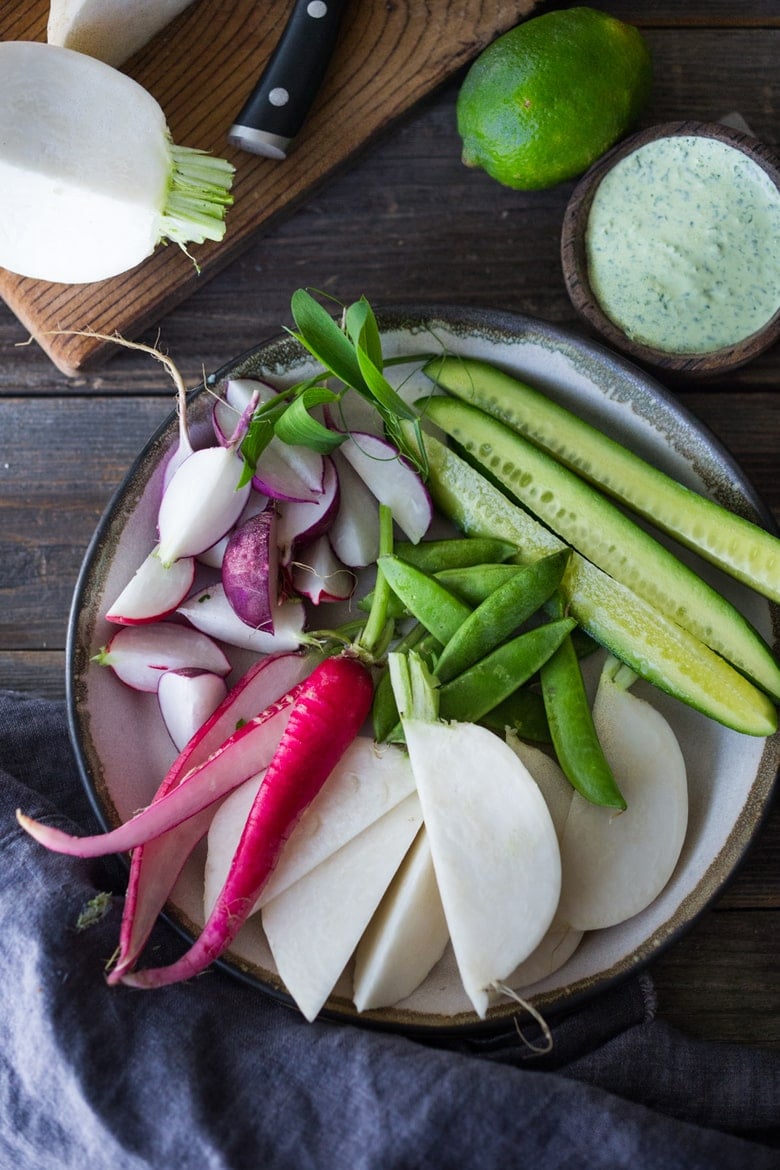 24.) Keep snacking light and healthy with crunchy farmers market veggies.  Such a good excuse to try salad turnips and different varieties of radishes. This Farmers Market Veggie Platter is sure to please!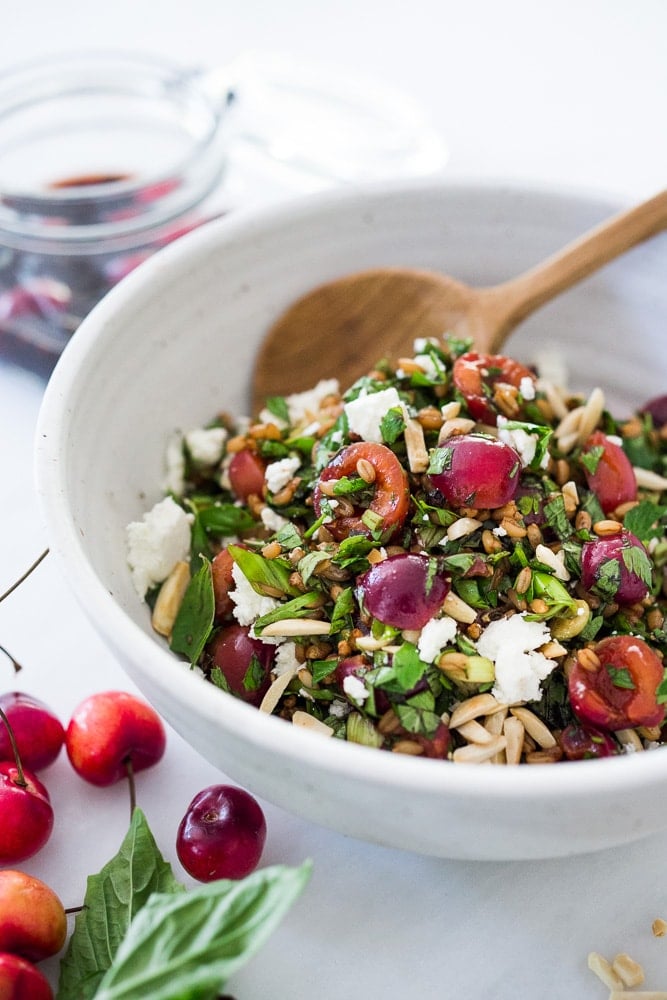 25.) Pickled Cherry and Farro Salad with almonds, fresh herbs and Vanilla- Balsamic Dressing. #farro #farrosalad #cherrysalad #cherryrecipes #pickledrecipes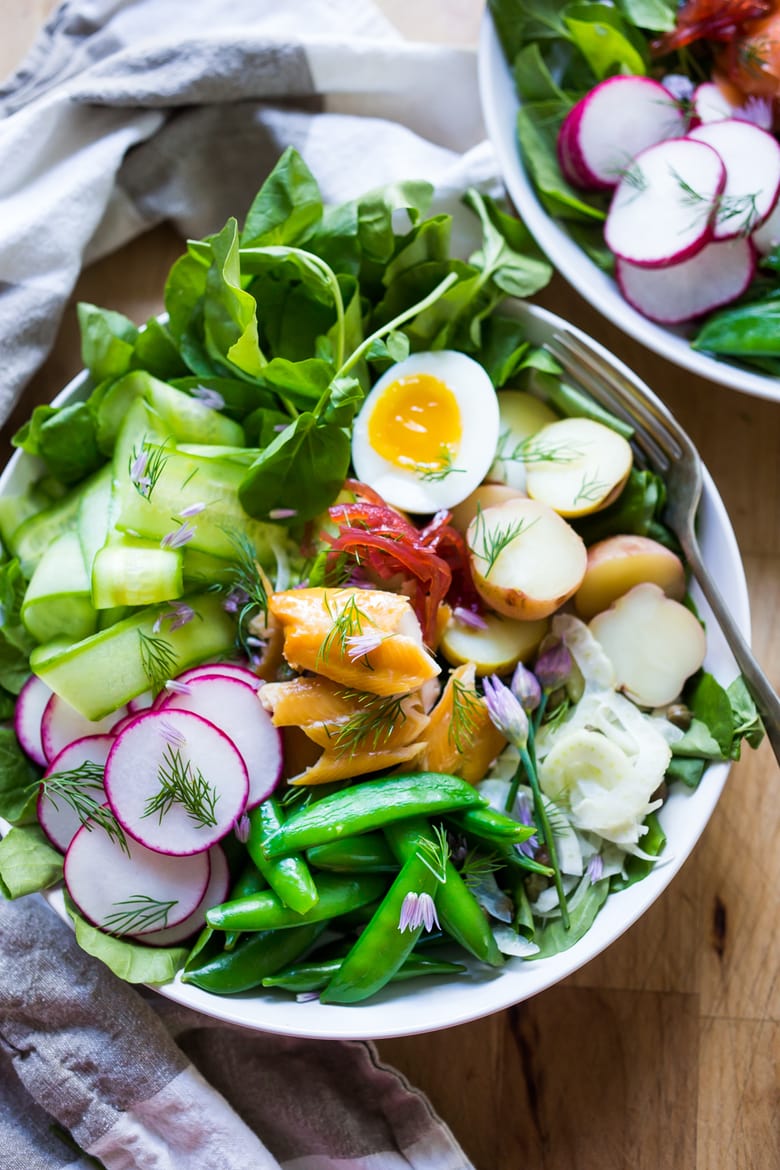 26.) Nordic Nicoise Salad-with snap peas, radishes, fennel, new potatoes, cucumbers, dill and pickled onions is filling enough to be the main course. Top it with smoked salmon or smoked trout!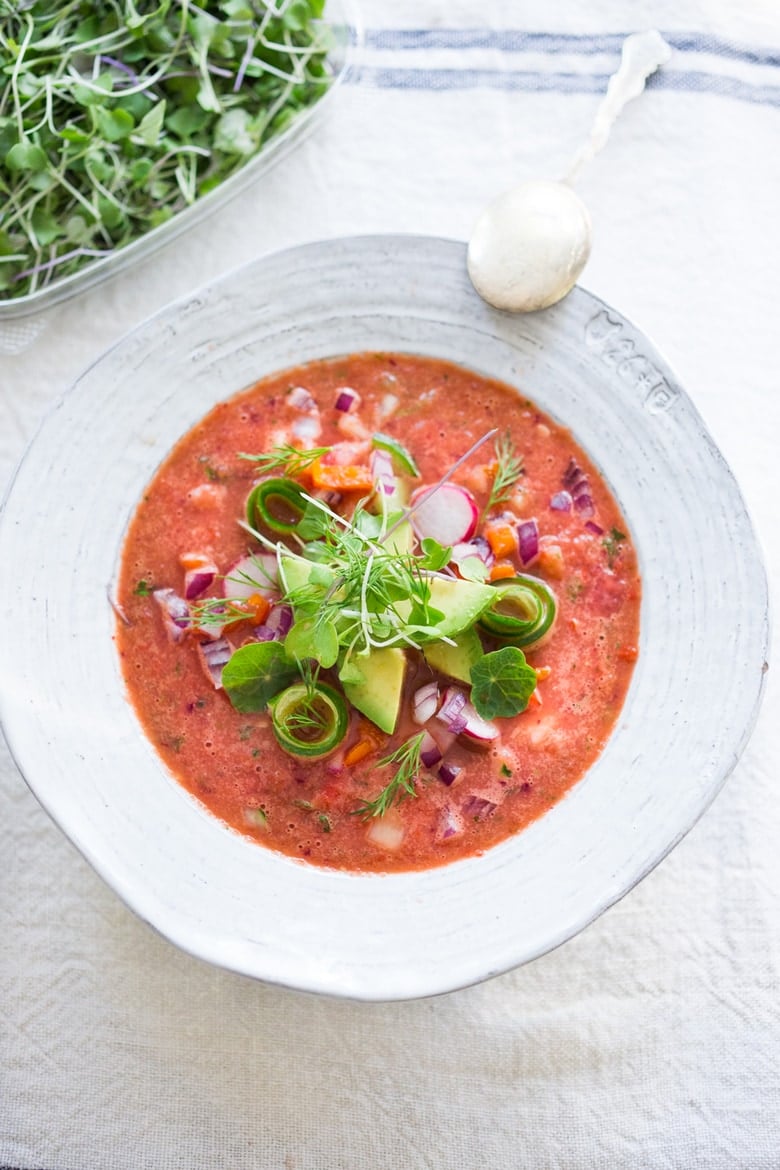 27.) Cool and refreshing Watermelon Gazpacho with avocado, cucumber, radish and sprouts. An easy vegan chilled soup for summer! A perfect start to dinner, or makes for a light and refreshing lunch!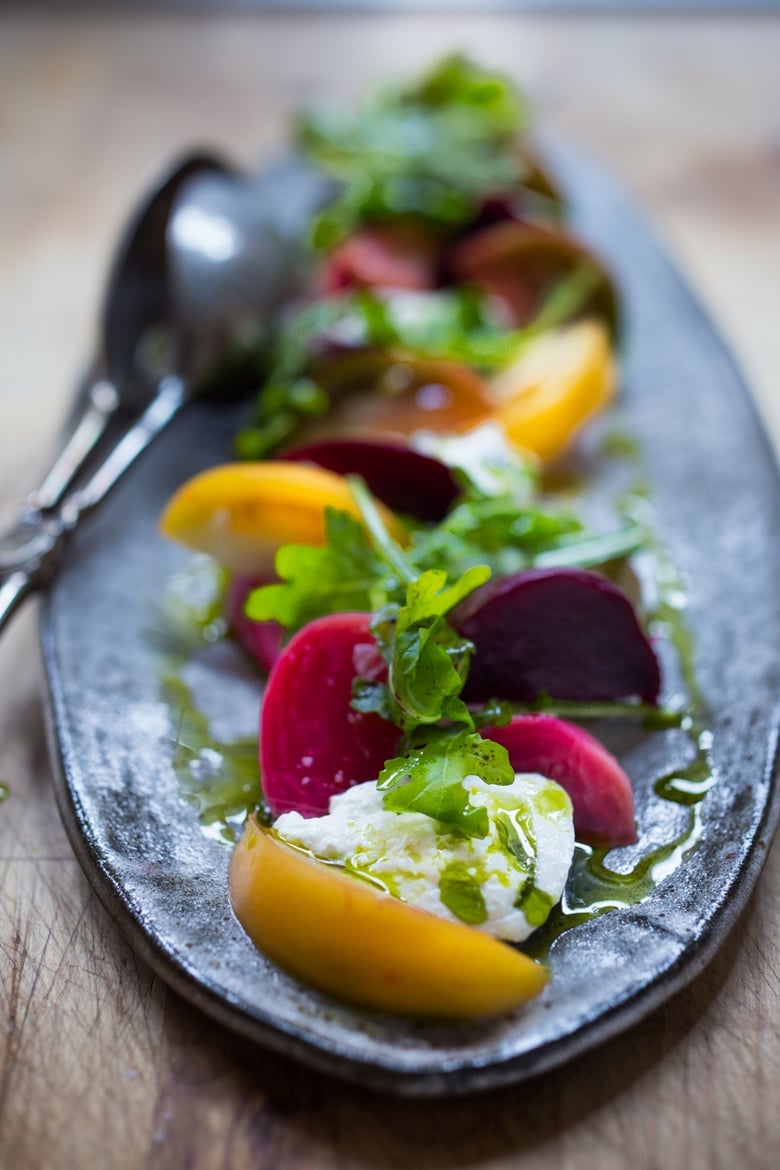 28.) Tomato, Beet and Buratta Salad with Basil Oil and Balsamic Drizzle- a vibrant and tasty summer salad made with farmers market veggies!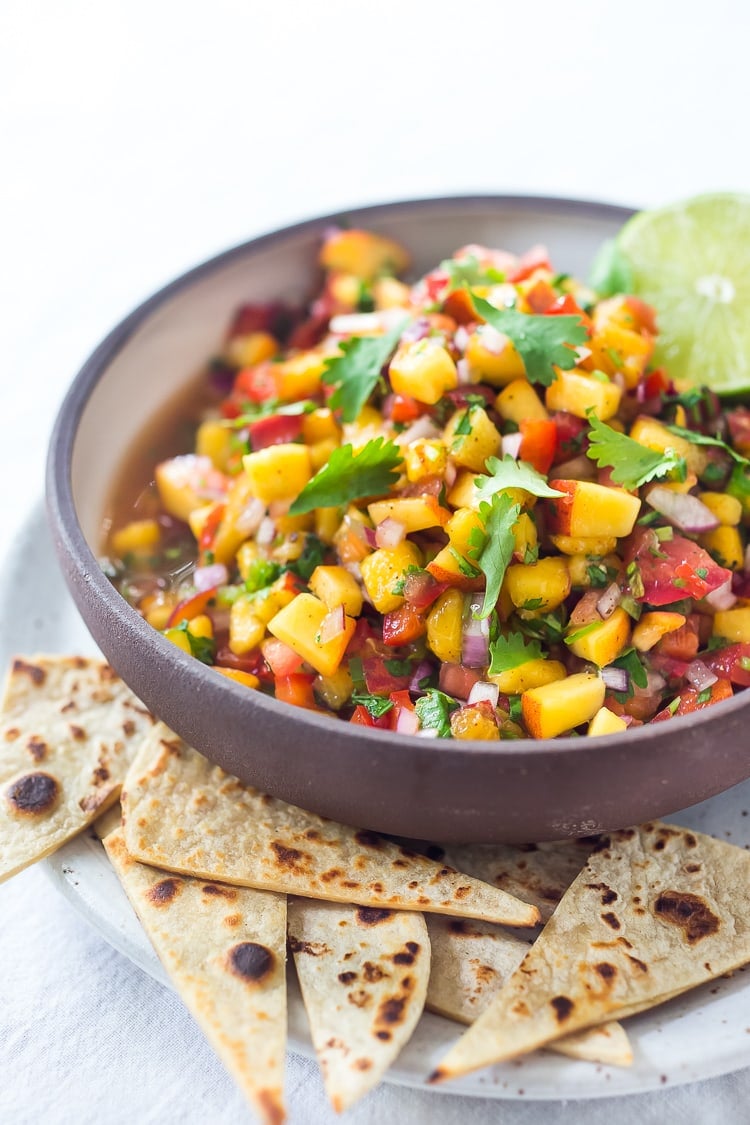 29.) This Fresh Peach Salsa recipe is bursting with summer flavor! Delicious on its own with chips or serve over grilled fish or chicken. Simple and easy, make this when peaches are at their peak of flavor -fresh, juicy and ripe.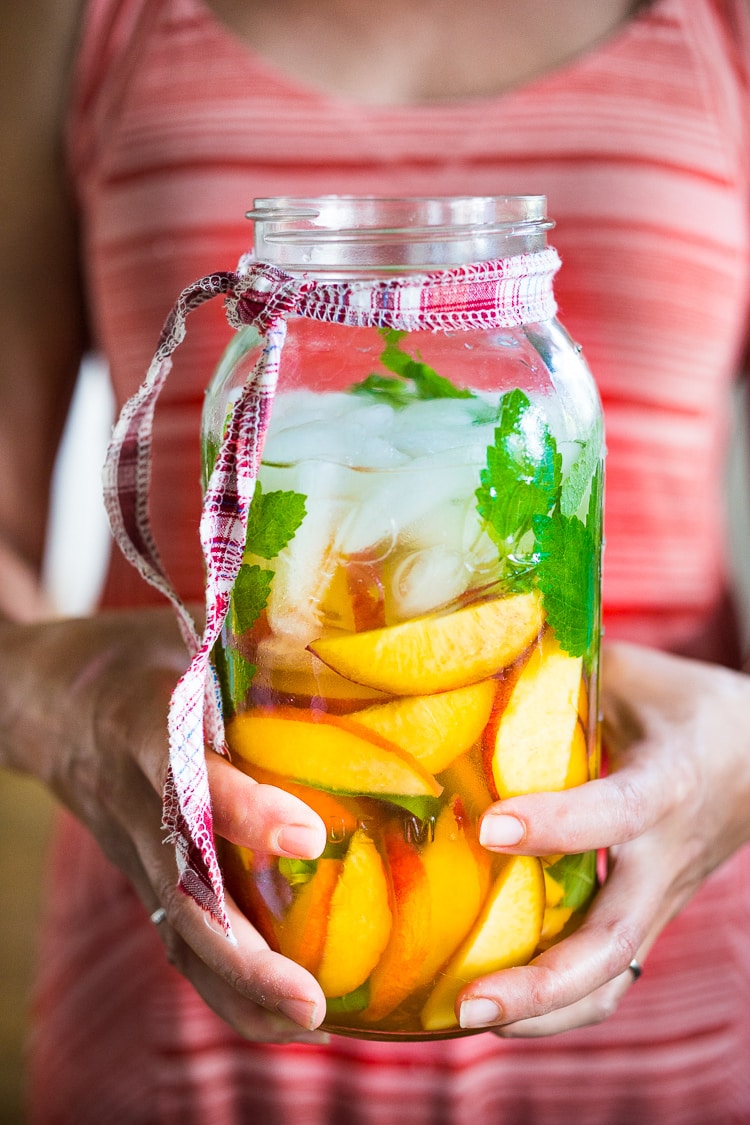 30.) Simple Refreshing Peach Sangria – a delicious summer drink made with fresh peaches, white wine and Elderflower Liqueur (or syrup) that can be made ahead. Perfect for a crowd!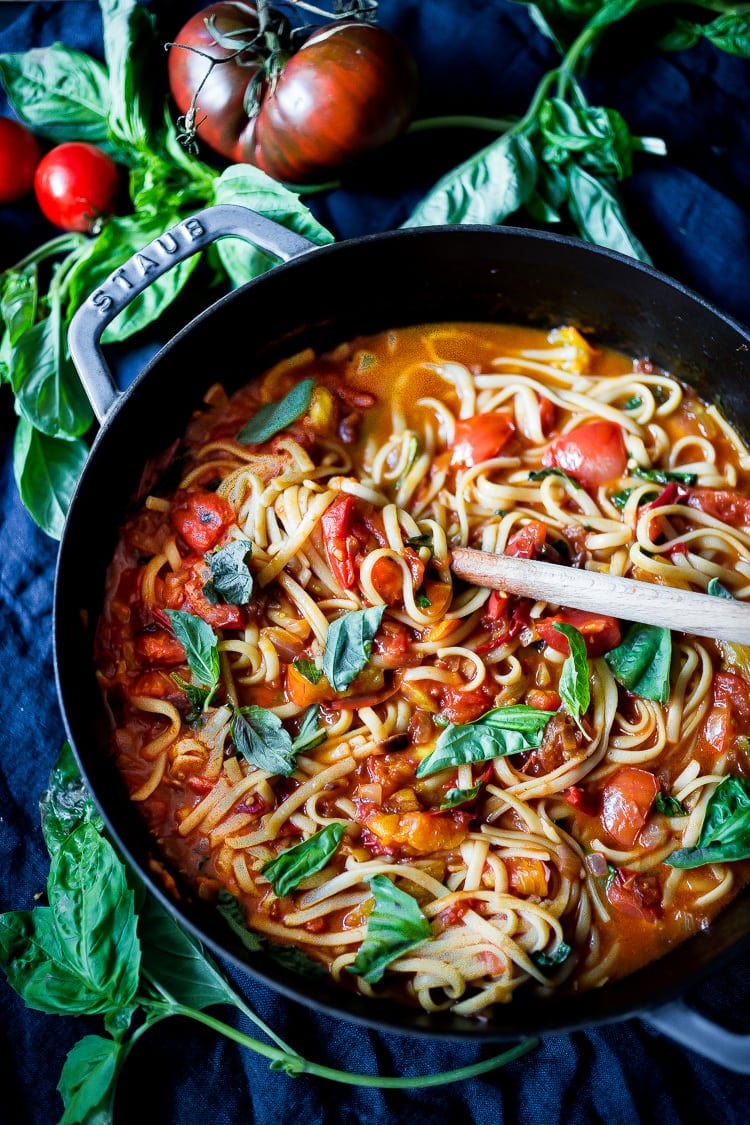 31.) Spaghetti with Quick Tomato Sauce! Fresh heirloom tomatoes are cooked into a Quick Tomato Sauce with garlic and basil. Keep it vegan or add cheese. Simple, easy, so delicious. A great way to use up all your sweet garden tomatoes!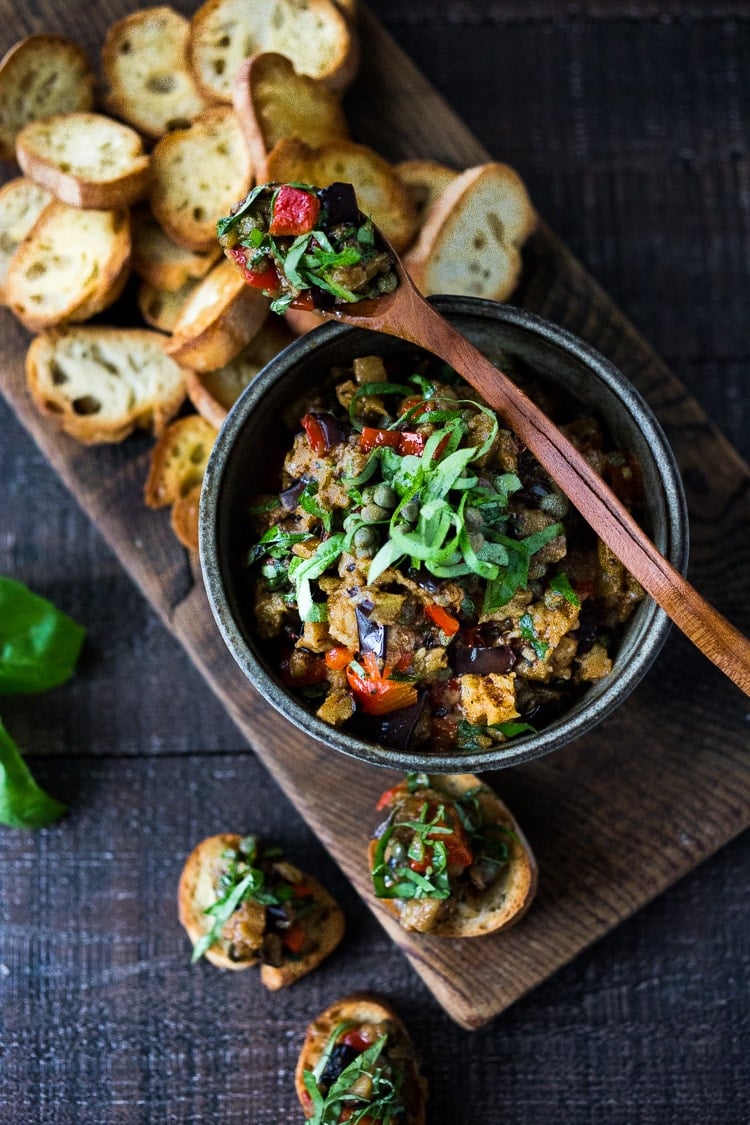 32.) A Sicilian recipe for Grilled Eggplant Caponata – simple, easy and full of summer flavor! Serve it as a healthy vegan appetizer over crostini, or as a delicious side dish, or turn it into an eggplant "salad" served over greens and grains! Low- Carb and Vegan!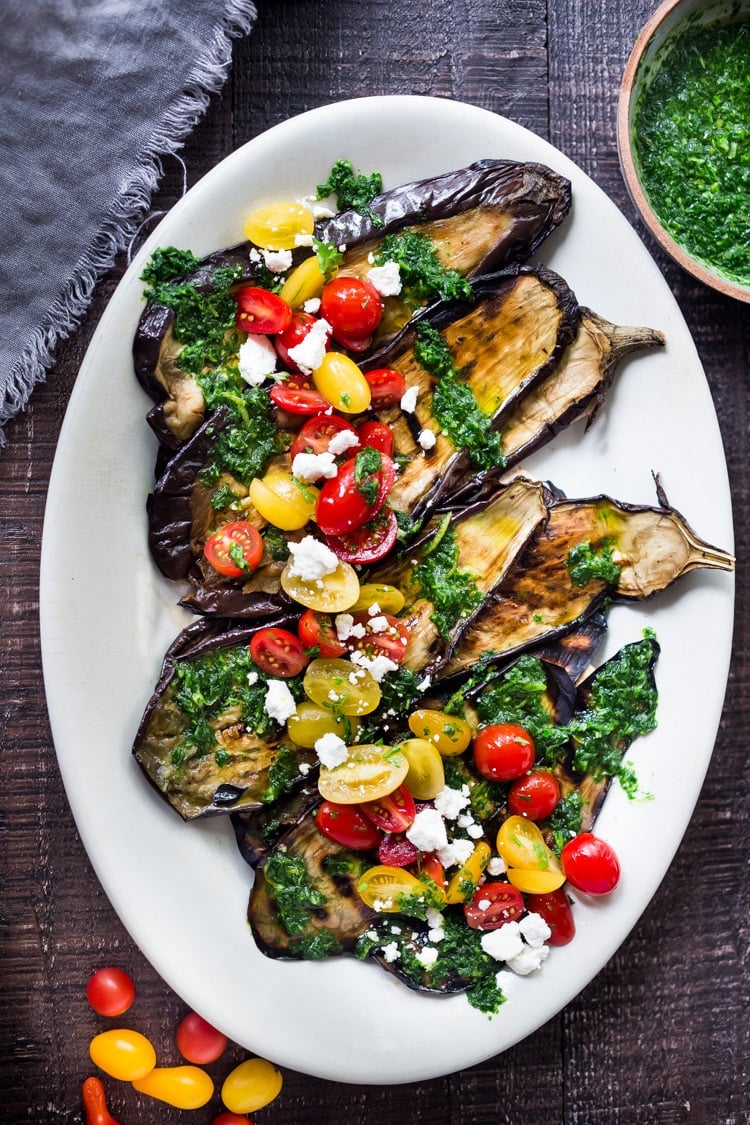 33.) Grilled Eggplant Steaks with Fresh Tomato Relish and an Italian herb sauce called Gremolata. Keep it vegan or add crumbled cheese. A simple, healthy dinner recipe!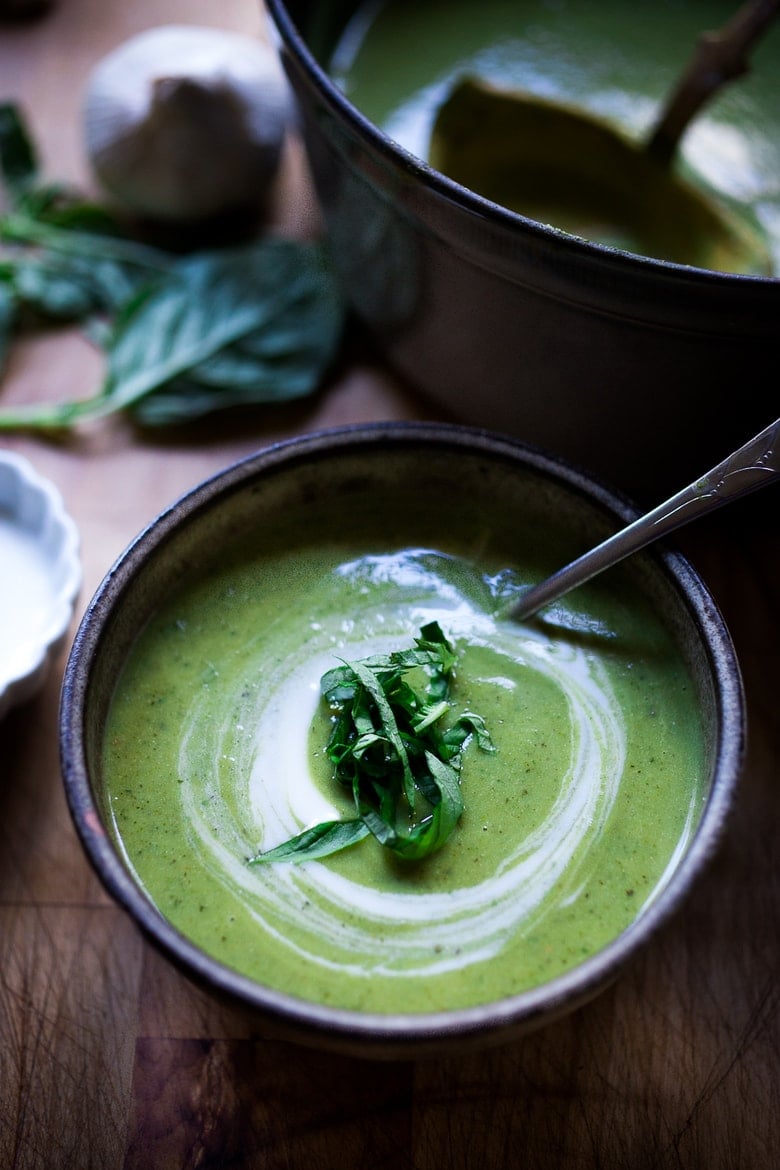 34.) QUICK and easy Zucchini Basil Soup, with a lusciously smooth texture. Keep it vegan or swirl in a little yogurt at the end. A great way to use up all your summer zucchini! Freeze for winter.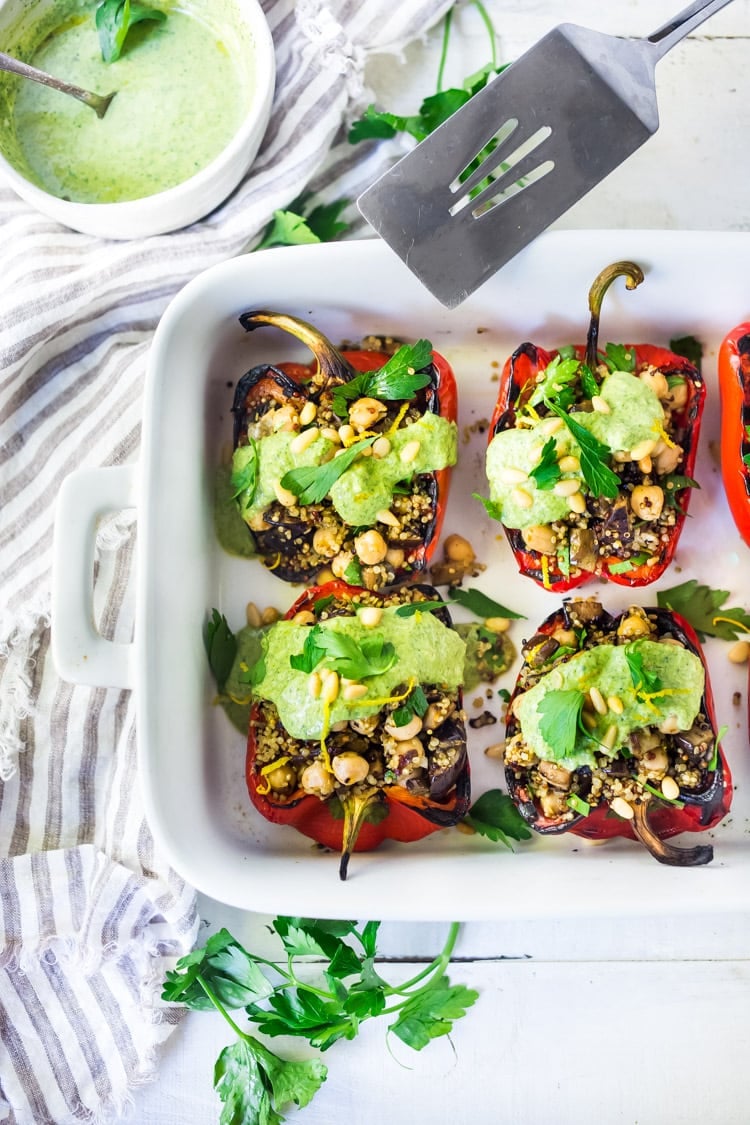 35.) These Middle Eastern, Stuffed Peppers with Quinoa, Eggplant, Chickpeas, and Zhoug Yogurt are the perfect make-ahead meal for summer gatherings and potlucks. Or meal prep them on Sunday to serve up during the busy work week! Gluten-free, vegan and paleo adaptable!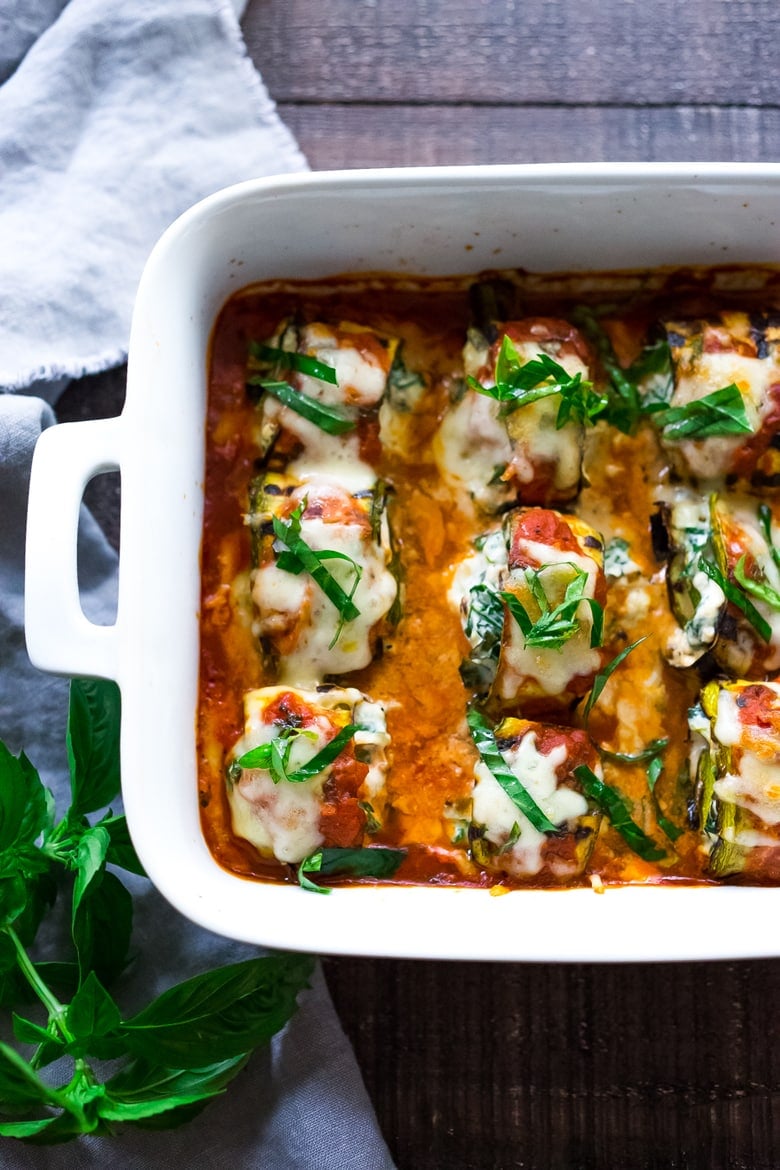 36.) Zucchini Lasagna Roll-Ups with Spinach and Basil, baked in marinara sauce, a healthy, low-carb, vegan-adaptable recipe! Love this Farmers Market Recipe!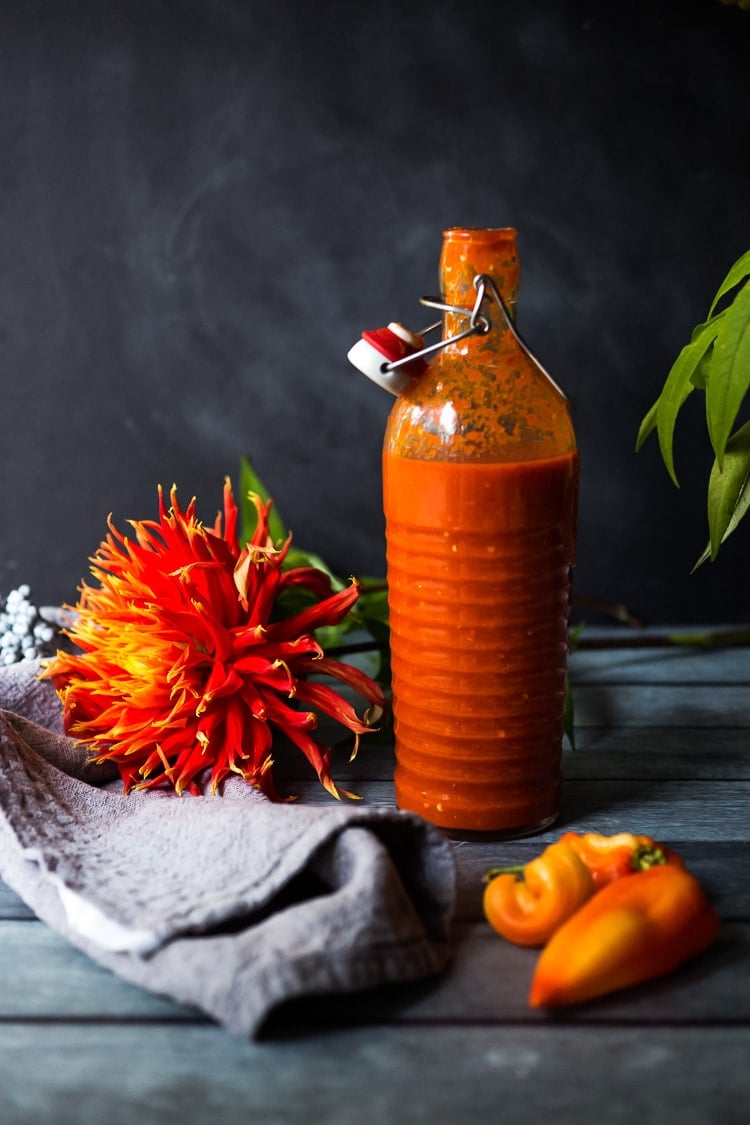 36.) A simple delicious recipe for Fermented Hot Sauce using fresh summer chilies, with no special equipment and only 20 minutes of hands-on time!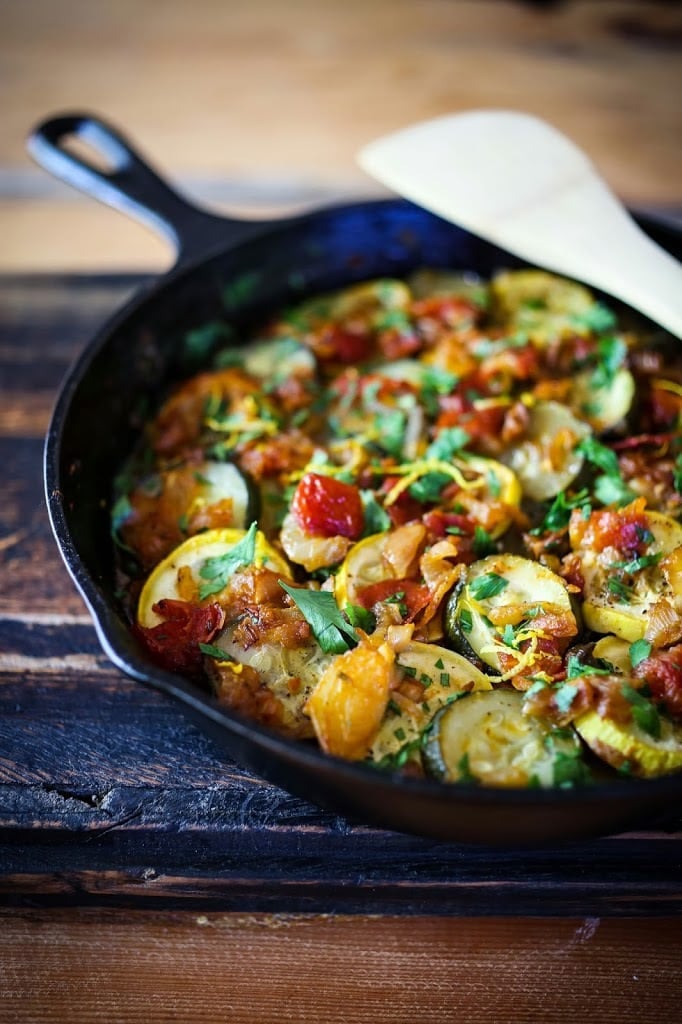 37.) Rustic Zucchini Tian with Middle Eastern Spices served over rice for a simple vegetarian meal, or as a delicious healthy side dish. Vegan!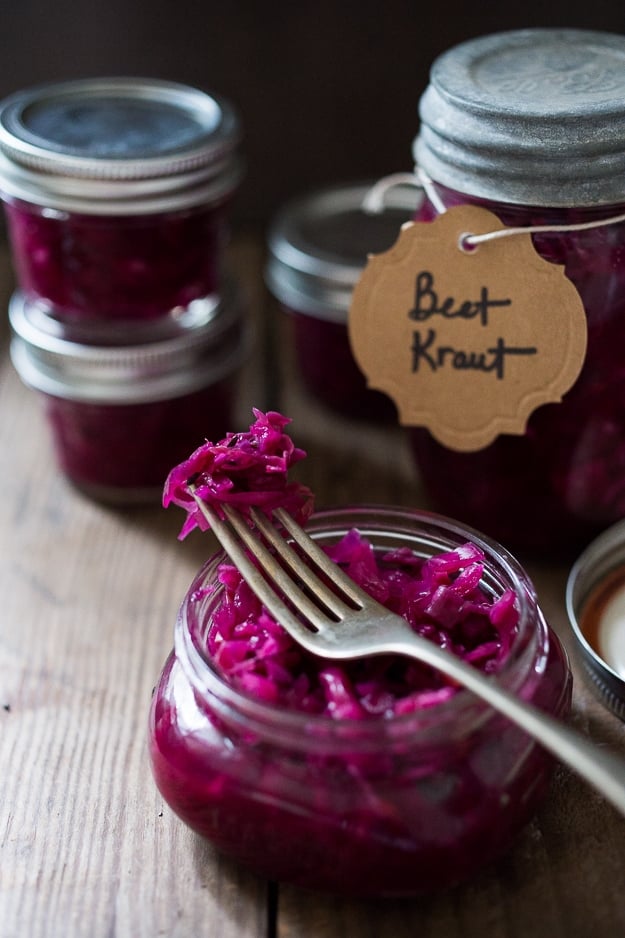 38.) Beet and Cabbage Kraut! A simple easy, small-batch recipe for Beet and Cabbage Sauerkraut that anyone can make using a mason jar, that takes only 20 minutes of hands-on time. Full of healthy good bacteria that will energize the body and help heal the gut.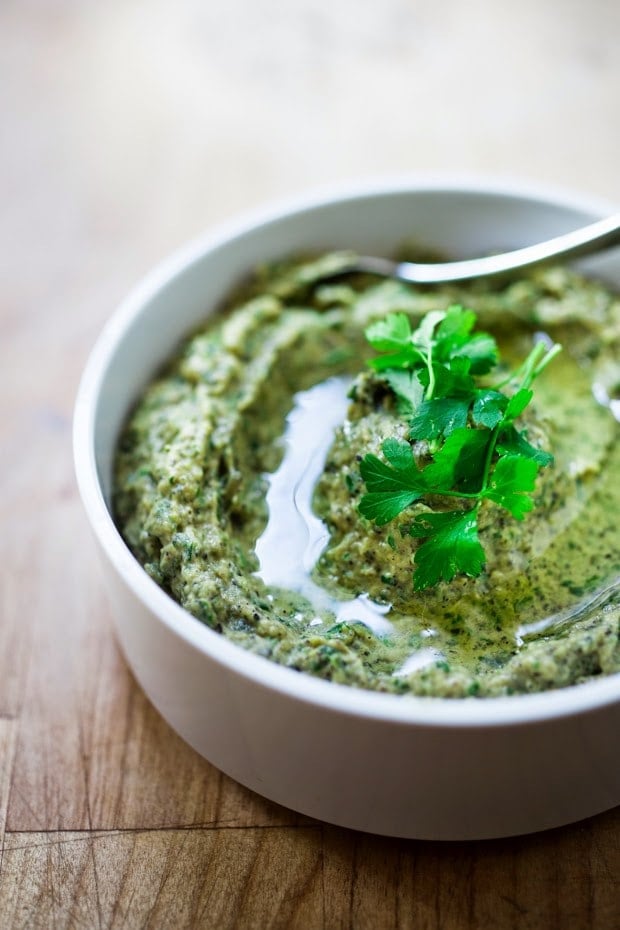 39.) Zucchini Hummus! – a bean-free alternative to hummus, similar to baba ganoush, but using zucchini instead of eggplant! Vegan and Gluten-Free!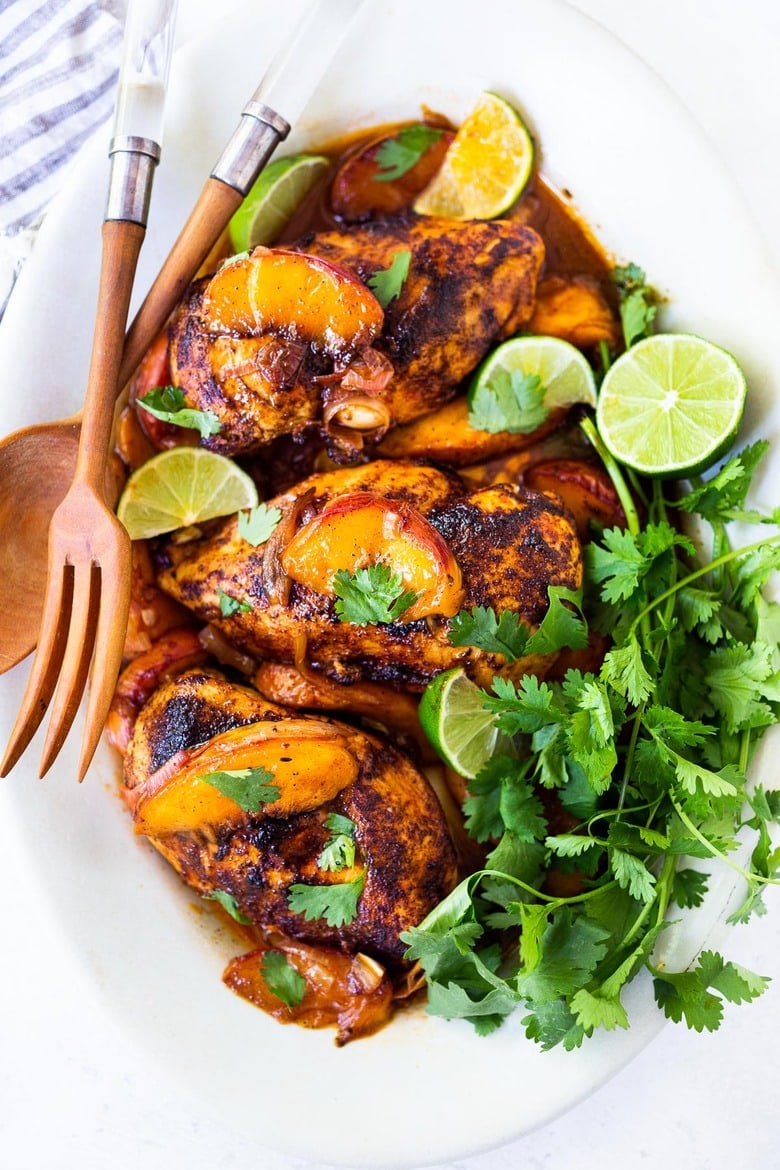 Chili Lime Chicken with Glazed Peaches – a fast and healthy farmers market-inspired dinner highlighting fresh juicy summer peaches. Can be made with breast or thigh meat.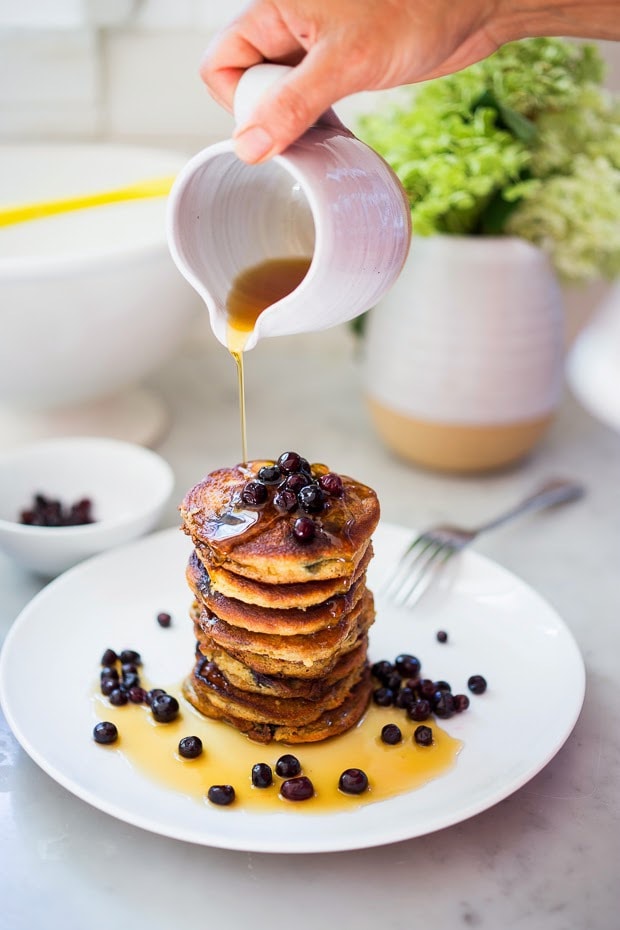 40.) Huckleberry Almond Flour Pancakes! Grain-free, gluten-free pancakes that are fast and easy to make,  topped with fresh wild huckleberries ( or any summer berry) and a drizzle of real maple syrup!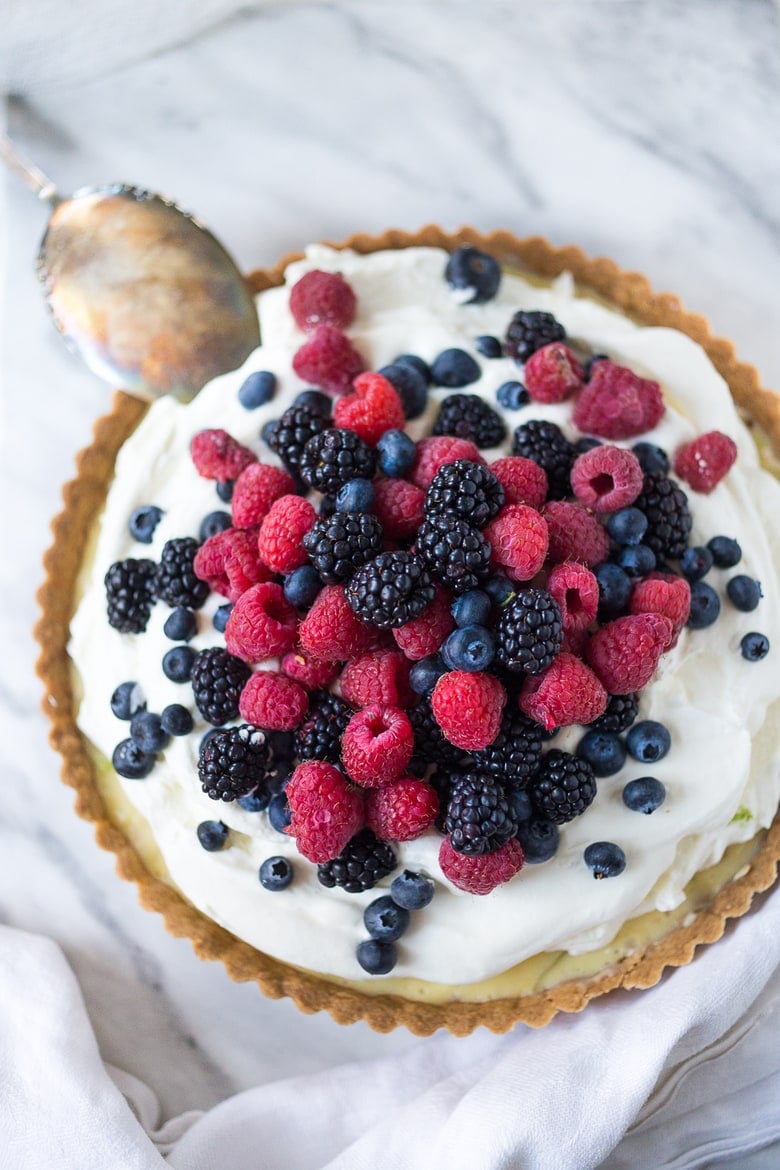 41.) Simple and delicious Summer Berry Tart with a Short Bread Crust that requires no rolling, simply press it into the tart pan and bake. Refreshing and light, this recipe is a snap to make!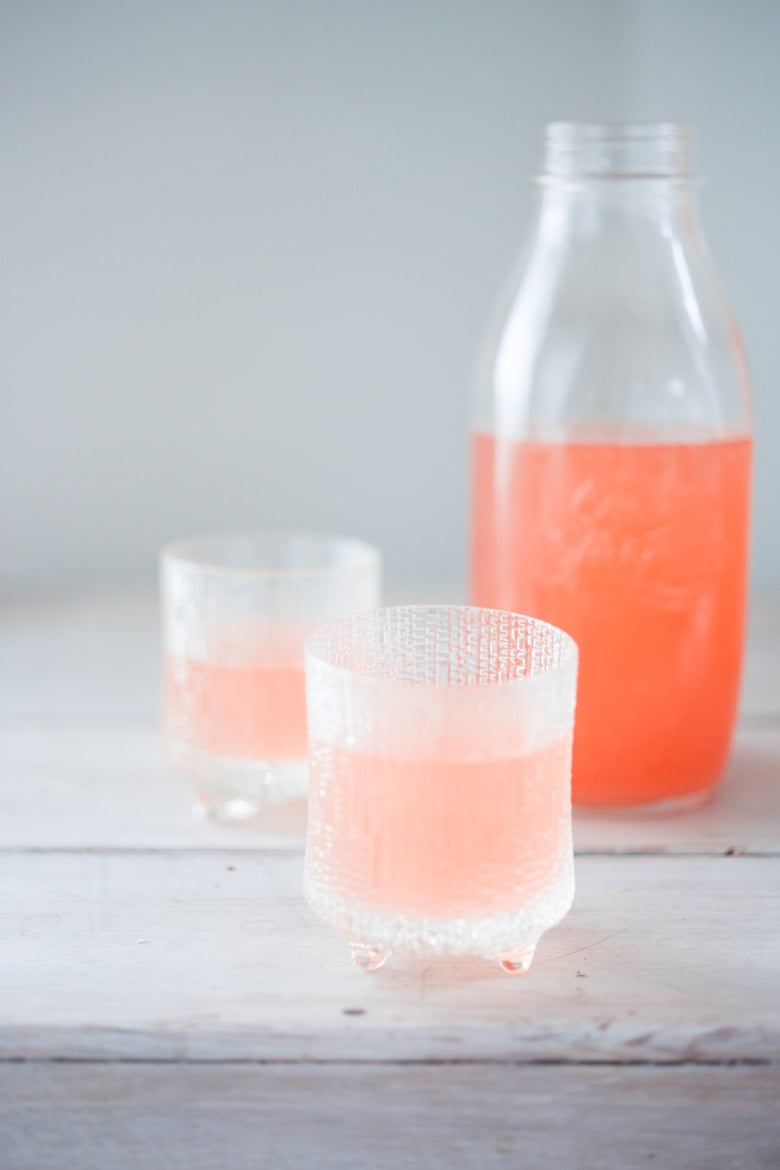 42.) How to make Water Kefir! A happy bubbly, fruit-infused sparkling water, that is packed full of healthy probiotics that will energize the body and help heal the gut. It loves to be made in summer and especially delicious with fresh farmers market berries ( raspberries, blackberries, strawberries) and stone fruit (peaches, plums and pears).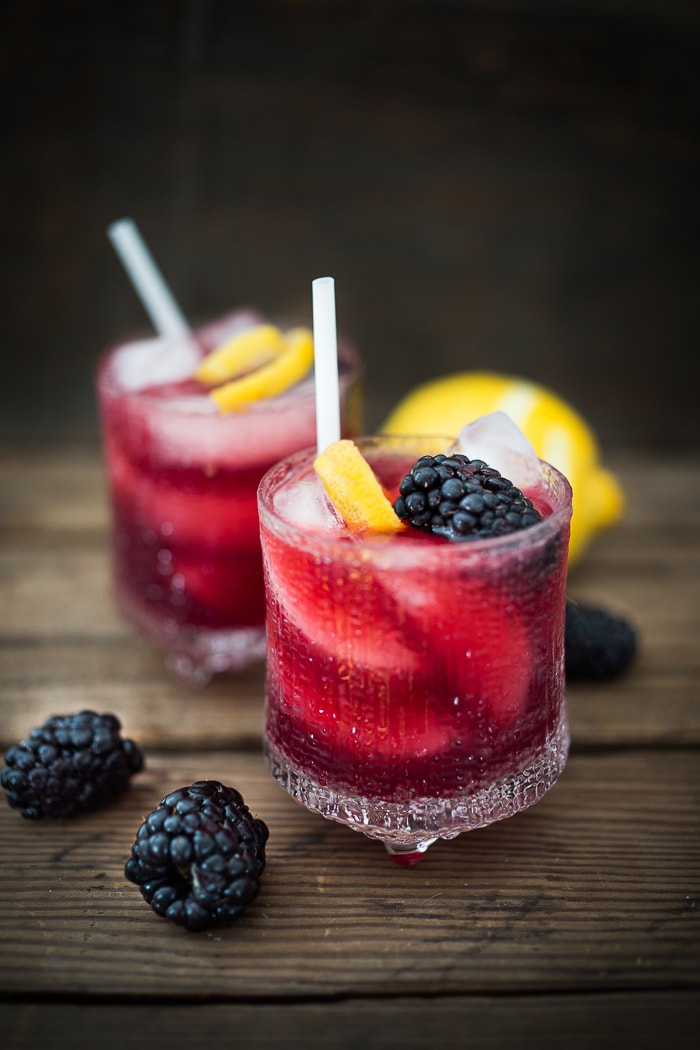 43.) Light and refreshing Blackberry Bramble! Featuring fresh muddled blackberries, gin, lemon juice, and soda – a cooling summer cocktail!
---
I hope these Farmers Market Recipes motivate you to get out there and head to your local farmers market. Get to know a farmer or two and pick out a couple of things to try this week!
If you live in Spokane, here is an article on Spokane Eats Blog with our local 2019 Farmers Markets – where they are and times of the week. It's crazy to think that just a few years ago, we only had one. 😉
We have so MANY to choose from now! I love seeing our food community grow. So vibrant!
Cheers and Love,
Sylvia
Print
35 Must-try Farmers Market Recipes!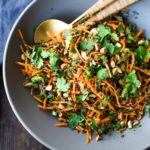 35 Must-try Farmers Market Recipes featuring seasonal produce! Many are vegan or vegan adaptable. A great way to try new veggies or use up. your CSA box!
Keywords: farmers market recipes, farmers market dinner recipes, csa recipes,
SaveSave