Grilled Eggplant Steaks with Fresh Tomato Relish and Gremolata -a zesty Italian herb sauce. Keep it vegan or add crumbled cheese. A simple, healthy meatless dinner recipe! Vegan, low-carb and gluten-free.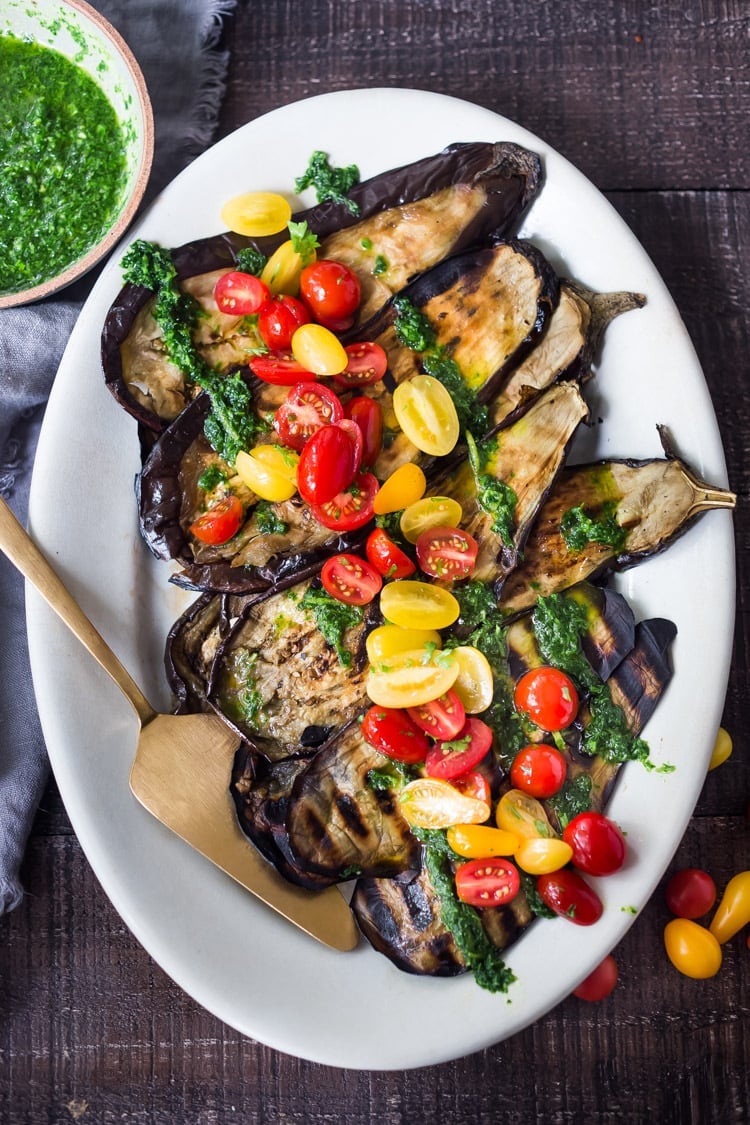 Life is a series of natural and spontaneous changes. Don't resist them; that only creates sorrow. Let reality be reality. Let things flow naturally forward in whatever way they like.― Lao Tzu
Here's a very simple meatless dinner perfect for warm summer evenings on the patio. Grilled (or roasted) Eggplant Steaks topped with fresh summer tomatoes and an herby Italian sauce called Gremolata, I shared with you a while back.  I love how the eggplant is almost transformed by grilling it. Its flavor deepens and becomes rich and complex and its texture becomes very luscious and creamy.  Serve this with Everyday Quinoa with Lemon Shallots and Herbs or Cauliflower Rice and you have a simple, healthy and totally delicious vegan meal. Keep it vegan or add crumbled goat cheese or feta for extra richness. A lovely way to celebrate the best of summer produce!
The other morning, as I was walking up a hill near my house I crossed paths with an older gentleman who called out "good morning" to me in a thick and happy accent. Curious, I asked where he was from. Italy! he said very enthusiastically. We chatted for a few minutes, and as I turned to go, he asked, can I walk with you? And something in me, said yes. ( After prefacing it with, "just so you know, I'm married and I'm a fast walker".)  So we walked up the hill together, which it turns out, he does most mornings and is quite fast too.  For the next hour and a half, I walked with Joseppi and learned all about his interesting life, how he met and fell in love with an American girl at age 19,  married her and moved here to Spokane. Last year, after being together for 48 years, she died. He has five grown kids and 10 grandkids, and still seems to have this zest for life. Somehow, I felt totally blessed by his company and honored he would tell me his story. I got the feeling he felt the same. The whole exchange was very endearing. Turns out we've been living 2 blocks apart for some time now, on the same walking schedule.  I can't help but wonder why, was it this particular morning, we finally met?
I think about some of the chance encounters I've had with people, strangers, at the time, who have become friends, and more. It feels like providence. I'd like to believe the universe brings people into our lives at just the right time. I met my dear friend Kate in the purse isle at Ross, and somehow we got to talking about moms. I had just lost mine, and she was about to lose hers.  A connection was formed, we became friends, and now I can't imagine life without her.
What this has taught me, is to trust. I try to keep my heart open because these encounters are what make life magical and interesting. Yes, I have days where I feel tired, and "closed", we all have them. So this has become a conscious "practice", this being open to life. Being open to the flow, being open to what comes. The challenge is trusting that the hard stuff that unavoidably comes is what we need too. Big sigh…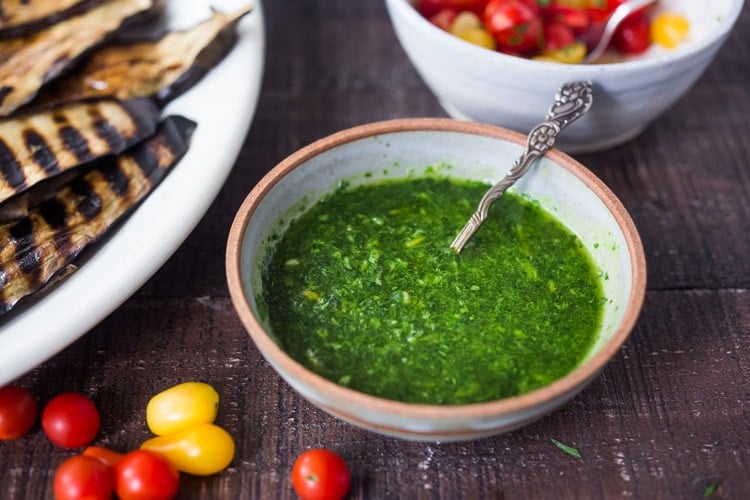 Here is the Gremolata Recipe – the zesty Italian herb sauce that's delicious on everything.
While the eggplant is grilling, make the simple tomato relish.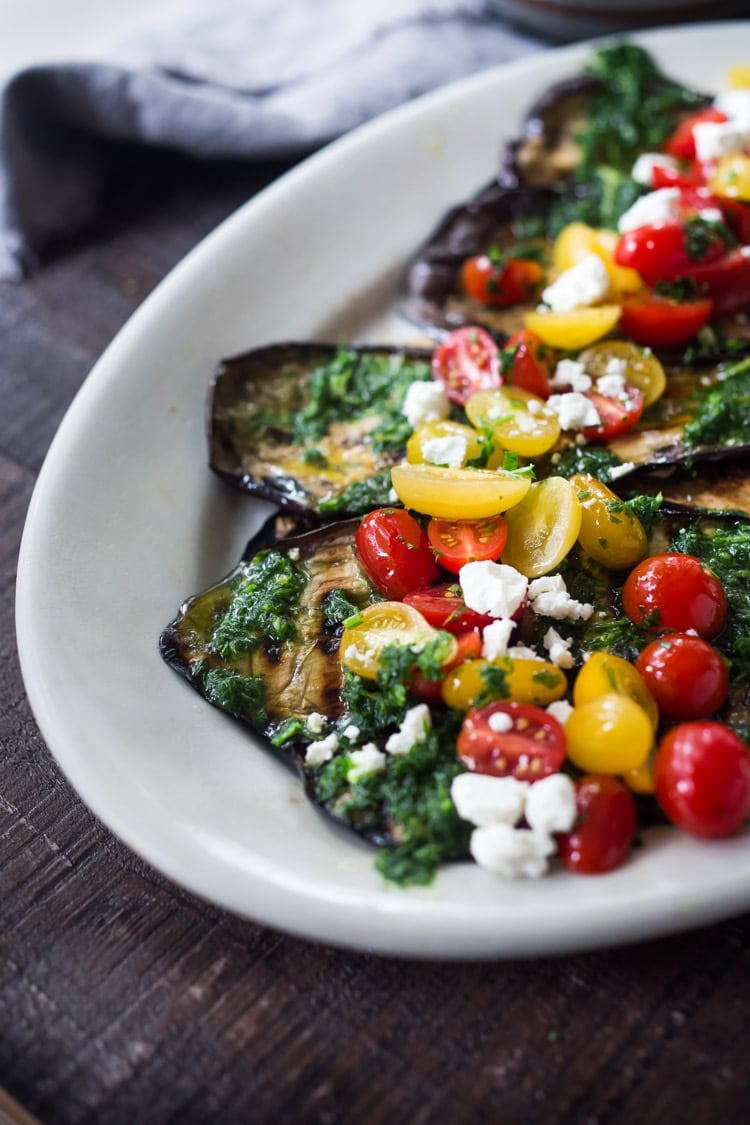 Keep the Grilled Eggplant Steaks vegan or top it with cheese.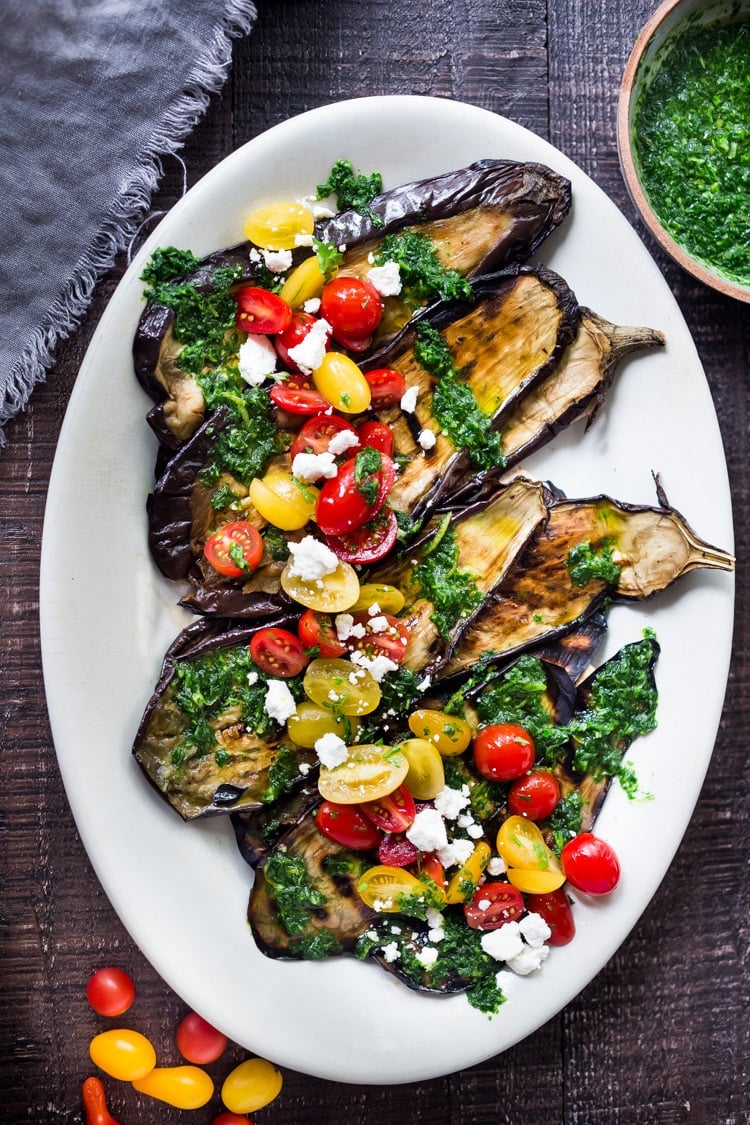 Grilled Eggplant Steaks! Simple, healthy and yummy.  Have a great weekend friends.
xo
Print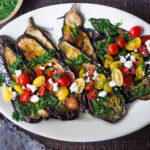 Grilled Eggplant Steaks with Gremolata and Tomatoes
Author:

Sylvia Fountaine

Prep Time:

30

Cook Time:

20

Total Time:

50 minutes

Yield:

2

-3

1

x

Category:

vegan main,

Method:

grilled, roasted

Cuisine:

Mediterranean
---
Description
Grilled Eggplant Steaks with Fresh Tomato Relish and an Italian herb sauce called Gremolata. Keep it vegan or add crumbled cheese. A simple, healthy dinner recipe!
---
---
Instructions
Preheat Grill to medium high ( you can also roast these, see notes)
Slice eggplant into ½ inch thick slices. (If you are sensitive to bitterness, salt both sides and let sit for 15 minutes, then rinse with water and pat dry. ) Brush both sides with olive oil (and salt if not previously) and grill each side for 4-5 minutes, or until good grill marks appear.  Remove from grill and stack them in a baking dish or bowl and cover tightly in foil so they continue to cook all the way through and become translucent.
Make the Gremolata.
Toss the tomatoes with a pinch of salt, fresh herbs ( if you like)  a little drizzle of olive oil. (You can also just halve them and leave them plain- the Gremolata has plenty of flavor.)
Lay the eggplant steaks down on a serving dish. Spoon a little gremolata over each one. Top with the tomatoes.
Add crumbled goat or feta if you like. Serve with Cauliflower Rice or Everyday Quinoa on the side.
---
Notes
I usually serve ½ of one whole eggplant per person ( 2 -3 slices)
Alternatively,  you can roast the Eggplant steaks, although grilling gives them lovely flavor. To roast, prepare the same way, brushed with oil and place them on a parchment  lined sheet pan, in a 425 F oven for 20-25 minutes, or until tender and golden. You can also prepare them this way, CROSS HATCHED.  
Nutrition
Serving Size:

½ eggplant with 2 T gremolata

Calories:

381

Sugar:

10 g

Sodium:

609.2 mg

Fat:

35.8 g

Saturated Fat:

5.1 g

Carbohydrates:

17.8 g

Fiber:

7.7 g

Protein:

3.9 g

Cholesterol:

0 mg
Keywords: Grilled eggplant steaks, roasted eggplant steaks, eggplant steaks, grilled eggplant recipes, grilled eggplant,