Peach Bruschetta with goat cheese, basil and rosemary-infused honey…a simple delicious appetizer featuring fresh summer peaches, that can be made in minutes!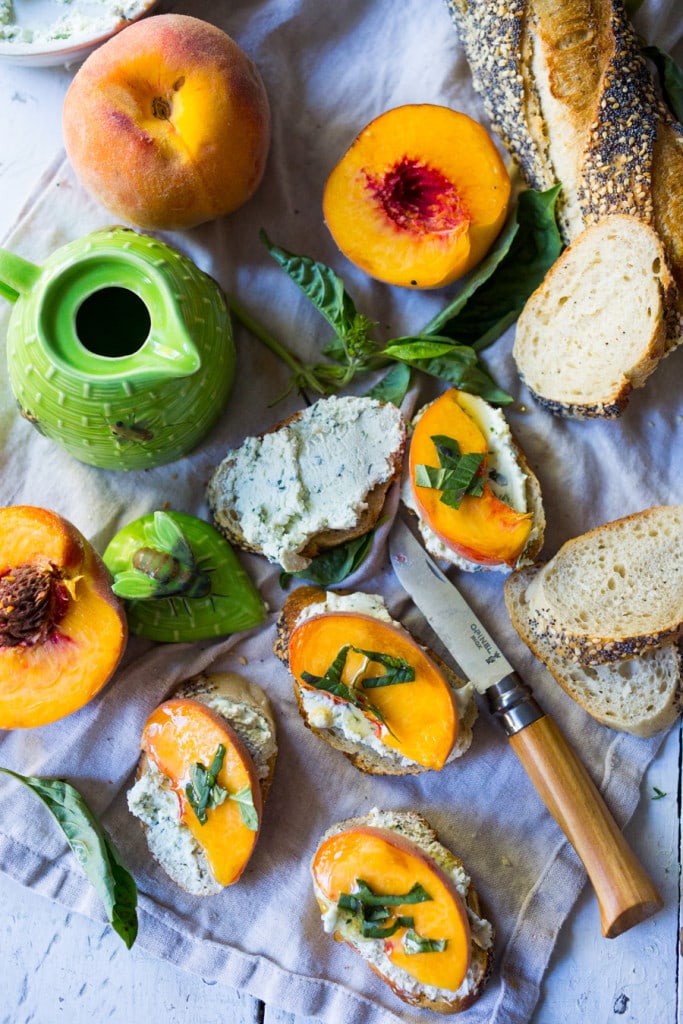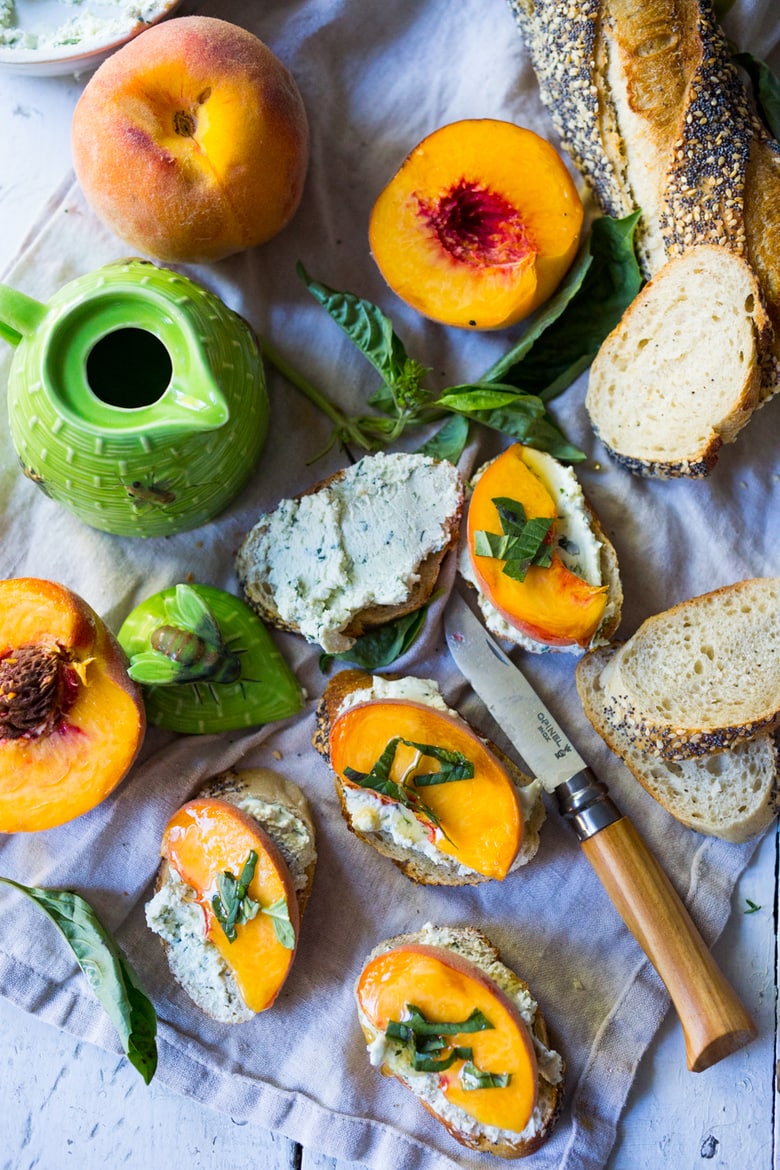 A journey is like marriage. The certain way to be wrong is to think you control it.
John Steinbeck
This Peach Bruschetta was recently served at a wedding we catered and so many guests commented on it, I thought I would share the recipe! It's simple and fun, and best made with ripe peaches.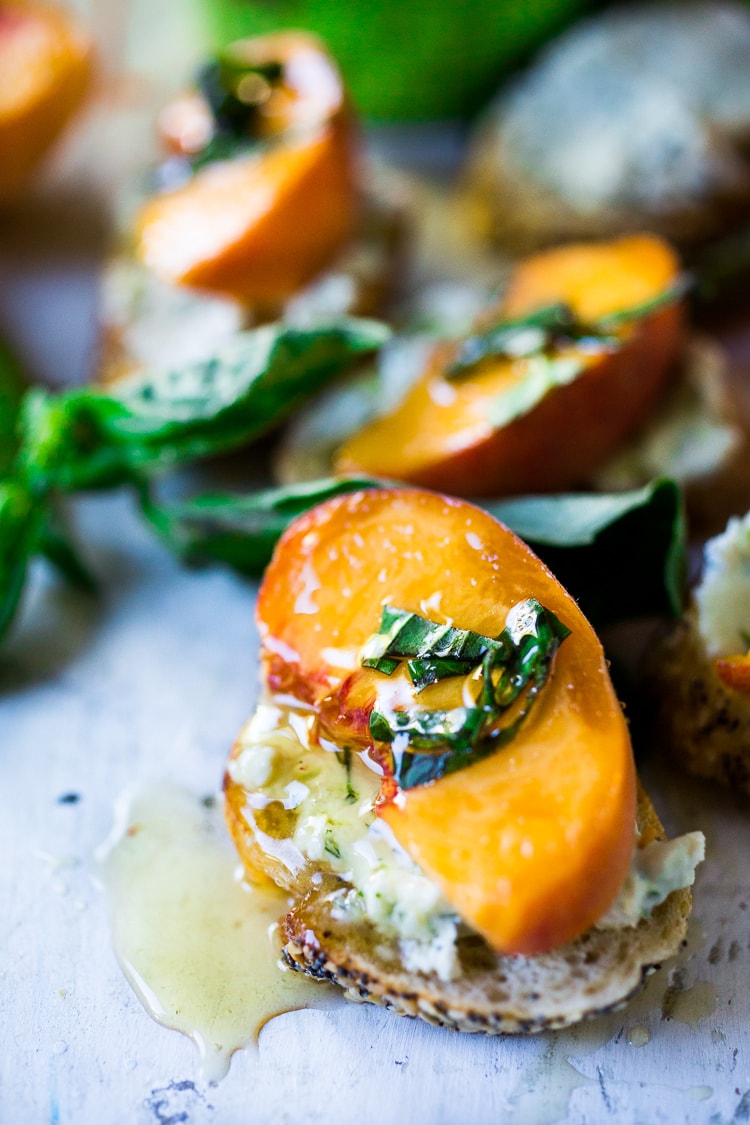 What you'll need for Peach Bruschetta
Fresh peaches- get locally grown if possible!
Goat Cheese or Chevre
Cream Cheese or creme fraise
Fresh basil Basil
Honey and rosemary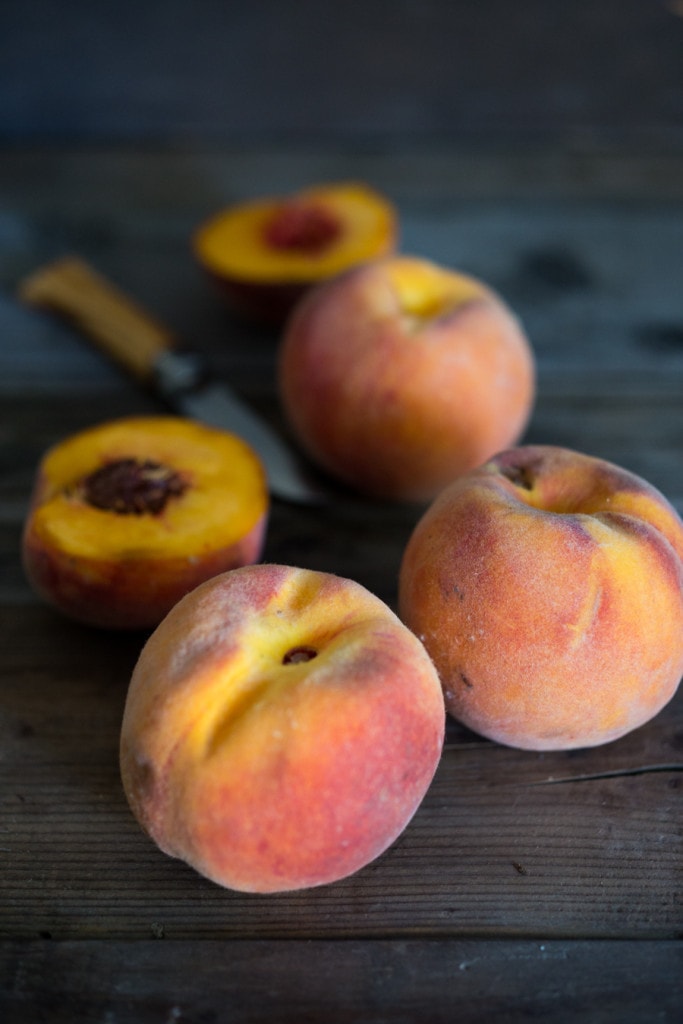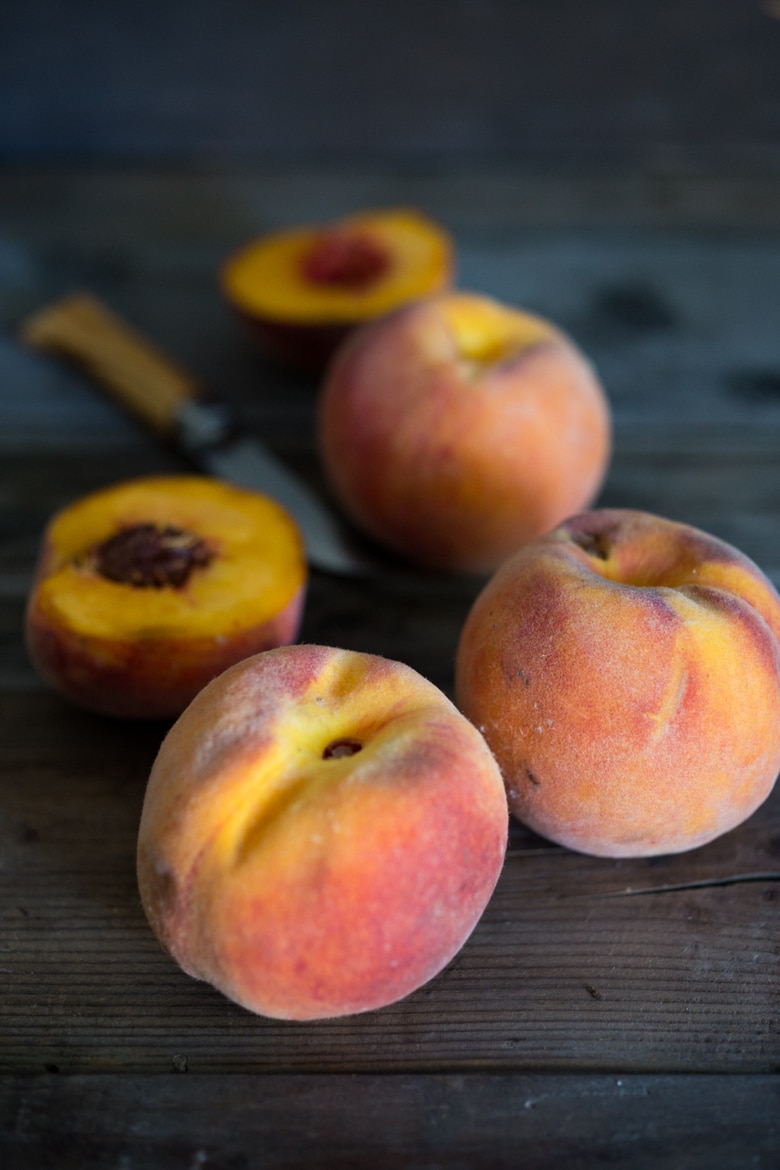 How to make Peach Bruschetta
Mix chèvre with a little warmed cream cheese to give it a creamy whipped texture. Add a little chopped basil to the cheese.
Spread on toasted slices of baguette.
Top with a slice of peach, basil ribbons and a generous drizzle of honey and cracked pepper.
If feeling fancy, infuse your honey with rosemary for a tasty upgrade!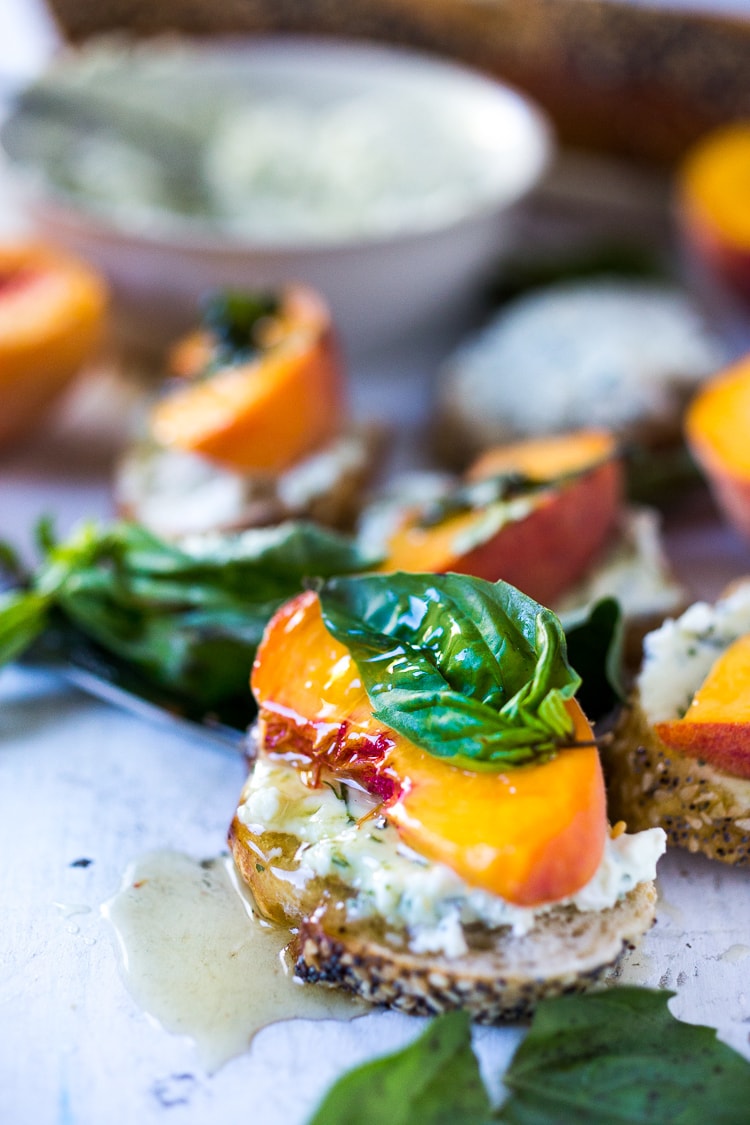 Can these be made ahead?
The baguette slices can be prebaked and store for 24 hours. Or for even more flavor, grill them but serve right away.
 The creamy spread can be made up to 4 days ahead. Let it come to room temp before spreading.
The Rosemary Honey can be made a week ahead.
On the homefront: We catered a wedding last Saturday and it was Brian's birthday. All day I felt like a heel for booking a wedding on his birthday. For the record, I did ask him beforehand and got the a-ok, but of course, it was a year ago, and I think he forgot, and all day I was in the doghouse.
And then, of course, all sorts of crazy things happened, which I took as my punishment from the universe. There was a massive dust storm. Strong winds came and blew trees down, which knocked down power lines, and started a fire, which shut down the power to the wedding venue. Basically…  all hell broke loose.
The meal, thankfully, went surprisingly well thanks to the many skillful hands, which I'm so lucky to work with each week.  But just as we were pulling out to leave in our brand-new catering van, I backed up and hit a parked car. I was backing out so slowly, and carefully I didn't even feel that I was gently pushing into the other car's door with my bumper. By the time I realized, the damage was done.
Brian, frustrated with my driving, insisted on taking the wheel, and as unbelievable as it sounds,  proceeded to hit another parked car with our brand new catering van! Two accidents in 15 minutes! It was pretty comical once the shock wore off. I couldn't help thinking that if Brian hadn't insisted on driving, I would have hit that car too, and so, in a way, I was grateful that he saved me from getting in two wrecks in one day; the smallest silver lining possible!
On the drive home, I contemplated the hilarity of it all. No matter how prepared one can be, how thought out the plan, how perfectly organized, orchestrated, or well-intentioned– life has a way of throwing everything out the window.
Especially at weddings. What sticks with me most this morning as I go back over that night was the incredible moon, so huge and bright on that painfully silent drive home. And the mother of the bride, beautifully smiling in the midst of all that chaos, gracefully taking it all in stride, with this quiet calm knowing that sometimes, this is just how life is.
You will love this Peach Bruschetta –  but remember to wait until peaches are in season and ripe and juicy! This will make all the difference!!!
You'll know the taste of a peach by its smell.  So use your nose …it always knows.  😉
If it smells good, it will taste good. I promise.
xoxo
More Peach recipes you will like!
Print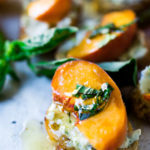 Peach Bruschetta
Prep Time:

15 mins

Cook Time:

15 mins

Total Time:

30 mins

Yield:

16

bruschetta

1

x

Category:

Appetizer

Method:

Assembled

Cuisine:

American
---
Description
Peach Brushetta with goat cheese, basil and infused honey…a simple delicious appetizer you can make in minutes!
---
1

baguette, sliced at a diagonal into

1/2

-inch thick slices
Olive oil for brushing bruschetta

4

oz

goat cheese

4

oz

cream cheese

1/4 teaspoon

salt

1/4 teaspoon

cracked pepper

3

ripe peaches- sliced into wedges

15

basil leaves – cut into ribbons (divided)
honey (to infuse, see note)
---
Instructions
Preheat oven to 400F
Slice baguette into ½ inch slices at a diagonal. Brush both sides with olive oil and place on a sheet pan in a 400 F oven for 15 minutes, or until crisp. Or alternately, grill on a bbq. Set aside.
Place cream cheese and goat cheese in a bowl and either warm in a microwave until just barley soft enough to combine easily with a fork. (I place the bowl in my toaster oven on low). Mix with a fork until smooth. Add some chopped basil ( like 1/3 of the basil ribbons, chopped) salt and cracked pepper, Set aside.
Assemble: Spread a little goat cheese mixture on each bruschetta and top with a peach wedge. Garnish with a few basil ribbons, then drizzle with honey, and sprinkle with cracked pepper.
It's really nice to serve when the goat cheese is still a touch warm.
Serve on a white platter, or a rustic cutting board.
---
Notes
To infuse honey, place a cup or so of honey in a small pot on the stove, add a few sprigs of rosemary ( or thyme, sage, or lavender) and gently warm on low heat- do not boil, just warm to where it is easy mixable.  Add 1 tablespoons of water, gently stir, turn heat off and let the herbs marinate in the honey, at room temp for a few hours, or overnight. Place in a squeezy bottle. Once cooled, if honey seems too thick, rewarm and stir in little more water.
Nutrition
Serving Size:

one bruschetta

Calories:

97

Sugar:

4.7 g

Sodium:

115.8 mg

Fat:

7.6 g

Saturated Fat:

3 g

Carbohydrates:

6 g

Fiber:

0.1 g

Protein:

2 g

Cholesterol:

10.4 mg
Keywords: peach Bruschetta, peach appetizer, peach crostini, peach bruschetta recipe,