An old fashioned, Farm-Style Peach Galette baked in a skillet. A simple, easy recipe that comes out perfect every time! Feel free to use other stonefruit and bake this on a sheet pan. See Notes.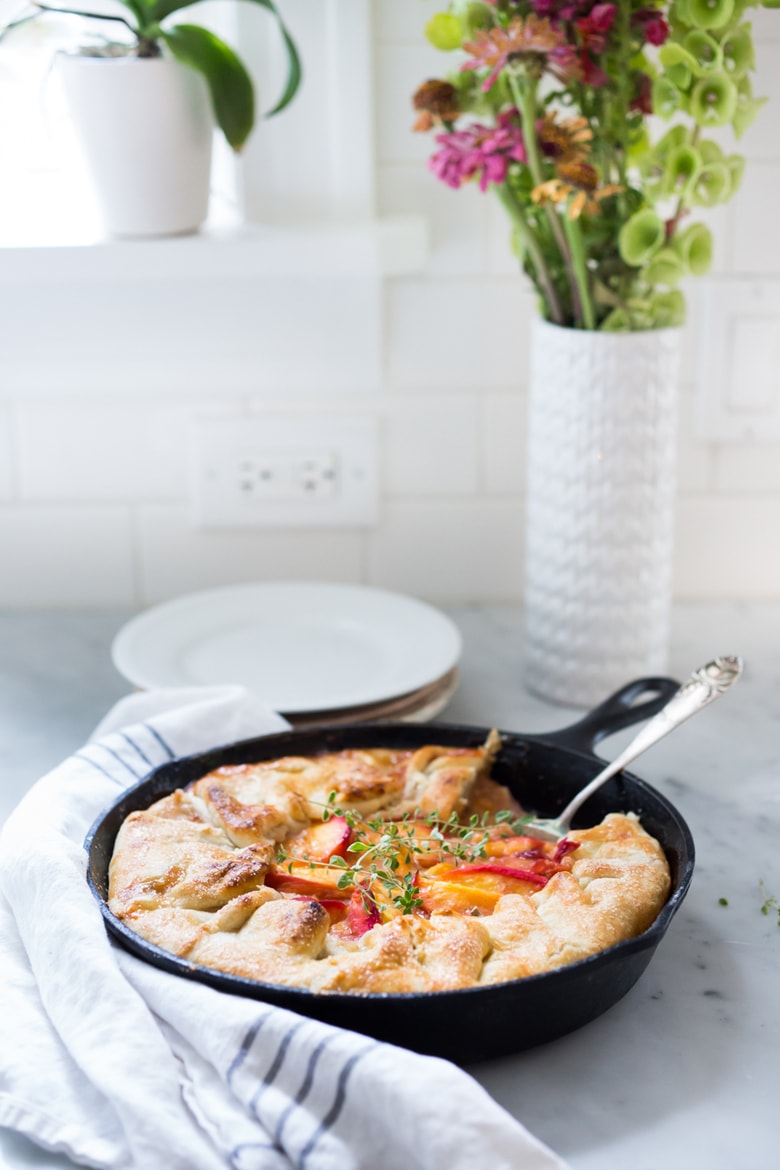 Peaches are at their sweetest and juiciest right now- literally dripping with flavor. If you bake one thing this Summer, let it be this Farm Style Peach Galette.
Serve it up with good vanilla bean ice-cream and I promise you, it will make your day.
It is a very easy, no-fuss recipe – with no peeling of the peaches, just wash and cut. It takes about 30 minutes of hands-on time before it goes right into the oven. When it comes out, it's fragrant, deeply golden, bubbly…..and oh so delicious!
Give it a try this weekend.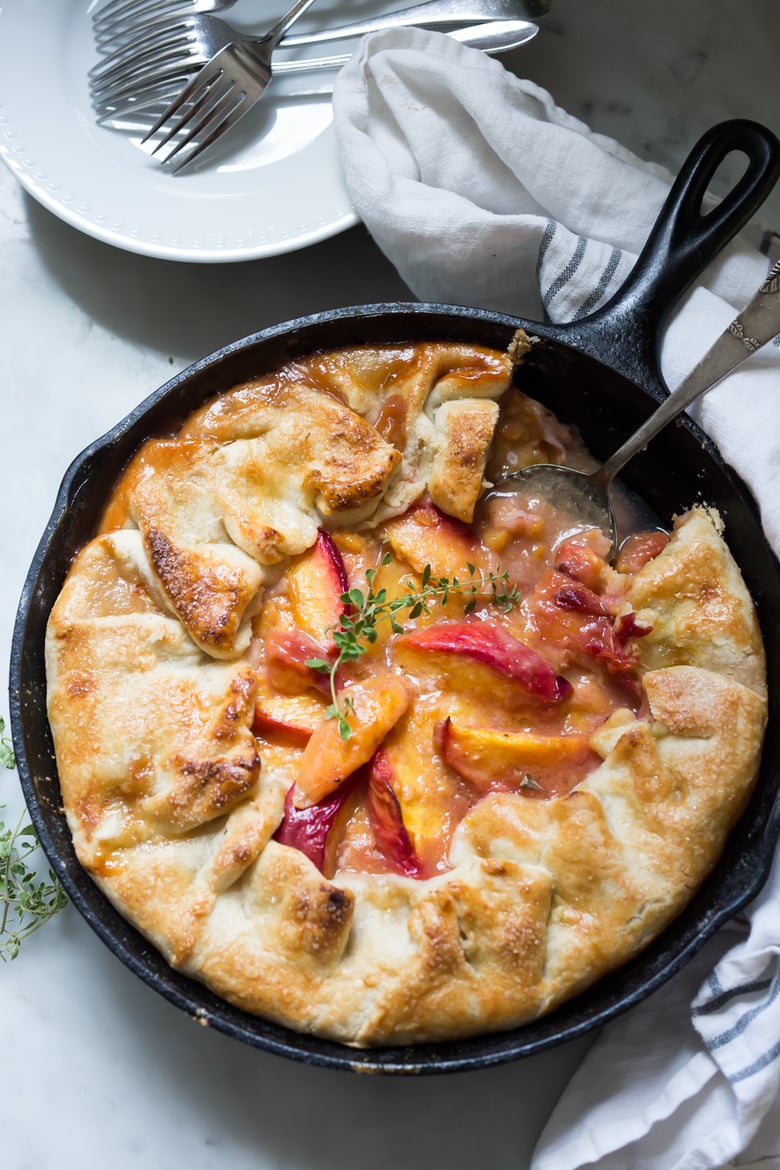 This was breakfast. Then maybe I had some for dinner too.
Sometimes it's ok to eat dessert for breakfast, at least that is what I think, especially when it is a dessert made with fresh ripe summer fruit.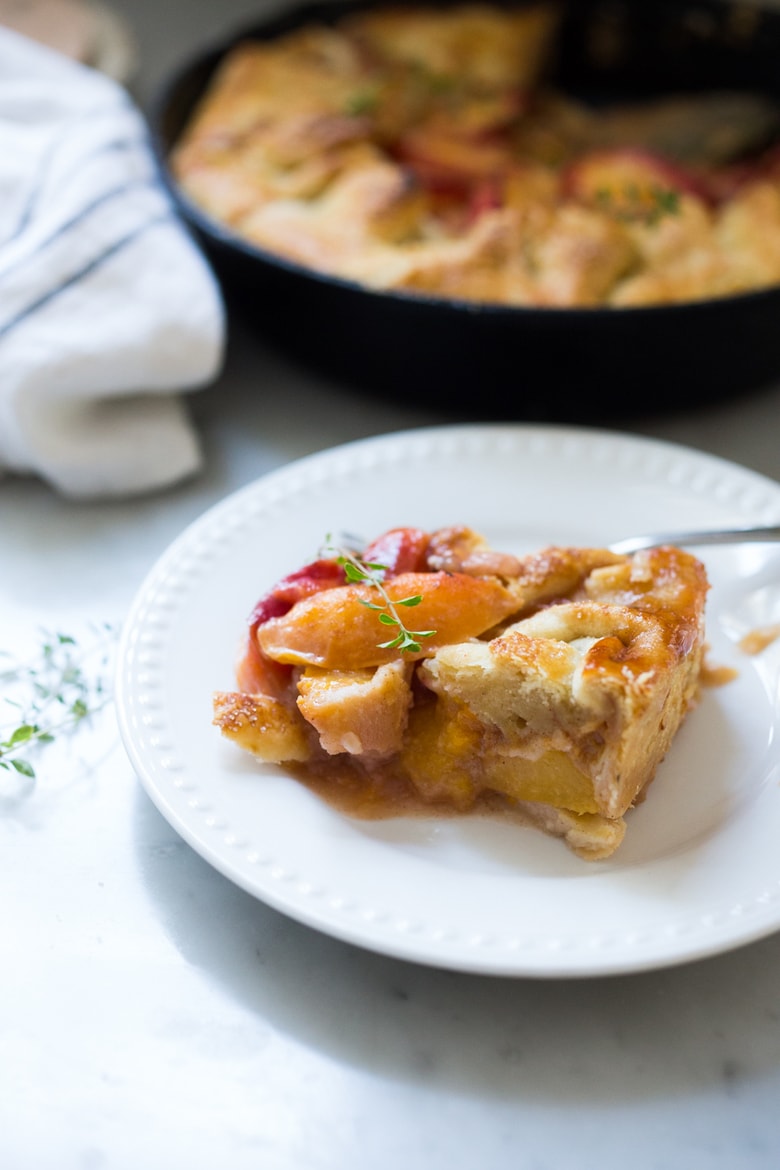 Here's a fun recipe for Peach Galette that can be adapted to most stone fruits.
I like this one because the whole thing is baked in a skillet. Kind of homespun. If you don't have an oven proof skillet, use a parchment-lined sheet pan. Not a problem.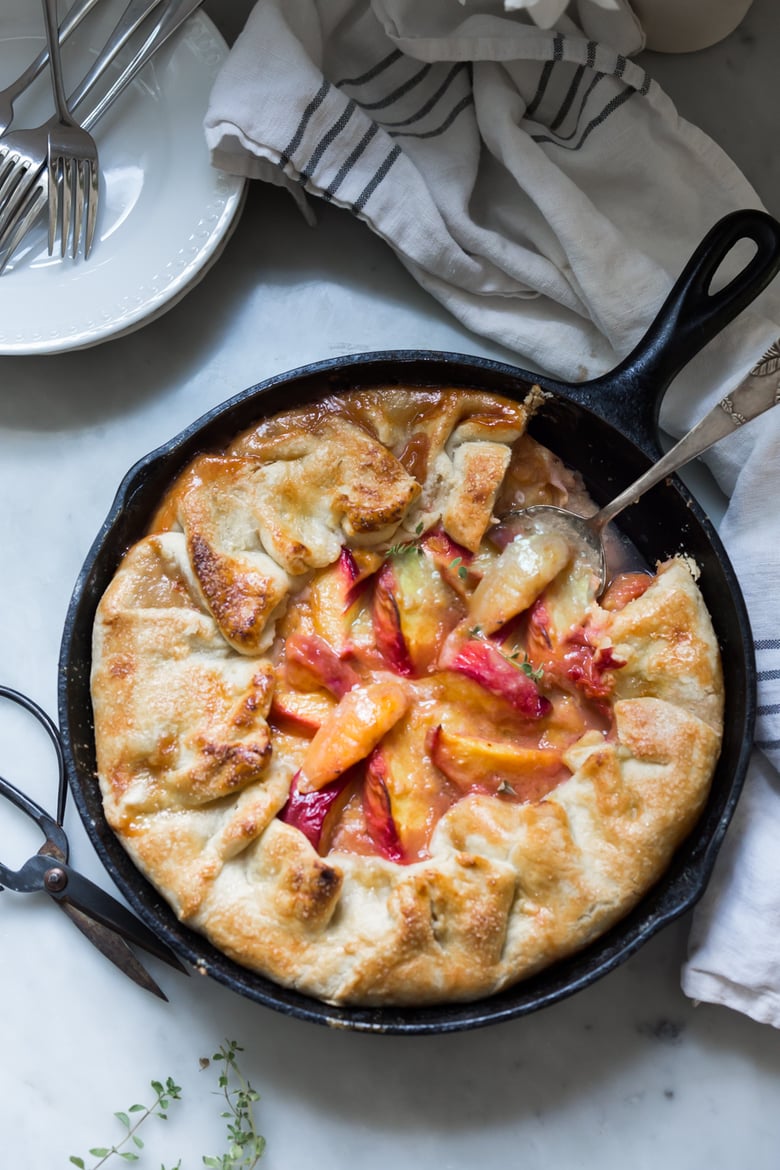 Make this when peaches are ripe and juicy and at their peak of flavor!
It is really simple to make.
Serve it warm with ice cream, or on its own.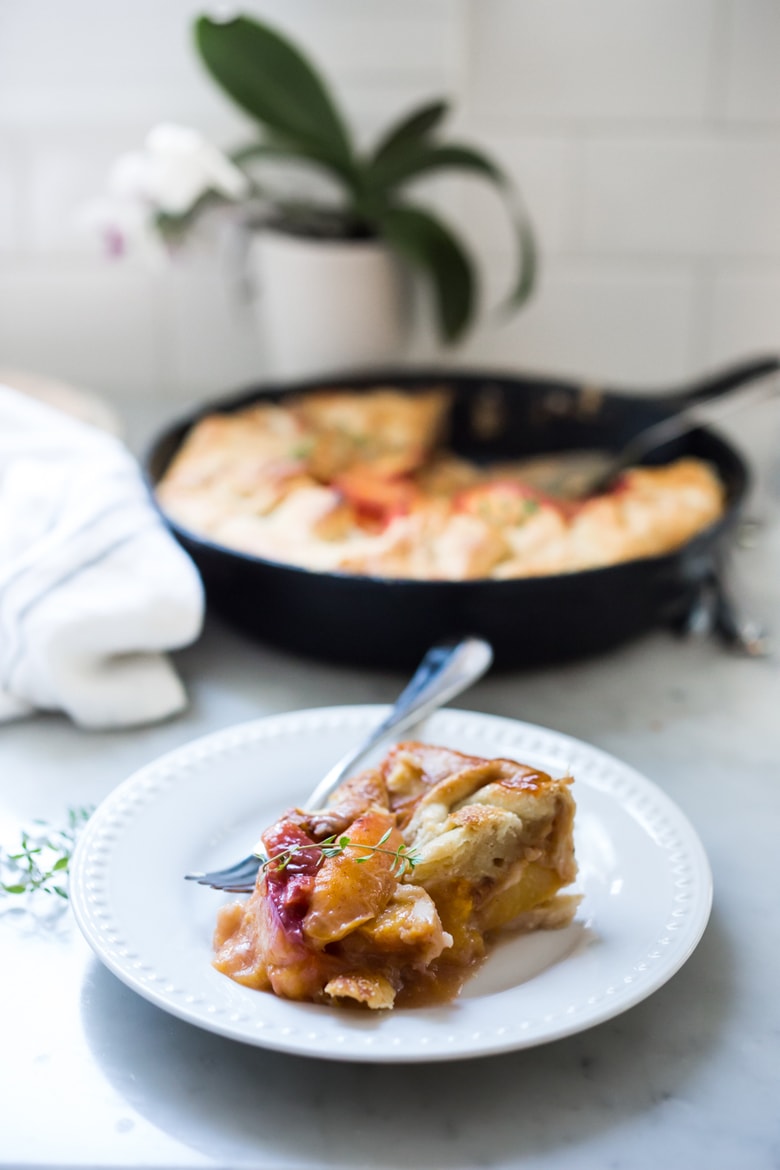 Let us know what you think in the comments below!
xoxo
Print
Farm Style Peach Galette
A simple old fashioned recipe for Peach Skillet Pie that can be adapted with any fresh fruit, using a standard 10 ½ inch cast iron skillet. Or use a sheet pan!
Prep Time:

25 mins

Cook Time:

50 mins

Total Time:

1 hour 15 mins

Yield:

8

Category:

Dessert

Method:

baked

Cuisine:

Northwest fruit Pie
Pie Crust:
1 1/2 cups

all-purpose flour

1 teaspoon

salt

2 tablespoons

sugar

10 tablespoons

cold butter – cut into

10

pieces

1/4

–

⅓

cup cold water
Filling
8

–

9

medium peaches, perfectly ripe – sliced into ½-¾ inch slices (about

6

–

7

cups)

1 tablespoon

lemon juice

¼

–

½

cup all-purpose flour

½ cup

sugar ( more to taste)

¼ teaspoon

ground cinnamon

¼ teaspoon

nutmeg

¼ teaspoon

salt
—–

1 tablespoon

butter- optional

1

beaten egg
sugar for sprinkling
fresh thyme or garnish
serve with vanilla ice-cream (optional)
Instructions
Make the pie crust: Place flour, sugar and salt in a food processor and pulse to mix. Add butter, then pulse repeatedly (15-20 times) until it resembles course sand with some larger pea sized clumps of butter. Turn processor on and gradually add water,just until dough clumps together and forms a shaggy ball. You may need to add a little more or little less. Just until it clumps together.
Gather up and place on a well-floured piece of parchment, flouring the top as well. Form into a round ball, then flatten into a neat and tidy 1-inch thick disk about 7 inches wide. Wrap in parchment and refrigerate 40 minutes.
Preheat oven to 4ooF
Gently rub peach fuzz off the peaches with a terry cloth towel or rub it off under cold running water. Pat dry. Leaving the clean, defuzed skins on, slice peaches into ½-¾ inch thick wedges. Place in a large bowl. Sprinkle with lemon juice, flour, sugar salt and spices, mix very gently, to combine. If you like a juicier pie, as I do, only add ¼ cup flour. Or, for a thicker consistency, add up to ¼ cup more flour. Taste for sweetness. The sweeter and riper the peaches the less sugar you will need- but note you do need at least ½ cup sugar to get the right consistency when baking. Add more sugar to taste. Set aside. The lemon juice is not just for flavor, it adds vibrancy to the color of the cooked peaches and helps the consistency- so don't leave this out. 😉
Roll out the dough: Neaten the edges, flip and begin rolling it out on the floured parchement, from the center out to the edges- while keeping the underneath surface well-floured to prevent sticking. Roll out to about ¼ inch thick or roughly 14 inches in diameter. Carefully lift pie dough and place in a 10 ½ inch wide cast iron skillet, gently pressing it into corners and sides. Sprinkle the bottom with a tablespoon of flour, this helps the crust to not get soggy.
Spoon in the pie filling, and arrange peaches nicely just in the top middle area where they will show. Dot with a little butter if you like.
Fold the raggedy edges of the crust over itself about 1/4 inch or so, just to clean up the edges.
Then carefully draw the crust up over the filling, folding and overlapping in the same direction, every 2 inches or so. It need not be perfect.
Brush the top of the crust with egg wash and sprinkle with sugar.
Place on the middle rack of a 400 F oven for 15 minutes.
Turn heat down to 375F and continue baking until deeply golden and bubbly, about 35-40 minutes.
If crust starts to get too brown, lover heat to 350, or cover the edges with foil – this doesn't usually happen, but every oven is different!
When done, let rest 20 minutes before cutting into it. Serve with vanilla ice-cream and enjoy!!
Notes
Keywords: peach galette, peach tart, peach skillet pie