This simple easy Skillet Cobbler is topped with a golden, crispy, delicious biscuit topping with fresh summer stone fruit and can be made gluten-free and / or vegan!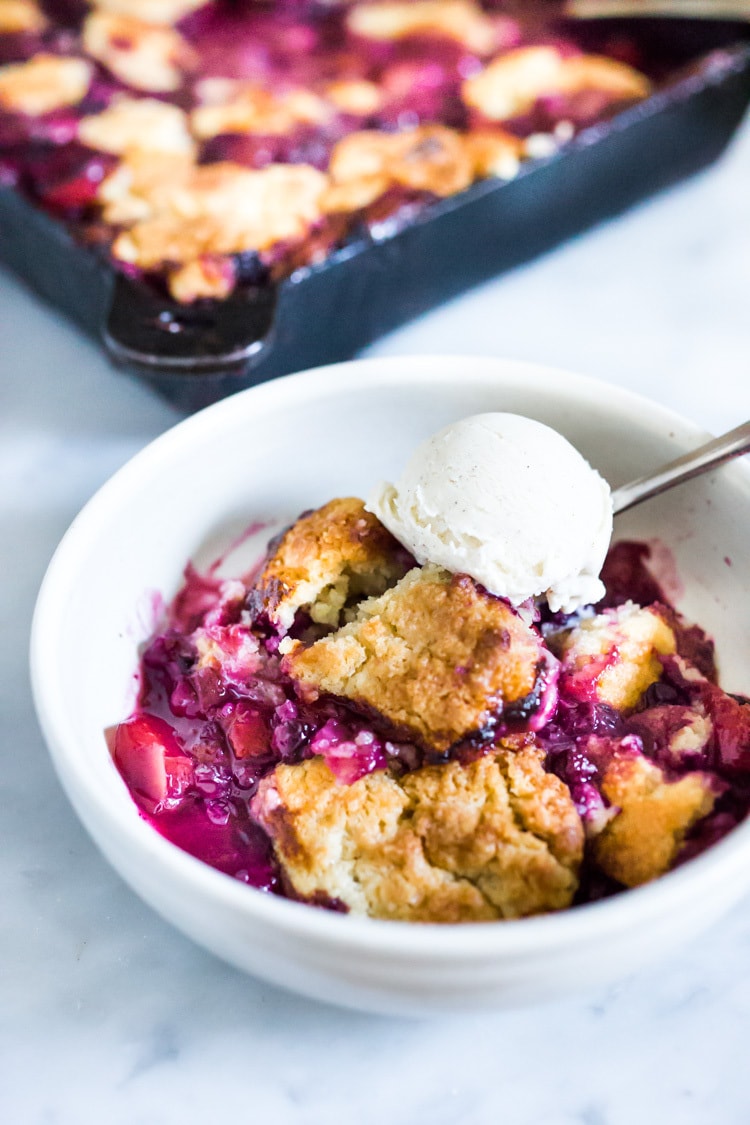 It's Sunday morning and I'm making a Skillet Cobbler for breakfast. It feels well deserved. Peaches and huckleberries are in season here in the Northwest and that's just what I happen to have on hand!
What I love about this recipe is how adaptable it is- use what you have. If you don't have access to huckleberries- feel free to use other summer berries- blueberries or blackberries work well too! Or sub nectarines or plums for the peaches.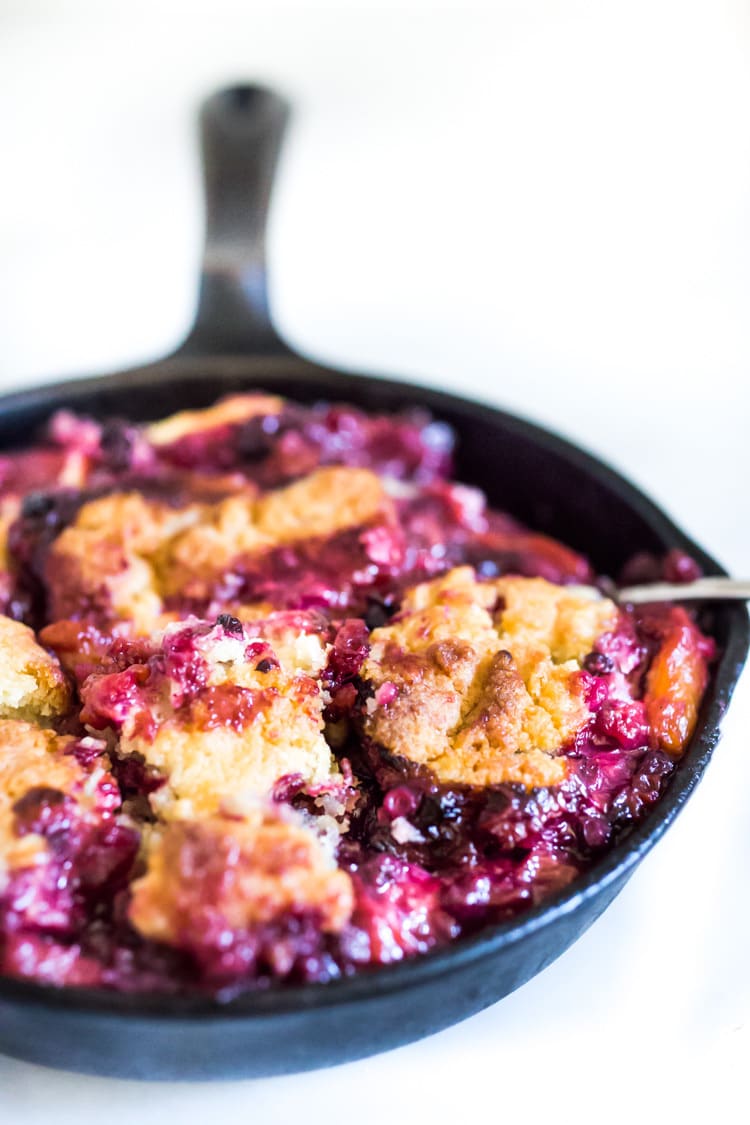 The weekend was filled with lots of wedding catering, and to tell you the truth, I'm exhausted, but in a good way. There is something very satisfying about good old-fashioned hard work – it makes me grateful for my health and for my bed. Haha! Today marks the halfway point of our wedding catering season, and I feel like celebrating!
For one of the weddings over the weekend, I made these mini peach and huckleberry cobblers (a terrible photo taken on my iPhone) baked in little mason jars. They were so yummy! So when I woke up today, I still had these in my head!
If interested in making these in Mason Jars, you could follow the directions I posted here: Mini Pear and Berry Crumbles with Nigella Seeds.
At home when it's just the two of us, cobbler comes together much more quickly and easily in a cast iron skillet.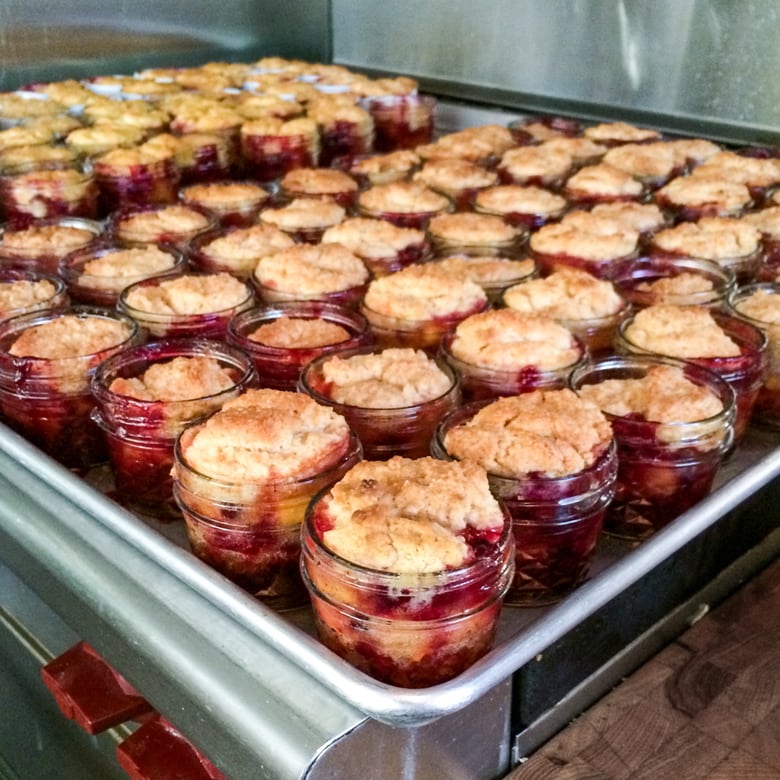 I loved how the skillet cobbler turned out. I'm a stickler about cobbler topping, to me it must be more biscuit-like, rather than cakey. This one came out perfectly crispy, crumbly and golden. The recipe can be made in mason jars, in a baking dish or in a skillet, but know that baking times will vary.
To get the biscuit topping crispy, golden and cooked all the through, make sure to add it after the fruit is heated and bubbly ( either stove top or in the oven.) Bigger dollops of topping may require you to cook longer and cover the cobblers with foil for part of the baking time, to prevent the cobblers from getting too dark.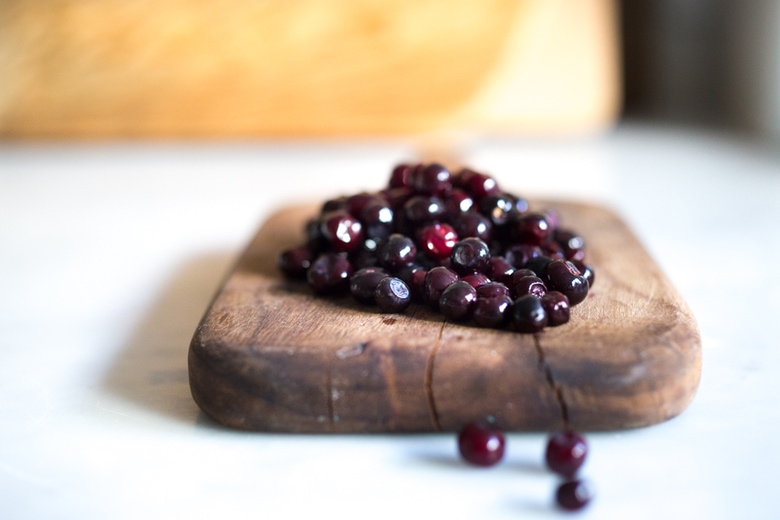 Huckleberries are in full swing here, but other berries can be substituted – blueberries and blackberries loved to be paired with peaches. Or use only peaches.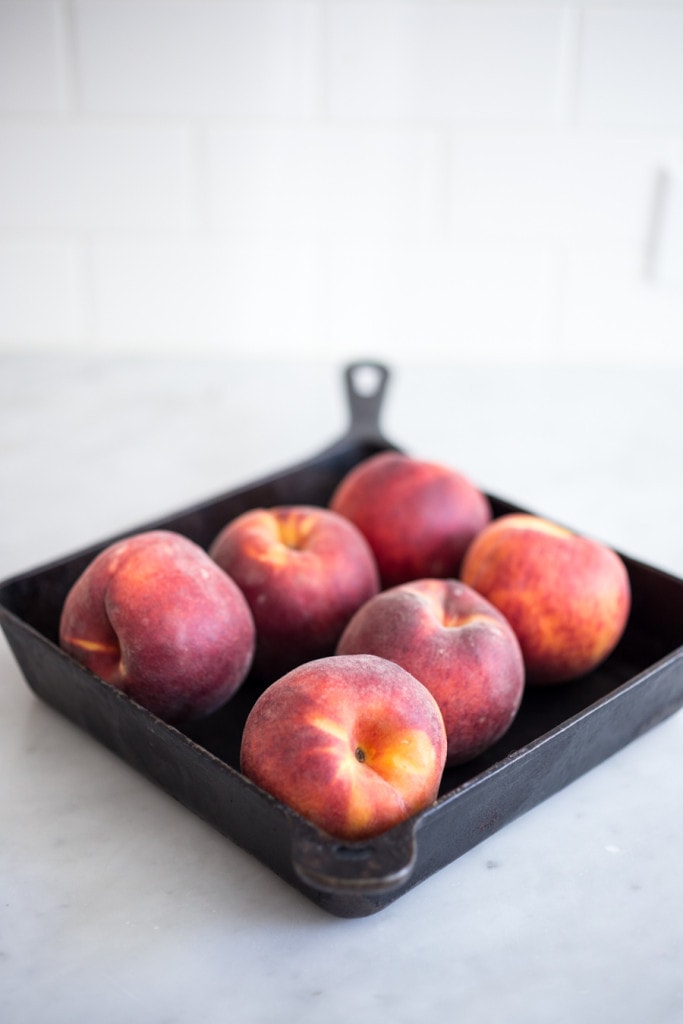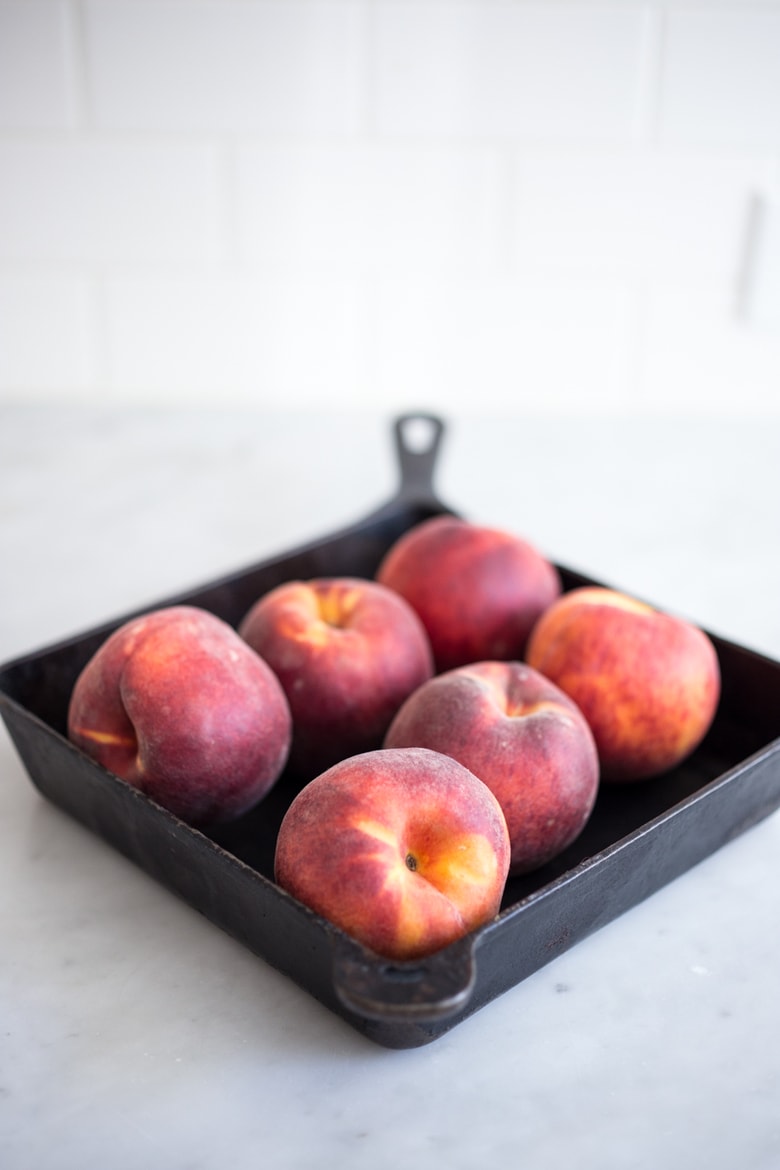 When I'm feeling lazy, I don't bother peeling peaches. Shusssssh! The skins melt into the cobbler and disappear. But for a proper peach cobbler, peeling peaches really is not that hard or time-consuming… and the easiest way to peel peaches is to dip the peaches into boiling water for 30-45 seconds then put them into an ice bath. The skins easily slip off!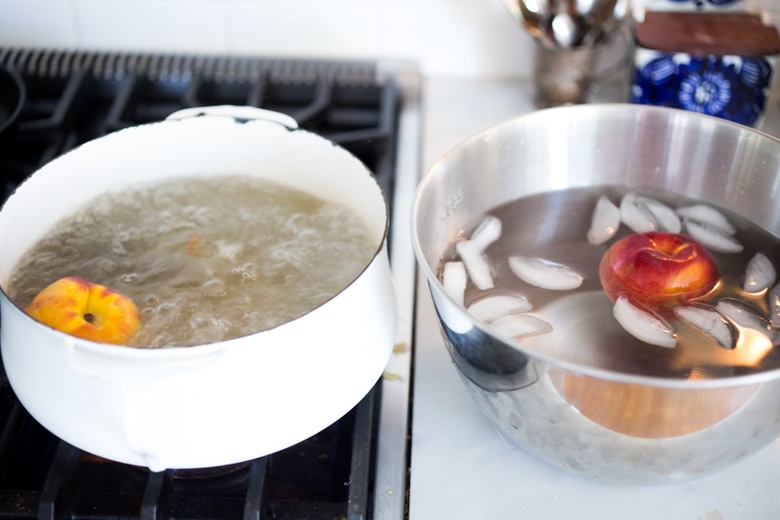 Slice or cut into chunks.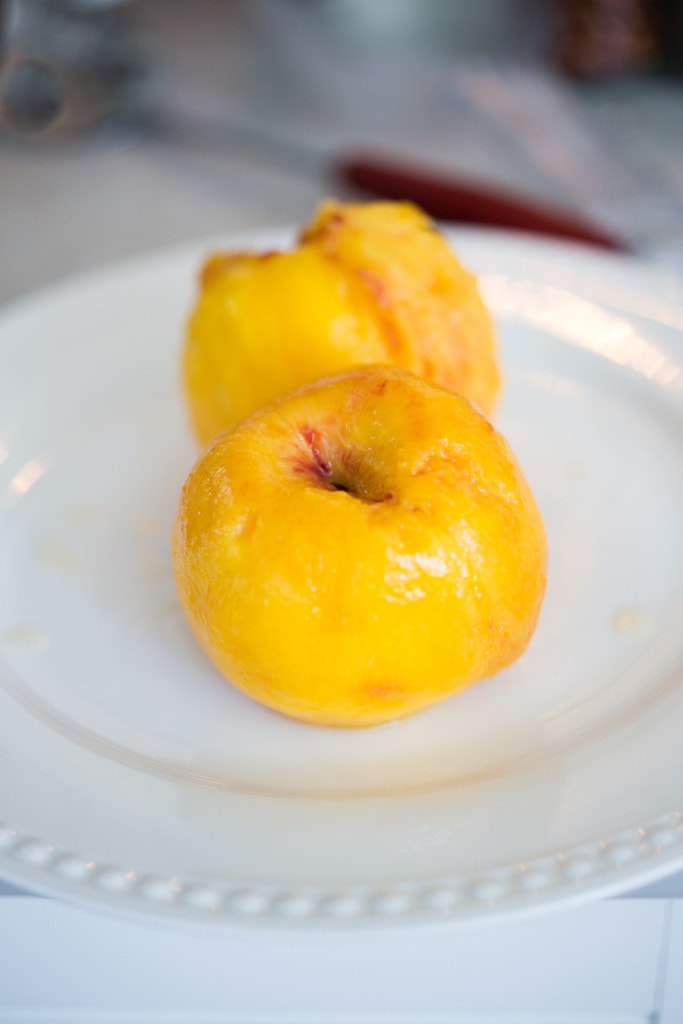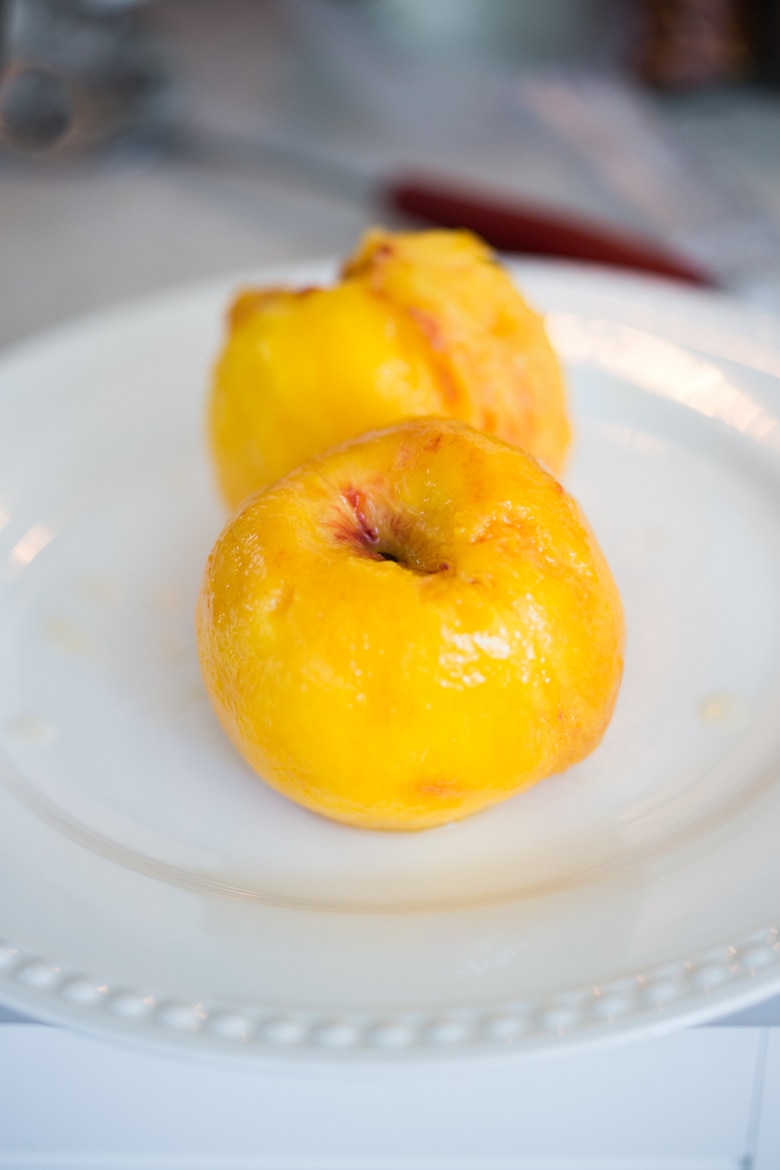 The biscuit topping comes together very easily. Mix the flour, sugar and salt in a bowl. Then add melted butter and combine. Remember you easily make this with gluten-free flour and vegan butter! Or both!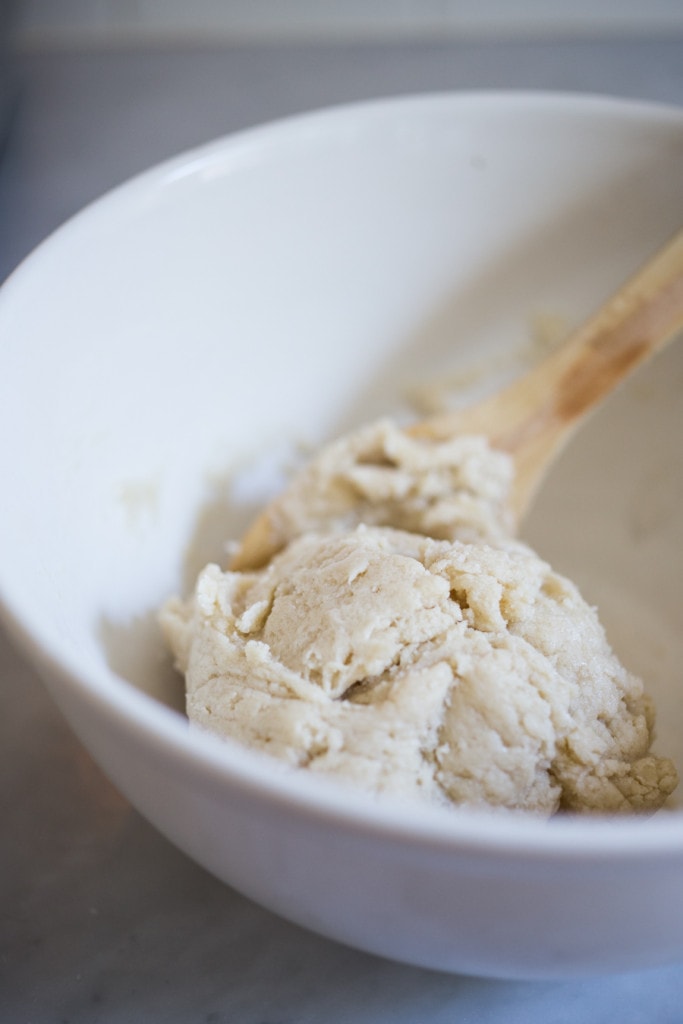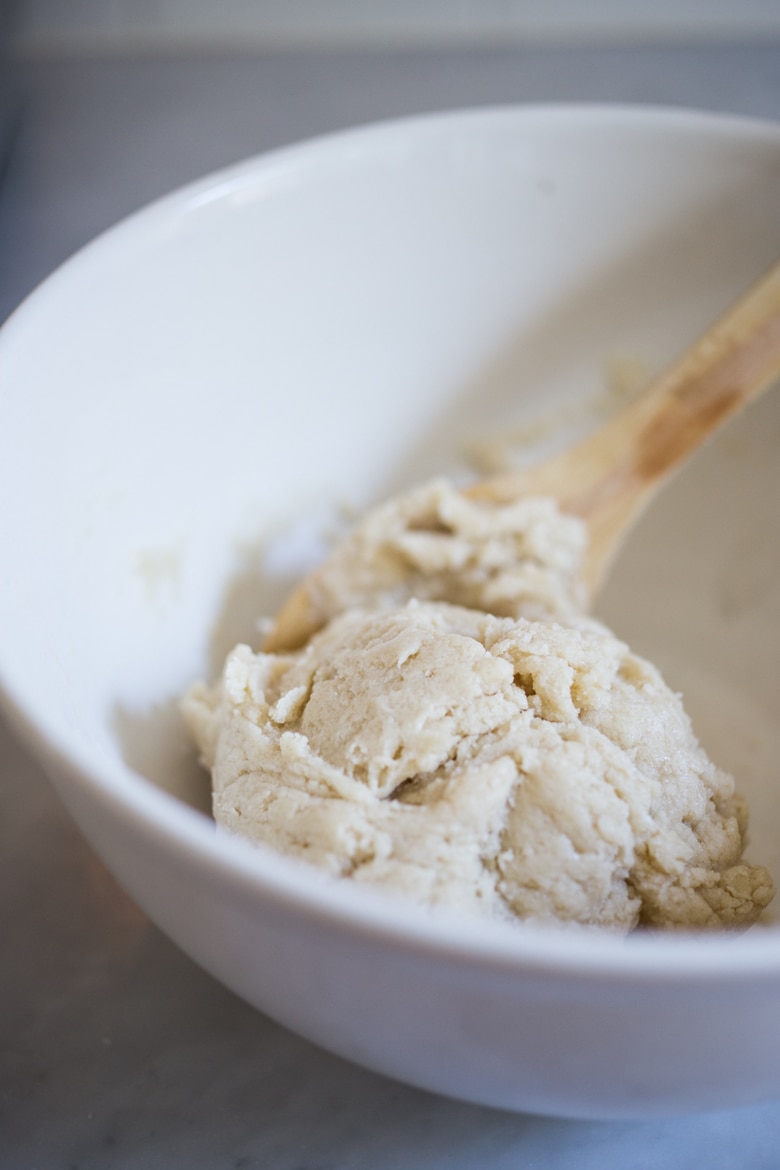 The peach cobbler filling is heated up on the stove-top before going in the oven, cutting down on the overall oven time. Use what ever fruit you like, adjusting the sugar as needed, remembering that as the fruit cooks down, its flavor and sweetness will intensify.
And when adding berries, like huckleberries or blackberries, you may need to add a little more sweetness. Make sure to taste the filling before baking it to get the balance right, don't just measure. Every fruit is different!
The degree of ripeness of the peaches will alter the outcome. So taste!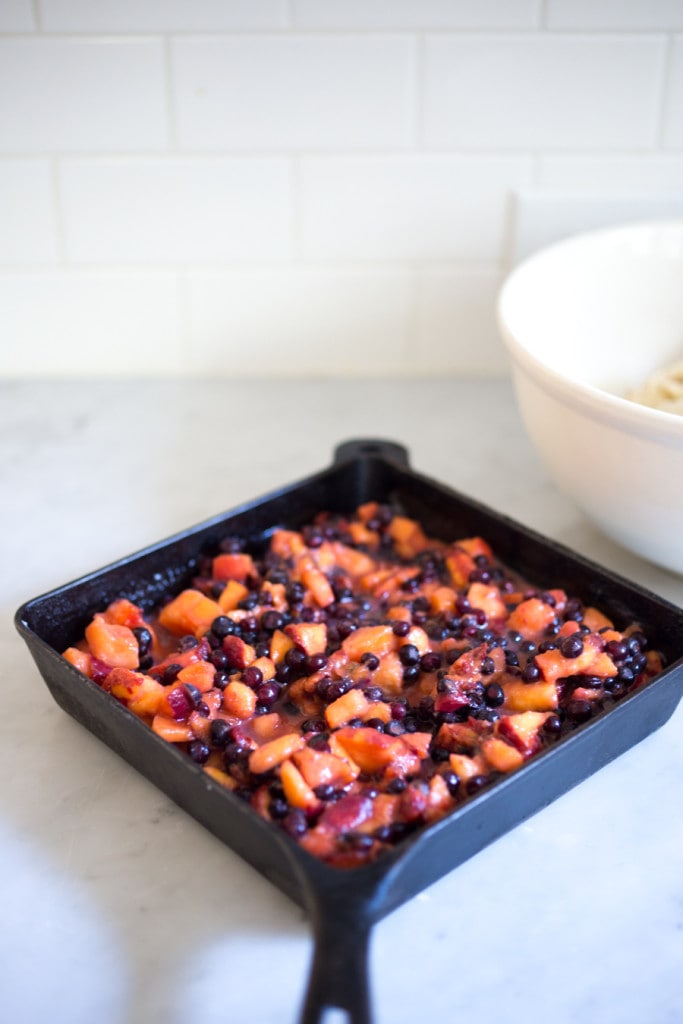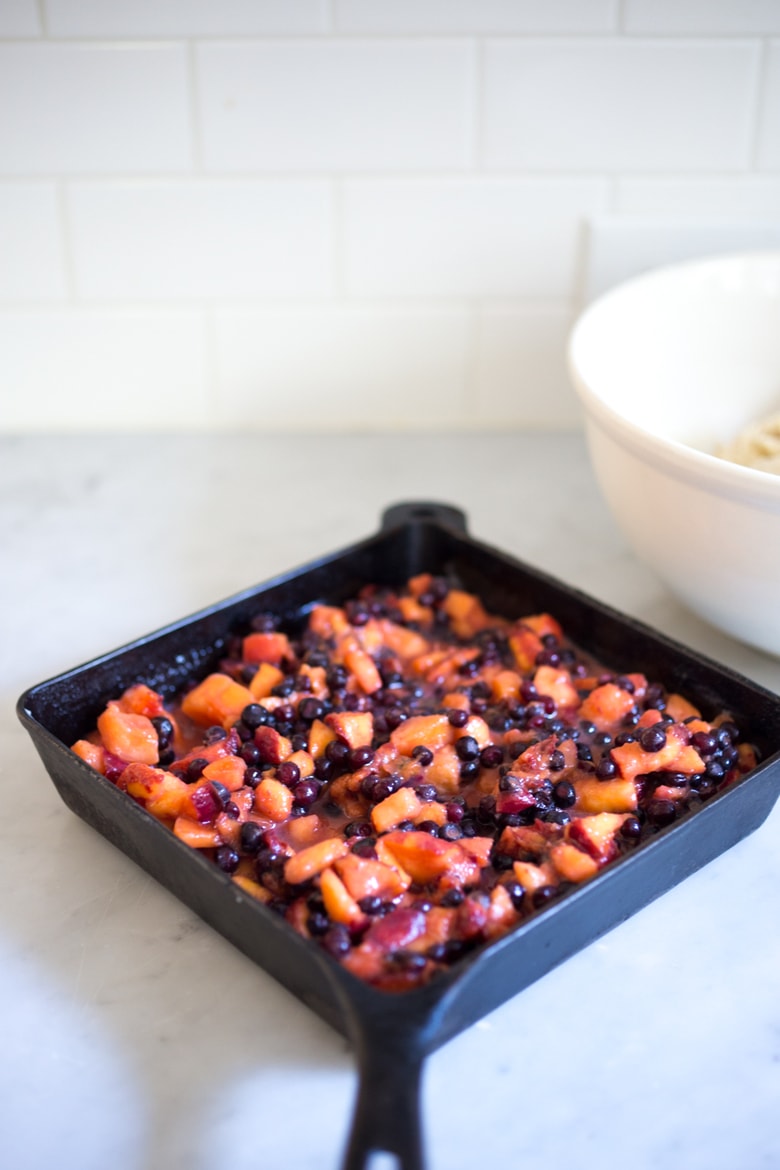 Place the peach cobbler filling in a well-greased cast iron skillet and heat it up on the stove, over medium heat, until the middle is hot and bubbling, about 8-10 minutes.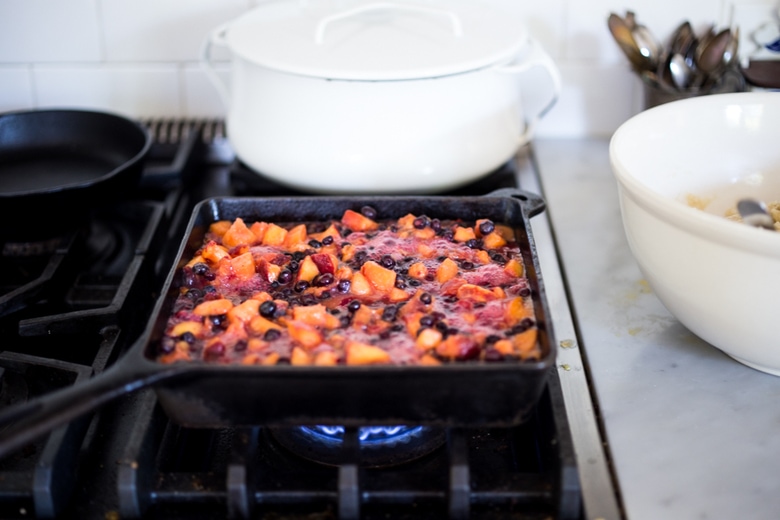 Double check the center of the peach cobbler filling is hot. Then cover with small disks of the biscuit dough. Press ping pong sized balls of dough in your palms to create a flat disk about ½ inch thick.
Then place on the warmfruit. You can overlap if you like. Any left over dough can be crumbled around the disks. Then place the peach cobbler in a hot oven ( middle or lower rack) and check halfway through. It the topping looks like it is getting too dark lightly cover with foil.
You want the biscuit topping to cook all the way through. No doughy bisquits!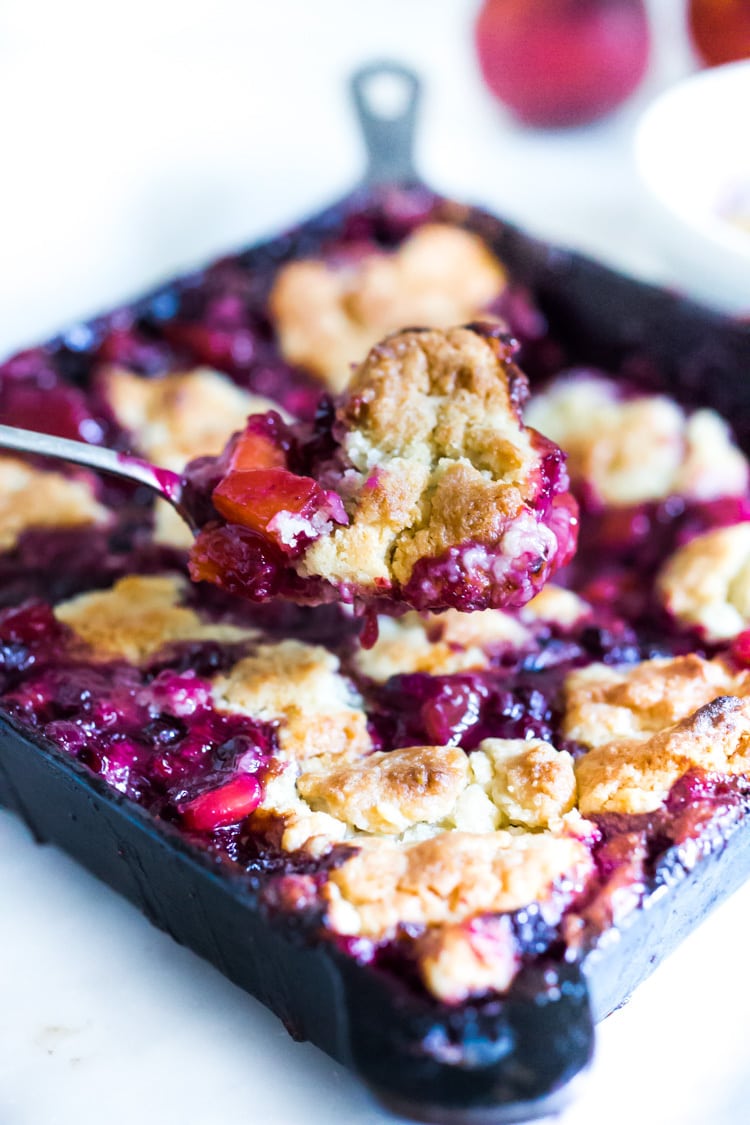 When this skillet cobbler comes out of the oven it will be bubbly, golden and delicious!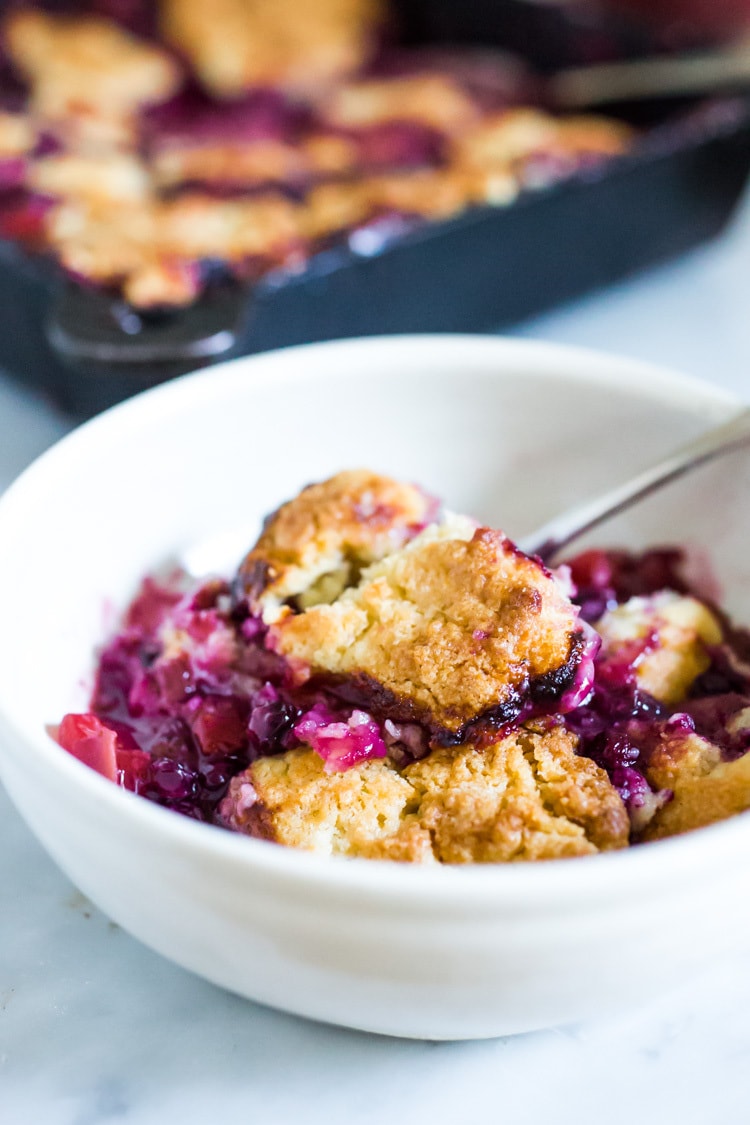 Enjoy Skillet Cobbler on its own for a decadent breakfast…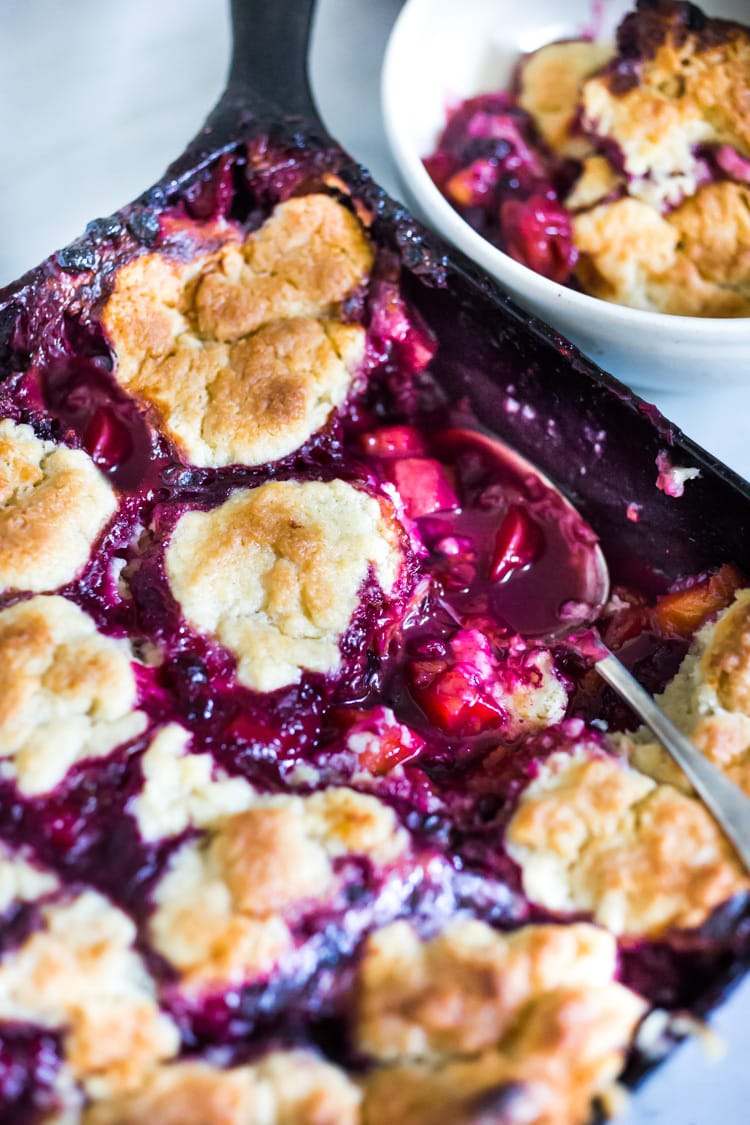 Or serve the skillet cobbler for dessert with ice cream.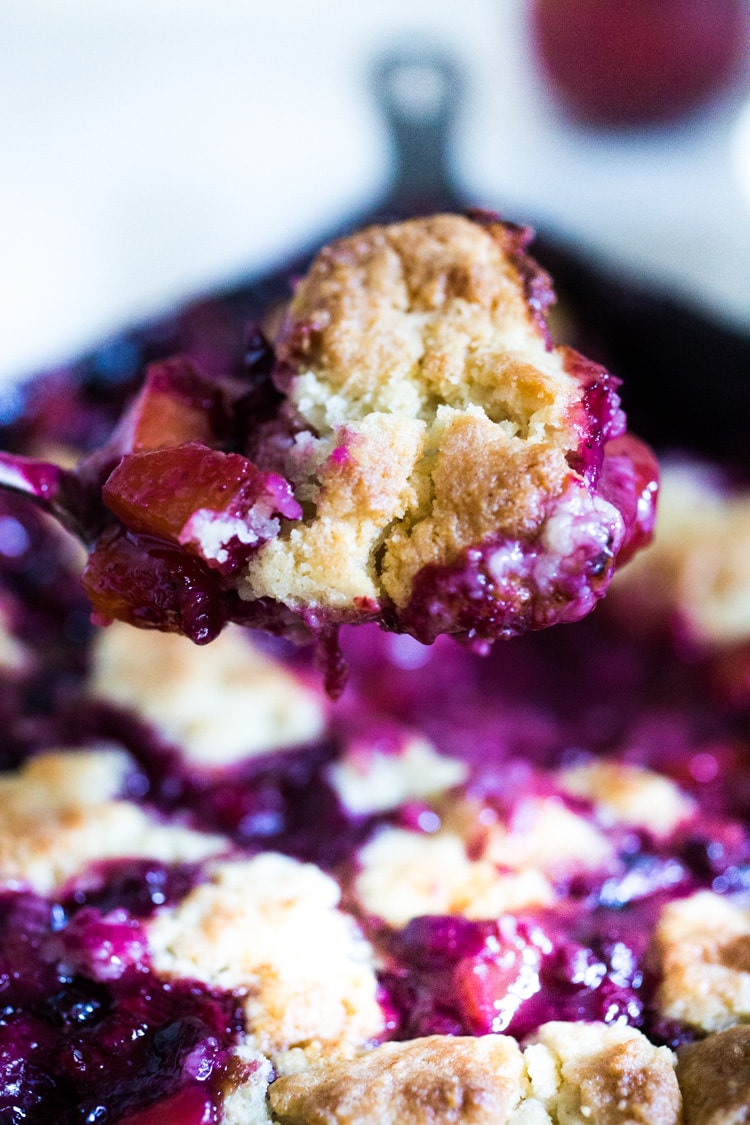 Happy sunny weekend!
xoxo
Print
How to make Skillet Cobbler
A crispy crumbly biscuit topped skillet cobbler with fresh summer peaches and optional huckleberries. Use other summer berries, like black berries or blueberries! This can be made gluten-free and or vegan! UPDATED RECIPE.
Prep Time:

30 mins

Cook Time:

55 mins

Total Time:

1 hour 25 minutes

Yield:

8

Category:

Dessert, breakfast, vegan

Method:

Baked

Cuisine:

American
7

–

8

fresh peaches – 2 lbs, peeled (optional) sliced into chunks or slices ( about

3 cups

total ) or sub plums or nectarines. ( see notes)

1 cup

fresh berries (optional – sub blackberries, blueberries)

1/4 cup

organic sugar

1/8 cup

brown sugar

1/4 teaspoon

ground cinnamon

1/4 teaspoon

ground cardamon

1 tablespoon

fresh lime or lemon juice

1 teaspoon

vanilla
pinch salt

2 teaspoons

cornstarch
Cobbler topping:
1

 1/2 cups all-purpose flour ( or use a GF flour blend) or half whole wheat

1/3 cup

sugar ( or sugar substitute like coconut sugar)

1/4 teaspoon

salt

1

 ½ sticks butter (

12 tablespoons

, or

¾ cup

) melted, and then cooled slightly (or use vegan butter or coconut oil! )
FOR SPRINKLING:
turbanado sugar ( optional)
Instructions
Preheat oven to 350°
In a large bowl, combine peaches, sugar ( see notes) spices, salt, lemon juice, vanilla and cornstarch. Toss to coat evenly, and gently fold in berries. Taste and adjust sugar, adding more, if berries are particularly tart.
Place the fruit only, in a greased 10 inch cast iron skillet, and heat over the stove over medium heat, until just bubbling and hot in the center about 8-9 minutes. If this looks overly "juicy" feel free to spoon out some of the liquid ( this mostly happens with over ripe fruit and plums).
While this is heating, make the topping. Combine flour, sugar and salt in a mixing bowl.
Mix the melted butter into the flour and sugar and combine to form a crumbly dough.
Pat handfuls of dough into 2 inch-wide disks, 

1/2-inch thick.

They dont have to look perfect.
Add disks to the top, overlapping a little bit if you like, sprinkle crumbles of the remaining dough, into all the nooks and crannies, and place in the hot oven and bake until bubbly, golden and crispy, about 45 -55. minutes – checking at 20-30 minutes to see if it's getting too dark and if so, rotate or lightly cover with foil for a bit.
Let cool 15 minutes before serving.
Notes
Blueberries will most likely need less sugar, start conservatively. Huckleberries are pretty tart and may need more.
To get the biscuit topping crispy, golden and cooked all the through, make sure to add it after the fruit is heated and bubbly ( either stovetop or in the oven.)  Bigger dollops of topping may require you to cook longer and cover the cobbler with foil for part of the baking time, to prevent them from getting too dark.
If you prefer to make in mini Mason Jars or ramekins- follow the directions here. Mini Pear and Berry Crumbles with Nigella Seeds.
Nutrition
Serving Size:

1 cup- made with real butter

Calories:

396

Sugar:

31.6 g

Sodium:

114.2 mg

Fat:

23.4 g

Saturated Fat:

14.4 g

Carbohydrates:

46.2 g

Fiber:

2.1 g

Protein:

2.7 g

Cholesterol:

61 mg
Keywords: skillet cobbler, peach cobbler, biscuit topping, cobbler in a skillet, peach cobbler, how to make a cobbler in a skillet, best skillet cobbler