Strawberry Rhubarb Cobbler with orange and ginger is a homey, bright, and delicious treat.  The fruit really shines here, paring perfectly with the rustic masa corn topping.  Great for brunch as well as dessert!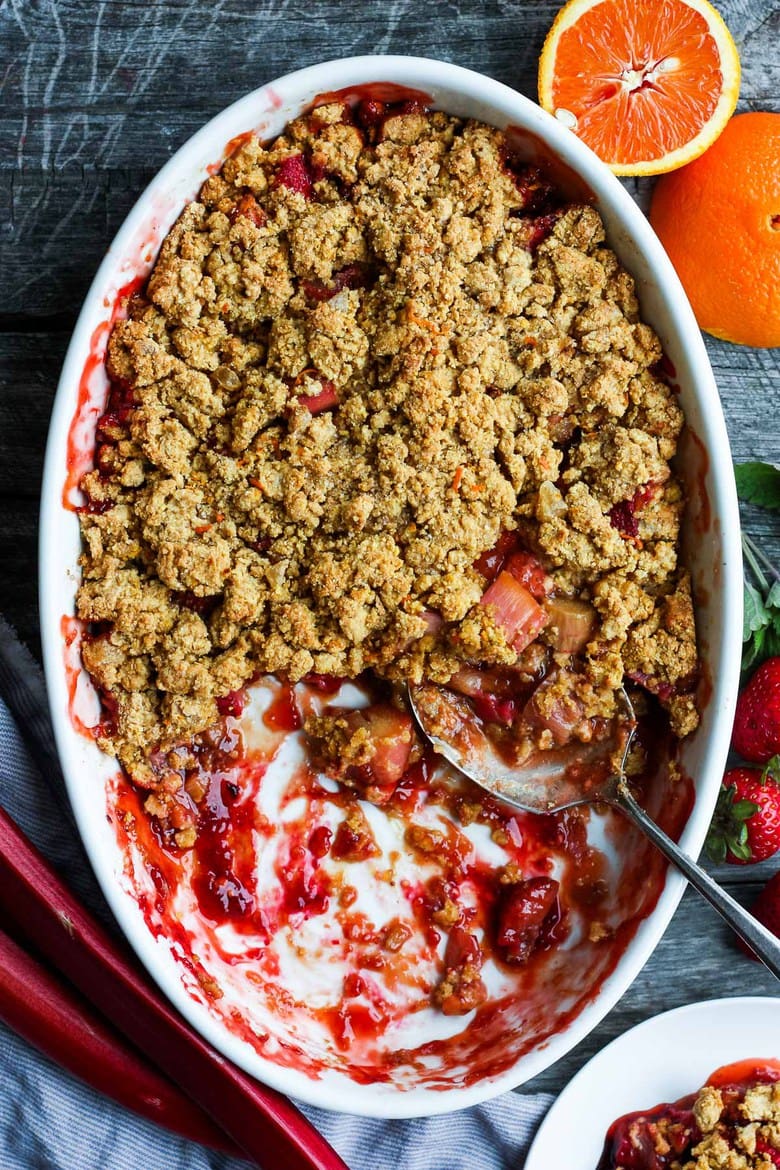 You've got to make your own kind of music, sing your own special song, make your own kind of music, even if nobody else sings along. ~Cass Elliot
Bright, earthy, tangy, and sweet, the flavors of this Cobbler are so happy together!  Sweet strawberries and tangy rhubarb with hints of orange, crystallized ginger, and an earthy masa corn flour topping. This combination takes the traditional strawberry-rhubarb duo to another level of scrumptiousness!
Using masa corn flour for the cobbler topping creates a delicious crustiness somewhere between a cobbler and a crumble.  The rustic texture perfectly compliments the saucy filling.  Fresh orange makes it all vibrant and lively.  Crystalized ginger is a perfect spice accompaniment to the fruit and just the right amount of brown sugar gives notes of caramel that compliments the rhubarb flavor without completely taming the tartness.
Ingredients In Strawberry Rhubarb Cobbler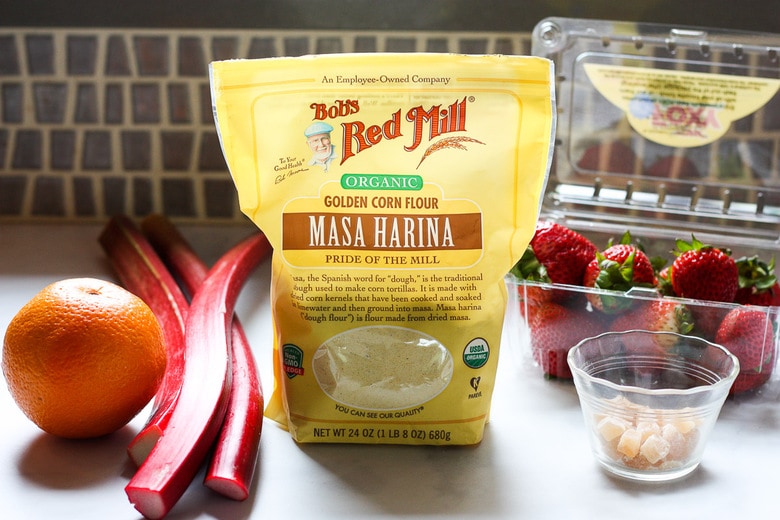 The flavor of masa is unique but you can easily substitute with finely ground cornmeal and it will still be amazingly delicious.
How to make Strawbery Rhubarb Cobbler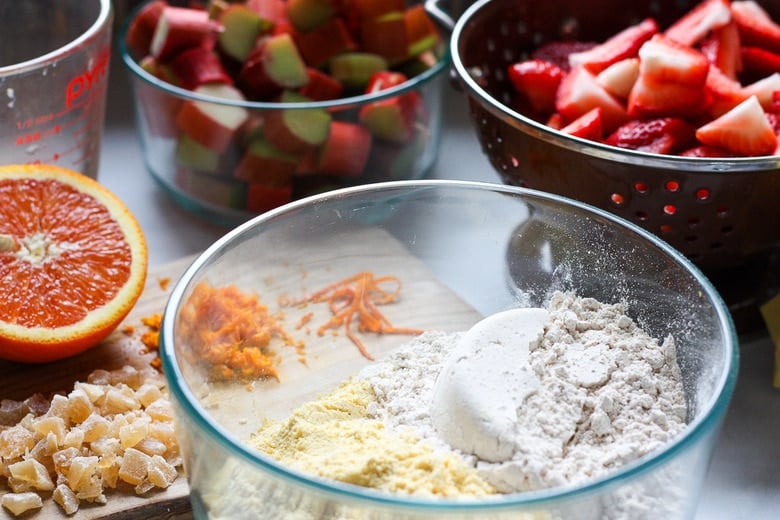 Gather the ingredients and measure and chop.
Make the Cobbler Filling: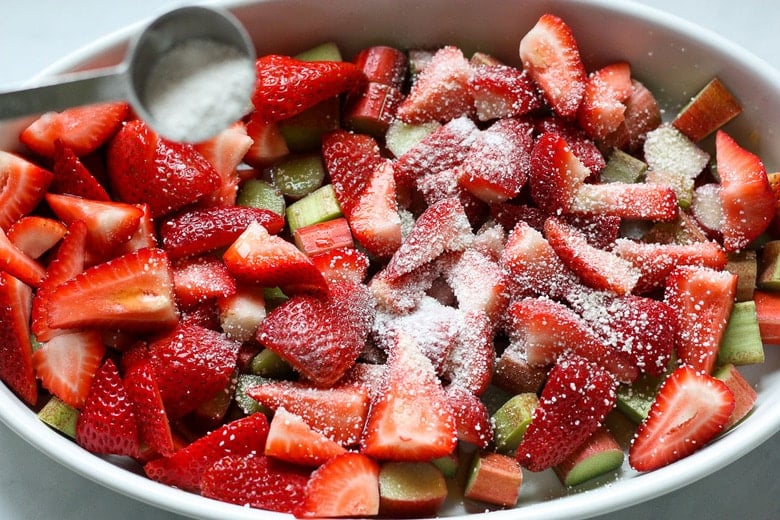 Butter your baking dish.  Dump in chopped rhubarb and strawberries.  Toss with orange juice and vanilla.  Sprinkle with tapioca and brown sugar.
I have recently discovered that I really like using tapioca for juicy fruity pies.  Not only does it remind me of my sweet grandma,  I really like the way it supports the fruit filling without adding any flavor or pasty texture.  Tapioca comes from the cassava root, available in many forms: flour, starch, pearls, and beads.  Here I am using tapioca flour.
Why use tapioca for thickening?
A good choice if you need a filling that is gluten-free.
Once it is cooked into the filling it stays jelled and doesn't turn cloudy or goopy.
It allows the filling to holds its shape at room temperature.
Creates a clear glossing filling without a starchy flavor.
Thickens at a lower temperature.
Remains stable when frozen.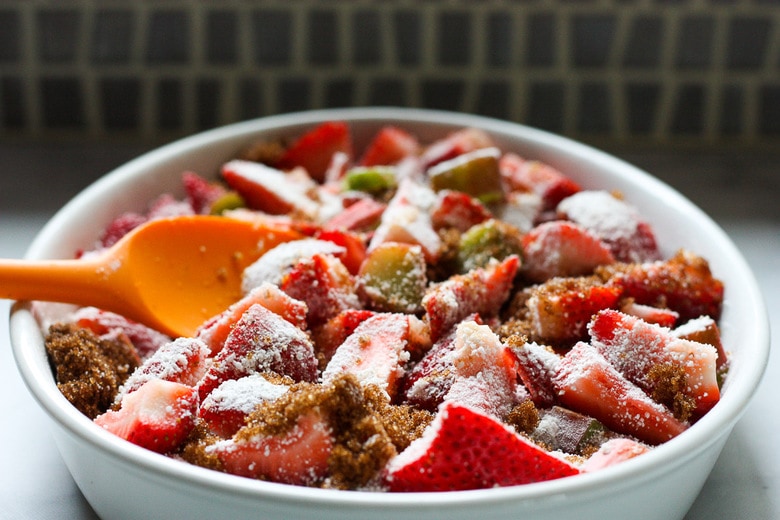 Mix to coat the fruit.  No need to be too fussy getting it perfectly distributed, as it bakes the tapioca and sugar will melt into the fruit juices and even things out. Set aside while you prepare the topping.
Make the Cobbler Topping: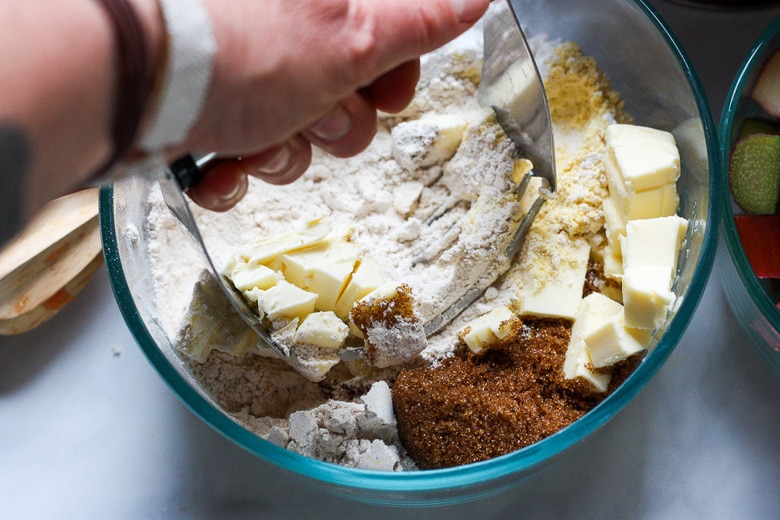 Along with the masa corn flour,  I used whole wheat pastry flour that gives an earthy nutty flavor to the crust.  Feel free to substitute with all purpose flour if you prefer.
Cut butter into the masa, whole wheat pastry flour, brown sugar, salt and orange zest until it is pea sized.  Add in the crystalized ginger chunks.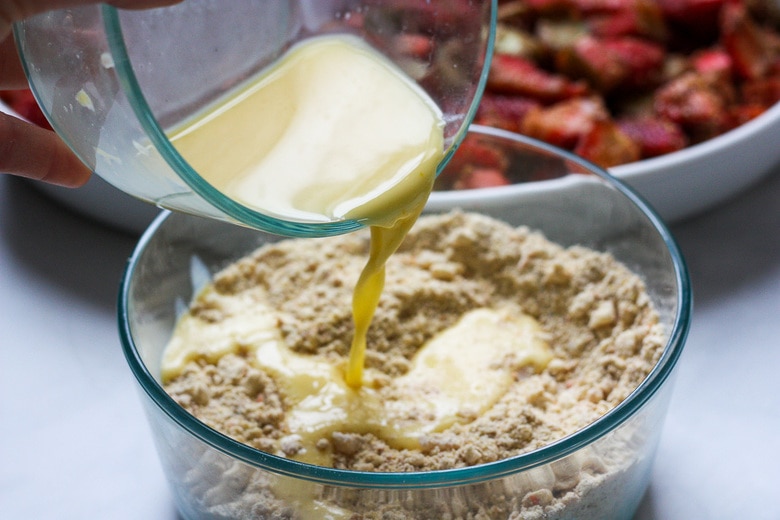 Whisk together egg, milk (dairy, nut, oat- whatever your preference).  Mix gently together until just roughly combined.
Assemble the Cobbler: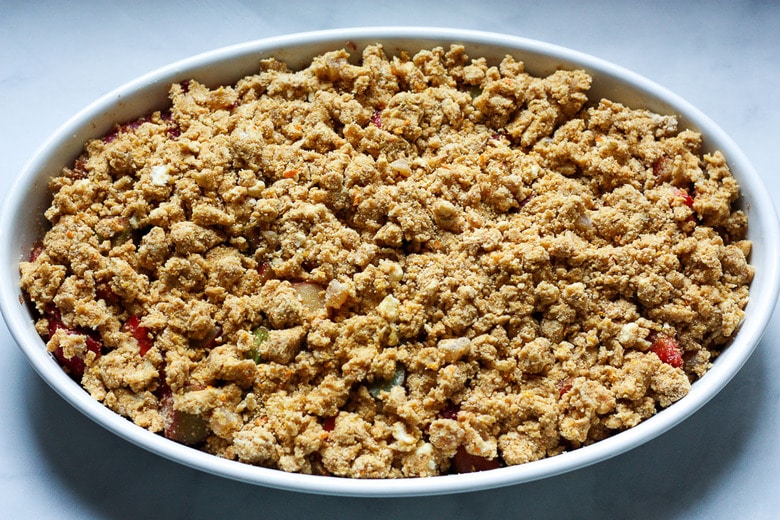 Cover the fruit filling with the crumbly cobbler dough.
Bake at 350 degrees for 30-35 minutes.  The filling should be bubbling all around when removing from the oven.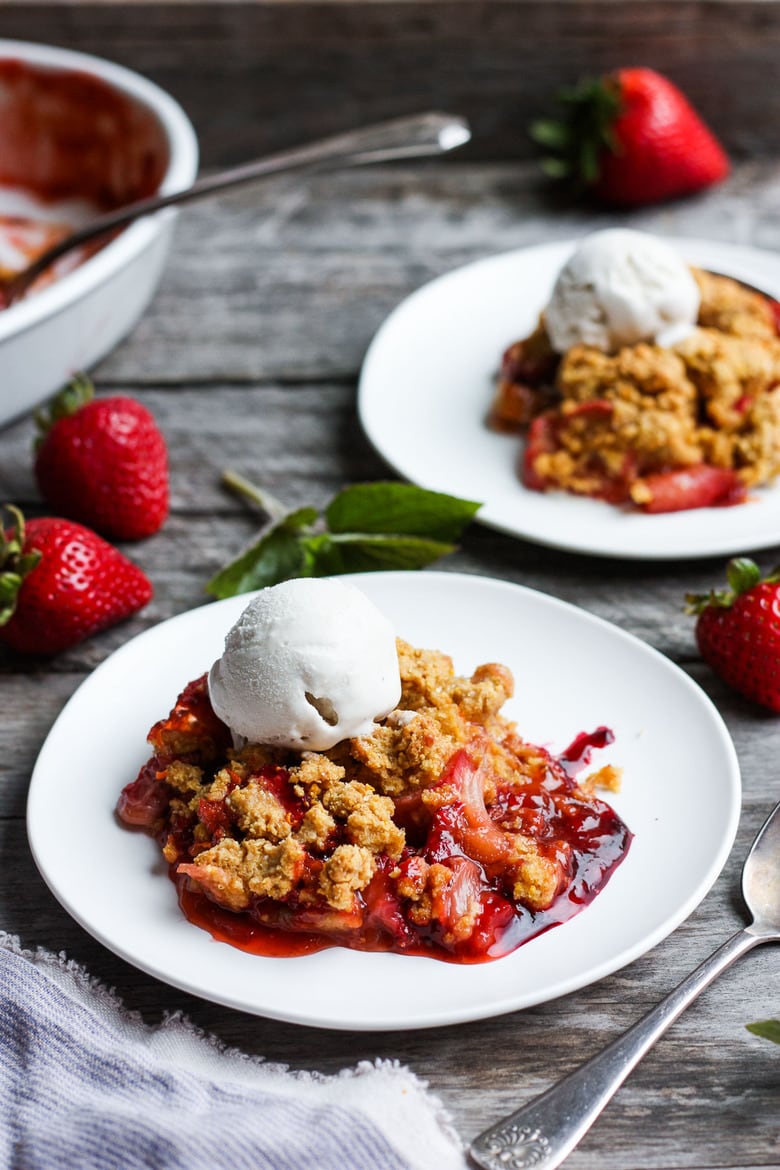 Quite delectable as is, but truly perfect served with a little ice cream or whip cream, or maybe even just a simple splash of cream or coconut cream.
Try it with a big dollop of Greek yogurt for breakfast!
More recipes you may like: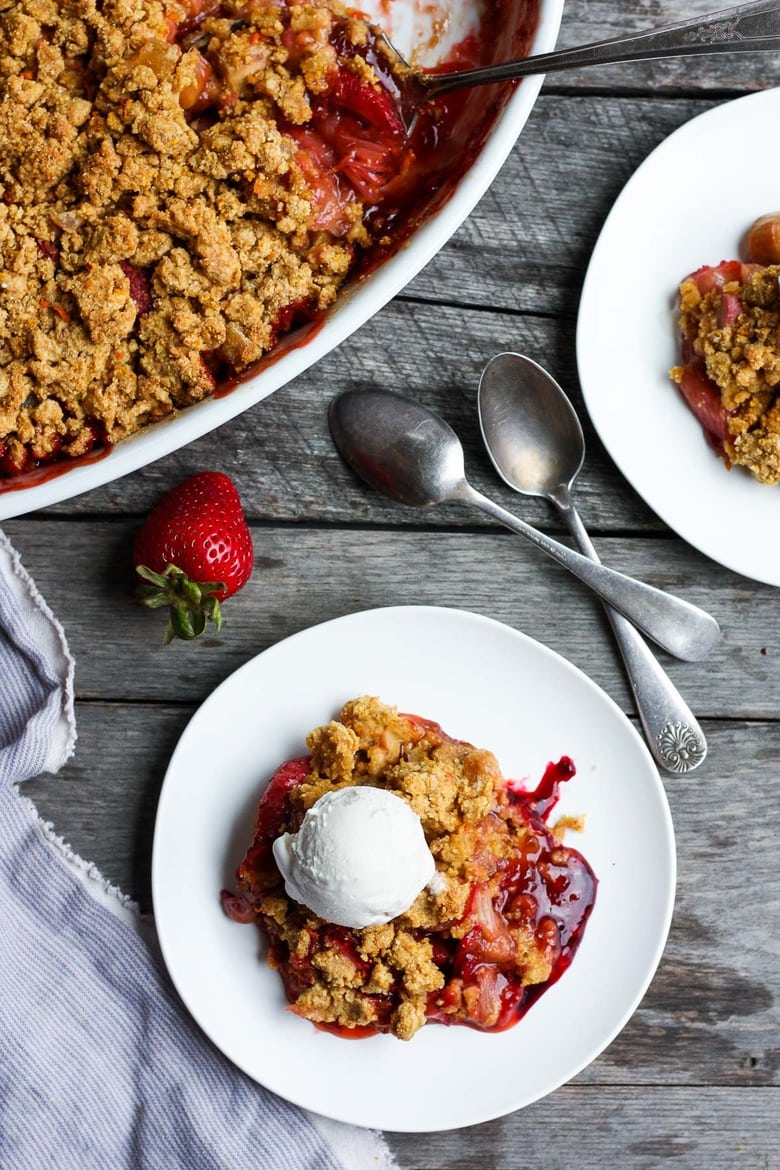 I really hope you enjoy this fresh take on Strawberry Rhubarb Cobbler!
Print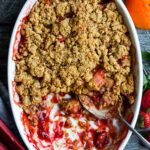 Strawberry Rhubarb Cobbler
Prep Time:

25 minutes

Cook Time:

35 minutes

Total Time:

1 hour

Yield:

8

1

x

Category:

Dessert, Brunch, Spring,

Method:

Baked

Cuisine:

American

Diet:

Vegetarian
---
Description
Strawberry Rhubarb Cobbler with Orange and Ginger is a homey delicious treat.  The fruit really shines here, making it great for brunch as well as dessert.
---
Filling
4

cups

rhubarb (1 lb), sliced in approximately one-inch pieces

4

cups

strawberries ( 1 lb), sliced

3 tablespoons

orange juice (use a fresh orange: *zest for the biscuits first* then juice)

1 teaspoon

vanilla

3 tablespoons

tapioca flour (or quick-cooking tapioca)

3/4

cup

brown sugar, loosely packed
1

cup

whole wheat pastry flour (or all-purpose is fine too)

1

cup

masa corn flour (or fine ground cornmeal)

1/3

cup

brown sugar, loosely packed

2 teaspoon

baking powder

1/2 teaspoon

sea salt

2 teaspoons

orange zest, minced

6 tablespoons

or

3 oz

. unsalted butter, cut into chunks

1/4

cup

milk (nut milk works great too)

1

egg

1/4

cup

crystallized ginger, chopped into raisin size pieces
Serve with ice cream, whipped cream or on its own.
---
Instructions
Preheat the oven to 350 degrees.
Butter an 8 x 11-inch baking dish. ( 2-quart)
Toss sliced rhubarb and strawberries with fresh-squeezed orange juice (be sure to zest the orange, for the biscuits,before juicing) vanila, tapioca and brown sugar.  Use a bowl or do this right in the buttered baking dish.  Set aside while making the topping.
In a bowl mix together whole wheat pastry flour, corn flour, brown sugar, baking powder, salt,  and orange zest.  Cut butter chunks in with a pastry cutter, until butter somewhat resembles peas.
In a separate bowl whisk together milk and egg.  Pour into flour mixture along with crystallized ginger and mix until just combined.
Spread over the filling.  I find this easiest to just crumble in with my hands.  The mixture is moist.
Bake at 350 degrees for 35 minutes.  Best if left to cool 30 minutes before serving.
---
Notes
Serve with ice cream or whipped cream, or a dollopof thick vanilla yogurt.
If your fruit is not very juicy, cut back on the tapioca flour.
Nutrition
Serving Size:

1 cup

Calories:

328

Sugar:

26.1 g

Sodium:

171.2 mg

Fat:

10.5 g

Saturated Fat:

5.8 g

Carbohydrates:

56.6 g

Fiber:

5.3 g

Protein:

5.5 g

Cholesterol:

46.3 mg
Keywords: strawberry cobbler, strawberry crumble, strawberry rhubarb crumble, strawberry rhubarb cobbler