This Rhubarb Cake is gluten-free, grain-free, made with Almond Flour. Deliciously addictive, perfect for Spring! Make it upside-down or right-side up, your choice!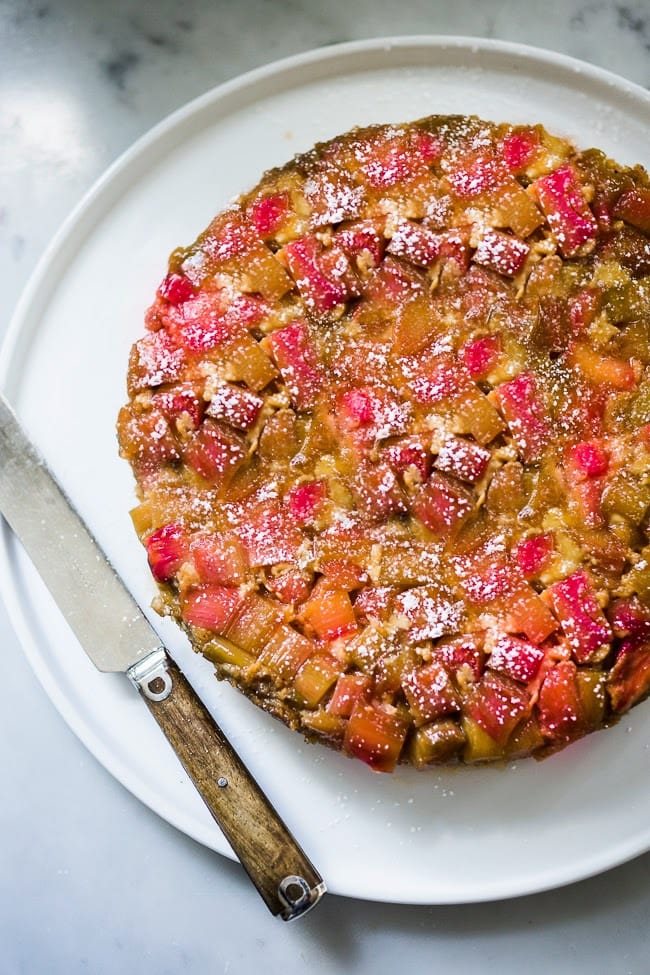 It is the giving of attention – that keeps us awake. 
I love this recipe for Rhubarb Cake! In Spring, one of the first things to poke their arms out of the ground is the rosy-colored stalks of rhubarb. They surprisingly have many uses in the kitchen- but what they are known for most is pie. Rhubarb is also called the "pie plant"- and paired with strawberries, berries, or apples, rhubarb is often thought of as a fruit – but in actuality, rhubarb is a vegetable in the same family as sorrel. It actually tastes sour, alot like sorrel.
Rhubarb's flavor and aroma hint of tart apples, berries, and more subtler notes of water and fresh green grass.
Tip: Always remember Rhubarb "greens" are toxic, always use the stems only, never the greens.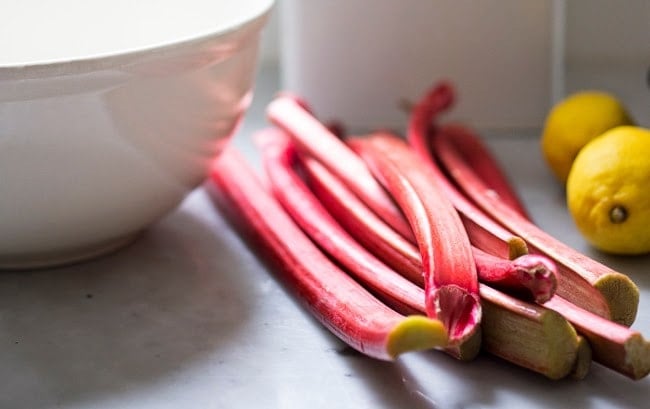 What I love about This Rhubarb Cake!
In this flourless, upside-down rhubarb cake, I resisted the temptation to add berries or other fruit, to highlight the rhubarb's true flavor. The bright liveliness of the rhubarb is front and center, the sourness mellowed slightly with vanilla and butter, while the base of the cake, made entirely of almond meal and no flour, whispers of cardamon. To my palate, the combination delights.
The cake is totally grain-free.
If you rather not do it upside-down, you can do it right-side up. See recipe notes.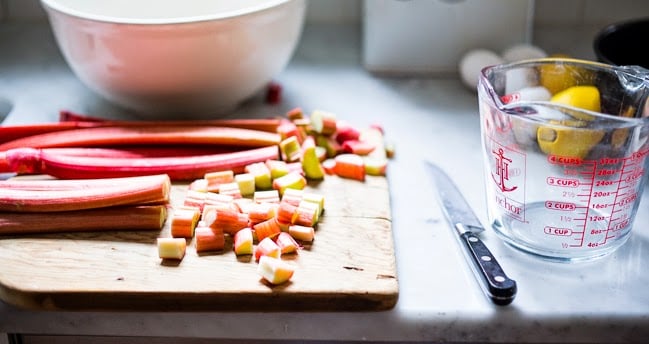 How to make Rhubarb Cake
It starts with four cups of fresh rhubarb, cut into ½ inch cubes.
TIP: Choose the reddest rhubarb pieces you can find for the best presentation!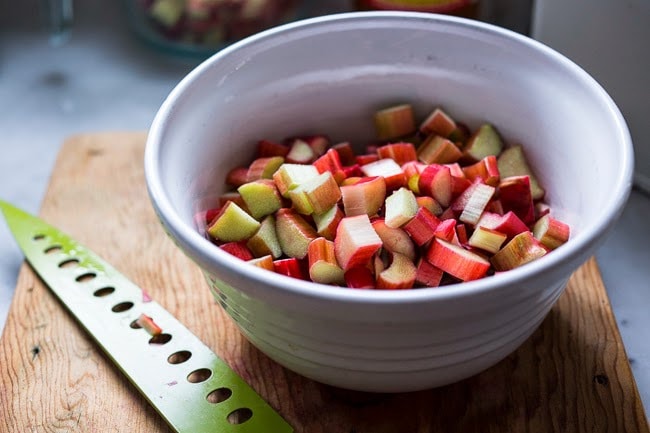 Step One:
In a heavy bottom skillet, melt butter, and add rhubarb, sugar, lemon juice and
vanilla
. Stir until combined and sugar has dissolved, but do not cook the rhubarb through, it will cook in the oven. Also, this is the only "fat" in the cake, so I don't recommend cutting back, the butter will seep into the cake and it is tasty. 🙂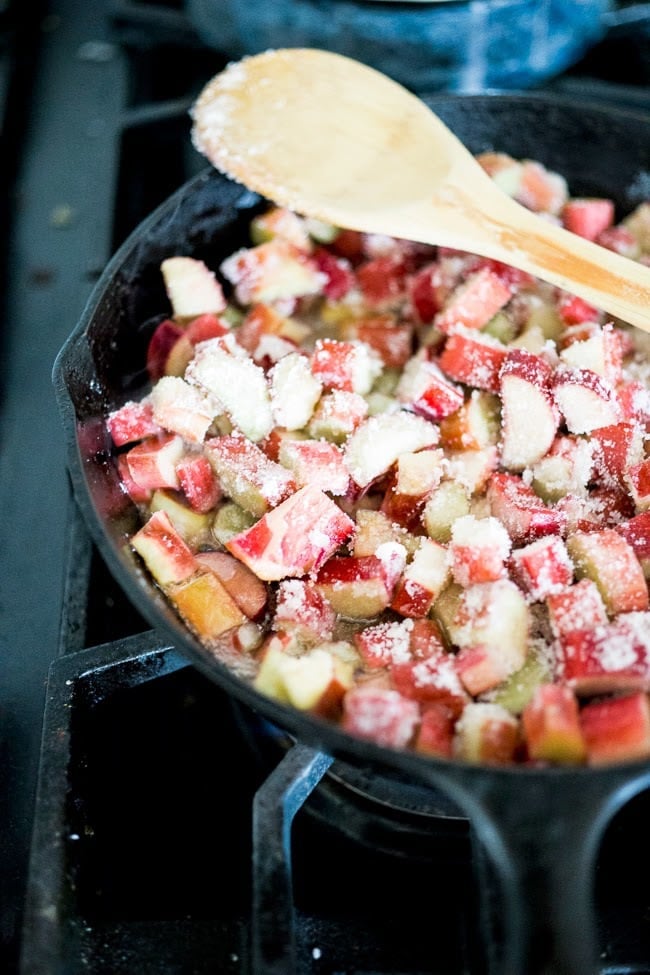 Once the rhubarb is cooked, set it aside, leaving it in the cast-iron skillet. We will bake the cake in this!
Tip: If your rhubarb is not very colorful ( your stems are green) you can always add a some berries to give this some color.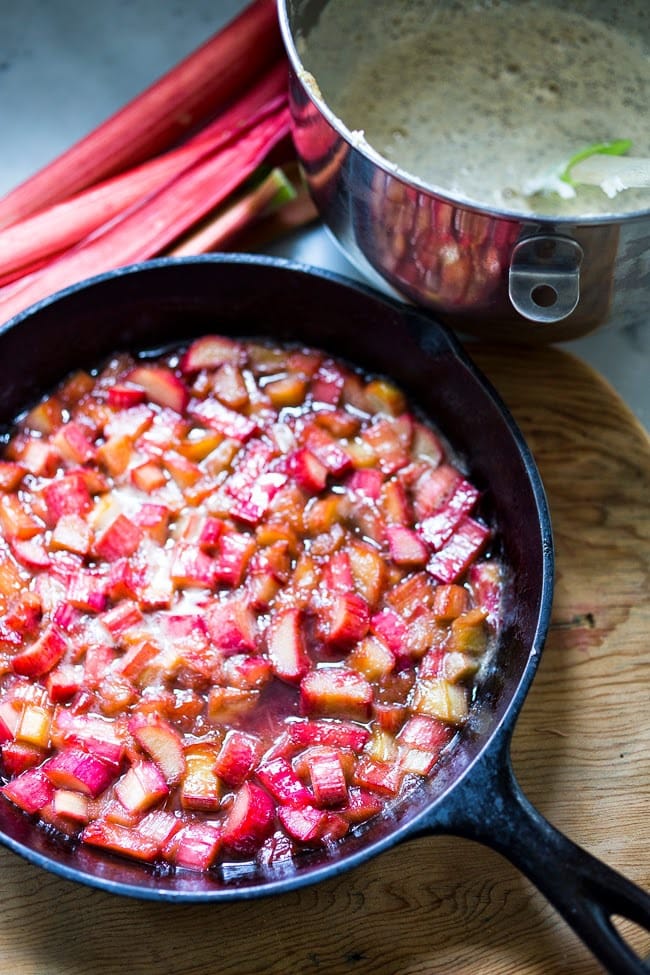 Step Two:
Make the cake batter.  In a large bowl, whisk the eggs,
olive oil
,
honey
or maple and
vanilla
. Add the lemon juice and lemon zest,
cardamom
and
salt
. Ready your baking pan.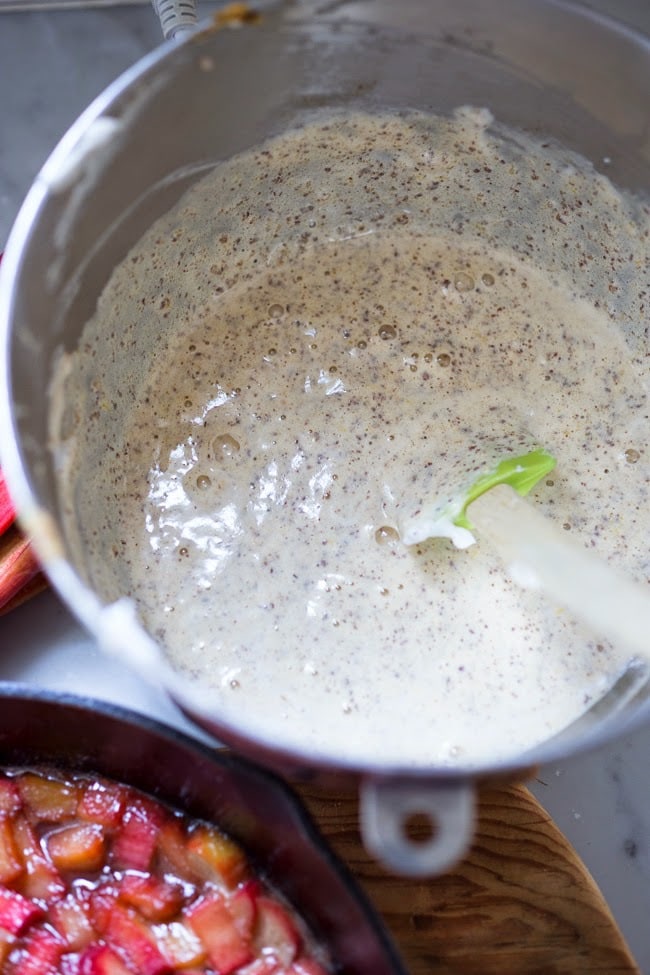 Step three:  Pour the cake batter over the rhubarb.
NOTE: Alternatively, you can also pour the batter into a greased 9-10 inch cake pan and top it with the rhubarb (instead of doing the upsidedown version).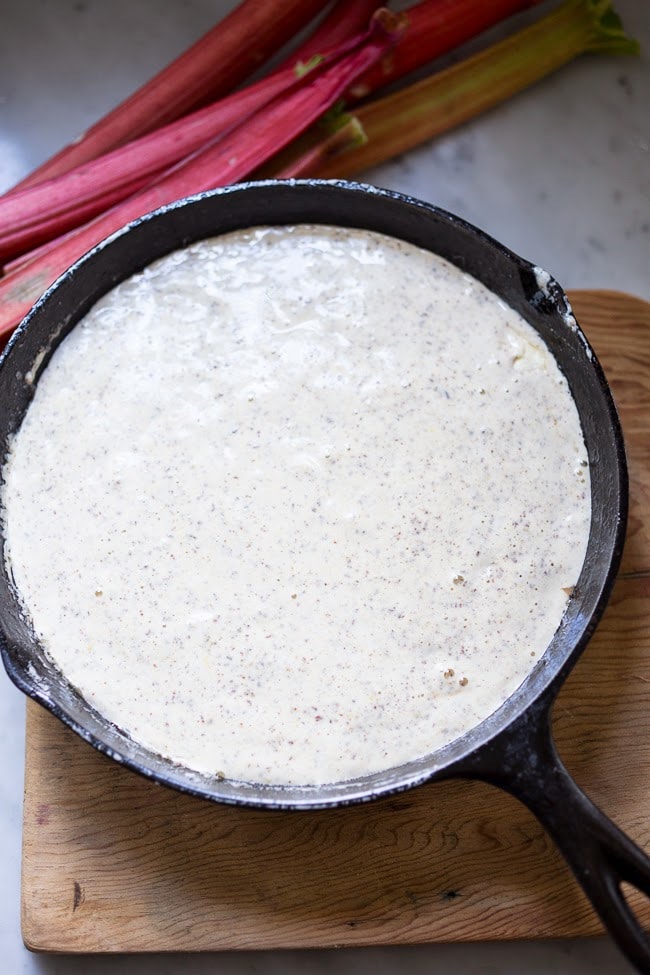 Step four: Bake in a 350 F oven on the middle or lower rack, for 30-45 minutes or until puffed in the center and golden, and a toothpick comes out clean. Pull it out.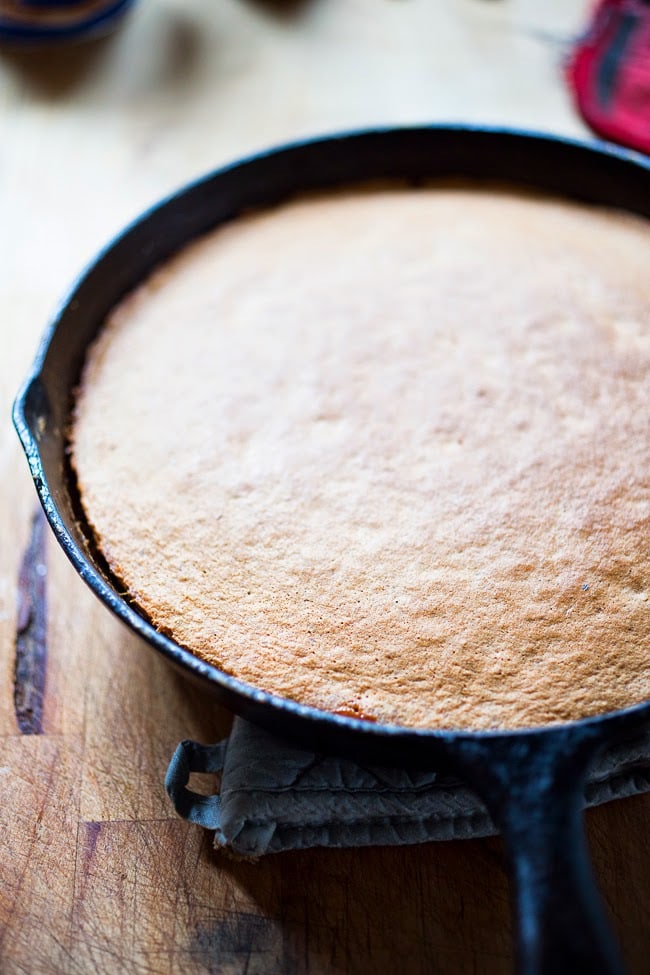 Step five: Let is stand 5 minutes, run and knife along the edges and invert onto a platter. Sprinkle with powdered sugar. Let it stand 10-15 minutes before cutting to let it set.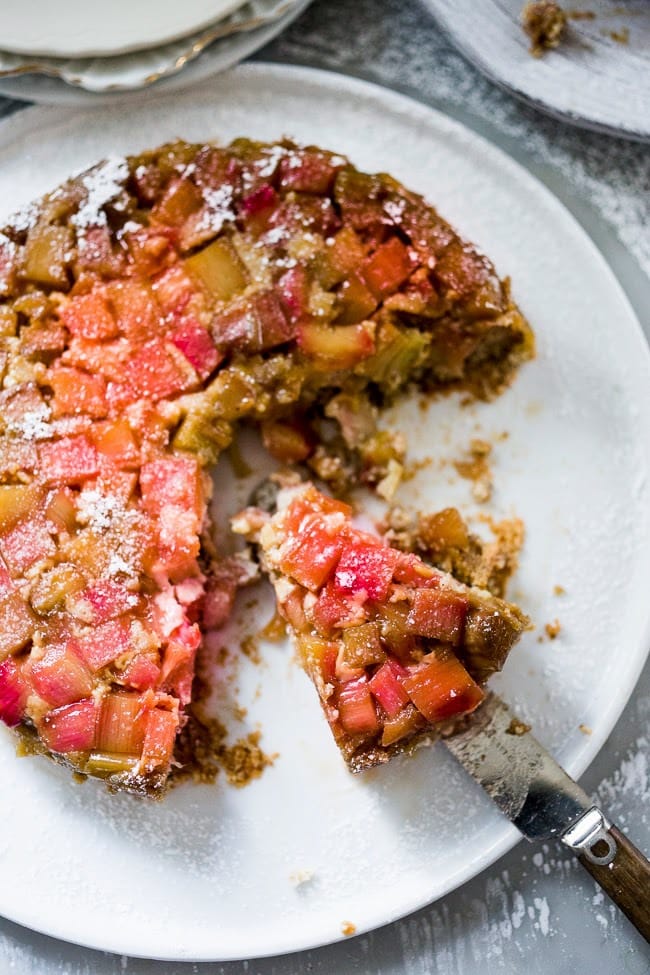 Serve with
vanilla
ice cream or whipped cream.
Enjoy the cake!  You can leave it out on the counter,  covered for 4 days, though I doubt it will last that long. 😉
xoxo
More Rhubarb recipes you may like!
Print
Rhubarb Cake
Prep Time:

20 mins

Cook Time:

40 mins

Total Time:

50 mins

Yield:

8

1

x

Category:

Dessert, cake

Method:

baked

Cuisine:

American

Diet:

Gluten Free
---
Description
This upside-down Rhubarb Cake is baked in a cast iron skillet. It's gluten-free- and grain free- made with Almond Flour. Deliciously addictive and perfect for Spring.
---
Rhubarb Topping
4

cups

rhubarb, cut into 1/2 inch cubes (try to use red parts for the prettiest presentation)

3/4

cup

sugar

3 tablespoons

butter

1 teaspoon

fresh lemon juice

1 teaspoon

vanilla
pinch salt
Almond Flour Cake
---
Instructions
Preheat oven to 350 F
Over medium heat, melt butter into a well-seasoned, 9-10 inch cast iron skillet, and brush the sides with it. Add rhubarb, 1/2 cup sugar, lemon juice,  vanilla and pinch salt and simmer for 2-3 minutes, just until combined and sugar has dissolved. Turn the heat off. Do not cook rhubarb all the way through.
In a medium bowl, whisk the eggs with olive oil and honey. Add the lemon juice, lemon zest, vanilla, and cardamon, and salt.
Whisk in the baking powder and the almond flour a little at a time. You will have a very sticky batter at this point.
Make sure the edges of the skillet are greased with butter. Pour batter over rhubarb in the cast iron skillet and place in a preheated oven, middle rack for 30-45 minutes.
While baking, make sure to have ready what you plan to flip the cake onto. At 30 minutes, check for doneness by inserting a toothpick or skewer into the middle of the cake. If it comes out clean, it is done. If not, continue baking longer, and check again every 5-7 minutes. Pull from the oven, let sit 5 minutes, run a sharp knife around the edges, then place a cake platter or cake stand over the skillet, and invert, gently tapping the bottom of the skillet so it releases.
Serve with vanilla ice cream or whipped cream.
---
Notes
I use a 10-inch cast iron skillet for this recipe! I've tried it with a 9-inch spring form pan- and no leaks- but some readers have had issues with leaks. So if using a spring form pan, line the bottom with parchment and bake over a sheet pan.
Feel free to add almond extract, more almond flavor.
Nutrition
Serving Size:
Calories:

346

Sugar:

32.9 g

Sodium:

331 mg

Fat:

12 g

Saturated Fat:

4.4 g

Carbohydrates:

39 g

Fiber:

2 g

Protein:

6.8 g

Cholesterol:

108.3 mg
Keywords: rhubarb cake, rhubarb cake recipe, gluten free rhubarb cake, upside down rhubarb cake, rhubarb recipes, rhubarb cake recipes, gluten free recipes