Here are 30 Spring Recipes to help celebrate this beautiful new season and welcome its unfolding.  Crisp asparagus, tender spring  greens, sprightly spring peas, earthy spring mushrooms,  carrots, radishes, new potatoes, artichokes, tarragon, dill, strawberries and rhubarb… all will be coming into their peak of flavor in the next couple months!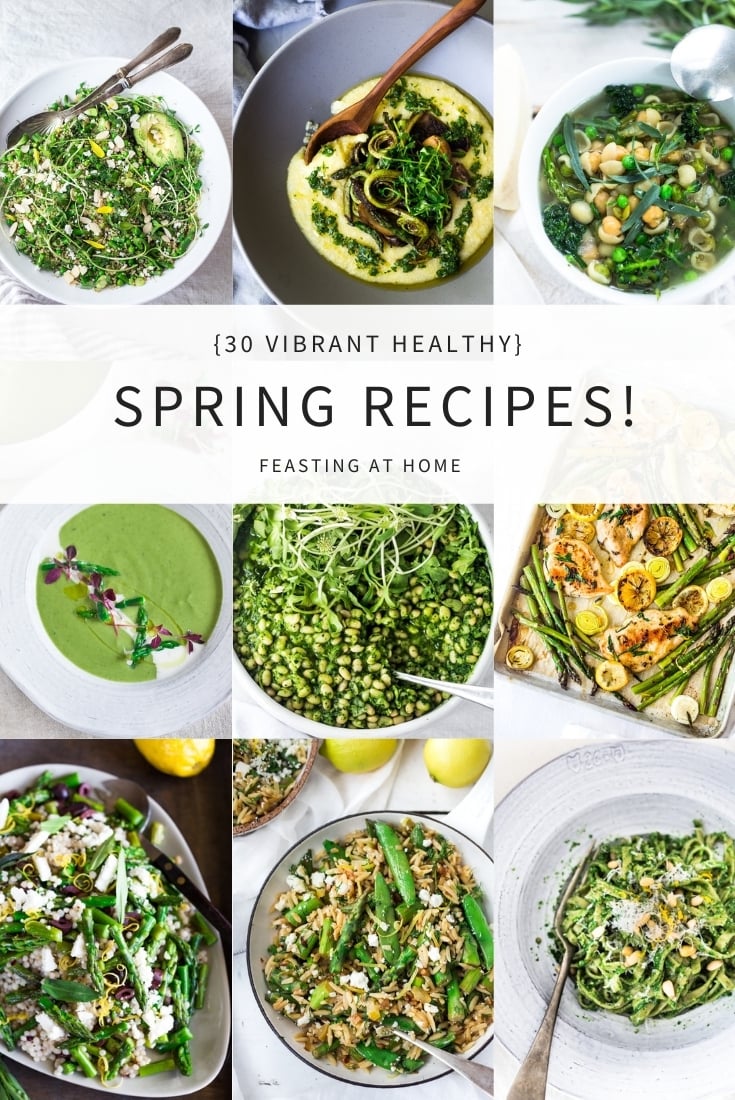 Spring will come and so will happiness. Hold on. Life will get warmer. ~Anita Krizzan
Spring is such an exciting time of year, especially when it comes to cooking.  It truly is a celebration! Spring reminds us that life continually renews itself, that each day is a beginning and that beautiful things can still grow from the ground of our being.
Depending on where you live, it may still feel a little bit like winter, or it may be full-blown spring.  Whether you are looking for warming soup recipes to bridge the gap between the seasons, or for more light and vibrant spring salads or dinner ideas, you'll find some inspiration here.
---
Asparagus Risotto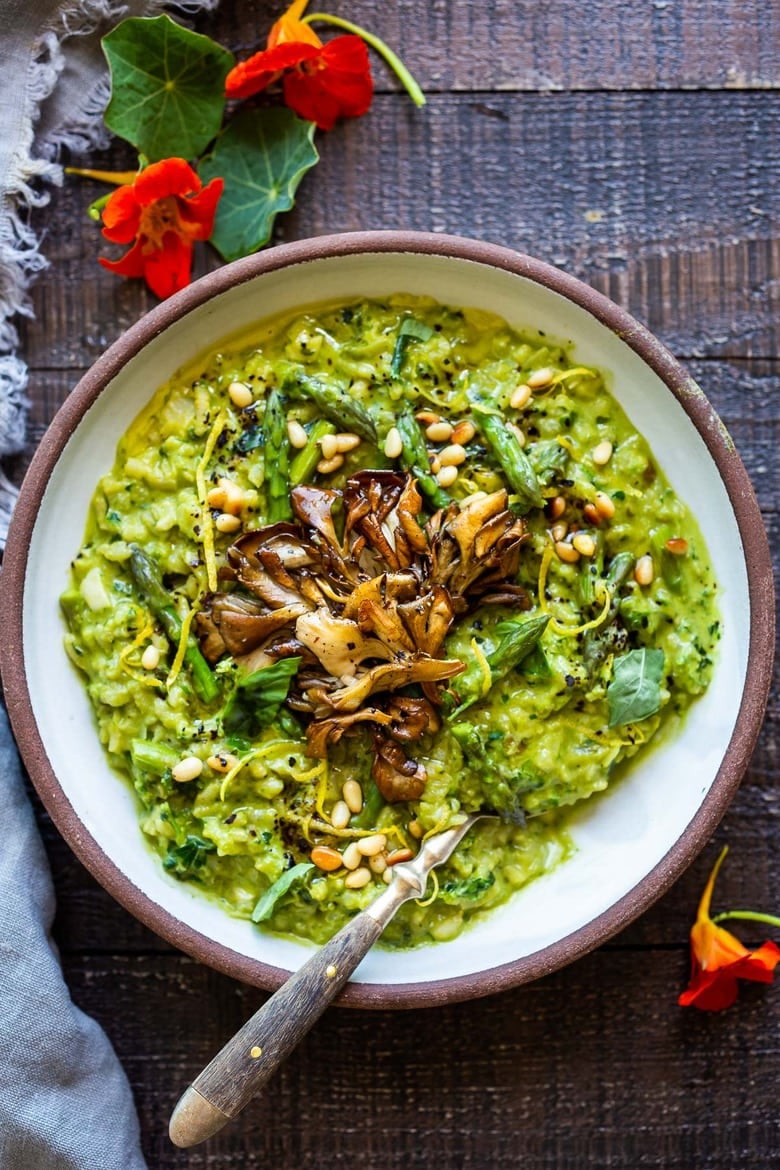 Lemony Asparagus Risotto with leeks and basil-light and creamy with vibrant color and flavor, perfect for spring! A tasty vegetarian meal, or beautiful base for seafood (salmon, halibut, sea bass, shrimp, or scallops), chicken, or try seared mushrooms!
Spring Vegetable Pot Pie

Vegan Pot Pie with Spring Vegetables is loaded with vibrant fresh veggies and flavorful herbs cooked in a delicious creamy lemon mustard sauce and topped with a flakey puff pastry crust.  A cozy, spring-inspired meal!
Spring Pea Pesto!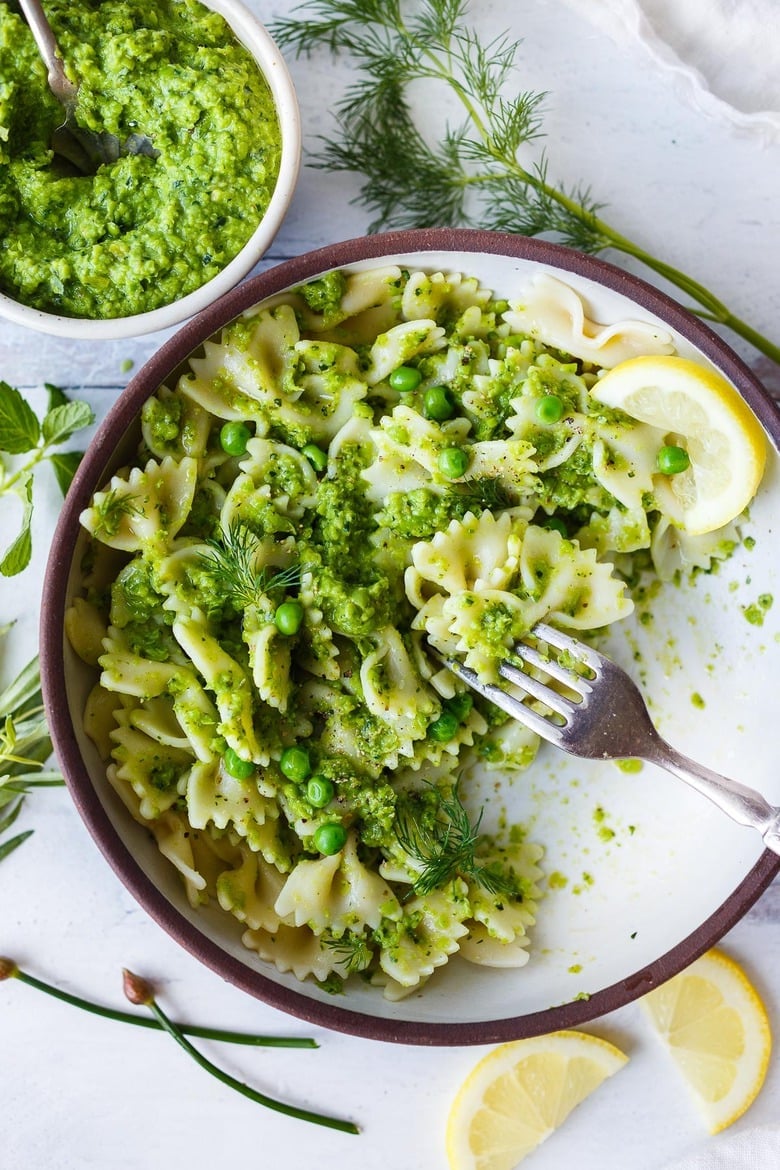 Quick and easy to make, this Spring Pea Pesto is deliciously vibrant with fresh herby flavor.  Perfect for a dip, spread or use as a sauce with pasta and buddha bowls.  Vegan and gluten-free!
Spring Minestrone Soup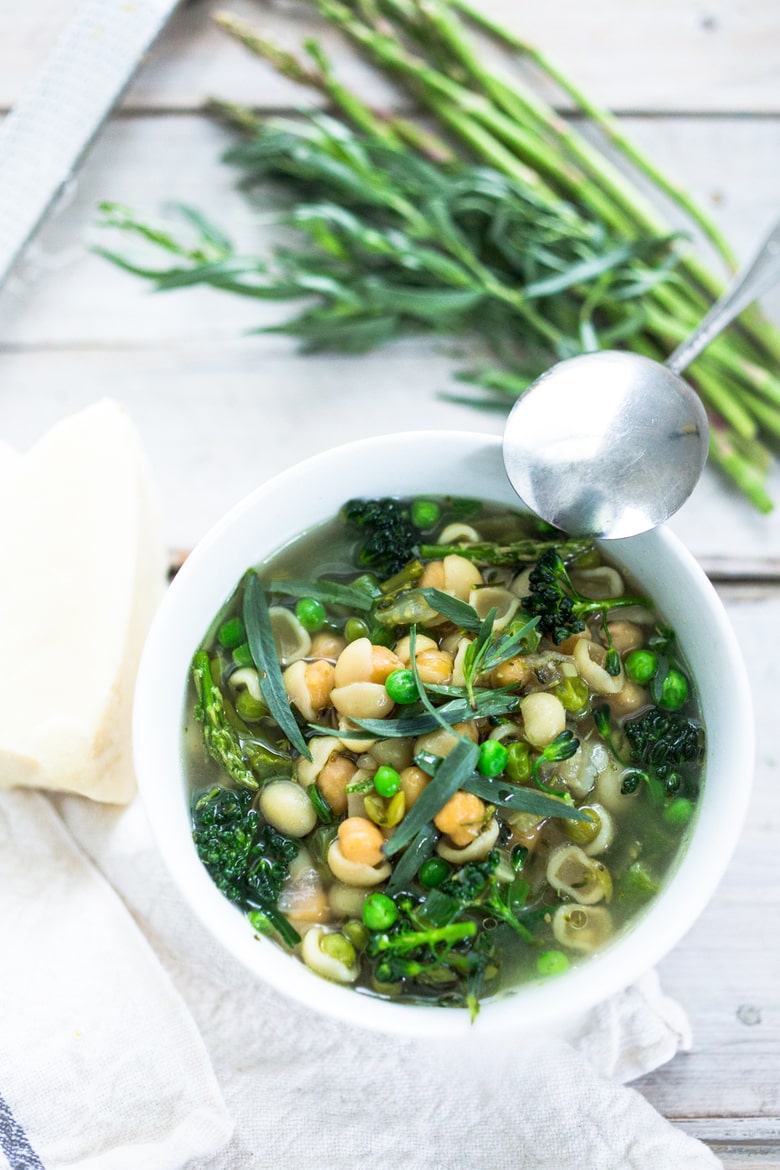 Spring Minestrone Soup with Chickpeas and beautiful spring vegetables. A very hearty soup that is vegan and gluten-free adaptable! Easy recipe, full of great flavor! Make a batch on Sunday for midweek lunches!
Savory Leek Galette

Beautiful and delicious Savory Leek Galette.   Made with a free-formed tender flakey crust enclosing a luscious melt in your mouth succulent filling. Spring leeks and kale marry with gruyere and mascarpone making the perfect balance of decadent and wholesome!
Pan-Seared Fish with Truffled Pea Sauce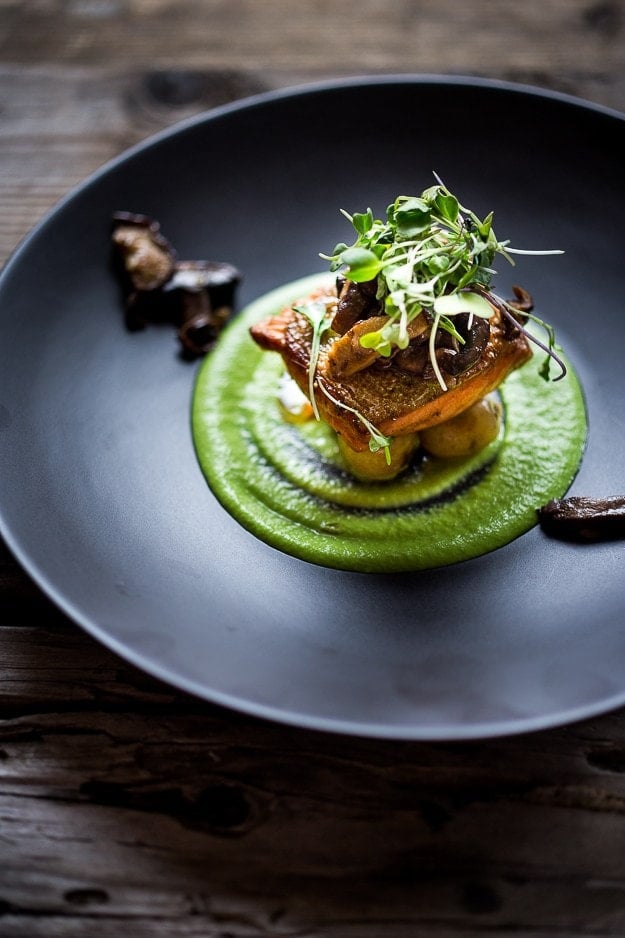 Pan-Seared Steelhead Trout ( or Salmon!) with Truffled Spring Pea Sauce, Mushrooms, New Potatoes – a simple elegant spring-inspired dinner!
Simple Celery Soup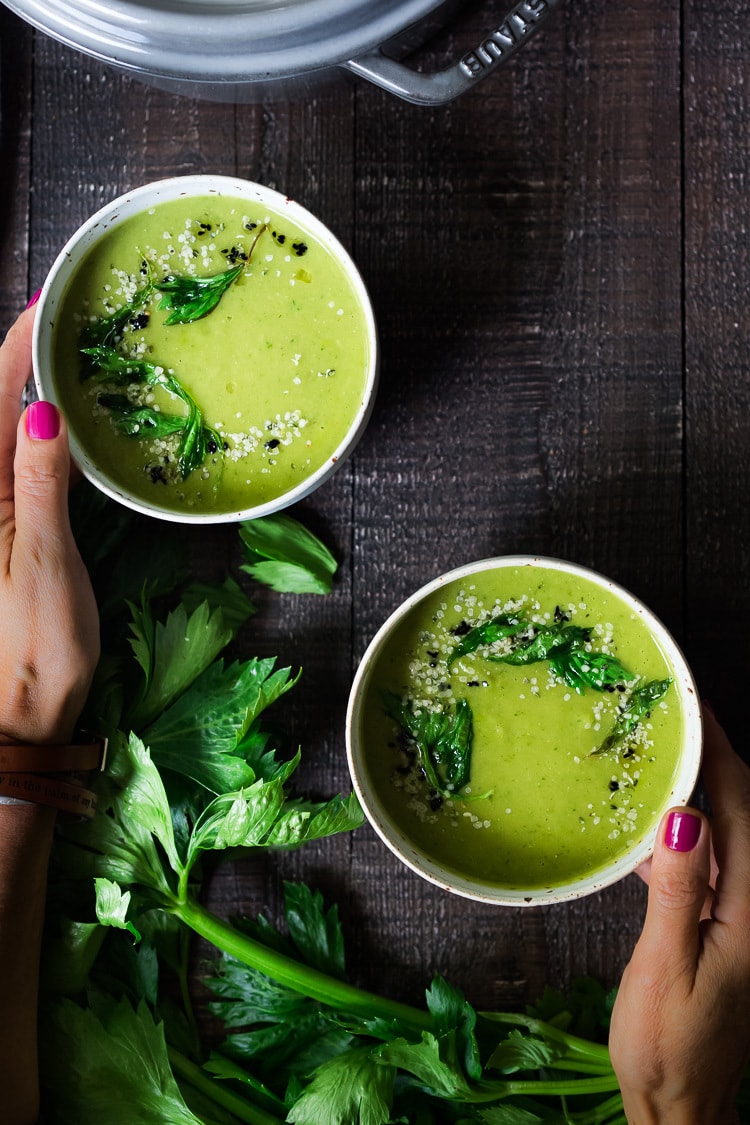 A healing bowl of Celery Soup– comforting, affordable, and flavorful, that can be made in  35 minutes. Healthy, delicious, and vegan adaptable!
Chicken Orzo Soup with Coriander and Dill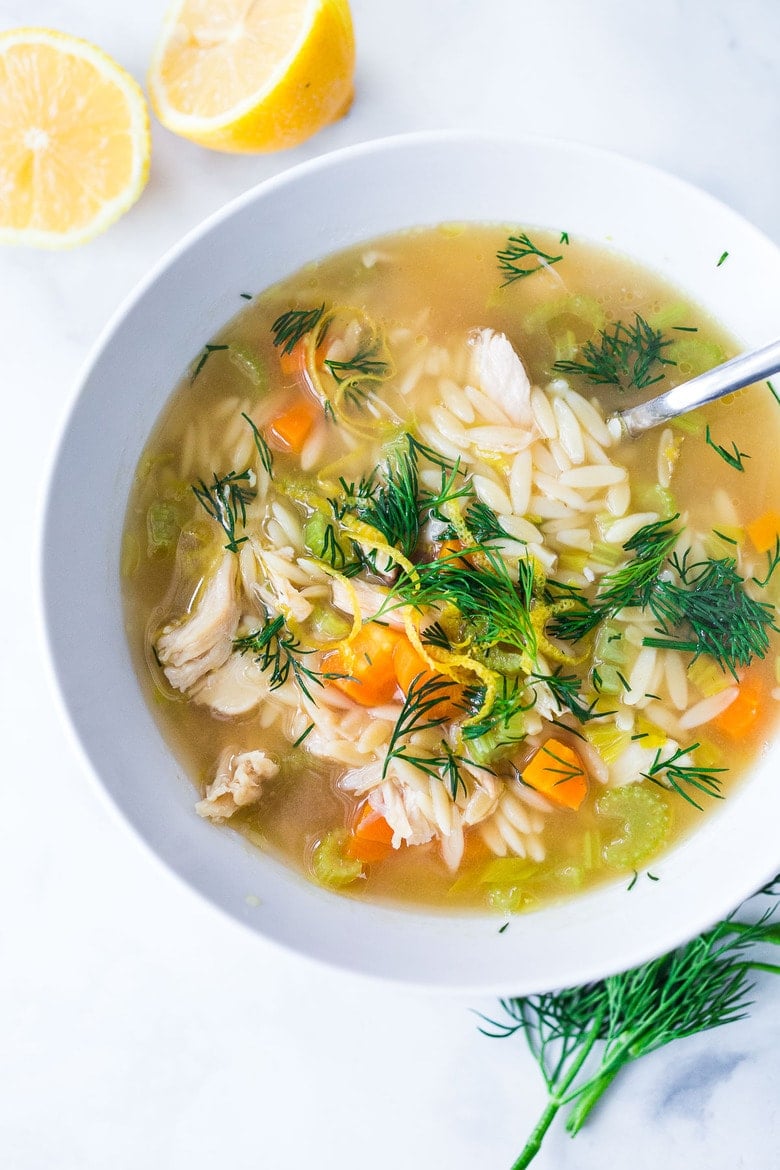 Lemony Chicken Orzo Soup with Dill– a simple easy recipe that can be made with leftover chicken. Healthy, zesty and flavorful! One of my favorites.
Little Gem Salad with Dilly Ranch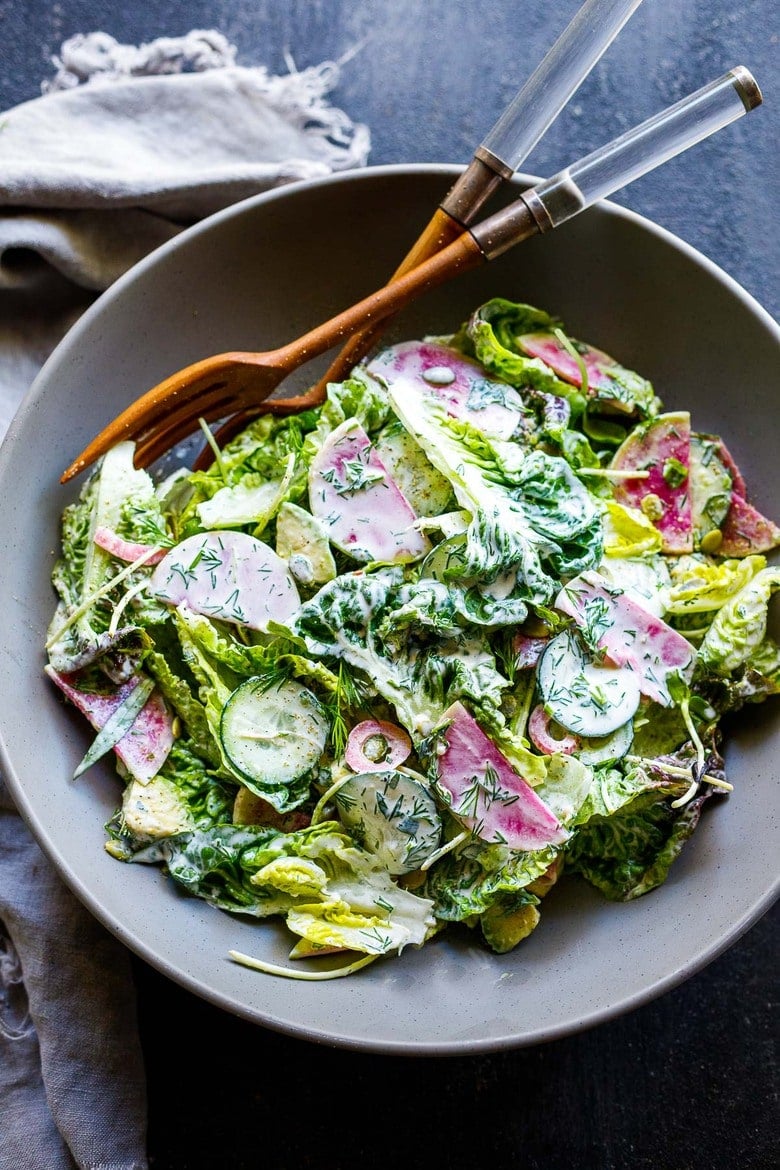 Little Gem Salad with avocado, radishes, cucumber, pickled onions, pepitas, sunflower sprouts, in a Homemade Dilly Ranch Dressing.
Brothy Tortellini Soup with Greens and White Beans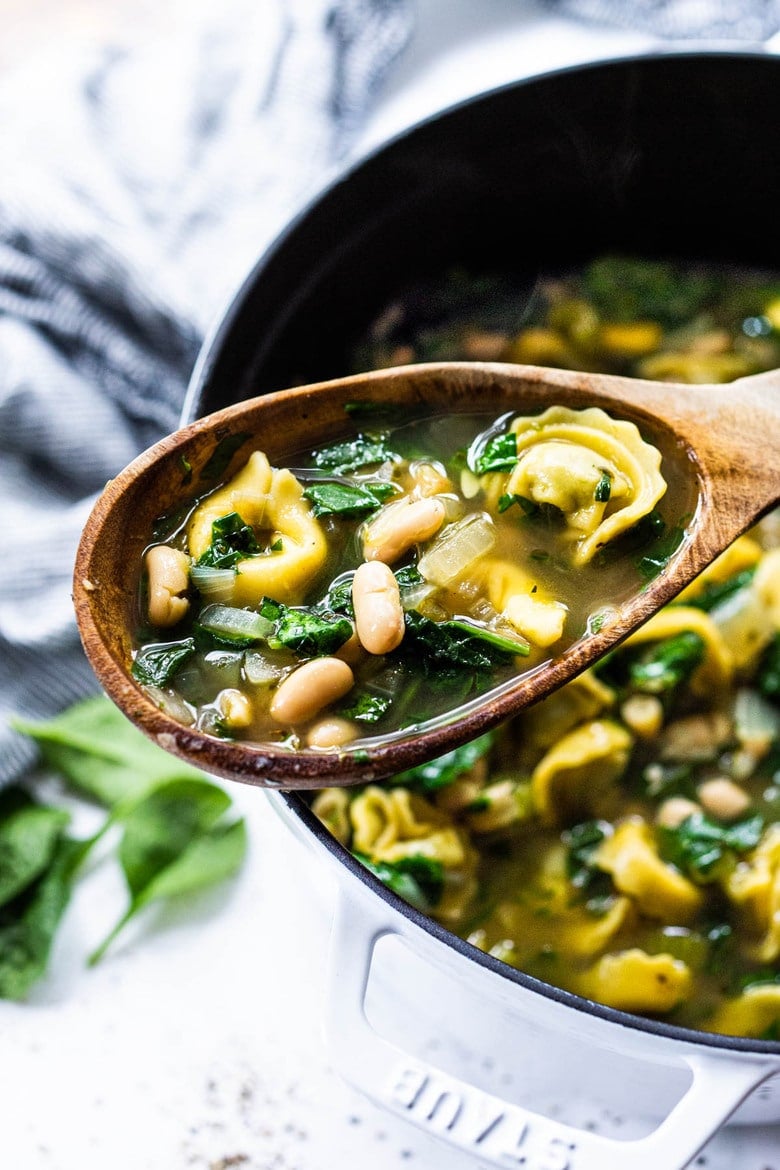 Brothy Tortellini Soup with Spinach, Basil & White beans- a mouthwatering vegetarian soup that can be made in 25 minutes!
Spring Tabouli Salad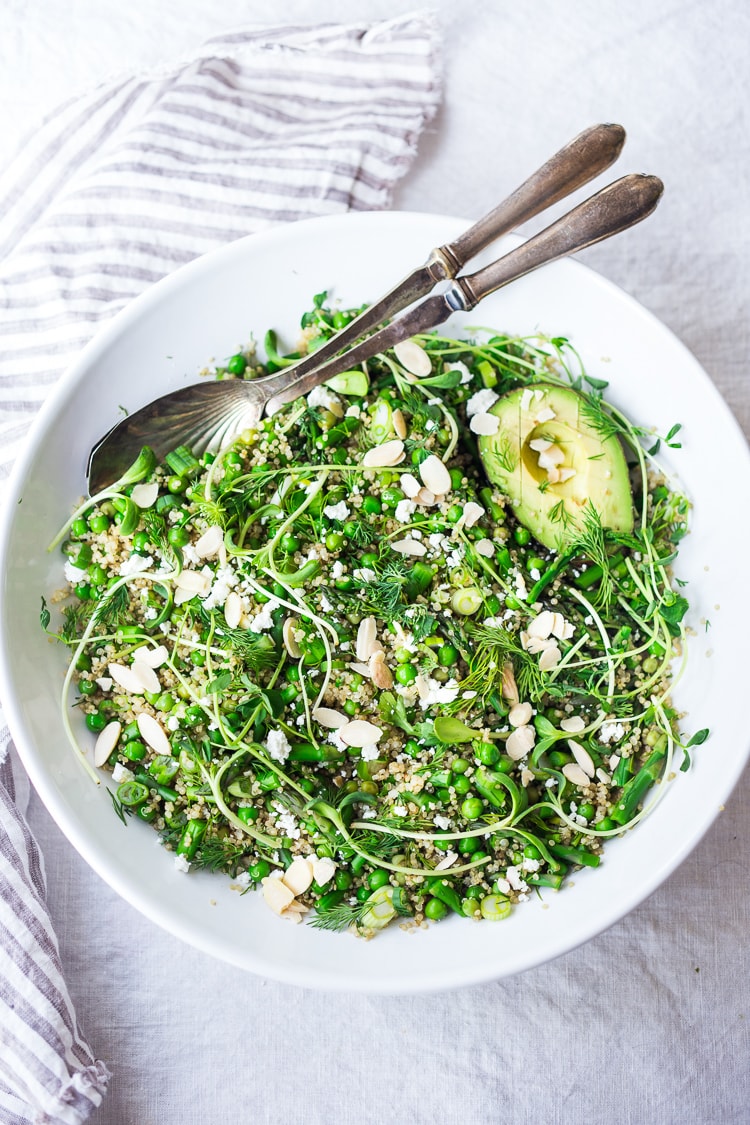 Spring Tabouli Salad with Quinoa and Asparagus – made with your choice of spring veggies ( peas, asparagus, snow peas) with fresh dill, lemon, sliced almonds and crumbly goat or feta (optional). A healthy, flavorful side dish that can be made ahead- perfect for barbecues, potlucks and outdoor gatherings.
Vegan Carrot Orechiette with Carrot Top Gremolata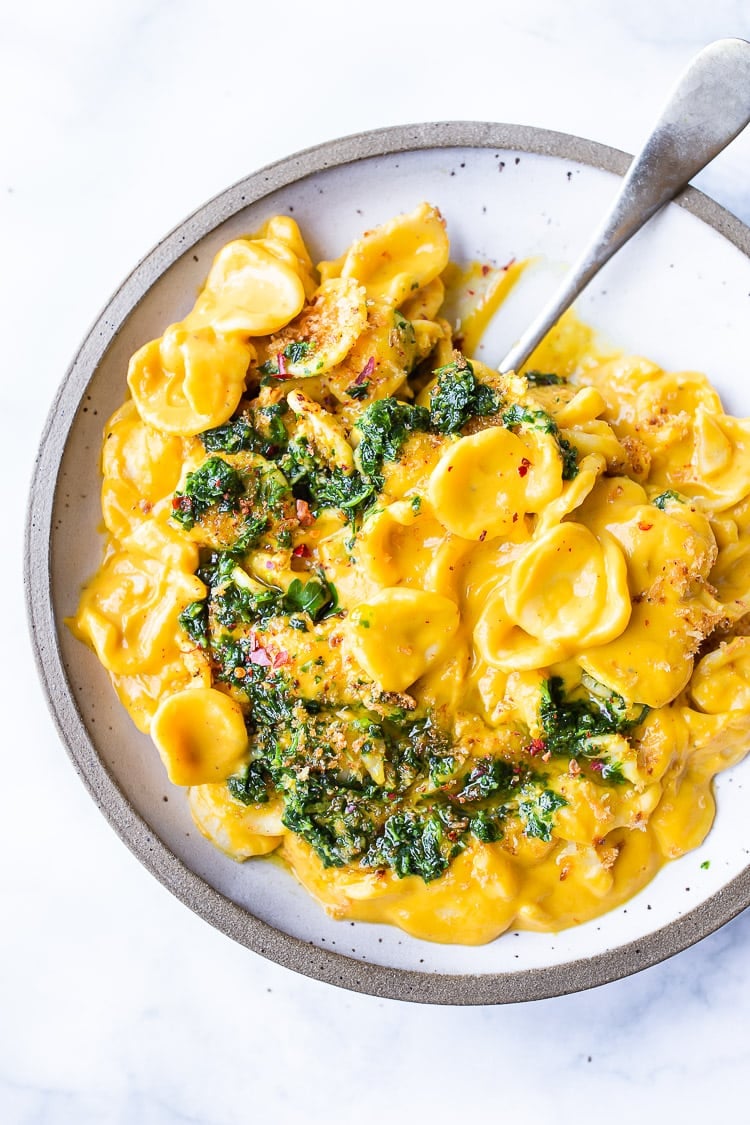 A simple delicious VEGAN recipe for Creamy Carrot Pasta with Carrot Top Gremolata (optional) and Toasted Bread Crumbs. Flavorful and healthy!
French Potato Salad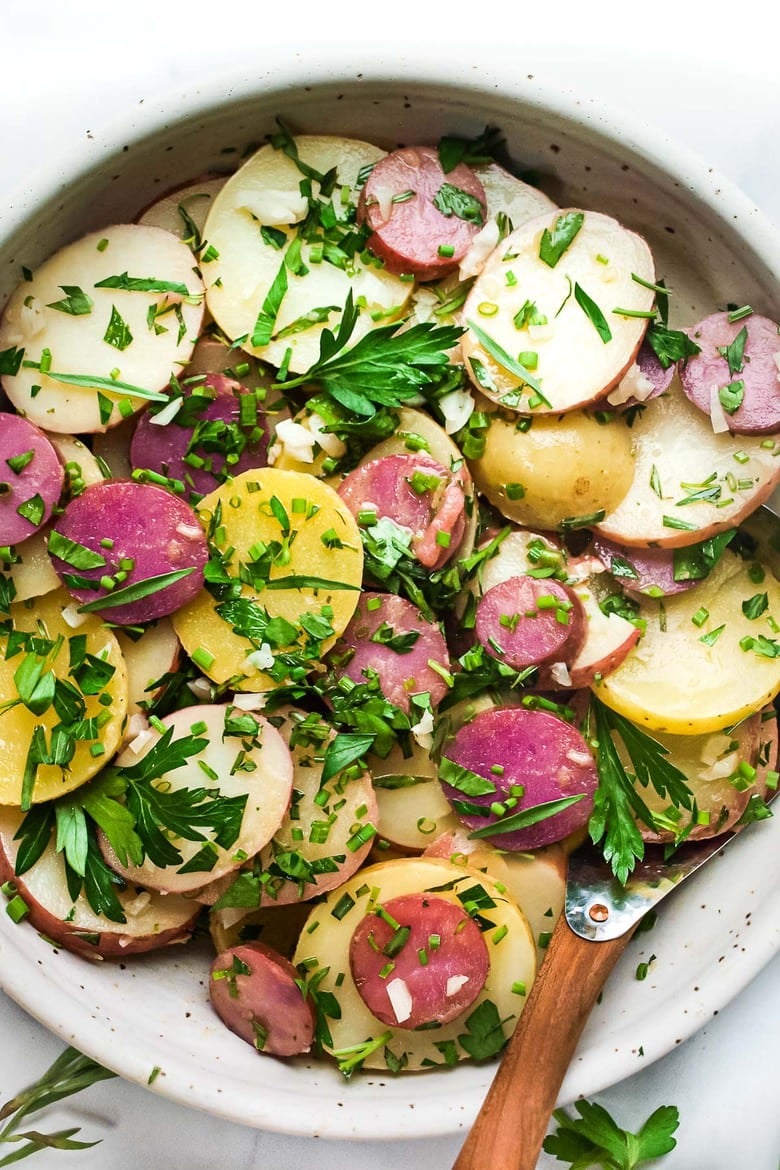 This French Potato Salad is tossed with fresh herbs – tarragon, parsley and chives and dressed in the most flavorful dijon vinaigrette. It's vegan, with no mayo and easy to make – the perfect spring salad using thin-skinned new potatoes!
Creamy Polenta with Spring Mushrooms & Fiddleheads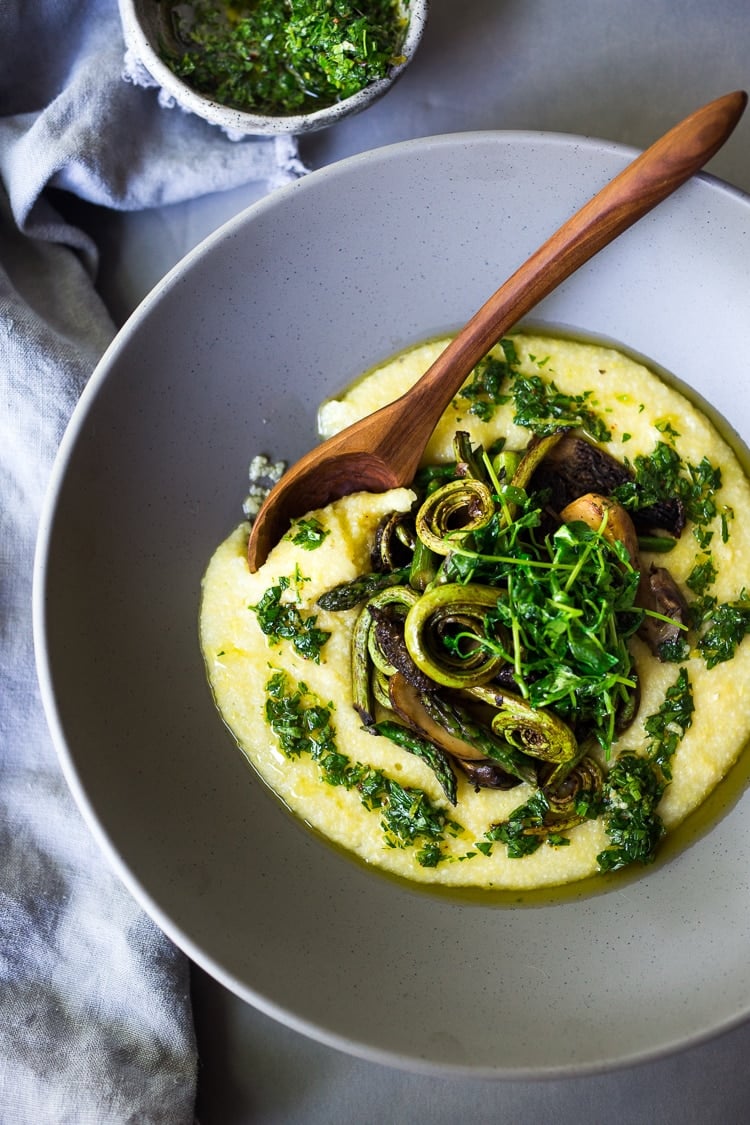 Creamy Polenta with Spring Veggies and Gremolata – a flavorful healthy meal featuring vibrant spring produce that can be made in under 30 minutes! Vegan-adaptable & Gluten-Free
North African Carrot Soup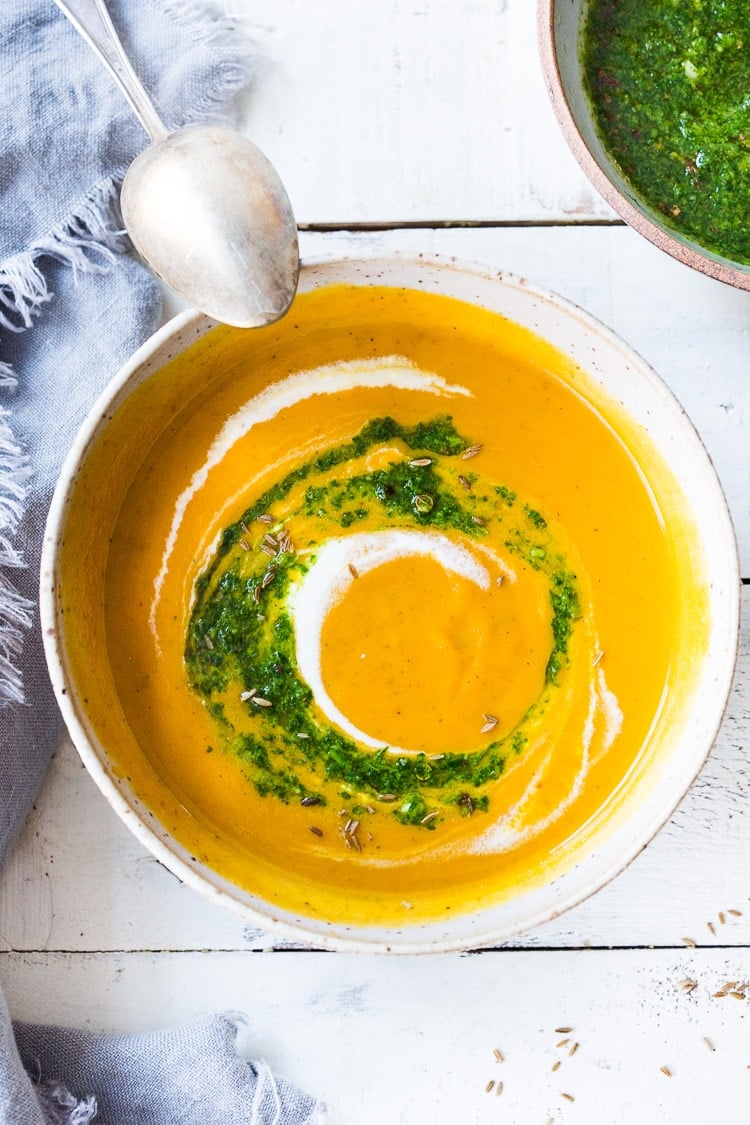 Creamy Carrot Soup with Chermoula and North African Spices – a simple healthy soup bursting with flavor. Vegan Adaptable.
Spring Orecchiette Pasta
Spring Orecchiette Pasta with fresh peas, mushrooms, asparagus, tossed in a very light and lemony carbonara sauce and dotted with pillows of burrata cheese. Heavenly!
Simple Roasted Asparagus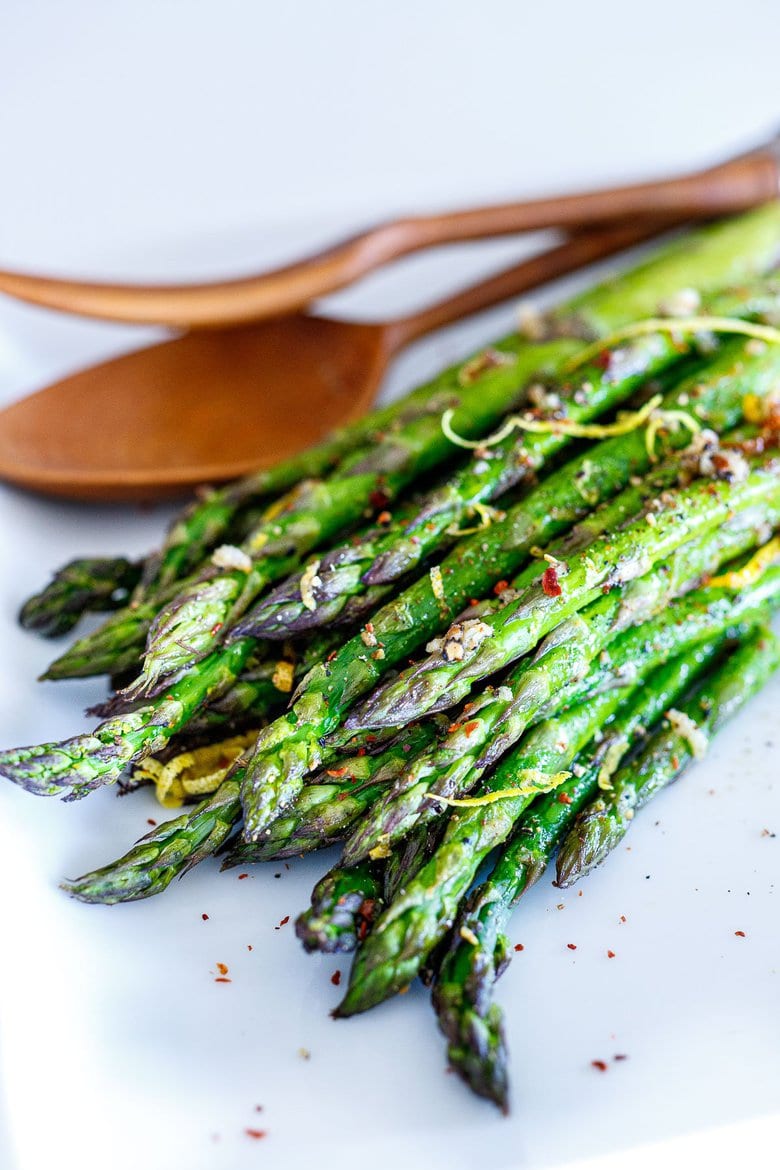 Simple Roasted Asparagus baked in the oven with lemon, garlic and olive oil. Can be made in 20 minutes! An easy vegan side dish, perfect for spring.
Fennel Asparagus Salad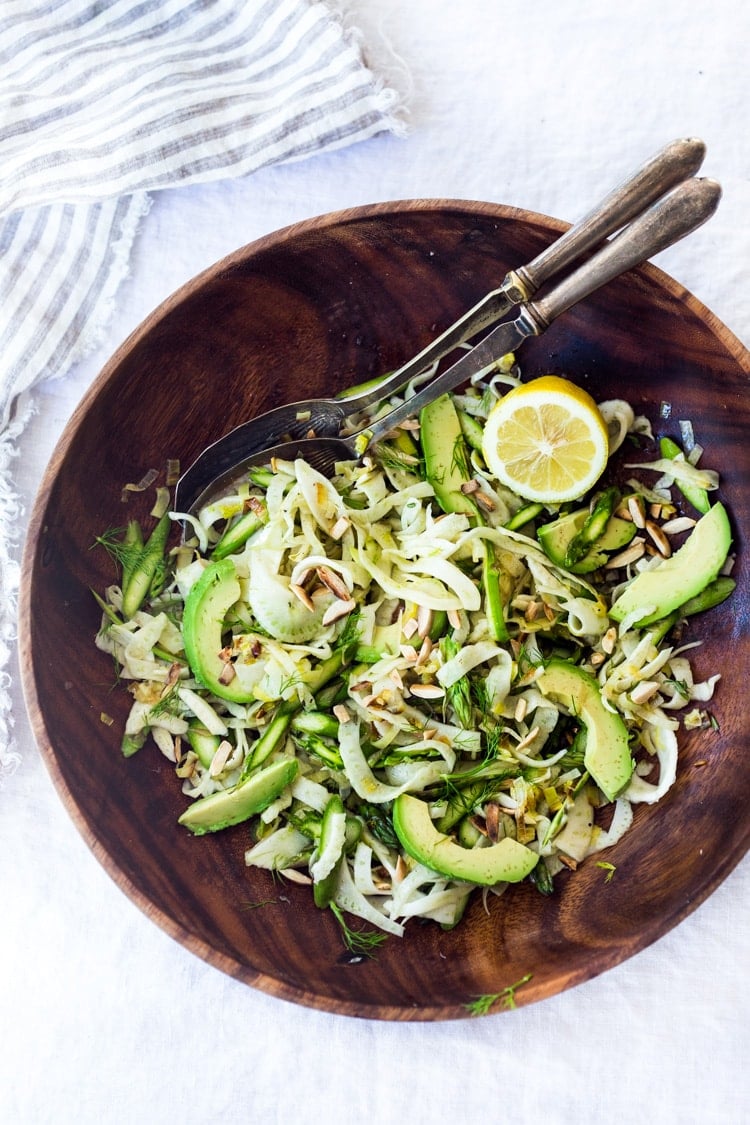 Fennel Asparagus Salad with Almonds and Lemony Leek Dressing. This raw vegan salad can be made ahead, a perfect side to fish, chicken or tofu. If you've never tried raw asparagus- here is the salad to try, it's absolutely delicious! 
Pasta with Spring Morels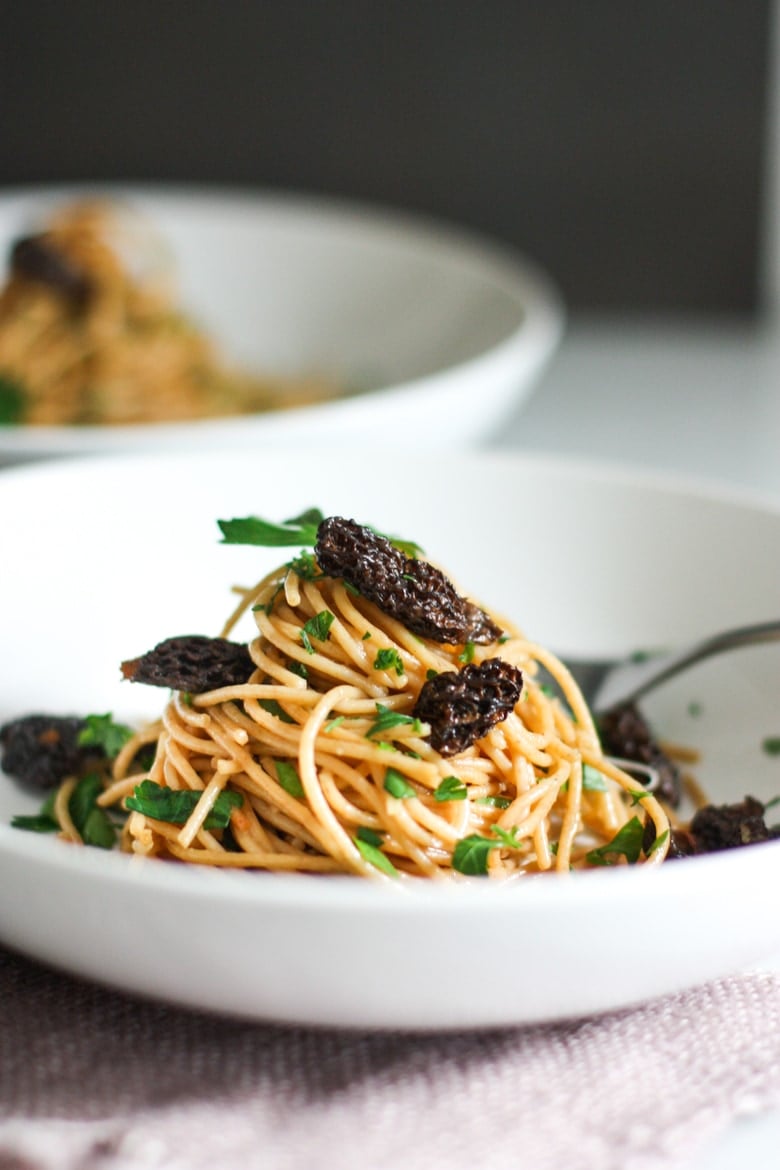 A simple recipe for Spaghetti with Morel Mushrooms and Miso Brown Butter Sauce, and a simple delicious meal highlighting morel's special flavor.
Creamy Spinach Mint Soup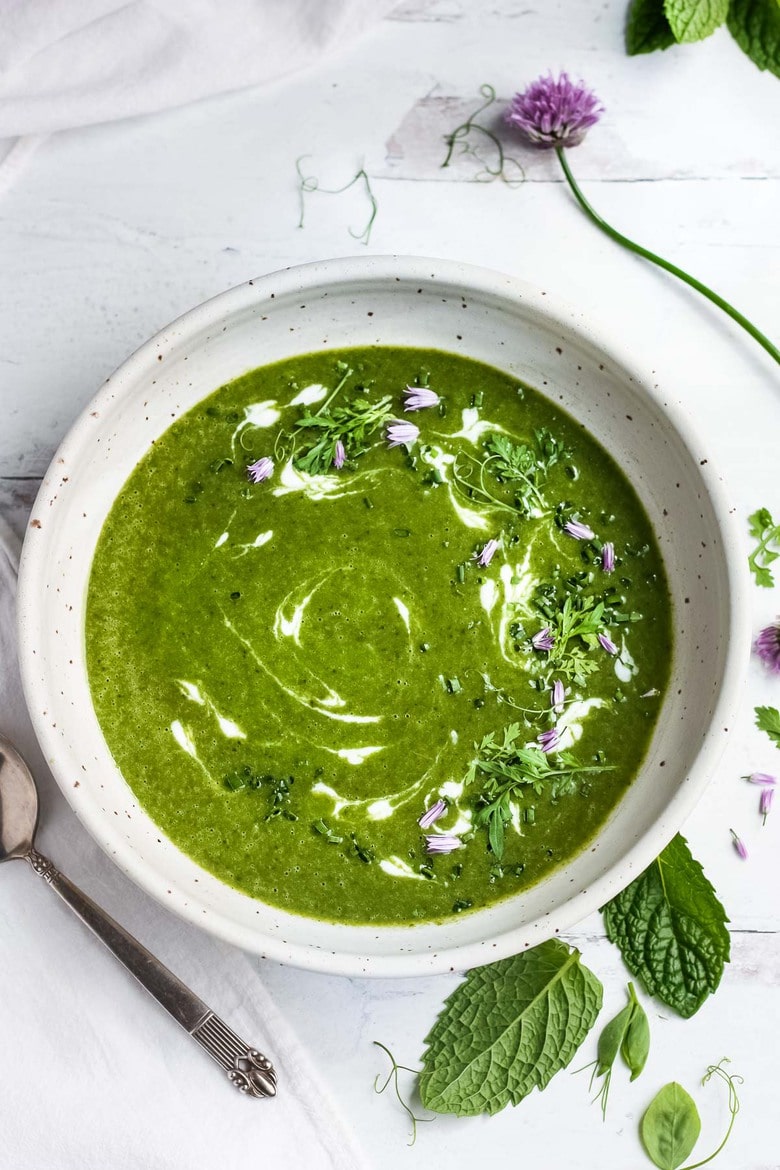 Creamy Vegan Spinach Soup, velvety smooth with a refreshing hint of mint.  Simple clean ingredients create a deeply nourishing and delicious soup that is dairy-free.  Vegan and Gluten-free. Serve warm or chilled.
Indian Spinach Salad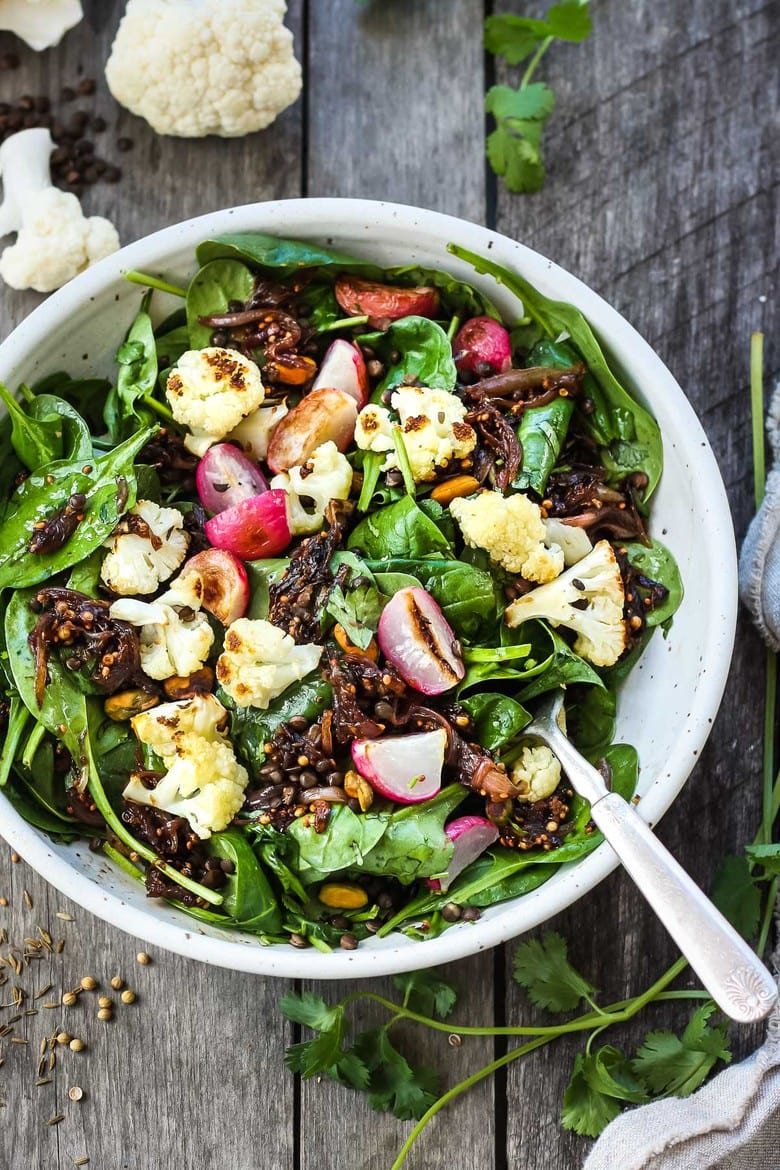 A fresh and flavorful Indian Spinach Salad with black lentils, roasted cauliflower and roasted radishes.  Caramelized shallots and a Tempered Seed Dressing give the salad amazing flavor, depth, and crunchy texture.
Borscht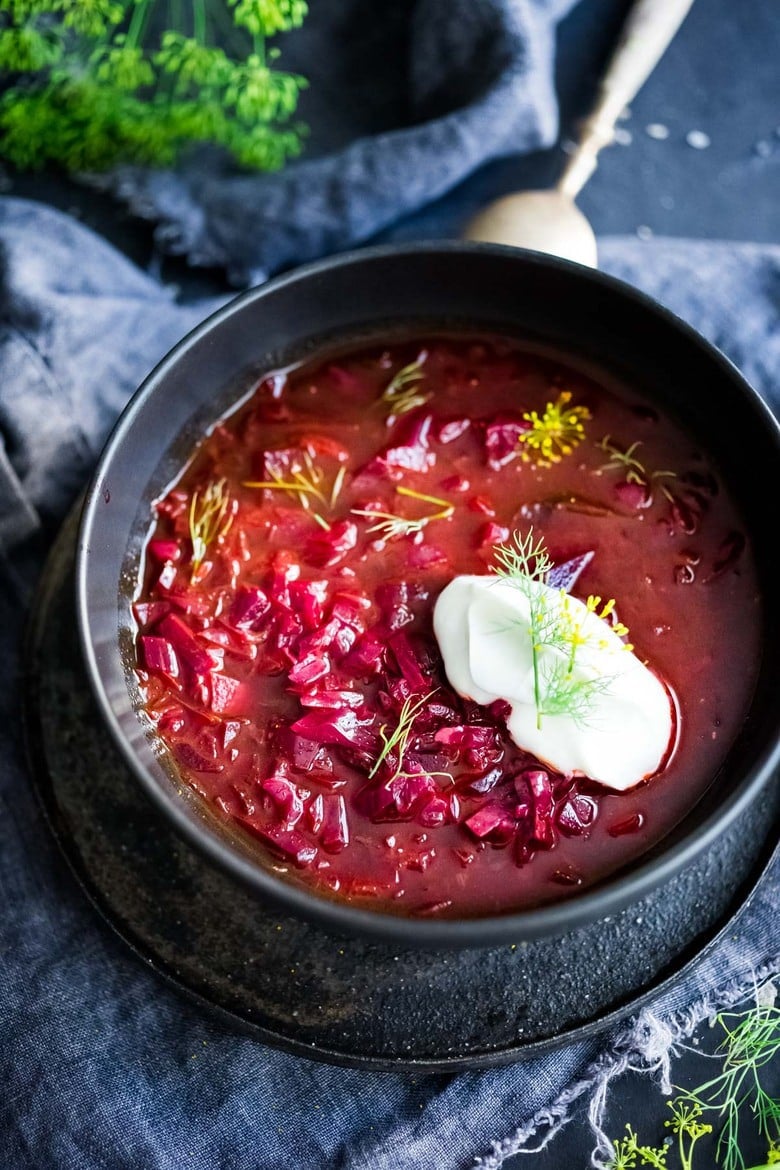 A simple delicious recipe for Beet Borscht– a healthy, vegan, beet and cabbage soup that can be made in an Instant Pot or on the stovetop. Warming and nourishing, Borscht is full of flavor and nutrients!
Creamy Artichoke Soup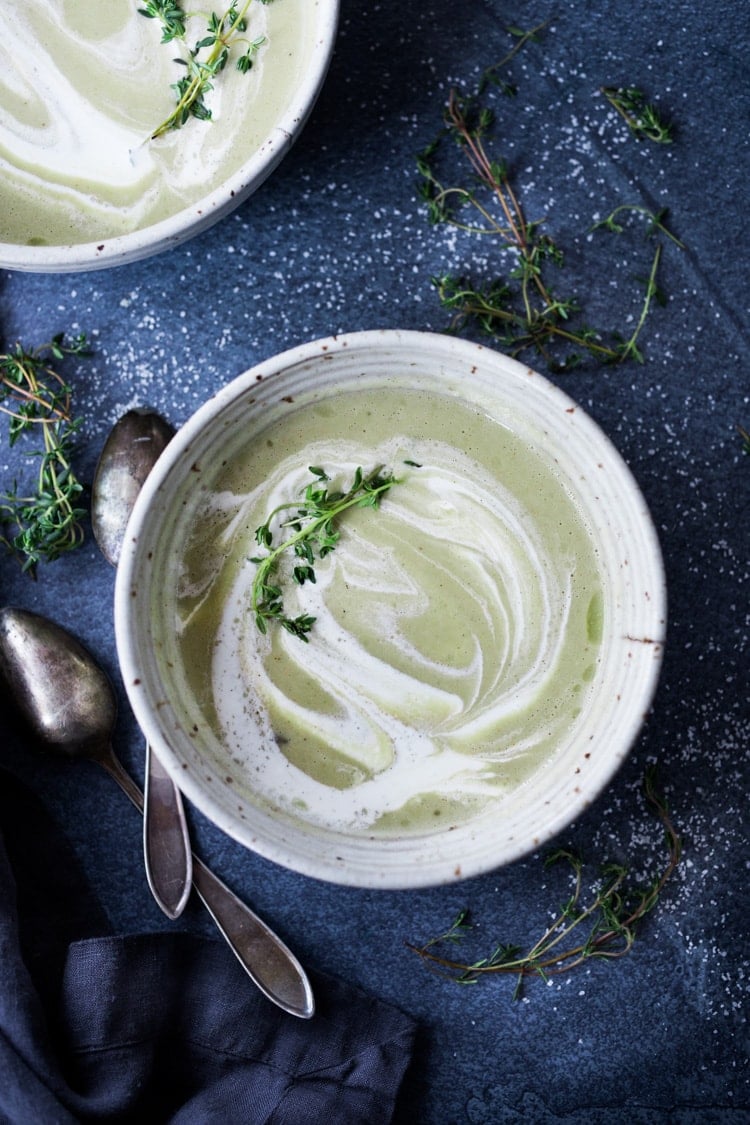 Artichoke Soup! A simple delicious recipe using fresh or frozen artichoke hearts that can be made vegan or made creamy! Keto friendly!
Chicken and Artichokes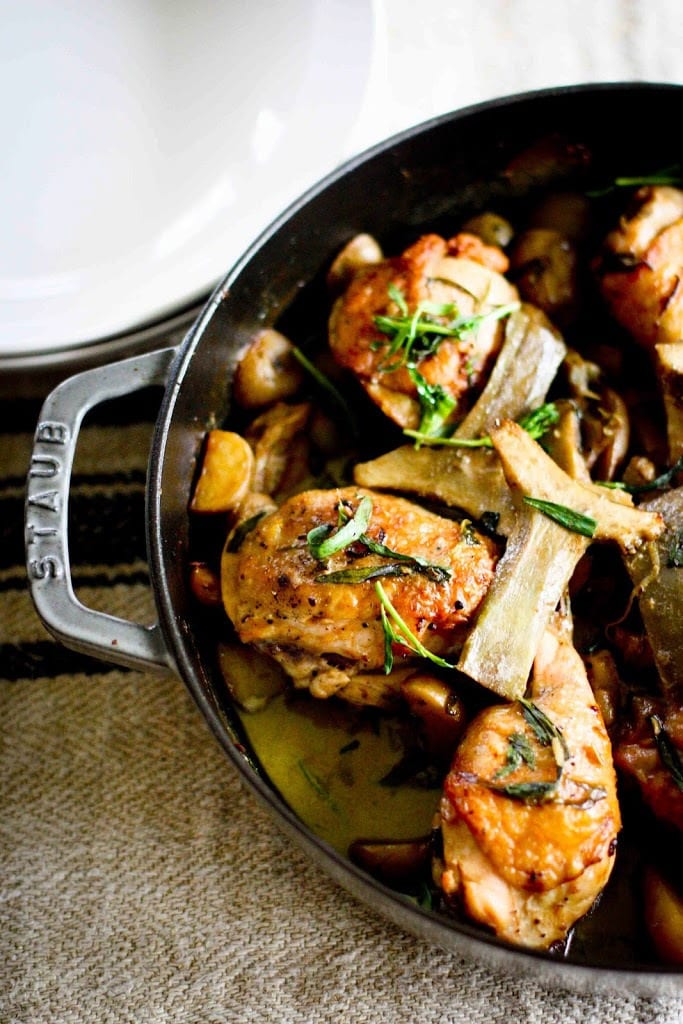 Crispy Braised Chicken Thighs with Artichoke Hearts, leeks, potatoes and tarragon- a delicious, French-inspired one-pan recipe perfect for spring!
Artichoke Souffle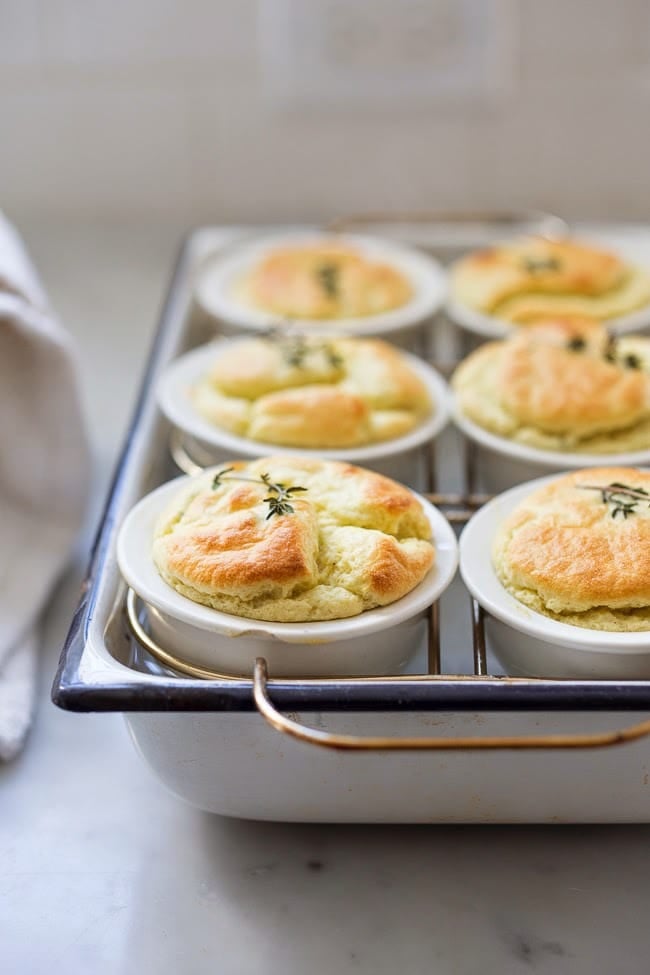 Light and airy Artichoke Souffle w/ Goat Cheese and Thyme with Goat Cheese and Thyme – a delicious spring appetizer, perfect for special occasions.
Spring Lentil Salad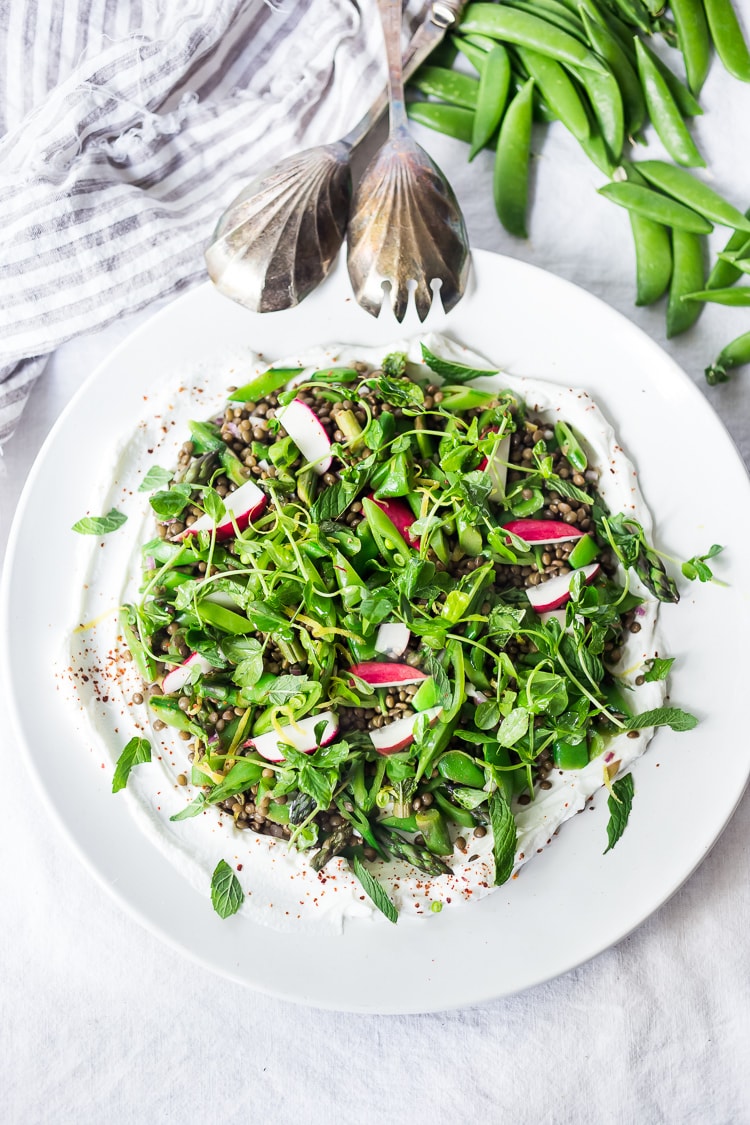 Lentil Salad with Spring Veggies, Mint and Yogurt Sauce -a delicious, healthy, Greek-inspired lentil salad recipe that celebrates spring vegetables! Vegan-adaptable and Gluten-Free
Spring Pasta Salad with English Peas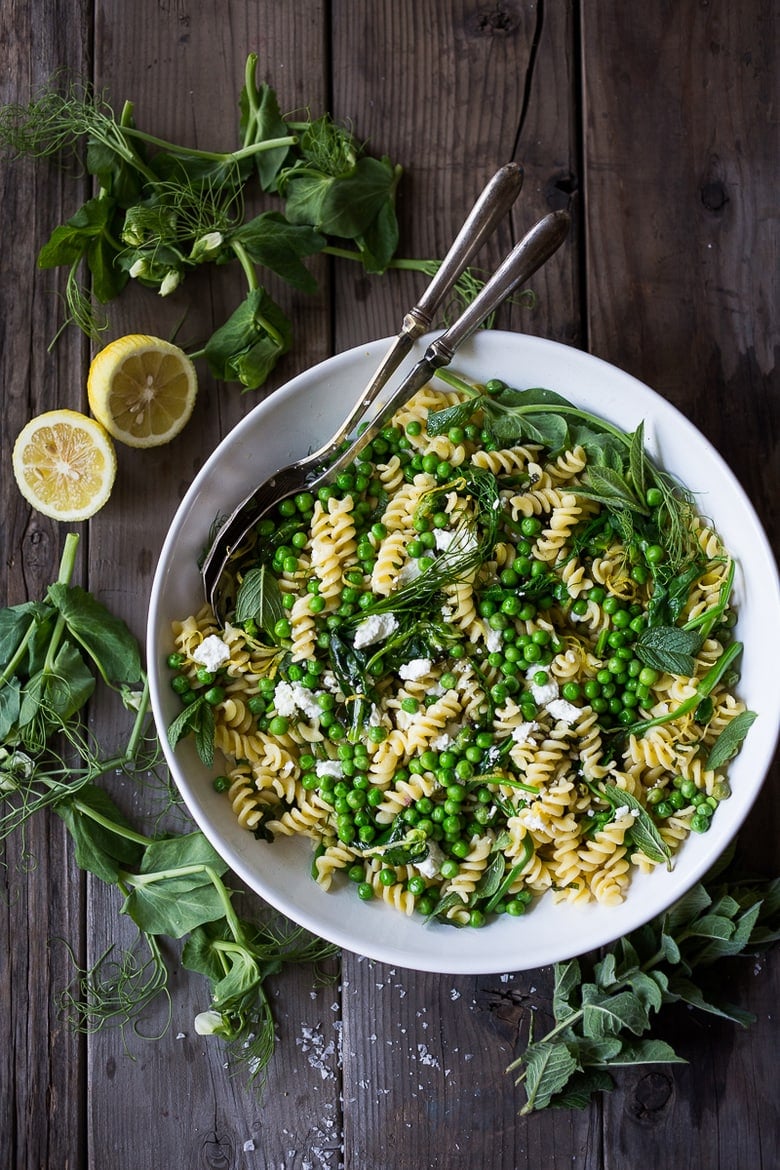 Spring Pea Pasta with truffle oil, lemon and mint can be served warm as an entree or chilled as a salad.  Toss in pea tendrils or baby spinach or arugula if you like.
Creamy Asparagus Soup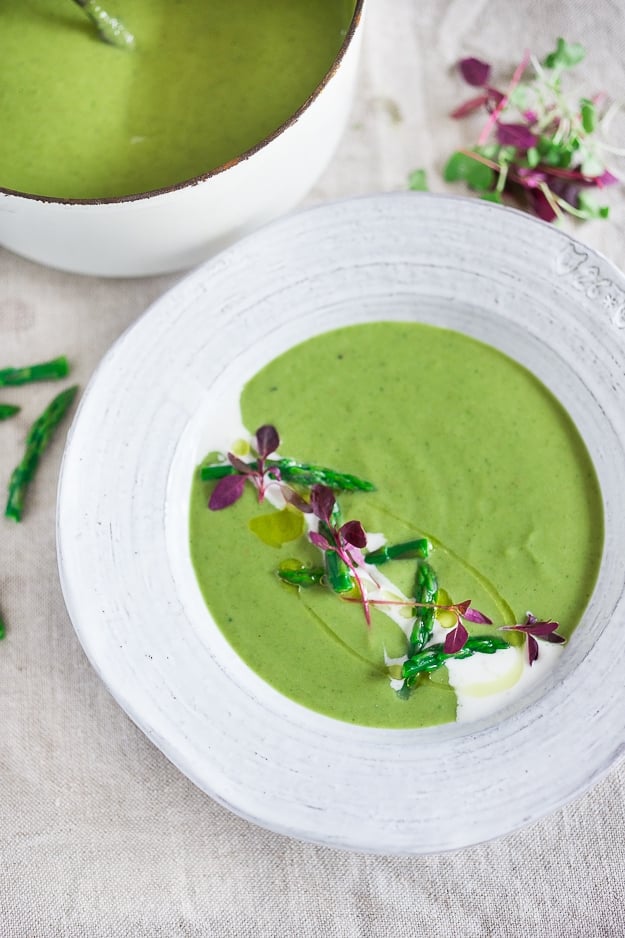 If you haven't tried this yet, you need to!  Creamy Asparagus with Tarragon is such a wonderful combination of flavors, it will delight you.  The fennel and tarragon give the asparagus an unusual, unexpected twist. The soup is lightened up and made "creamy" with potatoes and a little sour cream, so it's not overly rich, rather, just rich enough.  The fennel oil elevates it to another level.
Cassoulet Vert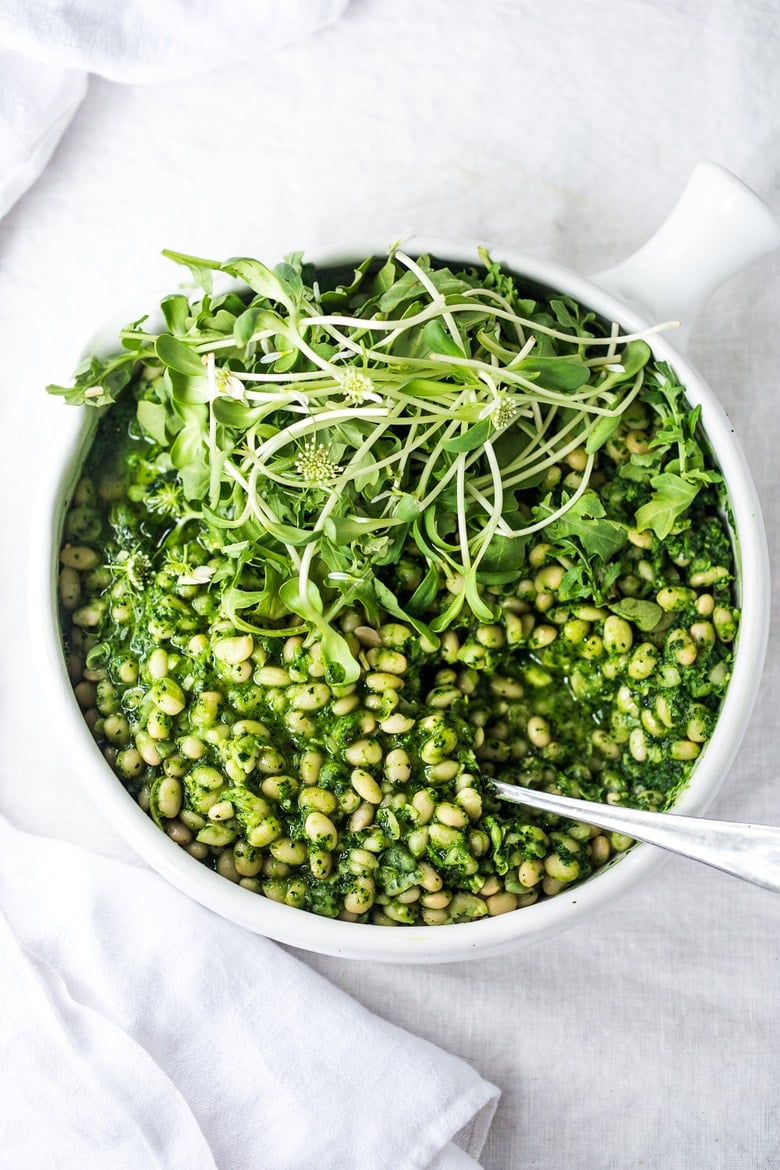 Cassoulet Vert – a vibrant Spring Cassoulet (or White Bean Stew) with a delicious Lemony Kale Pesto that is vegetarian and that can be made in an Instant Pot! Fast, healthy & delicious!
Cacio De Pepe with Fava Beans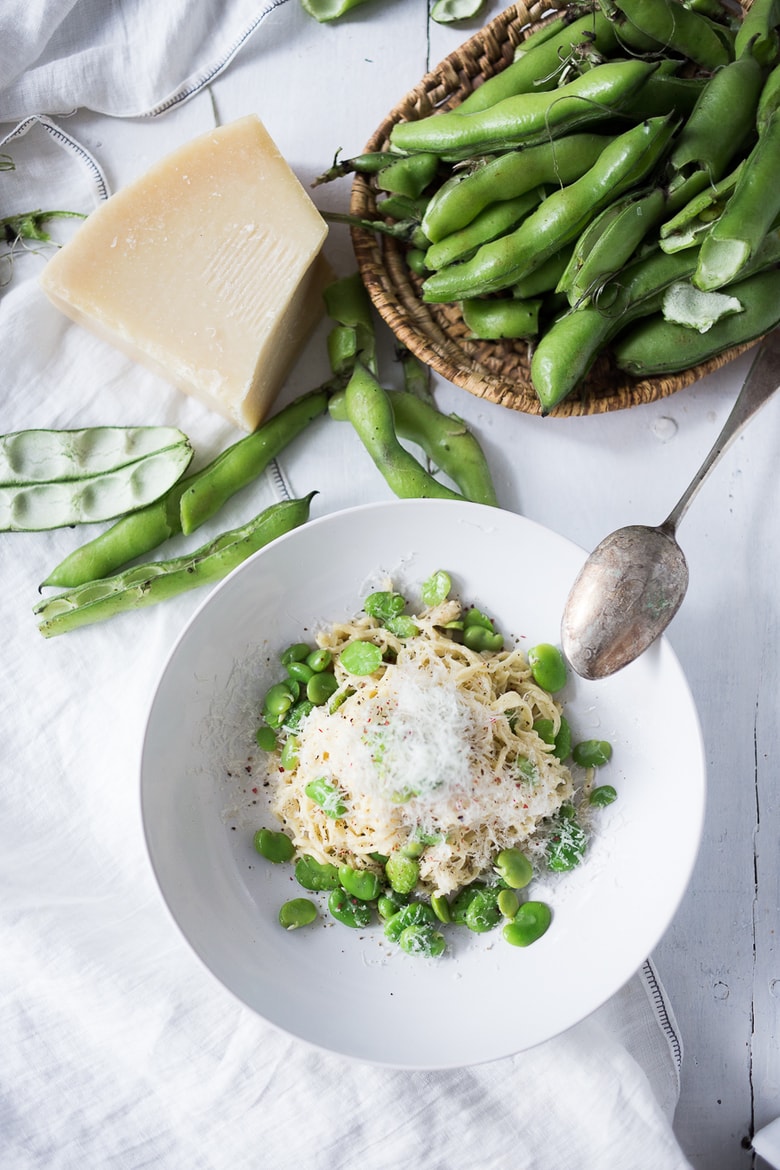 Cacio e Pepe with Fava Beans –A simple delicious recipe for Cacio e Pepe with Fava Beans (or sub peas, asparagus or edamame ) so tasty you will want to make it over and over. Spring Pasta with Miso Brown Butter Sauce
Smashed Chickpea Salad Sandwich with Spring Herbs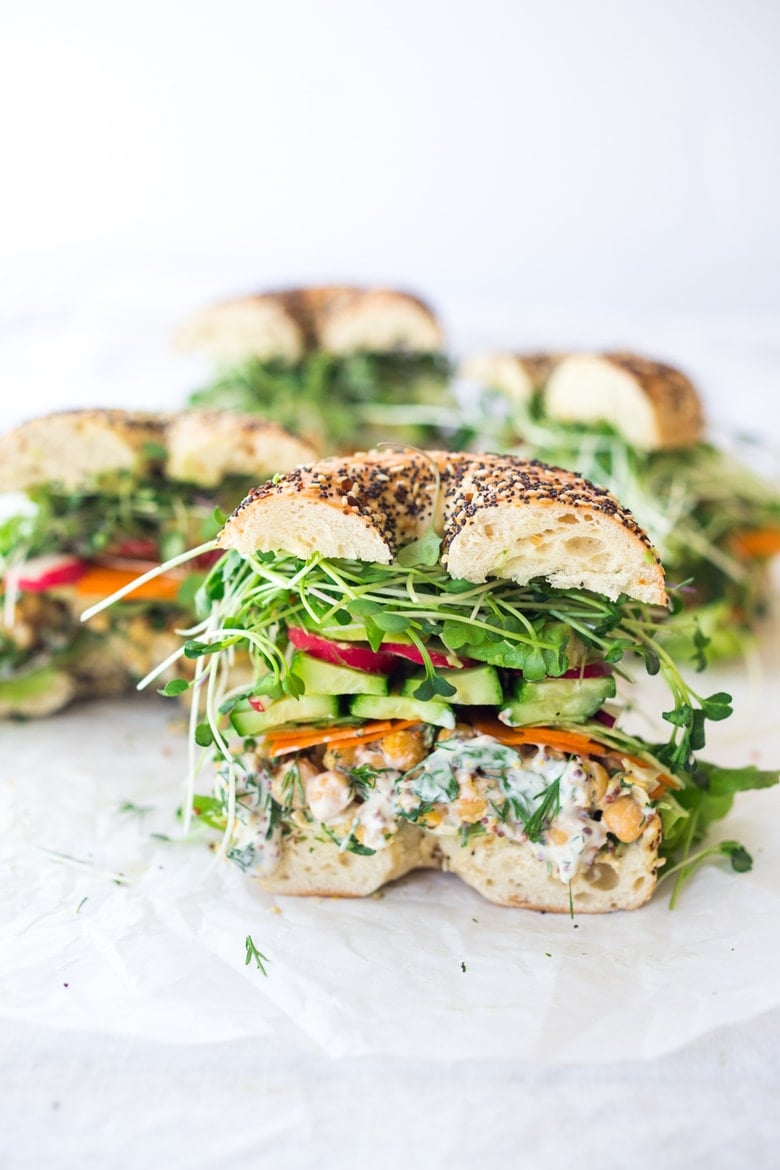 Smashed Chickpea Salad Sandwich with spring herbs, crunchy carrots & radishes, cucumber, avocado and sprouts. Vegan and Gluten-free adaptable! Make the flavorful chickpea salad ahead for midweek meals- great for meal prep!
Nettle Pesto Pasta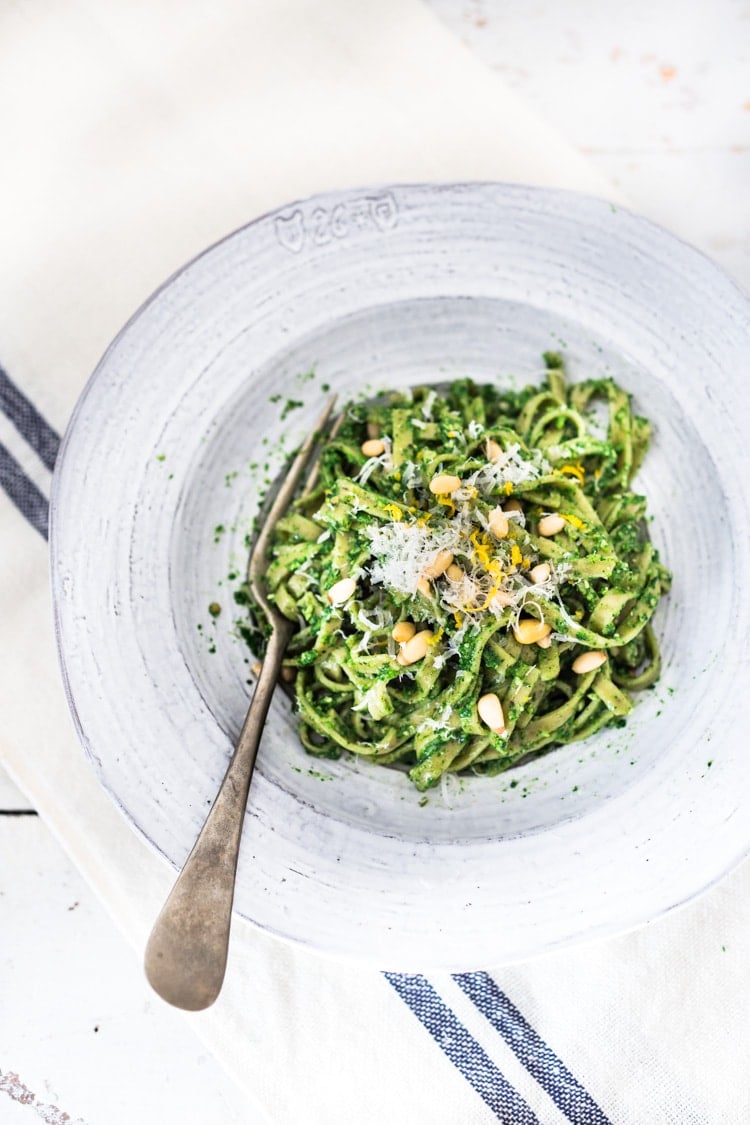 Spring Nettle Pasta with a flavorful nettle pesto sauce, toasted pine nuts and lemon zest. Full of nutrients and oh so delicious!
Creamy Nettle Soup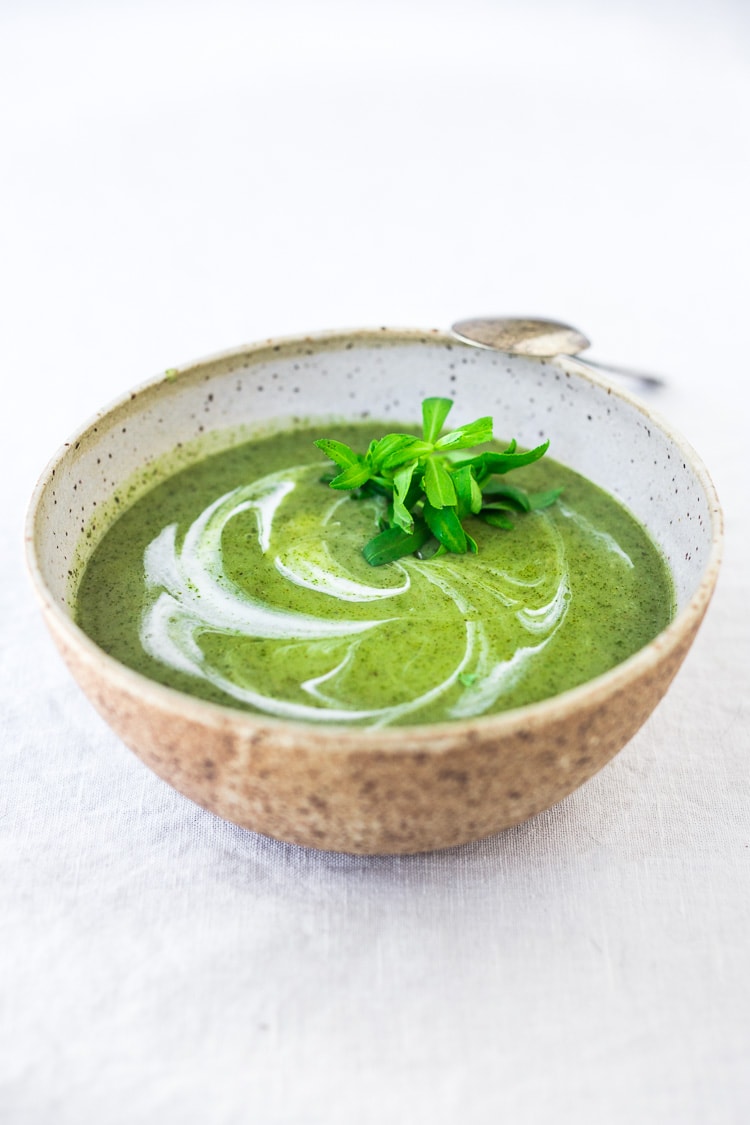 Vibrant, luscious Nettle Soup -a simple easy recipe, full of incredible health benefits and lovely flavor. A Scandinavian specialty to be enjoyed in late spring and early summer when nettles are aplenty. Vegan Adaptable!
Miso Salmon with Spring Veggies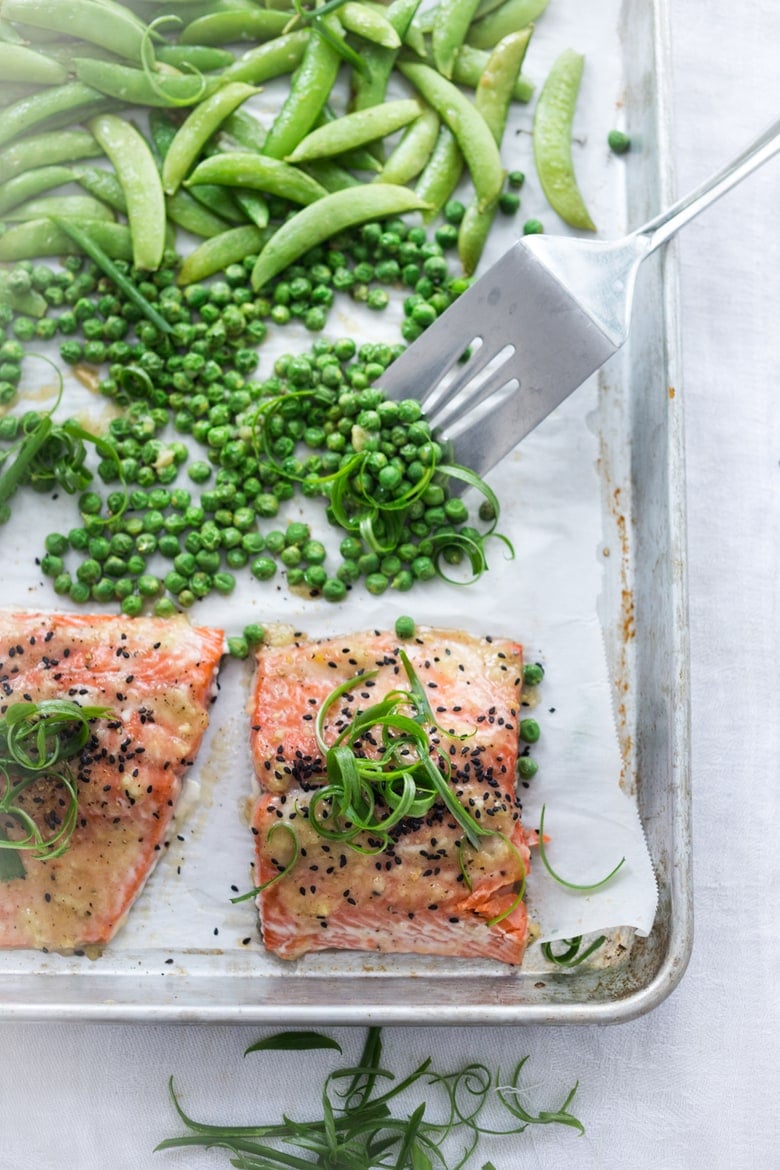 A simple recipe for Sheet Pan Miso Salmon with Snow Peas and Spring Peas – a fast and healthy weeknight dinner that can be made in under 25 minutes.
Spring Orzo Pasta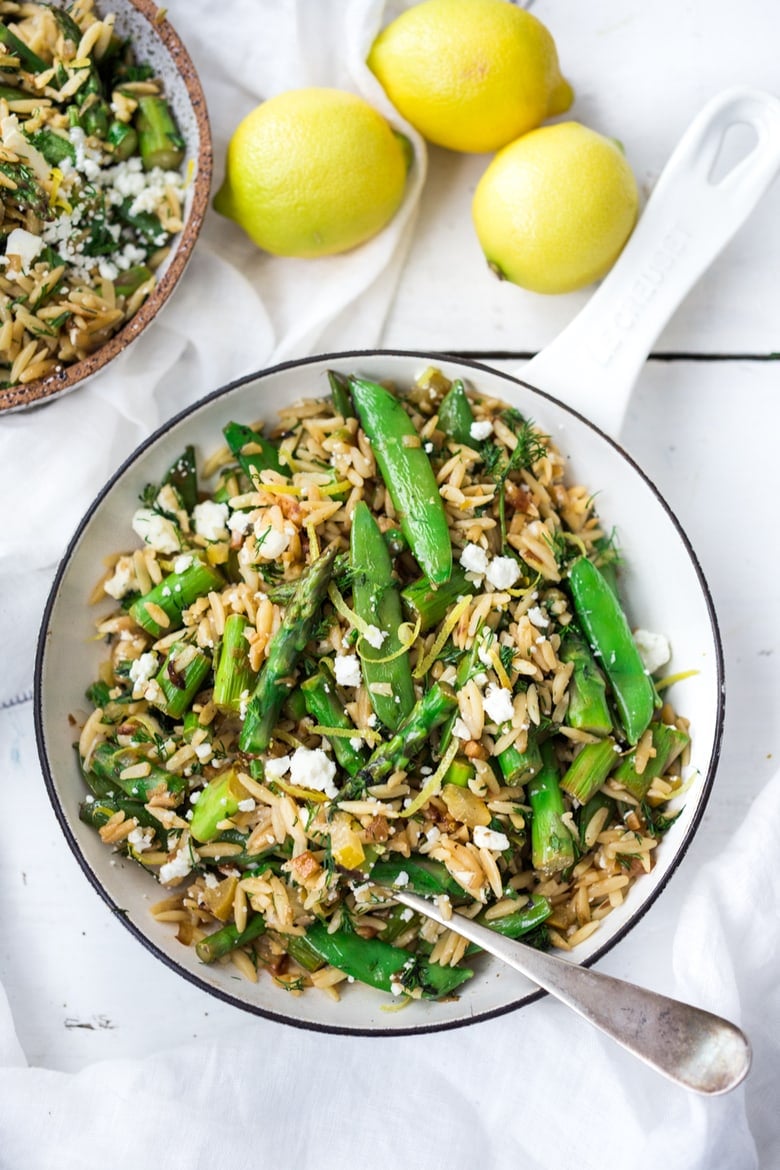 Spring Orzo with Asparagus, Lemon and Dill. You can serve this warm as an entrée, or chilled as a side salad. Keep it vegan or add feta. And if you happen to have any preserved lemons hiding out in your pantry or fridge, this is the time to whip them out and put them to good use. They are not required, but a tasty addition.
Green Goddess Bowl

This Green Goddess Bowl is packed full of spring veggies and dressed with a creamy, herby, Vegan Green Goddess Dressing. A lovely spring meal full of healthy veggies.
Tarragon Chicken with Asparagus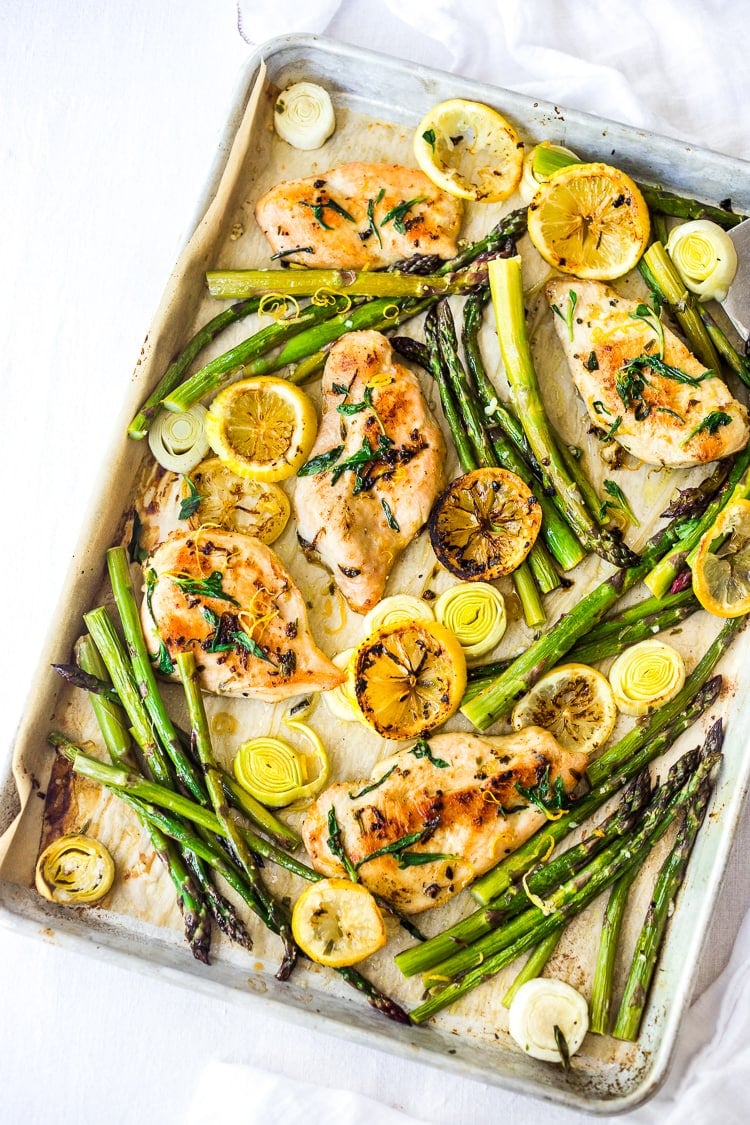 Tarragon Chicken with Asparagus, Lemon and Leeks – all roasted on a sheet pan for a fast and healthy dinner with minimal cleanup!
Carrot and Quinoa Salad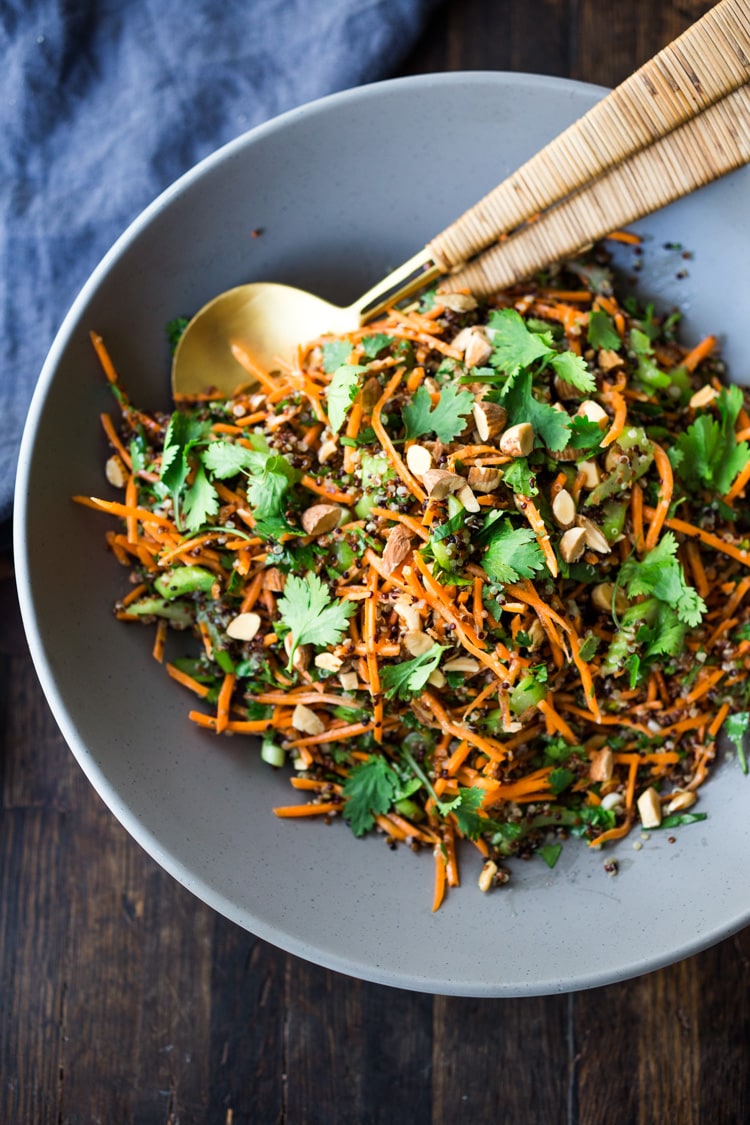 Carrot Quinoa Salad with Almonds and Raw Apple Cider Vinaigrette- a delicious vegan salad that can be made ahead.
Steamed Clams in Tarragon White Wine Broth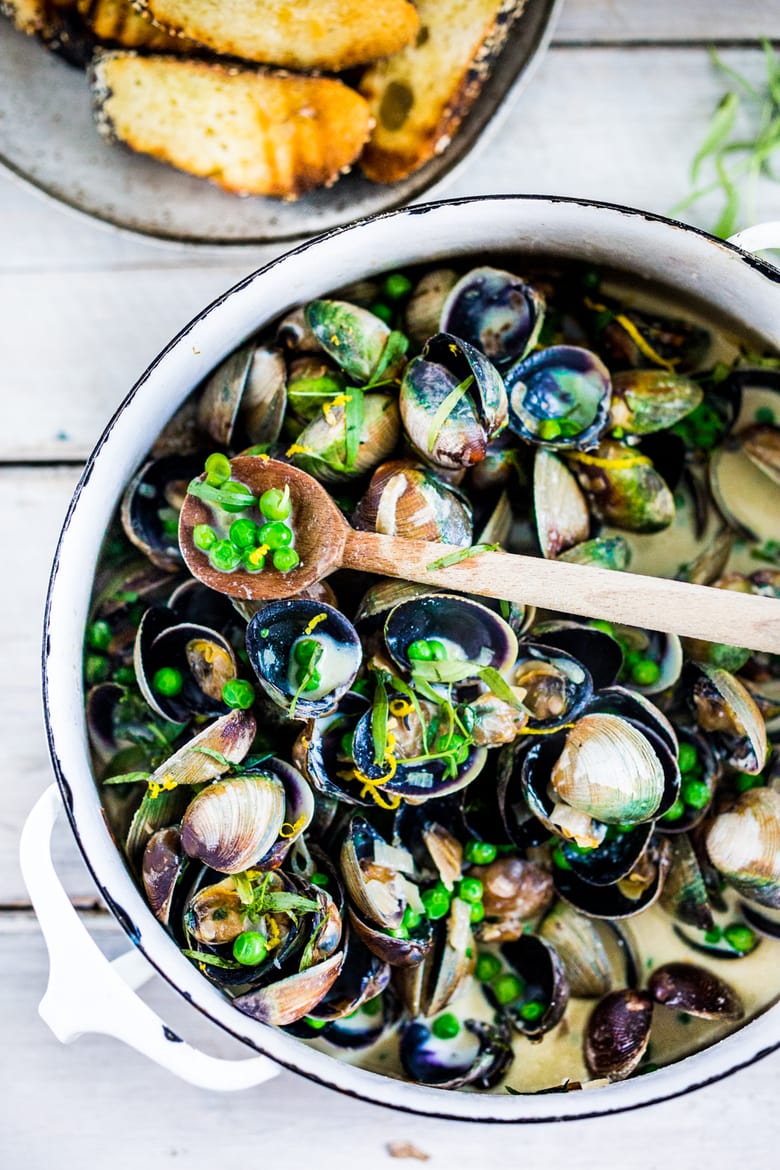 Steamed Clams in a flavorful white wine tarragon broth with fresh spring peas, served with crusty bread to mop up all the flavorful juices!  Serve 2 as a main, or 4-6 as a tasty appetizer.
Strawberry Tabouli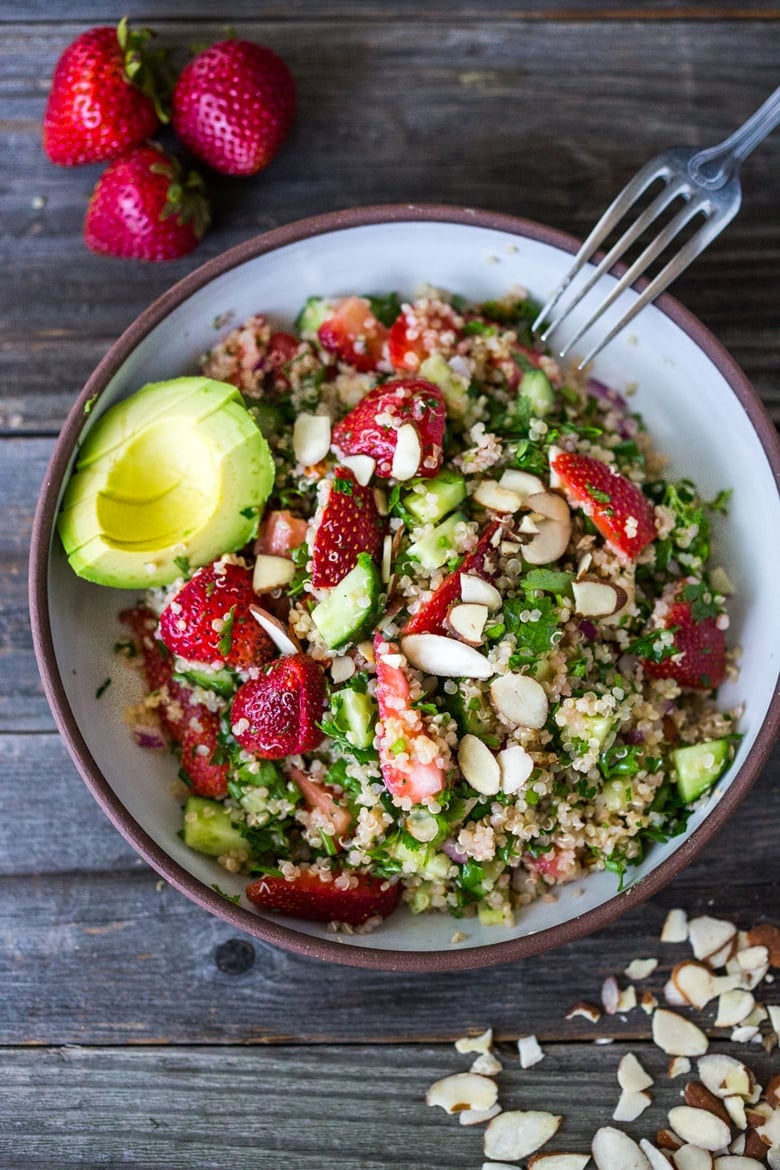 Strawberry Quinoa Tabouli with cucumbers, parsley and almonds-  a healthy, vegetarian, salad that is filling, nutritious and full of flavor!  Add feta, goat cheese or avocado for extra richness. I could eat this every day!
Warm Potato Salad with Mustard Seed Dressing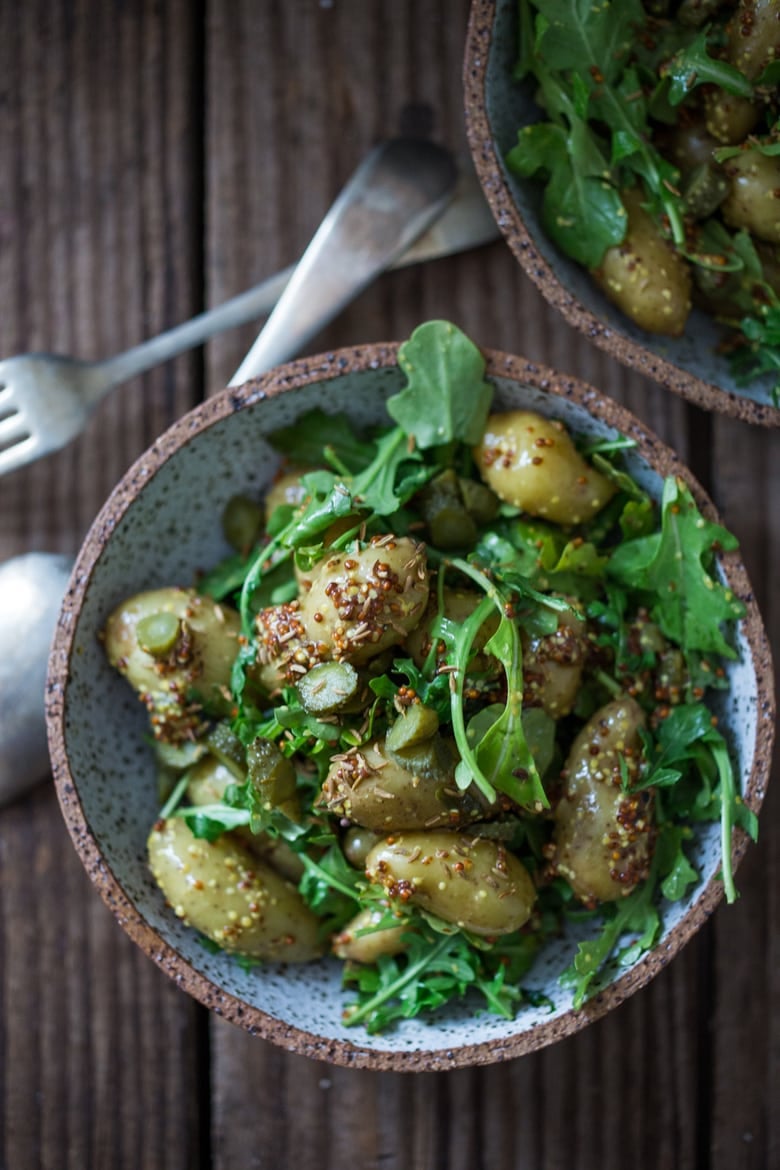 This Warm Potato Salad with Mustard Seed Dressing features spring's tender-skinned new potatoes. Cornichons, caraway seeds and fresh baby arugula add brightness and zest – a light and healthy way to serve up our favorite spring root vegetable.
Spring Pasta Salad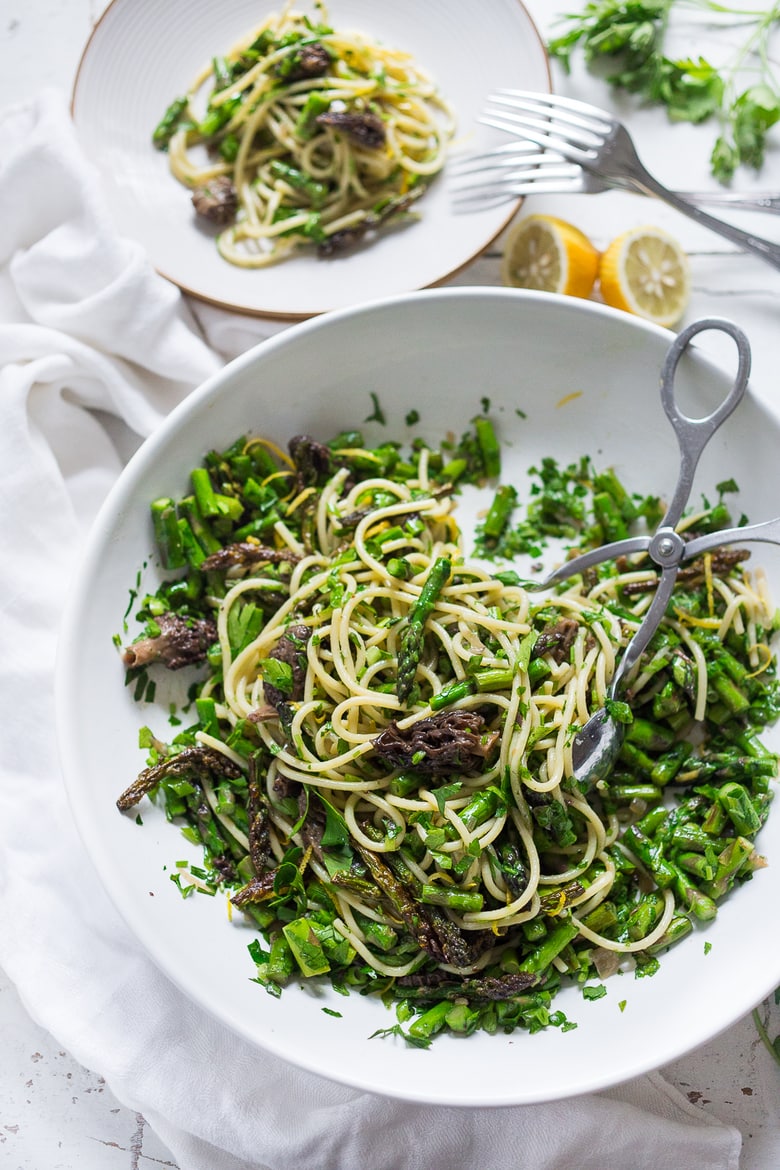 A simple recipe for Spring Pasta Salad with Asparagus, Mushrooms & Lemon Parsley Dressing. Of course, you don't have to have morels to make this salad, most any mushroom will do! This can be served at room temperature or chilled to serve later. The zesty flavorful dressing is refreshing and bright and compliments Spring veggies very well. Use rice noodles to make this gluten-free. The salad whips up quickly and easily — perfect for your next gathering.
Seared Scallops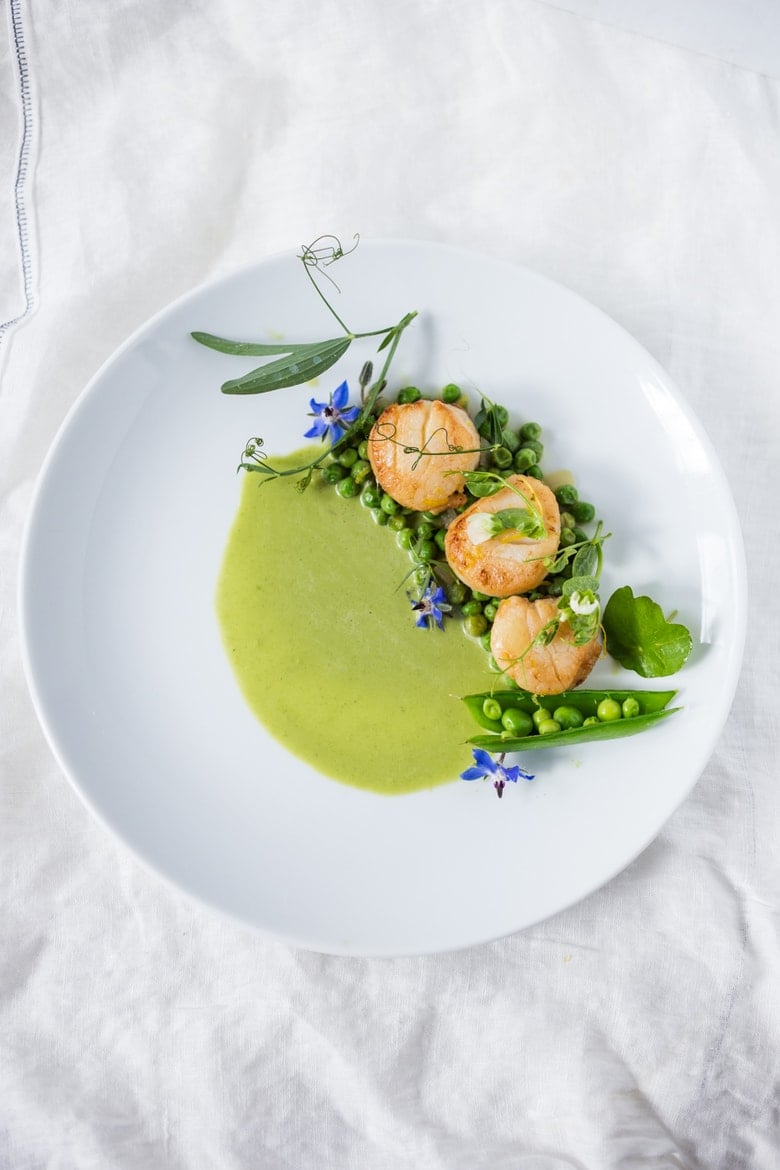 Seared Scallops with Spring peas, tarragon and truffle oil– a light and elegant meal, perfect for entertaining or special occasions.
Rhubarb Salmon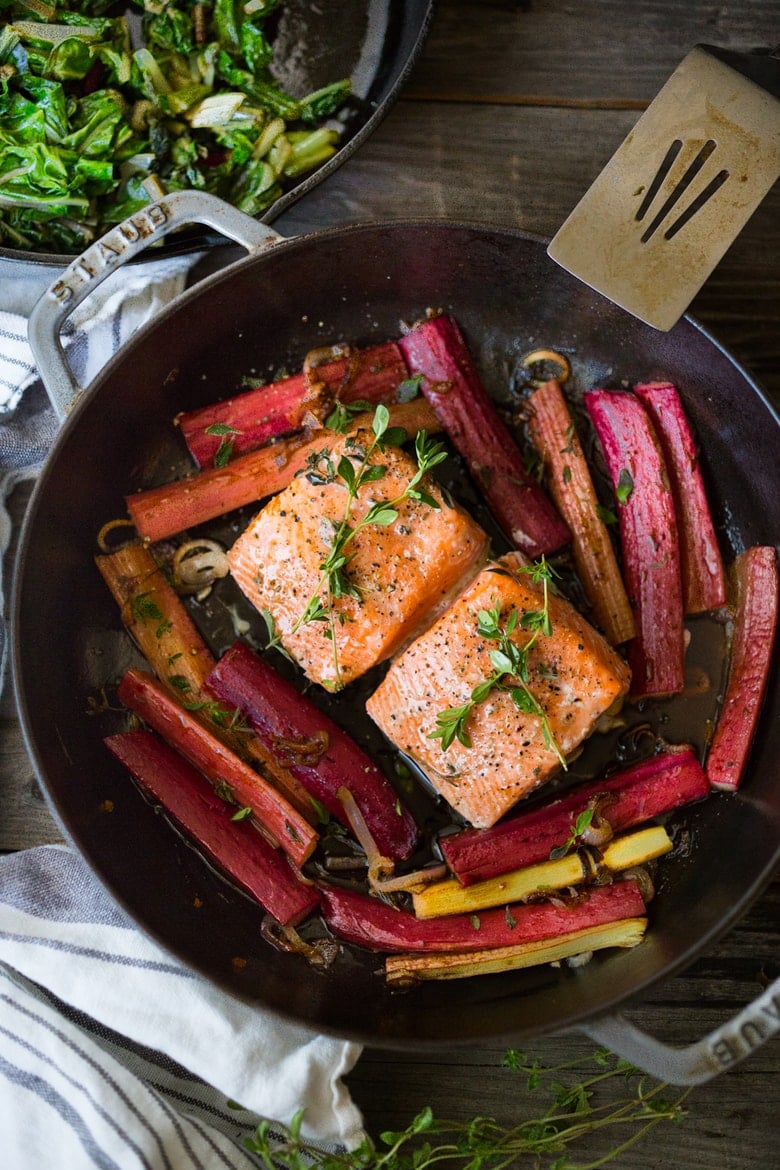 Wild Salmon and Savory Roasted rhubarb are baked together, then paired with wilted, garlicky chard. A fast and flavorful dinner! Gluten-free & Paleo!
Rhubarb Almond Muffins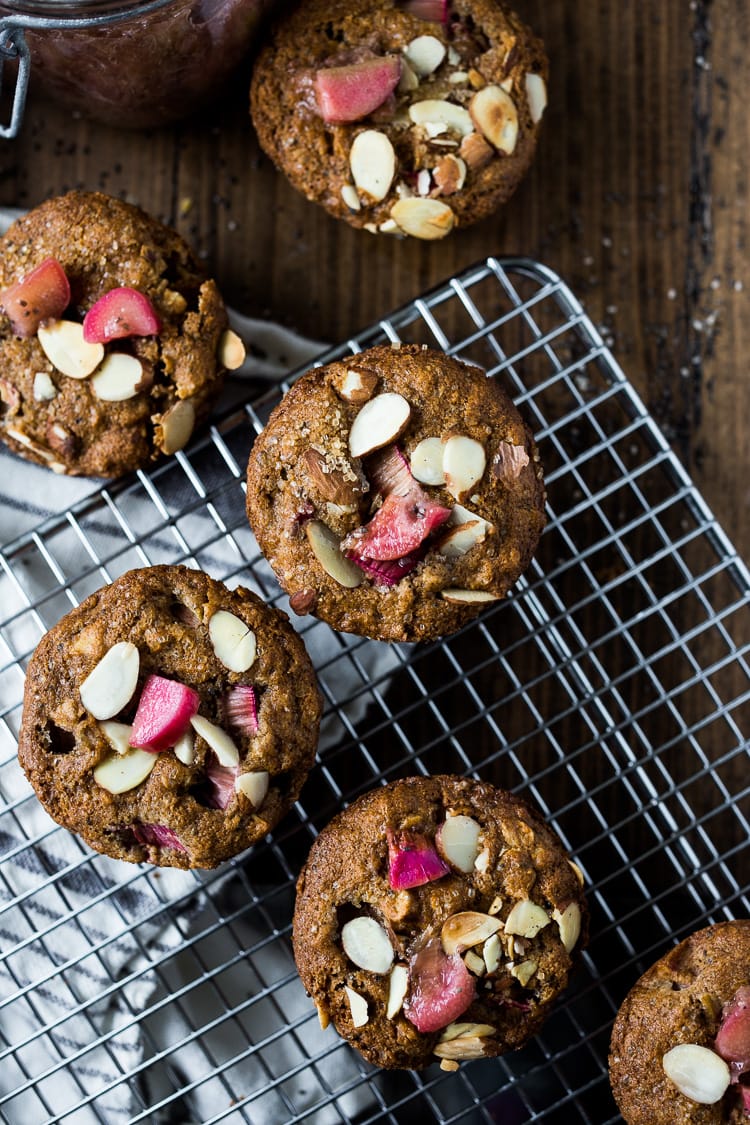 Strawberry Shortcake!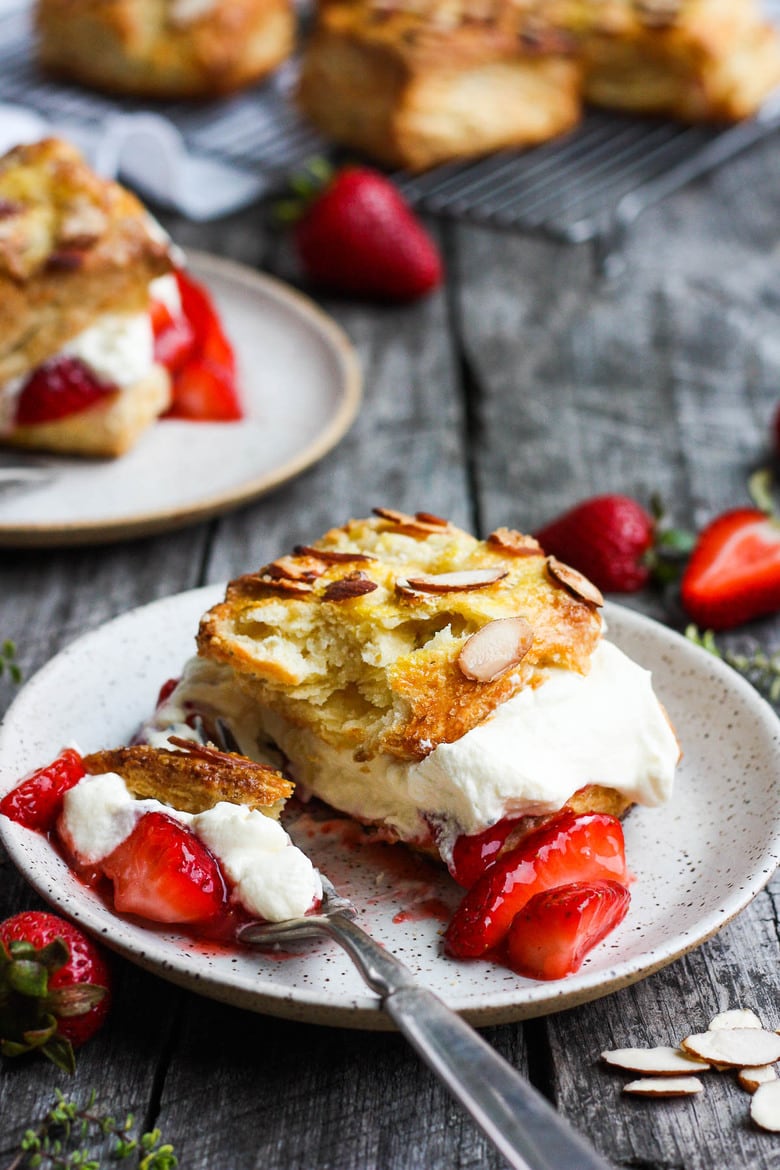 Homemade Strawberry Shortcake from Scratch with golden, flakey biscuits, jammy strawberry sauce, and yogurt whip cream.  The perfect American dessert with a twist.  This elevated version of the classic is subtly sweet and deeply satisfying.
Rhubarb Almond Cake (GF)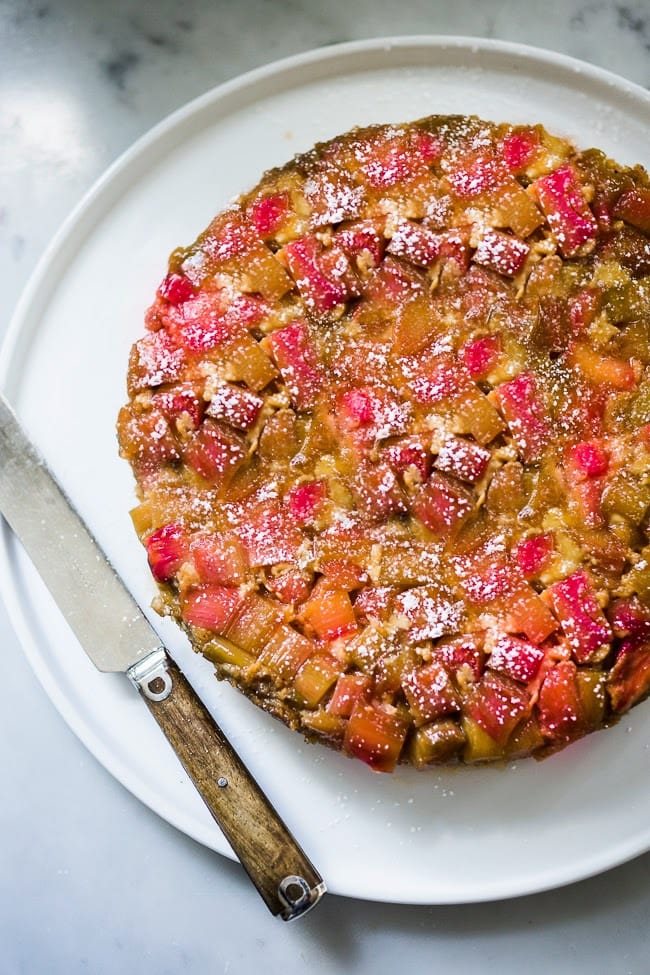 In this flour-less, Gluten-free
Upside Down Rhubarb Almond Cake
, I resisted the temptation to add berries or other fruit, in order to highlight rhubarb's true flavor. The bright liveliness of the rhubarb is front and center, the sourness mellowed slightly with
vanilla
and butter, while the base of the cake, made entirely of
almond meal
and no flour, whispers of cardamon. To my palate, the combination delights.
Strawberry Rhubarb Chia Crisp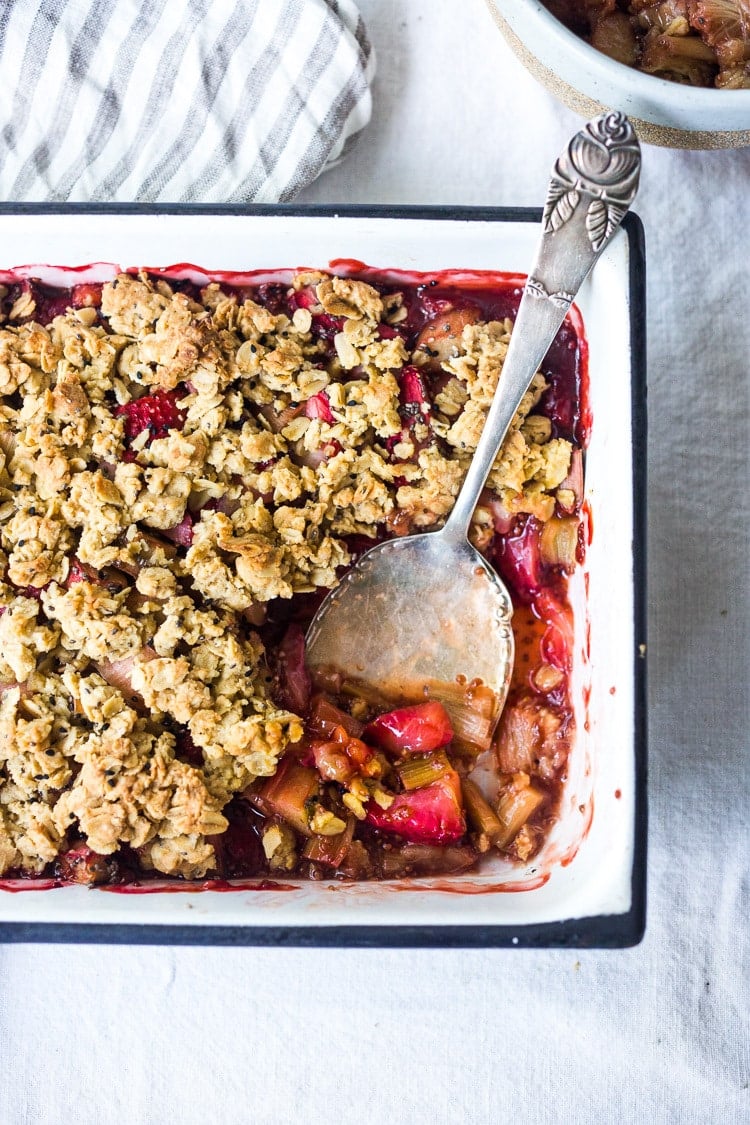 Strawberry Turnovers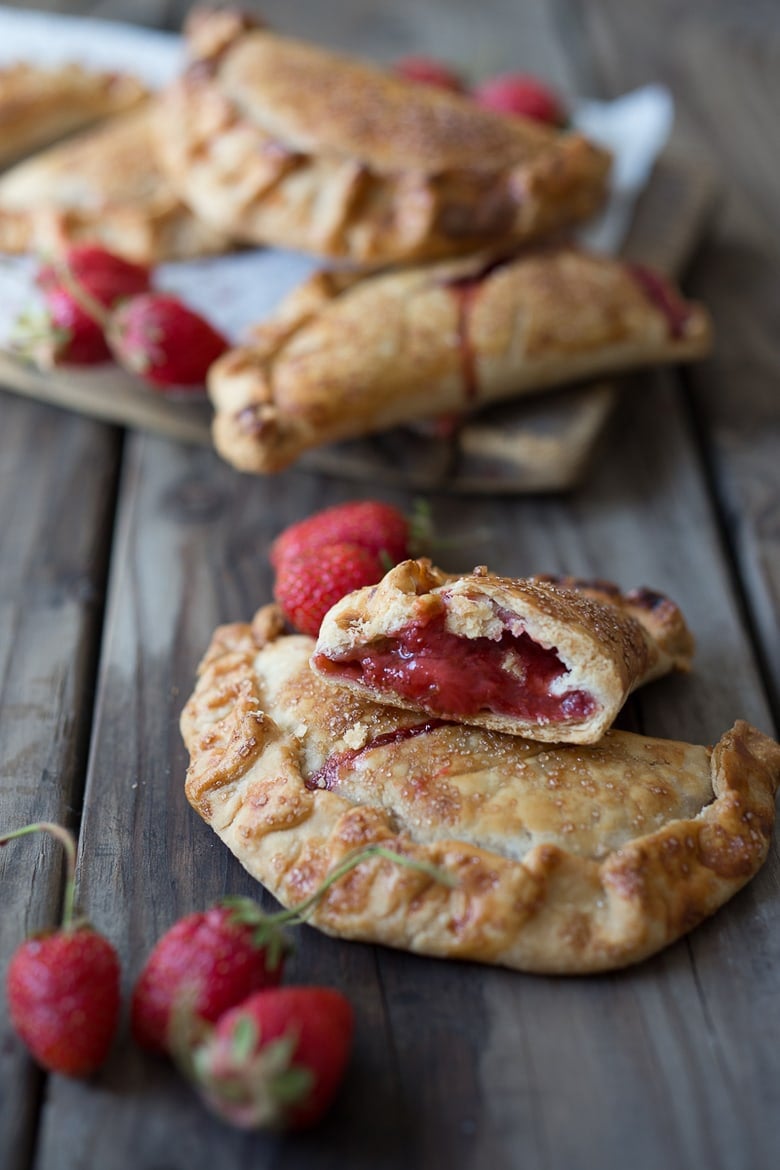 Rhubarb Shrub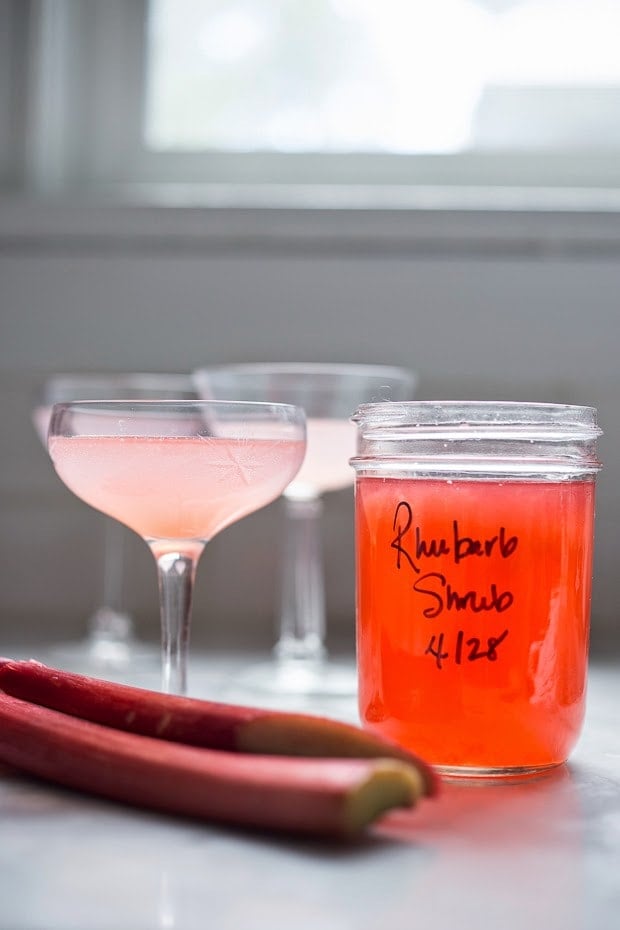 A simple delicious recipe for
Rhubarb Shrub
that can be used to make cocktails and mocktails. A great way to preserve the rhubarb growing in your garden!
Enjoy the spring recipes…pick out a few to try in the coming months!
xoxo
PS.
For me, spring is a time to be thoughtful, and intentional about what I want to plant (in my life). Because everything wants to grow!
But we only have so much time here, so actively edit out what you want less of, and create space for what you want more of, thus creating the life you truly desire. 
The hardest part is just imagining. I always start here- because if you can't imagine it, it will never be.
Imagine it, and then imagine it a little bigger. 😉 
Envision it, make space for it, and feel the aliveness of it taking root in your being. This recipe blog came from this very idea.
Print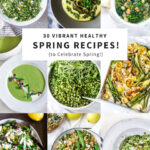 30 Vibrant Healthy Spring Recipes!
Prep Time:

30

Cook Time:

30

Total Time:

1 hour

Yield:

4

1

x

Category:

spring, spring recipes

Method:

stovetop

Cuisine:

northwest
---
Description
Our favorite vibrant, healthy Spring recipes to celebrate the season!
---
In season now!
asparagus
spring peas
strawberries
rhubarb
new potatoes

ten

der greens
spring onions
morel mushrooms
carrots
artichokes
avocados

ten

der herbs
baby spinach
wild roses
---
Instructions
Pick out a few recipes to try out this spring season!
---
Keywords: spring recipes, recipes for spring, healthy spring recipes, asparagus recipes, best asparagus recipes,
SaveSave
SaveSave
SaveSave
SaveSave