This post may contain affiliate links. For more information, please see our privacy policy.
Mini Pavlova Recipe with strawberries, rhubarb and Meyer lemon whipped cream! A light and airy dessert idea perfect for celebrations and gatherings. These can be made ahead!  (Allow 2 hours cooling time. )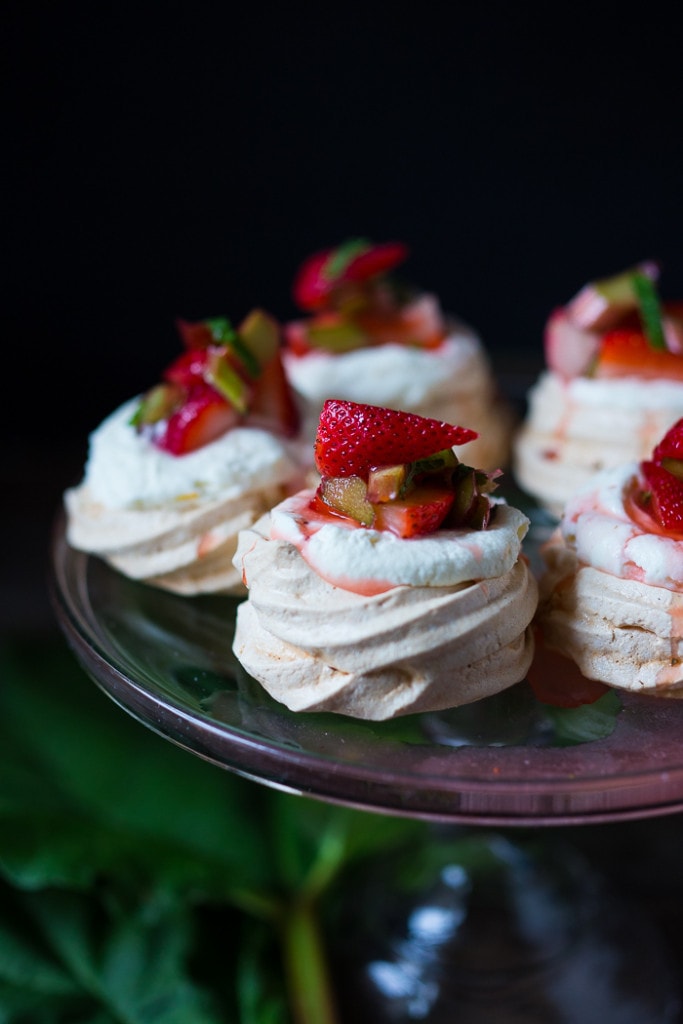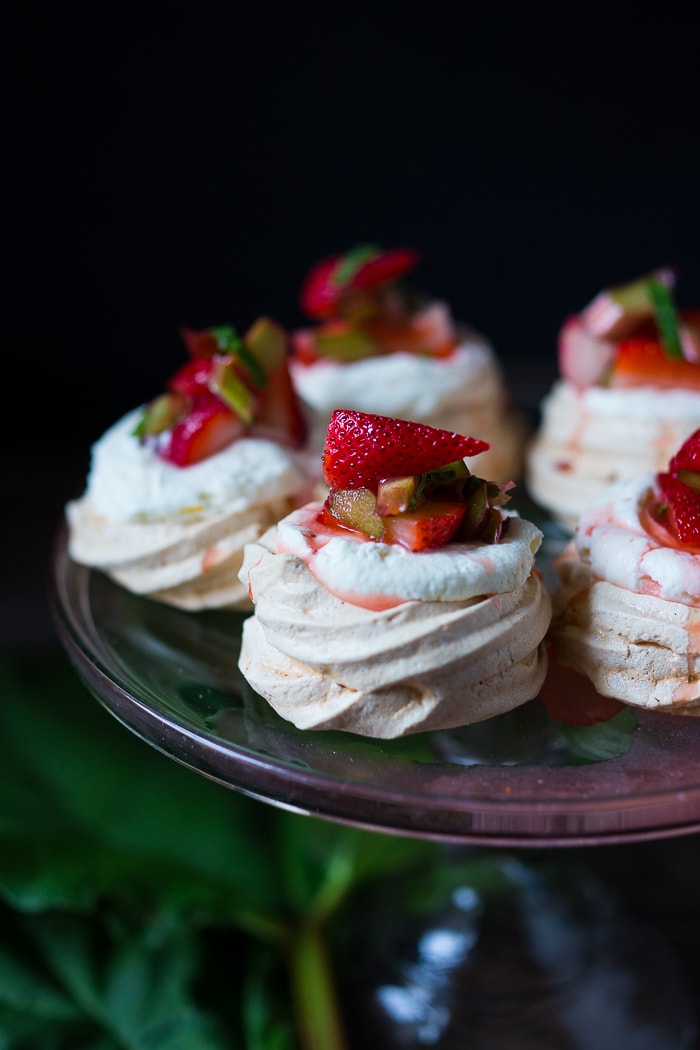 With Mother's Day just around the corner, I thought I'd share something special to make for mom. It's so much fun to whip up, she would probably enjoy making it with you! Mini Pavlovas!
These mini pavlovas are topped with seasonal strawberries and rhubarb and Meyer lemon whipped cream but other berries will work too. So delicious!
There is something so satisfying about whipping eggs whites into fluffy white clouds. If you've never tried it, I promise you will love it.
And  If you've never tried young rhubarb, in its fresh raw uncooked state, you are truly in for a treat. I was a skeptic at first too, concerned over its extreme tartness, but trust me, it's really refreshing lovely in this recipe. Of course, you can always use a variety of fresh summer berries, but to me, the rhubarb gives it such a unique flavor!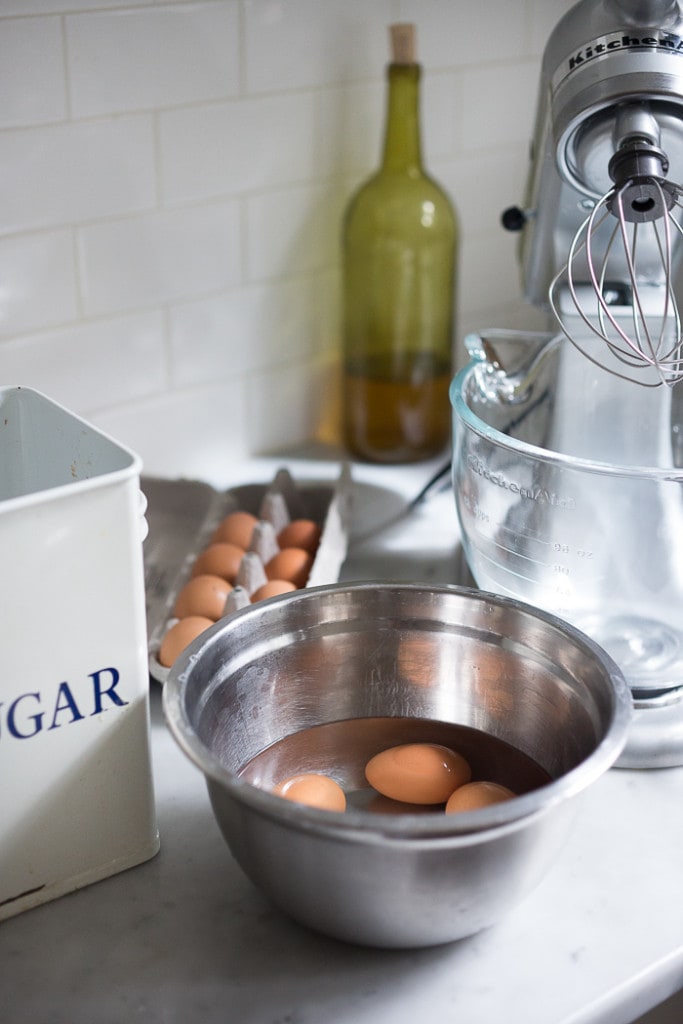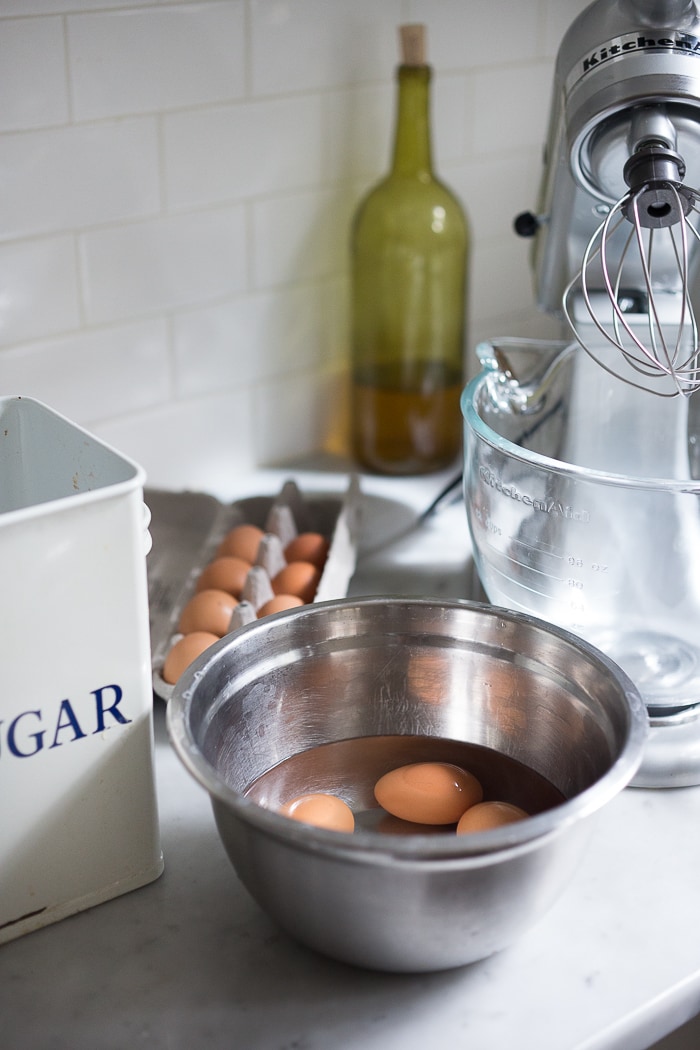 Some of my fondest memories are being in the kitchen with my mother, just hanging out and cooking, enjoying carefree, casual, ordinary moments together.
TIP: Make sure to use room temperature eggs. If in a hurry you can also place them in a bowl of warm water for a few minutes.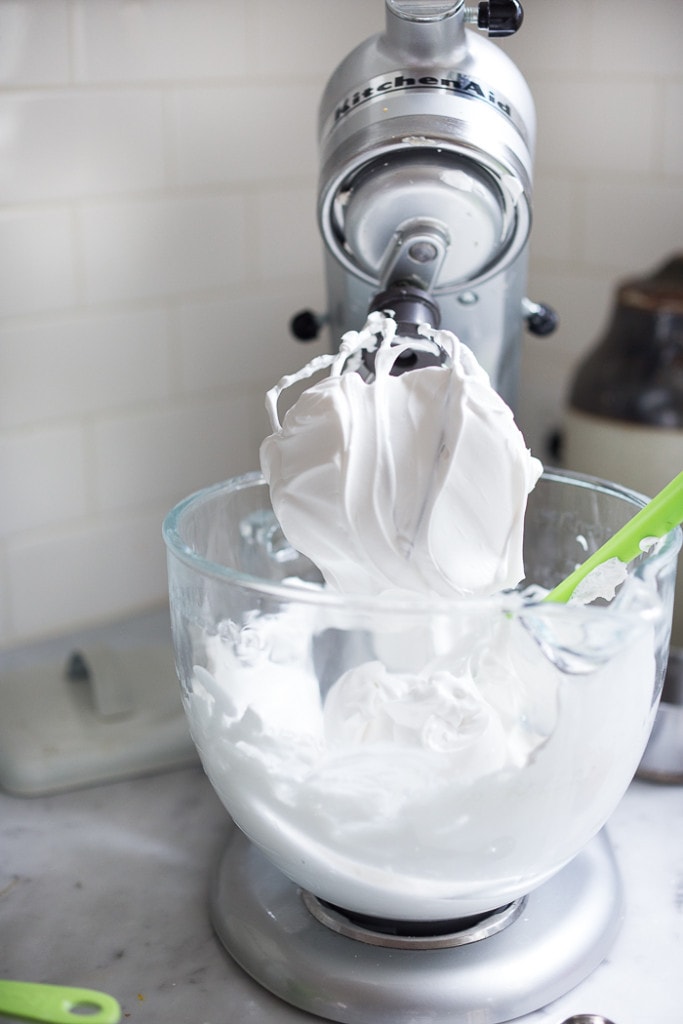 TIP: Make sure your mixing bowl is free of anything oily. This will prevent the egg whites from whipping up.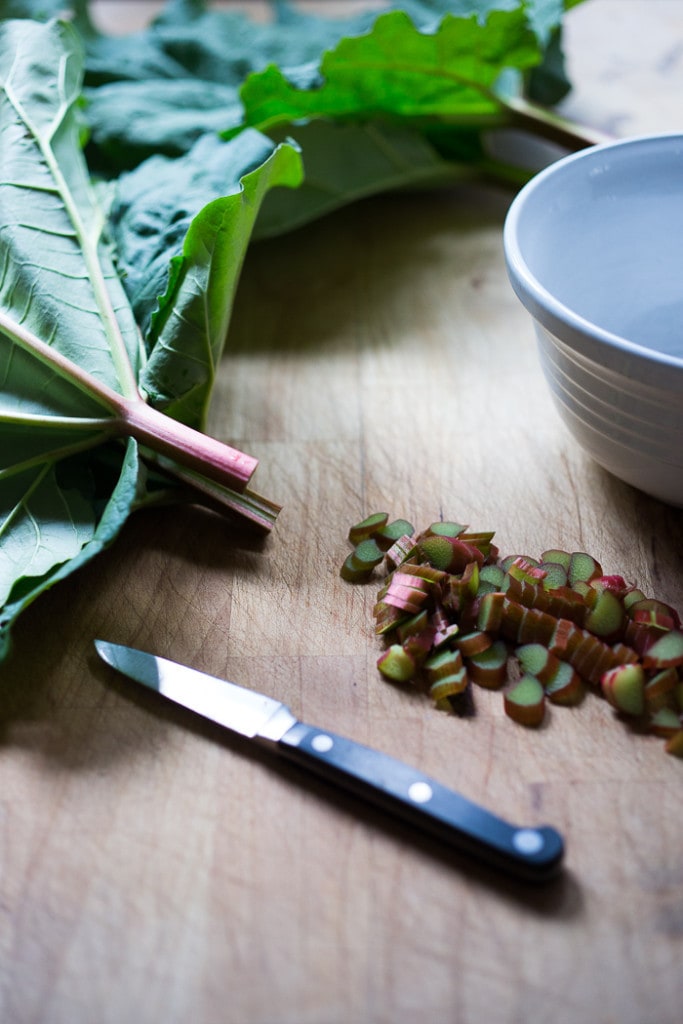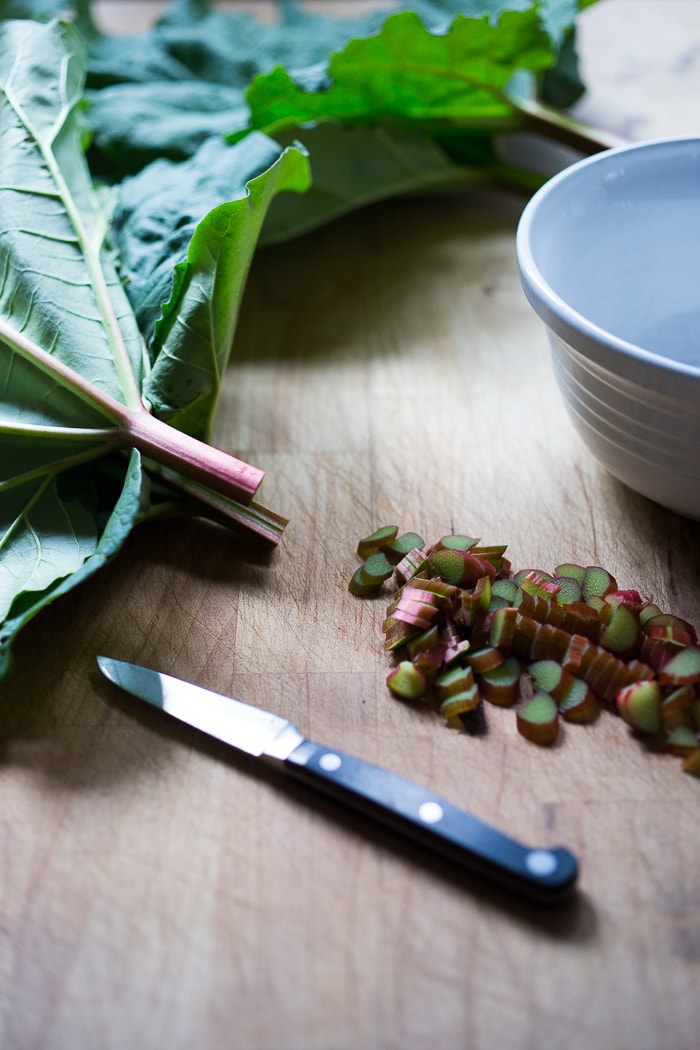 TIP: Fresh young rhubarb is delicious raw and paired with strawberries.  Just make sure to use tiny stocks and slice them thinly.
Macerate with the strawberries by adding sugar to temper their tartness.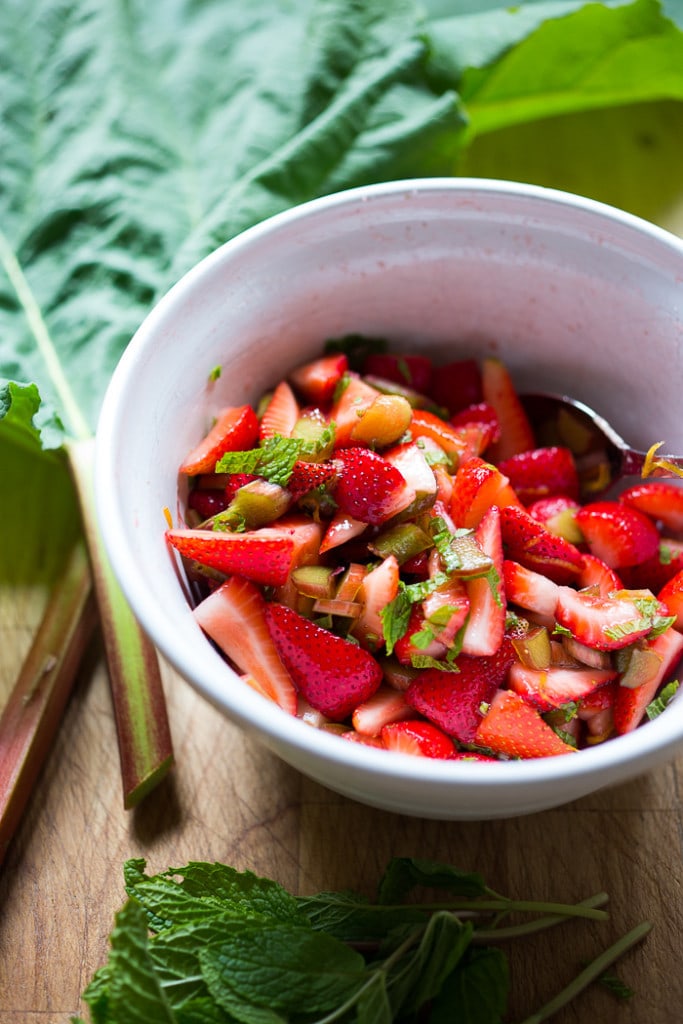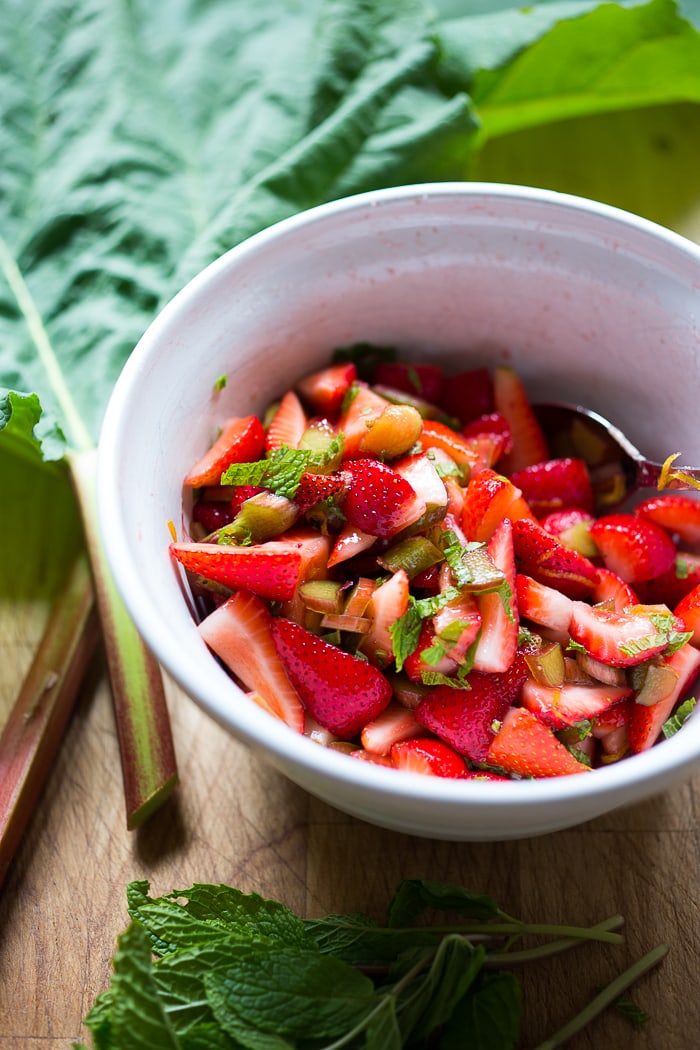 Place the whipped egg whites into a piping bag and make little "nests" with a spot in the middle for where the whipped cream and fruit will go.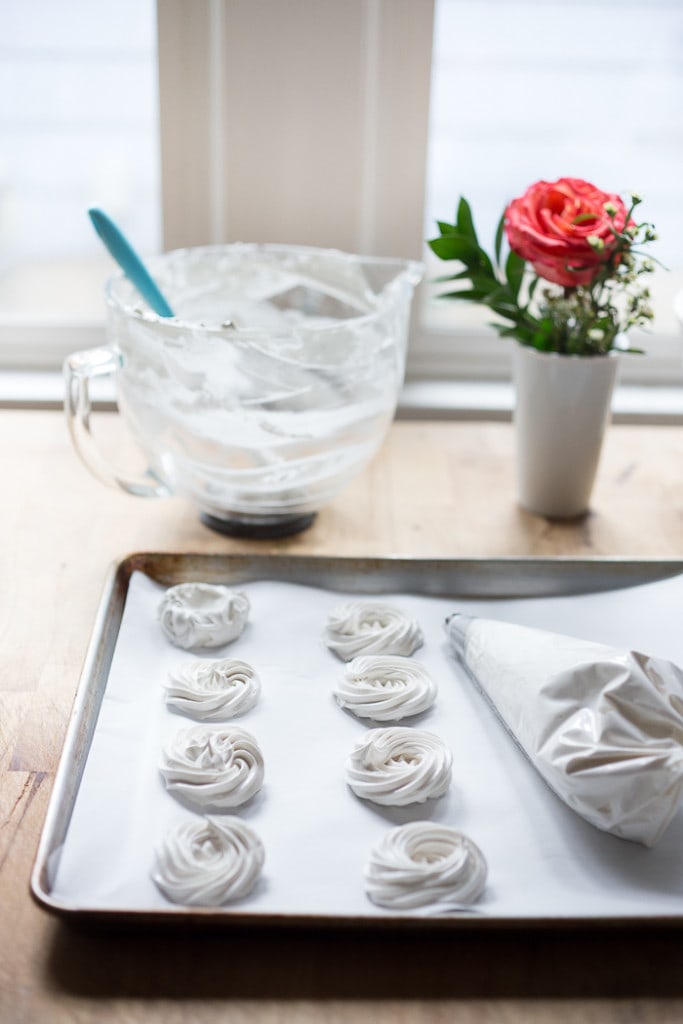 If making ahead, store in an airtight container, in a cool dry spot, but do not refrigerate.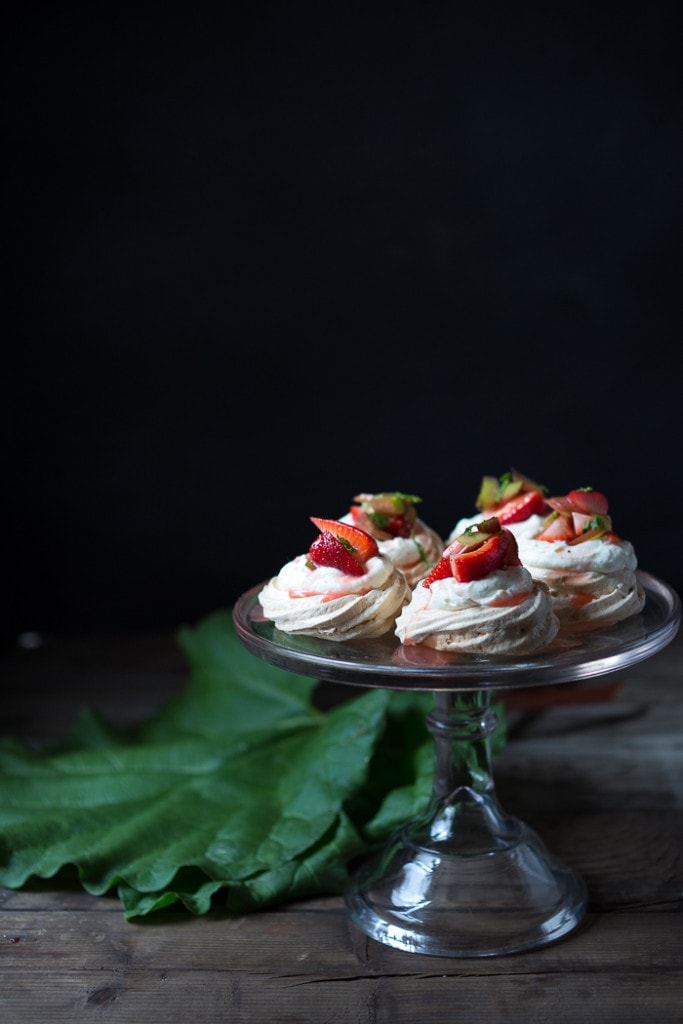 To all the mothers around the world, new mothers and seasoned veterans, grandmothers and great grandmothers and those who continue to live on through us — thank you.
Print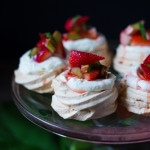 Mini Pavlovas with Strawberries and Rhubarb
Prep Time:

20 mins

Cook Time:

2 hours

Total Time:

2 hours 20 mins

Yield:

2

8

1

x

Category:

Dessert

Method:

baked

Cuisine:

French
---
Description
Mini Pavlovas with strawberries, rhubarb and meyer lemon whipped cream! A light and airy dessert idea perfect for celebrations and gatherings. Can be made ahead! Allow 2 hours cooling time.
---
4

extra large eggs- at room temperature
pinch salt

3/4

cup

sugar

2 teaspoons

white vinegar
Whipped Cream

1

pint

( 2 Cups) heavy whipping cream

1/2

cup

Sugar
meyer lemon zest ( fine zest ) – optional
Strawberry Rhubarb Topping

1

cup

finely sliced fresh rhubarb

3

cups

quartered strawberries

1/8

–

1/4

cup

sugar

1 Tablespoon

Meyer lemon zest and 1 Tablespoon Meyer lemon juice ( optional)

1

–

2

Tablespoons finely sliced mint (fresh)
---
Instructions
Pre heat oven to 275 F
Place egg whites and pinch of salt in the clean bowl of a stand mixer, and with whisk attachment, whip on medium high speed until soft peaks form, about 4 minutes.
Gradually add sugar, whisking it in a tablespoon or two at a time, until sugar completely dissolves and sugar grains disappear. Whisk until smooth and stiff glossy peaks form.
Whisk in vinegar, until just combined.
Put into piping bag (optional) and line a large sheet pan with parchment paper.
Either spoon out a 2 inch diameter round ( make a well in the center, like a litte "nest") or fill a piping bag with the egg white mixture and pipe out 26-30  2-3-inch rounds. (You can also make these bigger, but will need to bake them longer. ) They will rise and spread a bit, so leave room around them.
Turn the heat down to 200F.  Place in the oven for 50-60 minutes, until crisp on the outside.Rotate pan ½ way through. They may darken slightly or crack, all OK. Turn oven off and let cool in the oven with the door closed, until completely cooled, about 1-2 hours, or overnight.
While pavlovas are baking, make the whipped cream: Place heavy cream and sugar in the stand mixer and whisk on medium high until cream forms med stiff peaks. Be careful not to over whip, but if you do, just a little more whipping cream and it should fix it. When the whip cream is at the perfect consistency, add fine lemon zest ( optional) to give it a lovely aroma. Place it in fridge until ready to serve. ( I recommend using the whipped cream on the same day.)
In a medium bowl place finely sliced rhubarb, quartered strawberries, sugar and lemon zest. Mix well and let this stand for 15 minutes, Mix again, toss in lemon juice and zest ( both optional) and right before serving, add in the fresh mint.
To assemble: Once pavlovas have completely cooled, top with a dollop of whipped cream and a hearty spoonful of Strawberry Rhubarb Mix. Serve immediately!
Pavlovas can be made ahead and stored in an air tight container for 2 days.
---
Notes
Please allow 1-2 hours of cooling time.
Feel free to make the pavlovas ahead and store in an airtight container for 2-3 days. Do not refrigerate.
---
Keywords: mini pavlovas, how to make mini pavlovas, mini pavlova with strawberries