★★★★★ 4.9 from 23 reviews
One-Bowl Vegan Lemon Coconut Bundt Cake… so easy and delicious! Make this in one bowl, and simply pour and bake! Top with your choice of lemony glaze or powdered sugar.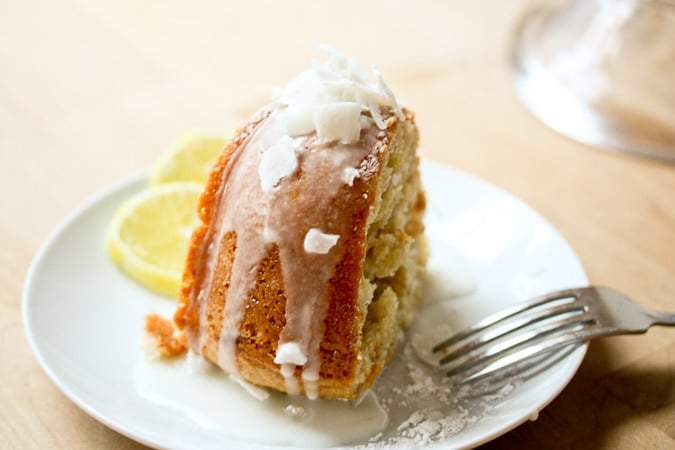 You can not teach someone to love, you must show them.~Lea
This simple, delicious Vegan Meyer Lemon Coconut Bundt Cake recipe is incredibly EASY to make. Brian actually made this for me on my birthday, that's how easy it is!  It's a one-bowl recipe, just whisk it up and pour it in. Using Meyer lemons gives it and added specialness, but regular old lemons are great too.
Coconut milk
gives it a decadent richness that I love. It's a light and flavorful cake perfect for special occasions and holiday tables. Serve with the lemony glaze, top with berries or
toasted coconut
if you like, or simply sprinkle with powdered
sugar
.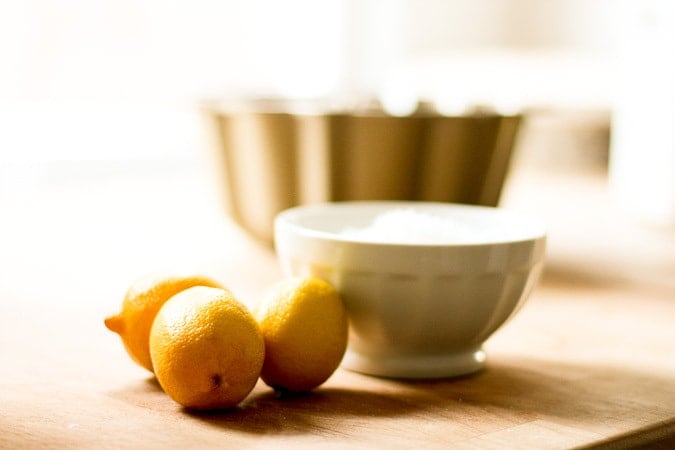 Lately, I have been receiving all sorts of gifts. Words filled with wisdom, chance encounters, simple acts of kindness that have left me feeling humbled. Gestures so unexpected and thoughtful they reach straight to my heart and squeeze.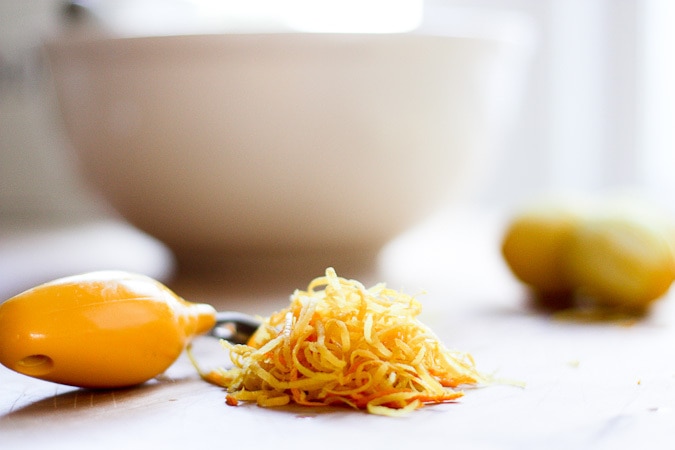 I have been thinking about this lately, how the smallest gestures can make the biggest impact in our day and in our lives. I admit I am not always good at this. But all around me, examples keep pouring in, of how to be better.
When I was growing up, there was this magnet on our fridge that lived in the same spot for probably 30 years. My mom put it there after a trip to Finland.
It is a Finnish saying…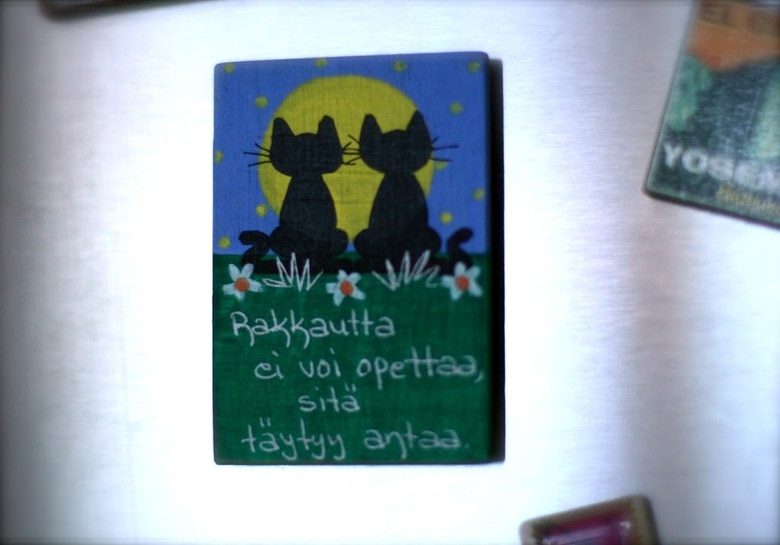 I cannot tell you how many times I had looked at this without actually seeing it.
A few years ago when I was helping my mom move here, I finally asked her what it meant.
She translated it to: You can not teach someone to love, you must show them.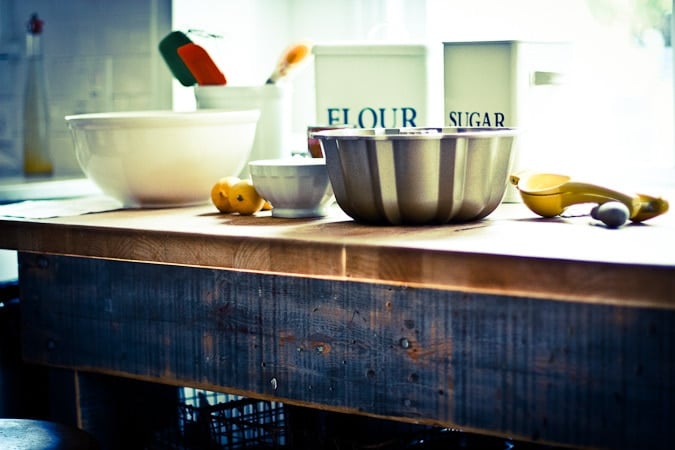 My whole life, she had been quietly showing me. Never preaching, never talking about it. Showing me.
What is the lesson that stands patiently in front of us everyday?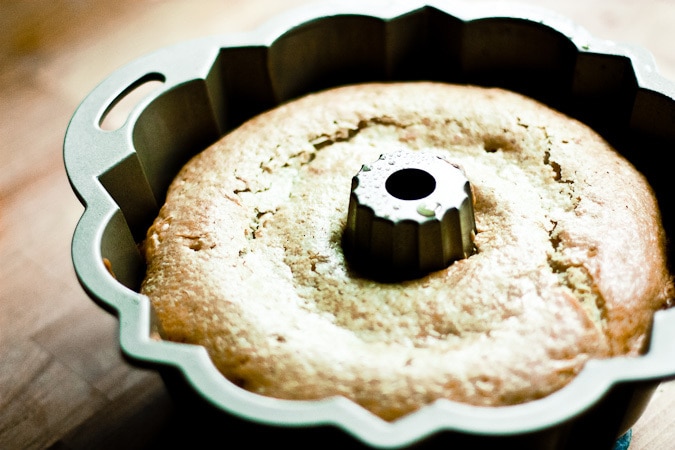 Sometimes lessons are born of suffering. These always get our attention, don't they? Learn this now… or you will suffer more. HA!
But life, I am finding is generous with us too, giving us lessons born from the kindness and goodness of others. The simplest words, empathy, encouragement, sometimes even just a smile.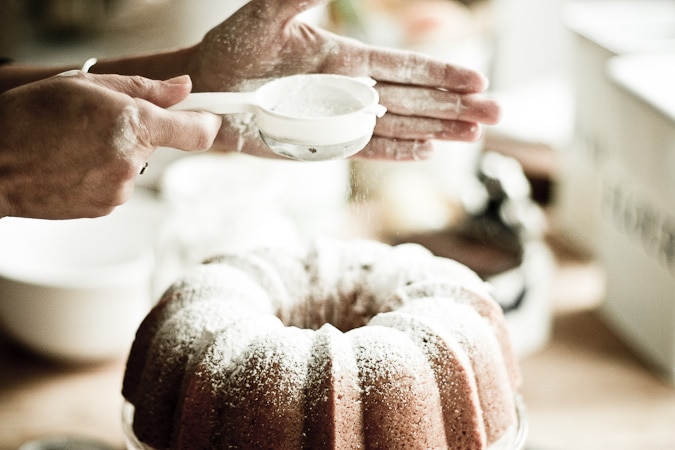 And the interesting thing is how often the universe taps us on the shoulder and invites us to participate in loving, most often in the smallest ways. Sometimes I feel these are the most important. How often I've ignored these proddings… or have just not noticed.
Most often because I'm thinking of something in the past, or worrying about the future, and not seeing what is right in front of me.
It is only when I am present, that I hear the invitation.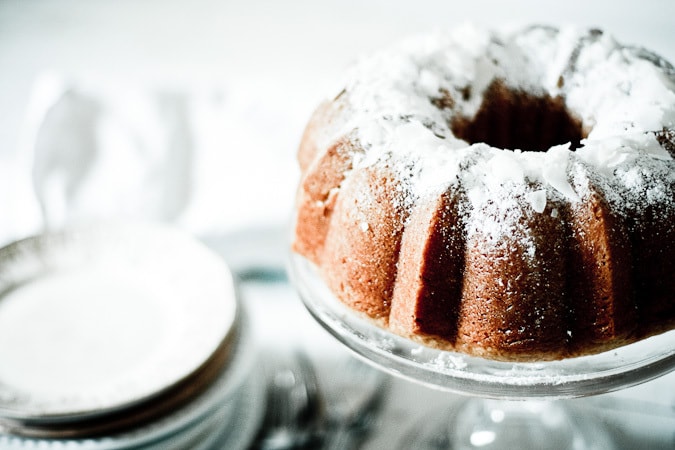 When some else is kind to me, it reminds me that I too can do this.
We learn from each other don't we?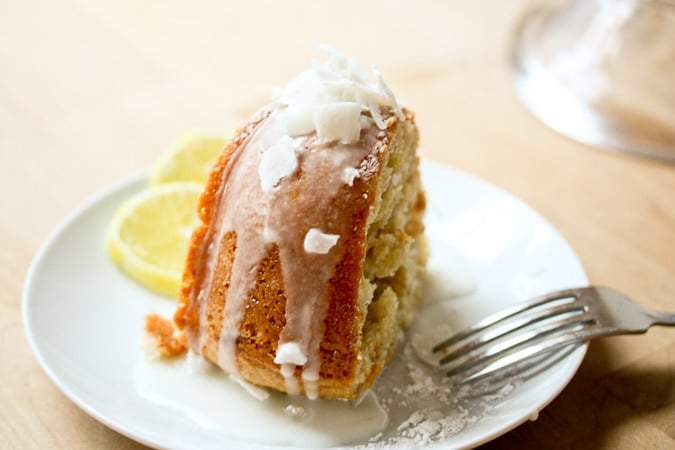 Make this cake for someone you love this weekend. The kind act will bless you as much as it does them.
xoxo
Sylvia
Print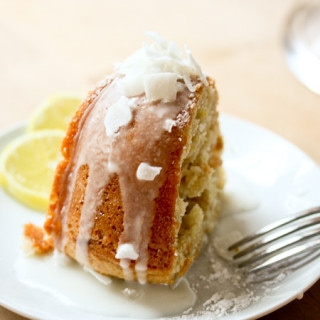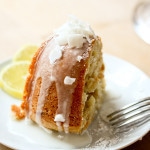 Vegan Meyer Lemon Coconut Bundt Cake
Prep Time:

15 mins

Cook Time:

1 hour

Total Time:

1 hour 15 mins

Yield:

10-12

Category:

Vegan Dessert

Method:

Baked

Cuisine:

Northwest
---
Description
One Bowl Vegan Meyer Lemon Coconut Bundt Cake…SO easy and delicious! Make this in one bowl, and pour and bake!
---
Ingredients
1

 1/2 Cups sugar

2/3 cups

olive oil

1

can full fat coconut milk (

13.5

–

14

oz)

1/2 Cup

meyer lemon juice (

3

–

4

lemons) or use regular lemons

3 Tablespoon

meyer lemon zest, don't skimp

2 tsp

vanilla

3 Cups

all-purpose flour

2 tsp

baking powder

1 tsp

baking soda

1 tsp

salt

1 1/2 Cups

shredded coconut (for extra nuttiness, lightly toast!)
Icing:
2

T lemon juice

1

C powdered sugar
---
Instructions
Preheat oven 350F
In a large bowl mix ( or stand mixer) whisk sugar, oil, coconut milk, lemon juice, zest, and vanilla. Sift in flour, baking powder, baking soda mixing in batches. Mix well after each addition. Add salt and shredded coconut. Stir.
Grease and flour a bunt pan well, and pour mixture in. (You could also make these into cupcakes, filling 2/3- 3/4 full and baking for 20-25 mins ). For Bunt, bake 1 hour. Cupcakes will bake faster….in either case check by inserting a skewer, if it comes out clean, it's done.
Let it cool completely before inverting.
Invert budnt pan gently onto a cake plate. Or easier still, place plate over the bunt cake then invert both. Sprinkle with powder sugar or drizzle the top with icing.
To make icing, simply mix ingredients together, let stand 10 minutes, drizzle over cake.
Top with toasted coconut if you like. Enjoy your creation!
---
Notes
This recipe was originally from Epicurean Vegan with some slight changes.
Keywords: vegan bundt cake, lemon bundt cake, lemon bundt cake vegan, vegan lemon cake, coconut cake vegan
Pin it!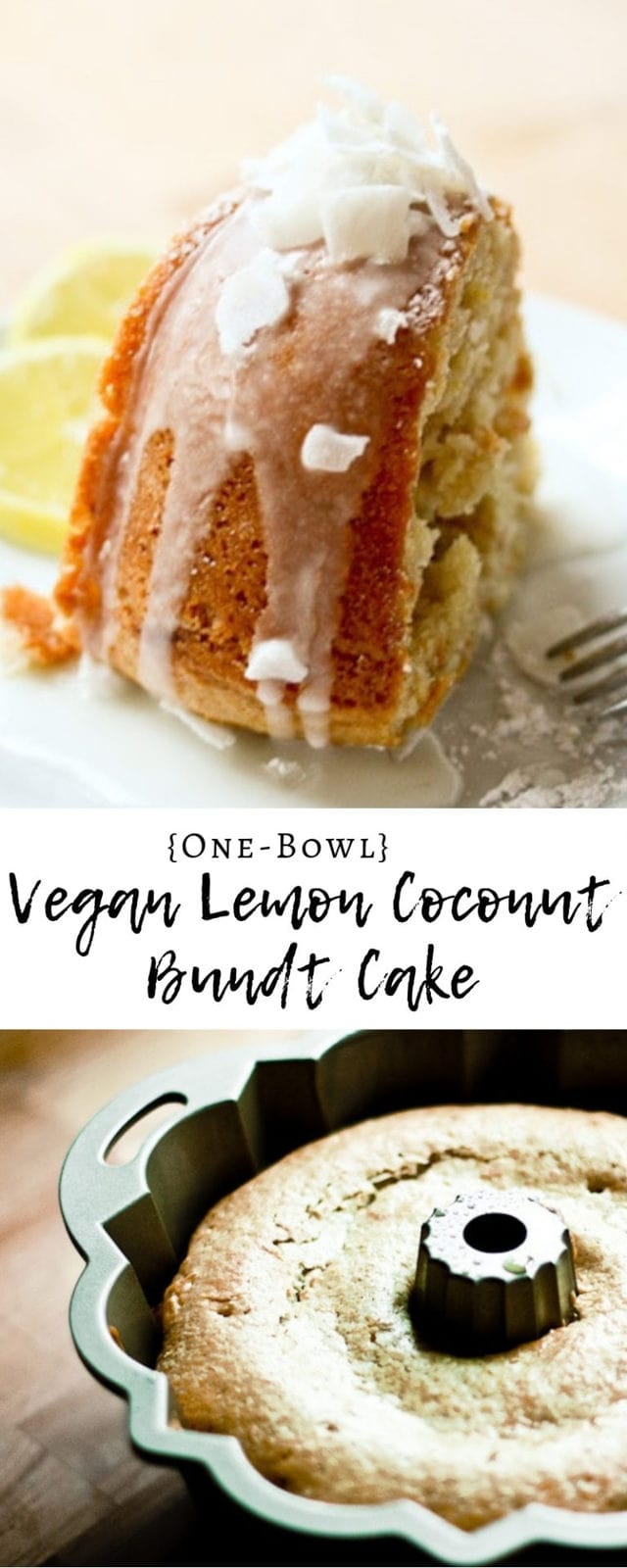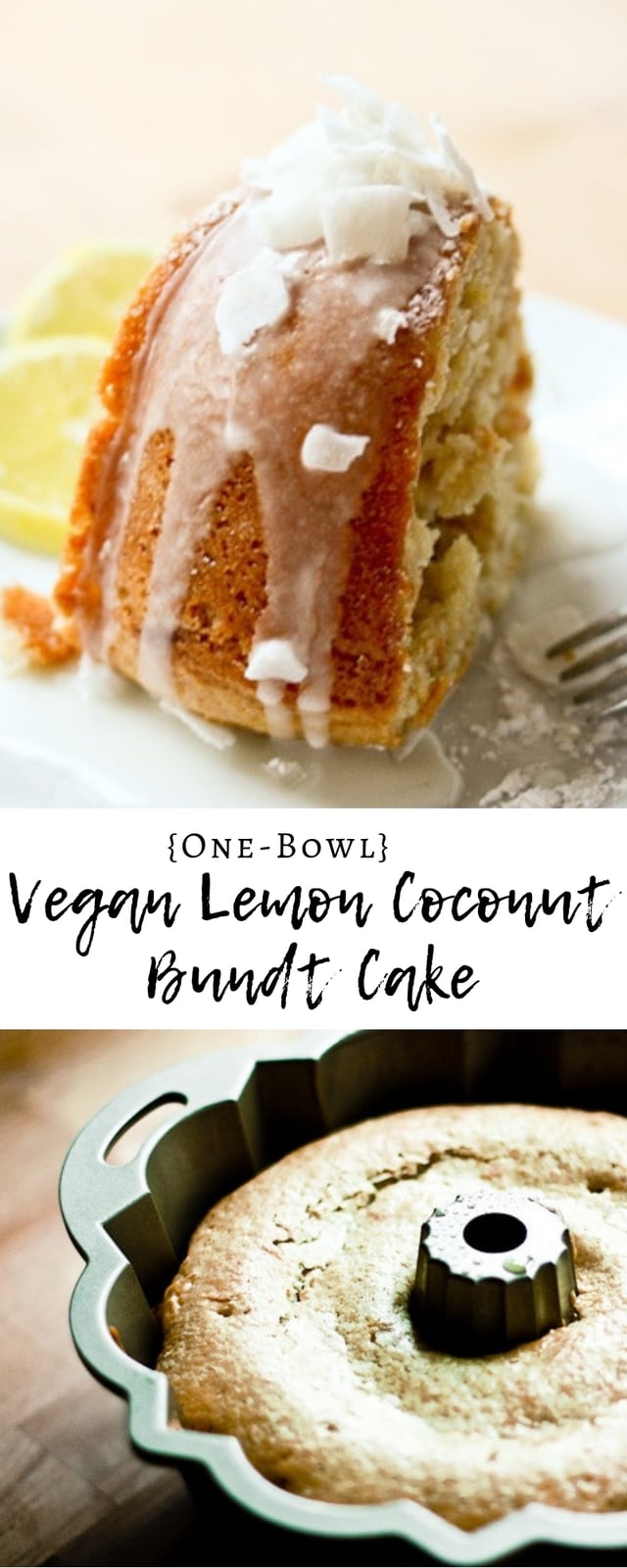 SaveSave
SaveSave