Dark Chocolate Bundt Cake with Blood Oranges and a Chocolate Ganache icing. Simple, moist, flavorful and absolutely scrumptious!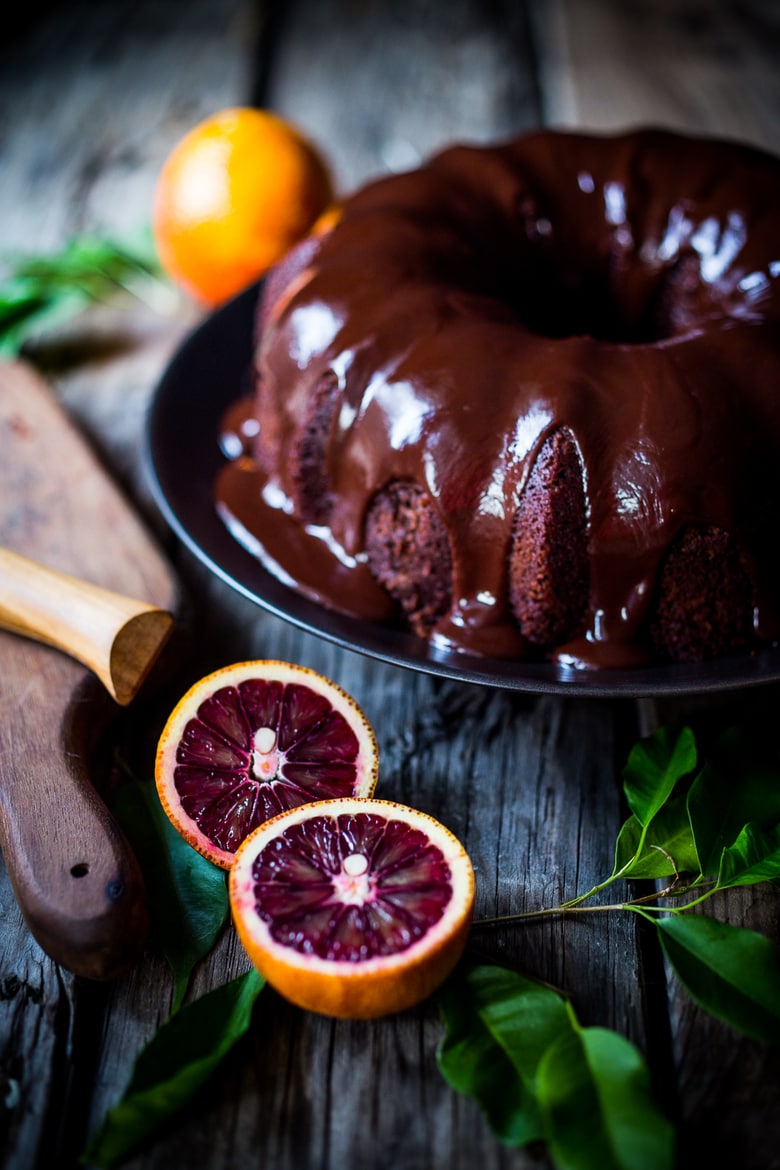 Hi friends, this is one of the most delicious chocolate cakes I've ever had. Truly. However the story that follows is quite sad, so I caution you now, to skip to the recipe if you don't have it in you. I totally understand.
I made this decadent Dark Chocolate Blood Orange Bundt Cake last Saturday, not knowing then how much I would end up needing it in the days to come. The next day, my dad passed away, and piece by piece, it's been nurturing me this week.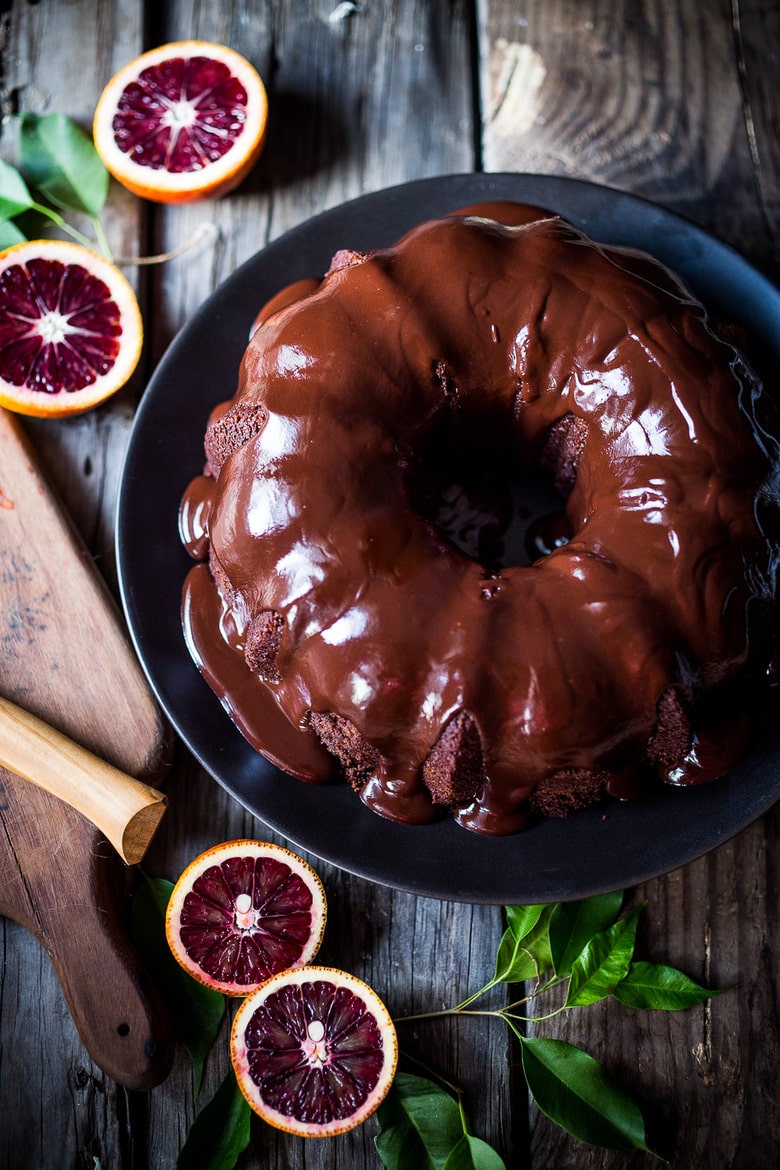 In the end, I loved him. More than I ever thought possible. It look a long time for this to happen, to heal the wounds of childhood, to find forgiveness, and slowly untie the knots. Ours was a challenging relationship. The hardest relationship I've ever had. You know the one….the one that pushes you beyond your limits, and makes you crazy and angry and sad, and shows you your dark side. The kind of relationship that makes you want to run way and shut that person out forever, and build a fortress around yourself in order to keep them the hell away. But the soul often asks more of us than we plan on giving, as James Hollis likes to say.
There was a time in my 20s, when I came to the realization, there was no changing this very impossible man, and that I could either choose to love him like he was, or walk away. Something deep inside me knew I needed to stay and figure out how to do this, not for his sake, but for my own, and ultimately for my own deliverance. And once I made this choice, now almost 30 years ago, it was like the universe stepped in, in its very uncanny way, and made sure I followed through. At every cross-road, circumstances occurred that practically shoved me in the direction of love. The ways of life are mysterious…and quite comical. These external circumstances paired with the inner workings of my subconscious, led me down this road of healing, without me being fully aware of it at the time. As I look back now, I see the thread of synchronicity weaving my inner and outer worlds together, and know there is wisdom in the timing of things.
During the 8 last years, my dad lost his memory. His ego completely dissolved away and what remained of him was this pure loving presence. At first, it was disturbing, that he couldn't remember things, and in a way, it made me angrier because I knew he could never again "own" his past. Back then, I believed that in order to forgive someone, the person had to ask for forgiveness first. But gradually that belief changed. During the next 8 years, I dug up every bone of contention I had with my dad, like I was mining for gold. Every sorrow, every nugget of anger was felt and examined…. and eventually I learned how to let them go, one by one. And each time I saw him, I felt more and more love. I began to see him more clearly, removing the filters of childhood. His loving presence was like sunlight, warming and opening my heart.
Today as I write this I feel peace. I'm sad of course, it feels strange not to have him here. But mostly I feel this huge release, like I finally got to the top of Mt. Everest and from here I can finally see the deeper meaning in all of it. I think I've learned what I was supposed to learn with him. I have never felt so much love pour out of my heart, or so much gratitude, for him. For him being exactly how he was. He was exactly what I needed, flaws and all. And he was beautiful.
And now back to this cake…
All I can say is, make it. Like I said, it is the best cake I've ever had. Truly. Make it with love in your heart, and it will be magic.
Is it possible to weave a love spell into food? I'd like to believe so.
Love changes everything…even cake.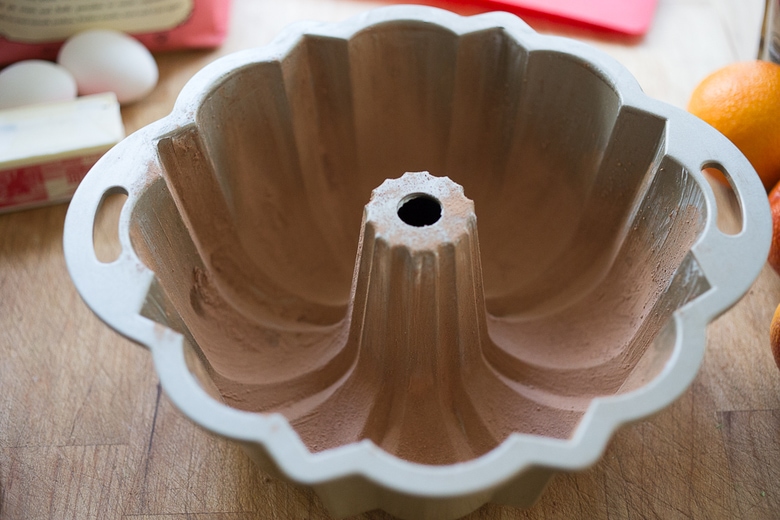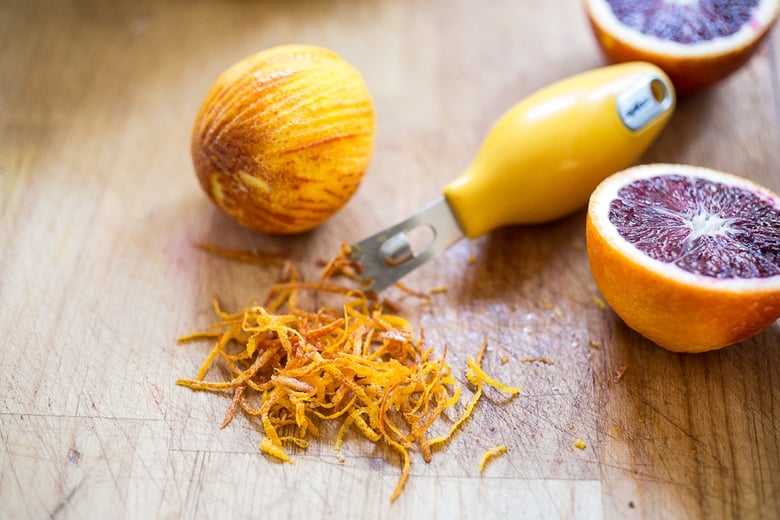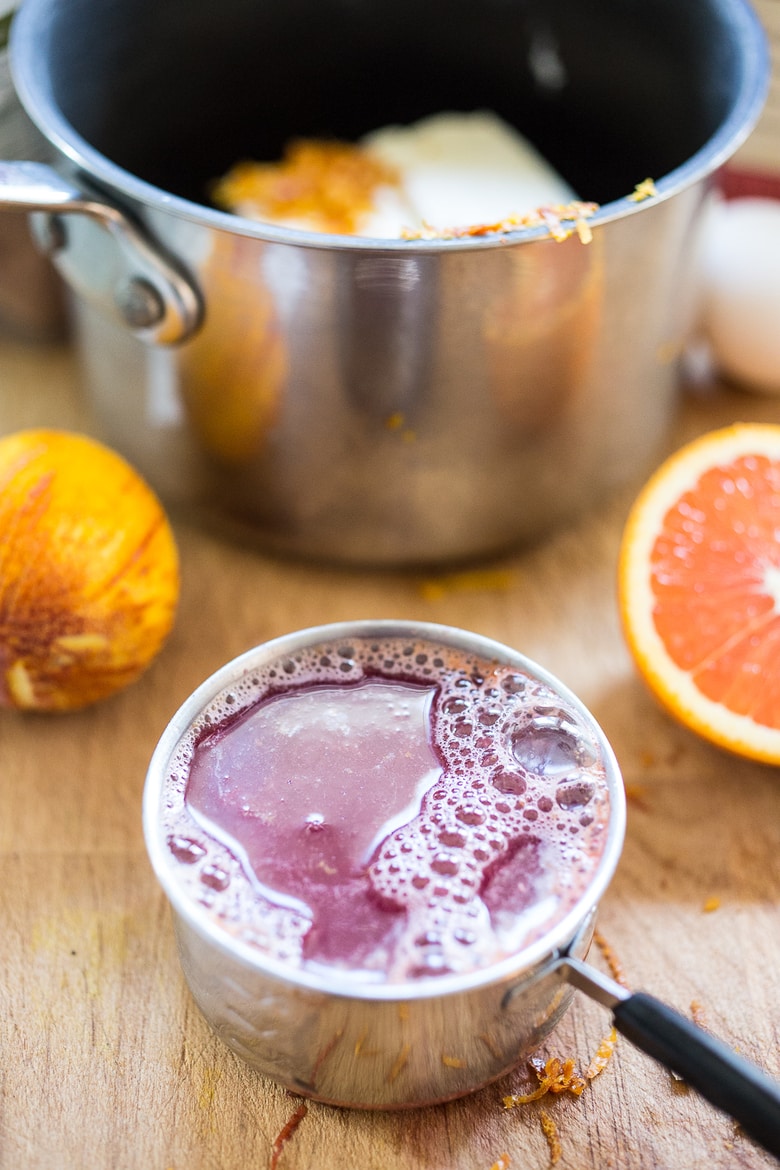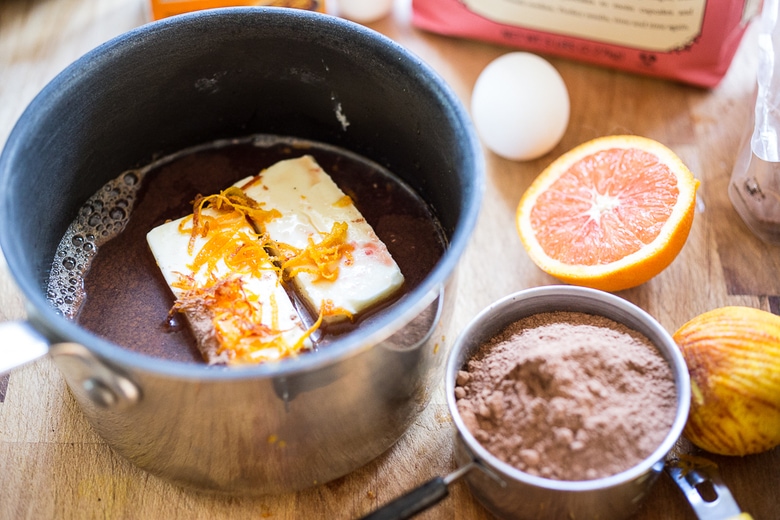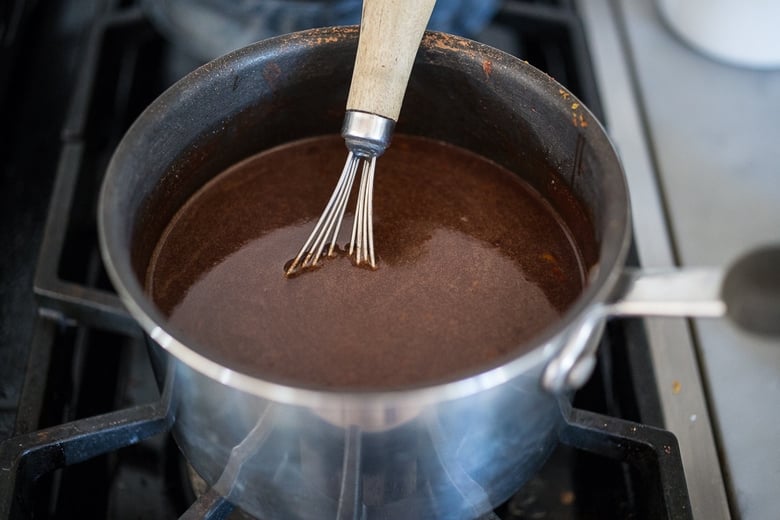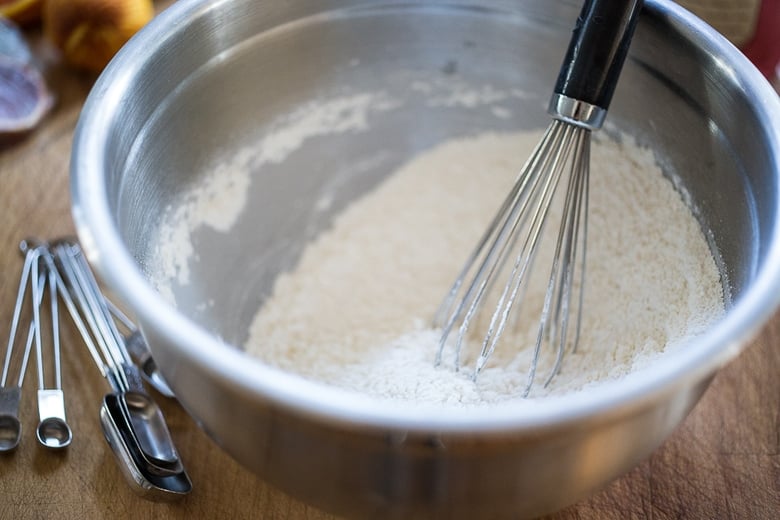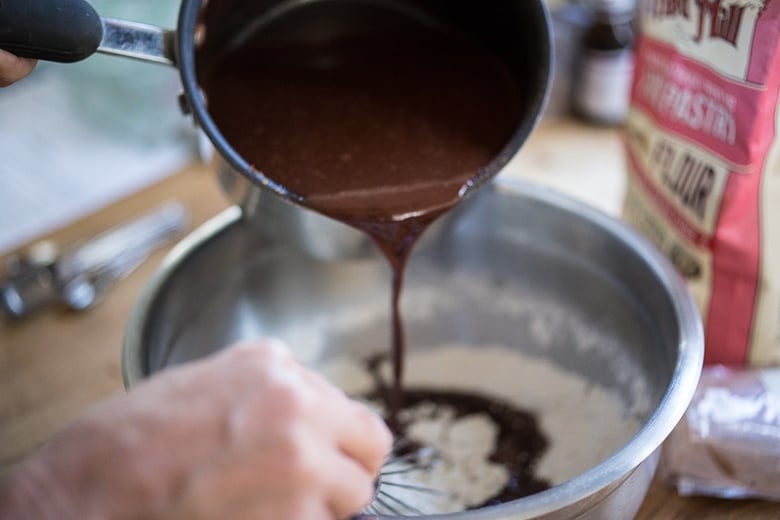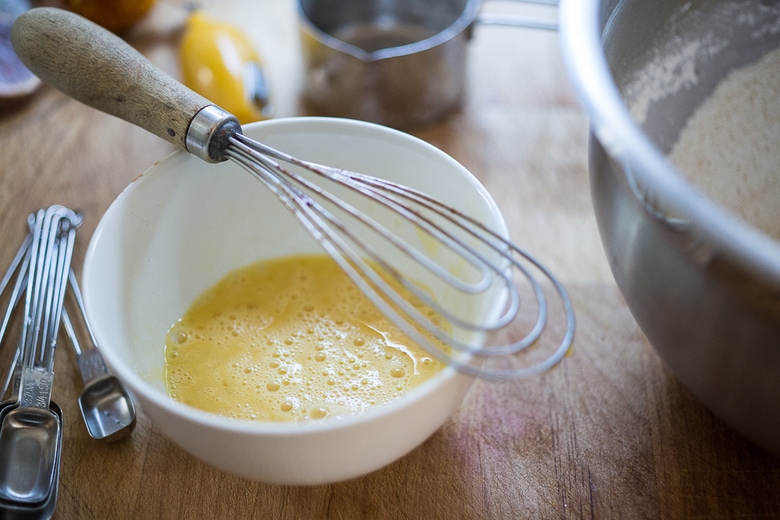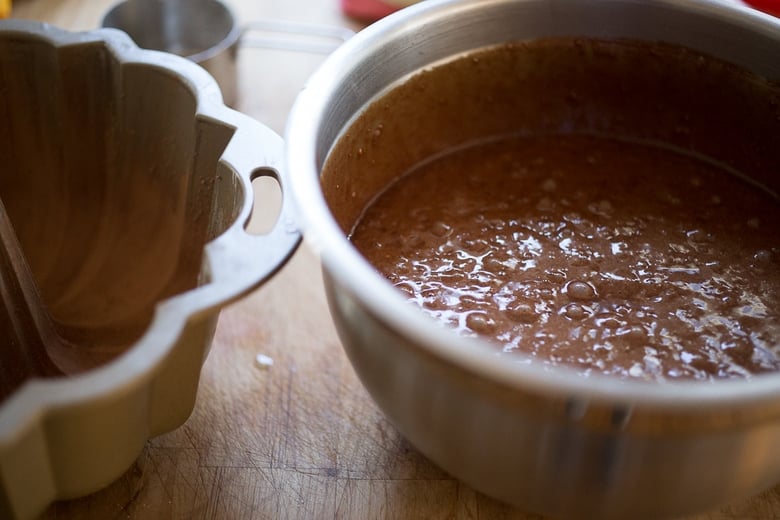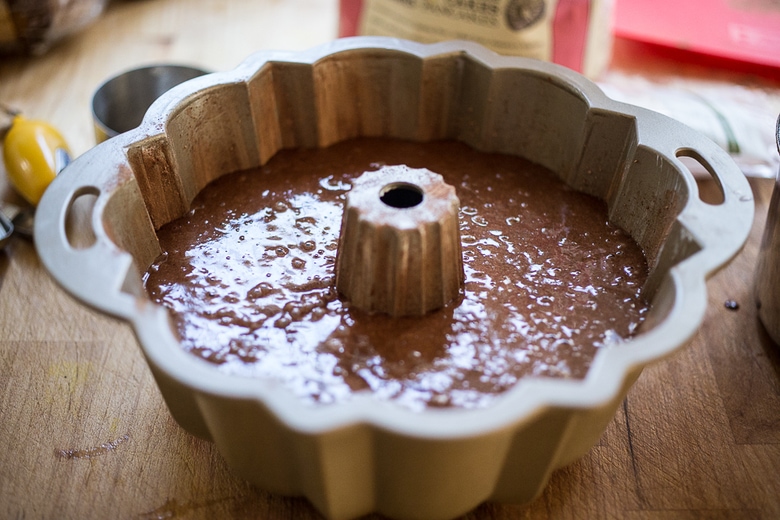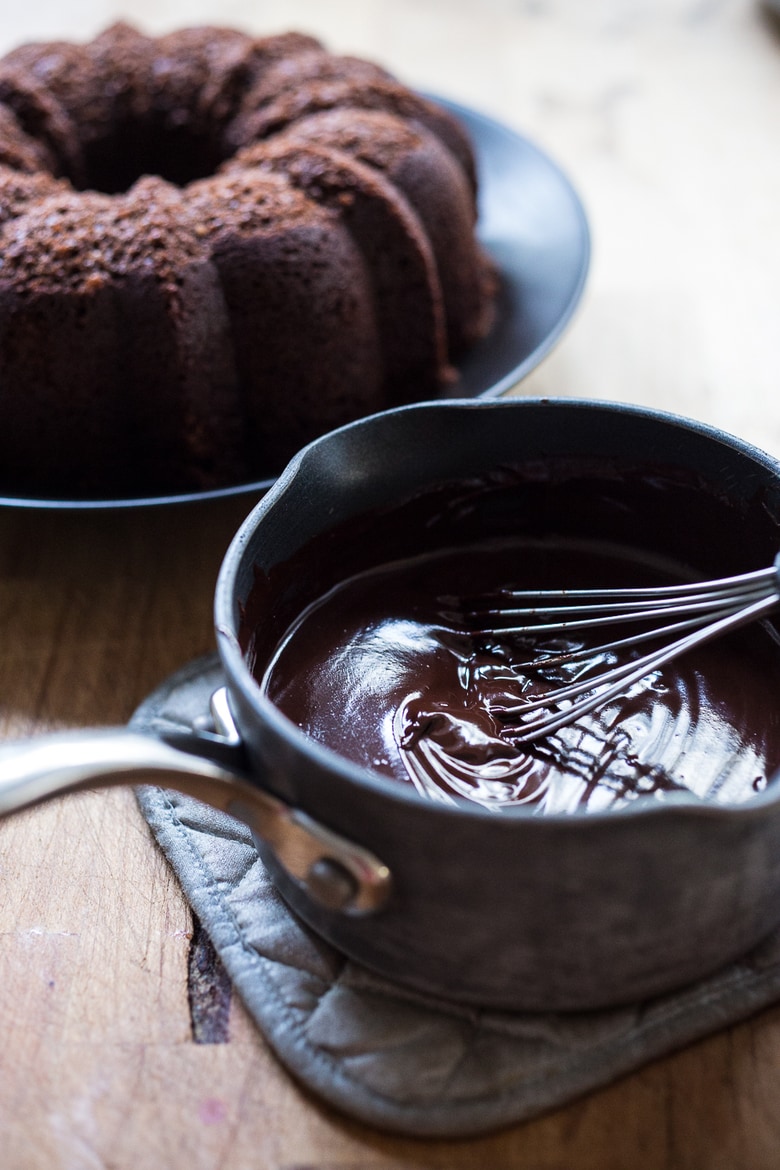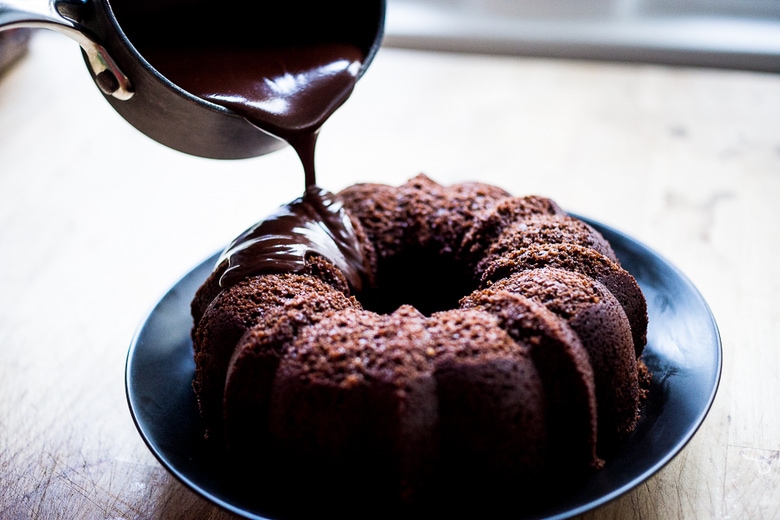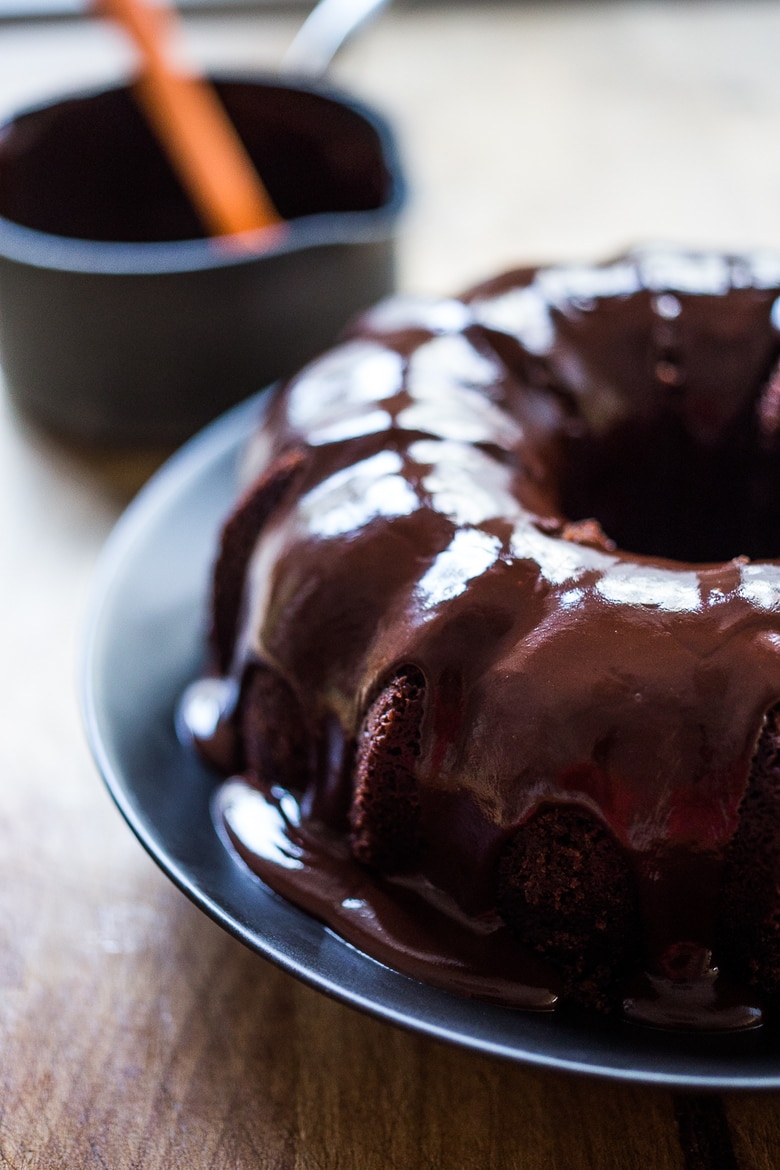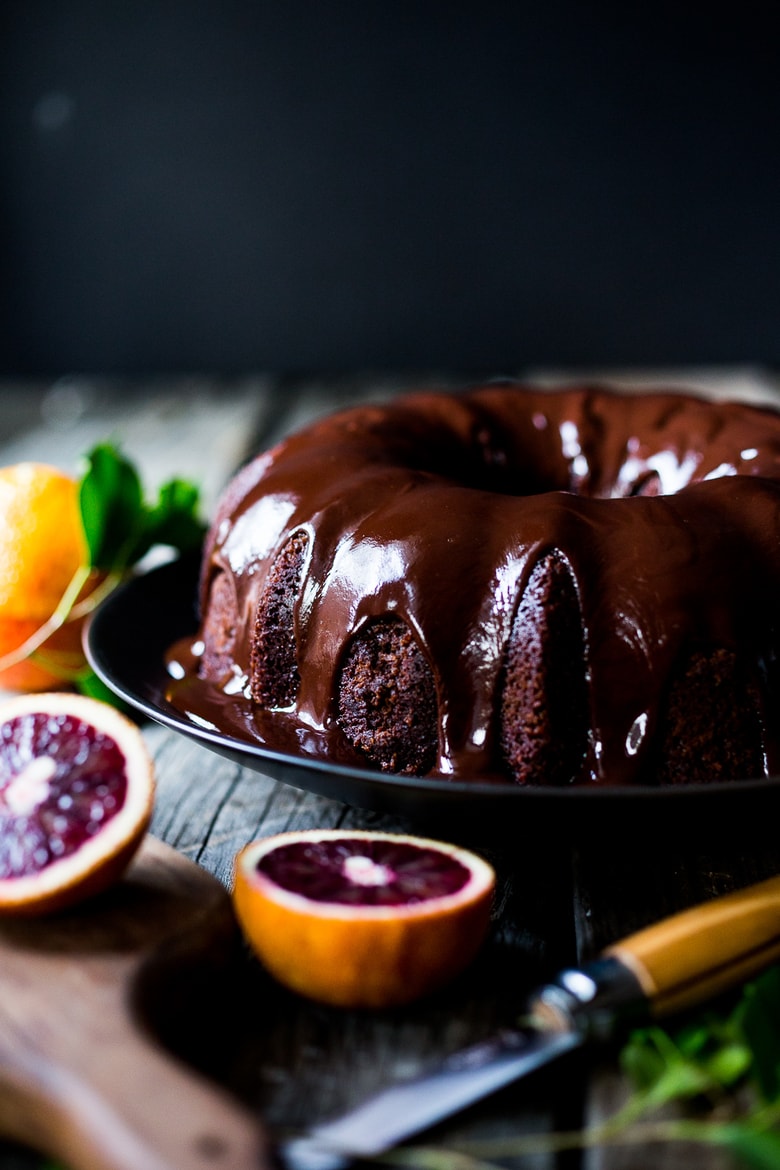 Hope you enjoy this Dark Chocolate Bundt Cake with Blood Oranges and a Chocolate Ganache icing. Simple, moist, flavorful and absolutely scrumptious!
Print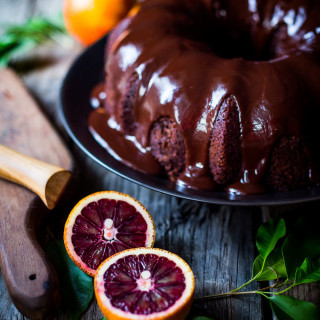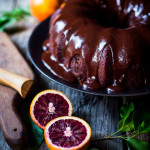 Dark Chocolate Bundt Cake with Blood Oranges
Prep Time:

20 mins

Cook Time:

50 mins

Total Time:

1 hour 10 mins

Yield:

10-12

Category:

dessert, sweets, cake

Method:

baked

Cuisine:

Italian
---
Description
Dark Chocolate Bundt Cake with Blood Oranges and a Chocolate Ganache icing. Simple, moist, flavorful and absolutely scrumptious!
---
1 cup

unsweetened cocoa powder plus 2 tablespoons for dusting pan

3/4 cup

brewed coffee

4

–

5

Blood oranges (

1 cup

blood orange juice plus zest of two blood oranges) you can sub regular orange juice.

¼ cup

triple sec, or orange liquor

2

sticks (1 cup) unsalted butter, plus more for buttering pan

1 cup

brown sugar

1 cup

sugar

2 cups

all-purpose flour ( or fine pastry flour)

1 1/4 teaspoons

baking soda

1/2 teaspoon

salt

2

large eggs

1 teaspoon

vanilla

10

-inch bundt pan (

3 quart

-4 quart)
Chocolate Ganache Icing:

1

heaping cup semi sweet chocolate chips

½ cup

milk (or cream)
Blood orange Syrup- optional

2

blood oranges

1 cup

water

¼ cup

sugar
---
Instructions
Place oven rack in middle position and preheat oven to 325°F. Butter bundt pan very well (take your time to do this well) then dust with cocoa powder, knocking out excess.
Heat coffee, orange juice, zest, orange liquor, vanilla, butter, in a medium heavy saucepan over moderate heat, whisking, until butter is melted, then whisk in cup of cocoa powder. Remove from heat, then add both kinds of sugar and whisk until dissolved, about 1 minute. Let cool.
While chocolate mixture cools, whisk together flour, baking soda, and salt in a large bowl.
Whisk together eggs and vanilla in a small bowl, then, temper the eggs by pouring a little of the melted cocoa butter mixture to the eggs, whisking, a tablespoon at a time, to gradually warm them. After about 4 tablespoons, add this into cooling chocolate mixture and whisk well.
Add the chocolate-egg mixutre to the flour mixture and whisk until just combined (batter will be thin and bubbly). Pour batter into the greased and cocoa dusted bundt pan and bake until a wooden pick or skewer inserted in center comes out clean, 40 to 50 minutes.
Cool cake completely in pan on a rack, about 2 hours. Loosen cake from pan using tip of a dinner knife, then invert rack over pan and turn cake out onto rack.
Melt the chocolate chips and milk in a small pot over very low heat. Whisk until combined, then pour over the cake.
To make the syrupy blood orange slices – very thinly slice one blood orange. Place in a pot with one cup water and simmer 20 minutes, until water has reduced to about ¼ cup and orange peel becomes tender. Add in sugar, and stir until dissolved. Squeeze the juice of the other orange( I used ½) into the mix, and simmer gently for a couple minutes. Taste, add more sugar if you want. Let this cool. Spoon over the cake after cutting into it, topping with a blood orange slice.
---
---
Nutrition
Serving Size:

1 inch

Calories:

275
Keywords: bundt cake recipe, chocolate bundt cake, dark chocolate cake recipes, chocolate bundt cake recipes, blood orange cake,
SaveSave
SaveSave
SaveSave