Fresh Berry Trifles with whipped coconut cream, toasted coconut and lemon pound cake layered in mason jars for a simple make-ahead dessert!  Vegan Adaptable.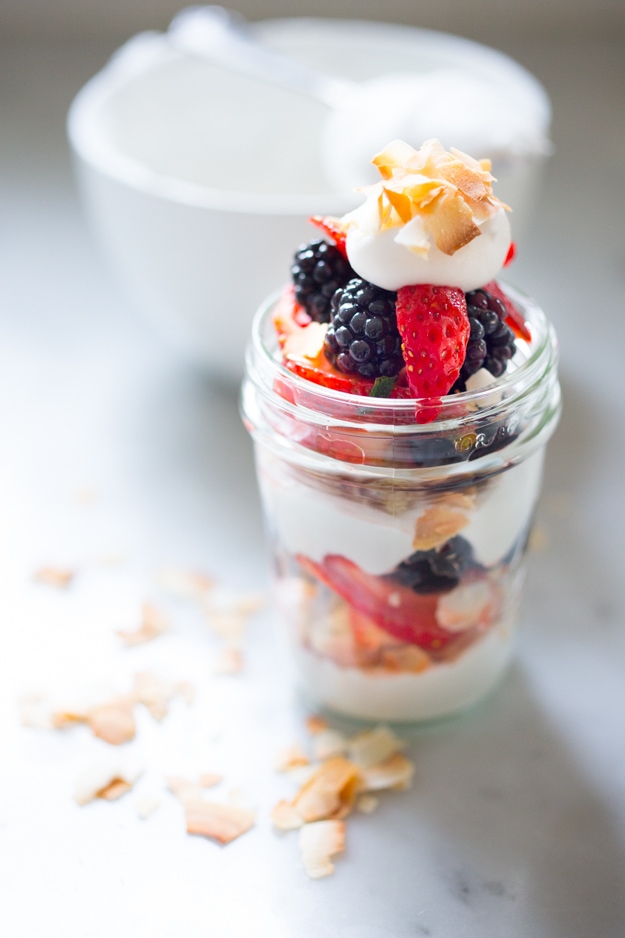 A lovely summer Berry Trifle layered with fresh berries, toasted coconut, lemon pound cake and coconut whipped cream.  The combination of fresh berries, lemon, and coconut is divine.
Refreshing and not overly sweet, this dessert really highlights this season's fresh berries, and the whipped coconut milk is an unexpected twist on an old classic –perfect for a light finish to a heavier dinner, like Easter or Mothers Day Brunch.
What is a trifle?
The word "trifle" comes from the old French term "trufle," and literally means something whimsical or of little consequence. A proper English trifle is made with real egg custard poured over sponge cake soaked in fruit and sherry and topped with whipped cream. In catering, we borrowed the idea, and often make "mini trifles",  similar to this but served in very tall square shot glasses with a dramatic effect.
The Cake
The lemon pound cake can be made at home, or purchased at most grocery stores. In a pinch, I've used store-bought "cake" donuts, or even lemon poppy seed muffins, cut into small cubes. The pound cake can also be made vegan, for an entirely vegan dessert.
Slice the pound cake and cut into cubes.  You could even toast them if you like.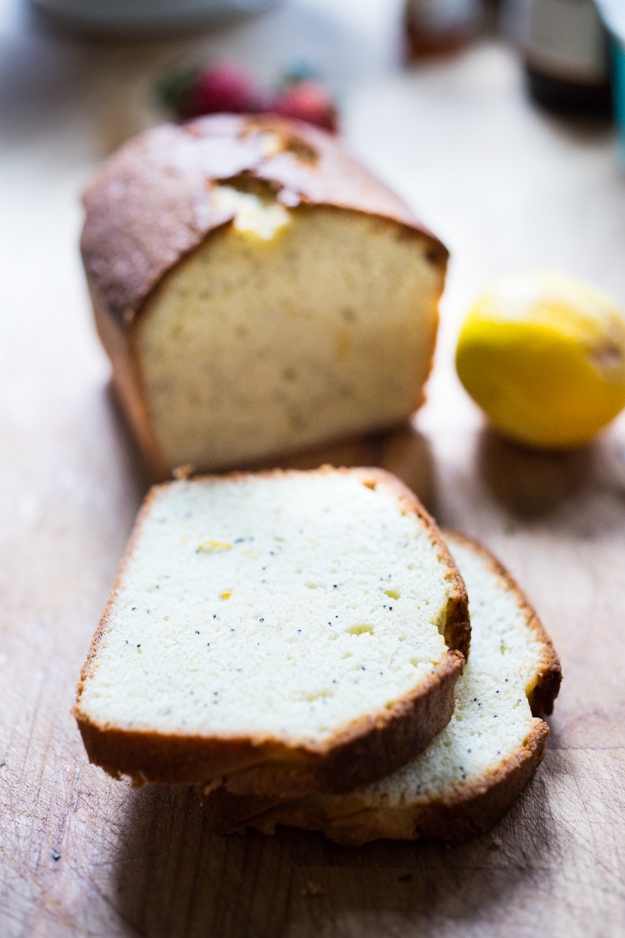 The Berries
Macerate fresh strawberries first with sugar, lemon zest and a little citrus juice. Let stand for 15 minutes until they release their liquids and develop a lovely syrup. Then carefully fold in the blackberries or other tender berries.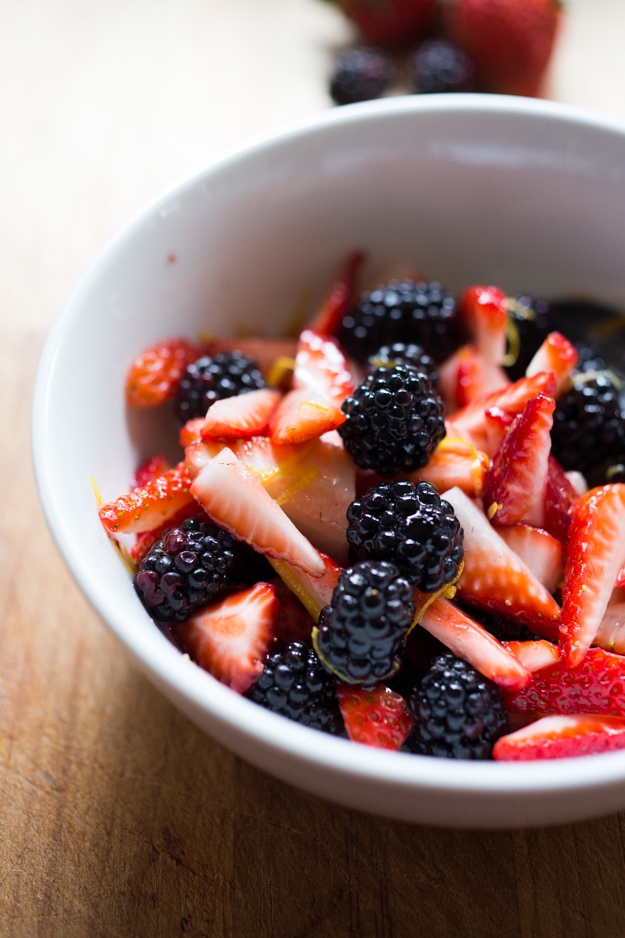 The Coconut Whipped Cream
To whip can of coconut milk– use a thicker, full-fat brand  work best. Scoop the hardened "fat" out of the can, reserving the liquid for another use.
Add ⅛ Cup of sugar or more to taste. Whisk with a fork or whisk until smooth.  Place in the fridge to firm it up a bit if need be, then re-whisk right before using.The consistency is quite lovely.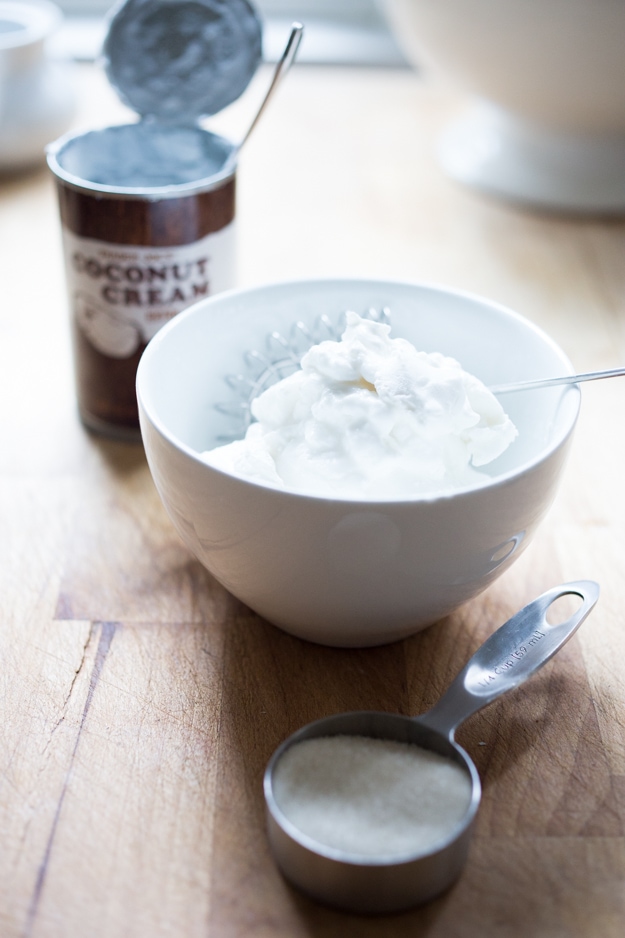 Once whipped it will look creamy and light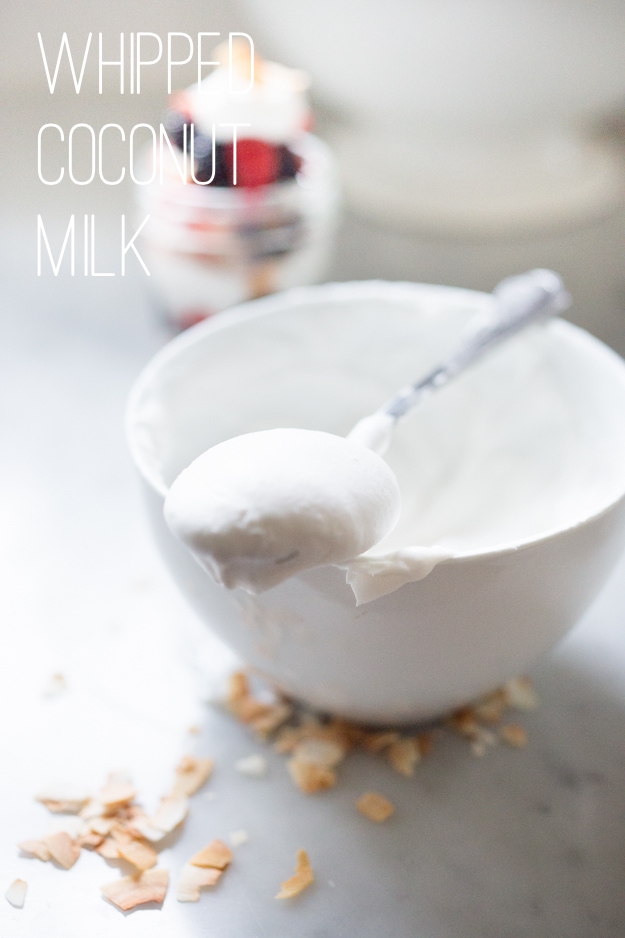 Coconut Flake Topping
Either lightly toast coconut flakes in the oven (or toaster oven) until just golden and fragrant….or if you have a Trader Joe's near you, their Roasted Coconut Chips are perfect…in every way. 
What to serve Trifles in?
The trifles can be made in individual portions using glasses, wine glasses or mason jars, or made into one large trifle, layered in a large, tall sided, clear glass bowl.
Layer the Trifles
Then begin layering. Start with a little coconut cream on the bottom. Then coconut. Then pound cake.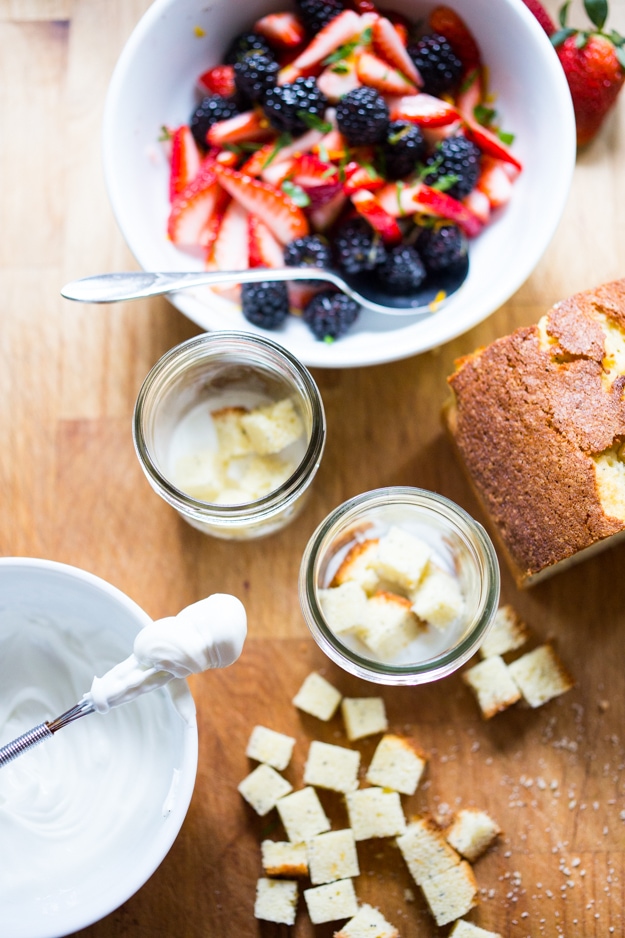 Drizzle each layer of pound cake with a little of the berry "syrup".  Then just keep repeating until you get to the top of the glass.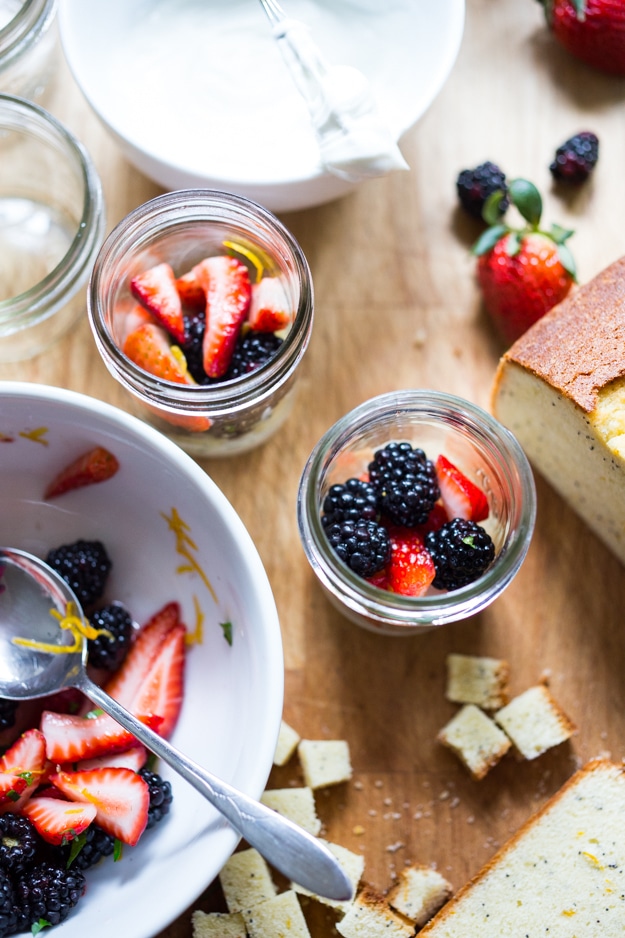 You can make these a couple of hours ahead and refrigerate.
If refrigerating, let them stand at room temp for 10 minutes be serving,  to let the
coconut milk
soften up just a bit.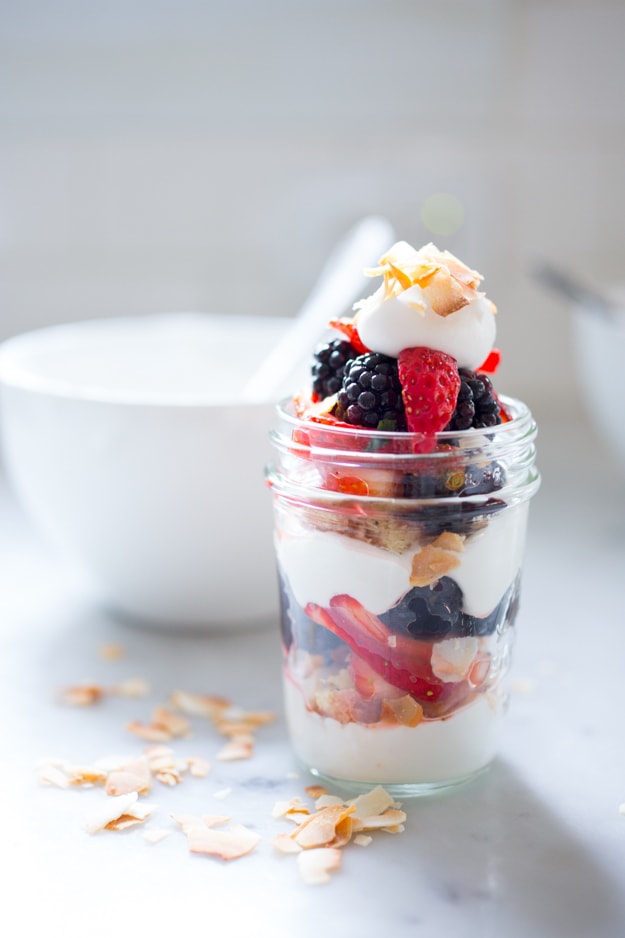 On the homefront: There is this thing I try to do before I fall asleep.  I ask myself a question. What was the most beautiful thing about today? Of course some nights, I'm out before I can think of an answer, but I love doing this because it creates an opportunity however brief, to think about the day and remember the few moments that made it shine.  I wish through the years I would have written them down, for most have slipped now from my mind, but somehow the acknowledging feels as though they seep down deep, and perhaps, at the end of life, they will playback like a montage with a pretty song in the background. I am embarrassed to say, that a good many of these shining moments will be of me putting a fork in my mouth, tasting something delicious- and this trifle would for sure be on the list.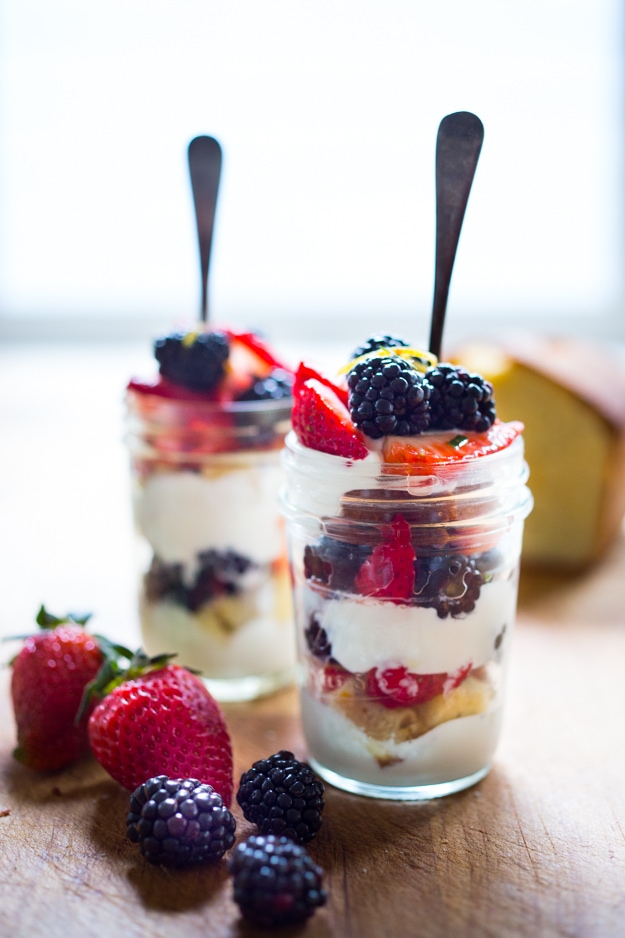 Such a simple easy recipe for Berry Triffles, that can be made vegan!  Let us know how yo ulike them in the comments below.
xoxo
Print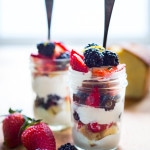 Toasted Coconut & Berry Trifles with Whipped Coconut Cream
Prep Time:

10 mins

Cook Time:

10 mins

Total Time:

20 mins

Yield:

4

1

x

Category:

dessert

Method:

assembled

Cuisine:

northwest
---
Description
Summer Berry Trifle with whipped coconut cream, toasted coconut and lemon pound cake. A light and delicious dessert highlighting summer berries. Vegan adaptable.
---
2

cups

sliced fresh strawberries

1

cup

fresh blackberries (or blueberries)

1

lemon, orange or lime –zest and juice ( orange is my favorite)

2

–

3

teaspoons sugar

4

slices lemon pound cake, (or poppy seed cake, or vegan lemon pound cake)

1

can coconut milk (full fat- I like Trader Joe's Brand "Coconut Cream")

1/8

–

1/4

cup

sugar

1/4

cup

coconut flakes
---
Instructions
Macerate the strawberries. In a medium bowl mix strawberries with sugar and a little zest of lemon, lime or orange. Let stand 10-15 minutes until they release their liquid and become juicy.  Stir in 2 teaspoons citrus juice, then gently fold in blackberries. Set aside or refrigerate.
Cut 4 slices of pound cake into ½ inch cubes. Set aside. ( You could also lightly toast these for extra texture)
Scoop out the hardened part of the coconut milk, the hard cream, and place in a med bowl, reserving the liquid for another use. Whisk the coconut cream until smooth using a whisk or fork. Add sugar to taste.  If it gets too loose, place in the fridge for 10 minutes or until ready to use, it will thicken up as it cools. Re-whisk.
Toast coconut flakes on a sheet pan in the oven (or toaster oven) until golden, about 5-10 minutes. You can also do this on the stove top, in a skillet on low heat, careful not to burn.
Layer the trifles, in 4 individual glasses or small mason jars, starting with a dollop of coconut cream, a little toasted coconut, lemon pound cake cubes, berries (and a little of the flavorful berry syrup to moisten the pound cake) more coconut cream, toasted coconut, pound cake, and berries. Top with toasted coconut.
Can be refrigerated for a couple of hours (or overnight) but let it sit on the counter a few minutes before serving, so the coconut cream softens a bit (it will harden in the fridge).
---
Notes
Feel free to use a vegan pound cake or regular whipped cream. 🙂
Nutrition
Serving Size:
Calories:

382

Sugar:

30.4 g

Sodium:

194.5 mg

Fat:

21.8 g

Saturated Fat:

15.3 g

Carbohydrates:

46.6 g

Fiber:

4.2 g

Protein:

4.9 g

Cholesterol:

32.3 mg
Keywords: strawberry trifle, berry trifle, coconut trifle, trifle with lemon pound cake