Rustic Strawberry Galettes with Seeded Rye Crust- a Scandinavian-inspired dessert, perfect for spring.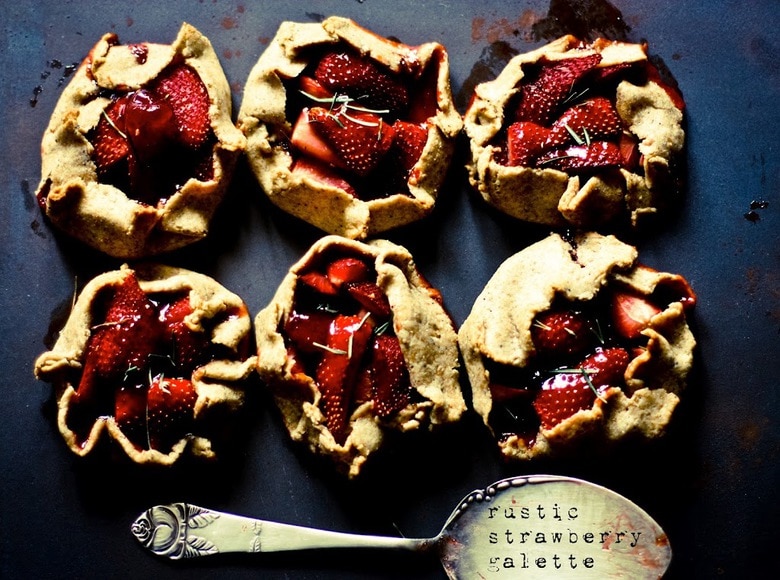 You wouldn't know it is Spring by looking out the window today. The wind is howling, trees are swaying and dark clouds fill the sky. Rain. We've had weeks of it now with no near end in sight. But if you look closely there are subtle signs of Spring's quiet arrival.  Tiny buds dot the trees,  bulbs poke through dirt and the most obvious sign of all; discounted strawberries at the grocery store.  Two for one nearly everywhere. It's officially strawberry season. Well perhaps somewhere anyhow. And while red and beautiful on the outside, these particular ones, lack flavor and sweetness. I buy them anyways because I'm desperate with longing for my favorite fruit, having denied myself the whole of winter.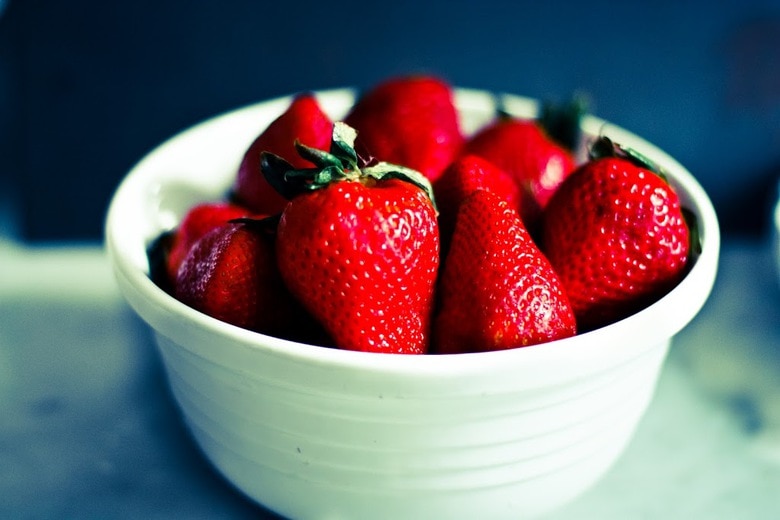 Normally there is nothing I would do to a good strawberry. When in season, picked at their peak, they are perfect just like they are. Just wash and eat. The balance of sweet and tart together with their incredible texture are amazing. However these strawberries, disappointingly, need a little "coaxing" to evoke more of their flavor. It is the process of macerating the strawberries to draw out some of their liquid, and cooking them just a little, that seems to awaken their flavor. The result is mouthwatering.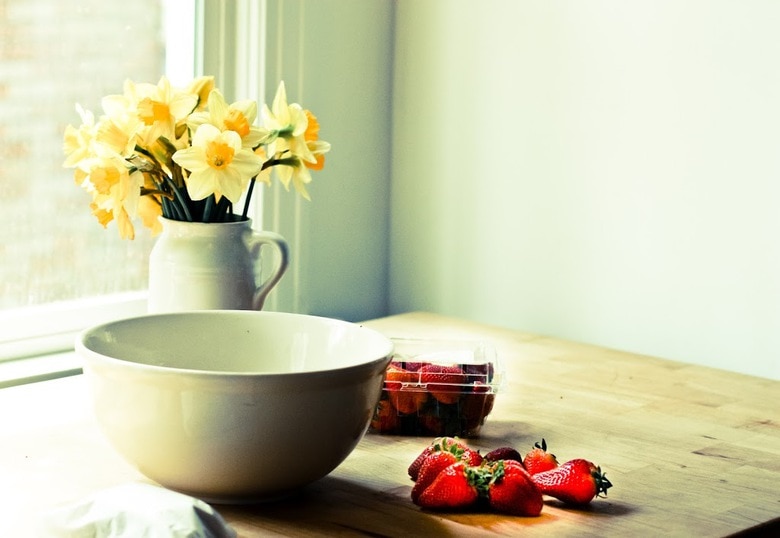 When I think of strawberries, I am reminded of my heritage. Finland is famous for its strawberries and growing up, my Finnish mom would often talked about how she missed having good Finnish strawberries. My cousin, Kaarina and her husband have an Organic Strawberry Farm in Northern Finland. They live on a plot of land in a charming old schoolhouse they turned into her home. Each summer people come from all over to buy their particular strawberries. When we visited, I consumed pounds of these every day. Perhaps I've been spoiled, but ever since I first tasted those, I have been ruined. None other have compared.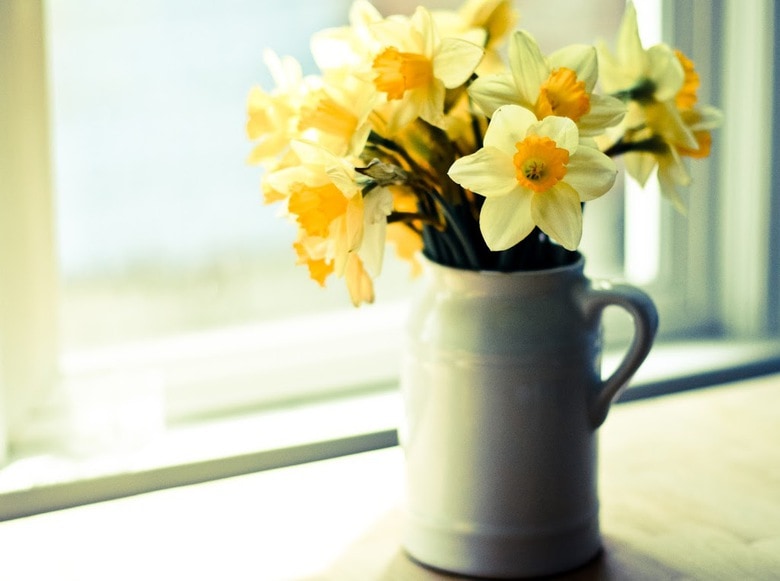 It was remembering Finland and Kaarina's strawberries that gave me the idea to use rye in the crust. Rye is so very Finnish.  I thought the rye would give the crust a toothsome texture, a more rustic quality, and also deepen flavor a bit, to help "ground" these tart strawberries.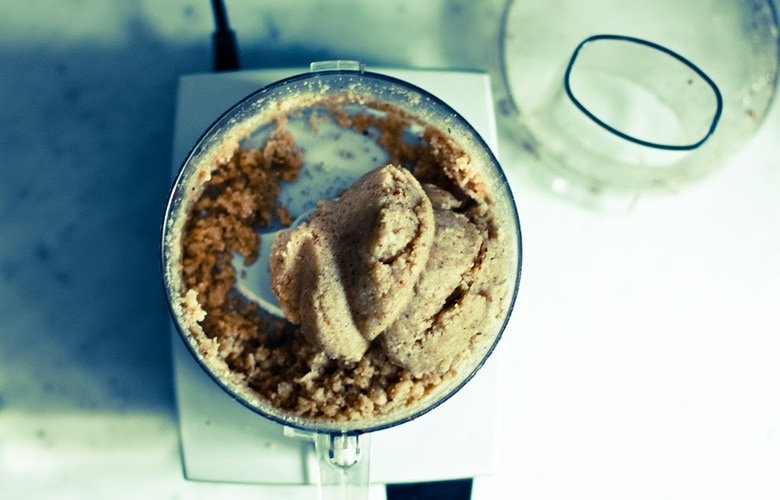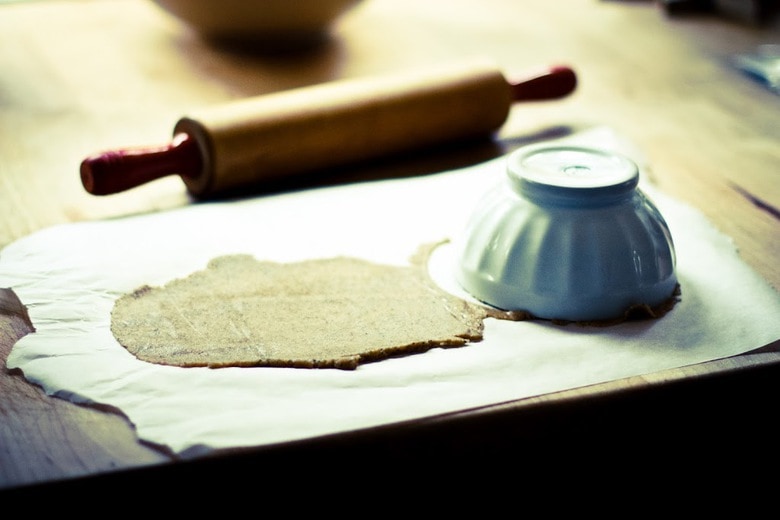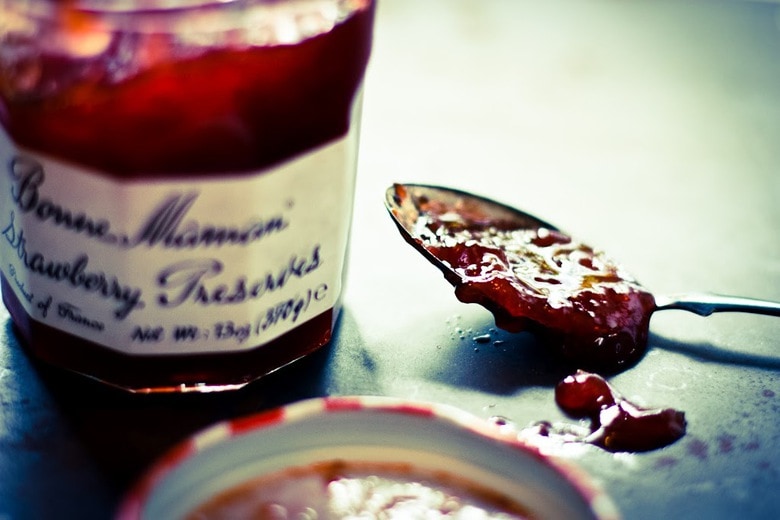 I love adding fresh herbs to desserts. A little mint, or rosemary, or even basil or lemon thyme add interest. Today I had rosemary so I sprinkled a little over the top. I like the combination of strawberries, rosemary and balsamic,  but it's more for the grown up palate, so if serving kids, maybe best to leave it off.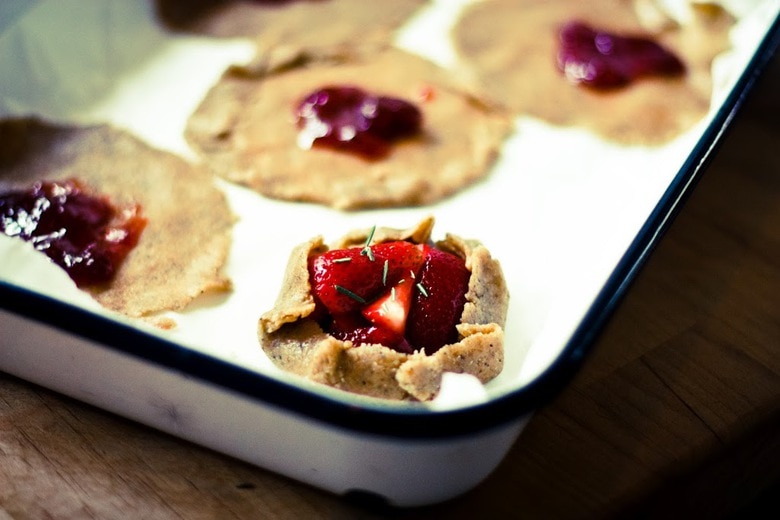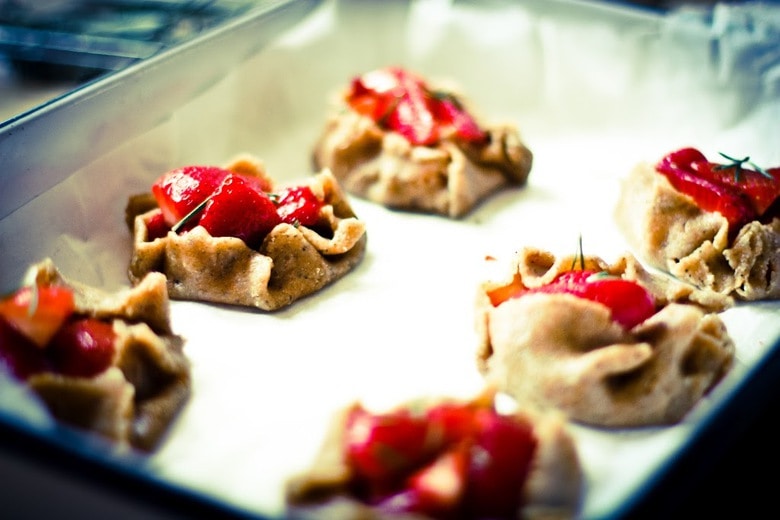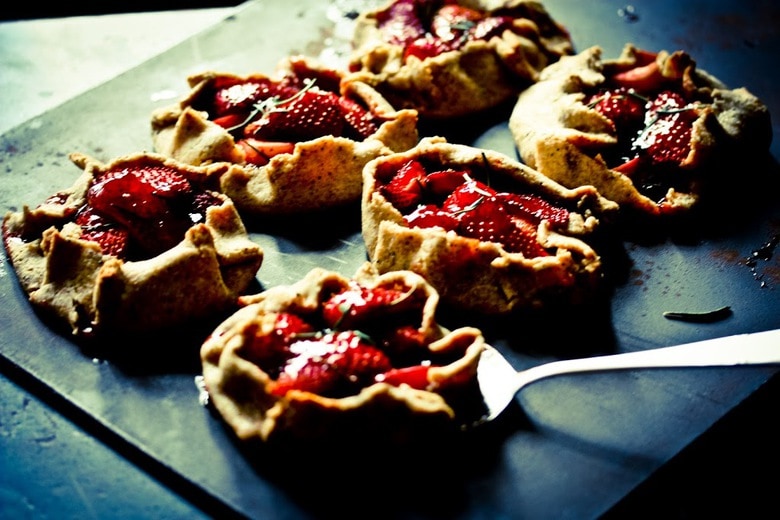 Serve this with a scoop of vanilla ice cream, or whipped cream for a lovely dessert. I drizzled the top with a little reduced balsamic.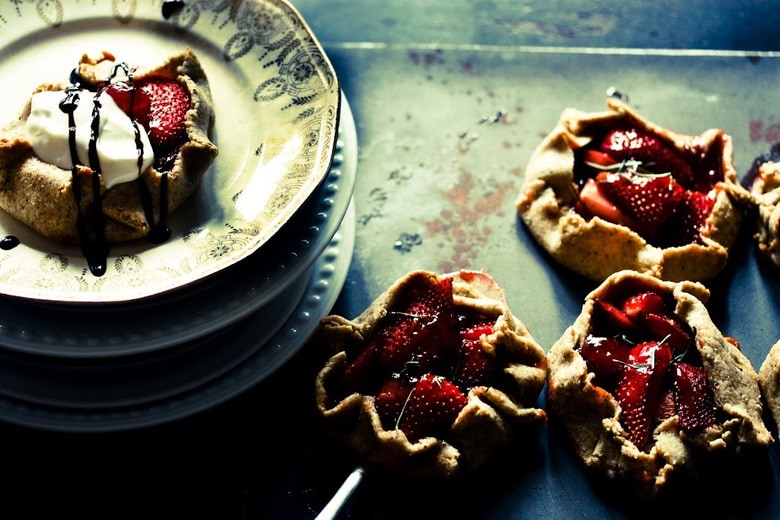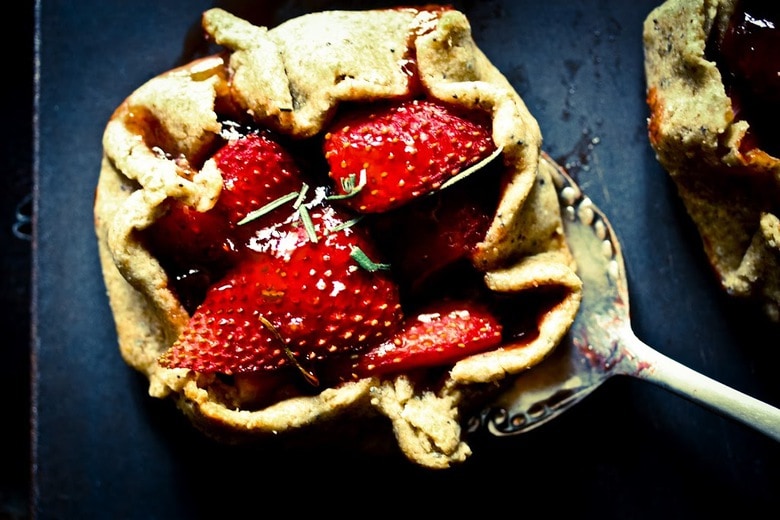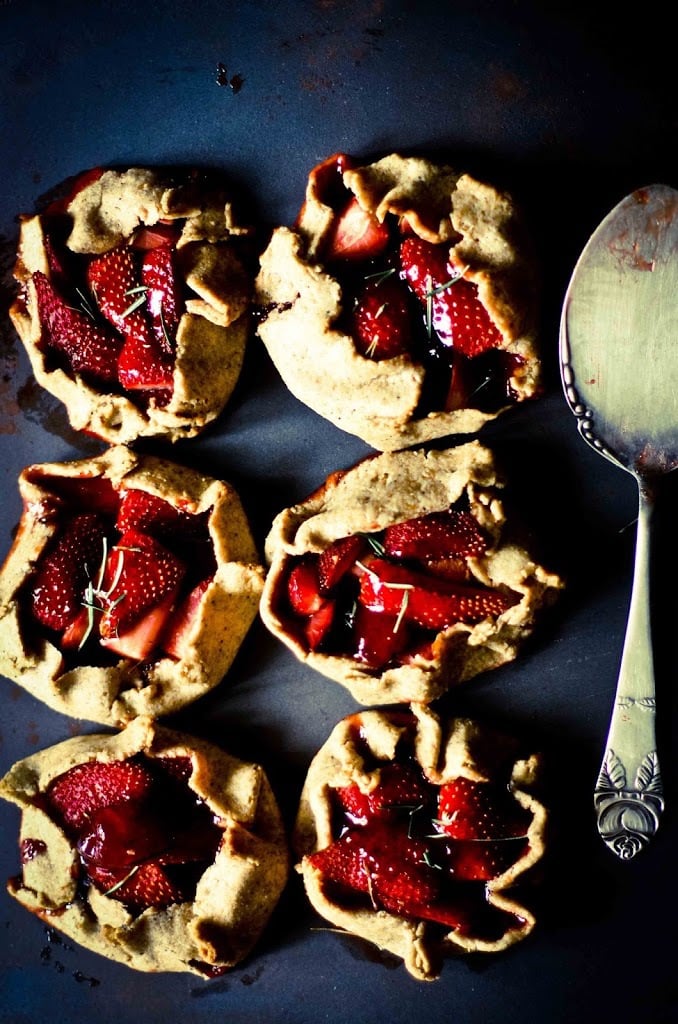 Print
Rustic Strawberry Galette with Seeded Rye Crust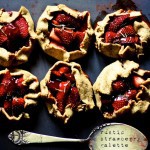 Rustic Strawberry Galettes with a Seeded Rye Crust- a Scandinavian-inspired dessert perfect for spring!
Author: Sylvia Fountaine
Prep Time:

45

Cook Time:

45

Total Time:

1 hour 30 minutes

Yield:

8

-

10

1

x
Category:

dessert

Method:

baked

Cuisine:

scandinavian
Scale
Ingredients
 1 3/4 C all-purpose flour

1/2

C rye flour

1

T sugar

1/2 tsp

salt

1 tsp

poppy seeds

8 oz

. (

16

Tbs.) very cold salted butter ( or vegan butter)  cut into 8 pieces

1/3

C ice water plus more if needed (put ice cubes in the water to chill it)
Filling:
1

lb Strawberries, washed and quartered

1/2 tsp

good, aged, balsamic vinegar

11/2 tsp

corn starch

1/4

C sugar

1/2 tsp

fresh rosemary ( optional)
a pinch salt
—–

8 tsp

Strawberry jam or preserves
Instructions
Make the Crust:
In a
food processor
, add all the ingredients except the water. Pulse until it has a uniform crumb, resembling course sand. Add the ice water and pulse again. Dough should form a ball. If not, add a tablespoon of water at a time until it just comes together. Do not over mix. On a piece of
parchment
, shape the dough into a log about 2 inches in diameter. Wrap the log up in the
parchment
or refrigerate for at least 1 hour.
Make the Filling: Mix all the ingredients except the jam, in a bowl. Let stand 15 min, mixing periodically.
375 F oven
Assemble: Slice the log of dough into about one inch thick pieces, and roll out each one in-between two sheets of lightly floured parchment to 1/4 inch thick and 5-6 inches in diameter. So do a tester first. You could use a bowl, or lid of a pot as a guide. Do not roll too thin or dough will be hard to handle.
Place these rounds directly on a parchment lined baking sheet, assembling them on the baking sheet, because they are difficult to move once assembled.
Place a teaspoon or so of strawberry jam or preserves in the middle of the dough to coat the base, then a few Tablespoons of fresh strawberry filling. Gently fold up the edges, creasing in places. Do not go crazy trying to make these look perfect, they are meant to look rustic.
One thing that does help though is to arrange some of the strawberries, skin side up on the top of the tart, for nice color. You could give the crust a quick egg wash or milk wash and sprinkle with coarse sugar if you like.
Bake in a preheated 375 F oven for 30-35 mins or until crust is golden, crispy, but still tender. Let cool 10 minutes before serving. If not eating right away, store on a wire rack so crust doesn't get soggy. Garnish with fresh whipped cream.
Keywords: strawberry galette, strawberry tart, strawberry desserts, strawberry galette recipes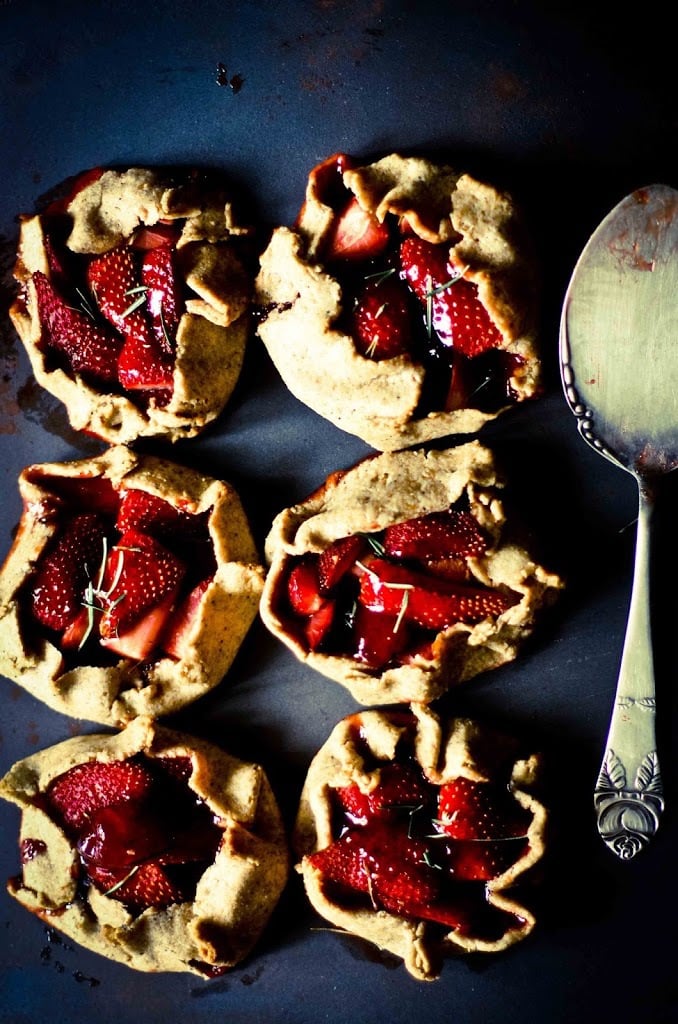 Reader Interactions