Spring Pea Risotto with Halibut and fresh mint. Add Spanish style chorizo for spice and complexity or keep it light and lean.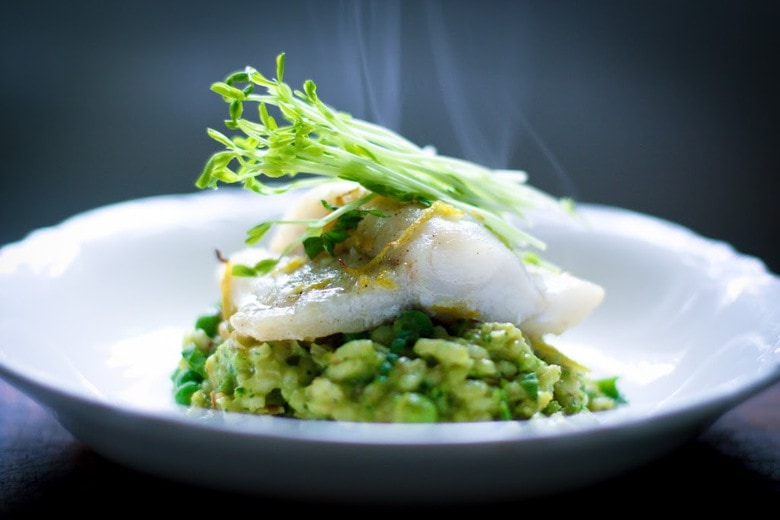 Preparing for a catering event several years ago, I had to make fresh Spring Pea Bruschetta as an appetizer for 200 people, using fresh shucked peas. For a moment, just try to imagine how many peas that is. Truthfully, I don't know what I was thinking. This was also the summer I experienced my first super busy wedding catering season. I was stressed and tired and had clearly taken on too much. The thought of spending hours shucking peas was overwhelming. But as Brian and I started on the mountain of peas, a funny thing happened. The repetitive action somehow began to calm me. I felt myself begin to relax. And after some time, it occurred to me that I was actually enjoying it. Huh! Who knew.
When I was young I remember my mother crocheting a large intricate lace table cloth to cover our long dining room table. She used the tiniest crochet hook and ivory colored thread. It took her an absurd amount of time. Years. Nine, to be exact. When it was finally finished we laid it over the long table and admired all the time and work that went into its creation. Truly, it was a marvel. So many tiny little knots, even in just one square inch. The amount of discipline, persistence and fortitude that went into completing such a daunting task, baffled me. I mistakenly assumed that her crocheting was somehow a burden or drudgery, a means to an end.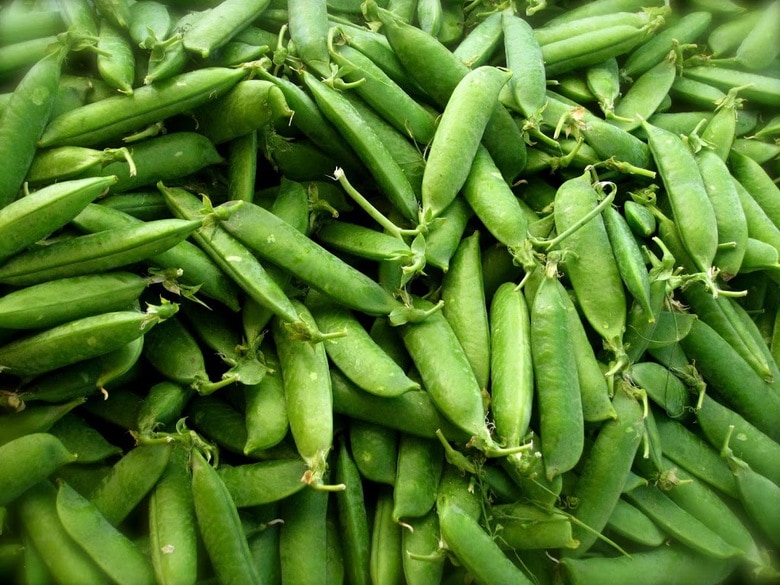 It wasn't until I was shucking those peas on that one summer day, I realized my error. You could say I had an epiphany–or what i call now, an "a-pea-phany": she loved the act itself. Feeling the taut string on the tip of her forefinger and the deft control of crochet hook in her hand, was satisfying. I still can see her fingers working. Each loop and knot, ironically, became her way of unwinding. Letting the stress of the day, and her marriage, slip silently away into each knot. She loved her craft, and found it fulfilling. I sometimes look at her table cloth now, and think of how many stories and emotions are tied up there within those millions of knots.
Shucking peas, too, can be very satisfying. It requires no skill other than a creating a luxurious amount of time for yourself. The rewards you will experience will be something equivalent to a mind massage, or mini retreat. To fully experience the benefits of pea shucking, find some ample time to sit down and do nothing else, but simply shuck peas.
Be there. Feel the tiny body in your hand. Pinch one end off. Pull down the tiny string. Glide your thumb inside the opening along inner spine feeling the sprightly peas pop from their pod.
Listen to the thud they make as they drop down into the bowl. Go slowly. Take your time. (Warning: if you are in a hurry, don't even attempt this, because it will turn into a battle and you will loose…and you will never , ever, want to shuck peas again.) But, if you give the peas your full attention and care, you in time will feel begin to feel completely relaxed. The more time I spend in the kitchen, I am finding this true with even the most mundane of tasks. It's almost as if, no matter what the chore (chopping onions, peeling garlic, washing dishes, sweeping the floor, etc.), the more present I am and the more care I give it, the more soulful and gratifying the act becomes.
After sayingall that, still, there are times when purchasing already shucked peas, is completely reasonable, appropriate and necessary. I happened to find some at the grocery store yesterday, and of course quickly snatched them up.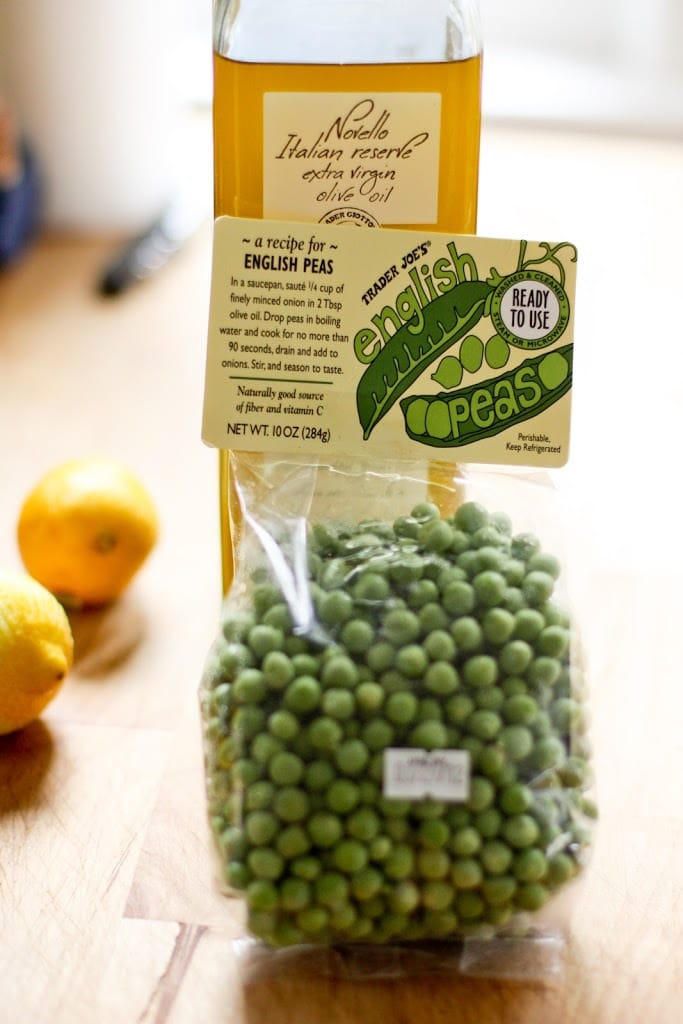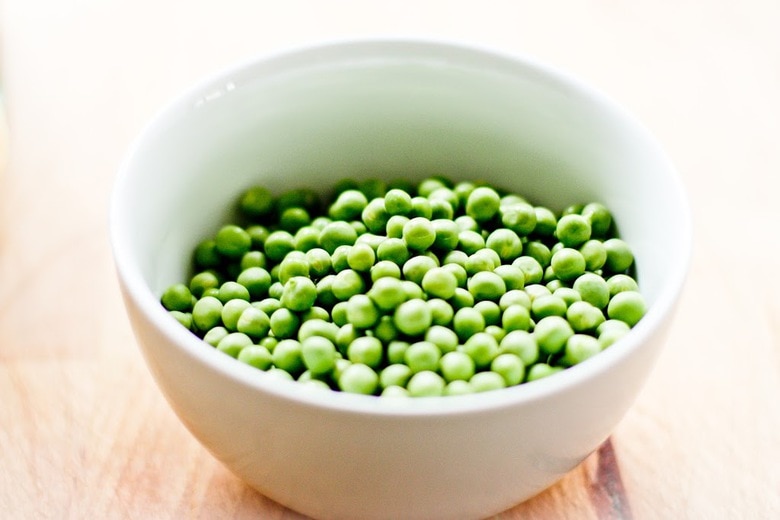 Peas are seasonal, preferring cooler growing temperatures of spring and early summer. They are very high in fiber and are a member of the legume family. Legumes are plants that bear fruit (beans) inside a pod. Most legumes including lentils, black beans, chickpeas, white beans, etc… come in the dried form whist peas are one of the few legumes you can get fresh. There are basically three kinds of peas that are most common. Garden peas or green peas (these), snow peas, and snap peas. Green peas are the ones we shuck. They have fuller rounder pods which house the pea seeds that are sweet and starchy in taste. Snow peas are the thin ones with the pods that are soft and tender and edible. Snap peas, a cross between the garden and snow pea, have plump pods, which are also edible, but with a cool crisp, snappy texture.
Canada is currently the largest world producer and exporter of peas. India is the world's largest importer of peas.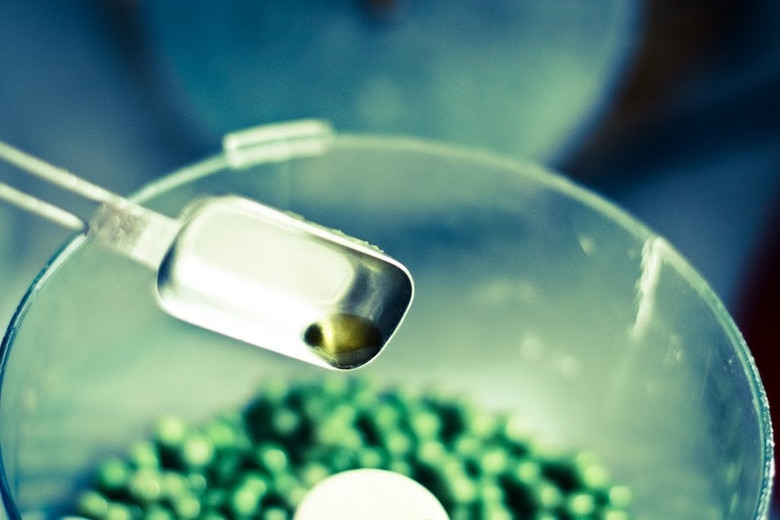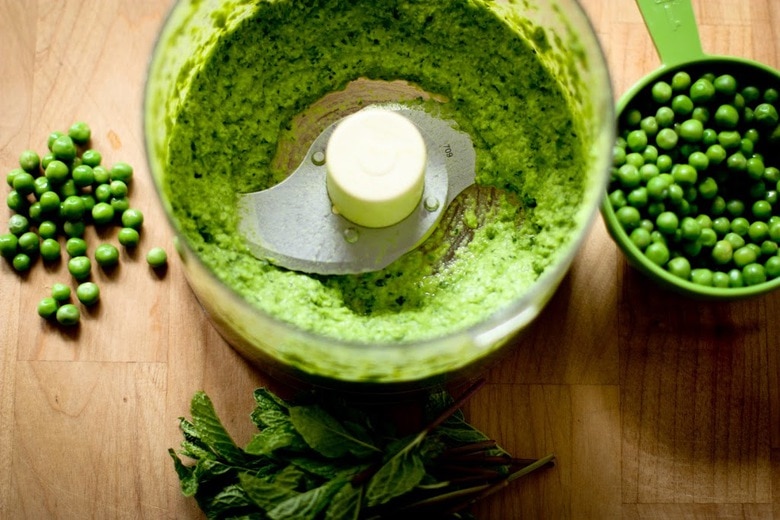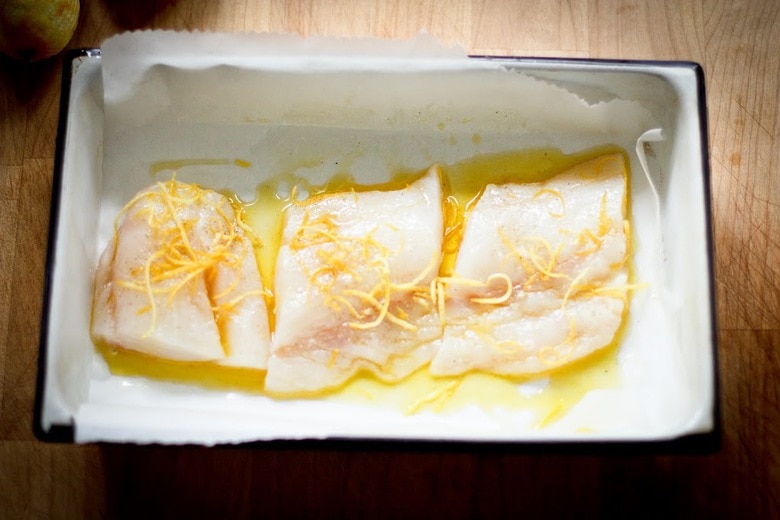 So for this recipe, I use Black Cod or Halibut which is just now coming into season. Seared prawns or scallops would be a good substitute.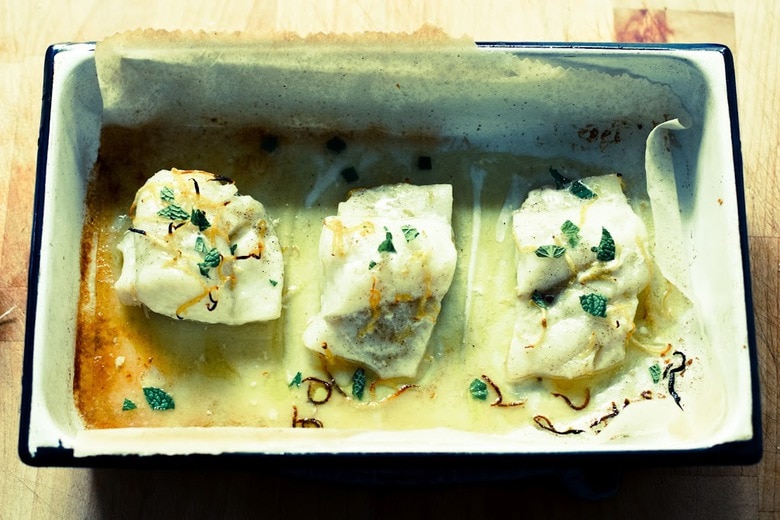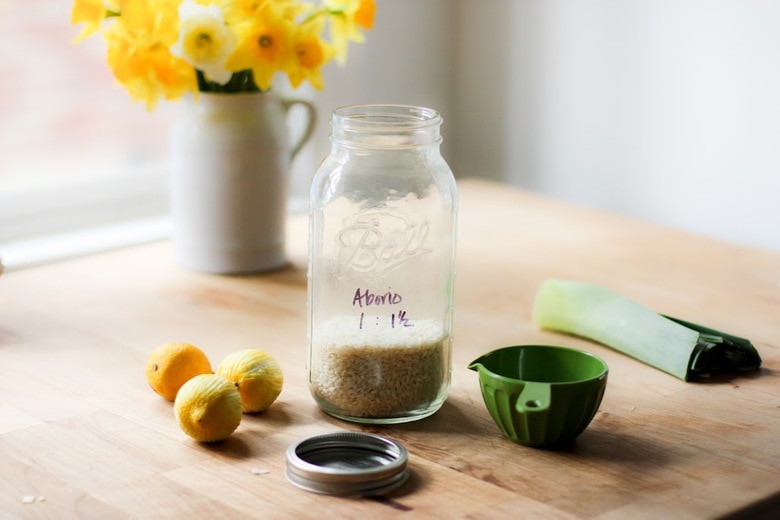 Make the risotto.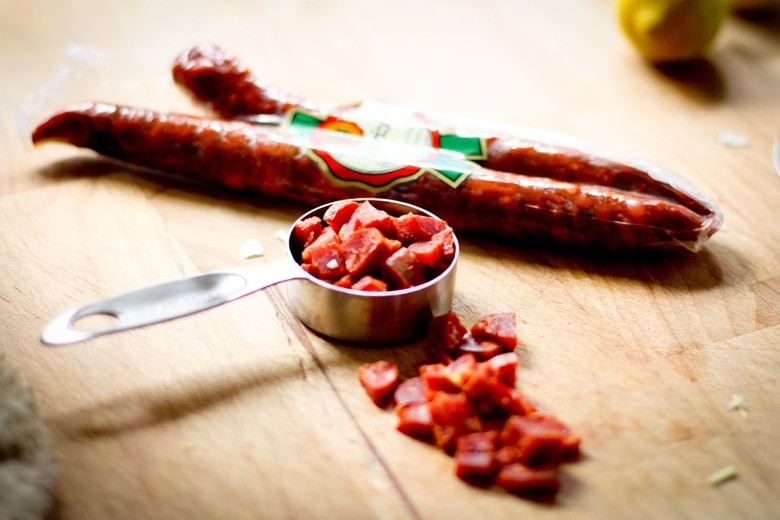 If you like the flavor of Spanish style chorizo, feel free to add this to the risotto – or simply leave it out.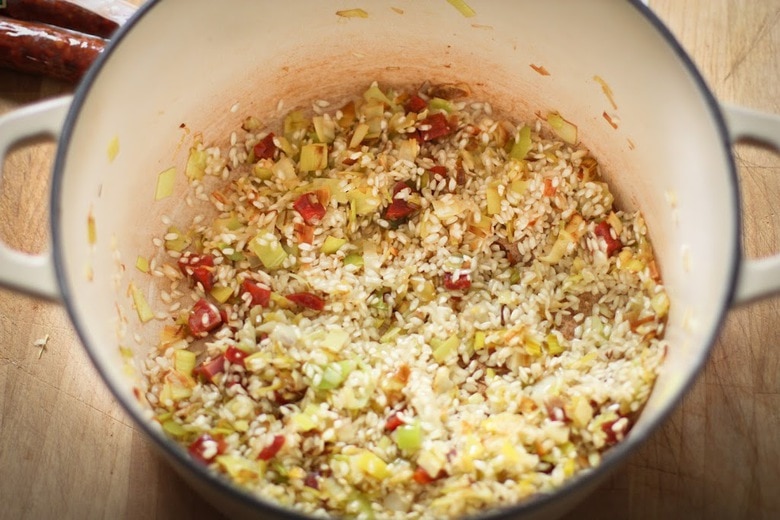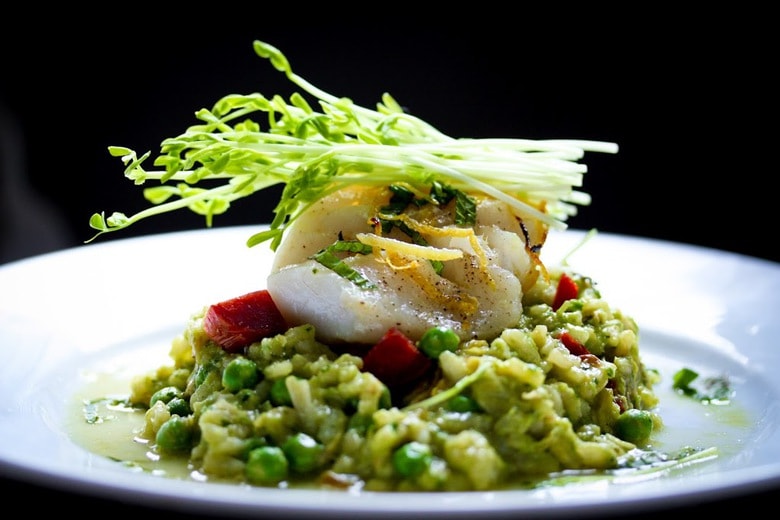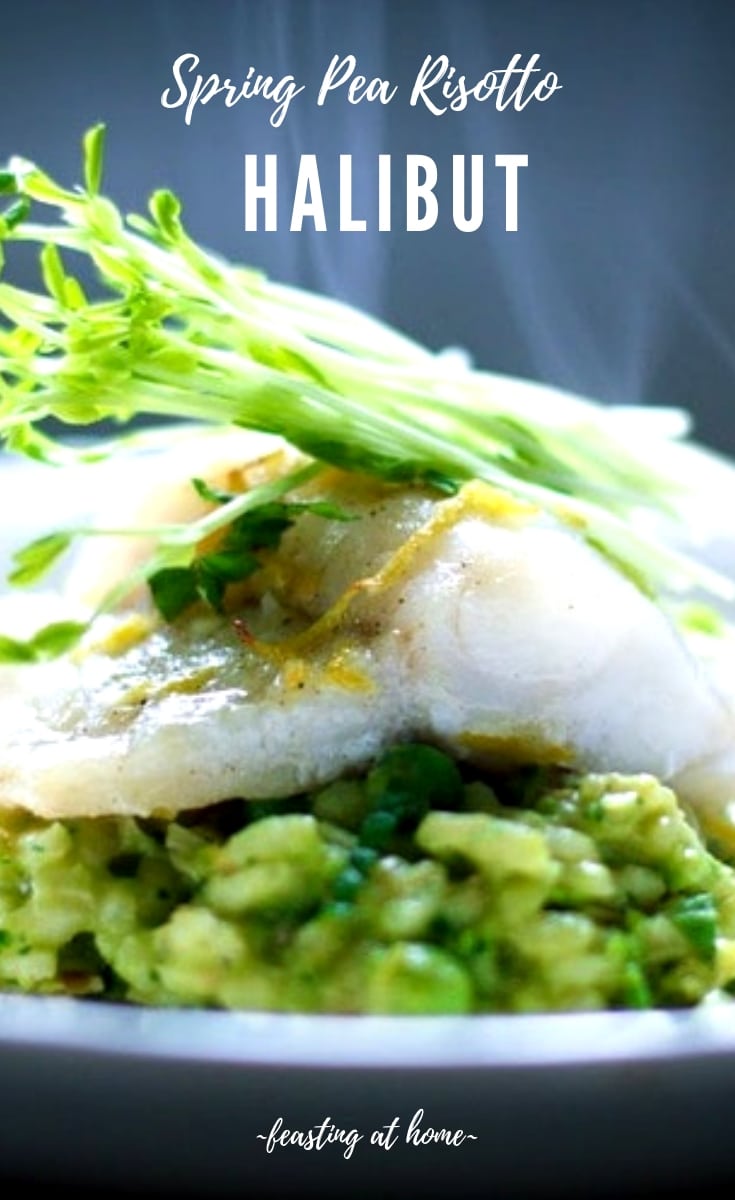 Print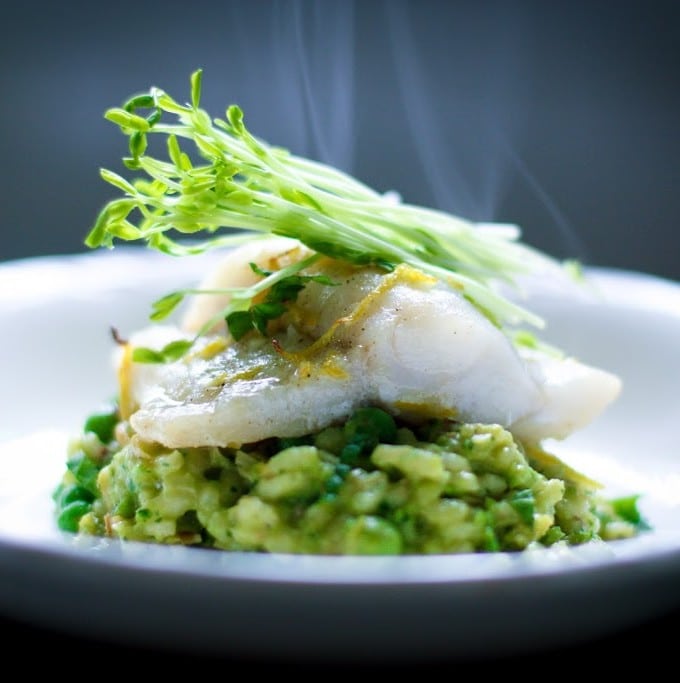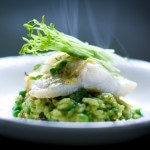 Spring Pea Risotto with Halibut
Author:

Sylvia Fountaine

Prep Time:

15

Cook Time:

45

Total Time:

1 hour

Yield:

4

Category:

Main

Cuisine:

Italian
---
---
---
---