Spring Pea Risotto with Halibut, lemon and fresh mint. Add Spanish-style chorizo for spice and complexity or keep it light and lean.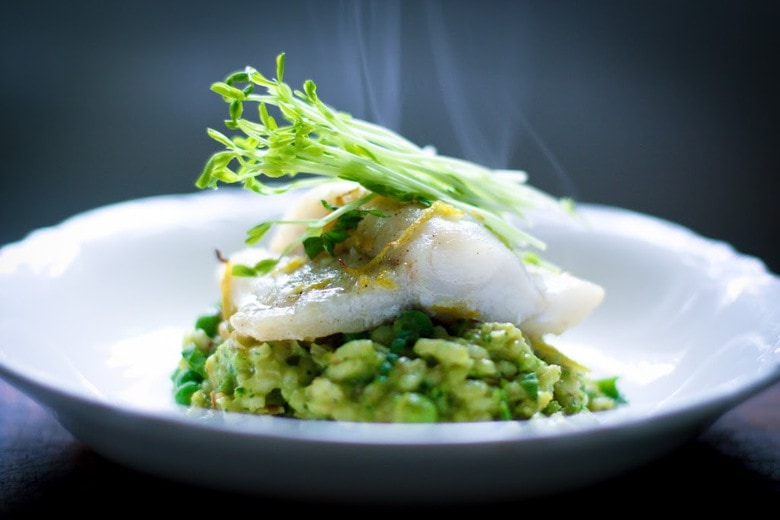 This Spring-inspired meal features fresh English peas in a savory, zesty, creamy pea risotto with a hint of fresh mint. It's topped with a piece of lemony halibut (or sea bass, salmon, black cod) and optional pea shoots. A truly delicious meal that celebrates the season!
Use freshly shucked English peas for the best flavor here- which you can find pre-shucked at stores like Trader Joe's. But if in a pinch, frozen peas will work perfectly fine. too.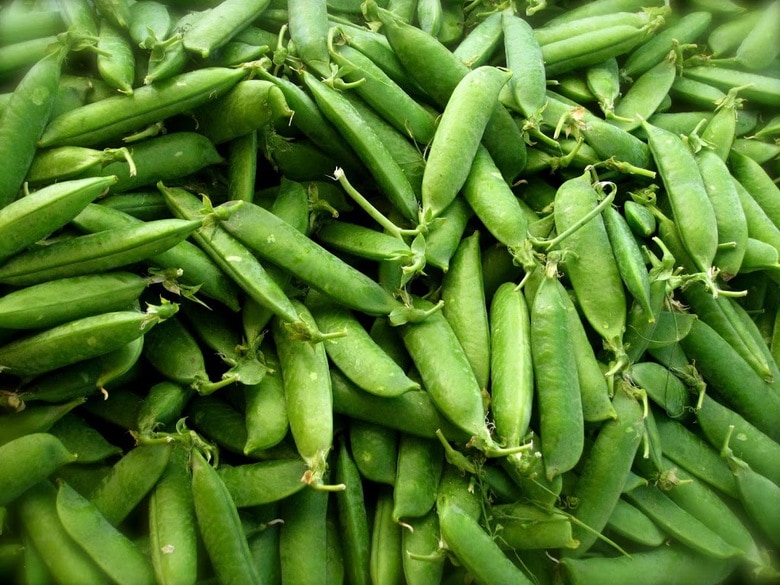 Shucking peas can be very satisfying. It requires no skill other than creating a luxurious amount of time for yourself.  The rewards you will experience will be something equivalent to a mind massage, or mini-retreat. To fully experience the benefits of pea shucking, find some ample time to sit down and do nothing else,  but simply shuck peas.
Be there.  Feel the tiny body in your hand. Pinch one end off.  Pull down the tiny string. Glide your thumb inside the opening along the inner spine feeling the sprightly peas pop from their pod.
Listen to the thud they make as they drop down into the bowl. Go slowly. Take your time.  (Warning:  if you are in a hurry, don't even attempt this, because it will turn into serious chore, and you will never, ever, want to shuck peas again.)  But, if you have the time to give peas your full attention and care, you in time will feel begin to feel completely relaxed. The more time I spend in the kitchen, I am finding this true with even the most mundane of tasks.  It's almost as if, no matter what the chore (chopping onions, peeling garlic, washing dishes, sweeping the floor, etc.) the more present I am and the more care I give it, the more soulful and gratifying the act becomes.
Now, after saying all that, still, there are times when purchasing already shucked peas, is completely reasonable, appropriate and necessary! No judgment here- ever!   I happened to find some at the grocery store (Trader Joes) yesterday, and of course, quickly snatched them up!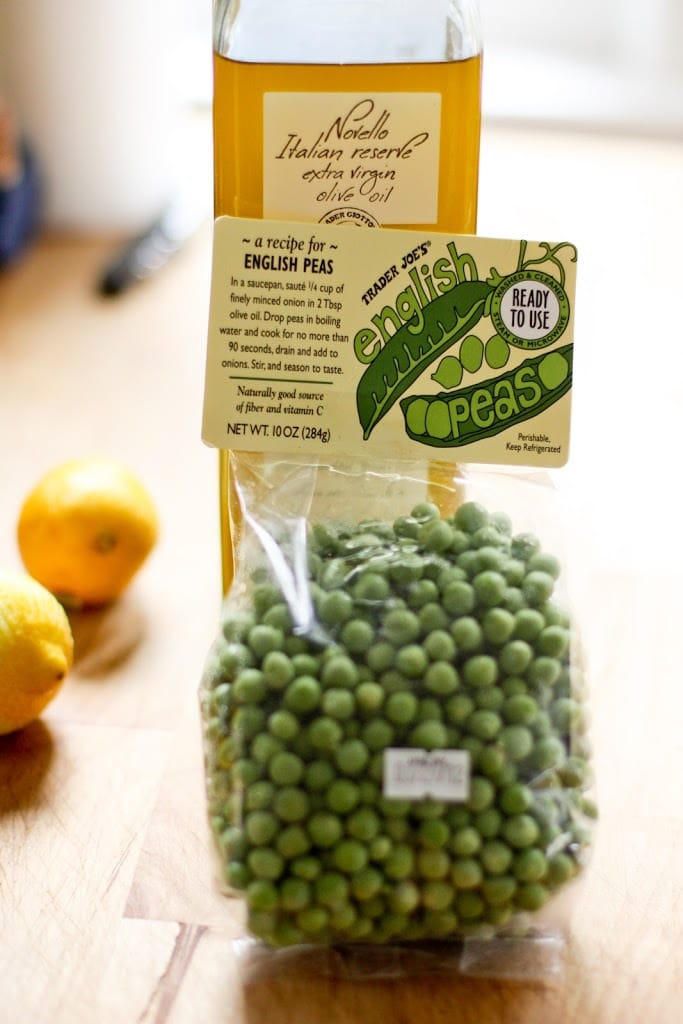 Peas are seasonal, preferring cooler growing temperatures of spring and early summer. They are very high in fiber and are a member of the legume family. Legumes are plants that bear fruit (beans) inside a pod. Most legumes including lentils, black beans, chickpeas, white beans, etc… come in the dried form whilst peas are one of the few legumes you can get fresh.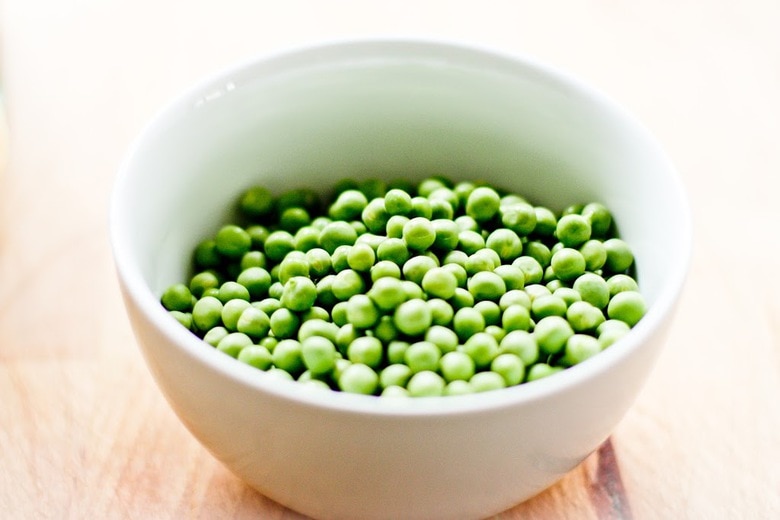 There are basically three kinds of peas that are most common. Garden peas or green peas (these),  snow peas, and snap peas. Green peas are the ones we shuck. They have fuller, rounder pods that house the pea seeds that are sweet and starchy in taste. Snow peas are the thin ones with pods that are soft and tender and edible. Snap peas, a cross between the garden and snow pea, have plump pods, which are also edible, but with a cool crisp, snappy texture.
Canada is currently the largest world producer and exporter of peas.  India is the world's largest importer of peas!
How to make Halibut with Spring Pea Risotto:
STEP ONE:  prep and marinate the halibut.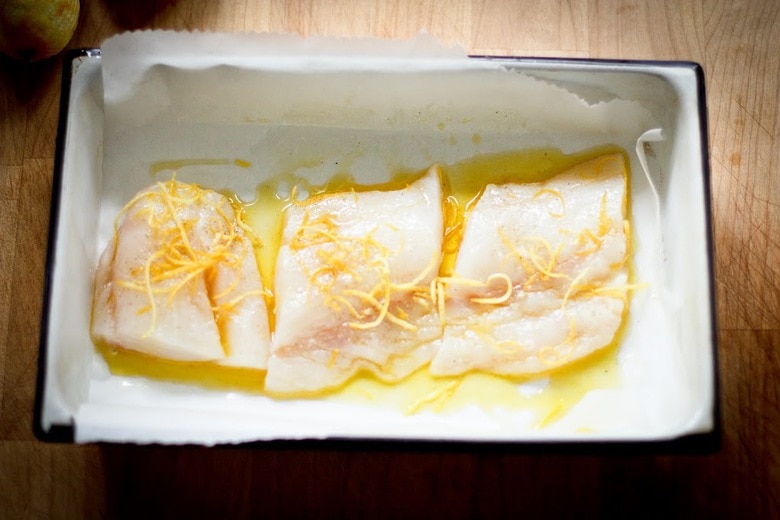 STEP Two: Blanch and drain the English peas. 
STEP THREE: make the pea sauce.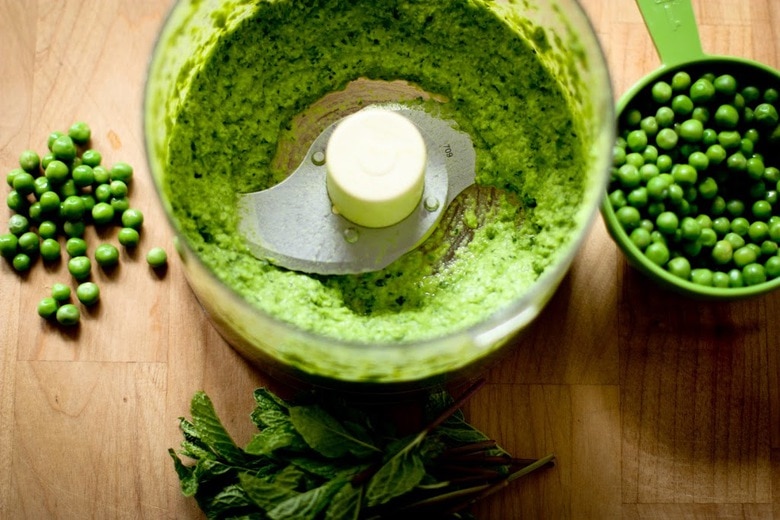 So for this recipe, I use Black Cod or Halibut which is just now coming into season. Seared prawns or scallops would be a good substitute.
STEP FOUR: Cook the risotto. 
(If you like the flavor of Spanish-style chorizo, feel free to add this to the risotto – or simply leave it out.)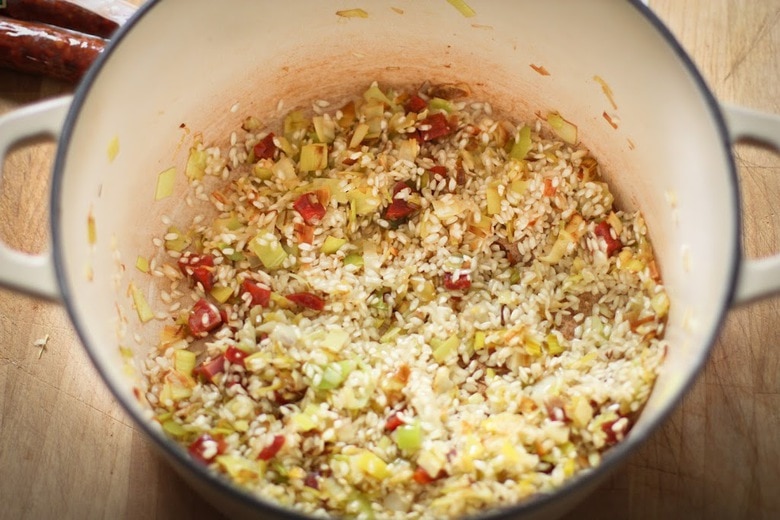 STEP FIVE: Fold in the pea sauce (to the risotto), adjust seasonings, divide among bowls and top with the baked halibut.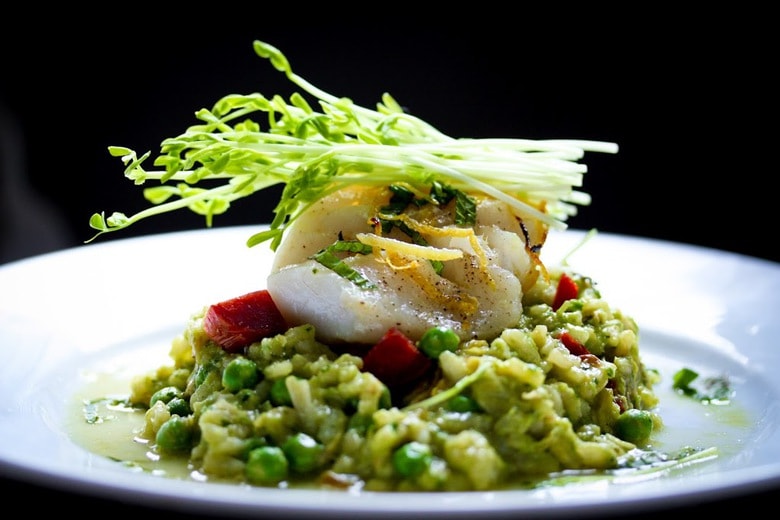 Serve immediately. You could also top it with  pea greens and a little drizzle of
truffle oil
– heavenly!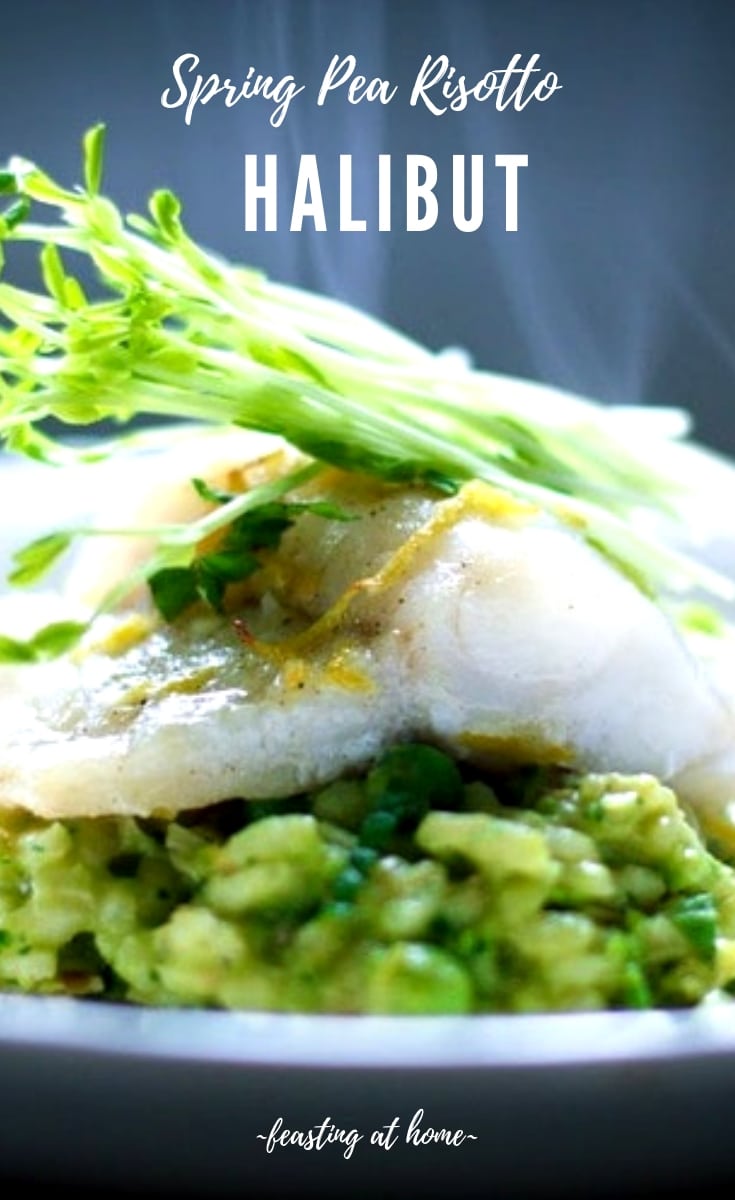 I hope you enjoy this recipe as much as we have. We recently served it at a wedding and many of the guests requested it so I thought I'd share! See the recipe notes for ways to elevate.
xoxo
More recipes you may like:
Print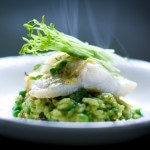 Halibut with Spring Pea Risotto
Prep Time:

15

Cook Time:

45

Total Time:

1 hour

Yield:

4

1

x

Category:

Fish, pescatarian,

Method:

Stove top

Cuisine:

Italian

Diet:

Gluten Free
---
Description
Baked Halibut with Spring Pea Risotto. Add Spanish-style chorizo for spice and complexity or keep it light and lean, and leave it off. A delicious spring-inspired dinner!
---
1

lb

halibut (or sub black cod, sea bass, salmon, or even seared scallops or prawns)
Zest of lemon

1 tablespoon

olive oil
salt & pepper to taste
Spring Pea Risotto: 
2 tablespoons

olive oil

1 tablespoon

butter

2

cups

chopped leeks (rinsed), or sub one onion

1

cup

Aborio rice

1/2

cup

White wine

4

–

5

Cups hot stock ( chicken or veggie)

1/4

cup

finely diced Spanish Style "cured" chorizo (optional, if you leave this out, you will need to add salt)

1/3

cup

grated Pecorino Romano cheese

1

Lemon (zest and juice)
salt and pepper to taste
Pea Sauce
2

cups

Fresh Peas (divided) ( or use frozen, thawed)

1/4

cup

Fresh Mint

1/2

cup

Fresh Italian parsley or basil
squeeze lemon juice
Garnish: mint, lemon zest, truffle oil and pea shoots (optional)
---
Instructions
Preheat over to 400F.
Prep Fish: Cut fish into four 4 oz portions. Place in roasting pan lined with parchment paper and generously drizzle with olive oil, making sure both sides are well coated. Sprinkle with salt, pepper and lemon zest from one lemon. Set aside (or marinate overnight like this, in the fridge).

Make Risotto: 

In a heavy bottom pot or

dutch oven

, sauté leeks in oil and butter on med heat, until tender, about 7 -10 minutes.  

Turn heat to low 

and add

arborio rice

and optional Spanish chorizo.  Stir about 1 min. Add white wine. Simmer on low until the wine has been absorbed. Add a cup of hot chicken stock, and stir periodically, adding a cup at a time, until each cup is absorbed ( about 25-30 minutes).

While tending to the risotto, make the spring pea puree at the same time.
Spring Pea Puree: Blanch 2 cups fresh peas in 1 quart boiling salted water for 1-2 minutes. They are done with they float! Strain and immediately immerse in ice-cold water to stop them from overcooking and losing their vibrant green color. Set aside. Place 1 cup of the blanched peas  save the other cup),  mint, parsley, a squeeze of lemon, and a generous pinch of salt and pepper in a food processor and blend until smooth, scraping down sides a couple of times. Set aside.
When you are about to add your last cup of stock to the risotto, place the fish in the hot oven, and bake 8-12 minutes, depending on how thick of a cut you have.
Finish the risotto: When the risotto is tender, gently fold in the spring pea puree just as you are ready to serve ( in order to keep its vibrant color – don't cook it! ). Stir in the grated cheese, lemon zest, and remaining 1 cup whole blanched peas.  You want it to be slightly loose, so add stock if needed. Taste, adjust salt pepper and lemon, adding more to taste.
Divide pea risotto among plates, top with the halibut, garnish with optional pea shoots, a drizzle of truffle oil, lemon zest and/or mint.
---
Notes
If you leave out the chorizo, make sure to salt the risotto a little more. 🙂
Nutrition
Serving Size:

-without out chorizo

Calories:

593

Sugar:

10.7 g

Sodium:

813.4 mg

Fat:

32.6 g

Saturated Fat:

6.9 g

Carbohydrates:

43 g

Fiber:

4.3 g

Protein:

28 g

Cholesterol:

67 mg
Keywords: halibut with pea risotto, pea risotto with halibut,