Asparagus Soup- a delicious combination of flavors that dazzles the palate. Simple, easy, this soup is elegant enough for spring gatherings and special events, yet easy enough for weeknight meals.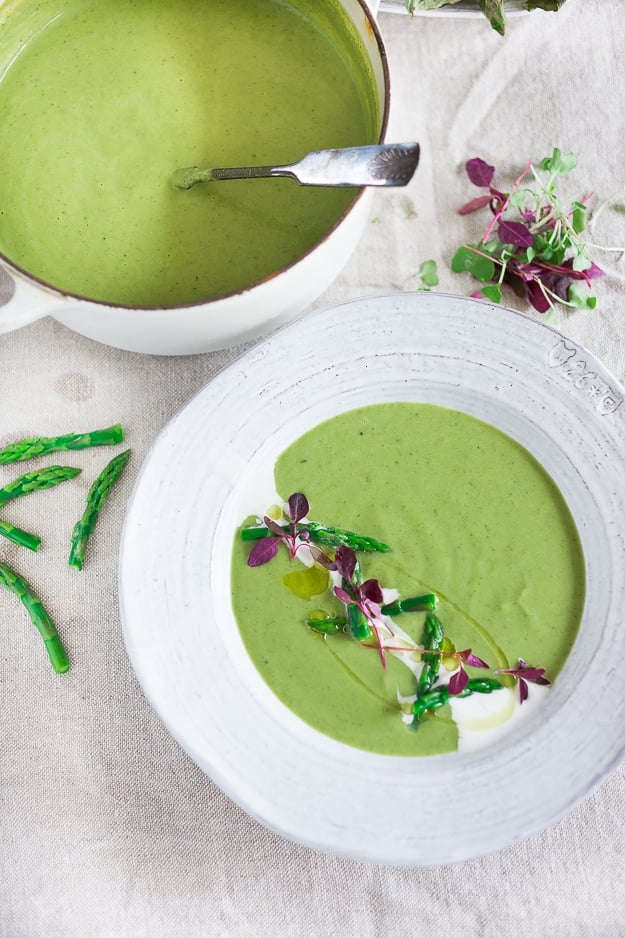 Forget not that the earth delights to feel your bare feet and the winds long to play with your hair.~ Khalil Gibran
This Asparagus Soup with Fennel and Tarragon is such a delicious combination of flavors, the first spoonful, actually stunned me. The fennel and tarragon give the asparagus such a beautiful and unexpected twist.
The soup is lightened-up and made "creamy" with potatoes and a little sour cream, so it's not overly rich, rather, just rich enough. The fennel oil elevates it to another level. It is not absolutely essential, but it is really tasty. I'm head over heels with this creamy asparagus soup. I think you will be too!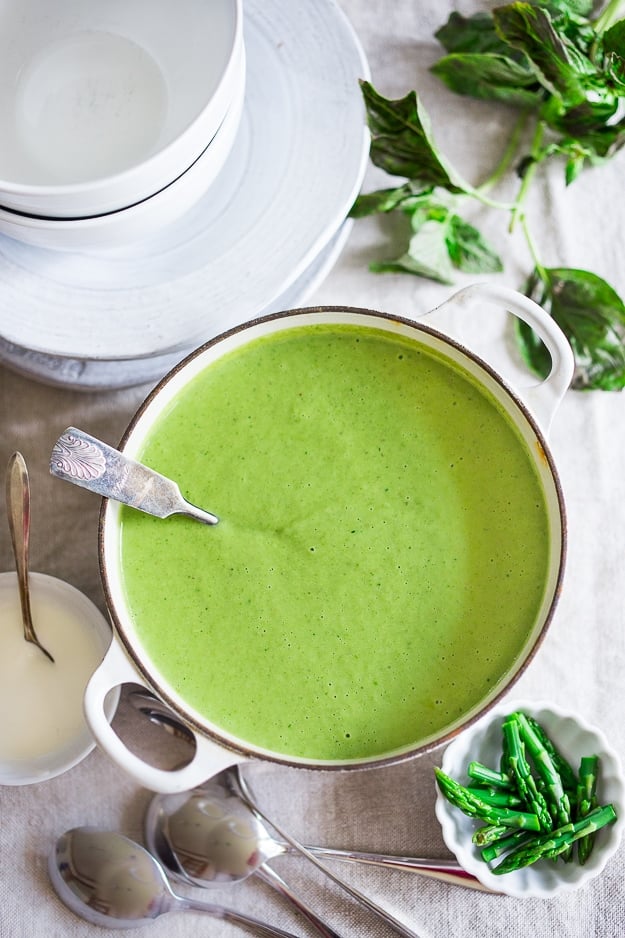 I hope your holiday weekend is filled with joy and connectedness. Wherever you are, may you feel the love that surrounds you. Each opening blossom and every unfurling leaf is a testament to this. Let yourself be bathed in it and held by it.
Each Spring, I feel this overwhelming thankfulness …that yes I get to witness the earth's stunning rebirth, one more time. It truly is a gift, this being here, isn't it?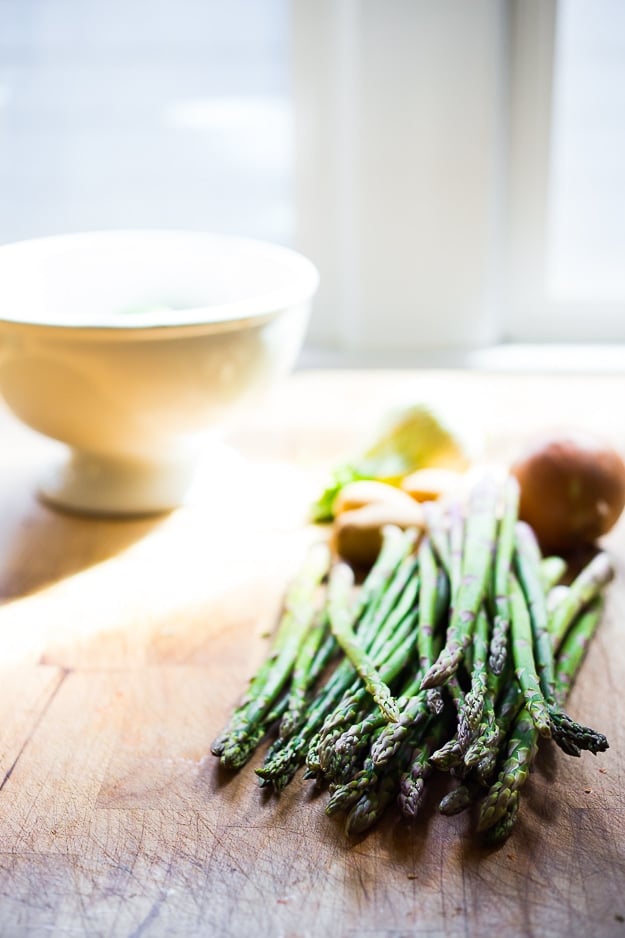 How to Make Asparagus Soup:
Saute onion and fennel and garlic in oil.
Add water or stock and sliced potatoes, and simmer covered until potatoes are tender.
Add asparagus, turn the heat up and return to a boil, and cook for 2-3 minutes. Add the herbs.
Using an immersion blender, blend until silky smooth
Return to the stove and heat gently whisk in Sour Cream.
Season with salt and pepper
This recipe starts with fresh spring asparagus!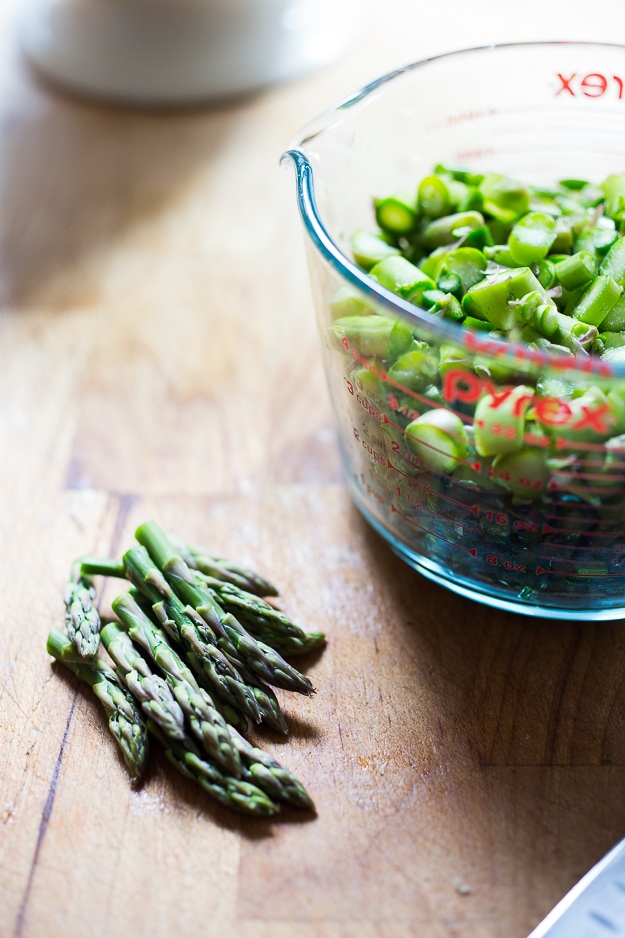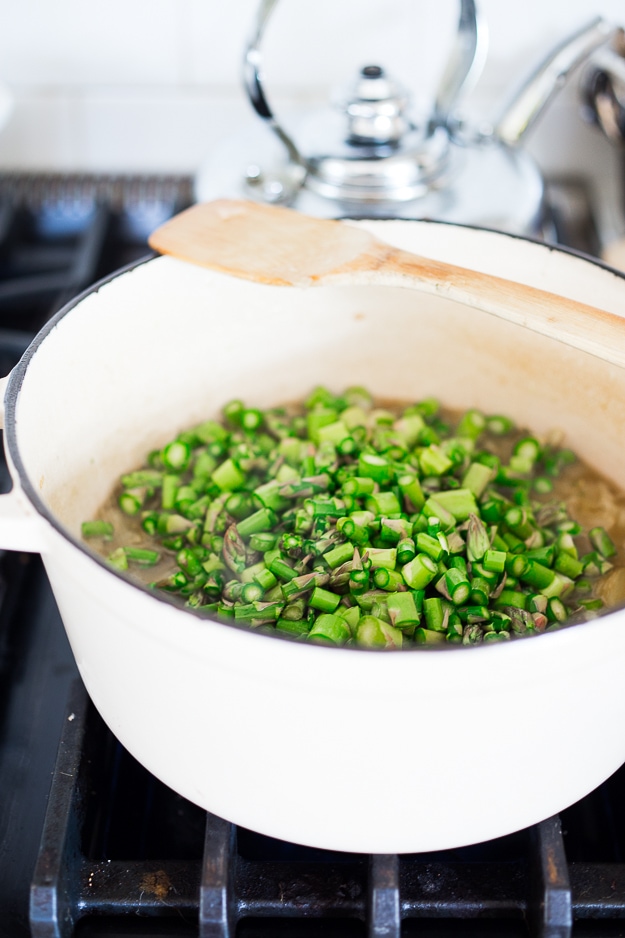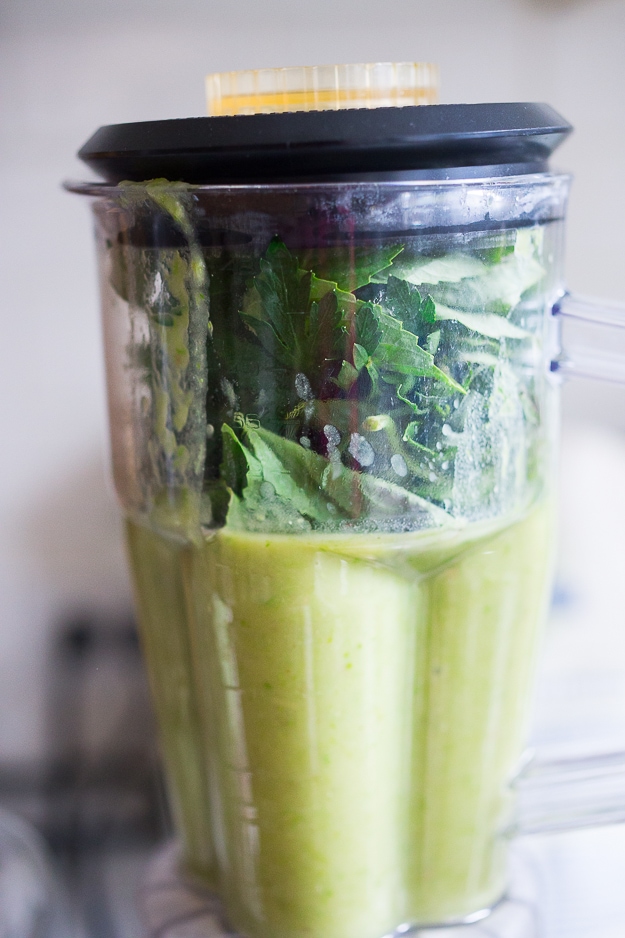 Always remember when blending warm soup, to blend it in small batches, and cover with a
kitchen towel
and hold the lid down with all your might, when turning the blender on.
Start with the lowest setting and increase speed gradually. This will help prevent a blender explosion.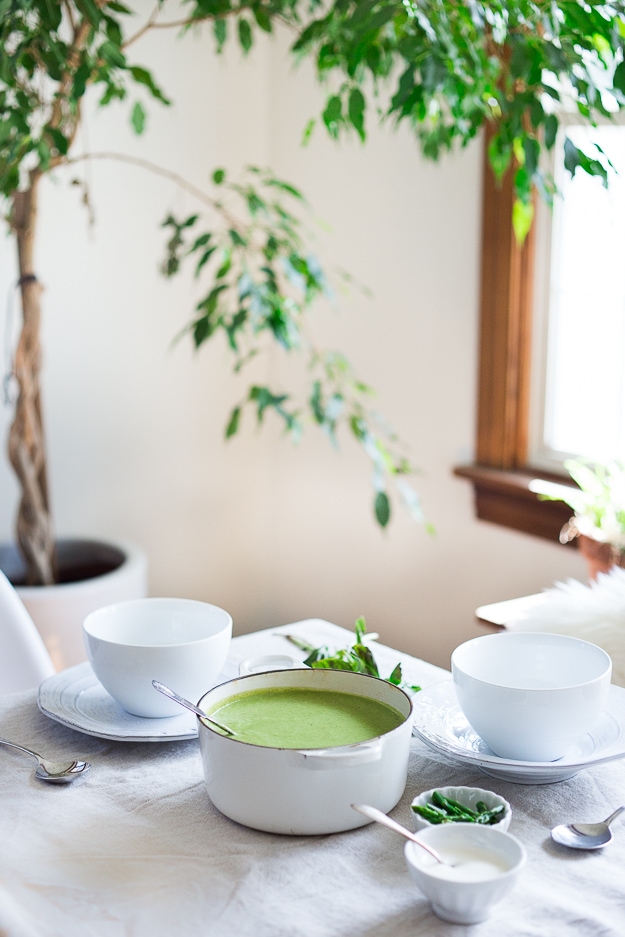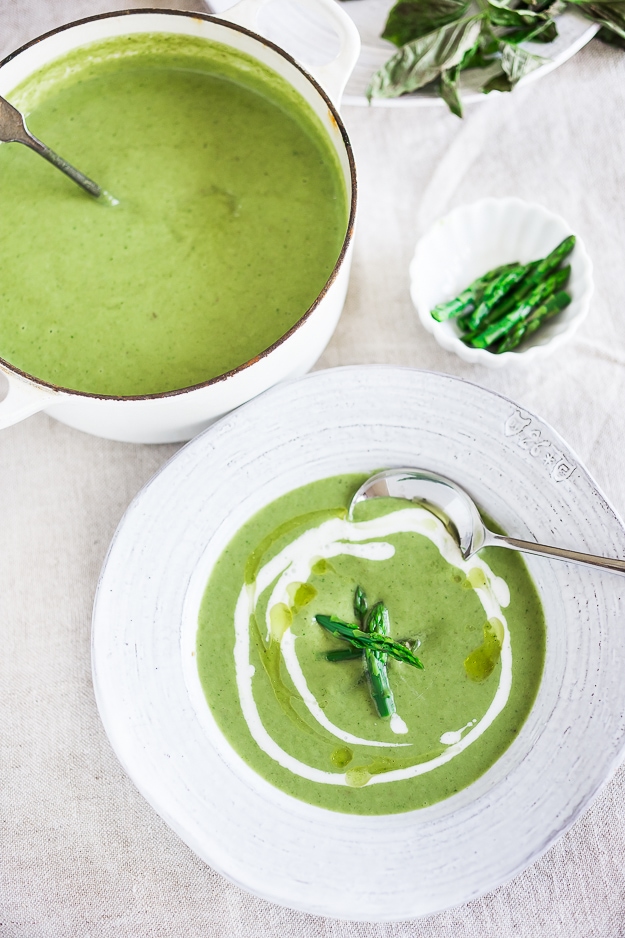 The white cream is just sour cream thinned out with a bit of water and a pinch of
salt
, and put in a
squeeze bottle
( or use yogurt). The oil drizzle is a fennel-infused oil, made with fennel fronds ( recipe below).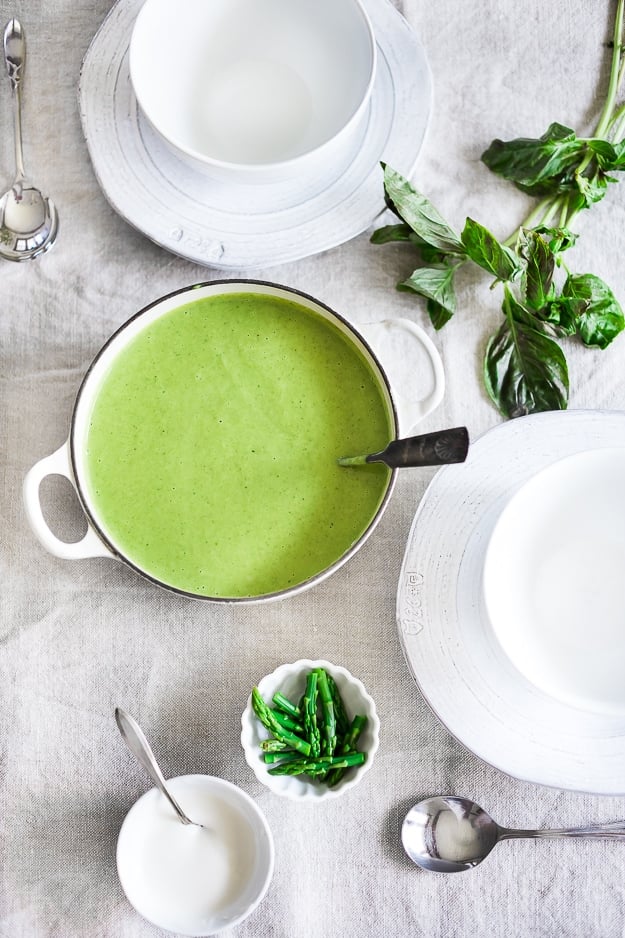 When garnishing, play around with the design, just have fun and create. These purple sprouts are in Trader Joe's "microgreen mix" — I just pulled out the purple ones for a little pop of color.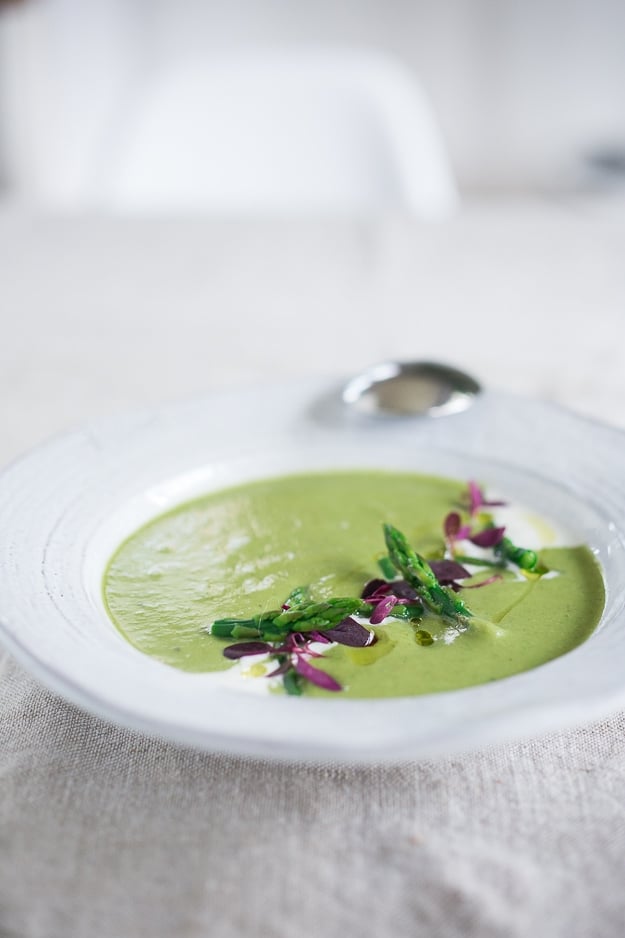 You can also just drizzle the soup with a bit of olive oil.
I hope you enjoy this Asparagus soup! let me know what you think in the comments below!
More asparagus recipes you may like!
Print
Asparagus Soup
Creamy Asparagus Soup with Fennel and Tarragon- a delicious combination of flavors that dazzles the palate. Simple, easy, this soup is elegant enough for spring gatherings and special events, yet easy enough for weeknight meals. See notes for vegan.
Prep Time:

20 mins

Cook Time:

30 mins

Total Time:

50 mins

Yield:

6

Category:

soup

Method:

stovetop

Cuisine:

French
1

large white or yellow onion, diced

1

small fennel bulb, cored and diced (or sub

2 cups

celery)

2

–

3

tablespoons olive oil

3

cloves garlic- rough chopped

½

pound yellow, yukon or white potatoes, sliced, thin skins OK

6 Cups

water or veggie stock or blend of both

¼ teaspoon

white pepper

3/4 teaspoon

kosher salt
———

4 Cups

chopped fresh asparagus ( approx

1 ½

lbs to start, then trim the tough ends off) plus a few "tips" for garnishing
——–

2

–

4

tablespoons fresh tarragon

1/4

–

1/2

cup fresh basil (or Italian parsley)

½ cup

aour cream (don't use non-fat, or sub

1/3 cup

cashews- see notes)
Garnish: blanched asparagus tips, sour cream ( water it down and whisk to thin it –for better swirling) Fennel oil ( optional–see below,  you can also use olive oil)
Optional Fennel oil:
1 ½

 Cups fennel fronds, chopped

1 Cup

Italian parsley

¾ cup

grapeseed  or Light olive oil
pinch salt
Instructions
In a large heavy bottom pot, saute onion and fennel in 2 T oil over medium high heat, for 2 minutes, stirring constantly. Turn heat to medium and continue cooking until softened, about 5-6 minutes. Add garlic and saute for a couple more minutes, until garlic becomes fragrant. Add water or stock, salt and pepper,  and sliced potatoes, and bring to a boil. If making this vegan, add 1/3 cup raw cashews to simmer along with potatoes. 
Cover, simmer on low 15-20 minutes until potatoes cooked through and are fork tender.
Add asparagus, turn heat up and return to a boil, and cook for 2-3  minutes, until tender yet vibrant green. Don't over cook or you will loose the lovely color. Remove from heat and let cool a bit.
In batches (see warning above) blend soup until creamy and very very smooth, adding in the herbs. The herbs will give it this glorious color. Blend really well, so there are no specs of herbs but rather, let them tint the soup and make it very green.
Return to the stove and heat gently (do not boil, or you will lose the lovely color).
Whisk in ½ C Sour Cream if using. ( seen notes)
Divide among bowls, garnish with a swirl of  sour cream if you like, fennel oil, blanched asparagus tips, or fresh tarragon.
Notes
TIP : If you are using any other substitute for sour cream ( cashews or heavy cream)  remember that sour cream has a good bit of tang, so you may need to add a little squeeze of lemon juice or a couple drops of white vinegar to balance the flavors.  I have found that sour cream, has just the right balance of fat and acidity.
To make Fennel Oil :
Place fennel fronds and parsley in a strainer, and dip in large pot of salted boiling water for 45 seconds to blanch. Remove and immediately cool in an ice water bath, to shock ( keeping it green)
Drain, and squeeze dry with kitchen towels or paper towels to remove as much water as possible. Place in a blender, with just enough oil to cover, about ¾ Cup (or less is fine too), blend, adding a little more oil if necessary, to keep the blade turning.  (Keep in mind, the less oil you use, the more flavorful this will be.) Blend for a full minute, until fairly smooth. Let this sit in the fridge, as long as possible, preferably overnight or even for a couple of days. Strain with a fine-mesh strainer or cheesecloth. Pour into a squeeze bottle. This keeps for a week or two in the fridge or can be frozen.
Keywords: asparagus soup, asparagus soup with tarragon, asparagus soup with fennel, asparagus fennel soup, creamy asparagus soup, fennel soup