15 Minute Lemon Basil Shrimp and Asparagus- a delicious and healthy skillet meal that can be made with shrimp, tofu or chicken.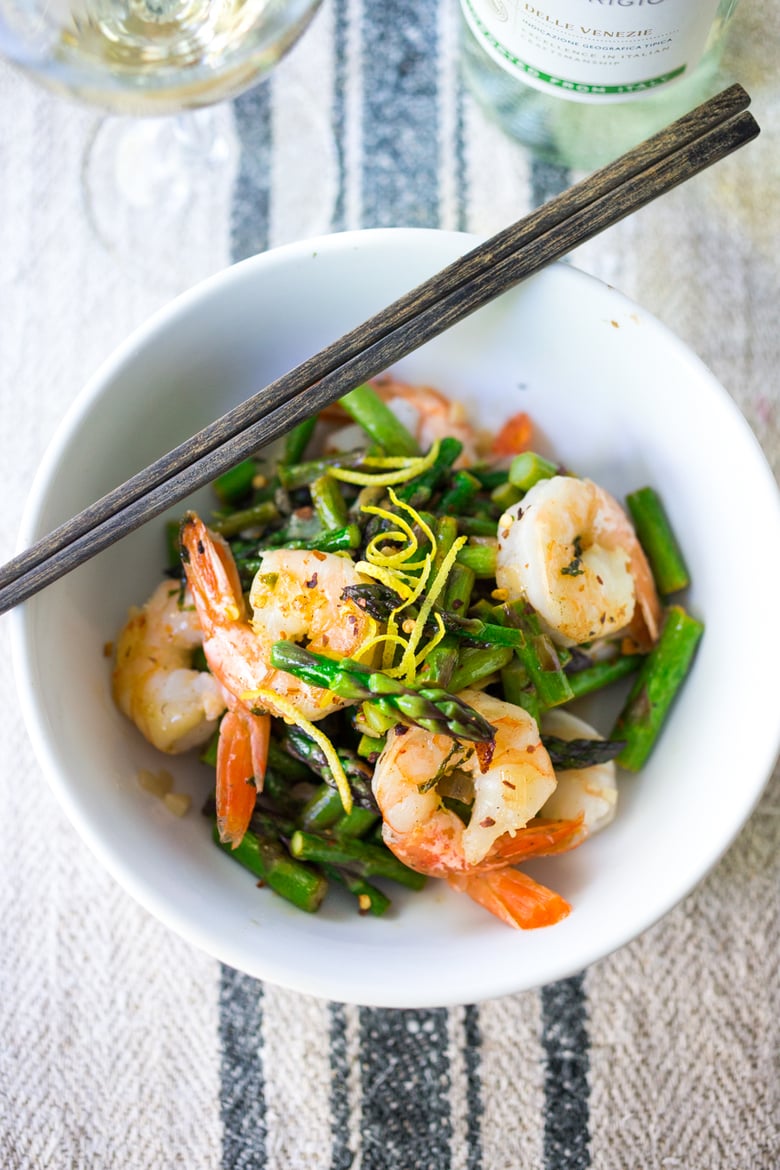 Step into the fire of self-discovery. This fire will not burn you, it will only burn what you are not. -Mooji
This 15 minute Lemon Basil Shrimp and Asparagus is very simple to make, yet surprisingly tasty! Vegan adaptable, this can be made with tofu and is gluten-free. It's a quick skillet meal that is low in carbs with a huge proportion of veggies- in this case, delicious spring asparagus, which just so happens to go perfectly with light and fruity, Cavit Pinot Grigio.
On the home-front:
We've settled in nicely into our smaller house. I'm discovering, contrary to an old belief, that it really doesn't take much to feel peace and contentment in my space. My soul desires really simple things- sunlight, green and a little piece of sky. I have that all here. Beautiful simplicity.
When I was younger, I was always striving. I was incredibly ambitious. Perhaps it was because on some level I felt less-than, or had to prove something, and perhaps having and doing more would make me feel like I was "more". I had dreams of how my life should be, and didn't allow myself to be fully and deeply happy until these "goals"and a whole list of other conditions were met. As I gradually achieved things on my "conditions for happiness" list, I noticed I would just add more and more things to the list. Instead of feeling satisfied or happy for my accomplishments, it was like there was this hunger inside of me that couldn't ever be satisfied. Nothing was enough. I needed more. I needed to be more. Make more, do more, produce more. Oh ya, and be "good". 😉
It wasn't just "things" on the list. But ideas of who I thought I was. I created layers of identity, to help define "me" to the outside world. While I managed this identity, real life unfolded. My three greatest fears, in this order, all came true – I would get a divorce, my mother would die, and I would end up having to take care of my "difficult" father. All three cam to fruition, and of course more. Way more. And each one, in their own difficult yet beautiful way, felt like the universe (or perhaps my own soul) was taking a sledge-hammer to the thick wall of identity I built around myself. It was painful ….but thankful, created an opening. And with each opening, the walls began crumbling.
For many years I stood within the broken down fortress of my identity, afraid and overwhelmed by all the rubble, hopelessly trying to patch it back up. But then a day came, when I realized that I could simply walk out. That I no longer needed it, it was not really "me"and could leave it behind if I chose to. I began to feel this incredible freedom. All the "shoulds" I carried around for decades, began to fall away. I felt light.
Lately I feel this beautiful peace inside, like I am just floating down a river, and that the river is carrying me. No striving, just trusting the flow of life. This is not to say, that nothing goes wrong and everything is perfect- far from it, but the hard stuff seems like it's exactly what I need.
I'm worrying less about what is around the bend.
Doors open, and I trust enough to walk through them. Doors close, and I continue on – instead of beating down the door like I would have in the past… ahaha! 😉
It feels good to trust the flow and timing of the universe. To allow life to unfold in its mysterious and wonderful way. I'm trying to keep my eyes open and pay attention…on ongoing practice.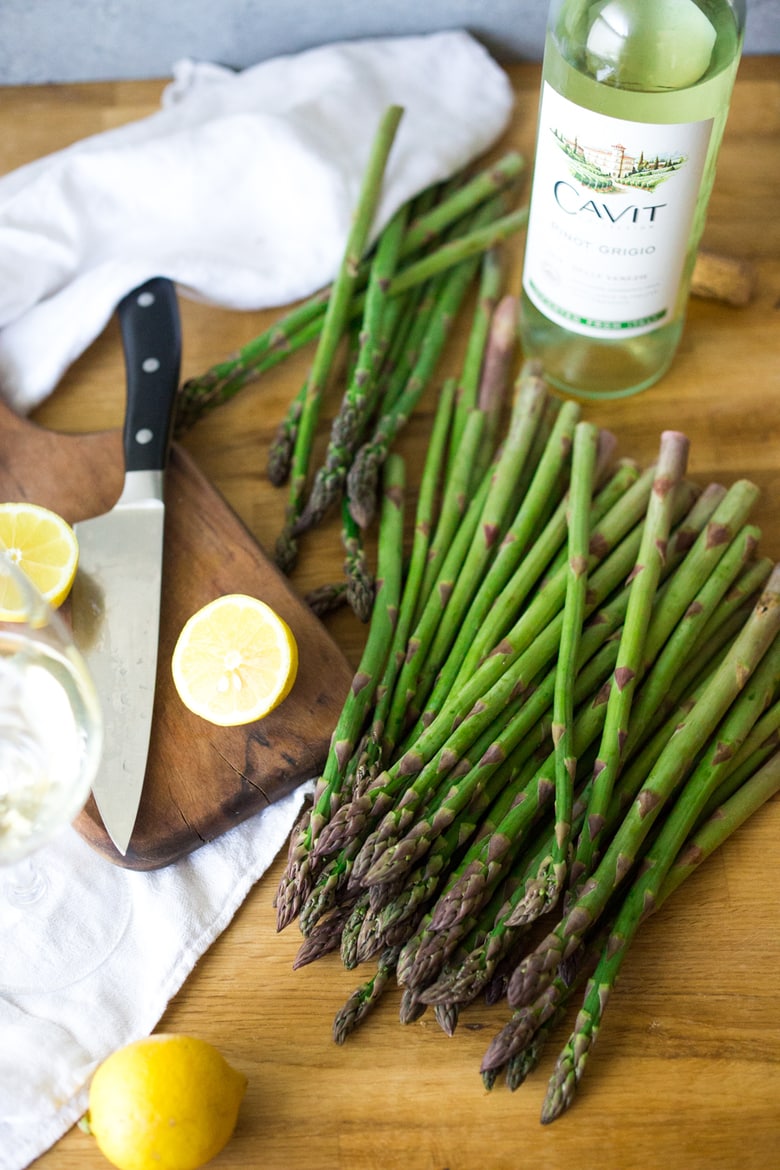 Meals at home, become more and more simple. I try to pick one seasonal fresh thing and build a meal around it using what's in my pantry or freezer.
In this recipe you can use raw or cooked shrimp, tofu or even chicken. The main focus here is the fresh spring asparagus.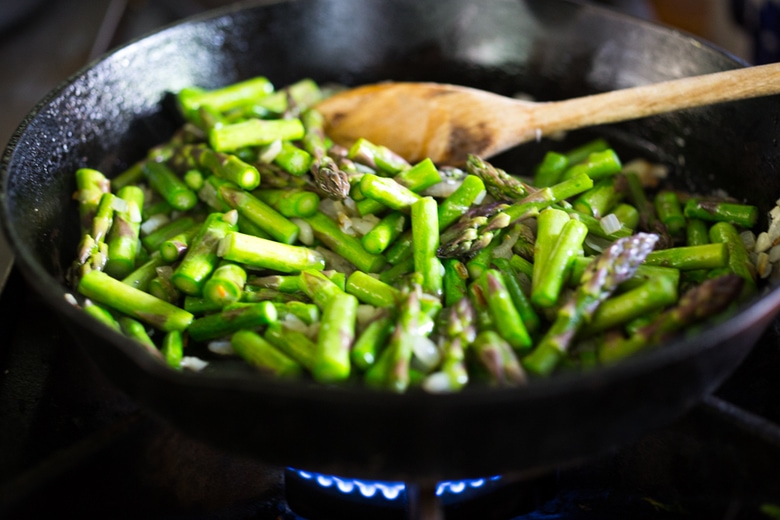 This is the time of year to plant fresh potted herbs. Not only will this save you money, it will save you time. Having a nice variety of potted herbs on hand, will save many trips to the store….so convenient!
For example, Thai basil also tastes great here too, but it's hard to find it. But if you were to buy a plant at a local nursery or farmers market and plant it in a pot, you would always have it on hand.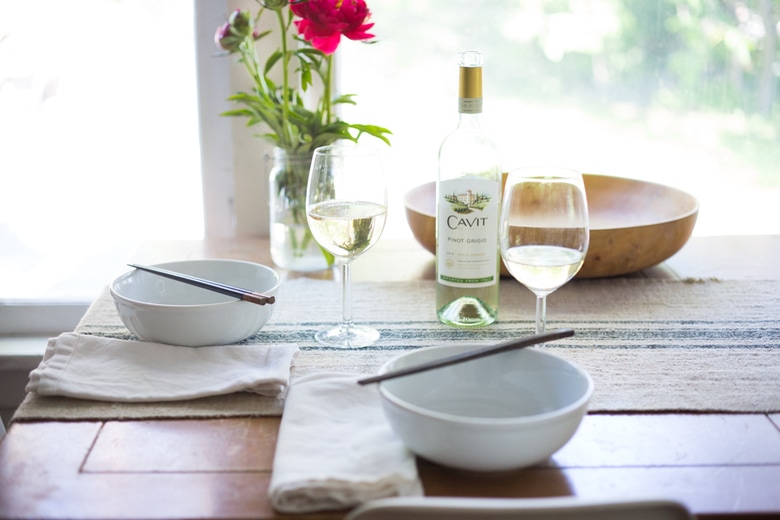 Set a simple table. Pour yourself a nice glass of wine.
It doesn't have to be fancy to be special.
Every meal, even simple ones can be a way to celebrate the day!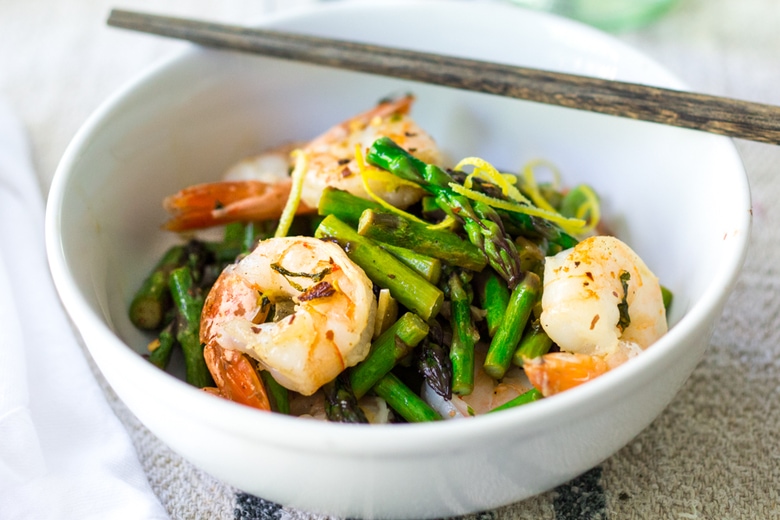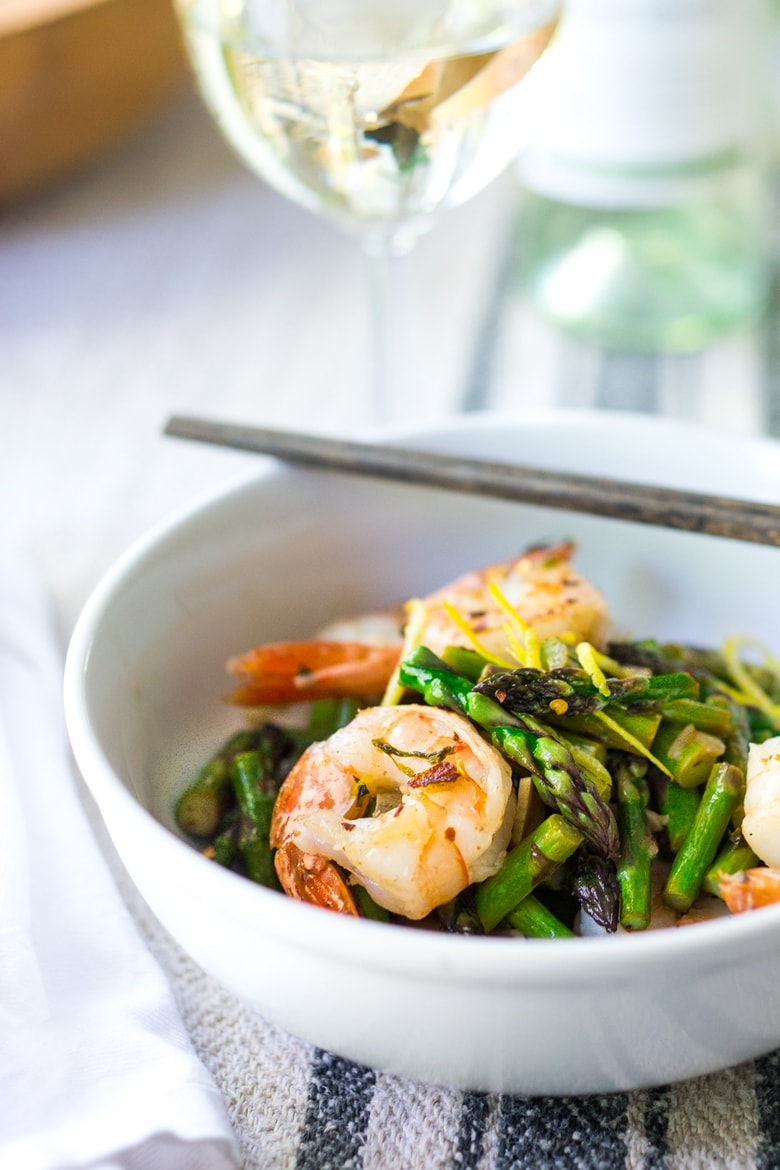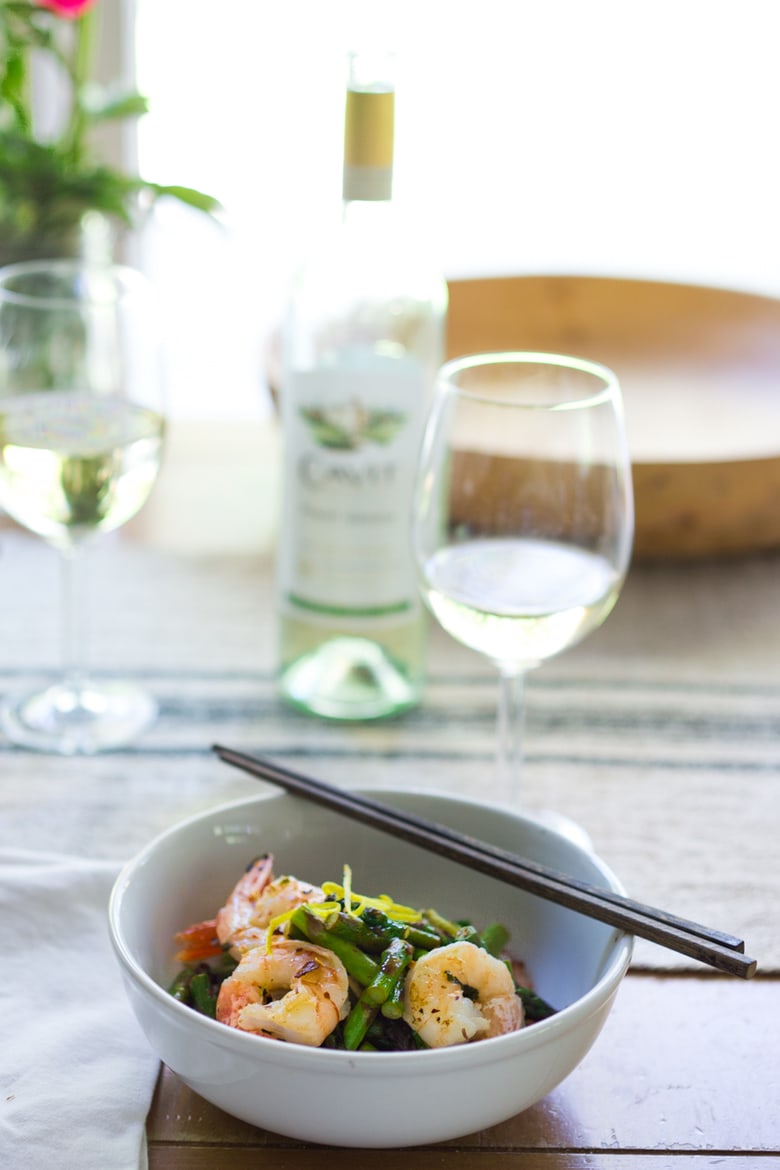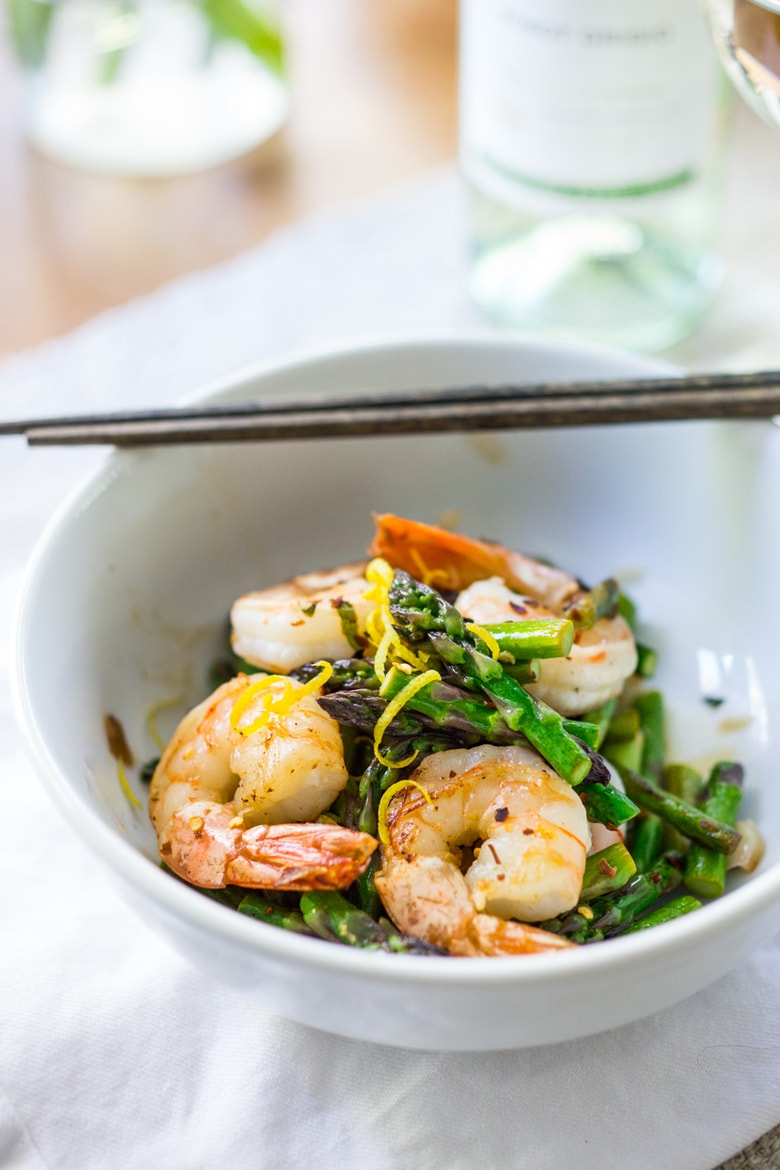 Print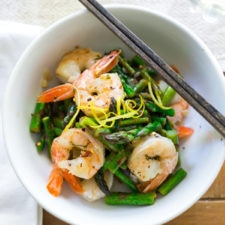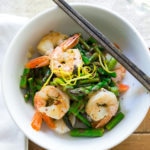 Lemon Basil Shrimp and Asparagus
Author:

Sylvia Fountaine

Prep Time:

5

Cook Time:

10

Total Time:

15 minutes

Yield:

2

Category:

Main

Method:

Stir-Fry

Cuisine:

Mediterranean