This lemon garlic Shrimp Pasta recipe is fast, easy and full of punchy flavor! Olive oil, lemon zest, fresh garlic, kale and red pepper flakes keep it light and flavorful. A delicious pasta dinner, ready in under 30 minutes.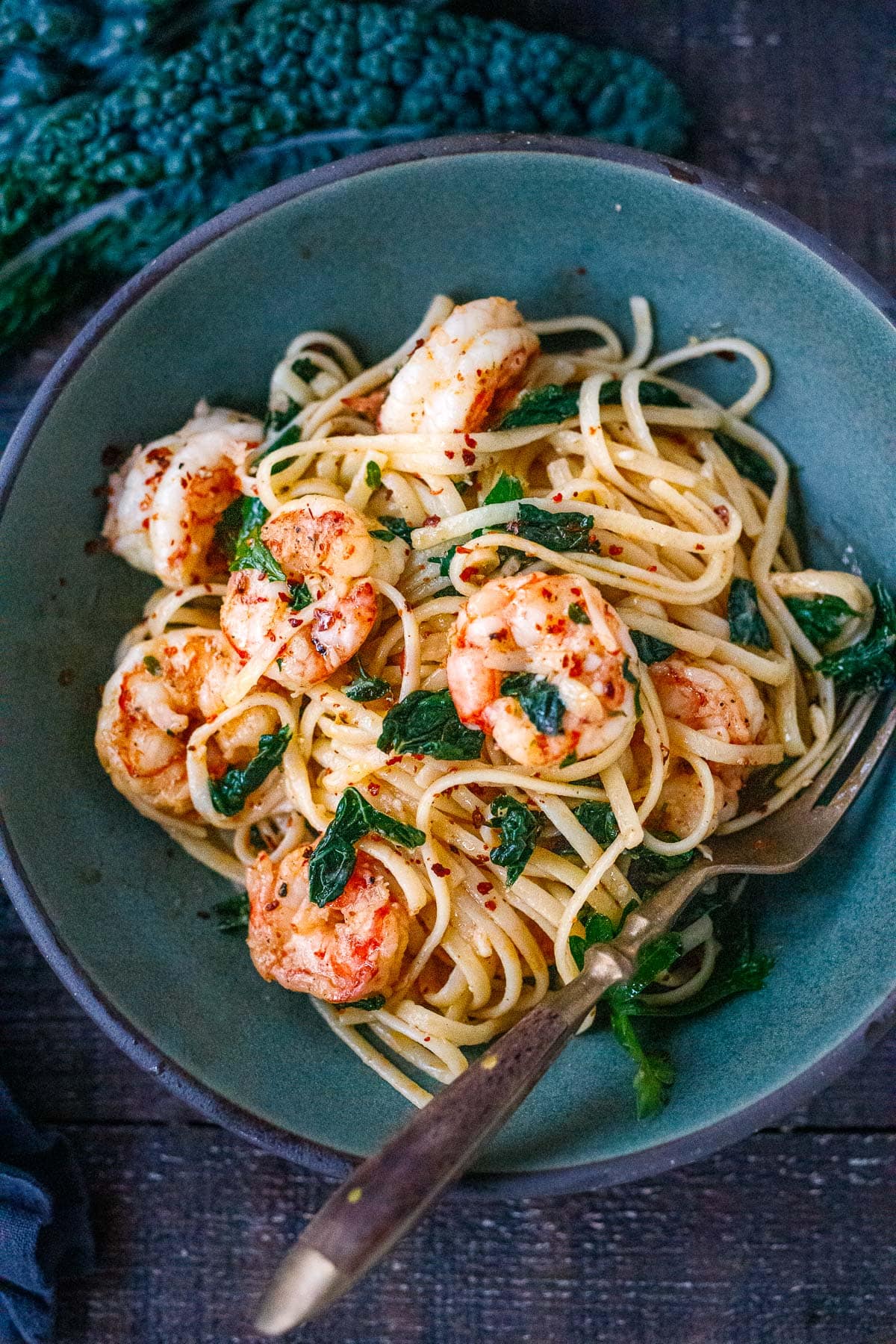 Garlicky, lemony Shrimp Pasta is easy to make yet packs so much flavor, we've been making it on repeat, and I know you will love this one! We add lacinato kale to amp up the nutrition a bit, and keep the pasta-to-shrimp ratio a little heavier on the shrimp side. Lemon zest, lots of garlic, olive oil and no cream, to keep it light, and of course, red pepper flakes – Aleppo chilies are perfection here (fruity, flavorful, subtly spicy). Give it a go!
Why You'll Love This!
Quick, 30-minute meal. Perfect for weeknight dinners, garlic shrimp pasta comes together in under 30 minutes or less. It's easy to make too!
Simple, flavorful ingredients. Simple ingredients like olive oil, lemon zest, fresh garlic, and red pepper flakes come together to create bold, punchy flavor!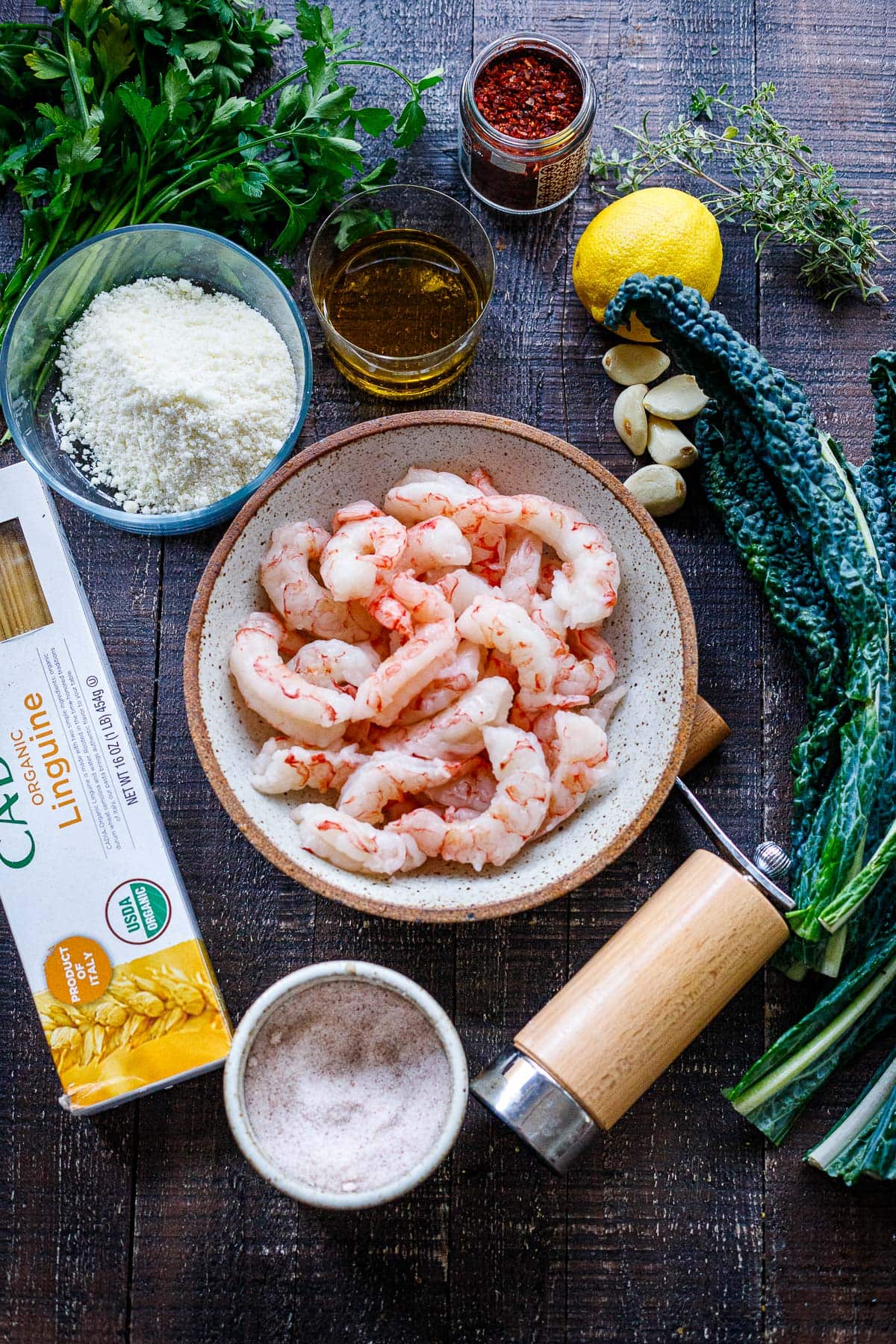 Shrimp Pasta Ingredients
Pasta (linguini, spaghetti, or other pasta): Serves as the base of the dish, providing a satisfying texture and acting as a vehicle for the flavors in the sauce.
Olive oil: Adds richness to the dish and helps to coat the pasta and shrimp, enhancing their flavor and preventing them from sticking together.
Garlic cloves: Adds a pungent and aromatic flavor that complements the sweetness of the shrimp and adds depth to the overall taste of the dish.
Red pepper flakes: Add punchy heat and spiciness to the pasta, balancing the richness of the other ingredients and adding a pleasant kick. Aleppo chili pepper is nice here!
Cracked peppercorns: Contribute a subtle heat and a slight crunch, enhancing the overall taste and adding a layer of complexity to the dish.
Lemon zest: Brings a bright and citrusy flavor to the pasta, adding a refreshing element that complements the richness of the other ingredients.
Large shrimp: The star of the dish, providing a delicate and succulent texture. Its sweet and savory taste pairs well with the other flavors in the pasta.
Salt: Enhances the natural flavors of the ingredients, balancing the taste of the dish and bringing out the individual flavors of each component.
Kale, or other greens (spinach, chard, arugula): Add freshness and a vibrant color to the dish. They contribute a slightly earthy and bitter taste that complements the other flavors in the pasta.
Fresh lemon juice: Adds a tangy and acidic element to the pasta, brightening the overall taste and enhancing the flavors of the other ingredients.
Pecorino cheese, or sub parmesan cheese: Adds a nutty and salty flavor, providing richness and depth to the dish. It also helps to bring all the ingredients together, creating a harmonious taste.
Fresh Italian parsley: Adds a vibrant and herbaceous flavor to the pasta, providing a fresh and aromatic element that complements the other ingredients.
Lemon Garlic Shrimp Pasta Instructions
Bring two quarts of water to a boil in a large pot with 1 1/2 teaspoons salt. Boil the pasta according to package instructions, saving 1 cup of hot salted pasta water.
In an extra-large skillet, heat 3-4 tablespoons olive oil over medium heat. Add the garlic, and saute 3 minutes or until fragrant, add the chili flakes, black pepper and lemon zest, and saute 1 minute. Add the shrimp, season with salt, and cook until pink, "c" -shaped, and almost cooked through, about 4 minutes, turning over mid-way.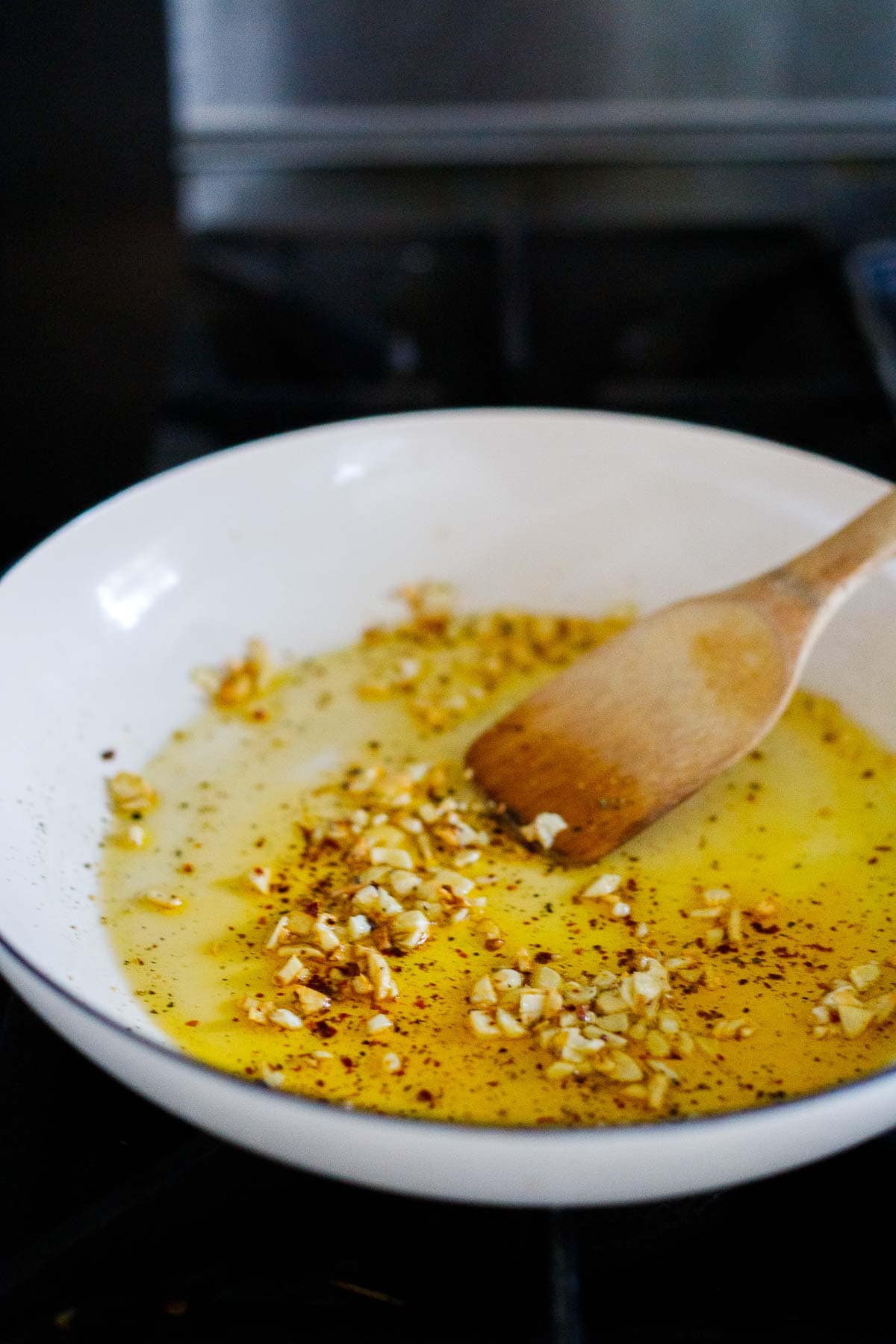 Add the kale, and stir for one minute.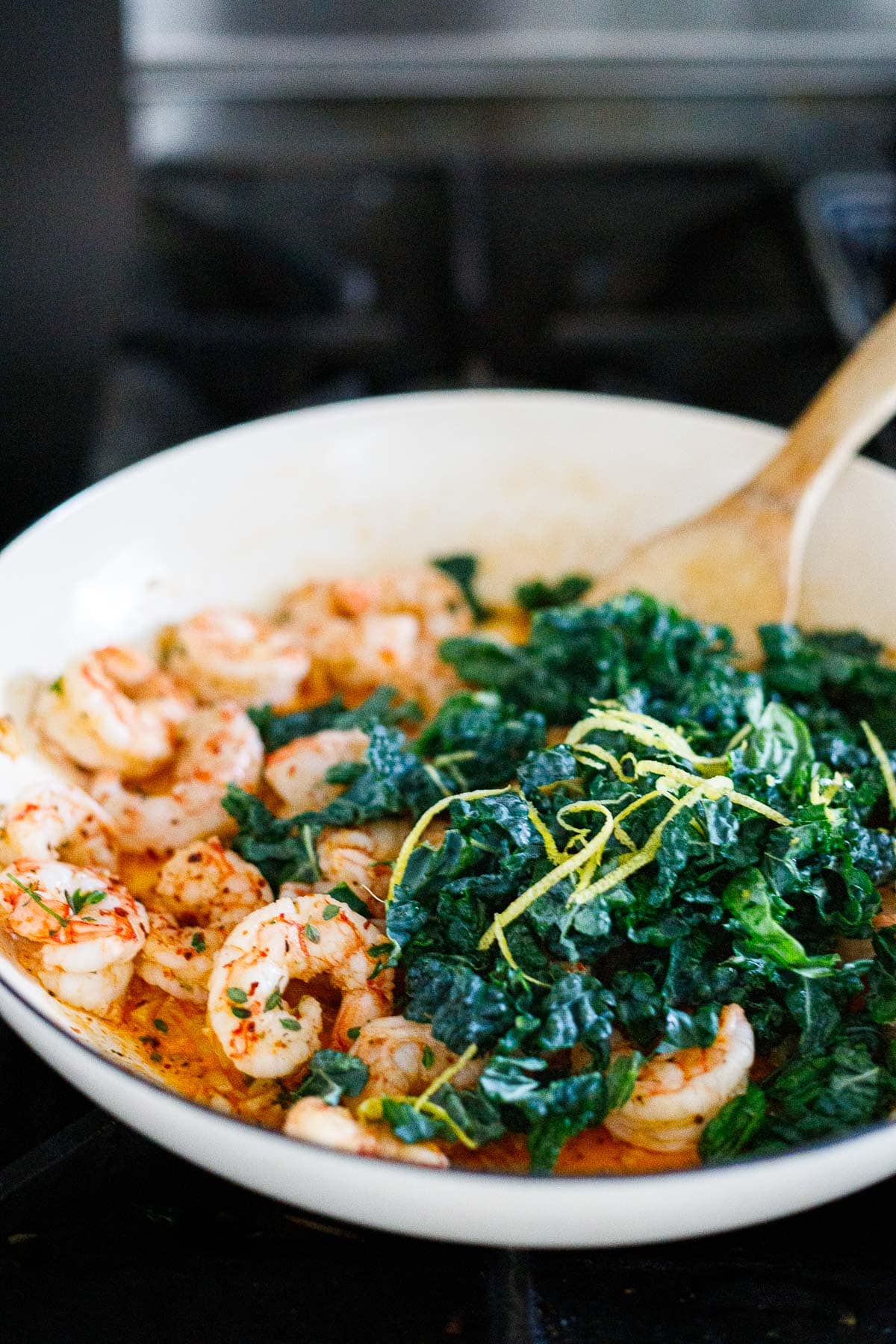 Drain the pasta, saving a cup of hot pasta water. Add the pasta to the skillet, tossing well with the shrimp.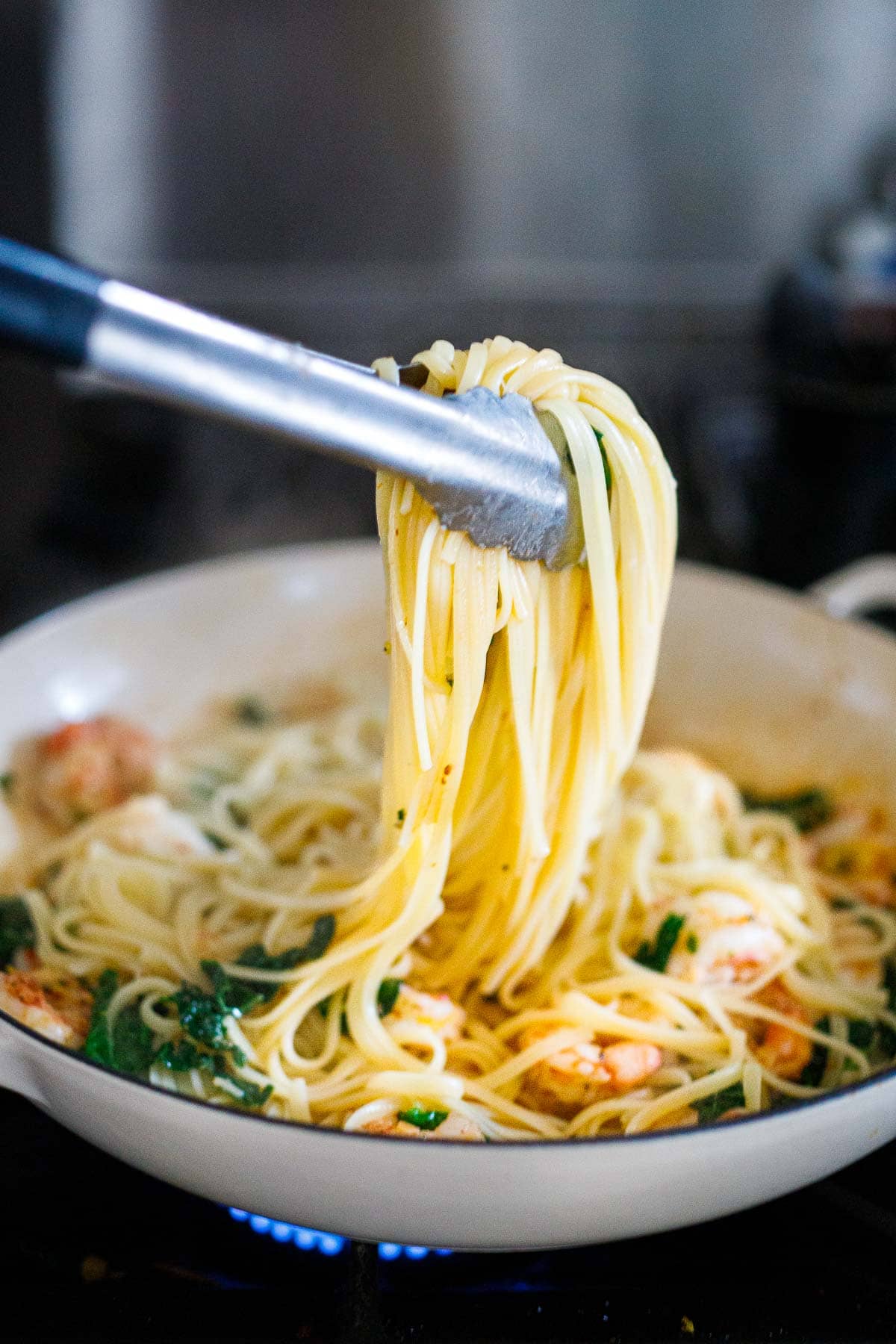 Stir in pecorino cheese into the pot. Add a squeeze of lemon juice and stir in the fresh parsley. 
Taste. Season with more salt, or salted pasta water (if you want a saucier consistency), add more pepper, chili flakes and lemon juice to taste.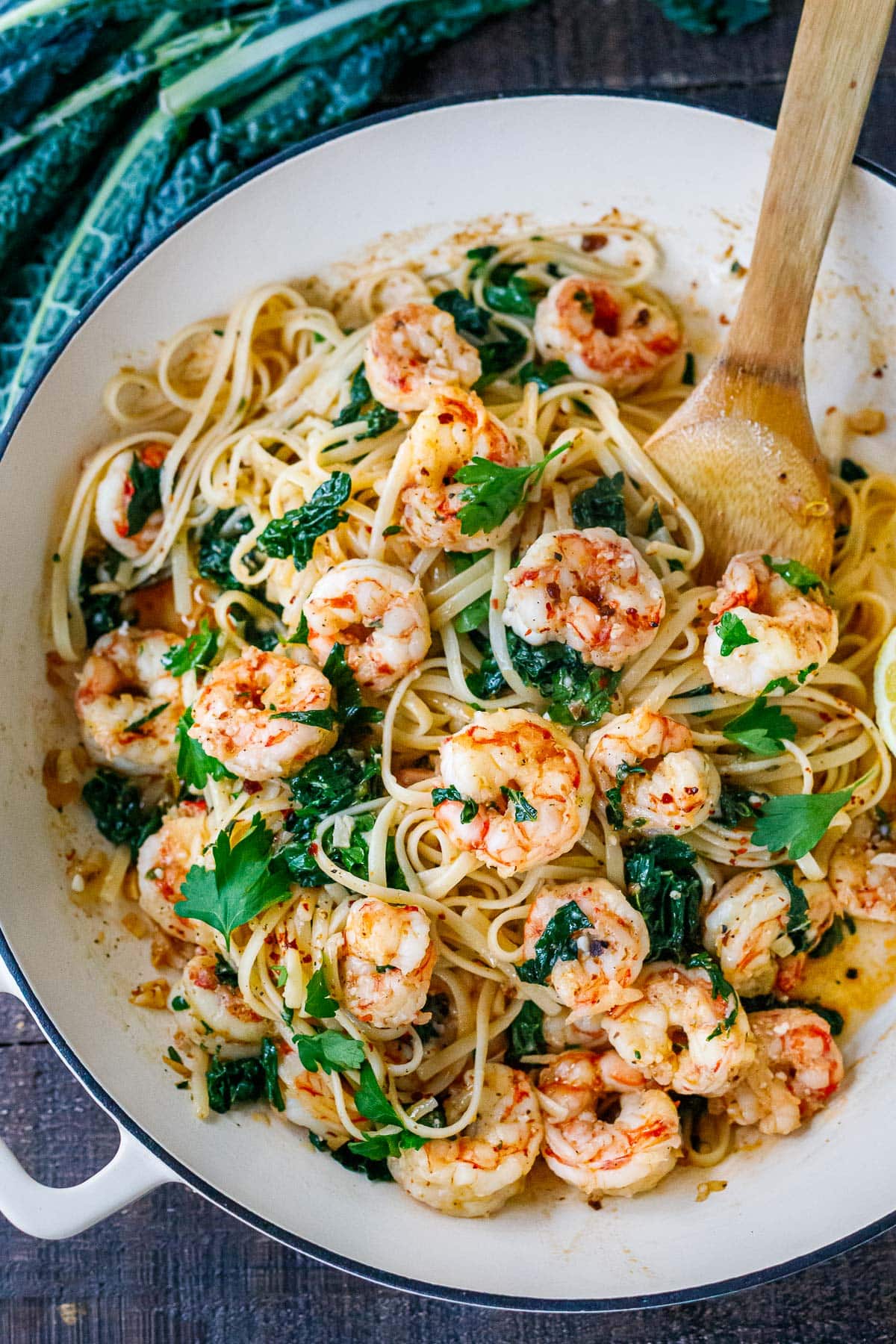 Once happy with the flavor, divide among bowls and garnish with fresh herbs and pecorino.
Shrimp Pasta Expert Tips
Don't overcook the pasta. Cook the pasta until just al dente. It will continue to cook in the pan once drained and tossed with the other ingredients.
Don't forget to reserve pasta water! This really helps create a rich and flavorful sauce with just the right texture. You will likely need much less than 1 cup of salted water, but it's good to reserve extra just in case.
Be careful when cooking shrimp. When your shrimp turns into a c-shape, you know it is done cooking. It is very easy to over-cook, and you do not want it turning into an o-shape. They should appear opaque pink when ready.
Add breadcrumbs. Toasted bread crumbs are a nice topping here to add texture. Heat 1-2 teaspoons olive oil in a skillet, add ¼ cup panko bread crumbs, season with salt, and toast over medium heat until golden.
Try different pasta shapes. If you love this recipe, try it with different types of pasta or for a lightened up version, make it with zucchini noodles!
Toss in additional ingredients. This recipe is so versatile. Get creative and trying adding other ingredients to the dish. Asparagus, peas, other seafood, or sausage could all make great additions.
Make it creamy. For a cream sauce, stir in heavy cream or cream cheese. Add just a little at a time until you achieve the desired consistency. You can also use milk instead of the pasta water for a creamy sauce. Adding a little butter would also contribute to a richer sauce.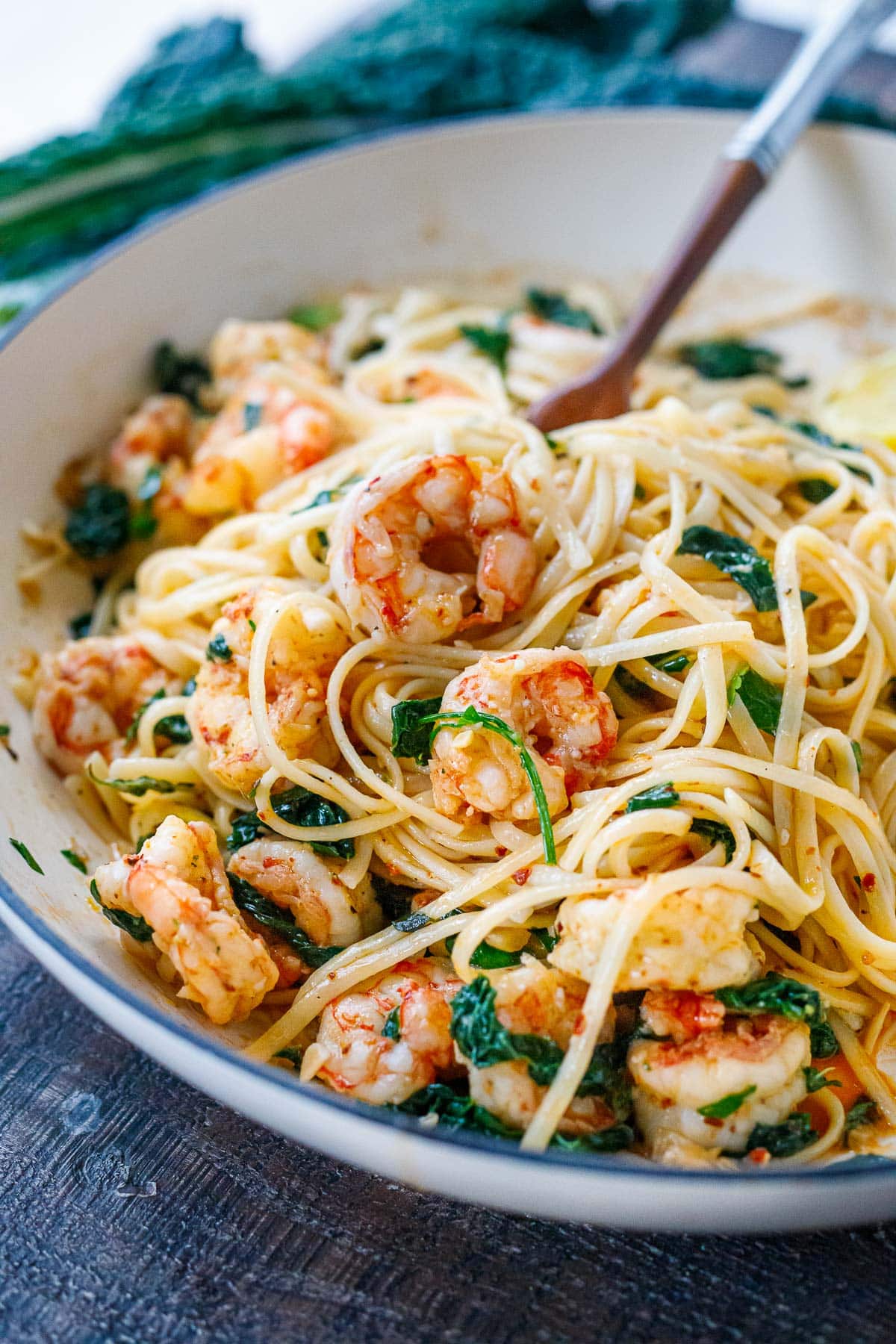 FAQs
What type of shrimp should I use?
If you're able to get fresh shrimp, great! If not frozen works fine. Look for individually frozen (IQF), wild, large, 16-21 shrimp per pound, for best results. For ease, I opt for Trader Joe's, wild, Chilean Shrimp that is peeled and deveined. If you can, find sustainable brands with labels of approval from groups like Marine Stewardship Council, Aquaculture Stewardship Council or Naturland.
What type of pasta should I use?
Our favorite for shrimp pasta is linguine, spaghetti or angel hair pasta, but you can use any pasta you like!
Can I substitute the shrimp for something else?
Yes! You can use another type of seafood, for example, scallops, or a try frozen shellfish mix.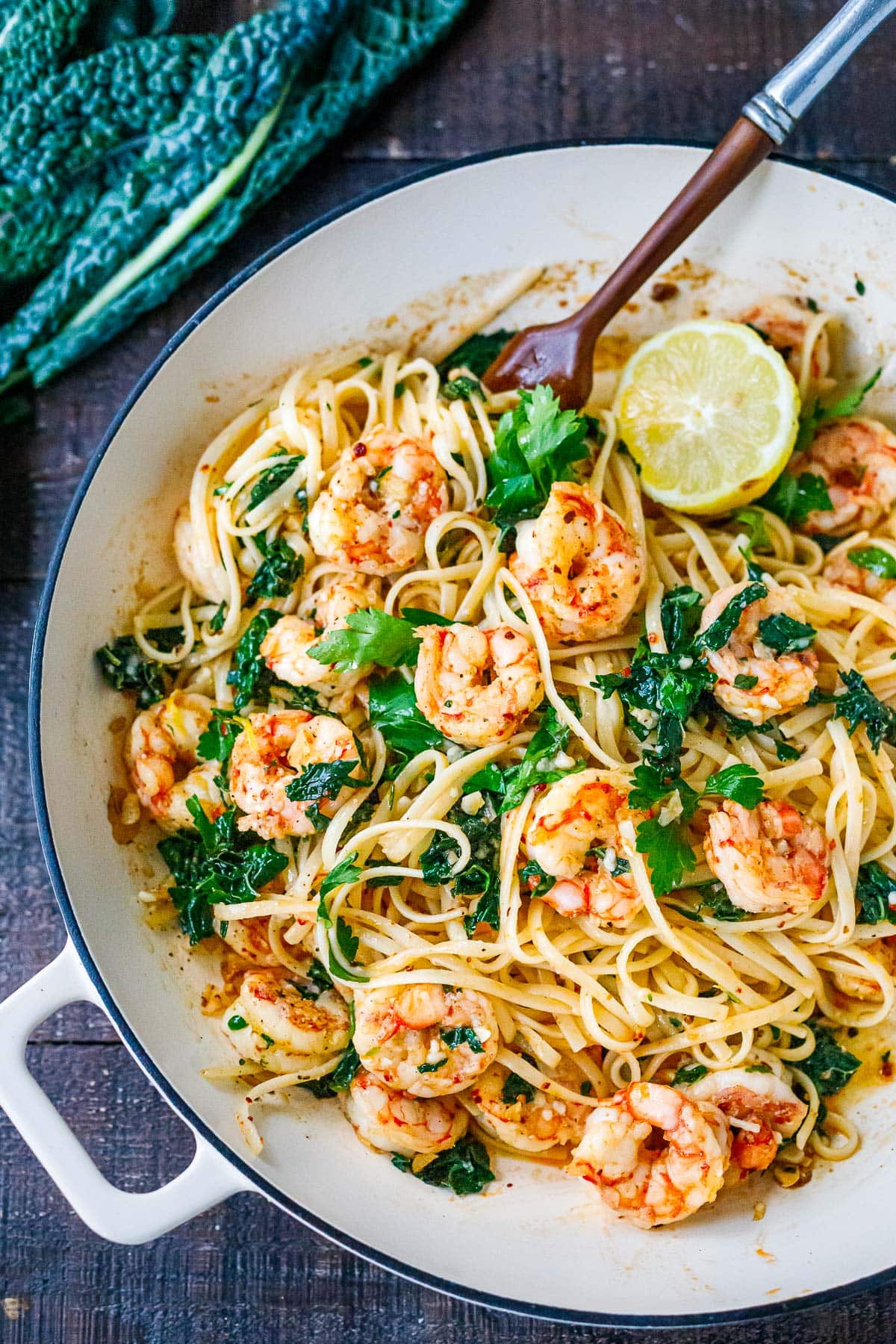 What to Serve with Shrimp Pasta
A leafy green salad: Caesar Salad, Little Gem Salad or our Watercress Salad with Orange, Avocado & Red Onion would make a light and tasty pairing for this garlic shrimp pasta recipe.
Add a veggie side dish: Steamed Broccoli with Garlic & Lemon Zest , Blistered Green Beans with Toasted Walnut Vinaigrette or in the spring, Grilled Asparagus.
Storage
The flavors will be even better the next day! Place leftover shrimp pasta in an airtight container in the refrigerator for up to 4 days.
To reheat, warm in a large skillet with a splash of water. If using the microwave, be sure to add a splash of water as well.
We don't recommend storing this dish in the freezer.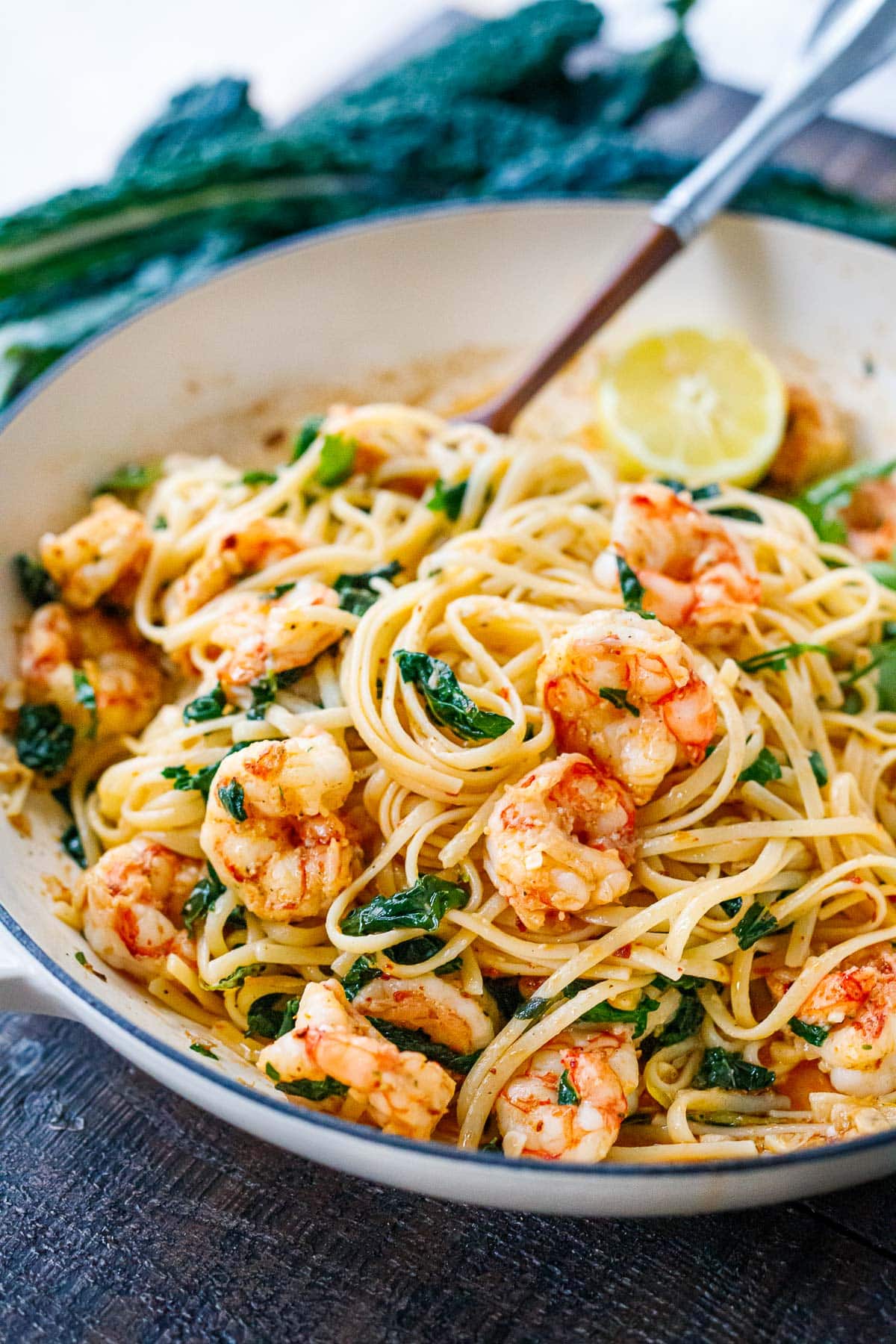 I hope you enjoy this quick and easy Shrimp Pasta recipe! Let me know what you think in the comments, and don't forget to give this recipe a rating!
More Pasta Recipes!
Print
Shrimp Pasta Recipe
Prep Time:

10

Cook Time:

20

Total Time:

30 minutes

Yield:

3

-4

1

x

Category:

dinner idea, pasta

Method:

stovetop

Cuisine:

italian
---
Description
This Shrimp Pasta recipe is fast, easy and full of punchy flavor! Olive oil, lemon zest, fresh garlic, kale and red pepper flakes keep it light and flavorful. A delicious pasta dinner, ready in under 30 minutes.
---
8

ounces

pasta- linguini, spaghetti or other pasta

3 tablespoons

olive oil

4

–

6

garlic cloves, rough shopped

1/4

–

1/2

teaspoon red pepper flakes (Aleppo chili pepper is nice here)

1/2 teaspoon

cracked peppercorns
zest from

one

lemon

1

lb

large shrimp, peeled and deveined

1/2 teaspoon

salt, more to taste
a couple handfuls kale, or sub other greens; spinach, chard, arugula, etc.
squeeze of fresh lemon juice, to taste
1/4 cup Pecorino cheese- or sub parmesan

1/2

cup

fresh Italian parsley
---
---
Notes
Nutrition
Serving Size:

1 ½ cups

Calories:

437

Sugar:

2 g

Sodium:

537.2 mg

Fat:

14 g

Saturated Fat:

3 g

Carbohydrates:

45.4 g

Fiber:

2.6 g

Protein:

33.1 g

Cholesterol:

189.9 mg
Keywords: shrimp pasta, shrimp linguini, shrimp pasta recipe, garlic shrimp pasta, shrimp pasta with garlic and lemon