This recipe for Steamed Broccoli with Garlic, Lemon Zest and Chili flakes is our "go-to" broccoli recipe -simple & full of amazing flavor! Vegan, healthy and can be made in 15 minutes!  With a video.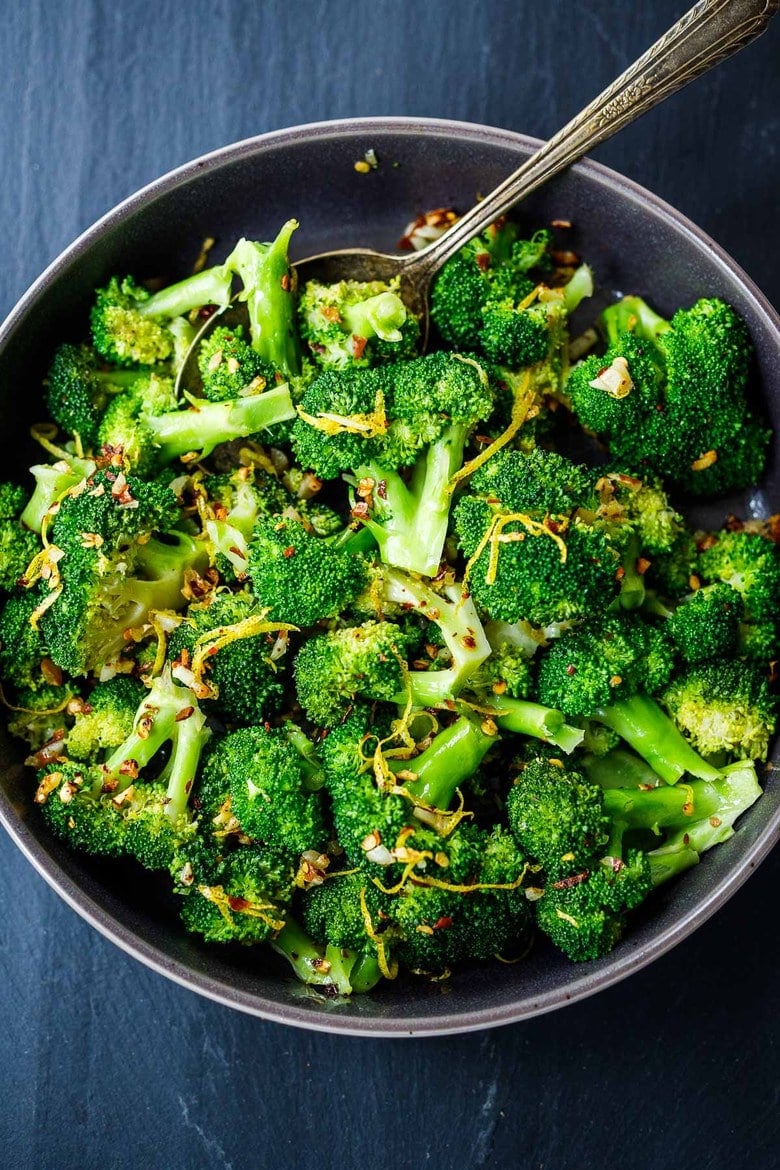 It really doesn't get any easier than this. Or healthier. Or tastier!  This Steamed Broccoli Recipe with garlic, lemon zest and chili flakes is constantly repeated at our house.  We never tire of it! If feeling fancy a little drizzle of truffle oil is also delicious here too- a fun way to elevate if entertaining.
Simple, clean, ingredients that are incredibly addicting and good for you. It's a very basic recipe, I hesitate even calling a "recipe",  but here it is anyway because it really is one of the things we feast on at home, quite regularly. It goes with so many things!
If having guests over, you could fancy it up a bit, using broccolini or broccoli rabe, like we do when we cater events. But when at home, I usually stick with plain old organic broccoli- stems and all.  It's a little less expensive and I always feel more satisfaction making something tasty out of the seemingly ordinary.
Steamed Broccoli | 60-sec video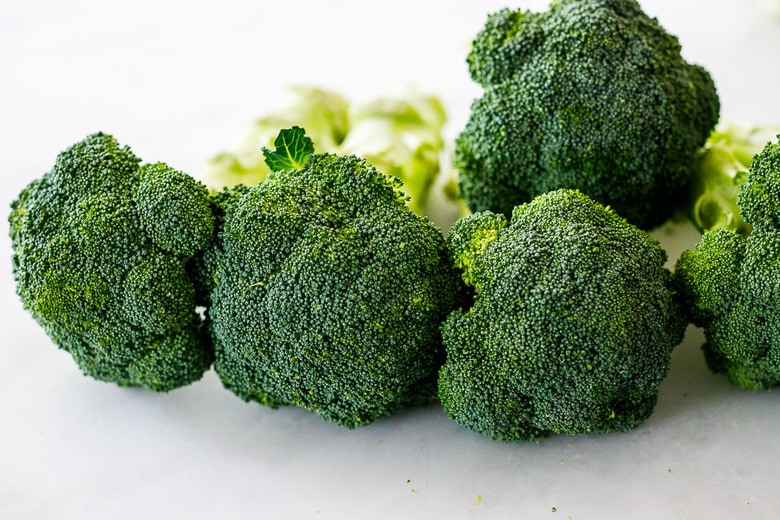 How to make Steamed Broccoli
Cut or break broccoli into bite-sized florets.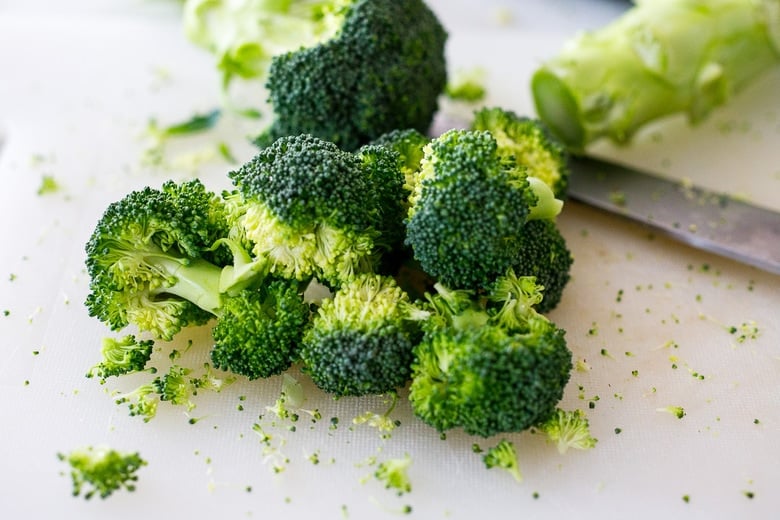 Feel free to add the stems, slicing them very thinly.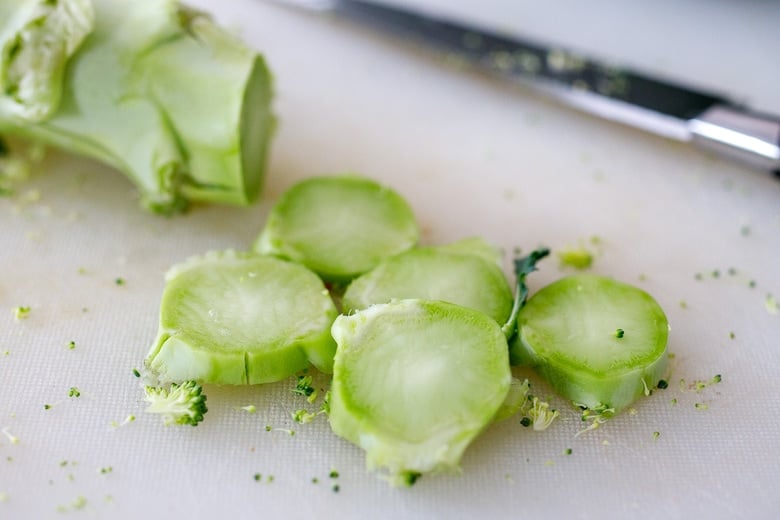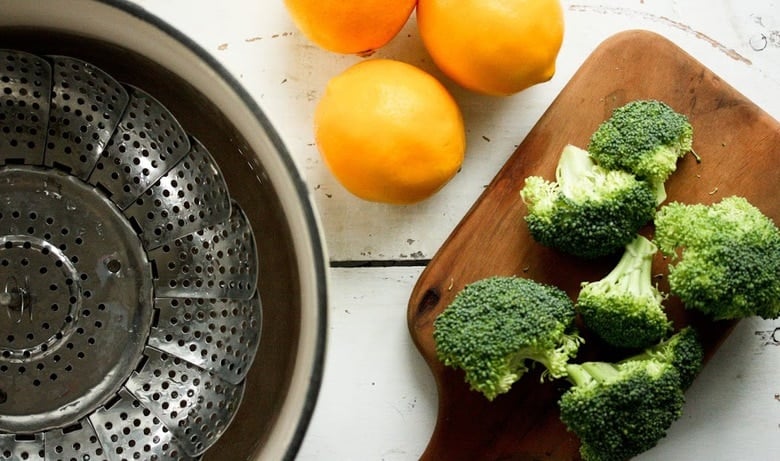 Place broccoli in the basket, cover the pot, and bring to a simmer.
Once simmering, check at 4-5 minutes, and continue cooking until broccoli is fork-tender.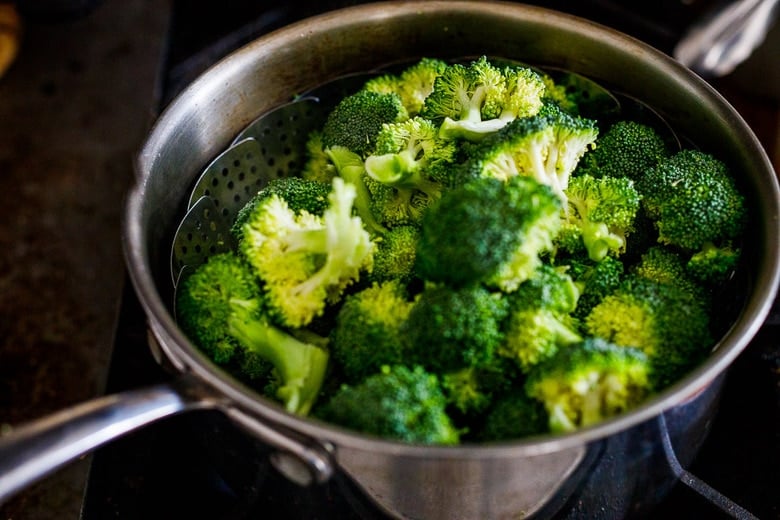 How to elevate Steamed Broccoli
While broccoli is steaming, saute chopped garlic in a skillet with
olive oil
and optional chili flakes.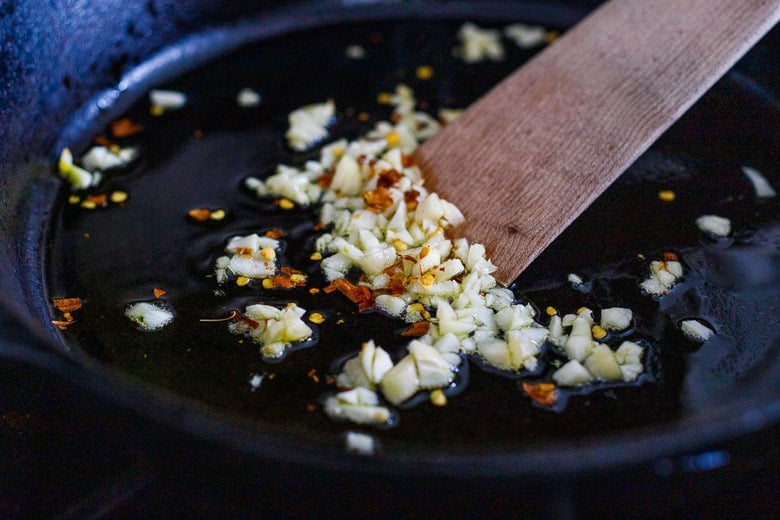 Add lemon zest and turn off the heat.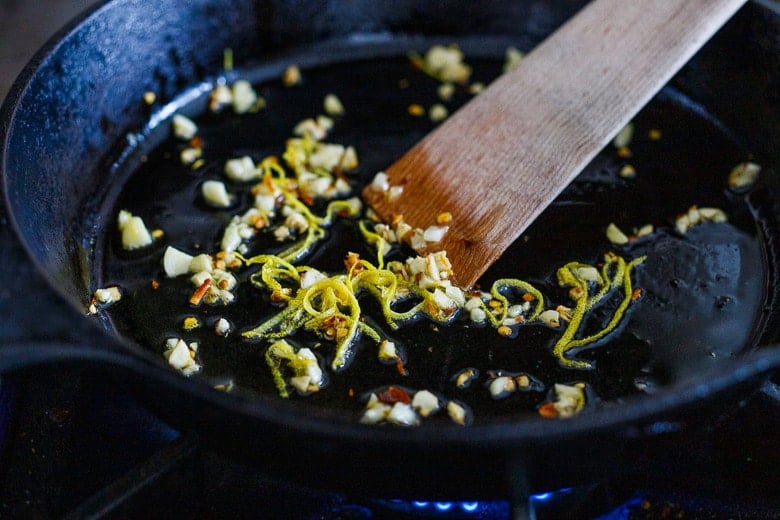 When Broccoli is done steaming, add it to the skillet with the olive oil and garlic, and toss to combine, seasoning generously with salt and pepper.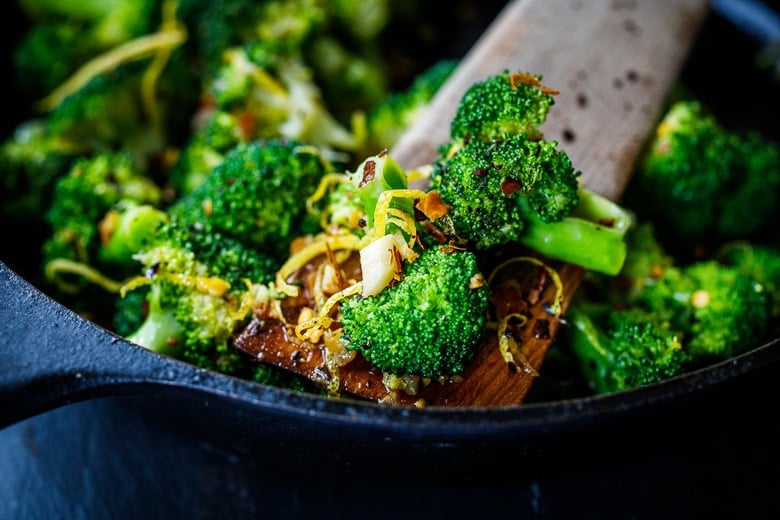 Taste for salt and pepper and add more if needed.
Voila! Steamed Broccoli is cooked in 15 minutes!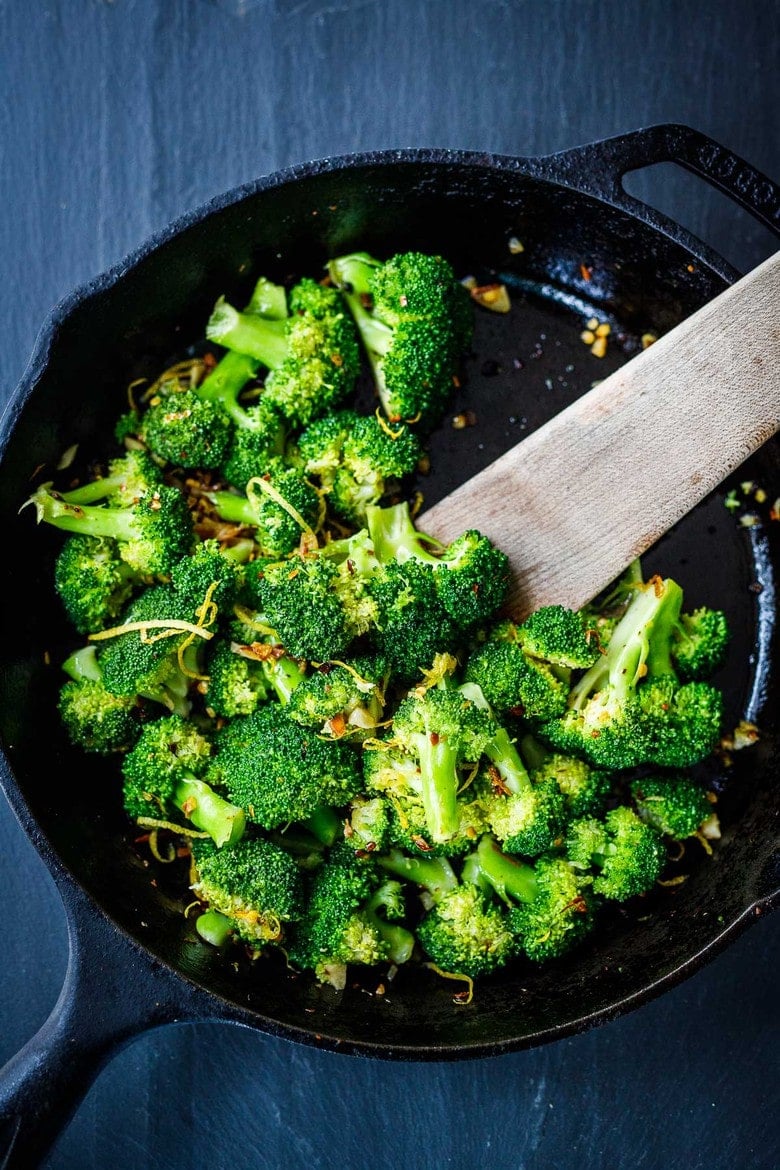 Serve it up! This 15-minute broccoli side dish goes with so many things!
What to serve with Steamed Broccoli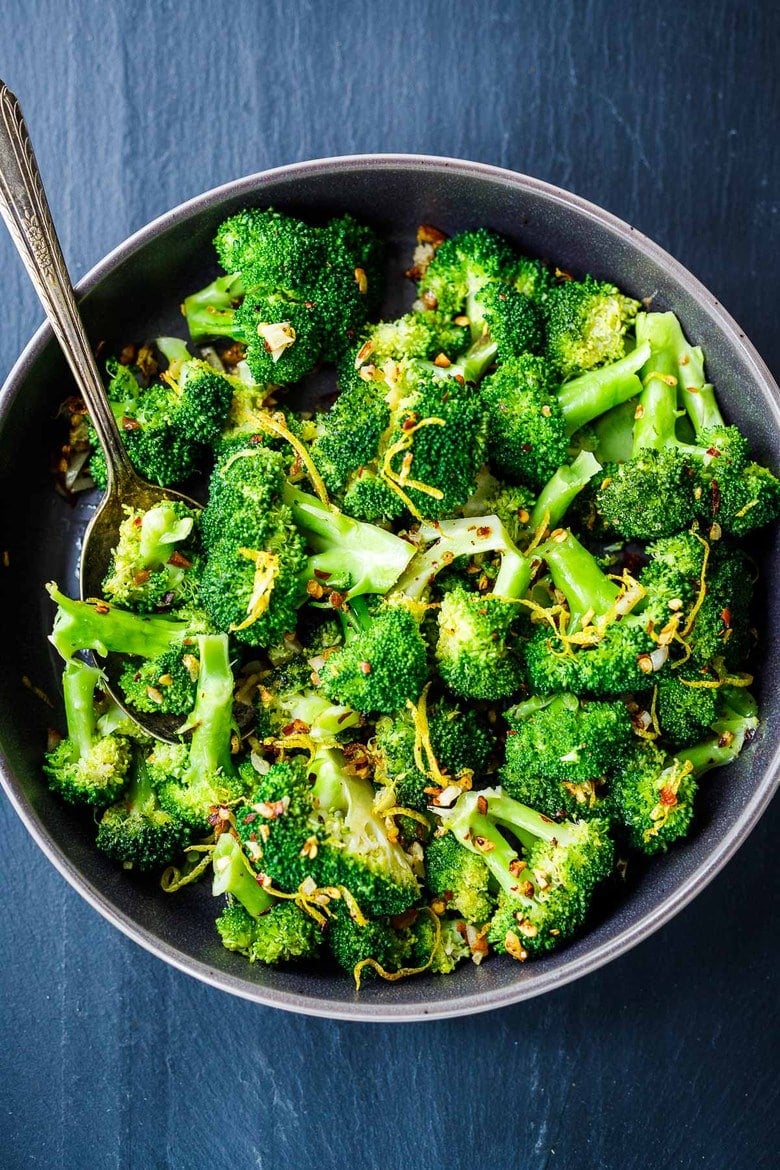 Why we love Steamed broccoli
Studies at John Hopkins University show that broccoli is an incredible anti-oxidant. It truly is a superfood. In fact, it is one of the most nutrient-dense veggies available!
Research is showing that broccoli (and other cruciferous veggies) may actually help us mend damaged DNA and reverse our age, and even prevent cancer.
The reason for this is that broccoli includes a magic compound called sulforaphane.
So, kids, eat your broccoli. 😉
xoxo
More broccoli recipes you may like:
Print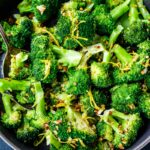 15-Minute Steamed Broccoli
Prep Time:

5 mins

Cook Time:

10 mins

Total Time:

10 mins

Yield:

4

1

x

Category:

Side

Method:

steamed

Cuisine:

American

Diet:

Vegan
---
Description
This recipe for Broccoli with Garlic, Lemon Zest and Chili flakes is our "go-to" broccoli recipe -simple, yet full of amazing flavor! Vegan, healthy can be made in 15 minutes! Updated 1/2022
---
4-6 cups Broccoli Florets (or broccolini)

8

ounces

4

–

10

garlic cloves, rough chopped
generous pinch chili flakes (Aleppo or Urfa Biber are nice here)
zest of

one

lemon
salt and pepper to taste
Optional: truffle oil
---
Instructions
Tear or cut broccoli florets into small florets, roughly the same size to ensure even doneness.
Pour 3/4-inch water in a medium pot and place a steamer basket over top. (Water should not cover the bottom of the basket). Place broccoli in the basket and cover with a lid. Bring water to a boil. Lower heat to medium-low, and simmer covered, until fork-tender, about 5 minutes. Test with a fork.
While the broccoli is steaming, heat oil in a large skillet. Saute garlic over medium heat until fragrant, add chili flakes. When garlic is golden add lemon zest, give a stir and turn the heat off.
Using tongs, add the steamed broccoli to the skillet, season generously with salt and pepper and give a gentle stir.
Taste, adjust salt, pepper, chili flakes. Add a little more olive oil if you like, so broccoli is nicely coated.
Serve and enjoy!
---
Notes
Feel free to add a drizzle of truffle oil, to elevate this!
Nutrition
Serving Size:

1 cup

Calories:

96

Sugar:

1.6 g

Sodium:

324.6 mg

Fat:

7.4 g

Saturated Fat:

1.1 g

Carbohydrates:

7.3 g

Fiber:

2.6 g

Protein:

2.7 g

Cholesterol:

0 mg
Keywords: best broccoli recipe, vegan broccoli recipe, steamed broccoli, how to steam broccoli, vegan side dish, healthy broccoli recipes,