Here are our top 25 Best Broccoli Recipes that will have coming back for more! Whether you are looking for roasted broccoli recipes, broccoli salads, broccoli soups, vegetarian broccoli recipes, or entire meals made out of broccoli, you'll find inspiration here!
From roasted, to grilled, to steamed, to mashed, and everything inbetween, here are the best ways to cook broccoli. Pick a few new recipes this week and let us know you favorites in the comments below!
Our 3 Most Popular Broccoli Recipes!
The Benefits of Eating Broccoli
Broccoli is jammed full of vitamins, minerals, nutrients and fiber. Its most beneficial phytonutrient is called Sulforaphane, a powerful compound that protects us against cancer.
Roasted Broccoli recipes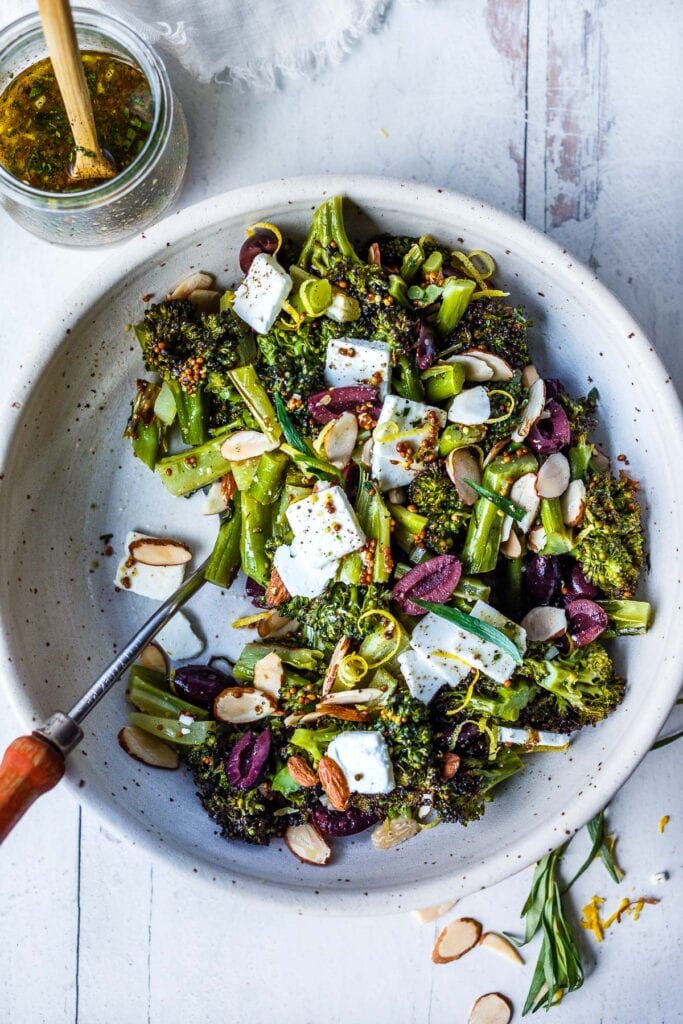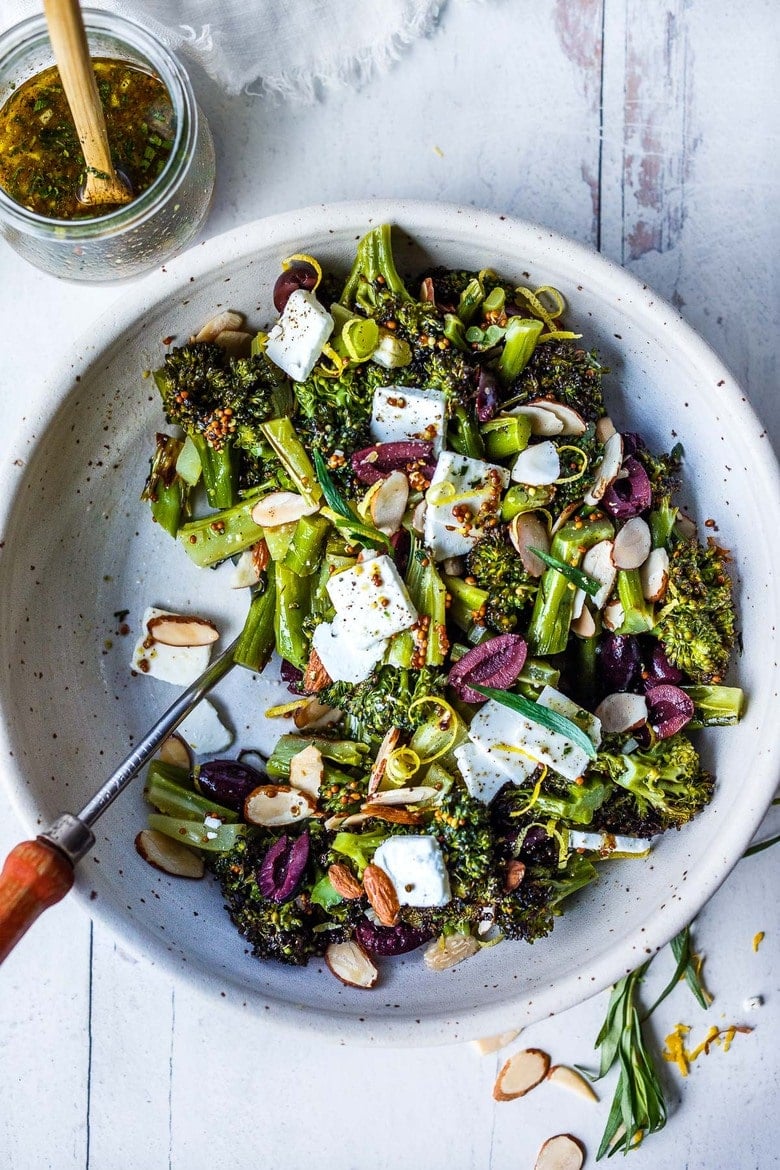 Roasted Broccoli Salad
Roasted Broccoli Salad with toasted almonds, kalamata olives, and lemon zest, drizzled with delicious Mustard Seed Maple Dressing. Add feta cheese if you like! Amazingly simple, yet filled with so much vibrant flavor.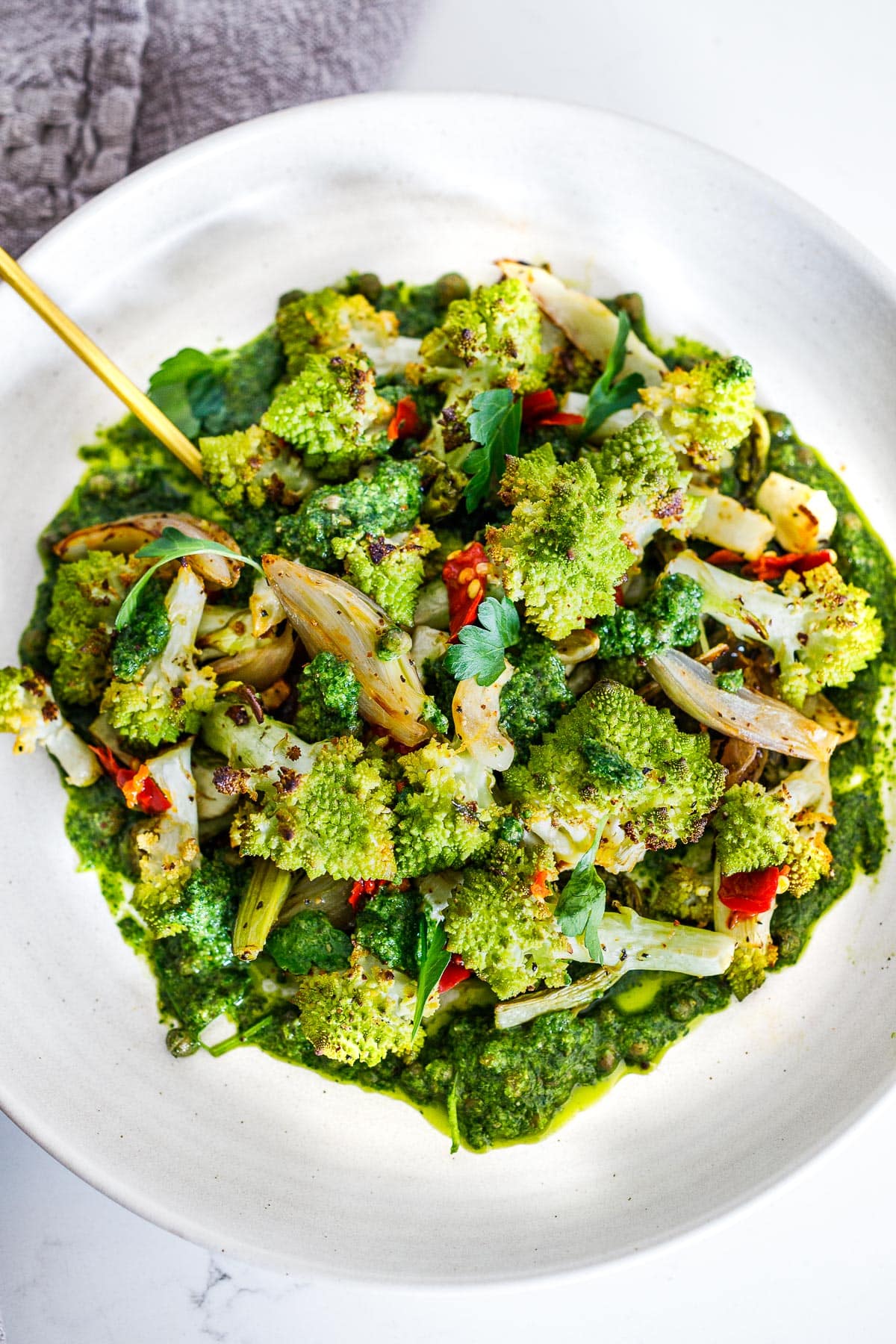 Roasted Romanesco
Romanesco is a stunning chartreuse-spired cruciferous veggie in the same family as broccoli and cauliflower. Here we've roasted it with shallots, garlic and lemon zest and served with Italian Salsa Verde and Calabrian Chilies.
Roasted Broccoli Salad Video
Delicious Broccoli Dinners
You'll find new and inspiring ways to enjoy broccoli with these healthy main dishes full of savory flavor.
Tasty Broccoli SoupS
We love broccoli soup and have several for you to try! Make a batch ahead for the busy week and that way you'll have something to nourish you all week long!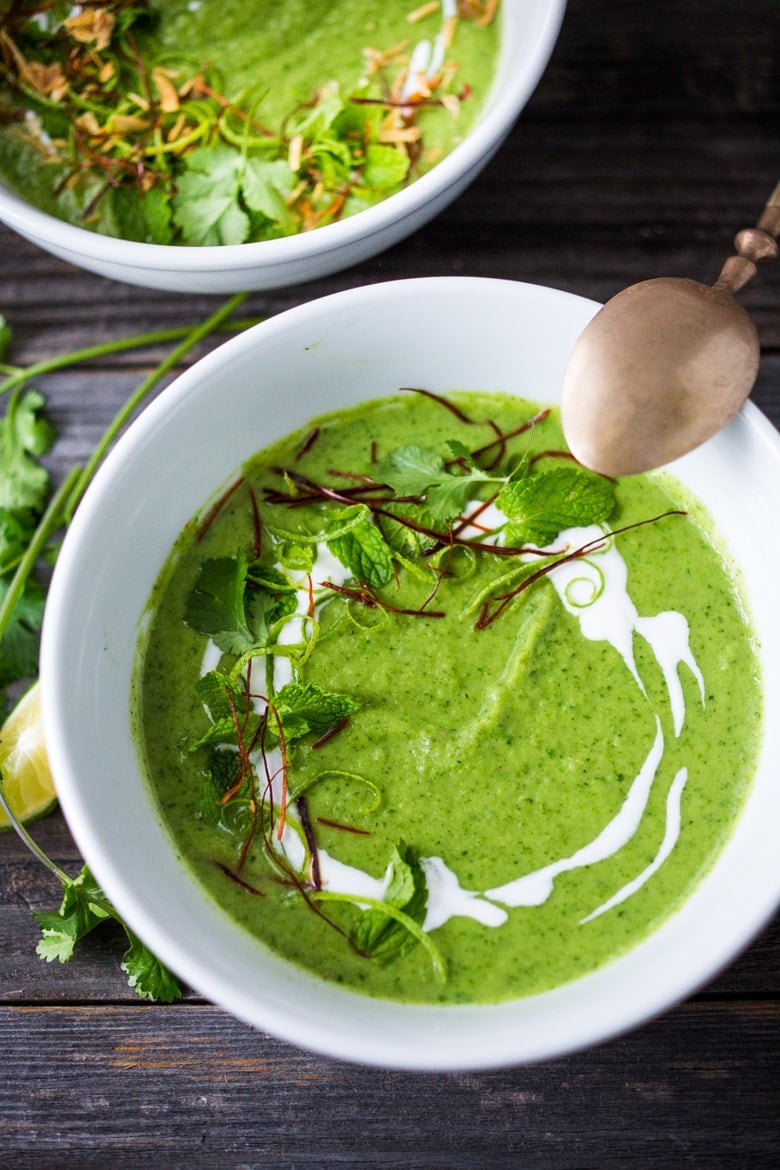 Thai Broccoli Soup
A simple delicious recipe for Thai Broccoli Soup with Coconut Milk- bursting with authentic Thai flavors. Make from scratch in 40 mins! Vegan & Gluten-Free.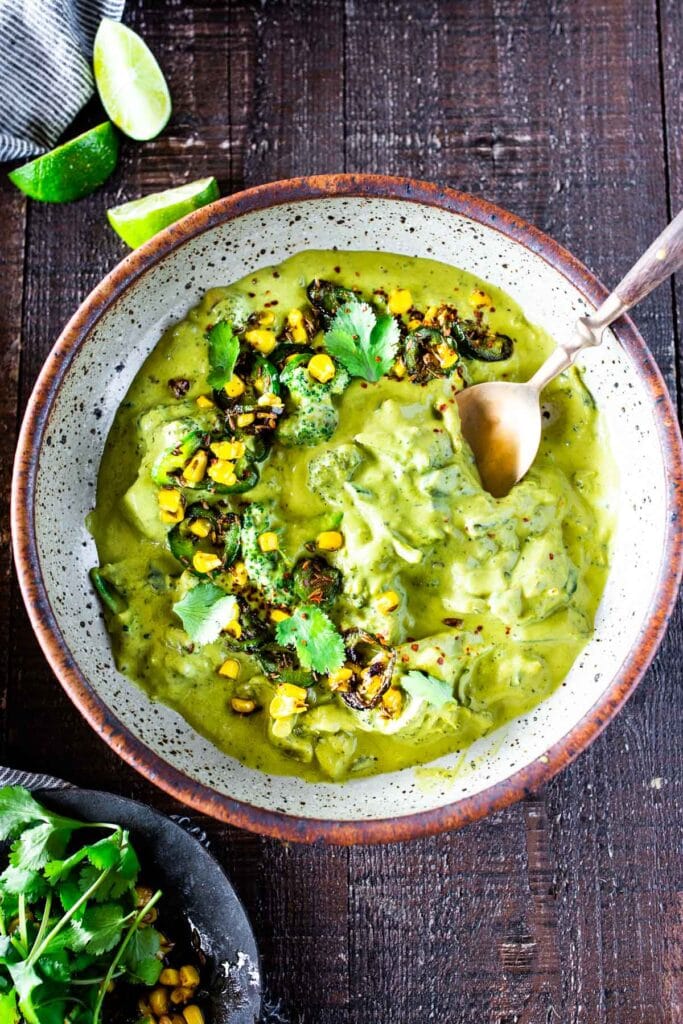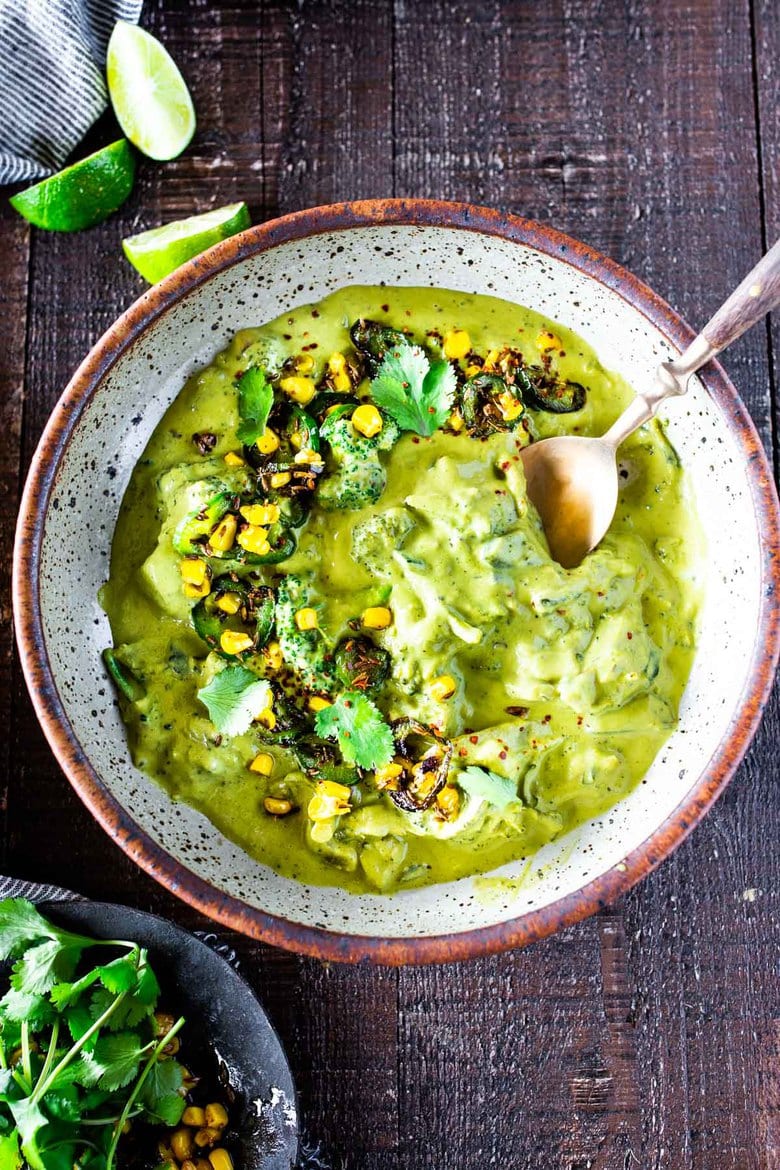 Broccoli Cheddar Soup
This Broccoli "Cheddar" Soup is vegan! Made with broccoli, corn and jalapeño – it is a fast and easy weeknight recipe that is healthy, vegan and keto!
Broccoli Salad
Crunchy and fresh, this broccoli salad may surprise you with its incredible depth of flavor.
Steamed Broccoli
Quick to prepare, steamed broccoli is easy and delicious! This will easily become a staple on your dinner table!
Broccoli For Breakfast!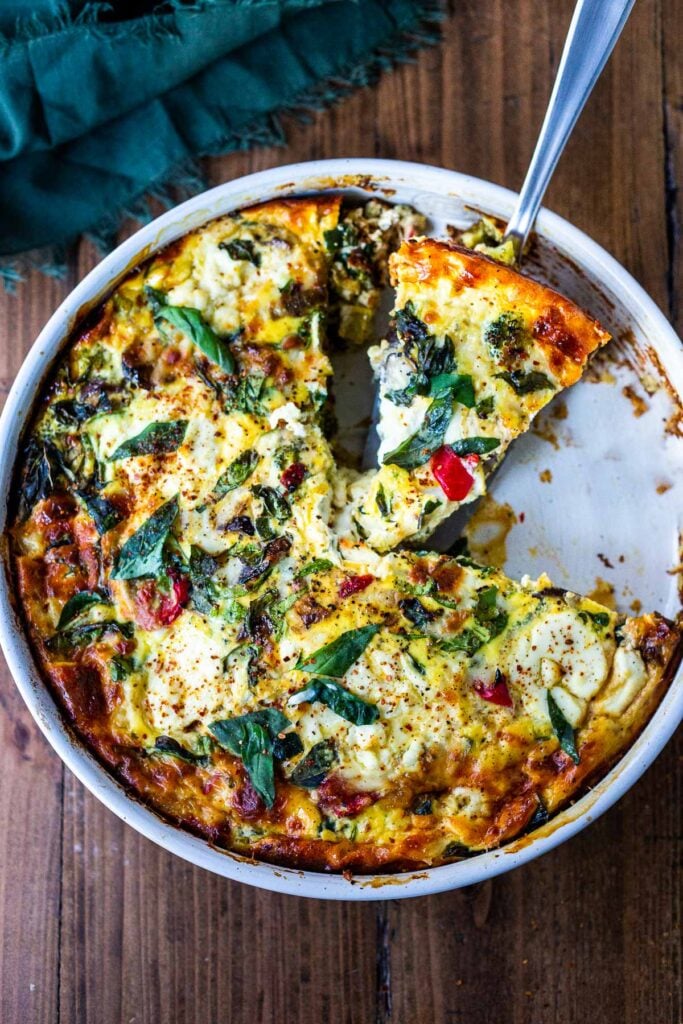 Broccoli Frittata
A recipe for Vegetable Frittata (crustless quiche) baked in the oven. A versatile vegetarian brunch recipe- loaded with healthy veggies like broccoli that can be made ahead.
Broccoli FAQS
What is the healthiest part of broccoli?
The stems of broccoli contain more nutrients than the flowerets! Save and add to soups and stir-fries!
What is the best cooking method for broccoli?
Sautéing or pan-frying broccoli brings out the delicious flavor also keeps the texture tender crisp, retaining color and nutritional value. Steaming broccoli will retain more of the vitamin c content than other methods of cooking.
Should you blanch broccoli before stir-frying?
No need to blanch, cut the flowerets small and they will cook up perfectly tender-crisp.
Is broccoli a superfood?
Broccoli is considered a superfood! It is a great source of antioxidants, can reduce inflammation, improve blood sugar control, boost immunity and may promote heart health! Broccoli is rich in fiber and contains vitamins c and k and iron and potassium.
Is it better to eat broccoli cooked or raw?
While raw broccoli is high in vitamin c and many people can enjoy raw broccoli, for some it can create gas and bloating. Cooking broccoli softens the fibers making them easier to chew and digest fully.
Love these broccoli recipes? Please let us know your favorites in the comments and leave a 5-star ⭐️⭐️⭐️⭐️⭐️ rating below the recipe card.
More Collections you may like
Print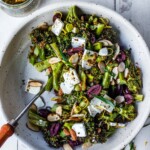 Our Best Broccoli Recipes
Author:

Tonia | Feasting at Home

Prep Time:

10

Cook Time:

20

Total Time:

30 minutes

Yield:

4

1

x

Category:

side dish

Method:

roasted

Cuisine:

American

Diet:

Vegan
---
Description
Here are 21 Best Broccoli Recipes that are healthy, flavorful, and not boring! Whether you are looking for roasted broccoli recipes, broccoli salads, broccoli soups, vegetarian broccoli recipes, or entire meals made out of broccoli, you'll find inspiration here! (Roasted Broccoli)
---
---
Instructions
Preheat the oven to 450F.
Trim off the tougher stem and peel the broccoli stem if needed. (If broccoli is freshly picked, it will probably not need peeling). Cut into bite-sized pieces. This size allows the broccoli to get a good sear without overcooking. Cut the stem into 2-inch lengths about 1/2 inch thick. Place cut broccoli in a bowl. Add 2 tablespoons of olive oil and a sprinkle of salt and pepper into the broccoli, lightly massaging in with your hands.
Arrange broccoli in a single layer, on a sheet pan covered with parchment (optional, but makes for easy clean up).
Bake for 15-20 minutes. The broccoli with continue to cook on the sheet pan, when you bring it out of the oven. Move immediately to a serving dish to keep it tender crisp.
Serve warm as it or with a squeeze of fresh lemon juice. Check out additional serving suggestions in the notes.
---
Notes
Feel free to add a drizzle of truffle oil, to elevate this!
Nutrition
Serving Size:

1 cup

Calories:

68

Sugar:

0.4 g

Sodium:

7.5 mg

Fat:

7.1 g

Saturated Fat:

1 g

Carbohydrates:

1.5 g

Fiber:

0.6 g

Protein:

0.6 g

Cholesterol:

0 mg
Keywords: broccoli recipes, best broccoli recipes, best way to cook broccoli, roasted broccoli, what to cook with broccoli