This post may contain affiliate links. For more information, please see our privacy policy.
Jump into spring with our 20 Best Asparagus Recipes!  Wondering how to cook asparagus?  Look no further- because we'll show you how to roast asparagus, stir-fry asparagus, and grill asparagus, and then use in a myriad of ways in the kitchen!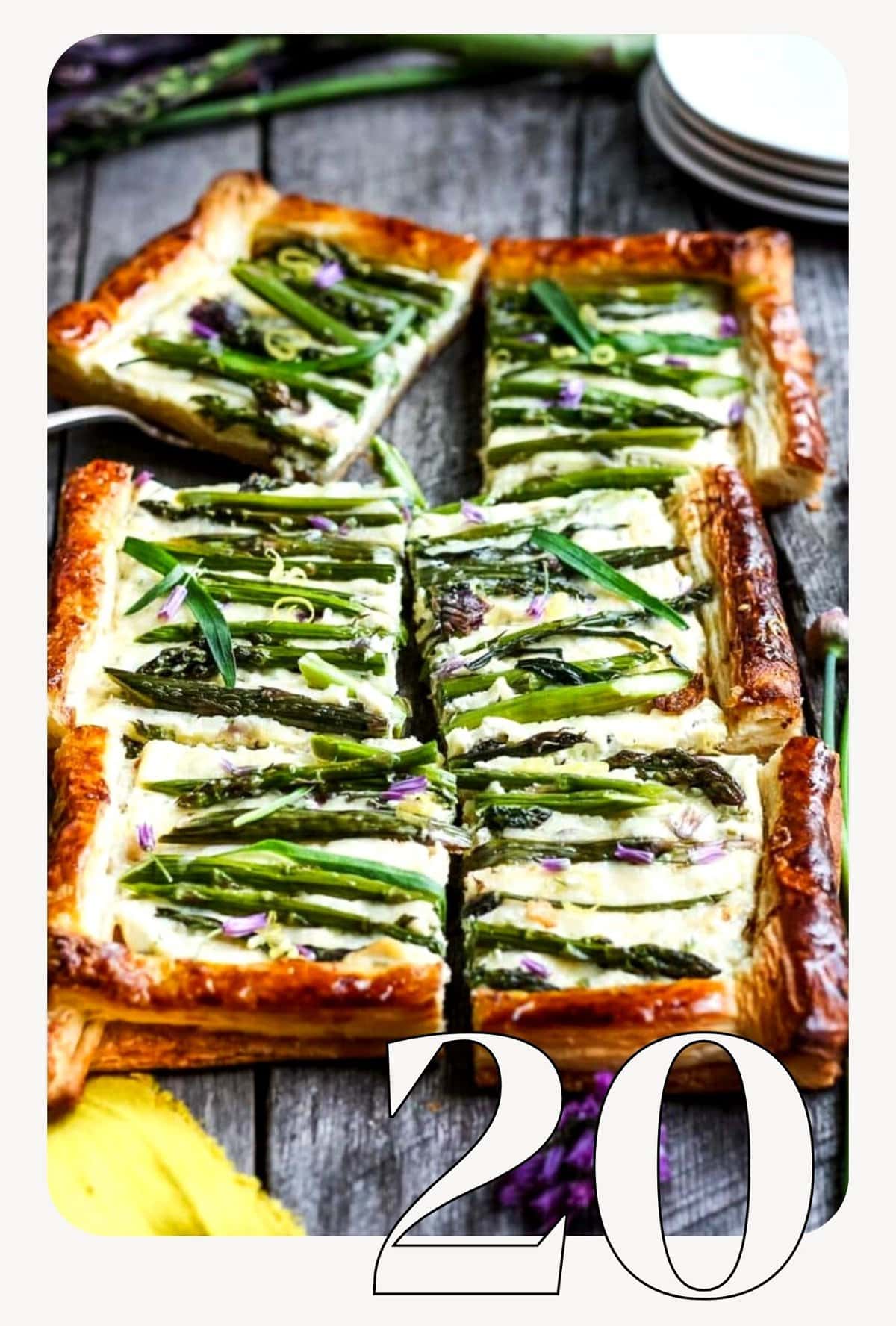 Get ready for Asparagus Season! With these delicious and healthy Asparagus Recipes, you'll have the best ways to cook our favorite spring vegetable right at your fingertips! Many of these Asparagus Recipes are fast and simple, while others are fun and fancy. No matter what you make, we know you will love them!
Oven Roasted Asparagus Recipes!
New to Asparagus? This simple Roasted Asparagus recipe couldn't be any easier!  It is one of our "go-to" healthy, vegan side dishes- it's fast (20 mins!) and yummy and goes with practically everything!   Serve it as a healthy vegan side dish or use it in other things during the week- salads, scrambles, pasta, buddha bowls, etc.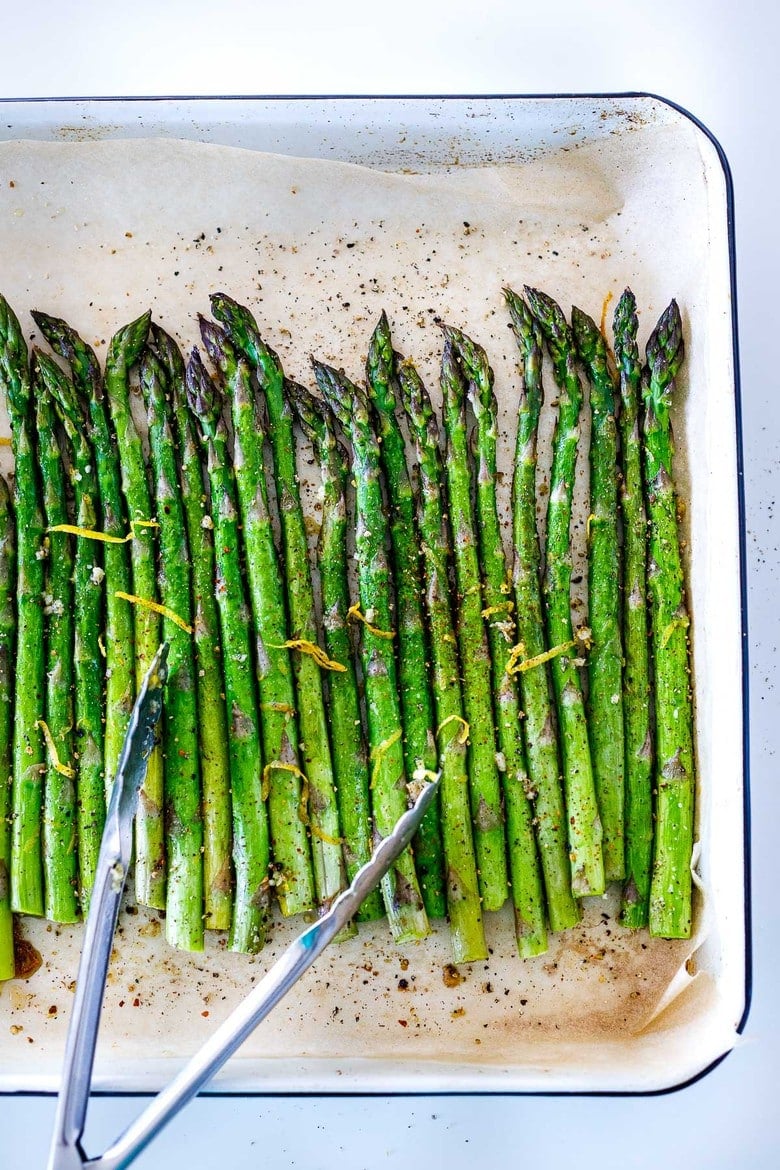 Asparagus and Salmon just belong together, don't they? They also take roughly the same amount of time to roast- a total win! This Roasted Salmon with Asparagus and Dill Sauce is a simple, easy sheet-pan dinner that comes together in 30 minutes yet feels like a feast! Healthy and delicious!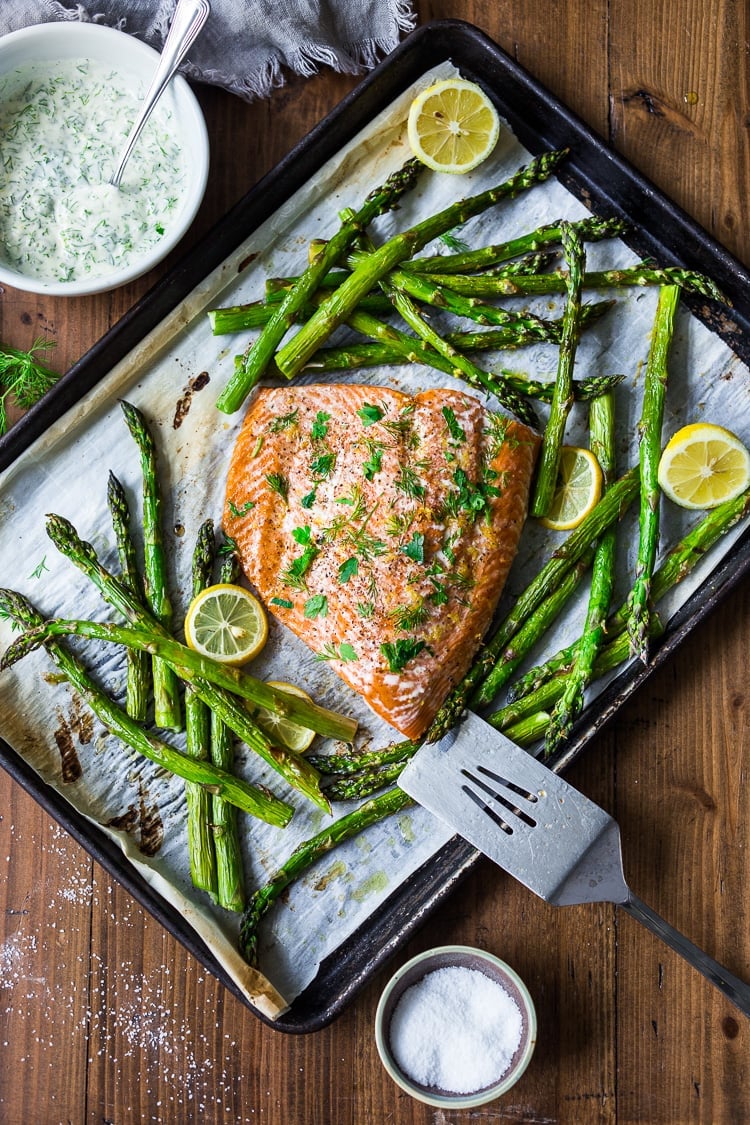 Another favorite spring meal- weeknight dinners really don't get any easier than this! This Tarragon Chicken with Roasted Asparagus, Lemon, and Leeks is fast, easy, and healthy with minimal clean-up.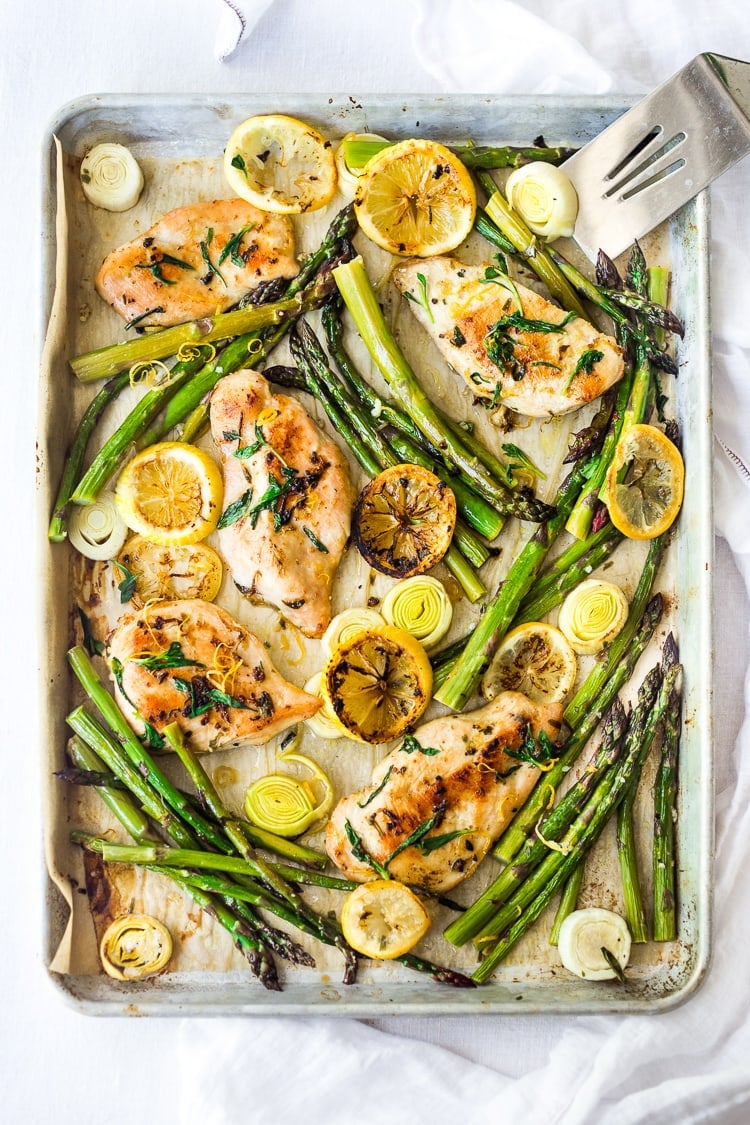 Stir-fry Asparagus Recipes!
Stir-fried Asparagus is such a quick and easy way to serve up our favorite spring veggie, and it literally takes just a few minutes! Asparagus gets perfectly tender, yet remains snappy and crisp- retaining it's beautiful vibrant spring color! Don't have a wok? No problem- use a skillet!
This Stir-fried Szechuan Asparagus is a flavor explosion! Made with Garlic and Ginger and a flavorful, authentic Szechuan Sauce– enjoy it as a healthy vegan side or add your choice of protein and make it a meal!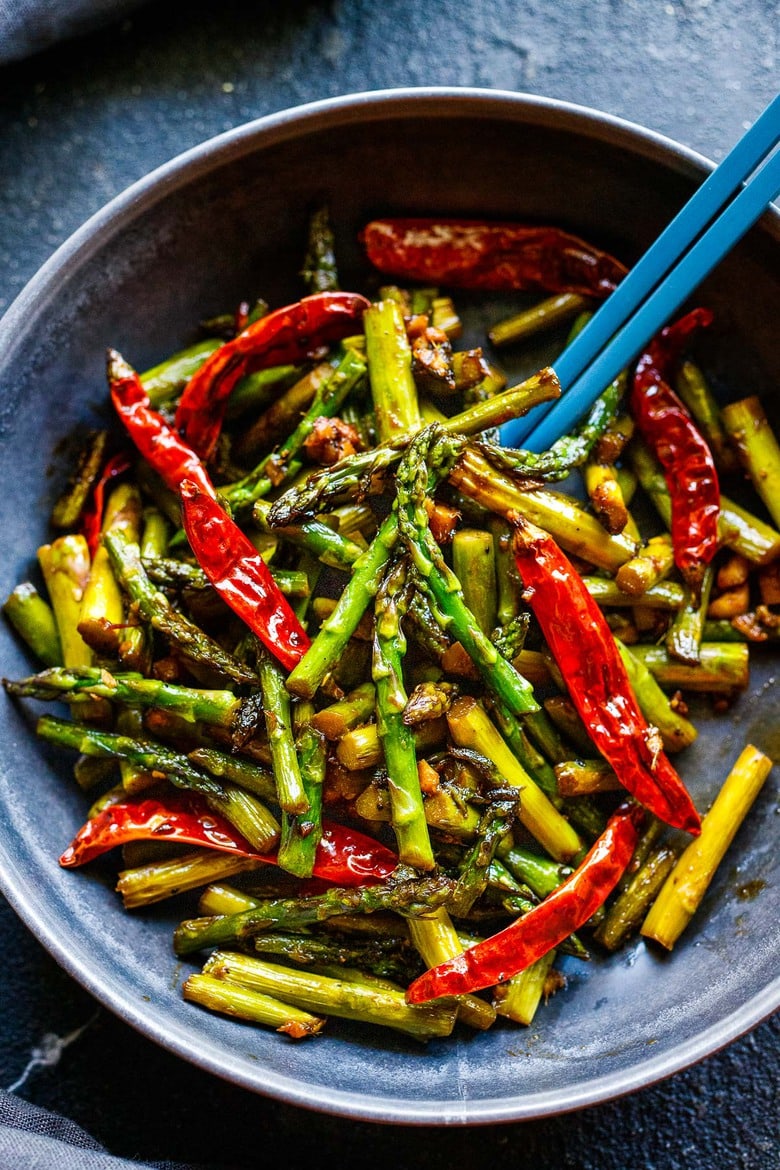 We love how fast and easy this Shrimp Asparagus Stir Fry is! Infused with Lemon and Basil -it is a delicious and healthy skillet meal that can be made in just 15-minutes! Low-carb and GF.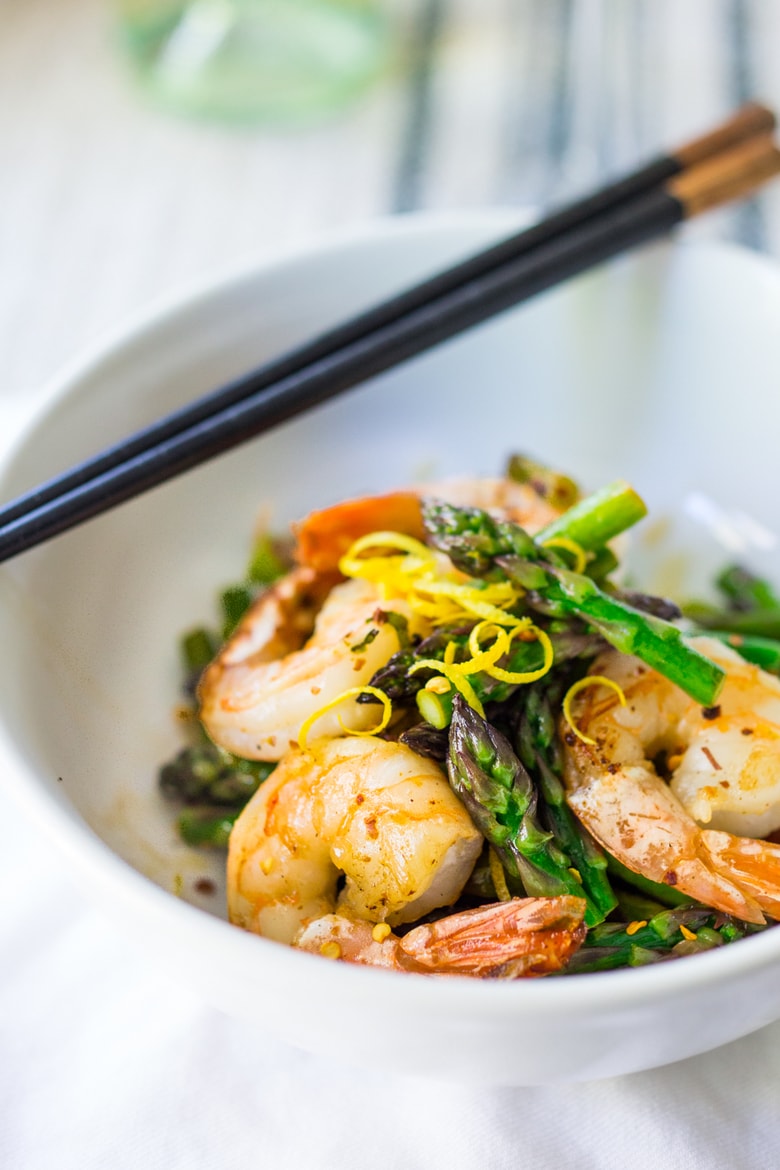 This simple, flavorful Asparagus Mushroom Stir-Fry is loaded up with vibrant spring veggies in a simple sauce, with your choice of protein. It can be made in 20 minutes flat! Keep it vegan with crispy tofu, or add chicken or shrimp!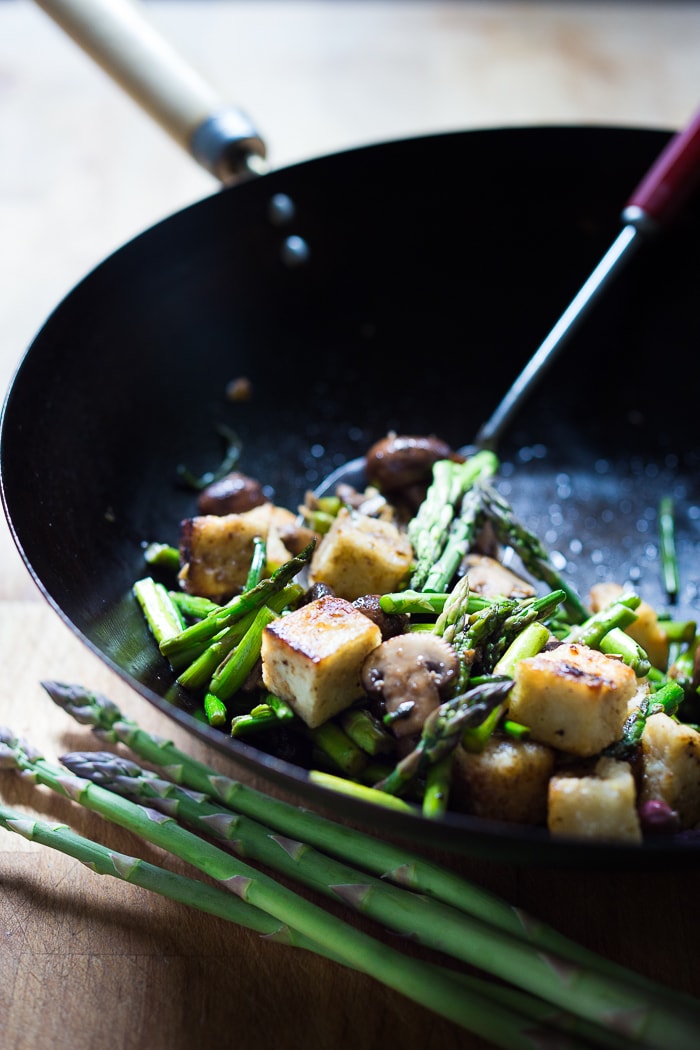 Asparagus Salads!
Have you heard that raw asparagus is one of the healthiest things we can feed our gut? This Fennel Asparagus Salad with Almonds and Lemony Leek Dressing is vegan, can be made ahead,  and is a perfect side to fish, chicken or tofu. One of our favorite salads on the blog.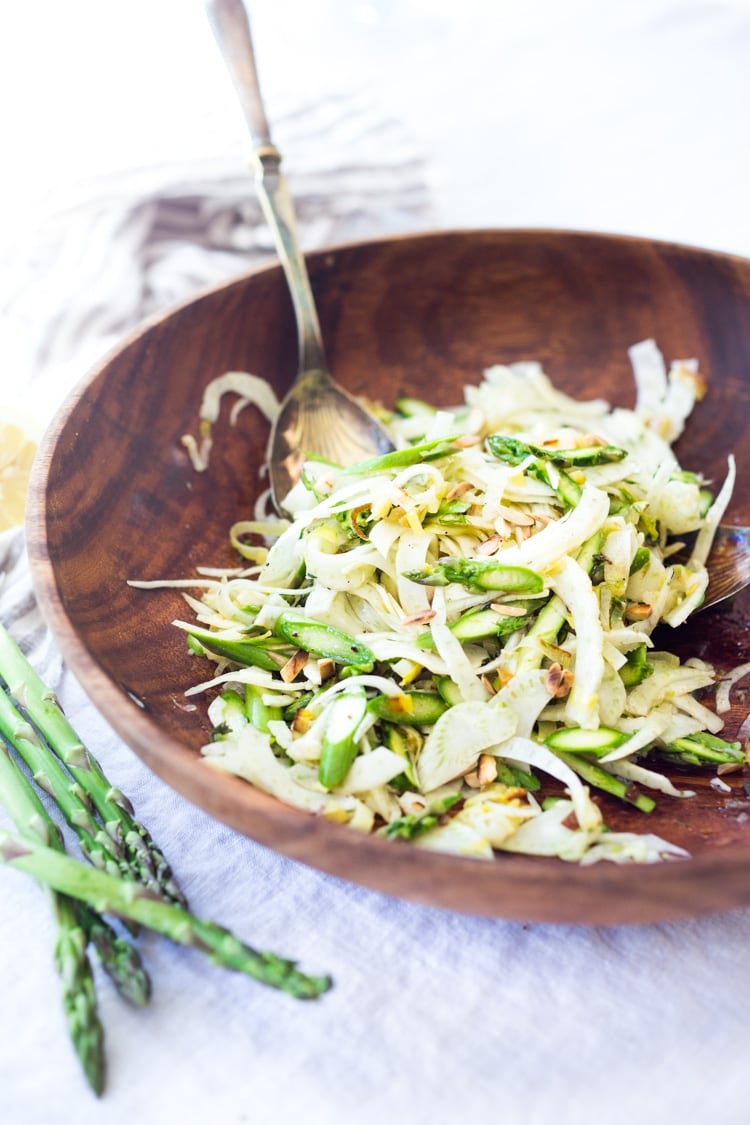 This Spring Pasta Salad with asparagus & mushrooms and Lemony parsley dressing is one of our favorites- perfect for spring gatherings or potlucks!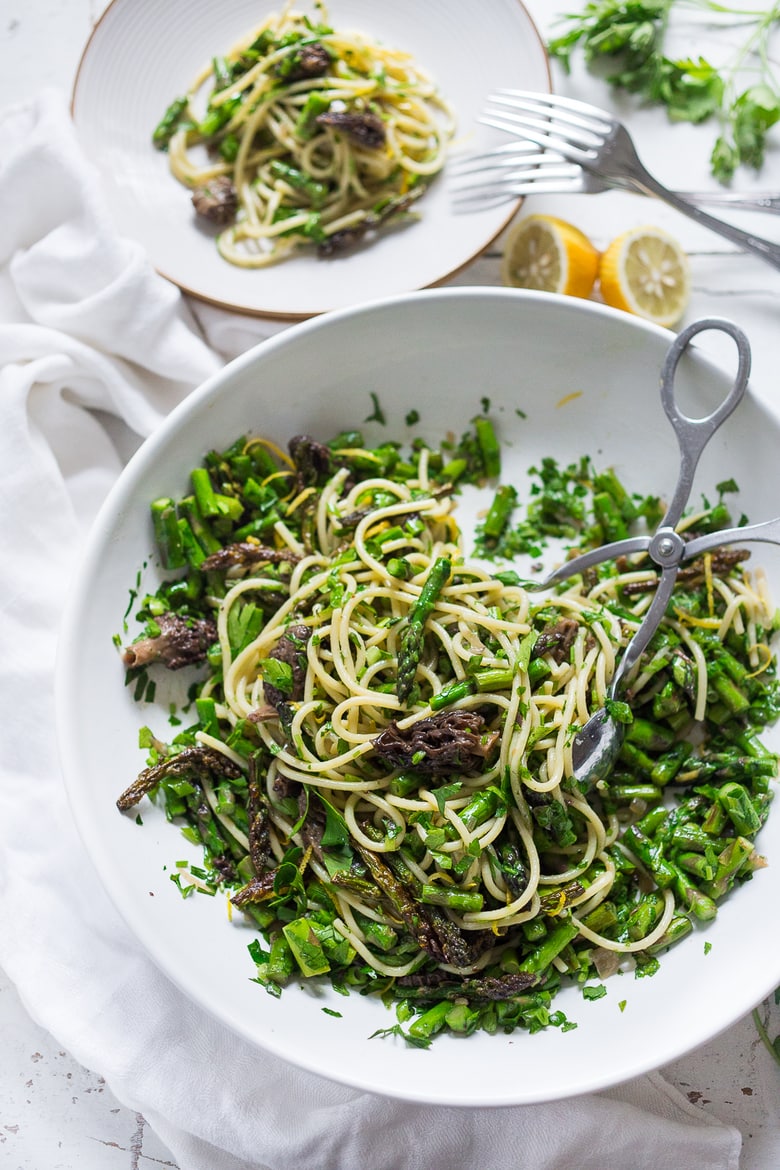 We've reinvented Tabouli to make it a little more spring friendly! This Spring Tabbouleh Salad with Quinoa and Asparagus can be made with your choice of spring veggies, infused with fresh dill, lemon, sliced almonds and crumbly goat or feta (optional). A healthy, flavorful side dish that can be made ahead- perfect for barbecues, potlucks and outdoor gatherings.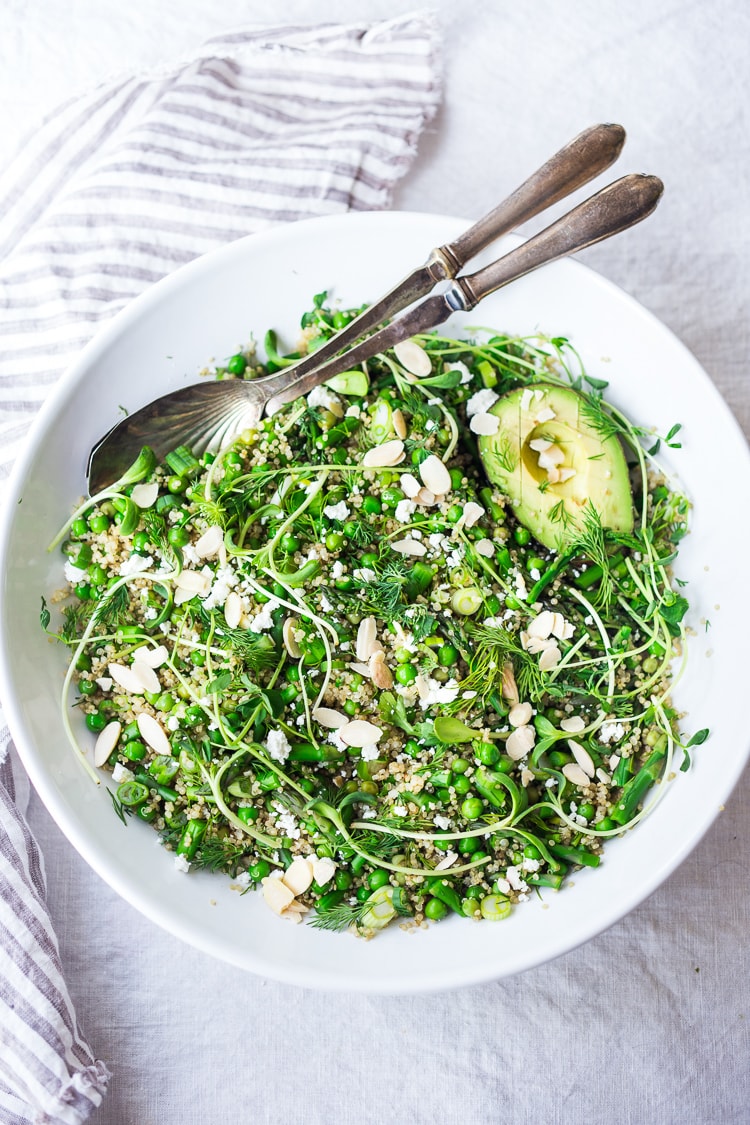 Spring Asparagus Salad with Israeli Couscous, kalamata olives, pine nuts mint, and feta in a lemony dressing.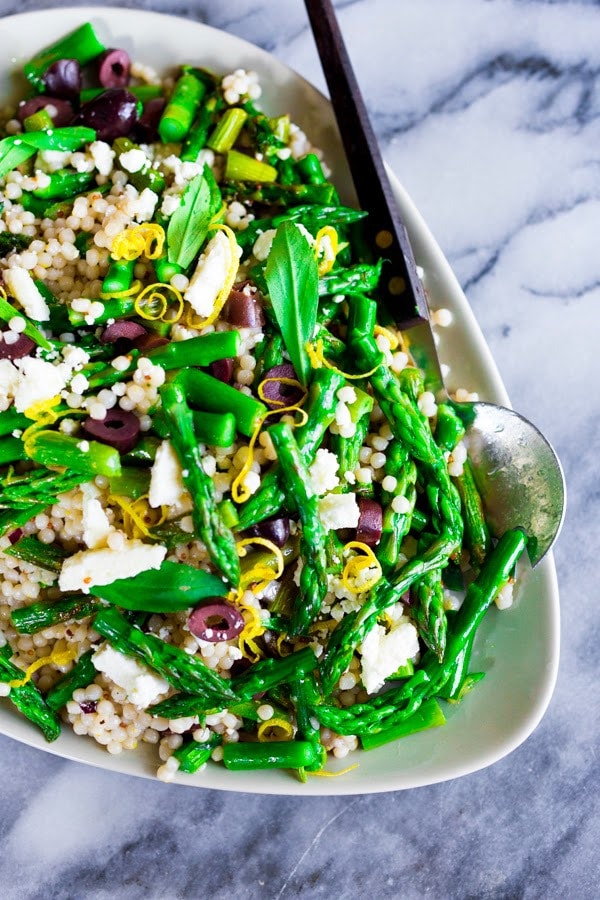 Asparagus Pasta! The best.
This healthy vegan pasta recipe comes together in less than 30 minutes! Charred Asparagus Kale Pasta with a creamy Cannellini Bean Leek Sauce- try it, we think you'll love it!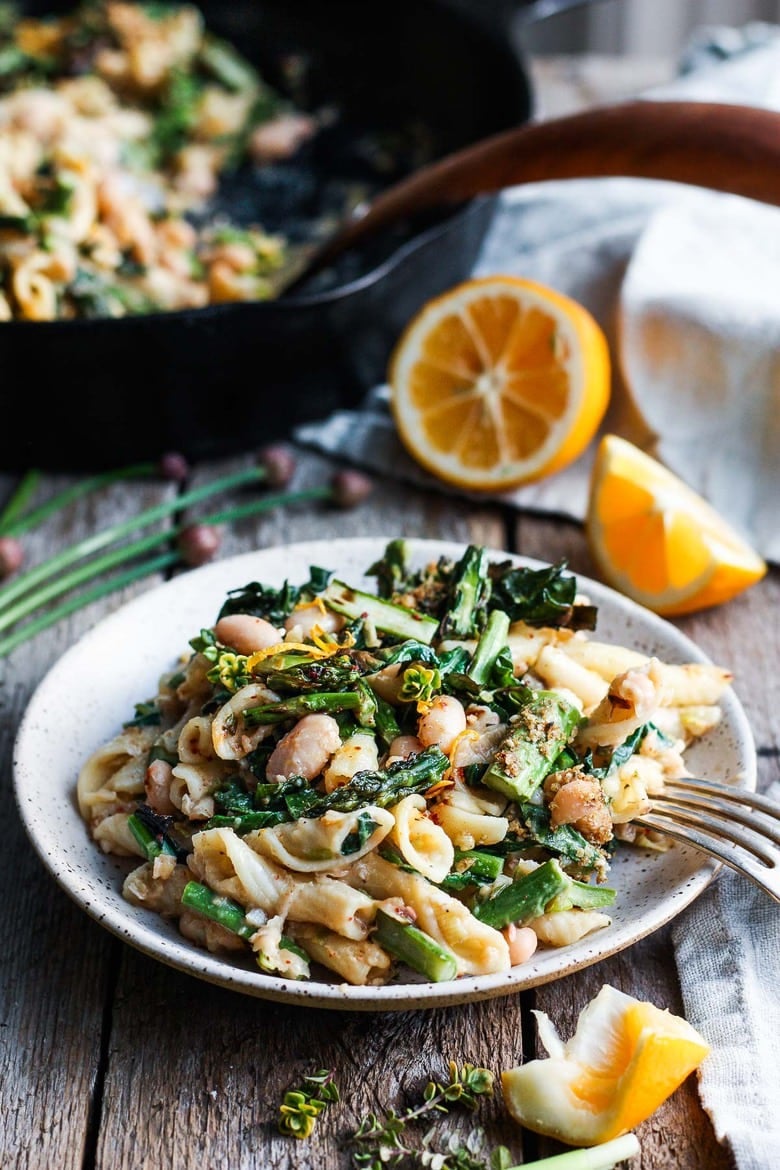 Hello sunshine in a bowl!  This Spring Orzo Pasta with Asparagus, Lemon and Dill – has all the flavors we crave in spring! Serve this warm as a quick flavorful entree or chilled as a side salad.
Let's get Fancy with Asparagus!
Here are a few ways to "up your game" with asparagus. And truly, these only look fancy- but are relatively simple to make. Well, ok, the risotto probably needs a double read-through, but once you get it, it's super easy. We have faith in you!
This Asparagus Tart with tarragon, chives and gruyere may look fancy- but it is deceivingly simple! An easy elegant dish, serve it as lunch, appetizer, or call it a meal – perfect for a special occasion.  Under 30 minutes of hands-on time!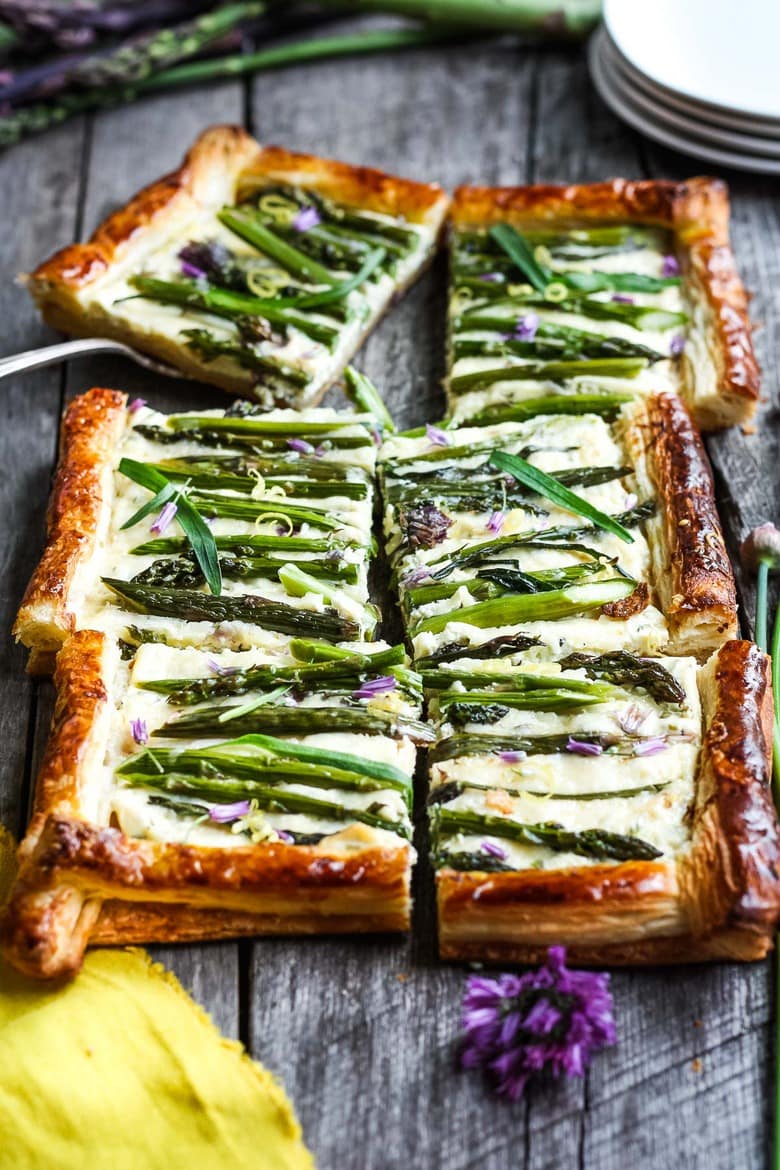 This vibrant green Creamy Asparagus soup with fennel and tarragon is full of so much spring goodness!  Plus, it just makes me happy, just looking at it. That color! A delicious start to a meal, or make it the meal! Vegan adaptable.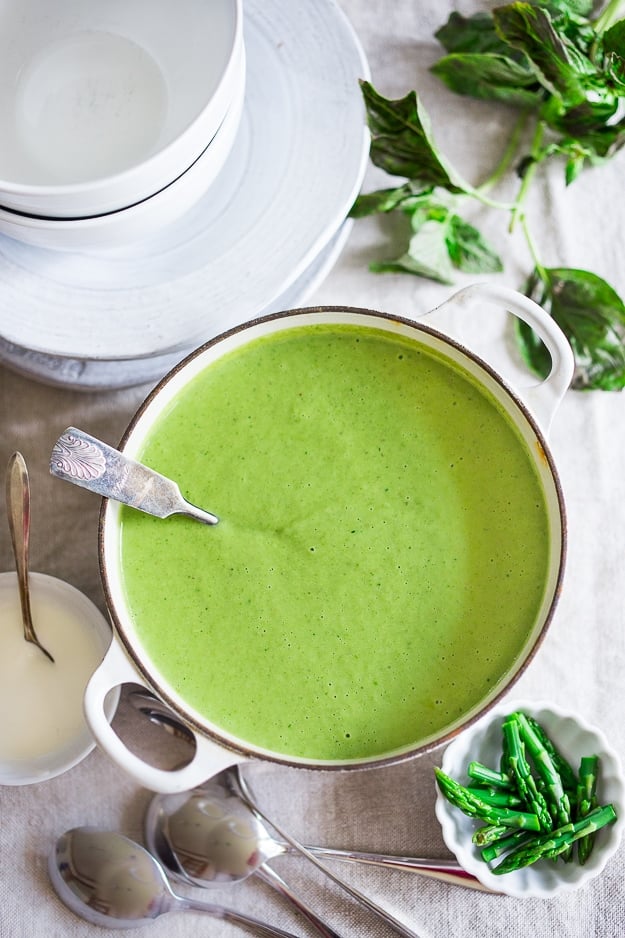 OH MY GOODNESS! This Lemony Asparagus Risotto with leeks and basil is so flavorful! It's light and creamy, with vibrant spring color. Top it with grilled mushrooms, fish or chicken for a delicious spring dinner!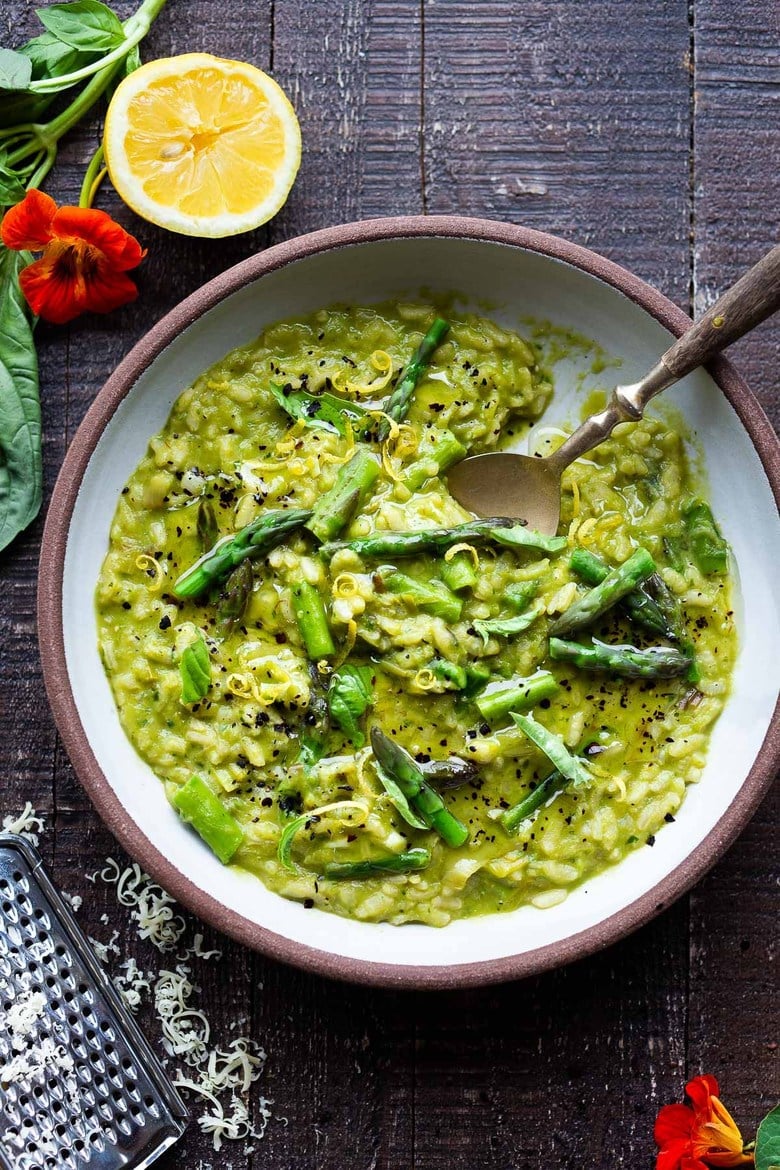 Ok, here's a fancy dinner that is perfect for date night.  Fennel Crusted Halibut is pan-seared then placed atop the most luscious, creamy Asparagus Sauce.  The asparagus sauce can be made ahead! Serve it up with spring veggies.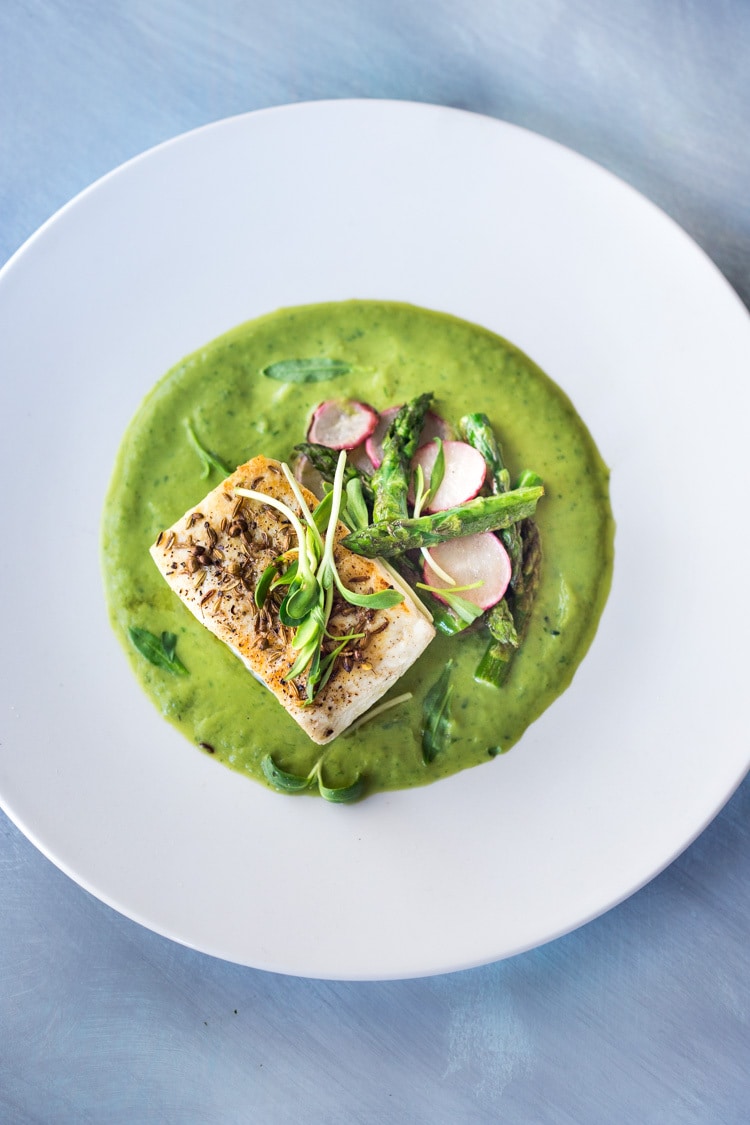 Need a simple elegant one-pan dinner idea? This Baked Cod with Asparagus, Fennel and Leeks is simple and easy- perfect for busy nights! Serve it on its own or over a bowl of creamy polenta.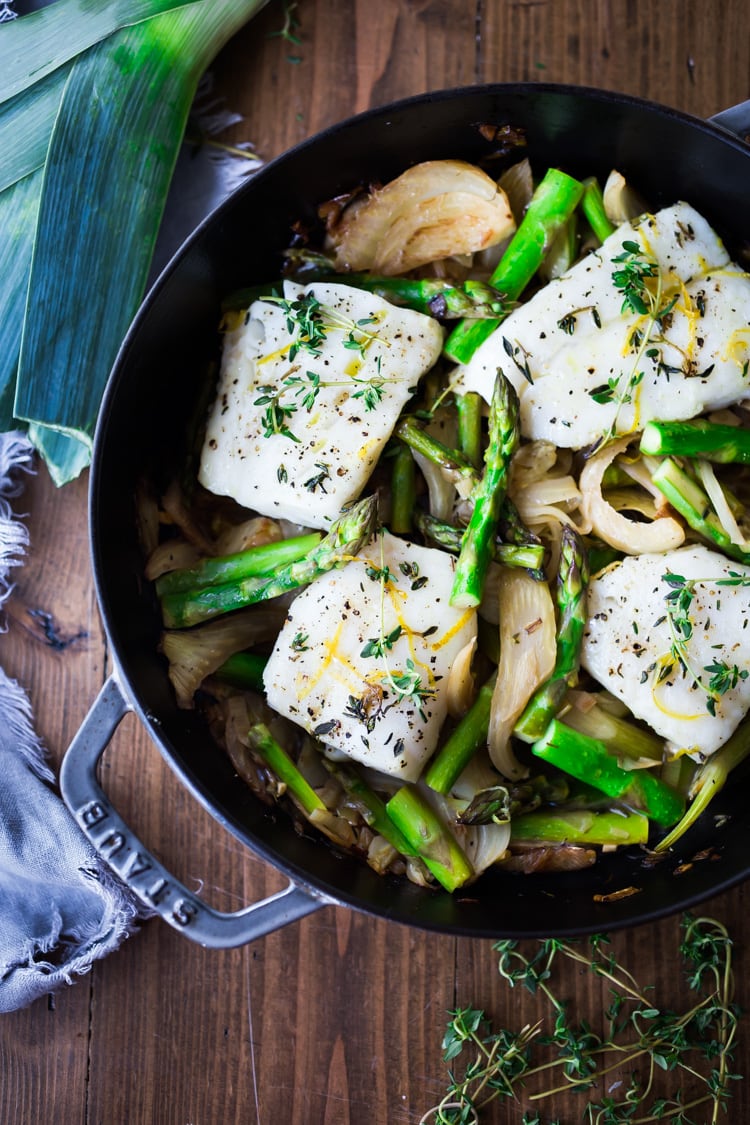 Grilled Asparagus Recipes!
Grilled Asparagus is one of the easiest, fastest and tastiest ways to cook asparagus in under 15 minutes! A delicious healthy vegan side dish, everyone will love.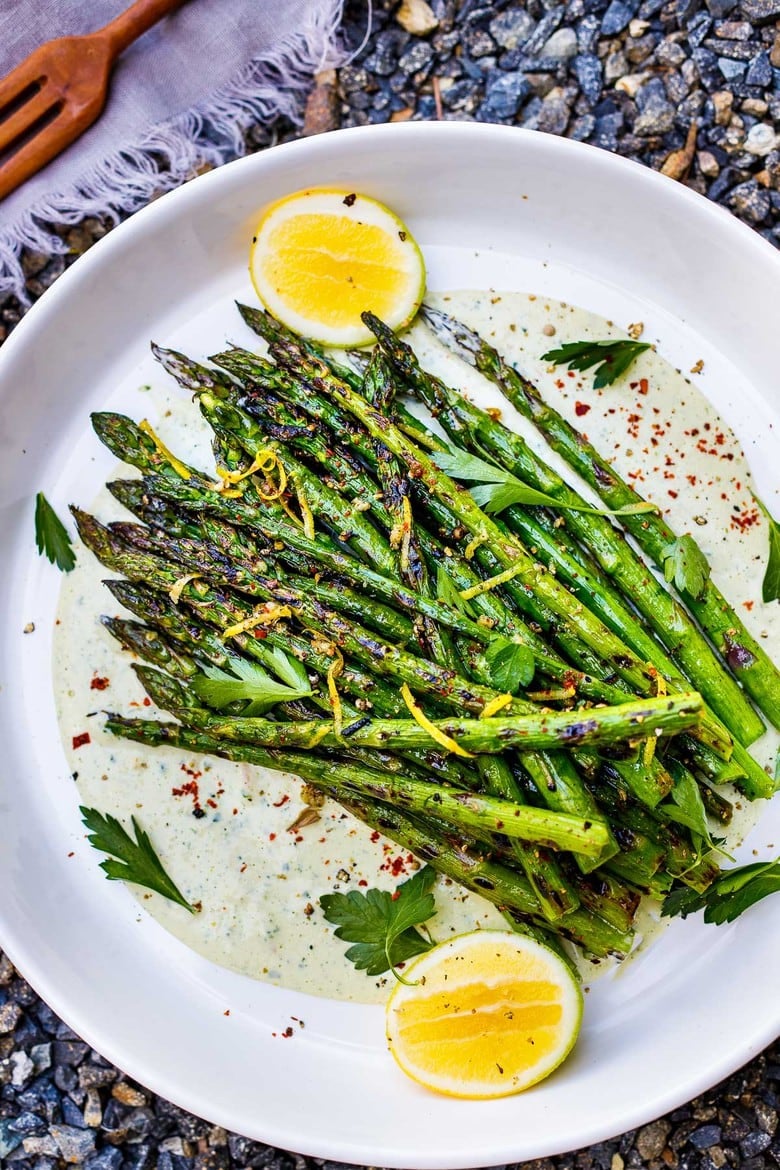 Grilled Asparagus with Garlic Scapes & Shishito Peppers tossed with a simple, Asian-Style Marinade then grilled to perfection- a vegan, gluten-free adaptable side dish, perfect for summer that can be paired with your choice of protein.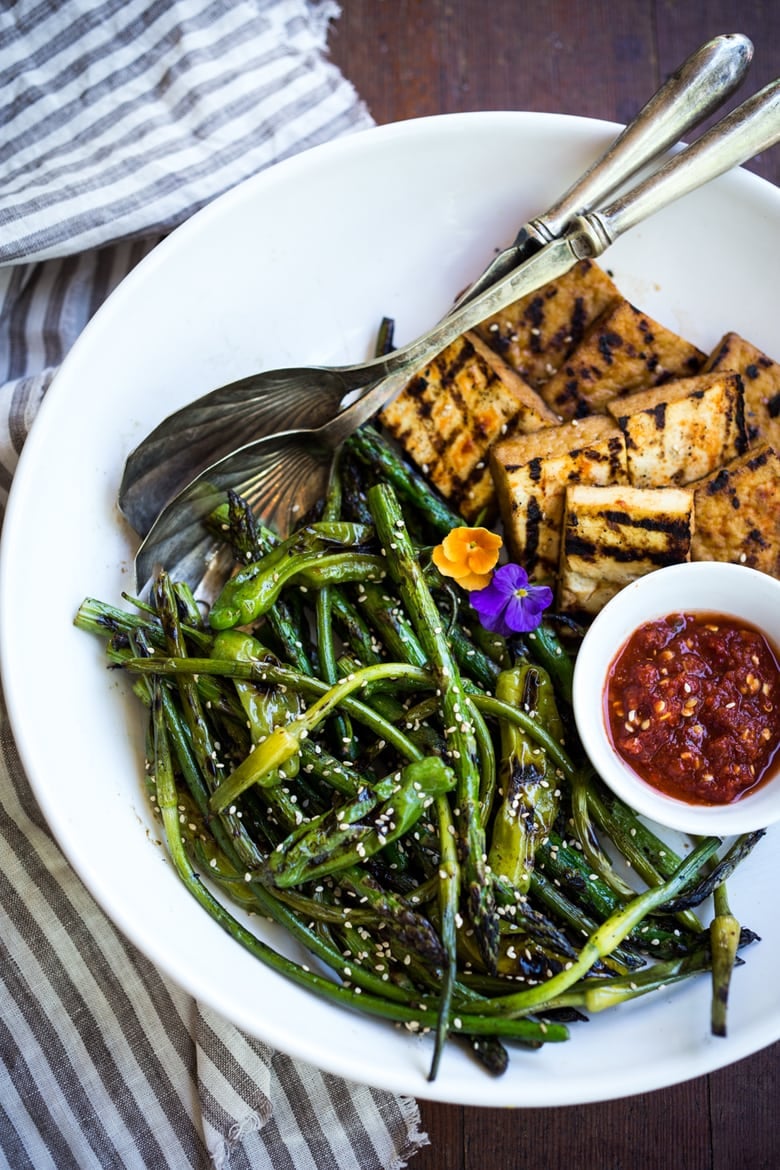 Asparagus for Breakfast? Yes!
Scrambled eggs get enlivened with vibrant spring asparagus, goat cheese, dill and leeks. A delicious bowl of goodness!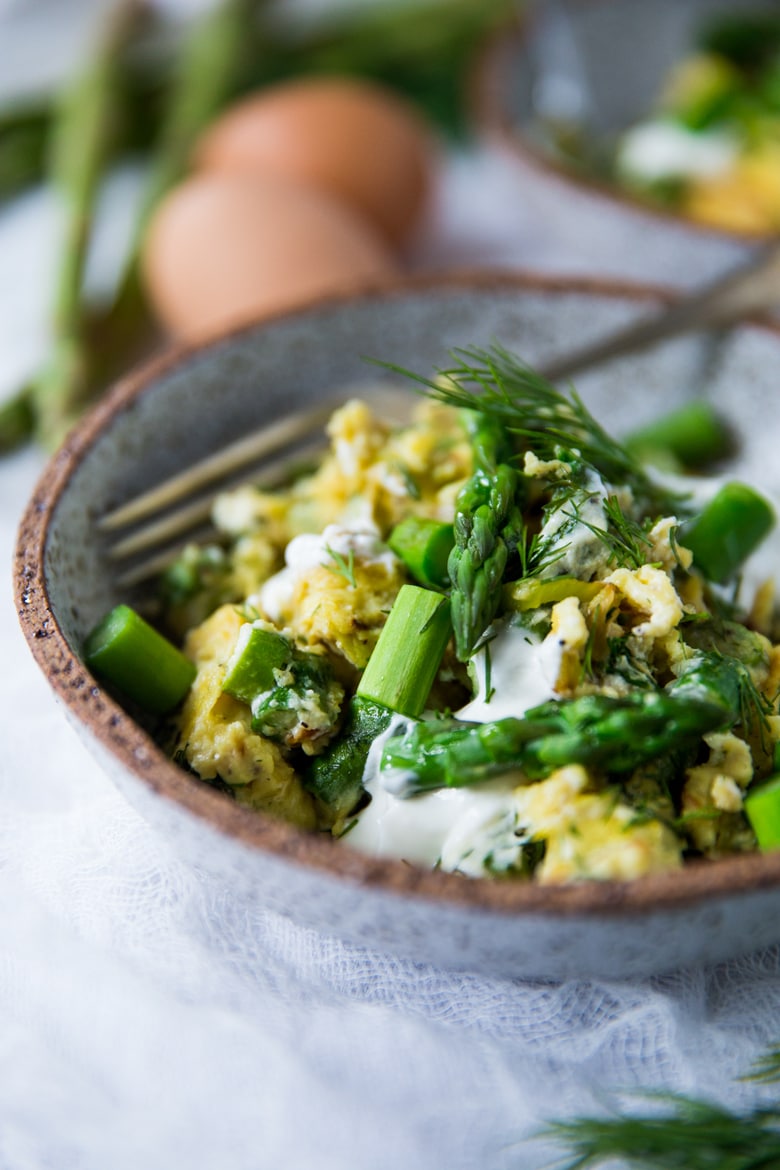 Stocked up with fresh herbs, leeks and asparagus, and a flavorful, creamy chickpea flour filling, this spring frittata is vegan, eggless and tasty!

A simple yet elegant breakfast or brunch recipe-Asparagus toast is topped with a pillowy poached egg and warm bacon vinaigrette.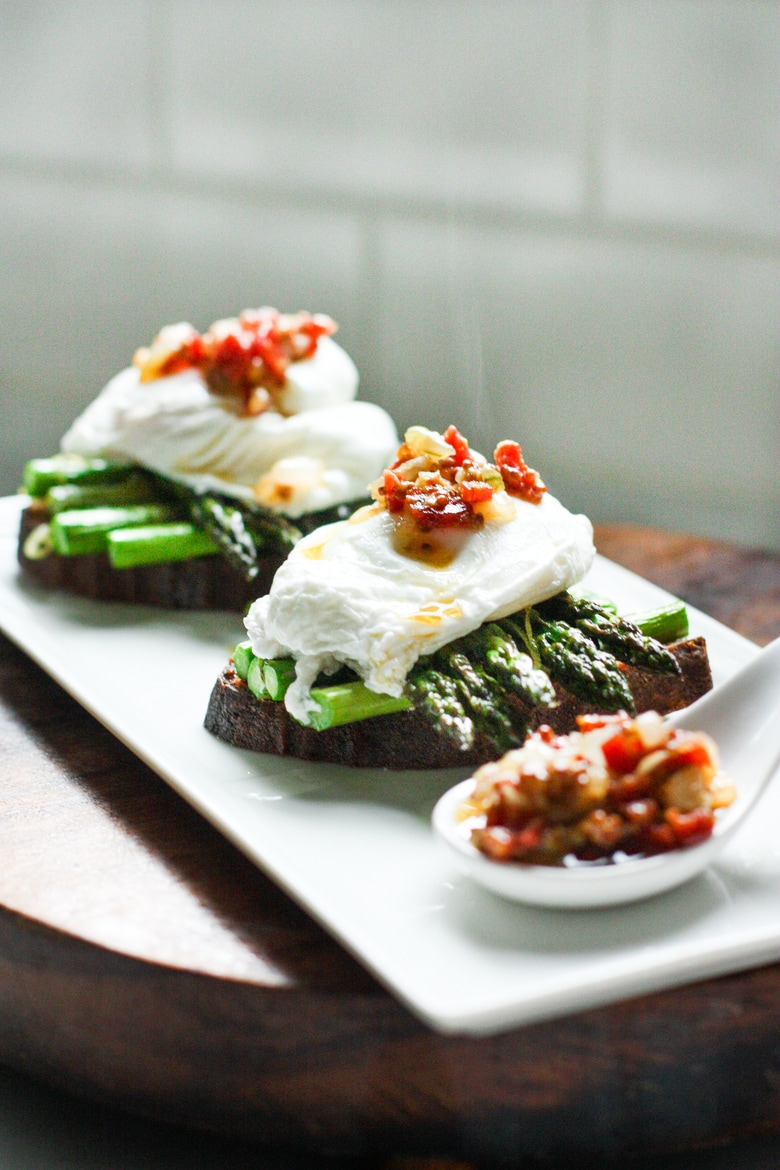 These savory crepes are made from scratch then stuffed with a mixture of asparagus, mushrooms, leeks and goat cheese– a tasty brunch recipe!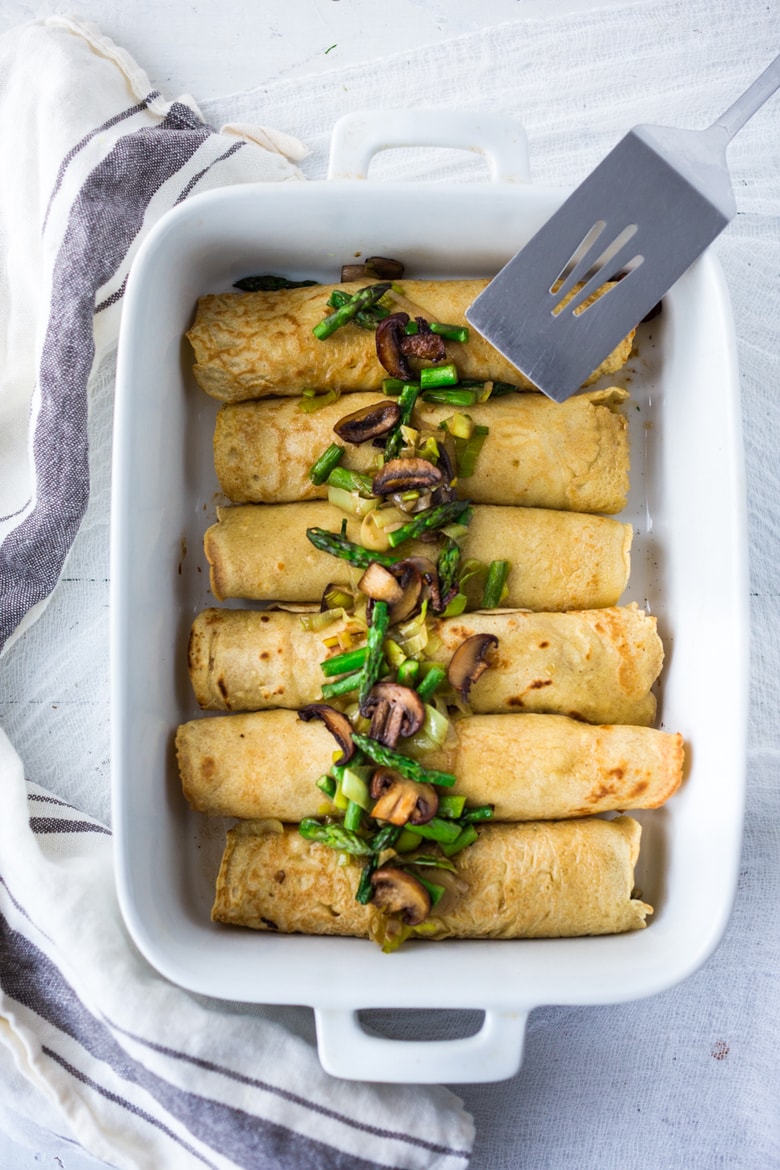 Pick out a few Asparagus Recipes to try out when asparagus starts showing up in your local area- typically April- June!
Enjoy these let us know your favorites below!
xoxo
More recipe collections you may like:
Print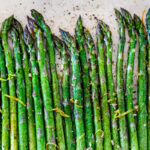 20 Best Asparagus Recipes
Prep Time:

5

Cook Time:

22

Total Time:

27 minutes

Yield:

4

1

x

Category:

side dish, vegetables

Method:

roasted

Cuisine:

American

Diet:

Vegan
---
Description
20 Best Asparagus Recipes to Make this Spring! Roasted asparagus, grilled asparagus, asparagus salads, asparagus pasta, we've got you covered: Best Roasted Asparagus!
---
---
Instructions
Preheat oven to 400F
Trim asparagus:

Hold one spear of asparagus in your hand, and with your fingers snap off the rough end. Note where it naturally breaks. Use this as a guide to trim the remaining asparagus, laying it next to the others. Cut the remaining spears to match this length.

 Toss the trimmed asparagus in a bowl with olive oil, garlic, lemon zest, salt & pepper.

Lay spears out in a single layer on a  parchment-lined sheet pan.

Roast until just tender (yet still vibrant green), about 15-25 minutes, depending on size and thickness, tossing halfway through. 

Once tender squeeze with lemon juice, and give a good toss. Taste for salt, adding more if needed. 

Place in a serving dish and garnish with any of the optional garnishes. 
---
Nutrition
Serving Size:

with 2 tablespoons pine nuts

Calories:

127

Sugar:

3.5 g

Sodium:

294.6 mg

Fat:

10.1 g

Saturated Fat:

1.3 g

Carbohydrates:

8.3 g

Fiber:

4 g

Protein:

4.5 g

Cholesterol:

0 mg
Keywords: asparagus recipes, best asparagus recipes, roasted asparagus, best recipe for roasted asparagus, asparagus roasted