We've rounded up 20 of our Best Quinoa Recipes! From quinoa salads and delicious quinoa bowls to simple quinoa sides and vegetarian quinoa dinners, these simple quinoa recipes will leave you feeling nourished and satisfied!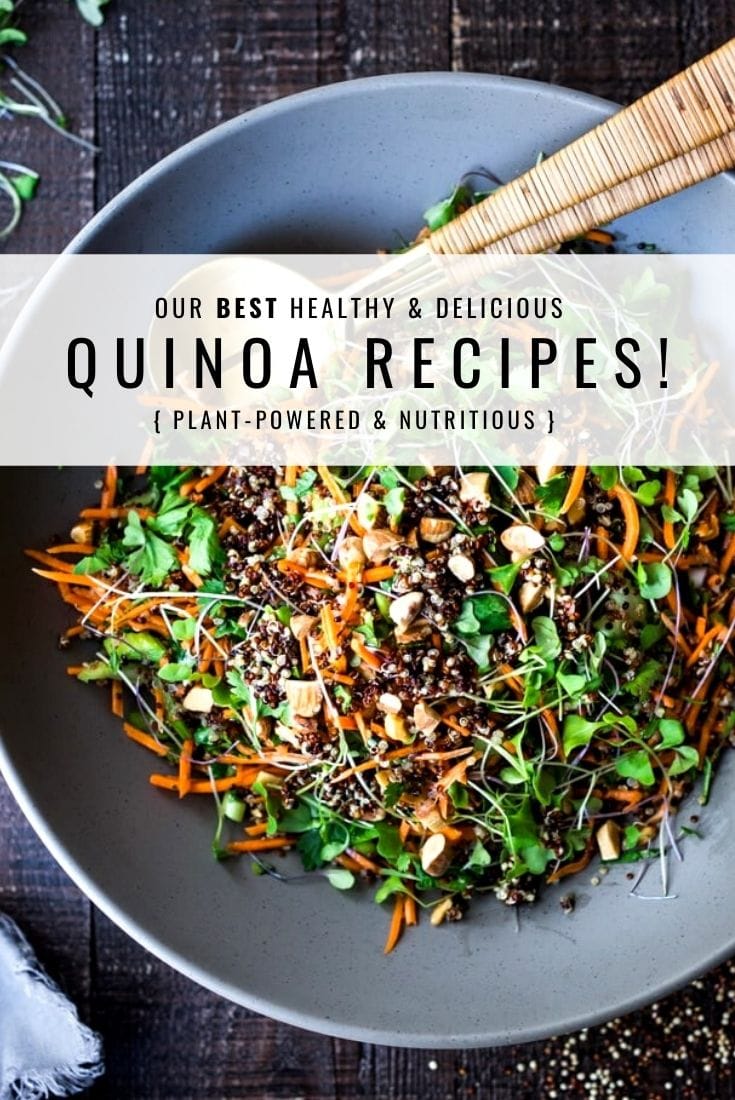 20 Simple, Healthy Quinoa Recipes
One of our go-to healthy staples around here is Quinoa –a mighty little superfood packed with protein and fiber.  What we love about quinoa is how quickly it cooks ( just 20 minutes!) and how handy it is for midweek meals.
It's gluten-free and technically a seed rather than a grain- a great option for those with gluten sensitivities. Make a big batch, refrigerate or freeze and reheat for weeknight meals, toss into salads, add to soups, or use it as a base for healthy bowls.
How to cook Quinoa (in a nutshell)
Cooking quinoa couldn't be any easier! A basic ratio for water (or stock) to quinoa is 2 to 1. Bring 2 parts liquid and 1 part rinsed quinoa to a boil over high heat. Season with salt and a drizzle of olive oil. Lower heat and cover, simmering gently until all the water is gone, around 15-20 minutes. Let it stand 5 minutes, then it is ready! (PRO TIP: Always rinse quinoa before cooking- this helps remove its bitterness.)
Simple, but incredibly delicious, this Everyday Quinoa with Lemon, Shallot and Herbs is our "go-to" side dish that compliments so many things. Vegan, gluten-free and full of flavor, it's one of my favorite quinoa recipes on the blog! Make a big batch for the workweek.
We can't get enough of this Lemony Chickpea Quinoa Salad! It's made with cucumber, tomato, dill, parsley and the most flavorful Preserved Lemon Dressing -vegan, healthy, and full of so much flavor. The perfect quinoa recipe for summer!
These Broccoli Quinoa Cakes are delicious and hearty, with great flavor and texture. Make them ahead and reheat for midweek meals- a tasty healthy quinoa recipe your whole family will love!
Broccoli Quinoa Cakes! |30-sec video
One of our favorite vegan soups, This Moroccan Red Lentil Quinoa Soup is made with simple ingredients and is full of so delicious flavor! Very easy- make this in an Instant Pot or stovetop.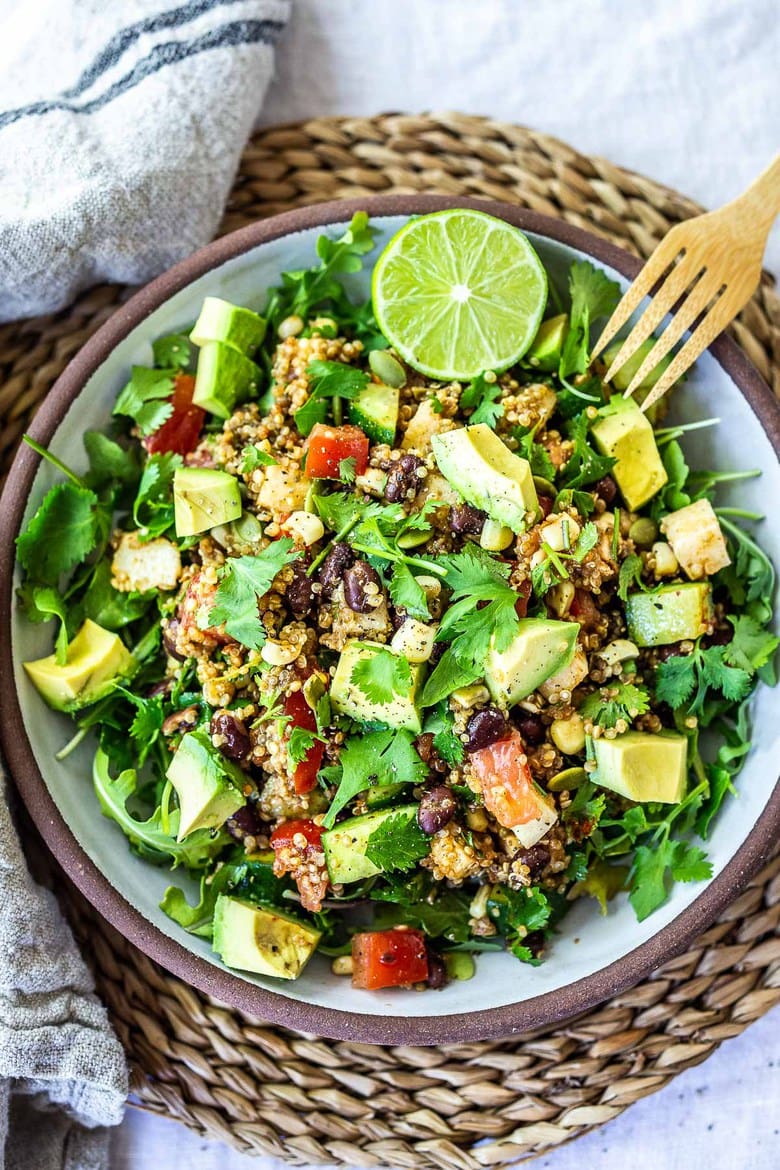 This Southwest Black Bean Quinoa Salad is quick and easy to put together and full of fresh Southwest flavors- perfect for casual summer gatherings, potlucks and bbqs. Vegan and Gluten-Free!
This crunchy, satisfying Carrot Quinoa Salad with Almonds and Apple Cider Vinaigrette is another good make-ahead salad, perfect for midweek lunches, to serve it as a tasty side at dinnertime.
These savory, hearty Peruvian Burritos are filled with quinoa, roasted sweet potato, fresh corn, peppers, and creamy black beans, then drizzled with spicy Peruvian Green Sauce. A flavor bomb! Vegan and Delicious!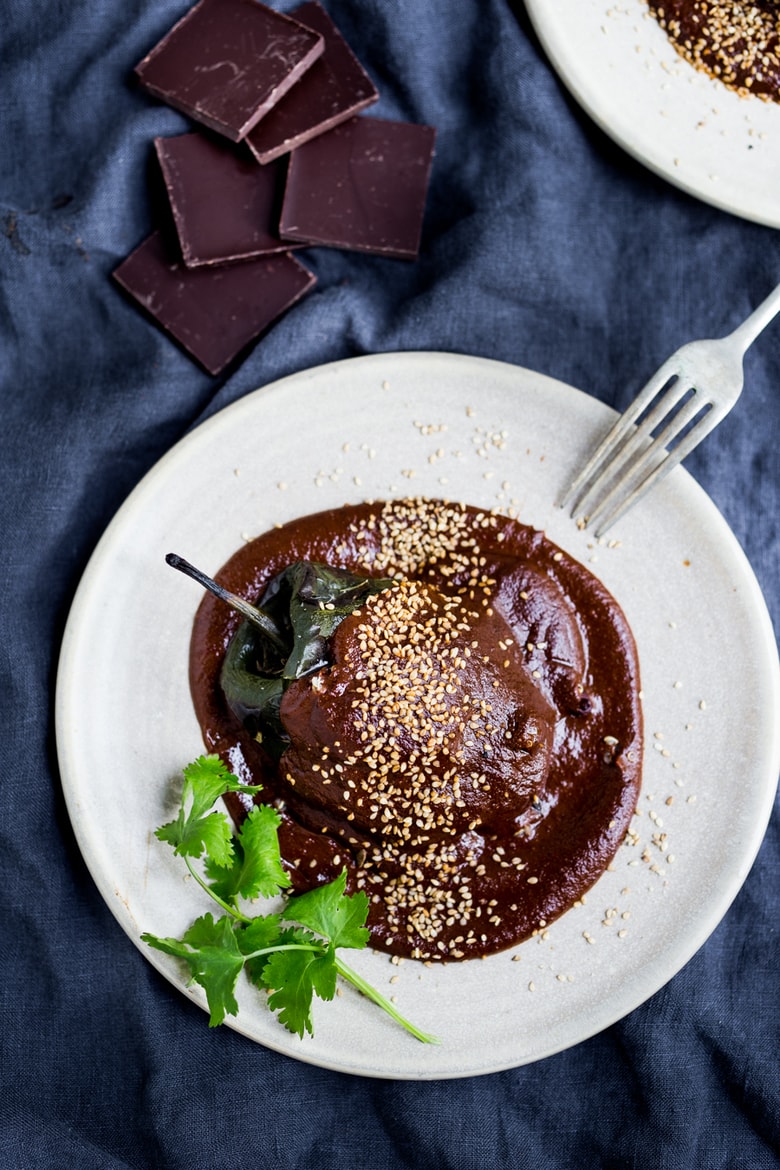 This Quinoa Stuffed Poblano Chili is filled with black beans, quinoa, goat cheese, topped with a dark complex Mole Negro Sauce. A special, decadent meal that will WOW your taste buds. Save this one for a special occasion.
One of the "oldest" recipes on the blog, these Crispy Vegan Quinoa Cakes with Tomato Chickpea Relish- is still one of our go-to meals around here. So hearty and satisfying, and full of delicious flavors. Keep it vegan or add goat cheese crumbles.
Packed with nutritious ingredients, this Chickpea Quinoa Veggie Burger is full of savory delicious flavor and satisfying texture.  Great with a variety of toppings. Vegetarian and Gluten-free, Vegan-adaptable!
Baked Quinoa with Zucchini, Corn and feta, topped with a fresh Tomato Relish. A healthy, easy vegetarian dinner recipe, perfect for summer!
Brighten up your day with this  Beet Bliss Bowl! A simple vegan bowl made with beets, quinoa, avocado and chickpeas-that can be made in under 30 minutes! Great for meal-prepping, bright and playful, and guaranteed to lift your spirits!
Kale & Quinoa Salad with Apples, Chickpeas and Currants! A hearty vegan salad that can be made ahead- perfect for potlucks, gatherings or midweek lunches!
Vegetarian Stuffed Peppers with Quinoa, Eggplant and Chickpeas with Zhoug Yogurt. A flavorful vegetarian dinner!
These delicious, healthy make-ahead Breakfast Bowls are full of whole grains like quinoa or millet and topped with fresh healthy ingredients. Vegan and gluten-free-adaptable.
Strawberry Quinoa "Tabouli" Salad – a twist on traditional tabouli, this spring-inspired version is made with quinoa, parsley, mint, and cucumber. Add avocado, toasted, slivered almonds, or feta if you like!
This Quinoa Asparagus Salad (aka "Spring Tabouli") is made with asparagus, fresh peas, parsley, fresh dill, lemon, sliced almonds, avocado and optional goat or feta cheese. A healthy, vegan-adaptable salad that can be made ahead- perfect for barbecues, potlucks, and outdoor gatherings.
Moroccan Quinoa and Blood Orange Salad with Almonds, olives, and mint. An oldie but goodie on the blog.
Save this recipe until pomegranates are in season! This Holiday Crunch Salad is made with Quinoa, almonds, avocado, loads of herbs and fresh pomegranate- this one is full of so many healthy nutrients, and most of all flavor. One of the most popular quinoa recipes on the blog!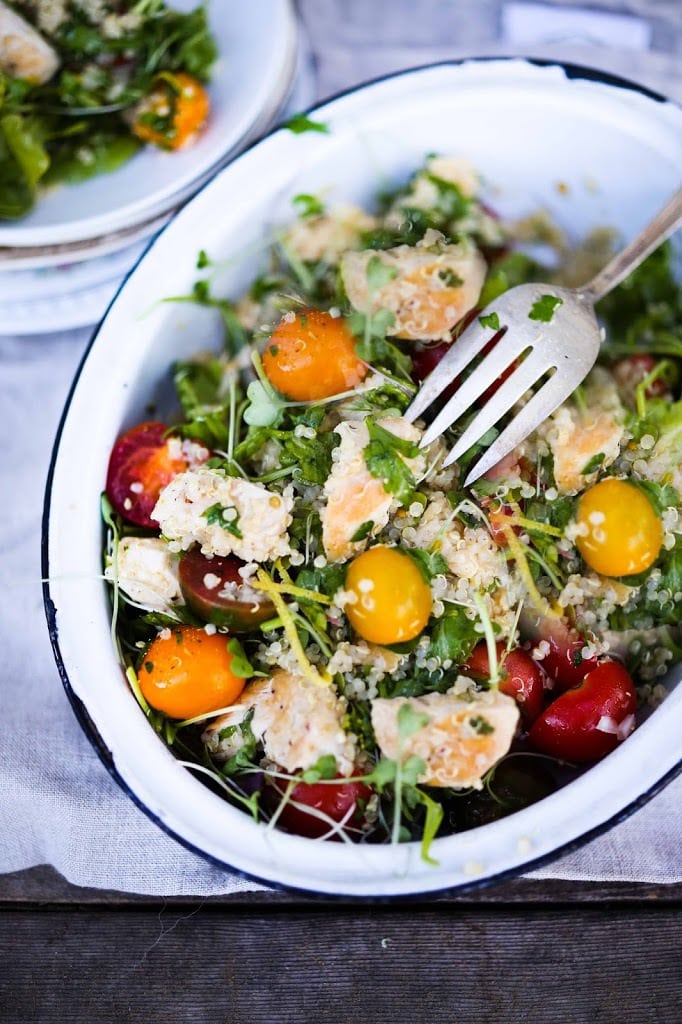 A hearty, protein-packed,  Chicken Quinoa Salad with Chickpeas, tomatoes, fresh herbs, arugula and lemon zest that can be made ahead!