These vegan Peruvian Burritos are filled with roasted sweet potato, fresh corn, peppers, quinoa, whipped black beans, and drizzled with Spicy Peruvian Green Sauce. Flavorful, filling, vegan and Delicious! With a Video!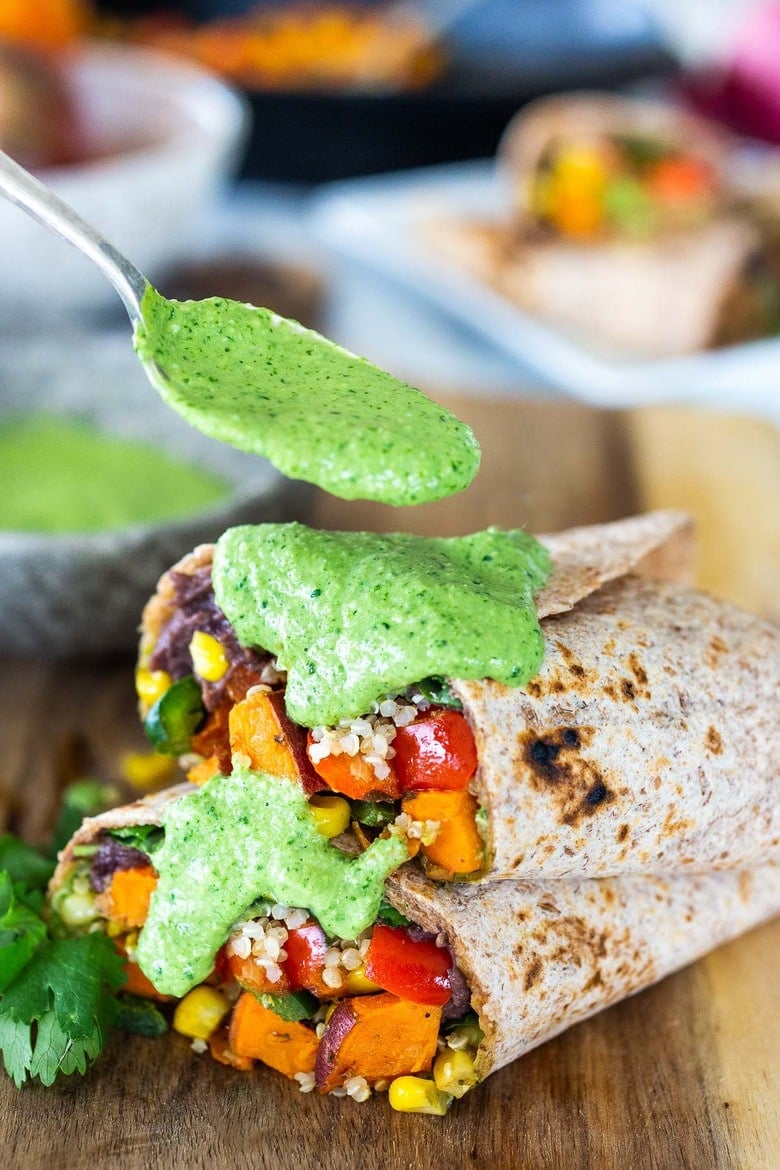 I'm soooooo excited for you to try these because I KNOW you will love them.
These Peruvian Burritos with Aji Verde (Spicy Peruvian Green Sauce) are not only vegan, they are also DELICIOUS! Filled with healthy veggies (roasted sweet potatoes, corn, peppers and onions) quinoa and whipped black beans – they are satisfying, highly nutritious yet full of so much flavor!
You've seen the Peruvian Green Sauce before in the oh so popular Grilled Peruvian Chicken, but today I made it vegan, omitting the mayo and/or sour cream.  I'm slightly addicted to it these days. It's such a universal sauce- and pairs well with so many things.
How to make Peruvian Burritos | Watch the Video
Disclaimer: To be frank,  there is nothing authentically Peruvian about these burritos- except the Aji Verde Sauce which I tweaked to make vegan. They are Peruvian-inspired. They came about one day when I was using up the extra Aji Verde Sauce, and that is what I called them in my head.
Peruvian Burrito Components:
Yes, there are several components to the burritos ( kind of like the Frankies) but if you work on things simultaneously, you can make this in one hour.
I can hear my friends laughing right now because they tell me my recipes often take double the time I say… but seriously, I made this and photographed it in one hour flat. It can be done! I promise! Read through the recipe first. 😉
cooked quinoa
roasted sweet potato
sauteed veggies
whipped black beans ( use refried black beans or canned)
Peruvian Green Sauce
Warm tortillas (or make a bowl)


---
If you'de rather make a Peruvian Burrito Bowl and skip the tortilla or wrap- here is what it looks like: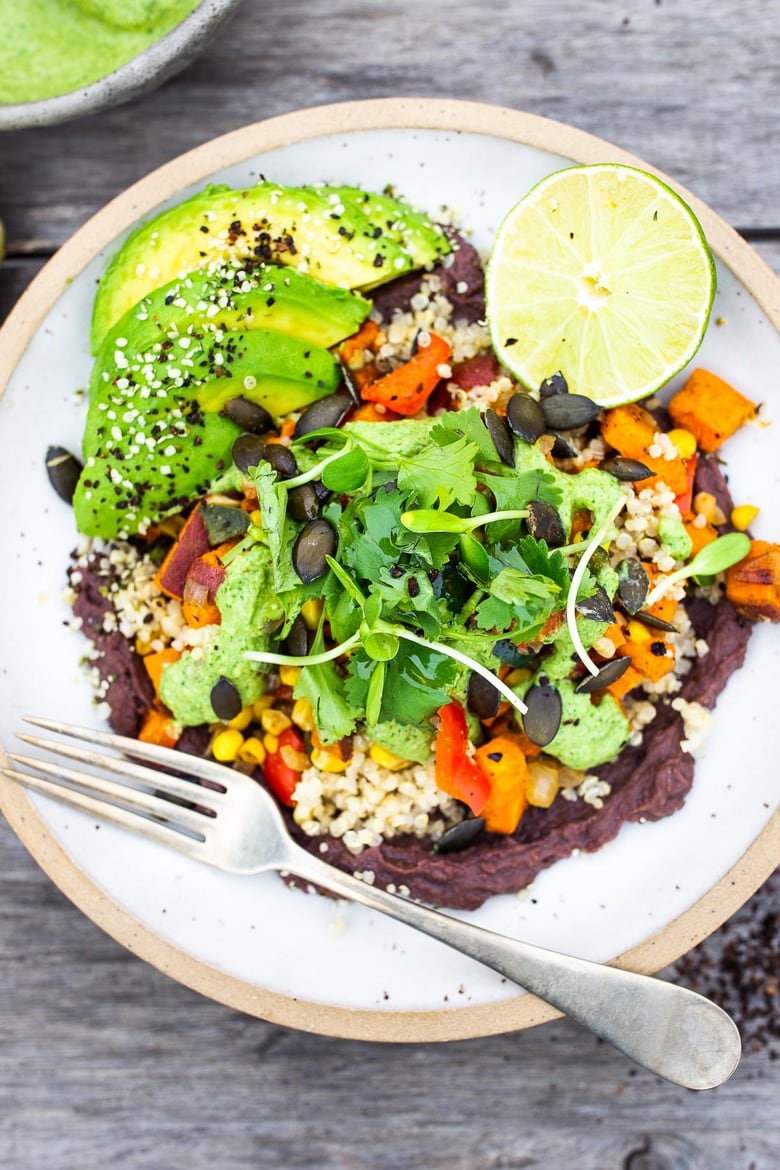 Start with preheating the oven to 425F and roasting the sweet potatoes. ( See full recipe below!)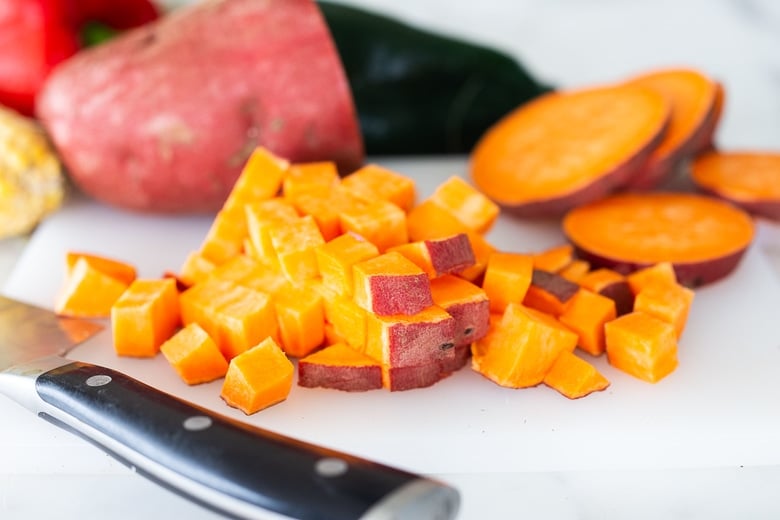 Dice the potatoes small 1/2 inch dice to ensure faster roasting. Toss with oil, salt and pepper. You'll need 1-2 cups.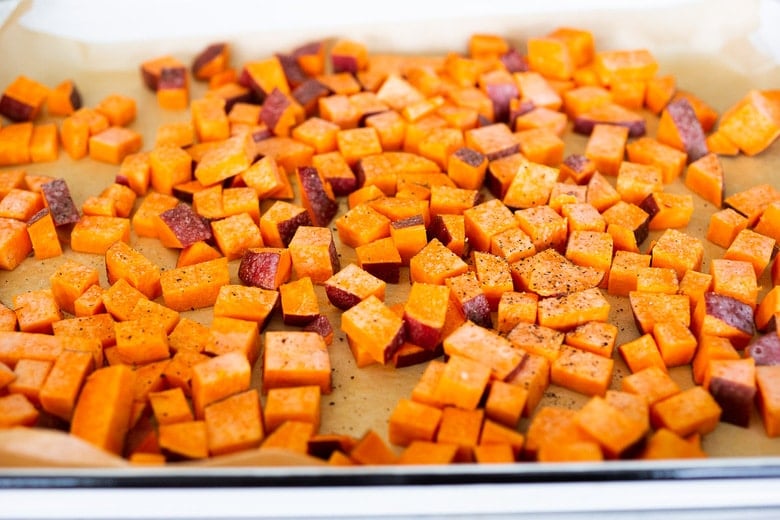 While the sweet potatoes are roasting, you'll do several other things at the same time.
Including cooking the quinoa! Get that going!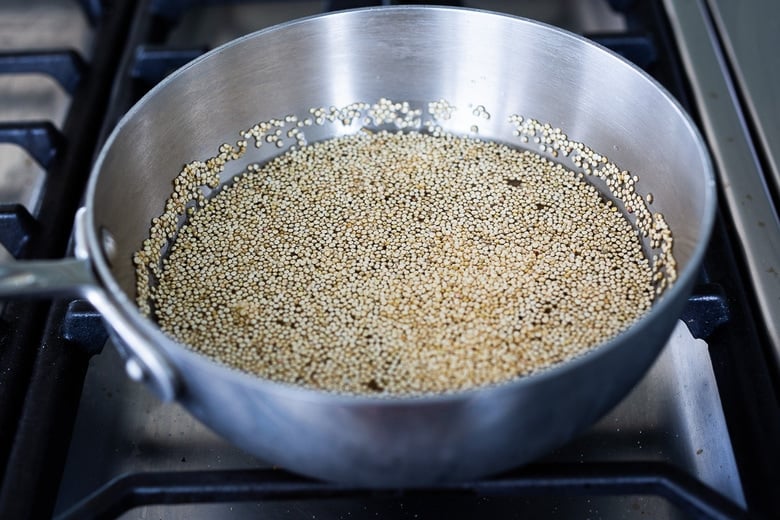 Cut and saute the veggies.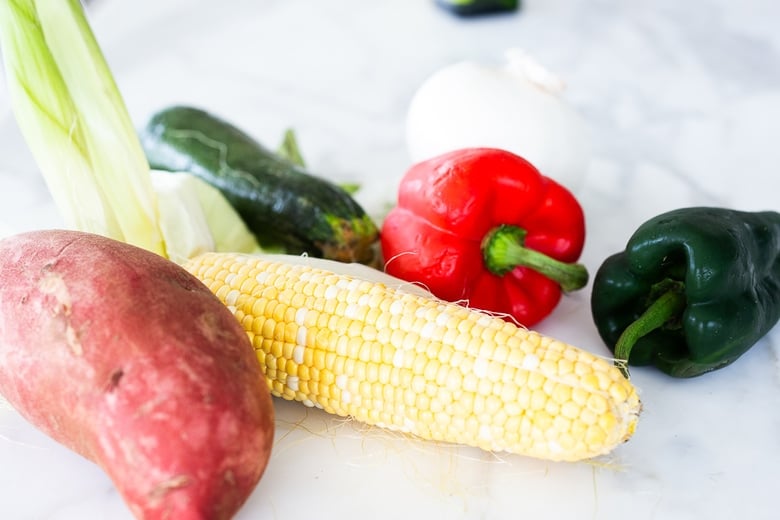 Here I've used onion, garlic, fresh corn, bell pepper, and poblano pepper, but you can easily sub any one of these with another like diced zucchini. The poblano gives it a nice kick.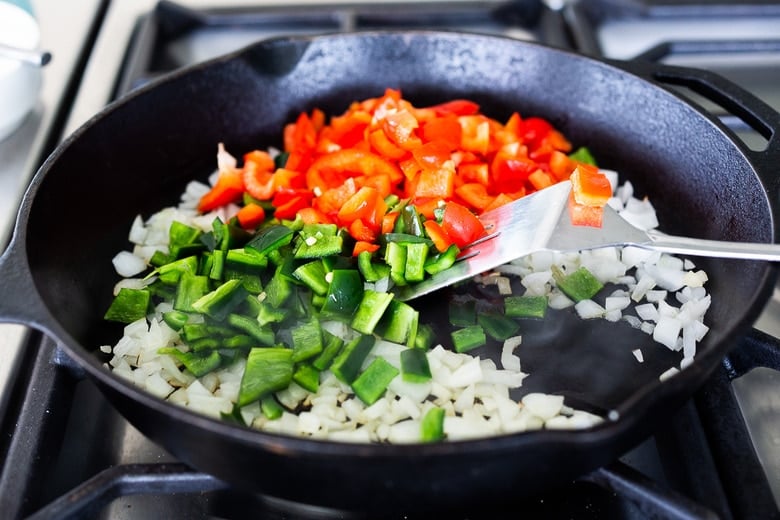 Start with the onion and garlic, then add the peppers.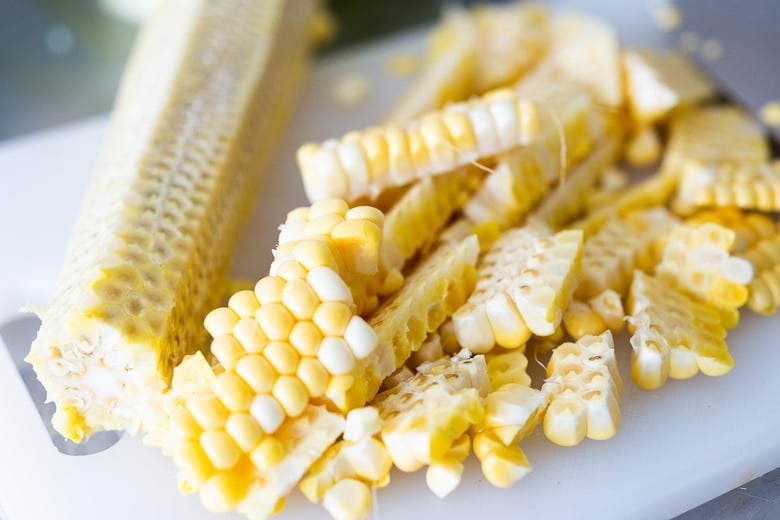 Use fresh corn right off the cob, or use frozen. If you are going corn-free, feel free to sub diced zucchini. You'll need about 1 cup.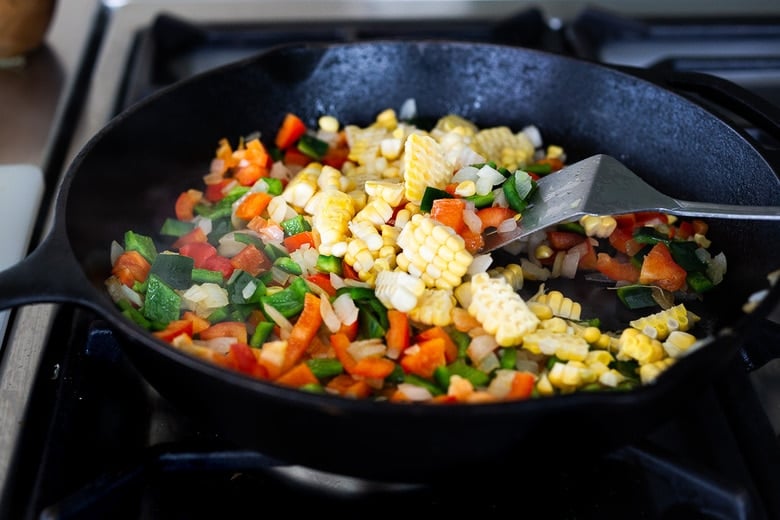 Make the Peruvian Green Sauce (the star of the recipe).
Here I'm keeping the Peruvian Green Sauce vegan with cashews instead of mayo or sour cream ( which you can use, up to you!)
This Peruvian Green Sauce takes 5 minutes-and absolutely MAKES the burrito so don't skip it!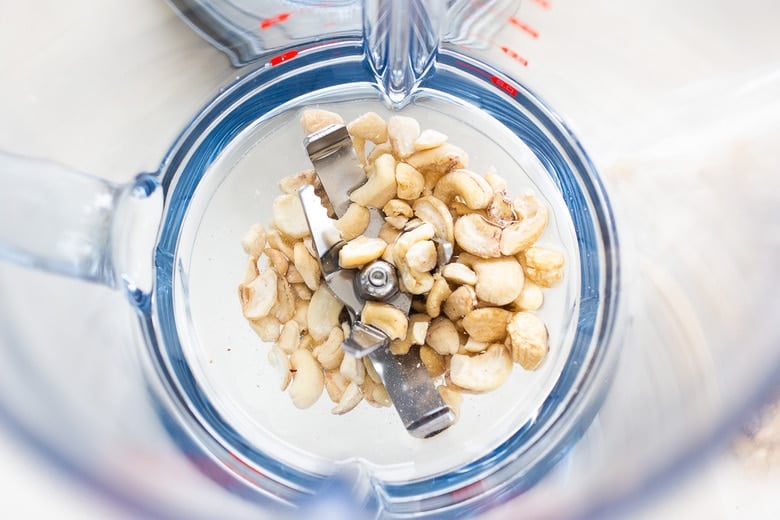 Using cashews and water instead of mayo gives it a delicious, plant-based creaminess.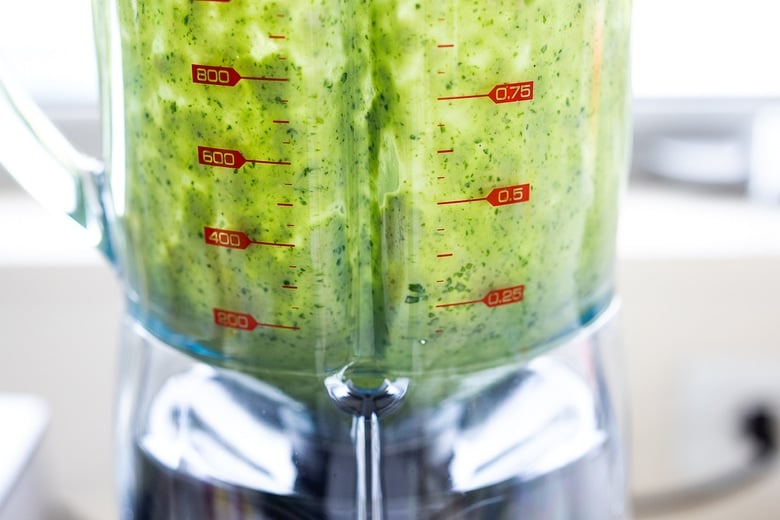 Blend with the cilantro, garlic, lime juice and salt.
Set this aside in a bowl and put it in the fridge.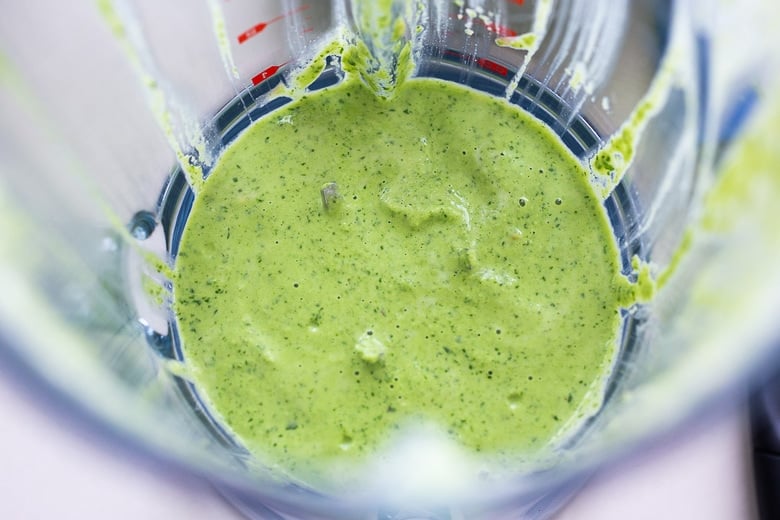 Lastly, make the whipped black beans which also take 5 minutes if you use canned refried black beans.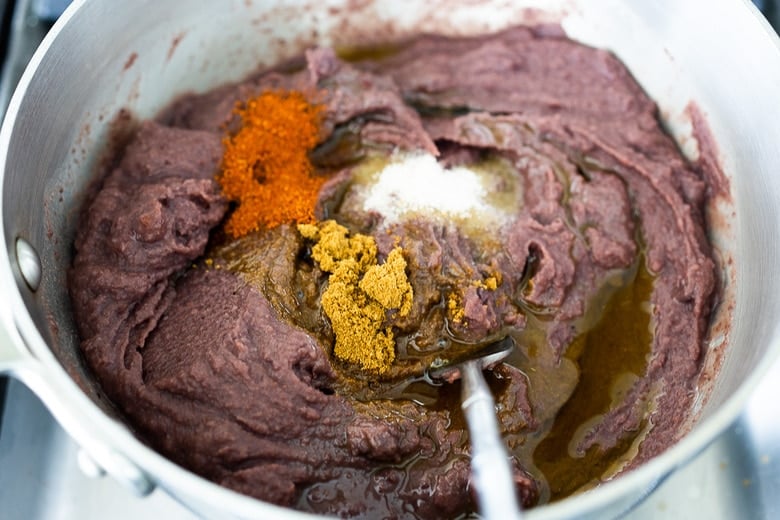 Take a can of refried black beans, place in a pot over the stove and add some water to loosen it up a bit, so they are not as thick. Add the seasonings and olive oil. Whisk.
Today I've kept these vegan, but if you not concerned about that, add a big dollop of sour cream to make them even richer. Or goat cheese (delish!).  My husband LOVES them this way. Olive oil works well too though.
You could also use canned whole black beans and place them in your food processor and puree them with water and the spices and olive oil, until creamy.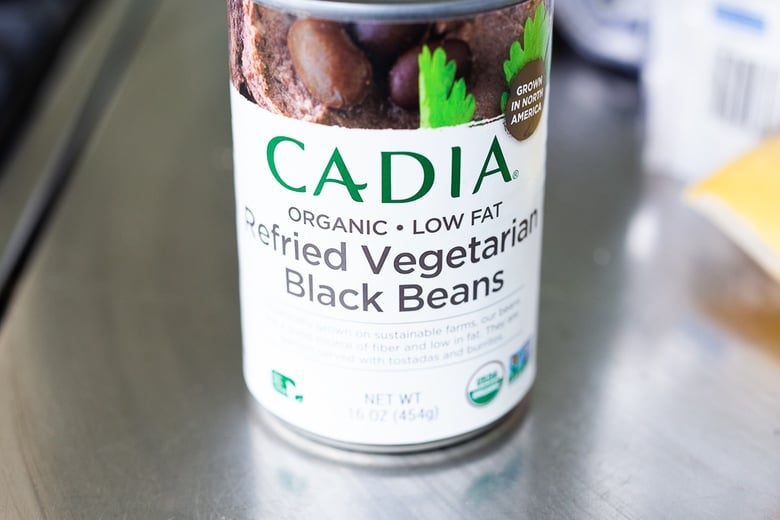 Once the sweet potatoes are crispy and tender, add them to the sauteed veggies.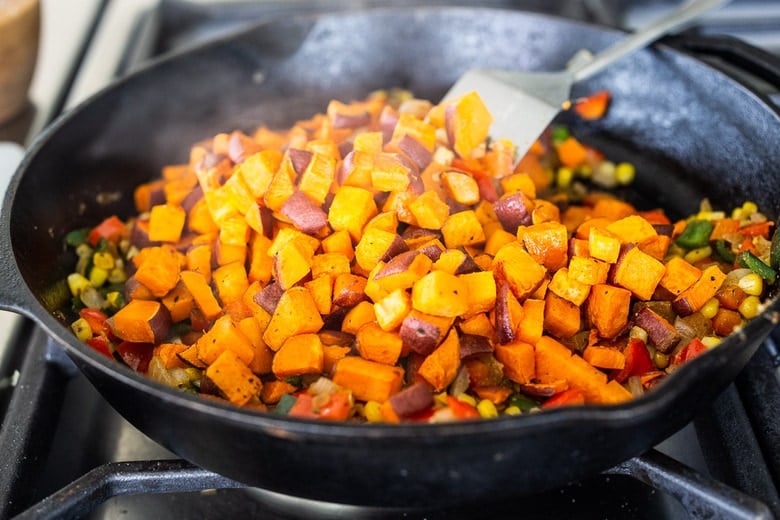 Then get your Peruvian Burrito "station" ready.
As you see below- there is the quinoa, whipped black beans, veggie filling and the Peruvian Green Sauce.
I'm warming tortillas right on the gas range, using tongs.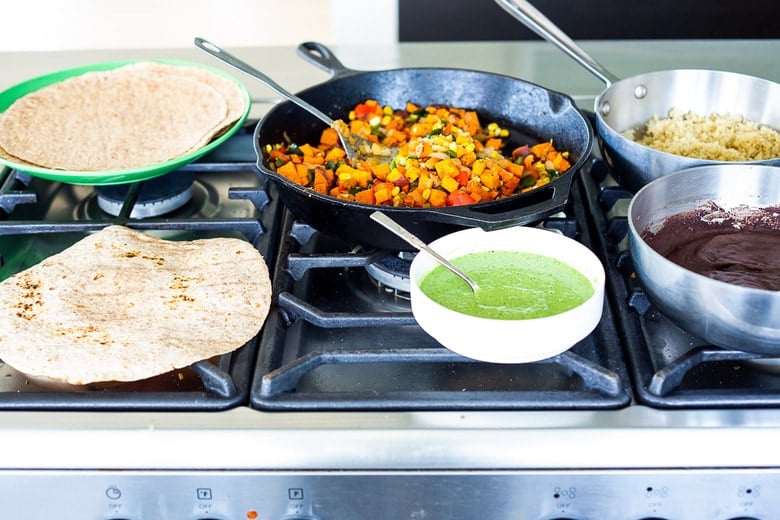 Then just start layering the ingredients. The whipped black beans are like the "glue" holding everything in- so spread it out first, then quinoa, veggies and sauce. Roll it up!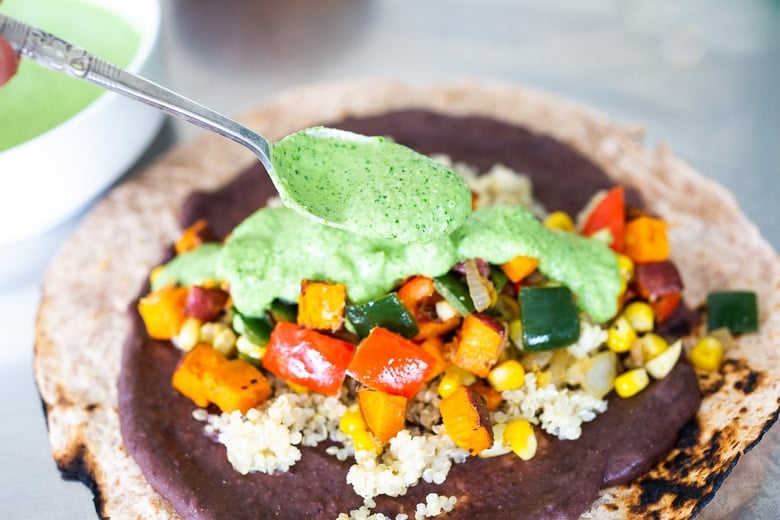 I cut them in half for the photo's which make them harder to eat, so I don't really recommend for real life, unless you have skewers.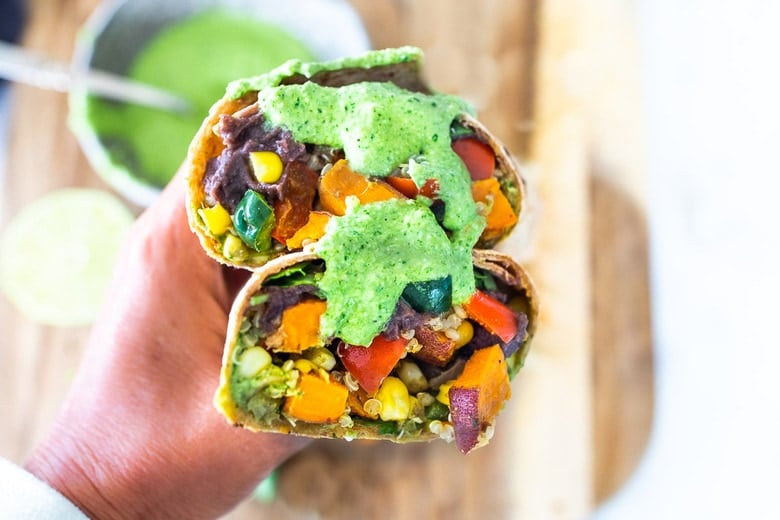 How yummy do these look!
So much flavor here…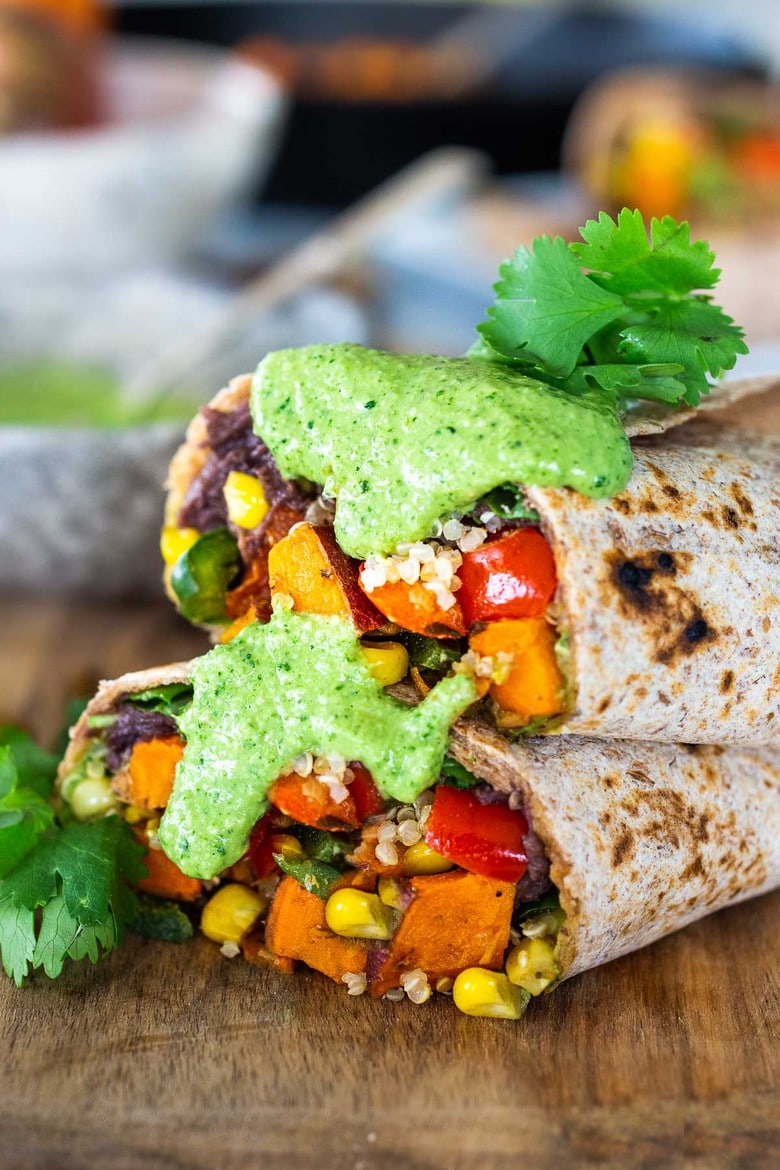 If you can't do quinoa, feel free to sub rice, or just leave it out.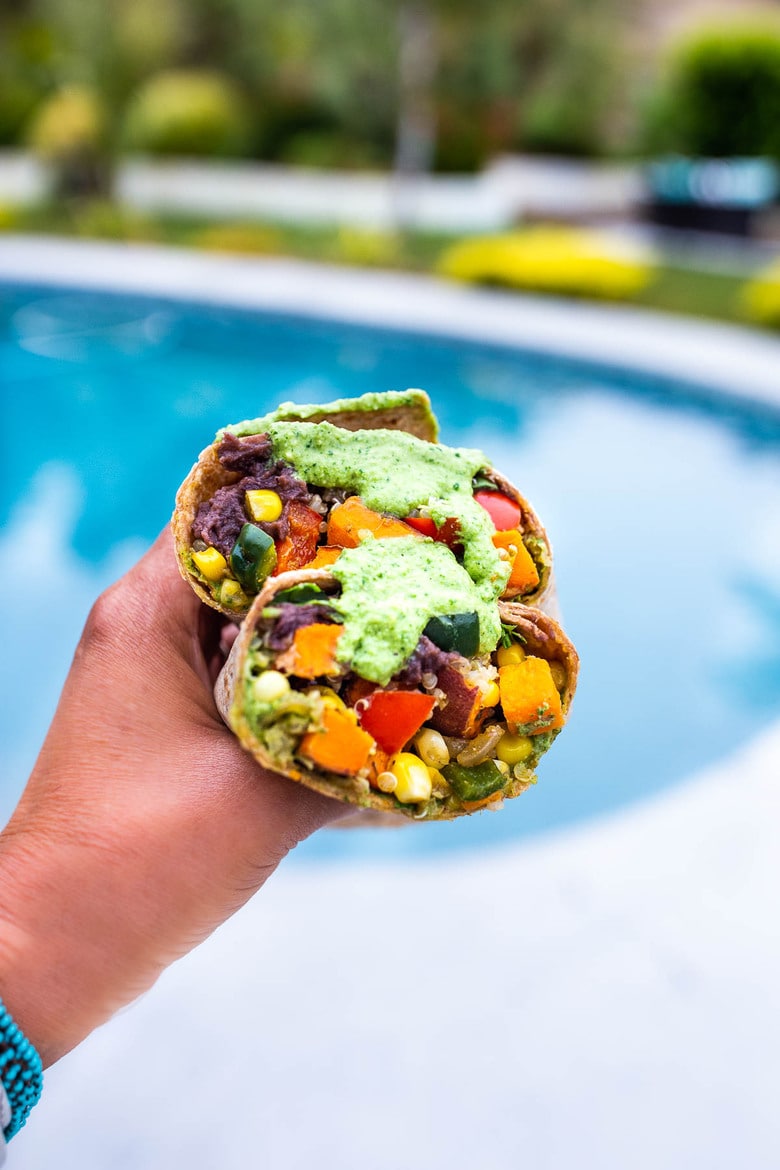 It's a pretty flexible recipe. You could even add leftover chicken for heartier appetites.
More Recipes you may like!
Hope you are enjoying your summer, friends. All is well here on the homefront. Only three more weeks to go here in Santa Barbara before we make the long drive home to Spokane. I'm a little sad to leave this little sunny oasis, but it is time.
Enjoy the Peruvian Burritos and show them to me on Instagram, tagging #feastingathome so I can see!
xoxoxo
Print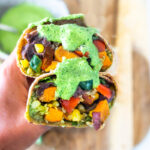 Peruvian Burritos with Aji Verde
Author:

Sylvia Fountaine

Prep Time:

30

Cook Time:

30

Total Time:

1 hour

Yield:

4

1

x

Category:

Vegan, vegan dinner, Burrito

Method:

Stove top and Oven

Cuisine:

Peruvian

Diet:

Vegan
---
Description
Peruvian Burritos with Aji Verde Sauce filled with roasted sweet potato, fresh corn, peppers, quinoa and creamy black beans, then drizzled with spicy Peruvian Green Sauce. A flavor bomb! Vegan and Delicious! (Read the recipe through first before making- yes, there are several components here but this really can be made in one hour. Make several things at the same time- it can be done!)
---
1

small-medium yam or sweet potato, diced (about

1

–

2

cups)
salt and pepper to taste
——-

3/4

cup

dry quinoa (or sub rice)

1 1/2

cups

water
——–

1 tablespoon

olive oil

1/2

onion, diced

4

cloves garlic, rough chopped

1

ear of corn, (

1 cup

corn kernels, or sub

1 cup

frozen corn, or

1 cup

diced zucchini)

1

red bell pepper, diced

1

poblano chili

1/2 teaspoon

salt

1 teaspoon

cumin

1 teaspoon

coriander

1/2 teaspoon

dried oregano
——-

1

can refried black beans (or see notes)

1 tablespoon

oil

1

/4 teaspoon salt

1/2 teaspoon

chili powder

1/2 teaspoon

cumin
Vegan Aji Verde Sauce:
1/3

cup

raw cashews

1/3

cup

water

2

garlic cloves

1/2

–

1

jalapeno ( or

1/2

a serrano chili)

1/2 teaspoon

salt

1 1/2

cups

cilantro, small stems ok

1

–

2

tablespoon lime juice
4 extra-large tortillas  ( 14-16 inches)
---
Instructions
Preheat oven to 425F and gather ingredients & cut veggies.
BAKE SWEET POTATOES: Dice the sweet potatoes into 1/2 inch cubes and place on a parchment-lined sheet pan. Toss with a little olive oil, and a generous five-finger pinch of salt and pepper. Spread out and bake in the middle of the oven until crispy and tender, 20-25 minutes.
COOK QUINOA: At the same time, bring quinoa, water, and pinch of salt to boil in a medium pot. Once boiling, cover, turn heat to low and cook until all the water is gone about 15 minutes. Turn heat off and leave covered. Fluff before serving.
SAUTE FILLING: Also at the same time, in a large skillet, heat oil over medium-high heat. Saute onions 2-3 minutes until they just begin to soften. Add garlic, corn and peppers and lower heat to med, sauteeing until tender, about 10 minutes. Season with the salt, cumin, coriander and oregano. Set aside. When the sweet potatoes are tender, add them to these veggies.
BLEND THE  Peruvian Green Sauce (AJI VERDE SAUCE): While the veggies are sauteeing, blend the Aji Verde ingredients together using a blender. Start with cashews and water, blending till smooth and creamy, scraping down the sides. Add remaining garlic, chili, salt, cilantro and lime juice. Blend until relatively smooth. Scrape it into a small bowl.
WHIP THE BLACK BEANS: Place 1 can refried black beans into a medium pot, breaking them up with a fork.  Add 1/4 cup water (or more) to loosen. Gently warm over medium-low heat, whipping with a fork until they are smooth and creamy. Add a drizzle of olive oil, salt and spices. If you don't care about it being "vegan" stir in grated melty cheese or a dollop of sour cream for extra richness. Whip with fork until creamy and flavorful. You want these to be slightly salty. Cover and turn heat off.
ASSEMBLE BURRITOS: Heat tortillas up until soft and pliable (over a gas flame, or in the oven on the rack). Spread with whipped black beans "the glue", a few tablespoons quinoa, 1/2 cup veggies and 2-3 tablespoon of Peruvian Green Sauce. Roll up, tucking the ends in as best you can. Enjoy!
Peruvian BURRITO BOWLS: Spoon some warm whipped black beans into the bottom of a bowl. Top with some quinoa, vegges and AJI VERDE Sauce. Garnish with avocado slices, diced tomatoes, cilantro, pumpkin seeds, sunflower sprouts.  If making bowls instead of burritos, I would double the beans for 4-6 people.
---
Notes
BEANS: Feel free to use regular refried beans if you can't find refired black beans. Or use canned black beans: drain and place in the food processor with 1/4 cup water ( add more to desired consistency) salt, seasonings and olive oil. Puree until creamy! Heat up in a pot.
BOWLS: If making bowls instead of burritos, I would double the beans for 4-6 people.
Yes, there are several components here but this really can be made in one hour. Make several things at the same time- it can be done!
Nutrition
Serving Size:

4 Burritos with 3 tablespoons of the Aji Verde sauce each

Calories:

495

Sugar:

8.3 g

Sodium:

1243.8 mg

Fat:

13 g

Saturated Fat:

1.9 g

Carbohydrates:

82.7 g

Fiber:

15.9 g

Protein:

16.3 g

Cholesterol:

0 mg
Keywords: Peruvian Burrito, Peruvian burritos, vegan burrito, vegan Peruvian Burrito, vegan Aji Verde Recipe, Peruvian Bowls, Peruvian Burrito Bowl