Peruvian Chicken (Pollo a la Brasa) with Peruvian Green Sauce (Aji Verde) and Avocado Tomato Cucumber Salad. Can be made in 40 minutes- perfect for weeknights! Vegan adaptable!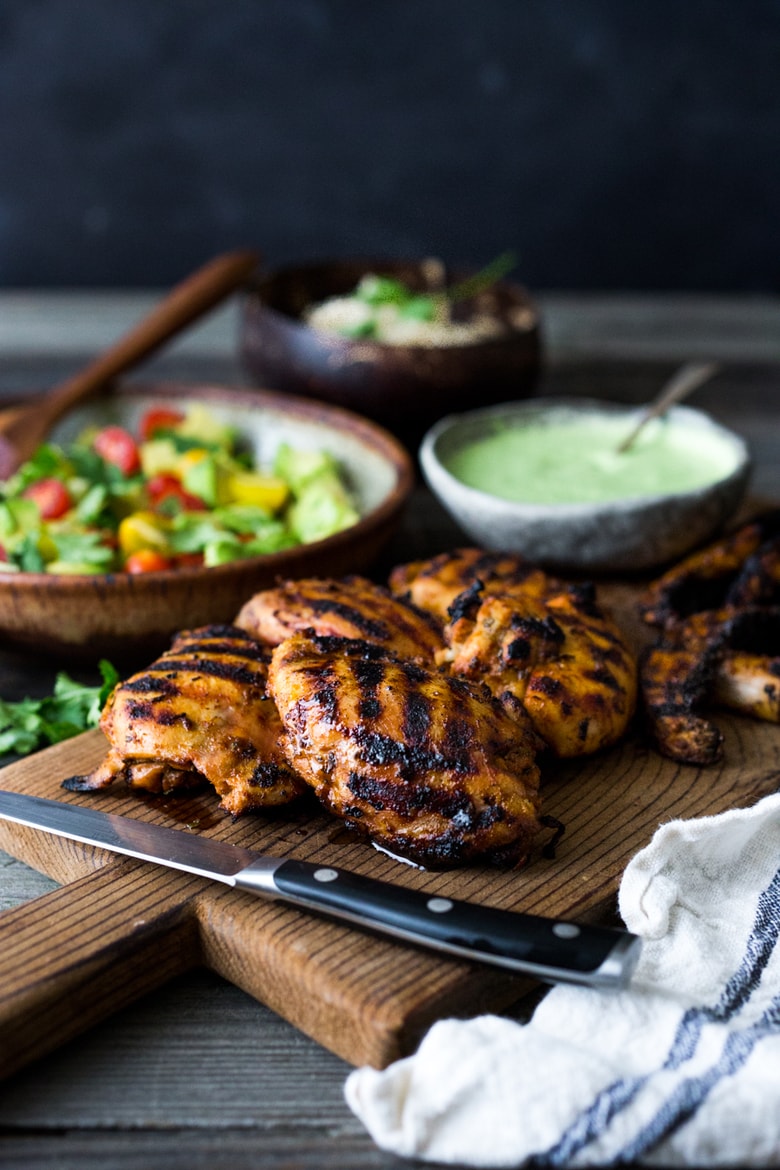 Row row row your boat, gently down the stream.
Merrily, merrily, merrily, merrily, life is but a dream.~

While in Seattle we lunched at a little Peruvian restaurant and ordered Pollo a la Brasa, aka, Peruvian Chicken. It came with an addicting spicy green sauce and a simple side salad, and instantly I was hooked.
Instead of roasting a whole chicken in the traditional way I used boneless, skinless breast and thighs and grilled them instead of firing up the oven- making the cooking process faster, cooler (during the summer months) and without the skin, a bit lighter and healthier.
For mixed households, vegans can substitute portobellos for the chicken using the same flavorful marinade- it's very easy to grill up both the chicken and portobellos.
Watch how to make

Peruvian

Chicken!
And be sure to make this fresh Avocado-Cucumber and Tomato Salad – it's so simple and tasty and if you want, serve it all up with rice. If you are a fast chopper and a multitasker, the whole meal can be made in about 35-40 minutes. Seriously!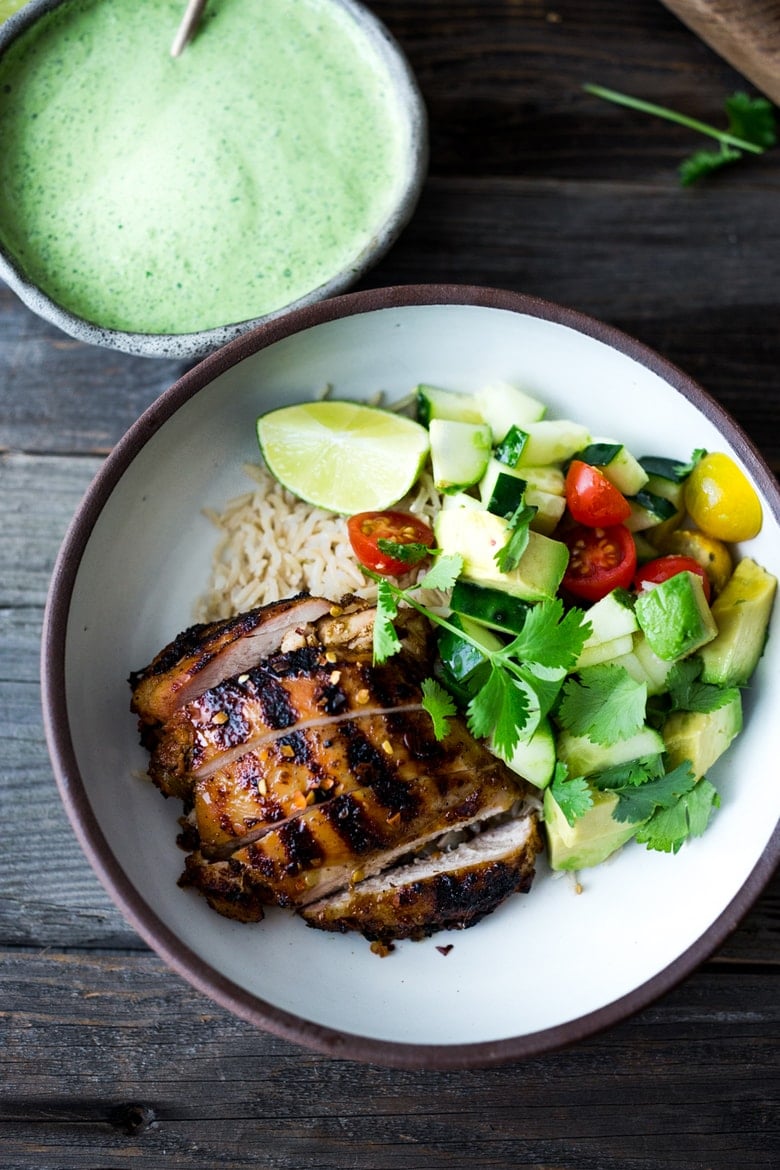 On the home-front: We've been taking it easy. Yes catering some weddings, but really not as many as previous years. I'm loving my life- I can't remember a summer where time felt so plentiful. It's really a luxurious feeling. I'm not sure if I've told you this, but this will be our last year catering.
The plan is to travel part of the year and focus on this blog. Yes, surprisingly blogging is a "business", and one that doesn't cause as much stress anxiety. I'm sitting here typing in my PJ's! For the last 22 years, I've led a pretty stress-filled life (my choice) with the restaurant, then with the catering business- so anyways- I'm so excited to slow down, take care of myself and get to do more of what I love!
Look how clean and healthy this Peruvian Chicken looks! Especially if you go light on the green sauce, which I'll admit, is difficult to do.
Mildly spicy, citrusy, earthy the Peruvian chicken is flavorful and juicy, and the portobellos are just as tasty! This whole meal could be easily be made vegan, so be sure to look at the recipe notes.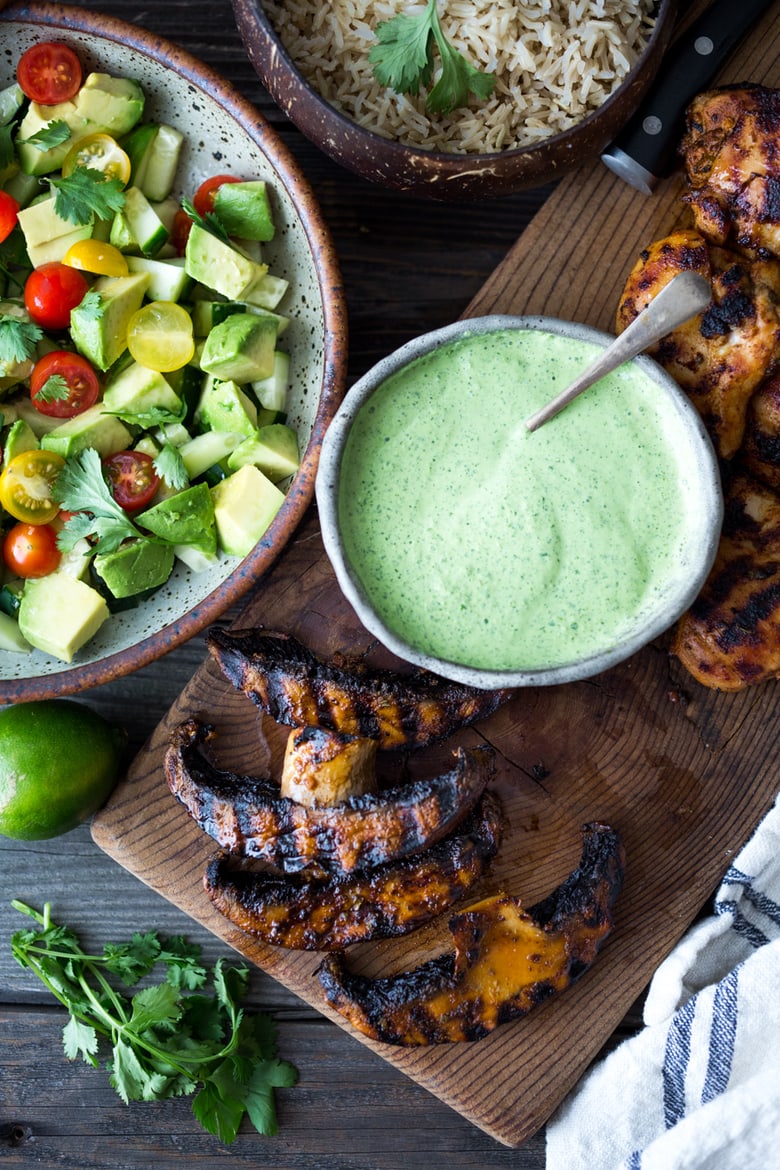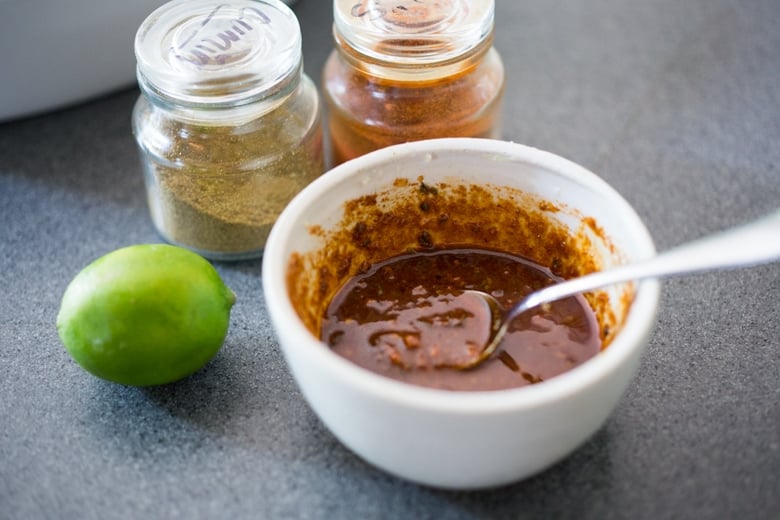 The quick easy peruvian marinade is made with olive oil, garlic, spices and lime juice.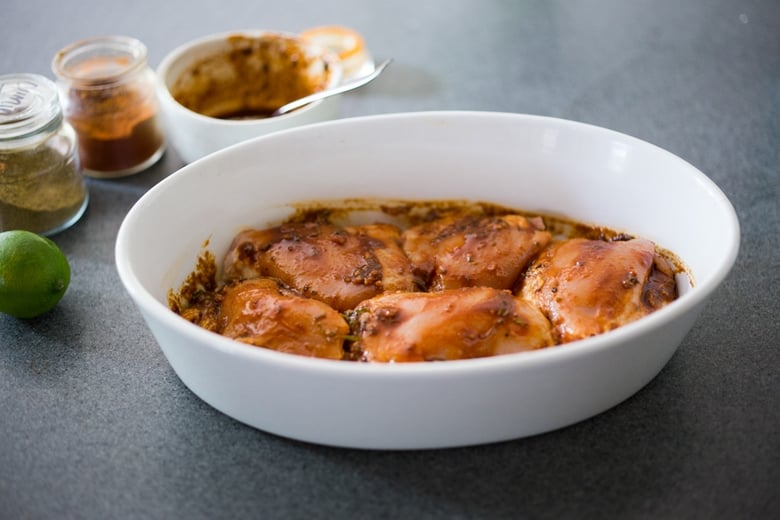 Marinate the Peruvian chicken while the grill heats up. Or marinate overnight for even more flavor! Here I'm using boneless skin-less thighs, but breasts would work too, as well as bone-in, skin-on chicken. Keep in mind that boneless breasts cook the fastest and are the leanest, not including these portobello mushrooms.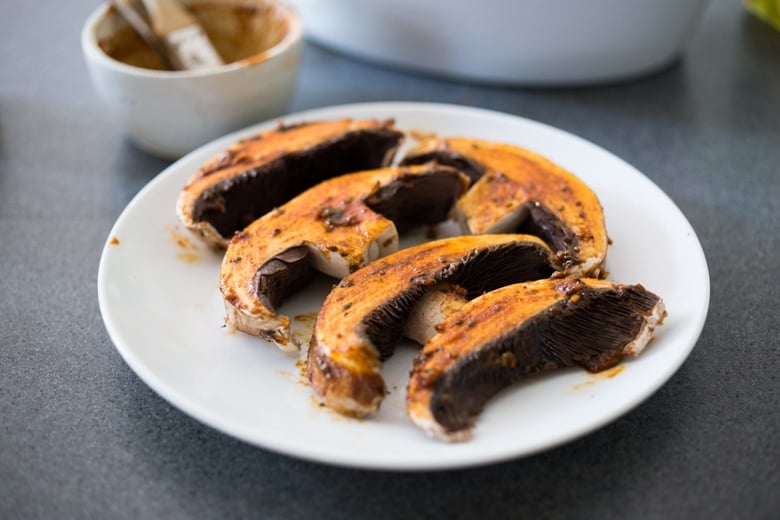 Portobellos can be sliced or grilled whole. Be sure to brush the marinade on lightly, because mushrooms are porous can actually soak up too much, if you are not careful.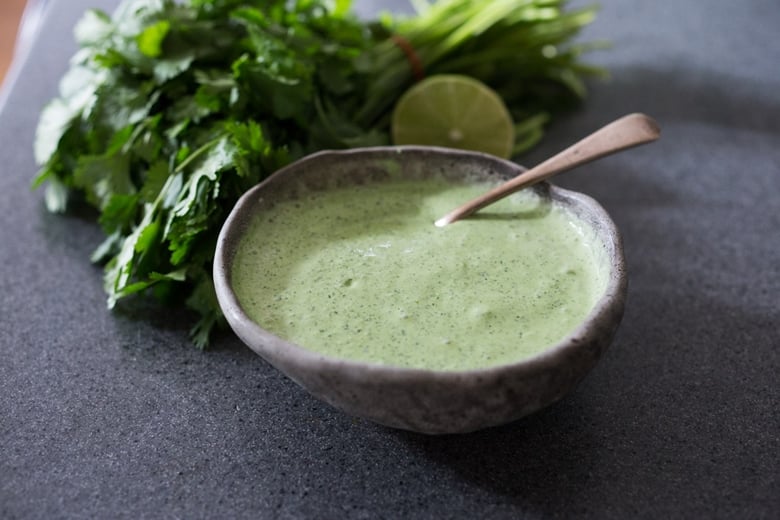 While the grill heats up, whip up the Spicy Peruvian Green Sauce in the blender.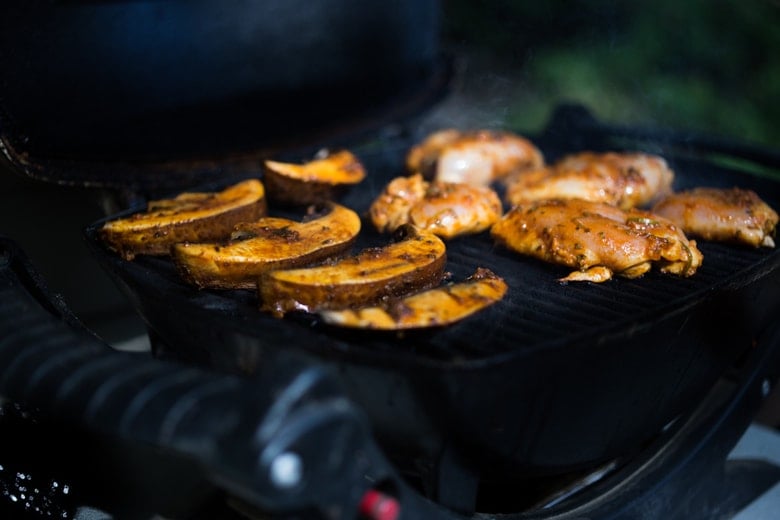 As the chicken and portobellos grill, make the Avocado Tomato Cucumber salad.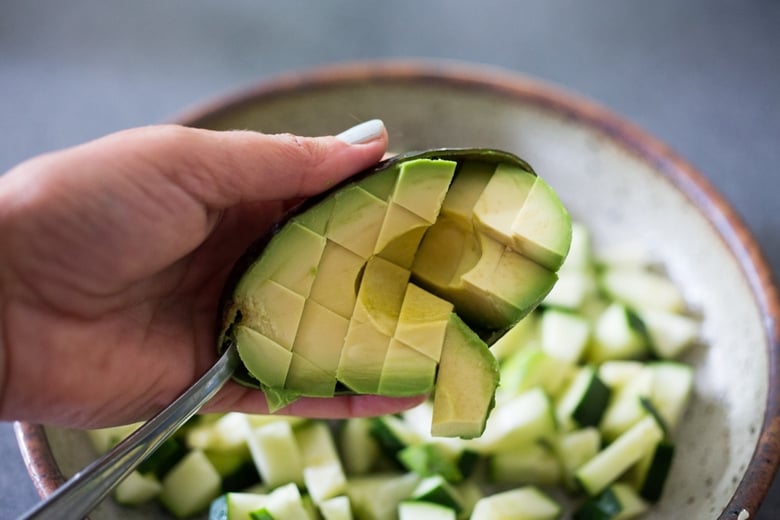 Avocados and cucumber are diced, and cherry tomatoes are halved. Then it's simply drizzled with olive oil, lime juice and a sprinkle of salt and pepper.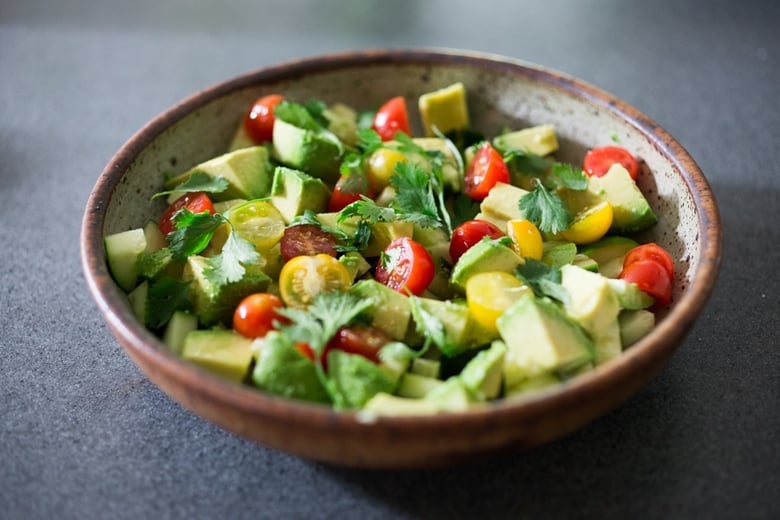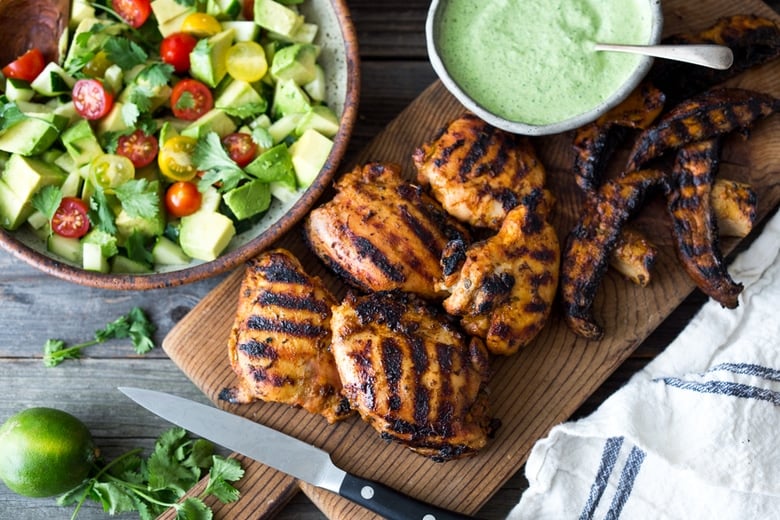 Serve the Peruvian Chicken with rice for a heartier meal.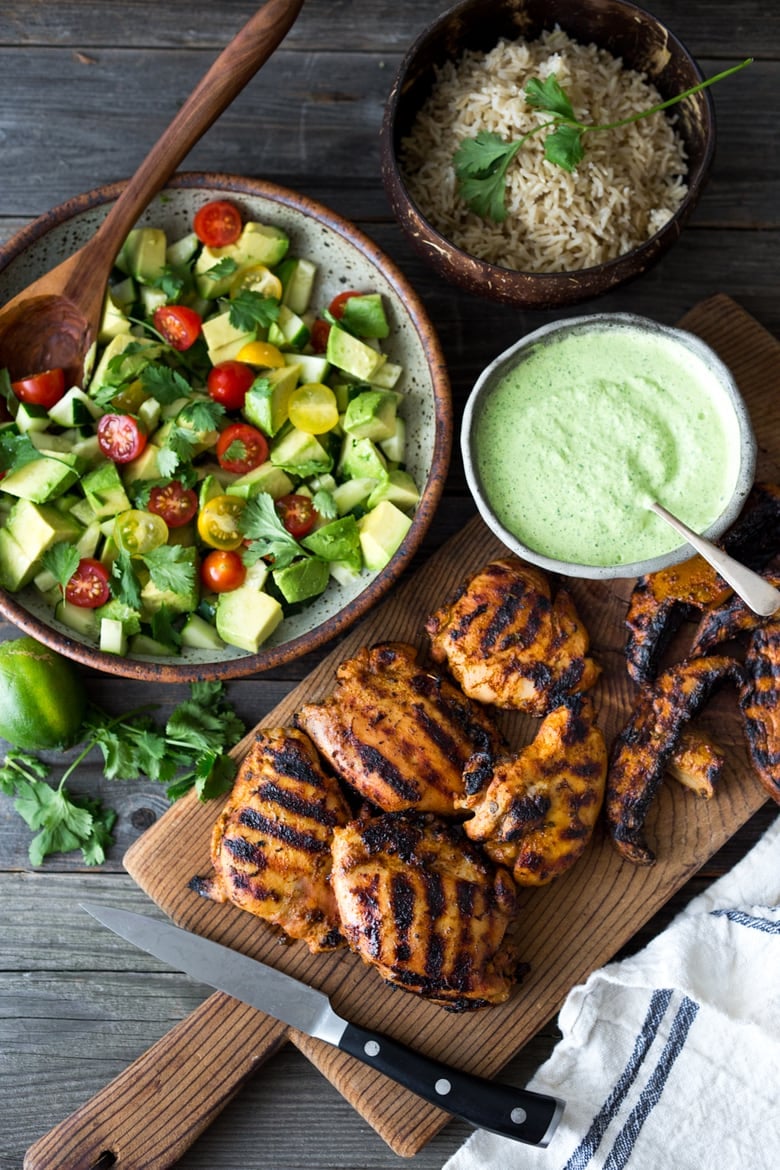 Serve the Peruvian Chicken with Green Sauce separately or build bowls.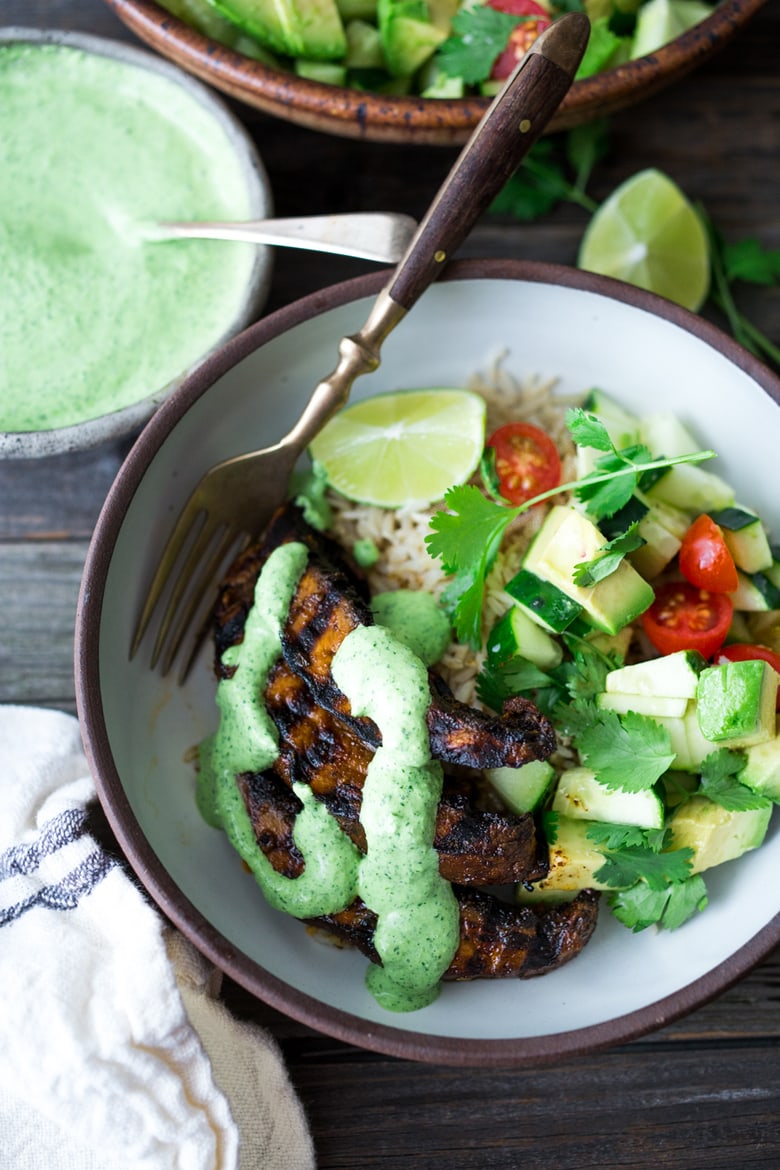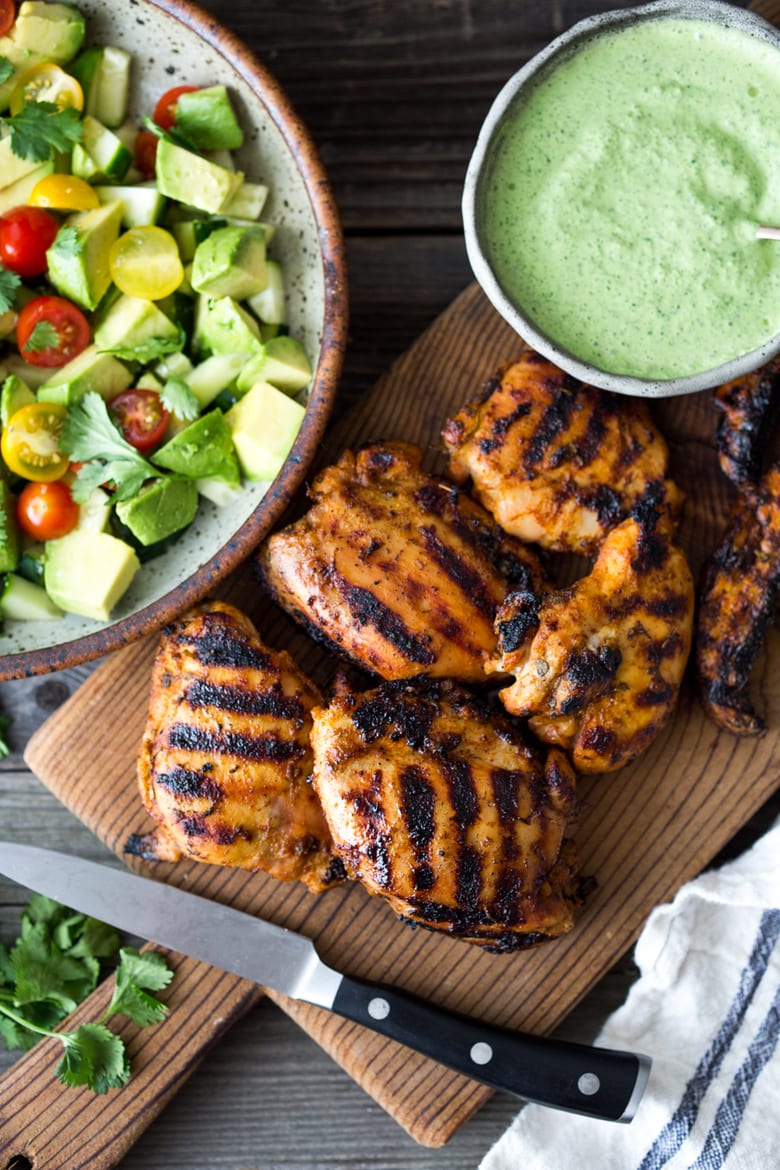 Love hearing your feedback and comments….let us know how you like it, or how you adapted it….and remember to tag your creations #feastingathome on instagram so I can see what you are making!
Print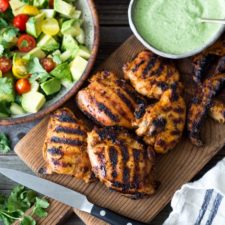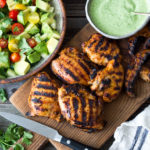 Peruvian Chicken with Spicy Peruvian Green Sauce
Author:

Sylvia Fountaine

Prep Time:

20

Cook Time:

20

Total Time:

40 minutes

Yield:

4-6

Category:

Main

Method:

Adaptable

Cuisine:

South American
---
Description
A simple recipe for Peruvian Chicken with spicy Peruvian Green Sauce is bursting with flavor and can be made with either chicken or portobellos (a tasty vegetarian option) or both for mixed households. Served with Spicy Cilantro Sauce, Avocado Cucumber & Tomato Salad and optional rice, these can be made into individual Bowls, or served separately.
---
1 ½

–

2

pounds chicken (thigh or breast, boneless, skinless- see notes) Or substitute portobellos!
Marinade:
Peruvian Green Sauce (Aji Verde) : 
½ cup

sour cream or mayo  (see notes for vegan option)

½

jalapeño (use less for less spicy)

1

garlic clove

1 cup

chopped cilantro- thin stems ok.

¼ teaspoon

kosher salt
a squeeze of lime ( 1 tablespoon, save other half for salad)
Avocado Cucumber Tomato Salad
2 cups

diced or sliced English or Turkish cucumber

1

large perfectly ripe avocado, diced
handful cherry tomatoes ( yellow and red are nice )
cilantro leaves for garnishing
olive oil for drizzling
generous, 5 finger pinch kosher salt
squeeze of lime
Optional Bowl Additions- cooked Cilantro Lime Rice or Mexican Pinto Beans…. or both.
---
Instructions
Preheat grill to medium-high.
If making rice, start this now on the stove.
Make the marinade in a small bowl. Using a garlic press, finely mince the garlic and place it in the bowl. Add oil, lime juice, honey,  cumin, paprika, coriander, oregano and salt and optional soy sauce. Stir. Toss it with the chicken in a bowl, coating all sides well, and/ or brush it onto the portobellos. Marinate while the grill heats up or overnight for more flavor. (The portobellos will soak up the marinade so if marinating overnight go lightly, reapply before grilling.)
Make Peruvian Green Sauce by placing all the ingredients in a blender and blending until relatively smooth, scraping down the sides if necessary.
When the grill is hot, grill the chicken and/ or portobellos, searing both sides well ( using a metal spatula to flip) then turn the heat down or move to a cooler side of the grill to allow the chicken to cook through. Portobellos will cook faster, so plate and cover with foil to keep warm.
Make the salad by placing the diced cucumber in a wide shallow bowl. Add avocado, spacing it out evenly. Add a few cherry tomato halves. Sprinkle generously with salt and pepper and drizzle lightly with olive oil. Squeeze with lime juice. Garnish with cilantro leaves.
Serve with the Cilantro Lime Rice. If making bowls, place ¾ cup rice on the bottom of the bowl, add sliced chicken or portobellos to one side, avocado salad on the other side and drizzle with the cilantro sauce. Enjoy!
---
Notes
Feel free to use bone-in, skin-on chicken, although cooking time will increase on the grill. Instead of grilling you can also roast in the oven at 400F, or pan-sear, then finish in the oven. Traditionally, in Peru, a whole chicken is marinated then roasted in the oven, but to save time here, I used boneless, skinless thighs, and breast would work just as well.
A note on Peruvian Green Sauce ( Aji Verde): Mayo is traditional. I prefer sour cream, or a blend of sour cream and mayo.
***This can easily be made vegan by subbing vegan mayo, or instead of mayo, using 1/4 cup raw cashews and 1/4 cup water, with a tablespoon of lime juice and upping the salt to 1/2 teaspoon, blending in a high-powered blender. If your blender is not "high-powered" soak the cashews for 4 hours first, so they soften.
Keywords: Peruvian Chicken, Peruvian Chicken Recipe, Grilled peruvian chicken, Peruvian Green Sauce, peruvian green sauce recipe