These tasty Vegan Quesadillas are filled with farmer's market veggies – caramelized sweet onions, zucchini and summer squash and wilted squash blossoms (optional). Served with a flavorful Roasted Poblano & Pumpkin Seed Salsa they make for a  hearty appetizer or light main! Easily customizable.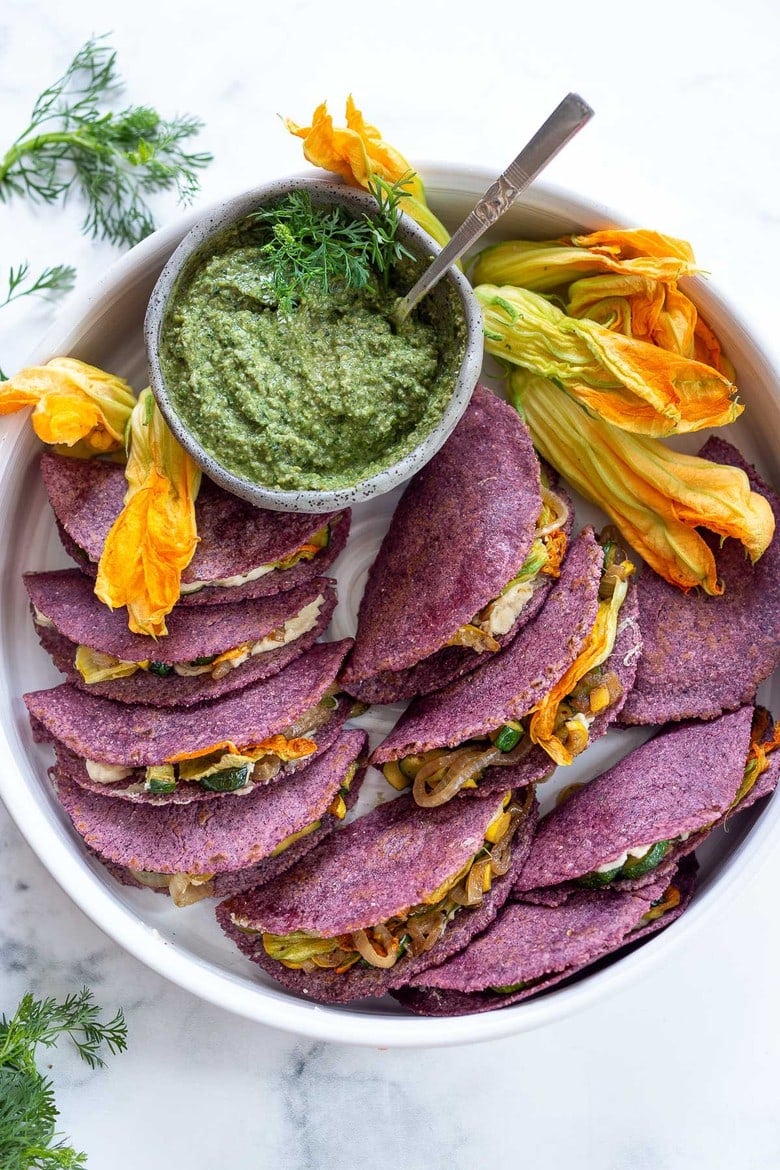 Here is a recipe for Vegan Quesadillas highlighting beautiful zucchini and summer squash and their blossoms! These are served up with a flavorful Poblano Pumpkin Seed Salsa and creamy Cashew Cheese.
Of course, you don't have to keep them vegan- or if you like, you can make some vegan and some not for mixed households, but I wanted to show you a great way to make them vegan without using store-bought vegan cheese (which, of course, is a good option too).
Once you make the recipe, you'll see how easy it would be to add other veggies to the mix- corn, peppers, mushrooms, etc.
This week, I'm also going to share how I make tortillas from scratch- also optional.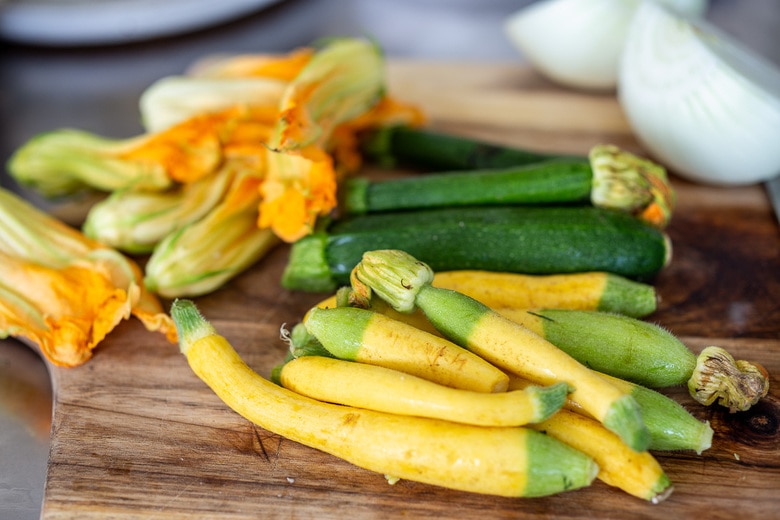 This is also a beautiful way to incorporate the squash blossoms into your cooking- which of course are optional- but so lovely here.
Here we've got some beautiful farmers market baby zucchini and summer squash and some fresh squash blossoms.
Dice or slice the zucchini up finely. You'll only need about 2 cups of zucchini.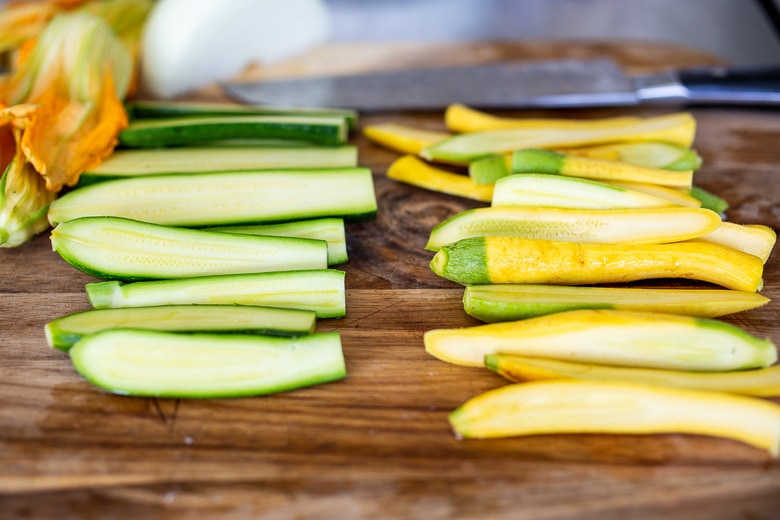 Slice a sweet onion.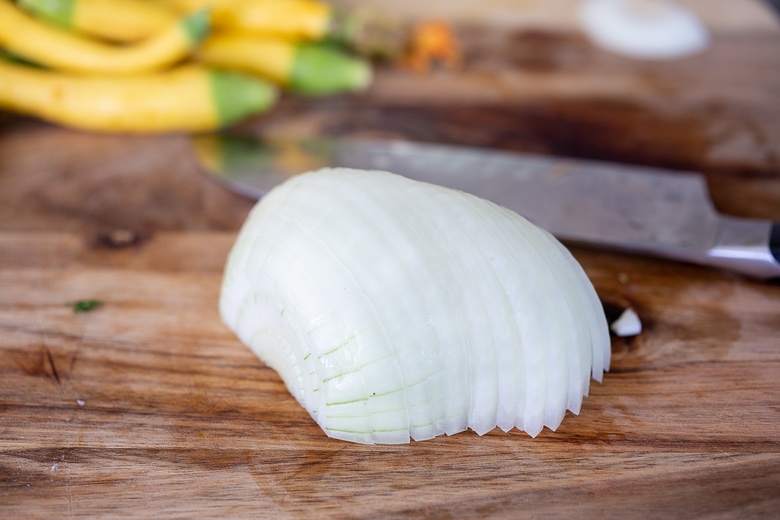 Saute the sweet onion until soft and fragrant, then add the zucchini.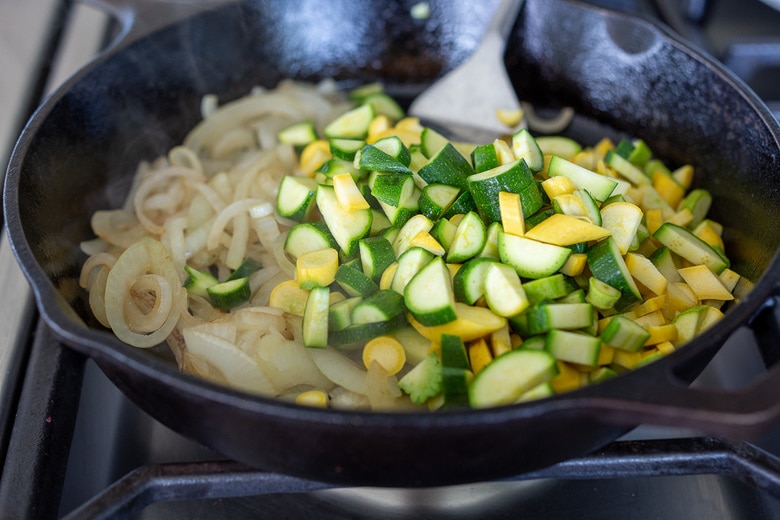 Season with the salt and spices.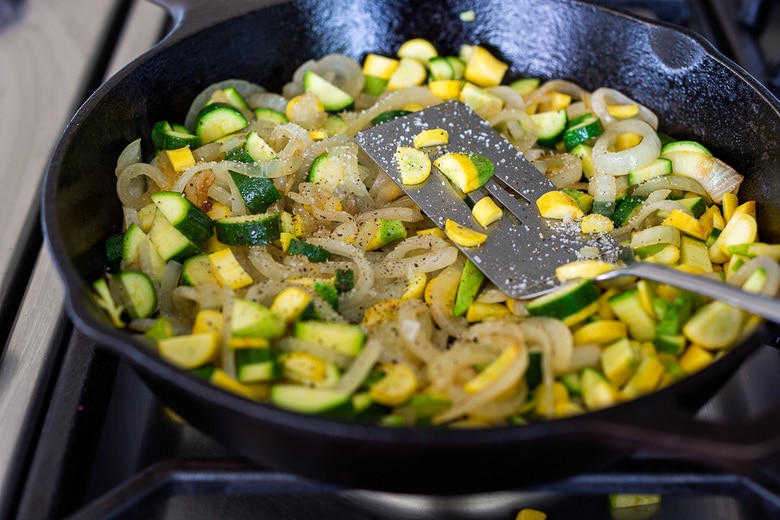 Then after the zucchini is tender, wilt the blossoms. Tear the petals off and add to the saute.
Then add them to the pan with the veggies. Now you have a flavorful filling for the vegan quesadillas!
Then assemble the vegan quesadillas!
Here I'm using a spreadable creamy vegan cashew cheese and homemade sourdough and corn tortillas, but feel free to use other cheese if you prefer and store-bought tortillas.
The creamy Cashew Cheese requires 3 hours of soaking time- so best made ahead!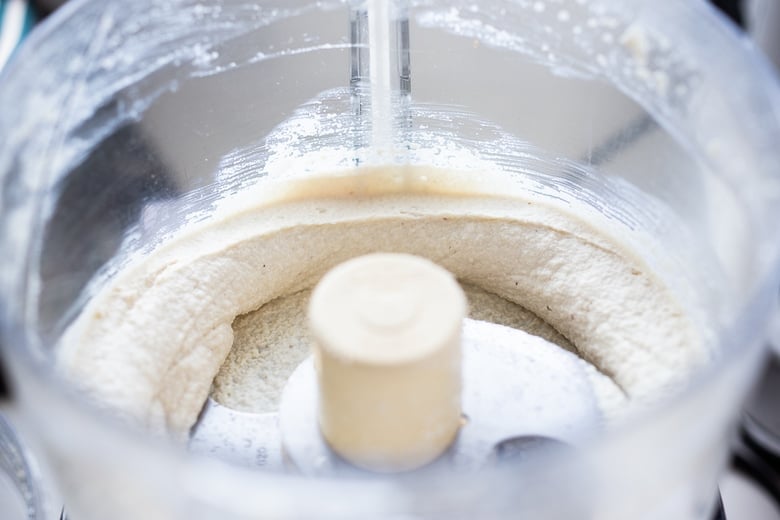 If you are interested in making your own homemade tortillas, please check out How to make Tortillas.
Keep in mind, you can fill these little guys with whatever seasonal produce you have on hand. I love them with grilled mushrooms as well!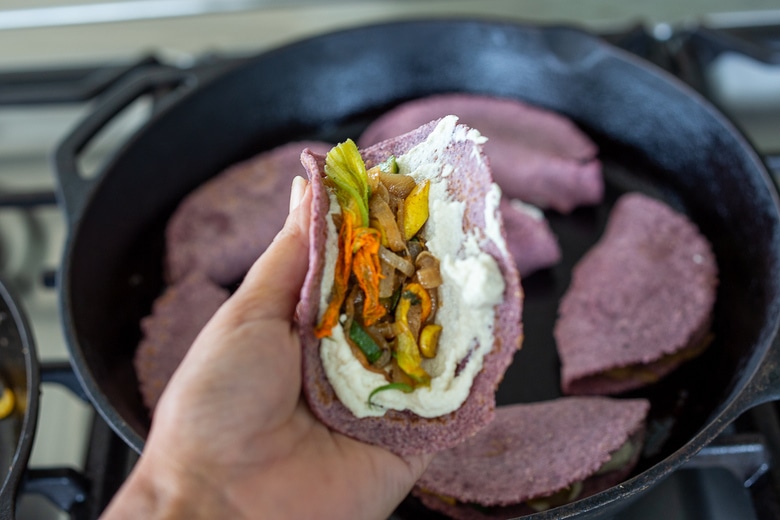 Fold them up and pan sear!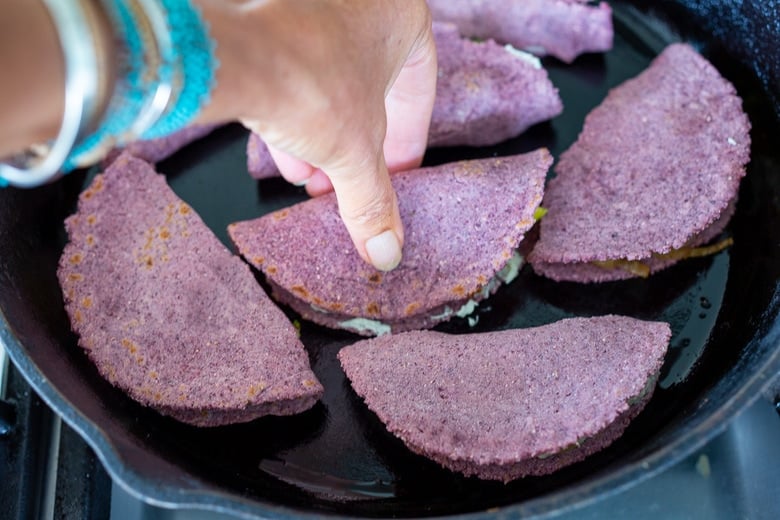 The Roasted Poblano Salsa can also be made ahead.  Or make it while you saute the filling.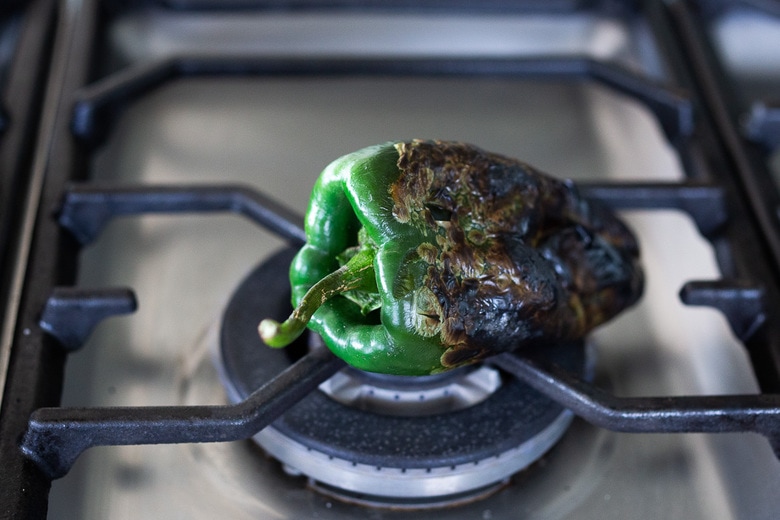 Roast the poblano on the stove over a gas flame in the oven.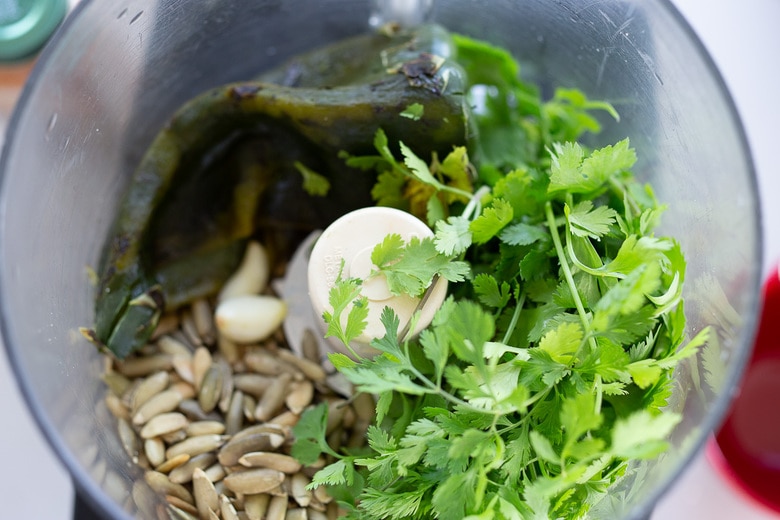 Blend with the pumpkin seeds, cilantro and garlic.
This adds so much flavor to the quesadillas- do not skip this part!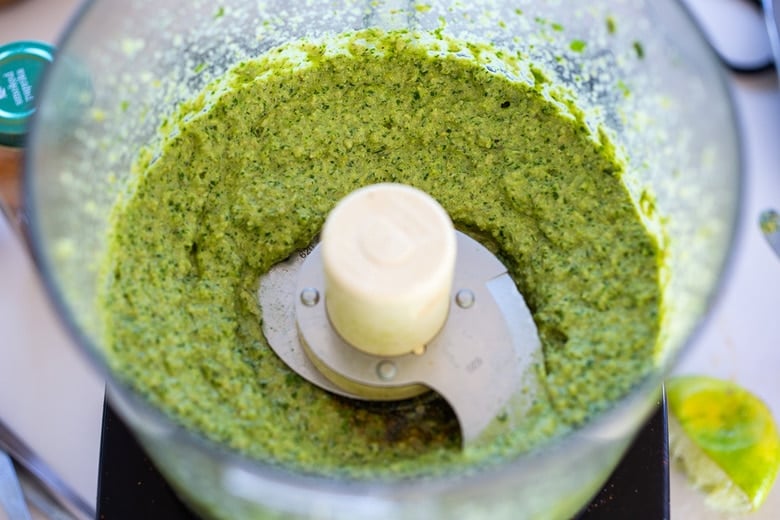 And trust me, you will loooooooove it.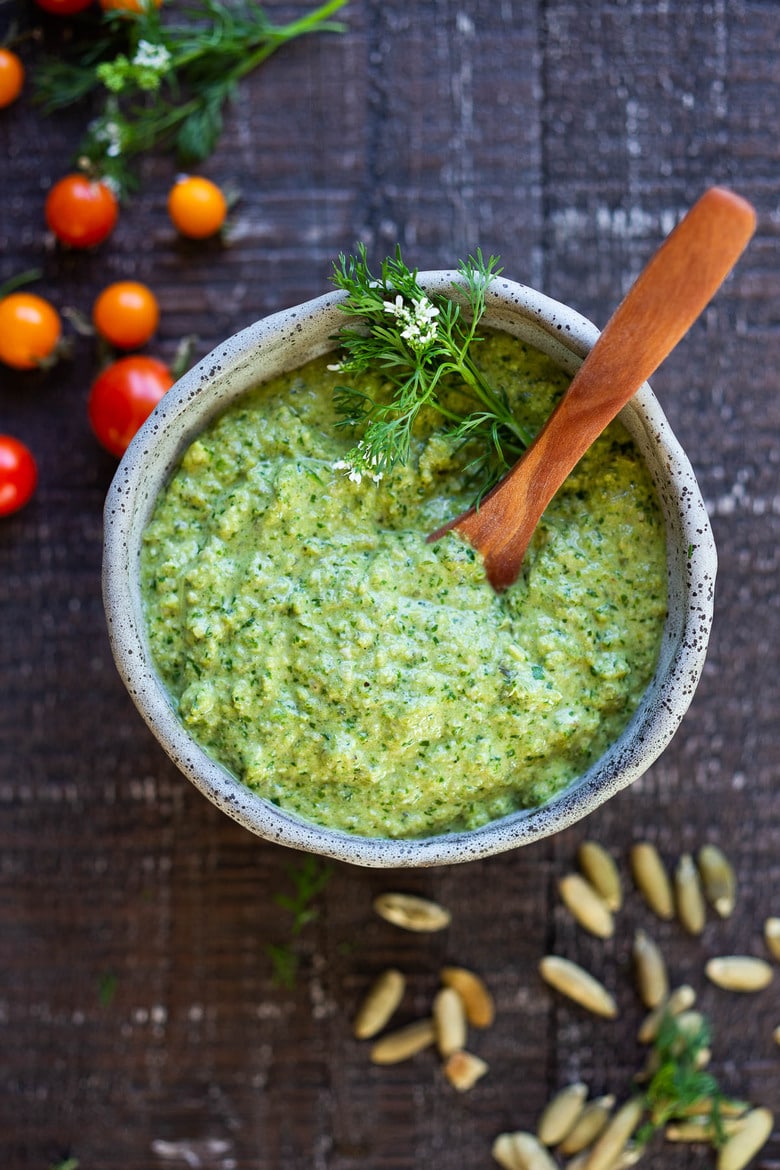 So much flavor here!
Serve them together on a platter or cutting board!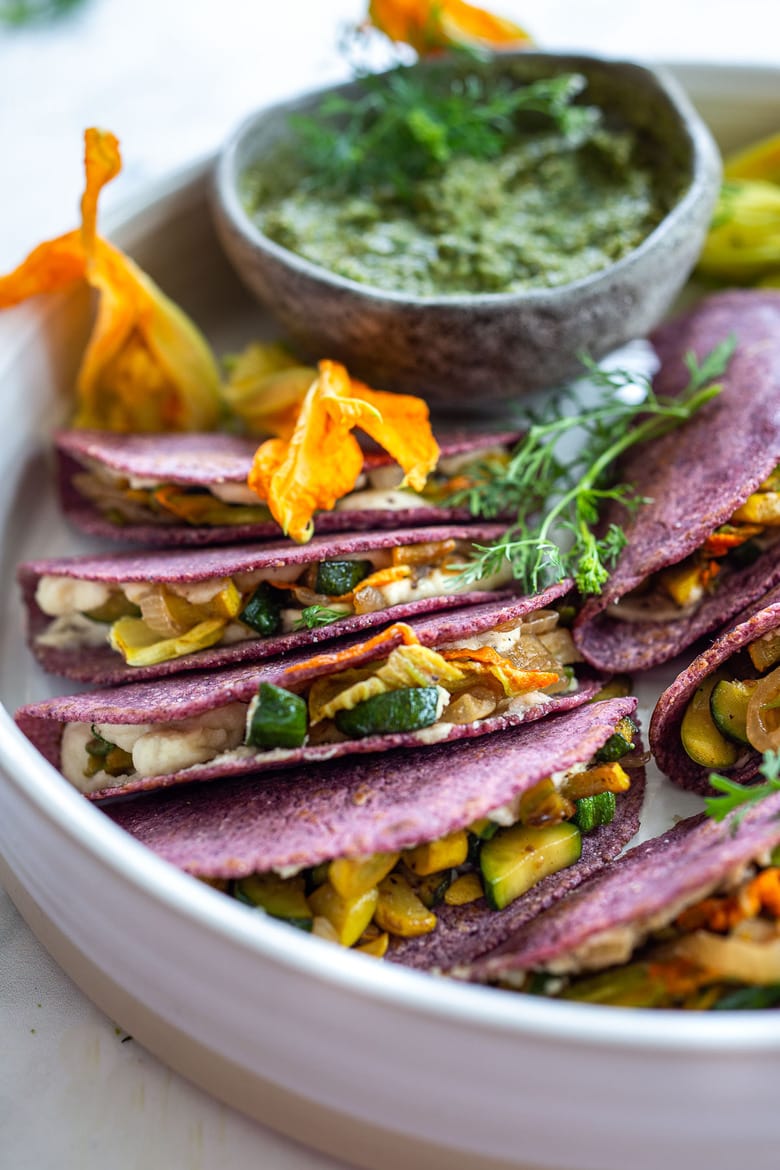 So anyhow, there you have it. Delicious vegan quesadillas, filled with summer's bounty of zucchini, summer squash and their blossoms with creamy cashew cheese and flavorful Poblano Pumpkin Seed Salsa.
A fine way to use up all the zucchini in your garden or CSA boxes. 🙂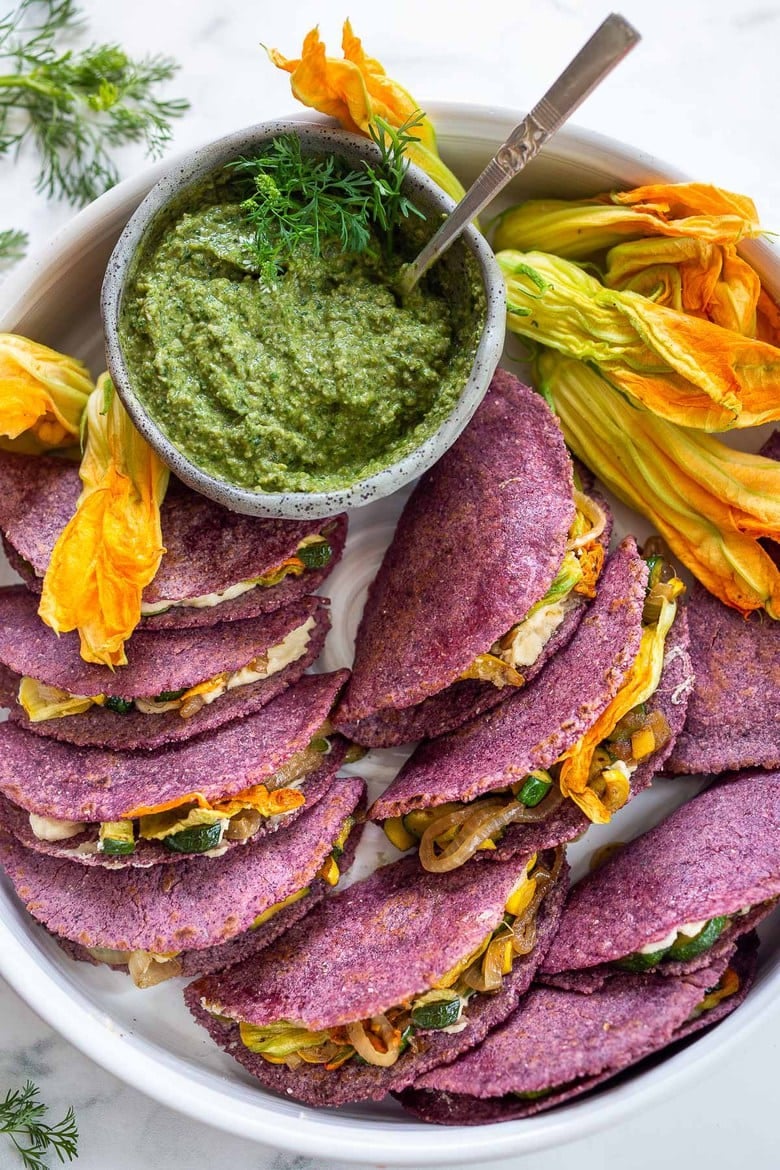 More recipes you may like!
So excited for you to try these! Let me know what you think or how you adapt them in the comments below!
xoxo
Print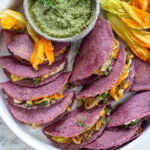 Vegan Zucchini Quesadillas with Poblano Salsa
Prep Time:

45

Cook Time:

20

Total Time:

1 hour 5 minutes

Yield:

10

-

12

small quesadillas

1

x

Category:

vegan, vegetarian

Method:

pan seared

Cuisine:

Mexican

Diet:

Vegan
---
Description
A tasty recipe for Zucchini Quesadillas with creamy cashew cheese and Poblano Pumpkin Seed Salsa. Vegan and delicious! (The optional Cashew Cheese requires 3 hours soaking time- easiest to make this and Poblano Salsa ahead.)
---
Filling: 
1

–

2

tablespoons olive oil

1

sweet onion, thinly sliced

2

cup

veggies, diced small or thinly sliced- zucchini, summer squash- or add peppers, corn, mushrooms, etc.

2

cloves garlic, rough ch0pped

1/2 teaspoon

salt

1/2 teaspoon

cumin

1/2 teaspoon

dried oregano, or thyme

6

–

10

squash blossoms-optional
Poblano Salsa:
Cashew Cheese:  
1 1/2

cups

raw cashews, soaked in water, 3-24 hours

3/4 teaspoon

salt

3

–

6

tablespoons water

2

–

3

teaspoons apple cider vinegar
optional additions: nutritional yeast, smoked paprika, granulated garlic, fresh herbs ( basil, cilantro parsley, cilantro, dill, etc.) or dried herbs (oregano, thyme, rosemary)
---
Instructions
Make the Cashew Cheese if using. (Requires 3 hours soaking time) This can be made ahead.
Soak Cashew in water 3-24 hours. Drain the cashews saving the water.
Place in a food processor with the salt and apple cider vinegar and pulse repeatedly. Scrape down the sides and continue blending, repeating if necessary.
Add the water, with the motor running, a tablespoon at a time to get the desired consistency. Add any additional seasonings. Store in the fridge in a sealed jar until using. This will keep 4 days.
Poblano Pumpkin Seed Sauce: this can be made ahead ( or at the same time as the filling).
Roast the poblano chili directly over a gas flame on the stovetop, until blackened and blistered on all sides – or broil ( or roast) in the oven until skins blister. Place in a paper bag or wrap in a towel to steam for 10 minutes (this will soften the chili).
Remove the stem and seeds and most of the charred bits- leaving a little char is good here.
Place in the food processor with the rest of the ingredients- cilantro, pumpkin seeds, oil, water, garlic, salt, coriander.
Pulse and blend until uniformly combined but not too smooth. A little texture is good here.
Taste. Add a tiny squeeze of lime if you like and adjust salt. If your pepper happens to be too spicy (they do very in spicy level) you can mitigate the heat by adding more pumpkin seeds, water, oil, and then remember to reseason with more salt and lime.
Place in a bowl and serve a room temp, or, ff making ahead, place in a sealed container and refrigerate for 2-3 days. The top (exposed to air) may discolor over time, so if making ahead, pour a thin layer of olive oil over top to keep the sauce submerged to help preserve the color. Then just stir before using.
Make the filling: Heat oil in a large skillet over medium heat. Saute onions, 10 minutes until tender and turning golden. Add the diced veggies, garlic,  salt, cumin and oregano. Saute, until veggies are tender, lowering heat if need be, about 7-8 minutes. Add the squash blossom at the end, wilting. Turn heat off.  ( You could do this ahead and refrigerate.)
Assemble quesadillas (See note about tortillas): Spread the tortillas with a couple of tablespoons of cashew cheese and a 3-4 tablespoons filling. Fold over. ( You could do this ahead too.)
Pan Sear: In a large greased skillet, pan-sear each side until lightly toasty and insides are warm, about 4 mins each side. Keep in a warm 350F oven until all the batches are done.
Serve: Cut in half or leave whole and serve with the Poblano Salsa on a serving platter or cutting board. Garnish with cilantro or squash blossoms.
---
Notes
Gently warming the tortillas  (microwave, oven, gas burner) and wrapping in a towel before filling and folding will make them more pliable (especially corn tortillas) and help them not break at the fold.
Nutrition
Serving Size:

2 quesadillas

Calories:

451

Sugar:

4.6 g

Sodium:

706.6 mg

Fat:

32.8 g

Saturated Fat:

5.4 g

Carbohydrates:

33.4 g

Fiber:

5.2 g

Protein:

12.4 g

Cholesterol:

0 mg
Keywords: vegan quesadillas, zucchini quesadillas, zucchini recipes, squash blossom recipes, veggie quesadillas,