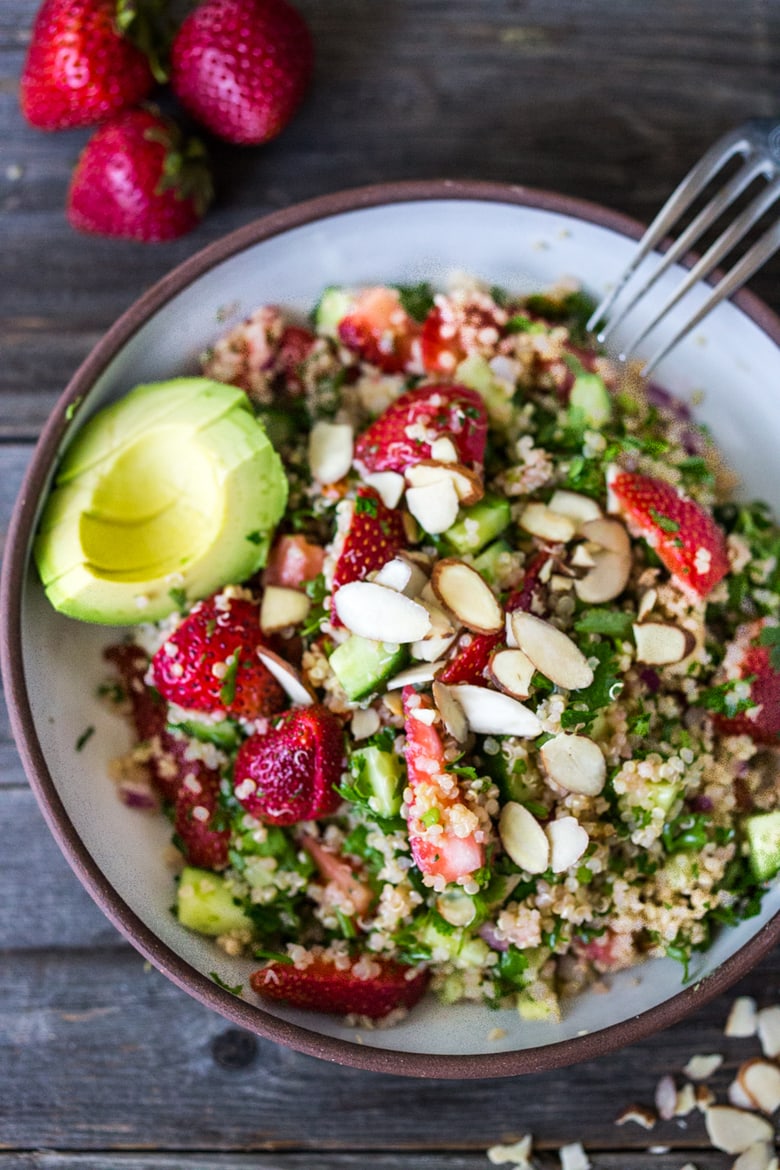 This vibrant summery salad – Strawberry Tabouli is a nod to my heritage. My mother was born in Finland, my father in Egypt and how they met, is quite the story… but for another time. Growing up my mom would make traditional Egyptian tabouli for my dad and it became our very favorite thing to eat. I still dream of it. Finland is the land of the midnight sun….and of course some of the best strawberries on the planet! And as I was making this today, I couldn't help but think how much she would have loved this "Finnish" twist on her old standby, using strawberries instead of tomatoes. Here in our area, tomatoes are not quite in season yet, so strawberries are a delicious substitution. The flavor of the strawberries- bright, sweet and slightly tart give the salad such a refreshing taste and together with the cucumber, parsley and mint- so tasty!!!
In our area, locally grown strawberries are in their peak and will only be here for a little while. I'm using them like crazy before they disappear, in savory dishes like I would tomatoes– think strawberry bruschetta with whipped goat cheese, strawberry caprese salad with basil and balsamic syrup, or strawberry cucumber salsa. Strawberries love to be paired with snap peas, asparagus, arugula, red onion and even avocado, so try adding them not only to green salads, but in pasta salads or grain salads. Roast them and salt them… heck, grill them or put them in the smoker! Tis' the season and now is the time to experiment with them and try them in ways you may have not considered before.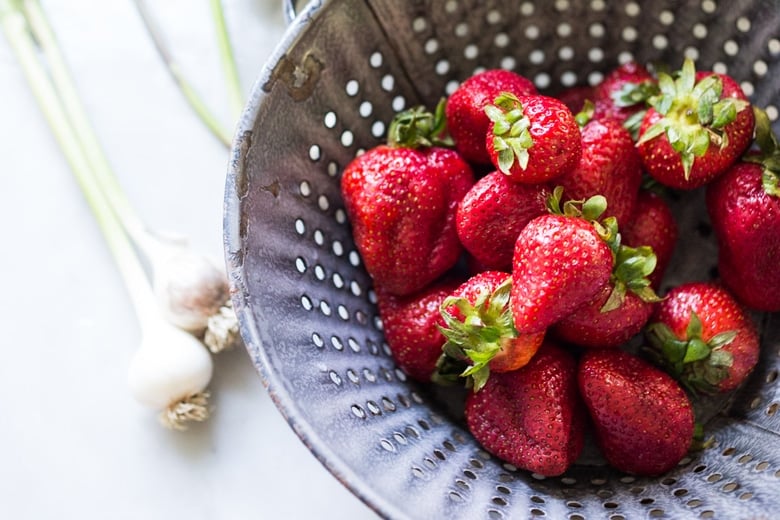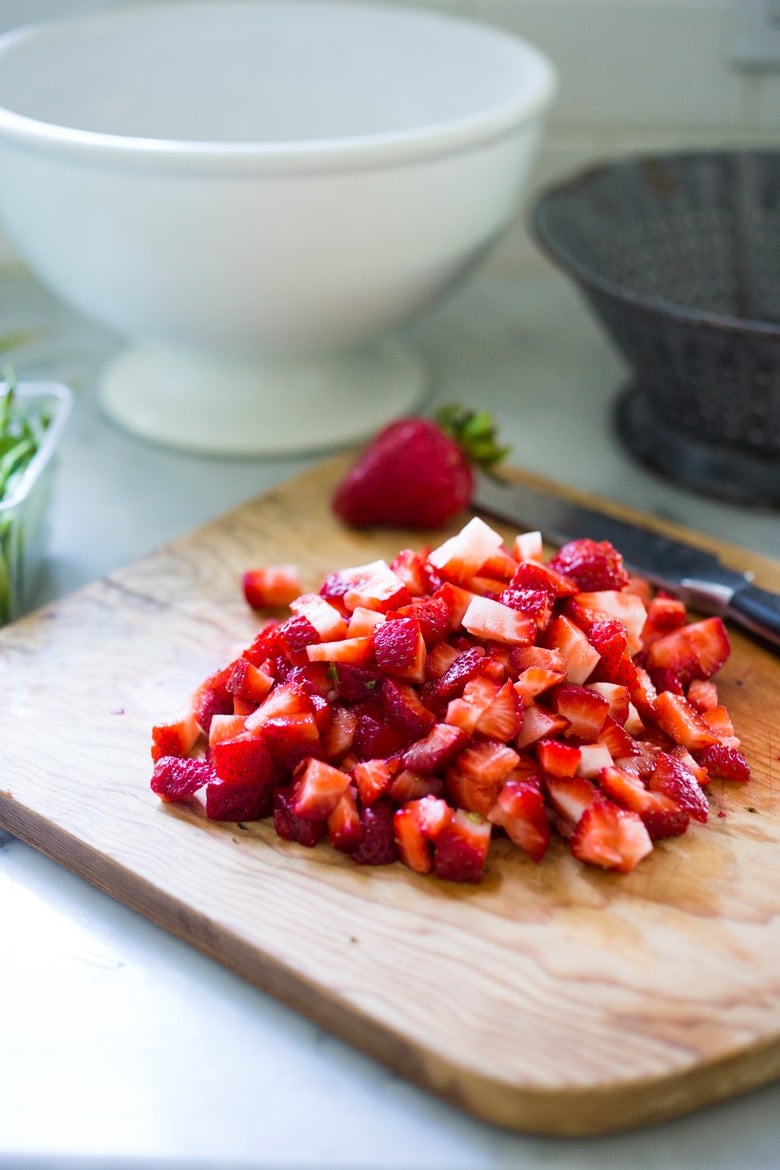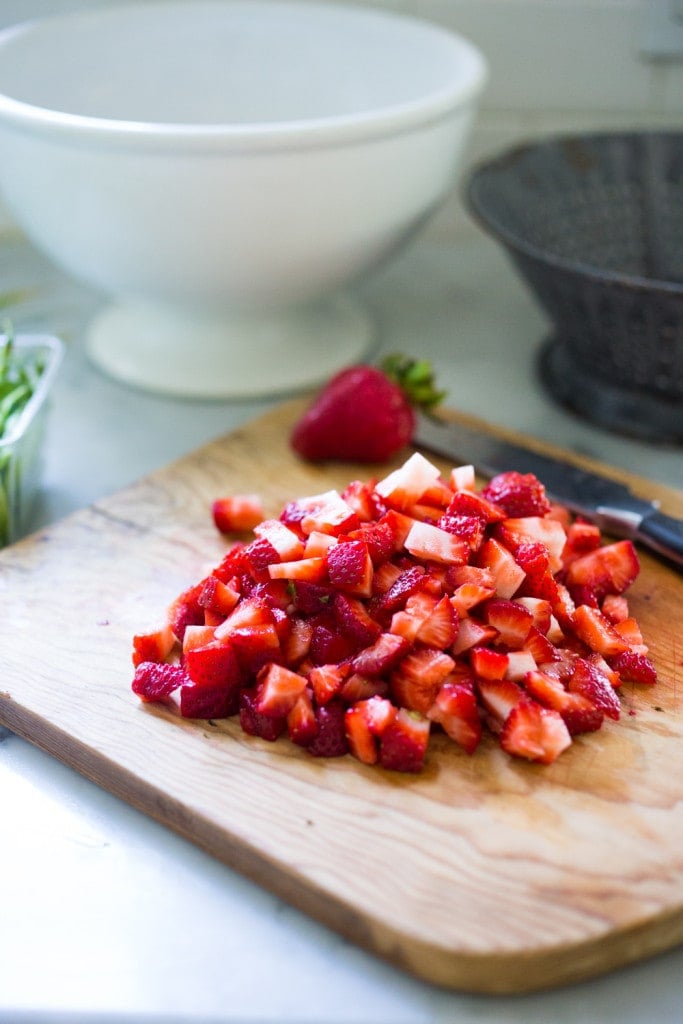 Dice the strawberries finely.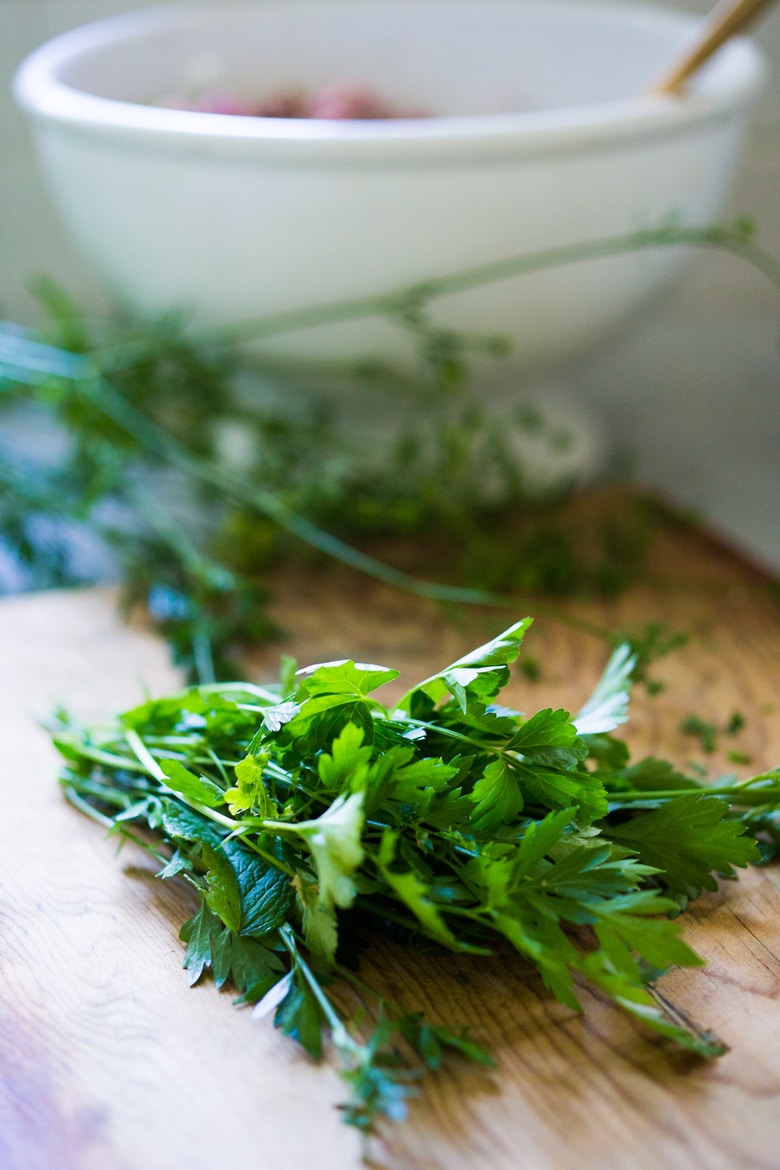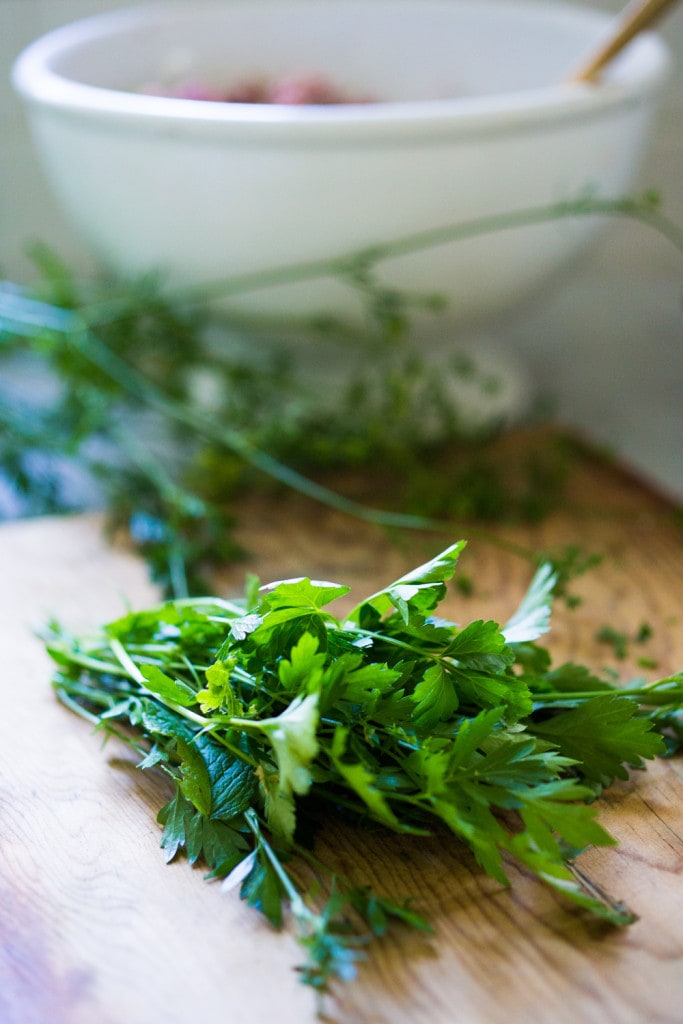 Chop Italian parsley and mint- or feel free to sub cilantro for the mint.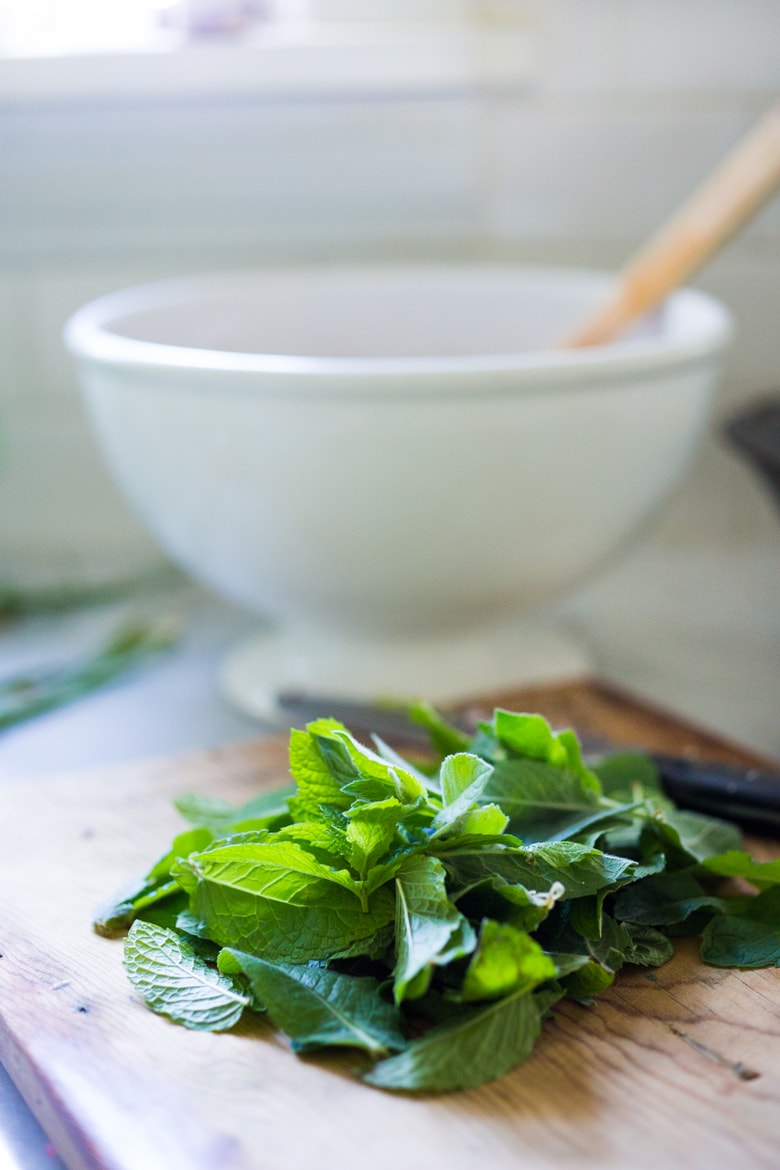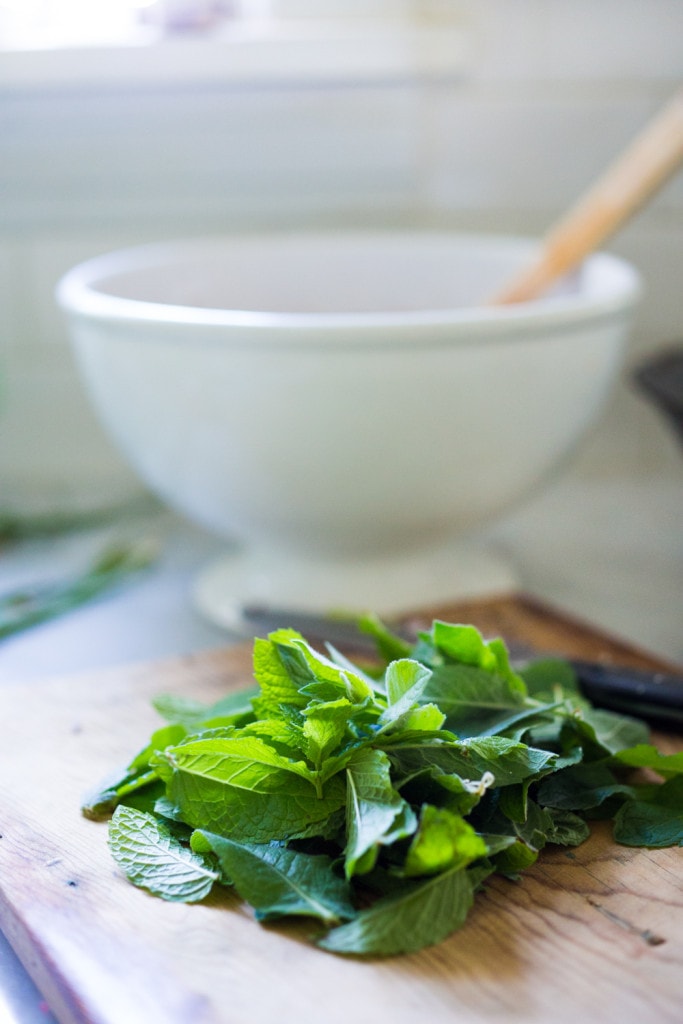 Place the strawberries, cucumbers, parsley, cilantro ( or mint) and onion in a bowl with the cooked, chilled quinoa, and gently toss with lemon and olive oil.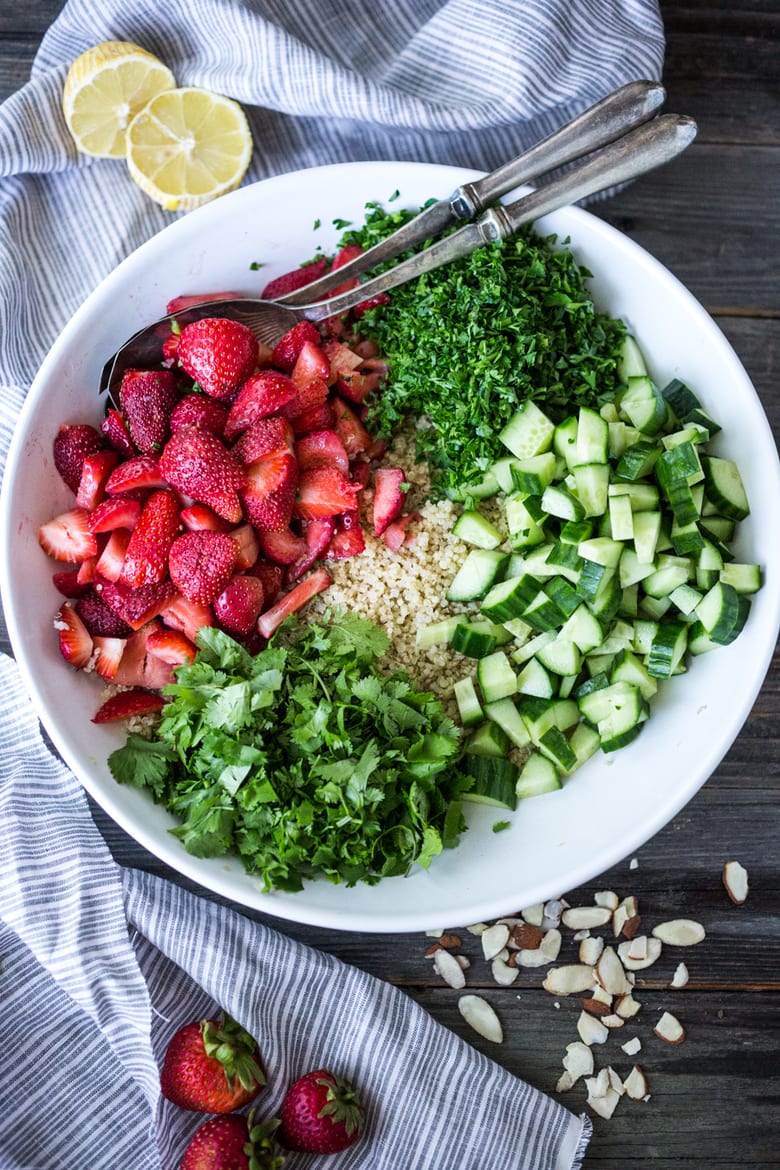 Add almonds or pistachios for extra crunch.
Let the simple flavors meld and infuse the quinoa for a few minutes before serving.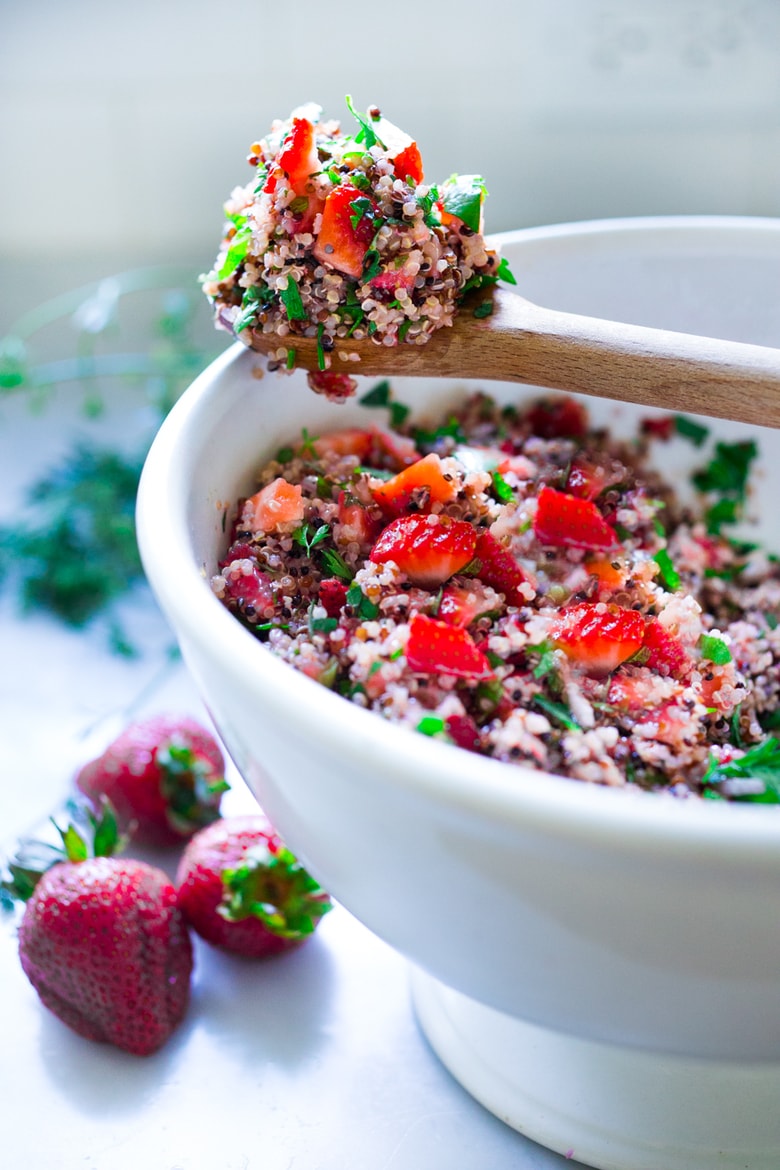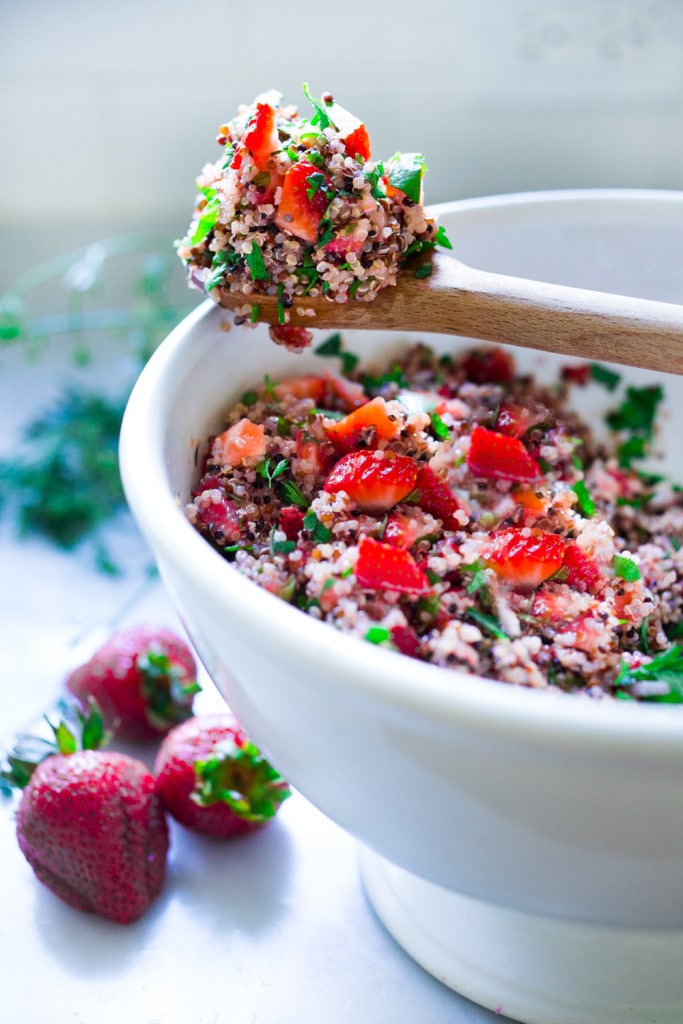 Place on a platter and scatter herbs over top.
To make this even heartier, add avocado, feta crumbles, toasted pistachios or almonds.
Quinoa is high in protein, so this could make a light summertime dinner.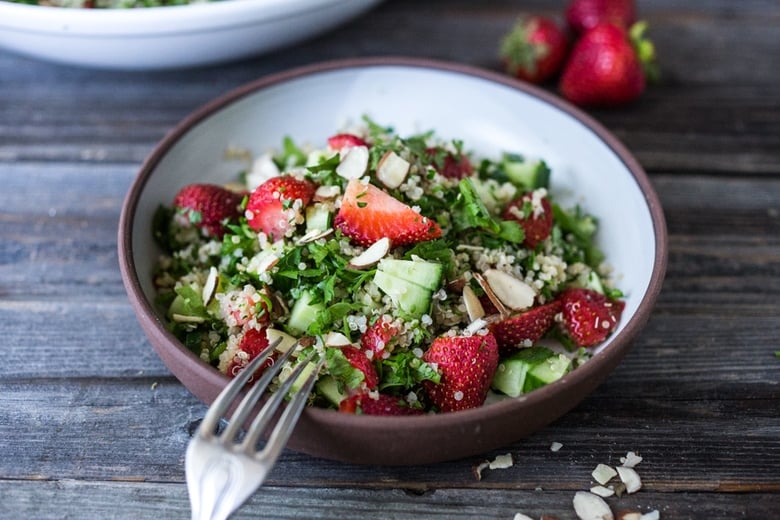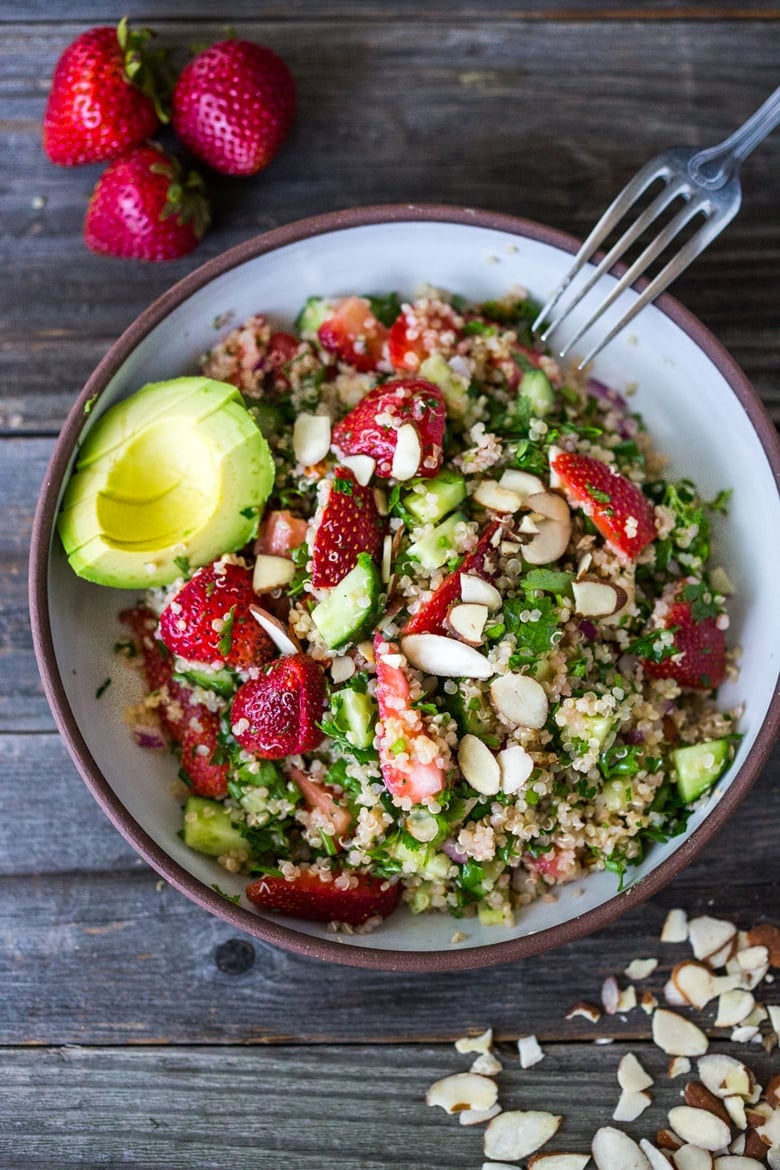 I hope you love this as much as I do! Healthy and delicious!
Print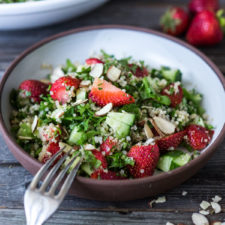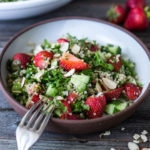 Strawberry Quinoa Tabouli
Prep Time:

15 mins

Cook Time:

20 mins

Total Time:

35 mins

Yield:

4-6

Category:

Salad- vegan and gluten-free

Cuisine:

Finnish-Egyptian 🙂
---
Description
Strawberry Tabouli – A refreshing and healthy summer salad featuring seasonal summer strawberries, quinoa, parsley mint and cucumbers with optional slivered almonds or pistachios.
---
1 cup

quinoa

1 ½

C water

1

lb strawberries

2 cups

finely diced cucumber

¼

of a red onion, very finely diced

1 Cup

fresh mint- chopped ( or sub cilantro)

1 Cup

Italian parsley Chopped

4 Tablespoon

olive oil

1 Tablespoon

red wine vinegar

2

–

3

T fresh lemon juice

1/2 tsp

salt, plus more to taste
fresh cracked pepper to taste
optional additions: feta, goat cheese crumbles, toasted pistachios, toasted almonds.
---
Instructions
Rinse quinoa well, then drain. In a medium pot add 1 ½ Cups water and quinoa. Bring to a boil. Cover, and turn heat down to low , and cook for 15 minutes. Turn heat off, leave covered 5 more minutes. Fluff and chill quinoa. ( You could do this a head and refrigerate overnight)
Add cooked, chilled quinoa to a large bowl. Finely dice strawberries and add to the bowl. Finely dice the cucumber and red onion and add to the bowl. Chop mint and parsley. Don't skimp on the herbs ( here is where the flavor is), and add to bowl. You can always add more. Gently Toss.
Pour in olive oil, red wine vinegar, lemon juice, salt and pepper, and mix. Let salad stand for a few minutes to allow the salt and acid to absorb. Mix again. Taste and adjust salt and lemon, adding more if necessary. The quinoa will coak up some salt, so check again right before serving. Serve on a large platter, scattered with fresh herbs, or over greens.
For extra heartiness, add feta or goat cheese crumbles and toasted pistachios or slivered almonds. Enjoy!!
---