This post may contain affiliate links. For more information, please see our privacy policy.
Meet my new favorite healthy summer dessert! A Strawberry Slushie!! A healthy delicious, 3-ingredient alternative to ice cream- made with fresh strawberries, maple syrup, (or honey) a squeeze of citrus and ice!  Low in fat and calories, high in antioxidants. Make this in 5 minutes, using your blender! So easy and refreshing.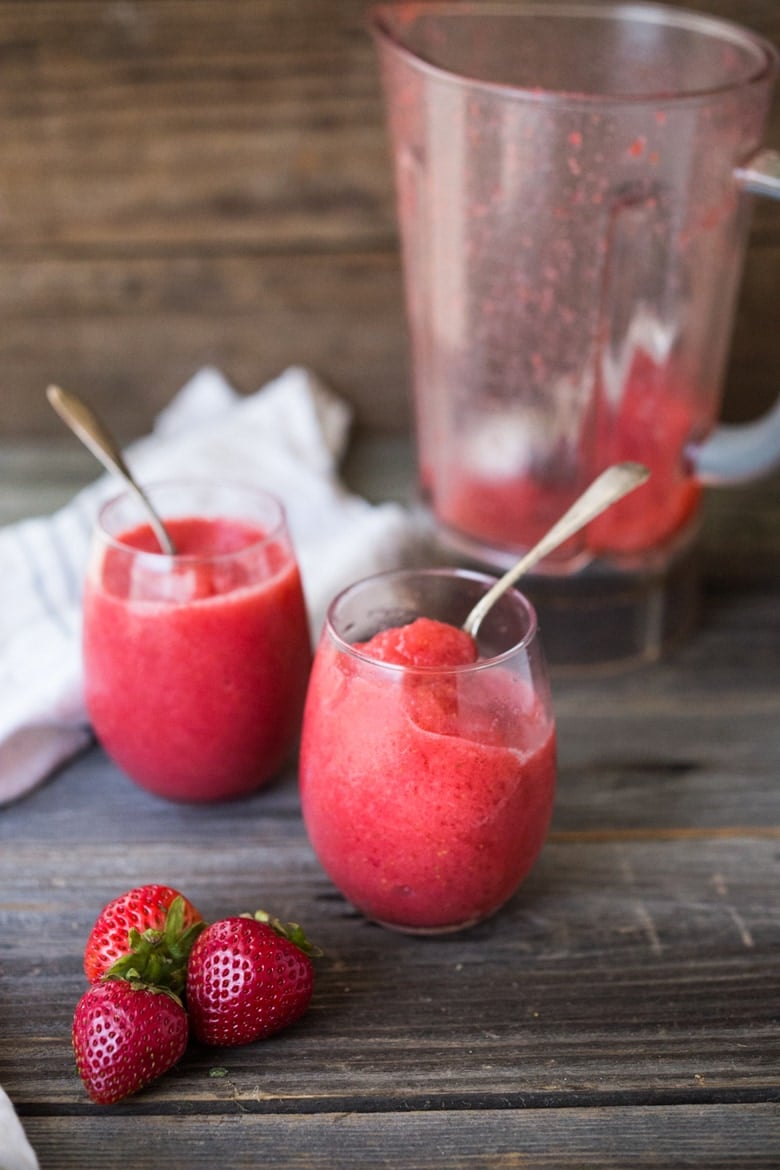 Just five minutes of time gives you the most refreshing, nutrient-dense frosty glass of goodness! A healthier alternative to ice cream, perfect for the hot summer months!
Ingredients in a strawberry slushie:
Made with just 3 ingredients and ice:
fresh sweet strawberries
maple syrup or honey
a squeeze of lime, orange or lemon
I can't tell you what a godsend they've become in this house!   A healthy, refreshing, totally satisfying, dessert, low in sugar, calories and fat, perfect for hot summer evenings!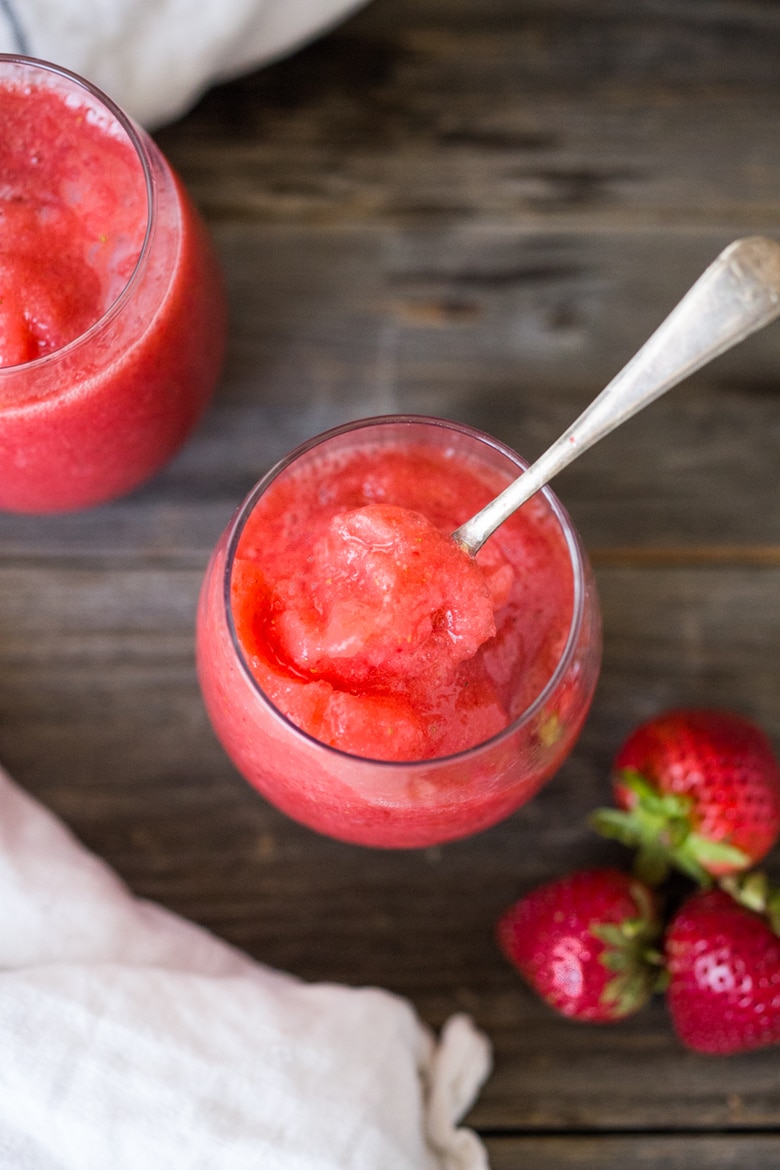 How to make a strawberry slushie
Place strawberries in a blender and add a squeeze of citrus and a little maple syrup.
Blend until smooth. Add a splash of water if need be, to get the blender going.
Add ice a little at a time, until thick and frosty!
Taste, adjust sweetness to your liking!
When strawberries are in season, there is not much you can add to them to make them taste any better. They are perfect just as they are. Sweet, juicy and slightly tart, they also have such a delicious fragrance. Locally grown strawberries are always the best, picked at their peak of flavor, tender-skinned and dripping with flavor. You will know them by their red cores.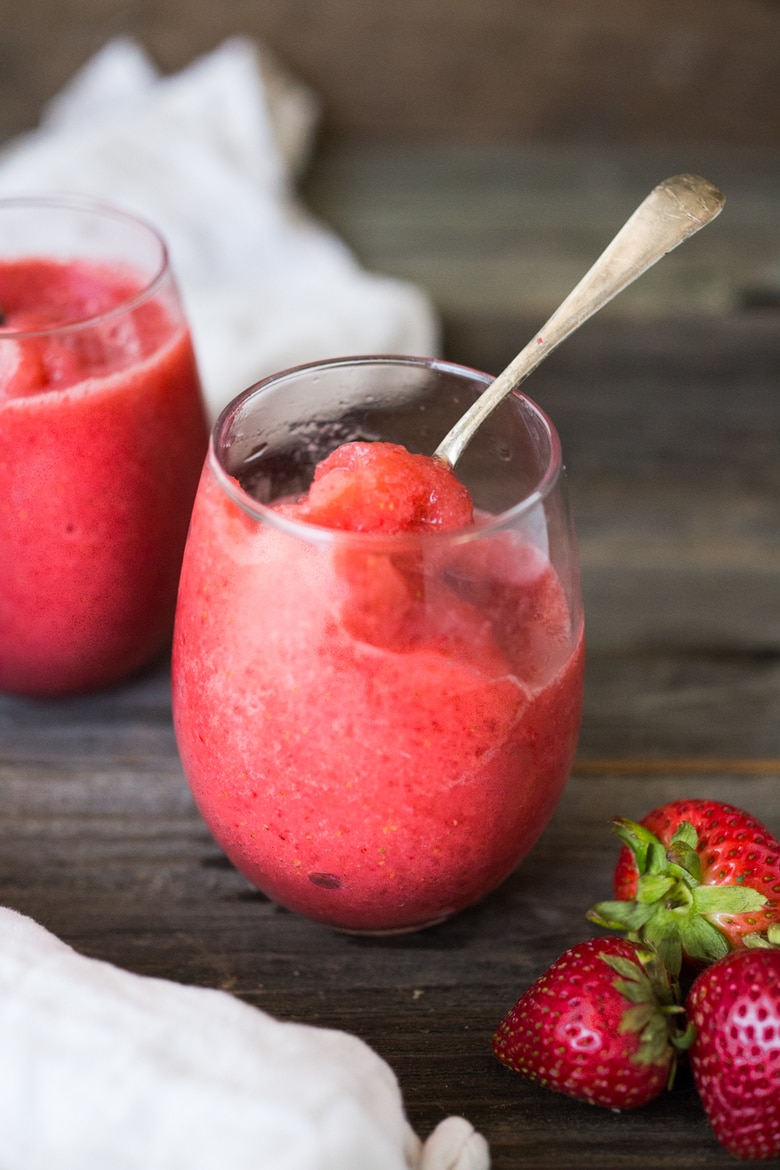 If you are vegan, swap out maple syrup for the honey.
I prefer the taste of honey paired with the strawberries and with allergy season upon us, any excuse to incorporate raw local honey into what I'm making is always a plus.
The sweeter the strawberries, the less honey you will need in the slushie.  So taste and adjust.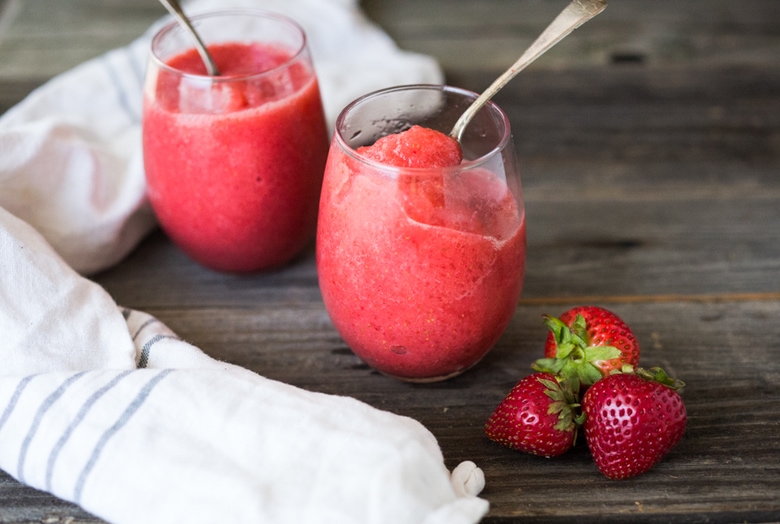 Of course, other berries will work here too,  as well as ripe stone fruits like peaches and nectarines.
How this recipe came to be:
Last night after dinner, Brian and I went on a bike ride.  It always feels good to move a little after we eat. Here, the sun waits till almost 9pm to set and in June, the air is drenched with the scent of linden flowers. Have you caught a whiff of them yet? Glorious!
Getting outside just before sunset is the best time to experience this delicious aroma and for me, it has become aromatherapy truly, for the scent is calming and soothing, reducing both stress and blood pressure, helping with digestion and they say, even insomnia. It is believed that animals are calmed and soothed by the sent as well, so be sure to take your dog with you when you go.
Peddling home, Brian kept talking about all the sweet treats he wanted for dessert. He was kind of torturing me because I was really trying to not think of them. Have I ever told you how much of a sweet tooth he has? It's a good thing he's naturally slim, because what he puts down some nights is baffling. I won't go into the nitty-gritty, but he does love his sweets, especially ice-cream. The problem is when he eats ice cream, my spoon likes to travel over to his bowl. 😉 It has a will of its own.
So it's become a bit of an issue for both of us.  So anyway, as we were peddling our way up the last stretch of the hill, he kept going on and on about wanting something deliciously cold and sweet.
Well, thankfully there were these strawberries in the fridge – and this is what became of them. Strawberry Slushies! It totally cured his sweet tooth and boy were they sooooooo refreshing!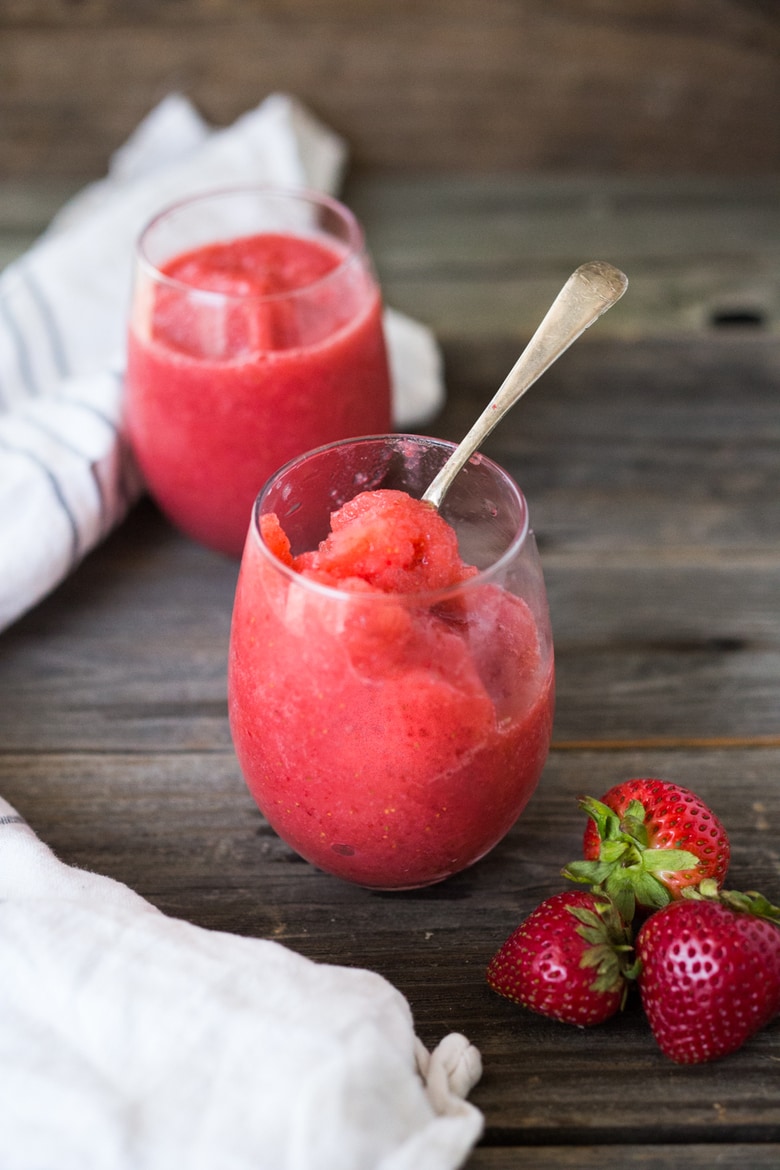 For more of a "pick-me-up" slushie, give this Frozen Matcha Green Tea Slushies with Almond Milk a try! I love these in the afternoon instead of tea or coffee.
I hope you find some time to get outside and enjoy all the beauty and glorious scents before summer ends.  Even a slow short walk after dinner can be incredibly fulfilling.
A time to feed the soul and quiet the mind.
xoxo
s.
More recipes you may like!
Print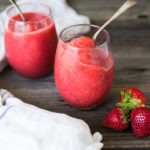 Strawberry Slushie
Author:

Sylvia Fountaine

Prep Time:

5

Total Time:

5

Yield:

2

1

x

Category:

vegan desserts

Method:

blend

Cuisine:

northwest

Diet:

Vegan
---
Description
A healthy & refreshing recipe for Strawberry Ice, or strawberry slushie -a delicious alternative to ice cream- made with fresh strawberries, ice and honey. Low in fat and calories, high in antioxidants. Vegan adaptable. Make in 5 minutes! | www.feastingathome.com
---
3

cups

strawberries, quartered (about 10-12 medium strawberries)
2 teaspoons honey or maple syrup, more to taste
a squeeze of lime, orange or lemon (1 tablespoon)

1 1/2

–

2

cups

ice (more to create desired consistency)
Other additions- huckleberries, blueberries, blackberries, raspberries
---
Instructions
Place strawberries, maple and a squeeze of citrus in a blender. Blend until smooth. If need be, add a splash of water to the bender to get it going. Taste, adding more maple or citrus to taste if you like. You want a nice balance between sweet and tart. The sweeter and riper the strawberries are the less maple or honey you will need.
Add the ice cubes a little at a time, blending until incorporated, adding more ice to the blender  (if you like) to get it really thick and icy. If you've got a good blender, let it go just a bit it longer, it will take on a slightly creamy look.  It should be thick enough to mound on a spoon, and not be runny.
Spoon into one large glass or two smaller glasses. Serve with a spoon. 🙂
---
Notes
Feel free to add other berries to the mix- blueberries, huckleberries, blackberries, etc.
If you'd like a bit of creaminess, add a few spoonfuls of yogurt- super tasty. 🙂
Nutrition
Serving Size:

(with 2 teaspoons honey)

Calories:
Sugar:
Sodium:
Fat:
Saturated Fat:
Trans Fat:
Carbohydrates:
Fiber:
Protein:
Cholesterol:
Keywords: strawberry slushy, strawberry slushee, strawberry slushie
SaveSave
SaveSave
SaveSave