This recipe for Grilled Pork Tenderloin with Balsamic Glaze and savory Strawberry-Rosemary Compote is bursting with summertime flavor. It's a snap to make, light and delicious- an easy way to cook strawberries in a savory dish!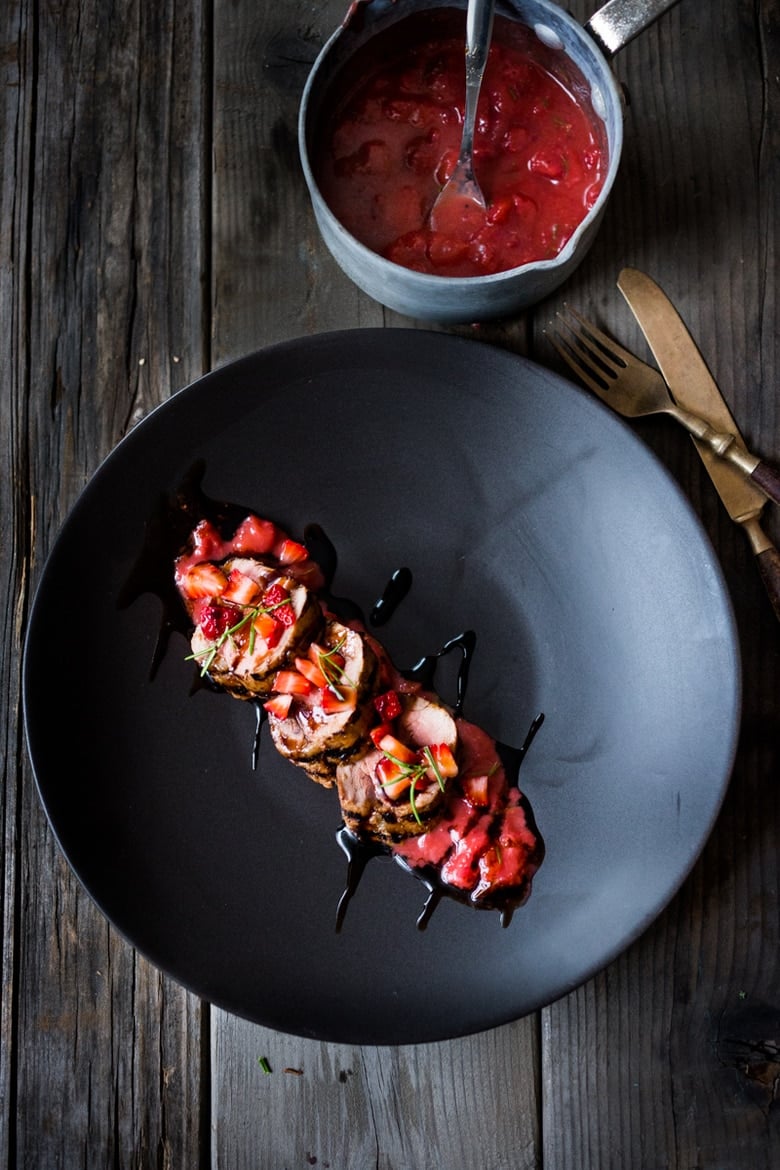 The first fruit to ripen during our growing season is juicy sweet strawberries. Tender skinned and full-flavored these are very different than the strawberries you'll find at the grocery store which were most likely bred for size, looks, and long truck rides from California. Sure they're pretty, with their glossy red skin and perfect shape, but all too often lack flavor.
When you experience a locally grown strawberry, picked the very same day you plop it in your mouth, you'll come to understand the difference. Everything you thought about strawberries will change. At least that's how it was for me.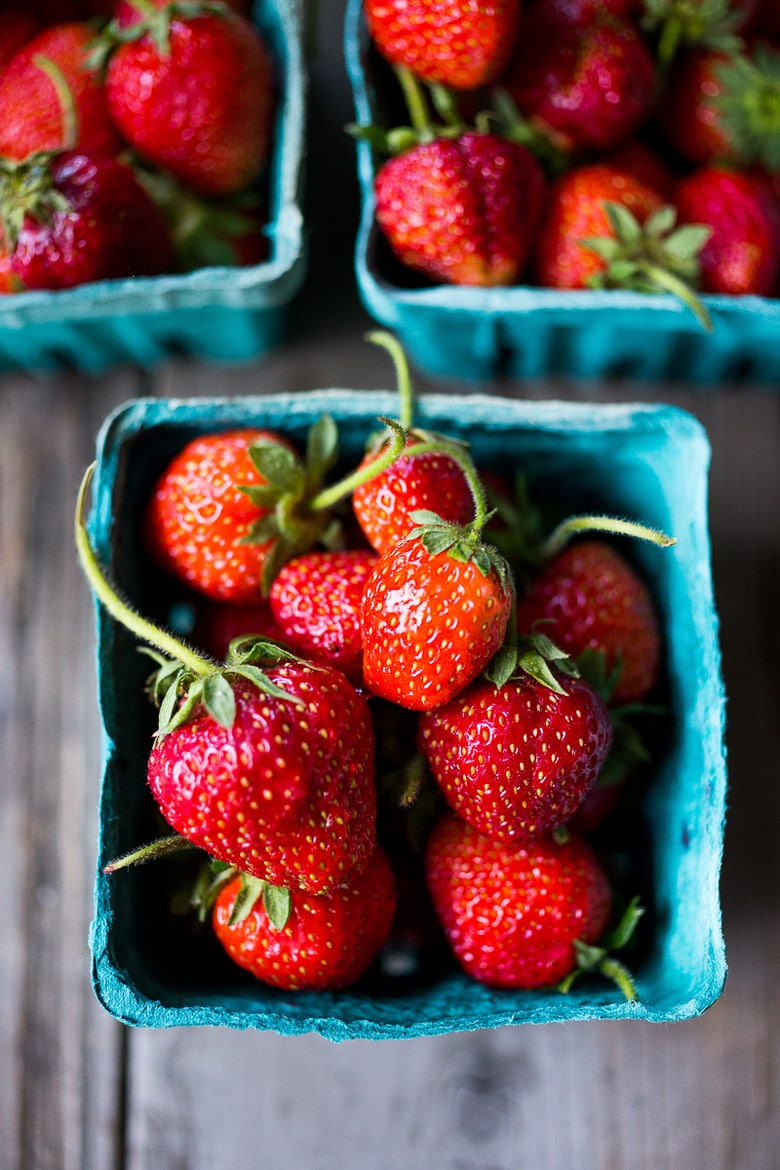 When I was young, my Finnish mother would often tell me that the strawberries from the grocery store, were not "real" strawberries. She would say that this is because they were not red all the way through, had no scent and very little flavor. They looked red enough to me and seemed to taste fine. I guess I just didn't understand what she meant.
It wasn't until I was older and tasted a strawberry on my cousin's organic strawberry farm in Finland, that I finally understood what she meant. Their flavor was startling. Their scent filled the whole house. There are some things in life that just can't be described with words, only experienced.
This recipe for Grilled Balsamic Pork Tenderloin with a savory Strawberry Sauce is bursting with summertime flavor. It's a snap to make and an easy way to cook strawberries in a savory dish.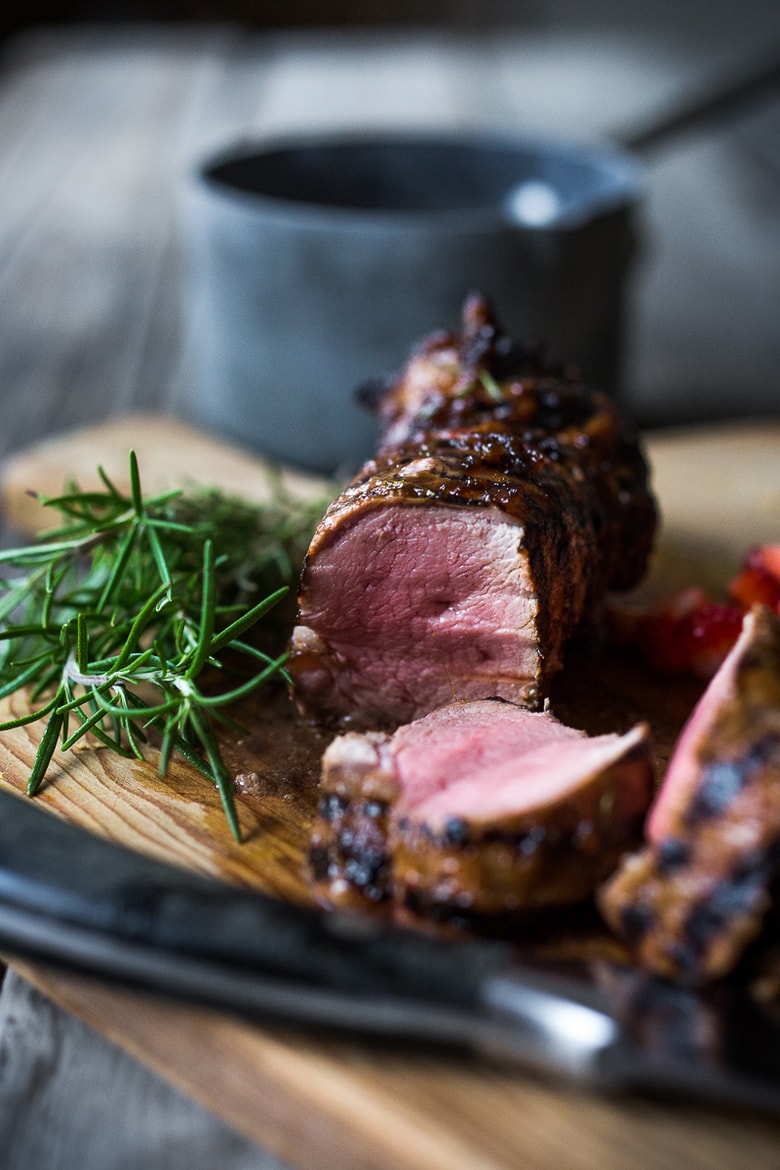 Rosemary and balsamic vinegar are good accents to bot the pork and the strawberries.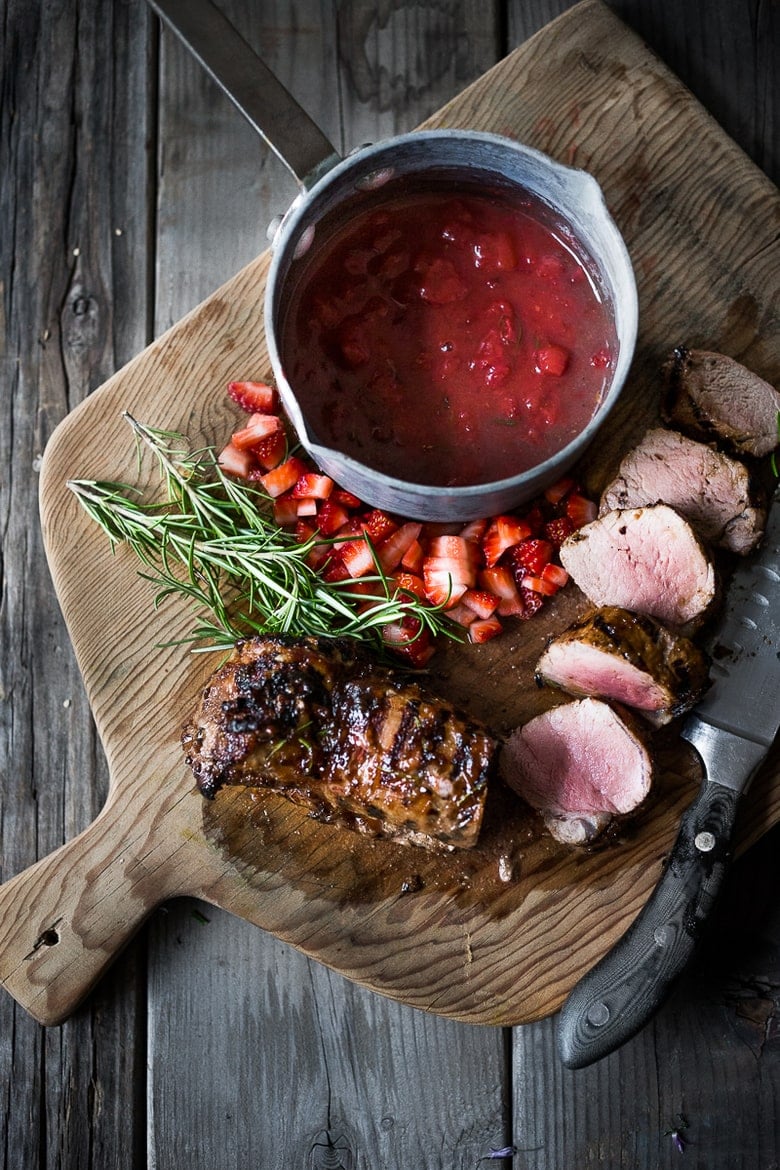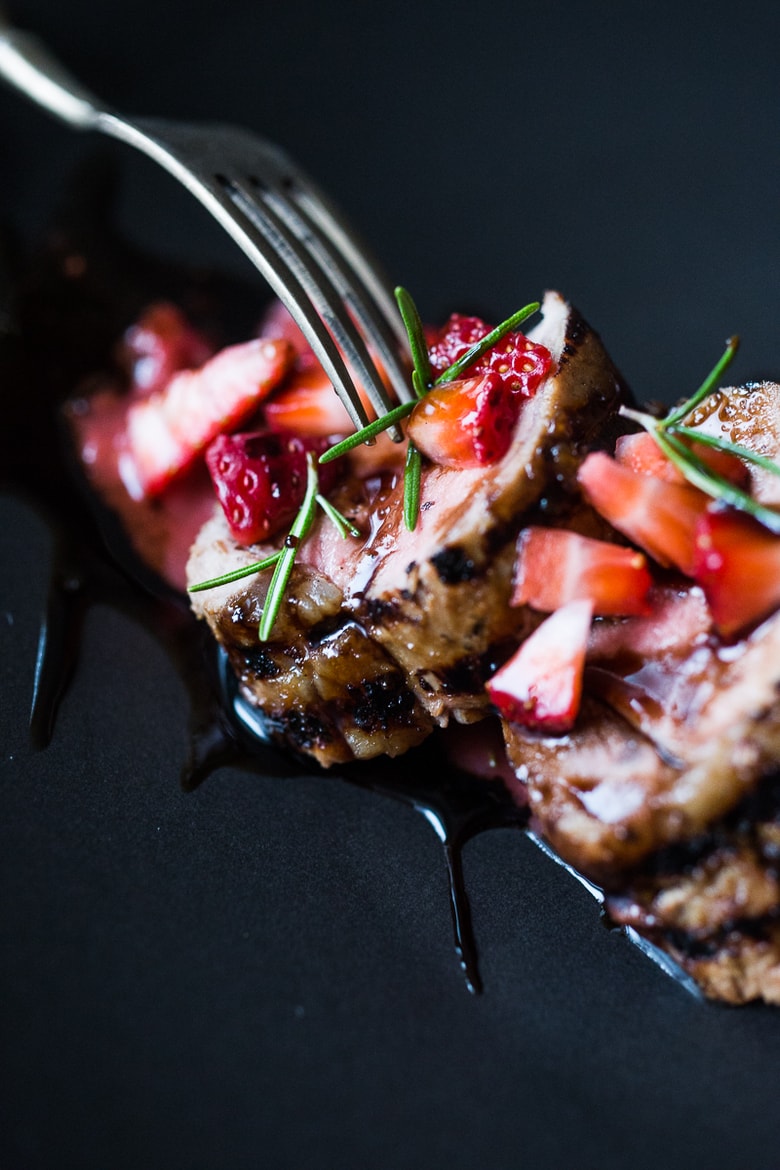 FYI, We are still in Japan. It's been such a great experience….can't wait to tell you all about it!
Serve this up with Simple Sauteed Greens and a starchy side!
Hope you enjoy!
Print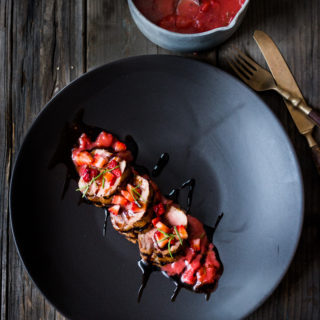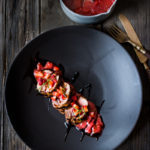 Grilled Pork Tenderloin with Strawberries and Rosemary
Prep Time:

30 mins

Cook Time:

30 mins

Total Time:

1 hour

Yield:

4

Category:

main, pork

Method:

grilled

Cuisine:

Northwest
---
Description
A simple grilled pork tenderloin, marinated in a balsamic glaze with a savory strawberry compote
---
Ingredients
1

lb pork tenderloin
Marinade:

¼ cup

balsamic vinegar

¼ cup

olive oil

1 ½ tsp

salt

1 tsp

pepper

1

–

2

teaspoons fresh rosemary

3

garlic cloves
Savory Strawberry Compote

1 tablespoon

olive oil

1

small shallot – finely chopped (

2 tablespoons

)

2 cups

strawberries- small diced

1/2 cup

white wine

2 Tablespoons

sugar
generous pinch salt and pepper
squeeze lemon juice- 1 teaspoon
Garnish: 1 cup diced strawberries, balsamic reduction or glaze, fresh rosemary sprigs
---
Instructions
Blend marinade ingredients together in a blender. Place loin and marinade in a large ziplock bag, or in a shallow baking dish, coating all sides. Refrigerate 1 hour or overnight.
In a small pot, heat oil over medium low heat, then add shallot. Stir and sauté until golden about 2-3 minutes. Add strawberries, wine, sugar, salt, pepper. Bring to a simmer. Continue to simmer on med-low heat until wine has reduced and strawberries have thickened, about 10 minutes. It should look like a loose jam. Add a squeeze of lemon. Set aside.
Pre -heat grill on high heat.
Remove loin from marinade and pour extra marinade into a small pot. Boil for one minute, or until it has darkened — you will use this cooked marinade to baste the loin whilst on the grill.
Once the grill is hot, scrape it clean. Turn to medium-high and place pork loin directly on the grill, and cook for 12 minutes total, tuning and basting every 3 minutes. Cover in-between turns. Check temperature. Continue cooking on grill , lowering heat if necessary – or finish it in the oven- just until loin reaches 140 F at thickest point. Let rest 5-10 minutes.
When ready to serve, slice loin into ¾ inch slices, then plate, topping with compote ( or place pork over the compote).
Garnish with fresh diced strawberry, rosemary sprigs and balsamic reduction.
---
Keywords: grilled pork tenderloin with strawberries, grilled pork tenderloin
1