Crispy Vegan Quinoa Cakes ( with 

no

eggs, flour or bread crumbs)  topped with Tomato Chickpea Relish-  a healthy flavorful, plant-based VEGAN dinner that is delicious and gluten-free!  Can be made ahead!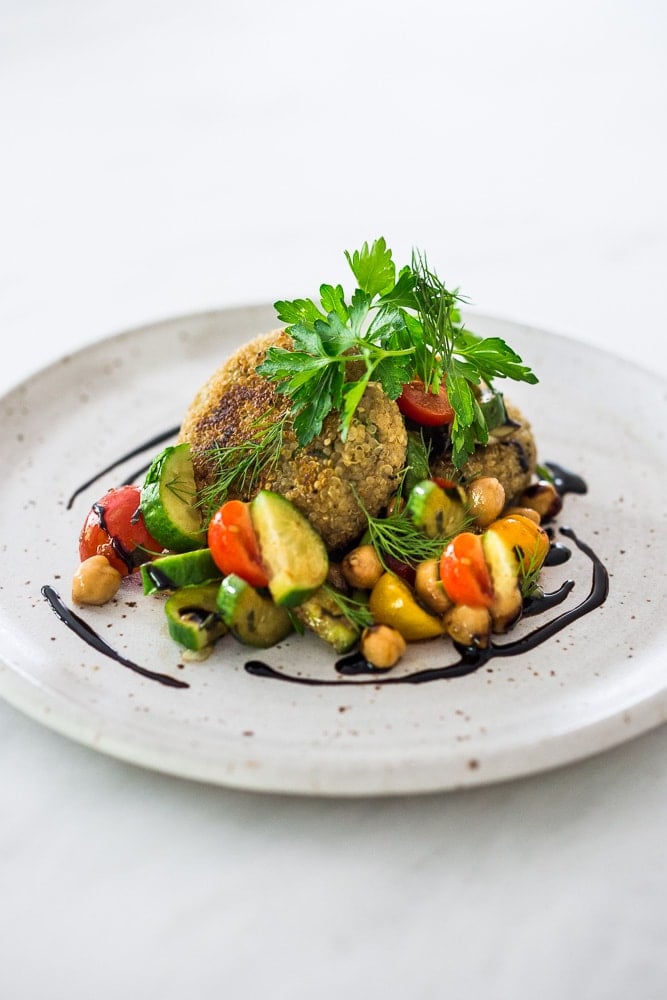 What makes this Crispy Vegan Quinoa Cakes Recipe unique is that they have no eggs, no bread crumbs, no flour of any kind, no binder, or coating, or any other additions other than seasonings. Purely plant-based. I discovered these quite by accident many years ago, and since then they became a godsend at catering events with gluten-free/vegan folks. This is an old recipe that I've updated with much clearer instructions.
What I love about this recipe, besides the "no binder" is how wonderful these are made ahead, stored in the fridge for midweek meals. Perfect for Sunday meal prep.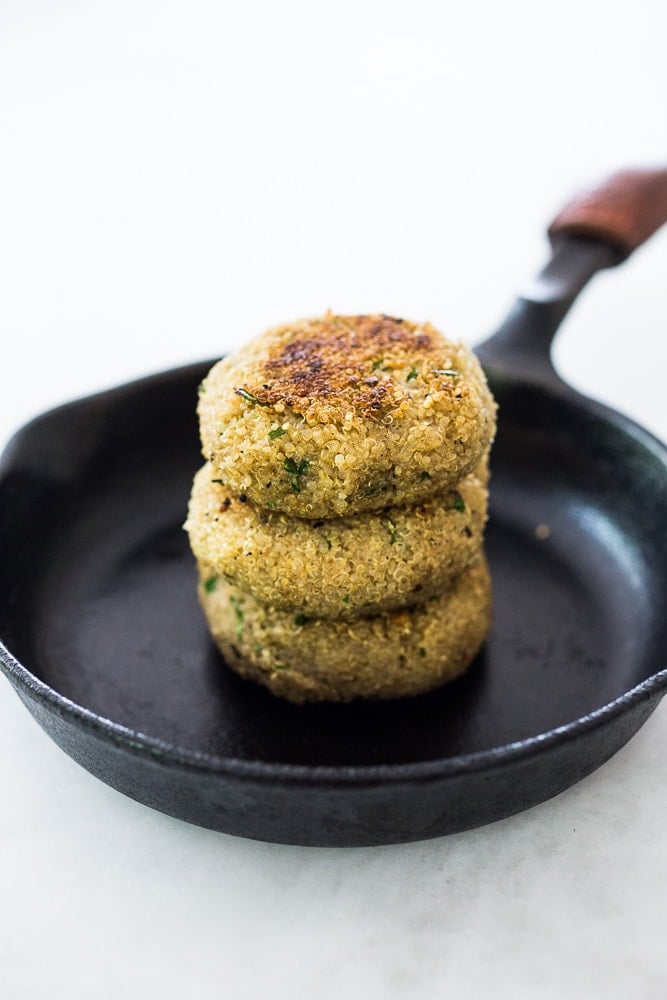 The recipe starts with WHITE QUINOA. Tri-colored,  red, or black quinoa will not work, and will be much more difficult and finicky.
Here is why: The white quinoa grains break down more easily when cooked, and it is this "breaking down" of the grain that acts as the binder or glue- the secret to making these into a patty or cake. Red and black quinoa grains do not break down, or take much longer.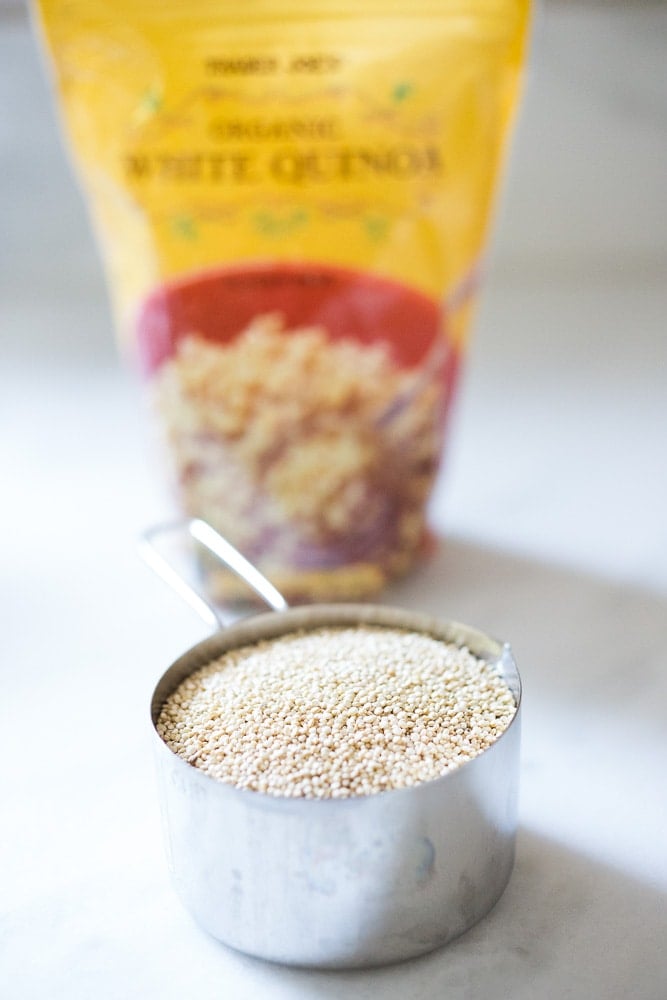 Cook the white quinoa according to recipe directions and be very precise with the measuring. Because we are adding a little more water than normal, this will take 25 minutes, rather than the typical 10-15 mins.
Cook quinoa until all the water is gone and visible steam holes appear. You want the quinoa dry, not watery.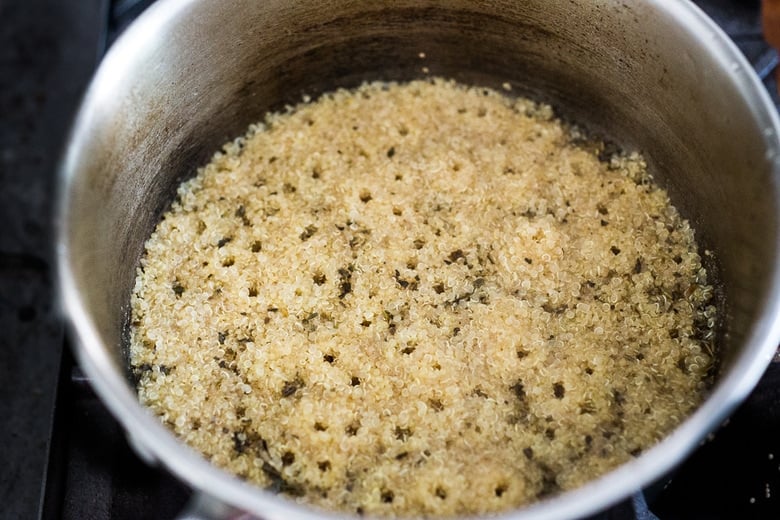 Then you are going to stir with a fork until the actual grains start breaking apart, about 1 minute.
This breaking apart will be visible to the eye.  
Look closely at the broken grains here, you'll see the white edges, actually break apart!
When the grains break, they become sticky like glue. Hence, the secret to how these are able to bind.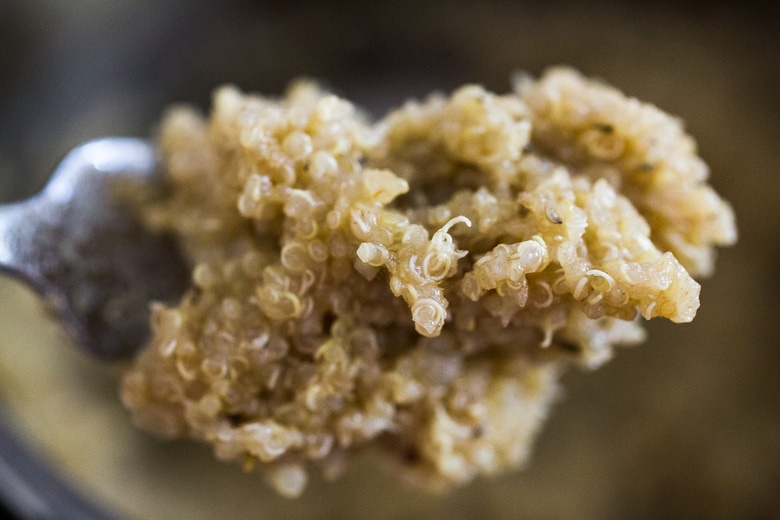 Stir in some lemon zest and fresh herbs if you like. Let this cool on the counter until cool enough to handle with your hands, 15-20 minutes.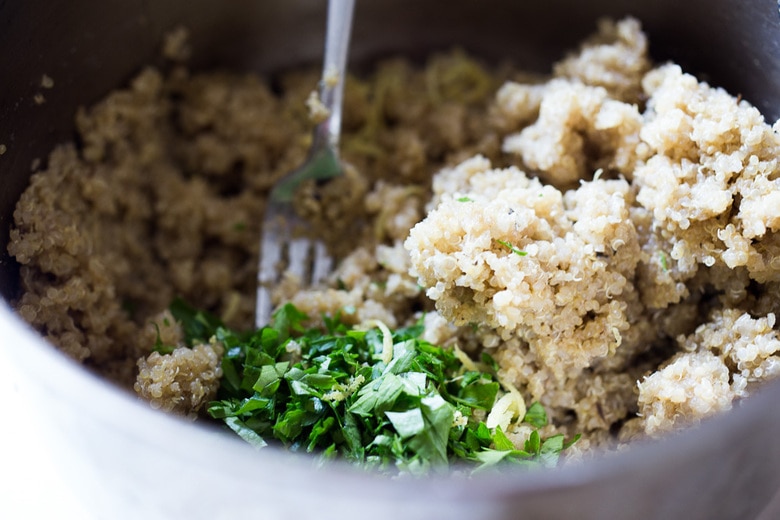 While the quinoa is still slightly warm, wet your hands, and form 4 balls roughly the size of a tennis ball.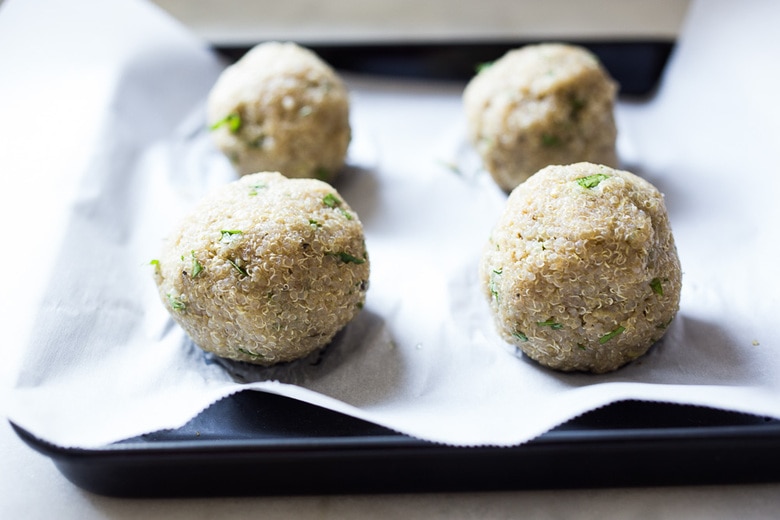 With wet hands, flatten and fix any cracked edges. They are really workable at this point.
Refrigerate 15 minutes to set,  or overnight ( or for several days).
You can do all this ahead for meal prep.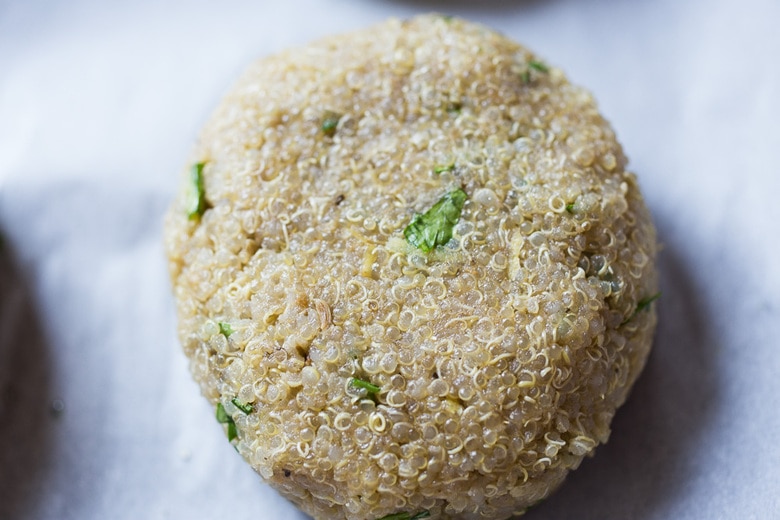 Then pan sear. You can pan-sear these with no coating at all, or feel free to dip in rice flour or GF panko for extra crispy. But I personally like to pan sear them without any coating at all.
Just make sure to use a well-oiled pan or skillet – and do not fiddle with them. This is key! Let them develop a crispy crust before moving, which will help them naturally release from the pan.
I like to use a very thin,
metal spatula
( more precise) to flip.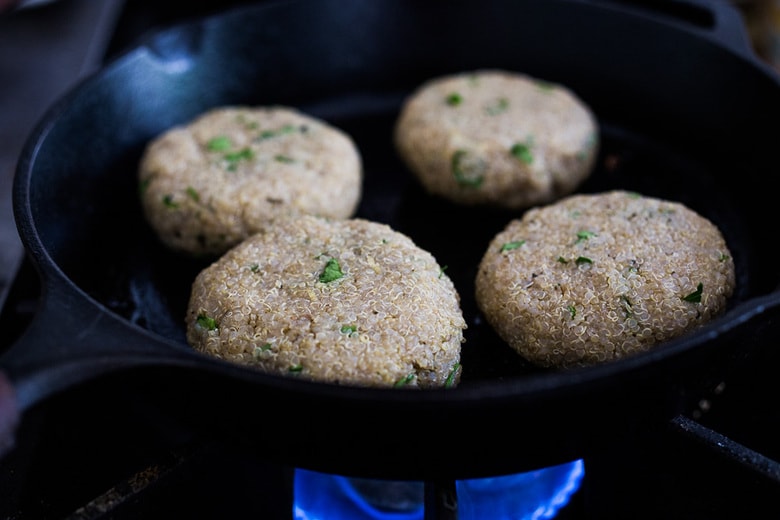 These can also be baked.
 I toss these in our toaster oven right on the rack for a quick easy meal.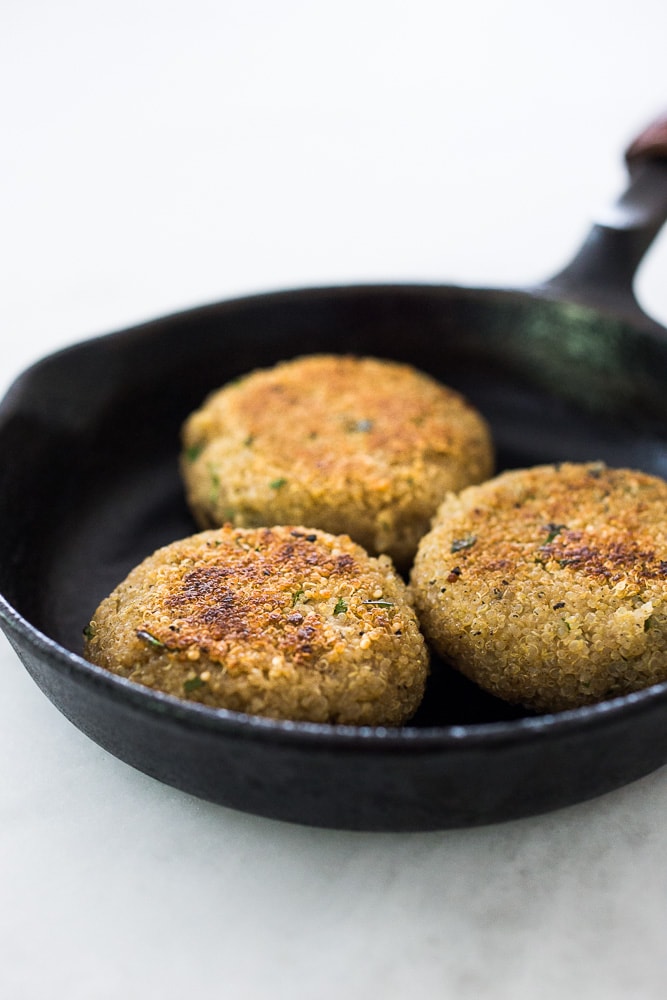 The fresh tomato chickpea relish with herbs and a simple balsamic vinaigrette complements the crispy vegan quinoa cakes well.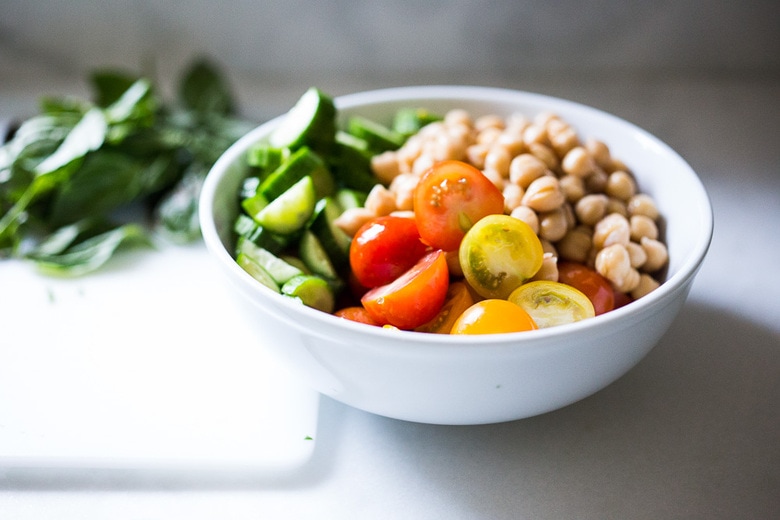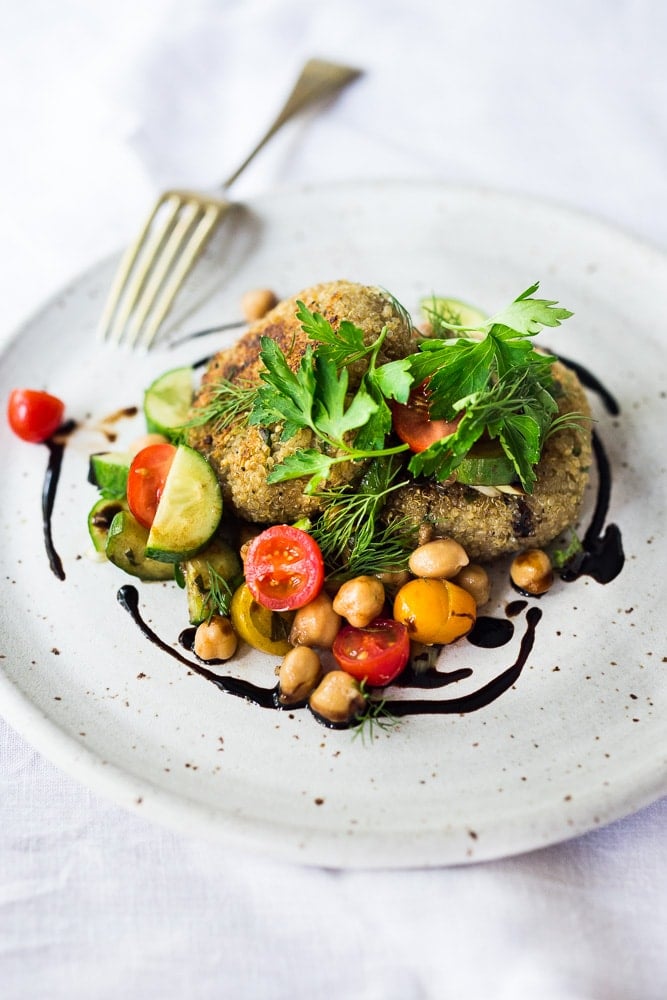 For heartier eaters feel free to add crumbled
goat cheese
– super tasty. Garnish with a balsamic glaze.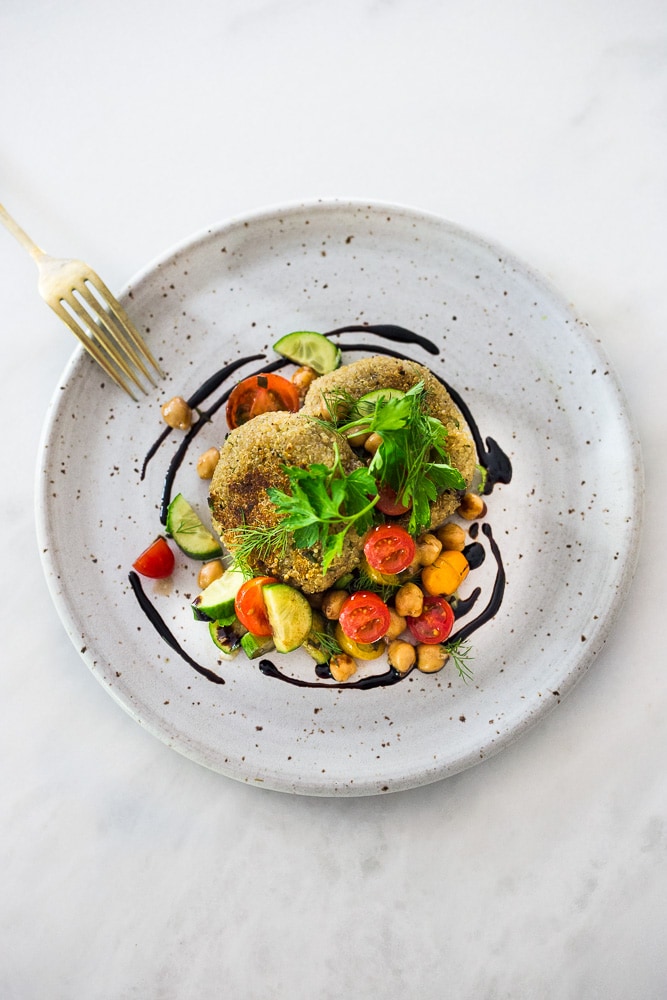 Crispy Vegan Quinoa Cakes with Tomato Chickpea Relish- a delicious, healthy flavorful vegan dinner that is gluten-free.
Print
Crispy Vegan Quinoa Cakes with Tomato Chickpea Relish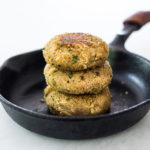 Crispy Vegan Quinoa Cakes with Tomato Chickpea Relish- a delicious, healthy, flavorful plant-based vegan dinner that is gluten-free.
Author: Sylvia Fountaine
Prep Time:

45

Cook Time:

30

Total Time:

1 hour 15 minutes

Yield:

4

1

x
Category:

vegan main

Method:

stove top

Cuisine:

mediterranean
Scale
Ingredients
Quinoa Cakes ( use white quinoa!!!) 
2

 cups  water

1 cup

rinsed, white quinoa ( rinse and drain!!! DON'T SKIP)

2 teaspoon

s olive oil

1 tsp

cumin

1 teaspoon

granulated garlic powder

1/2 tsp

kosher salt

1/2 teaspoon

herbs de Provence  ( or Italian dried herbs)
——
zest from one small lemon (optional)

1/4 cup

chopped Italian parsley (optional)
Fresh Tomato Chickpea Relish
2 cup

s cherry or grape tomatoes, sliced in half

1 cup

cucumber, diced

1/4 cup

fresh basil ( or flat-leaf parsley, dill,  or mint, or a combo!) chopped

1/4

 cup chopped scallions  (or finely sliced red onion)

1 ½

 cup cooked chickpeas (

1

can, drained and rinsed)

3

Tbs olive oil

3

Tbs balsamic vinegar

1/4 tsp

salt… more to taste

1

small minced garlic clove (optional)
Optional
Garnishes: Crumbled
Goat Cheese
, balsamic glaze
Instructions
In a medium pot, over high heat, add rinsed quinoa, salt, garlic powder, cumin, dried herbs, olive oil, and stir. Brint to a roiling boil. Cover, lower heat to low,  and simmer gently for 20 minutes.  Set timer.
While the quinoa is cooking make the Tomato Chickpea relish, stirring all ingredients together in a medium bowl.
Check quinoa- making sure all the water is gone. If not, continue cooking covered, 5 more minutes, and until

steam holes appear

(this usually takes me a total of 25 minutes) and quinoa has soaked up

all

the water and looks fairly dry.)  It is important that quinoa is dry-ish and not watery. Be patient here, all stoves are different. 
Stir the quinoa with a fork,

repeatedly

, for a minute, until you begin to see the individual grains start to break apart. This may seem strange, but keep stirring. Eventually, after a full minute of stirring, the grains will break apart and begin to clump. Remove from stove, let cool down in the pot to where it's cool enough to handle with your hands, about 15 minutes.  Stir in the lemon zest and fresh parsley if you like.
Using wet hands, shape into 4 balls, the size of a tennis ball. Place on a plate or sheet pan. Using wet hands press into a 1 – 1 1/2 inch thick cake (about 3-4 inches wide), smoothing any cracks on the edges, making them nice and tidy. Wet hands is key. Place in the fridge for 15 minutes, or overnight. ( These will keep 3-4 days if made ahead.)  As the cakes cool they will become even more sturdy.
Pan-sear the Quinoa Cakes in a well-oiled skillet over medium heat.  You can pan-sear them without any coating, or for an extra crispy crust, dredge in rice flour or GF Panko. I often do these without any coating at all. Just be sure to not fiddle with. them- letting them develop a good crust before flipping. As then develop the crust, they will naturally release themselves from the pan. I like to use a thin metal spatula to flip ( more precise).
You can also bake these in a toaster oven ( right on the rack) or in a 400F  oven ( on a parchment-lined pan) until warmed through, about 20 minutes.
Divide among plates and top with the fresh tomato chickpea relish.  Spoon any remaining dressing over top and around the cakes.
Garnish with OPTIONAL crumbled goat cheese if you like or a balsamic glaze.
Notes
USE WHITE QUINOA. Other colors will not work.
Can be made ahead, will keep up to 4 days in the fridge.
Keywords: quinoa cakes, vegan quinoa cakes, crispy quinoa cakes, best quinoa cakes, quinoa cakes no eggs, quinoa cakes no flour, quinoa cakes no bread crumbs, gluten free quinoa cakes, gluten-free vegan quinoa cakes