Vegan, Southwest-style, Amaranth Cakes w/ lentils, kale and drizzled with a vegan chipotle aioli – a high protein meal, vegan & gluten-free!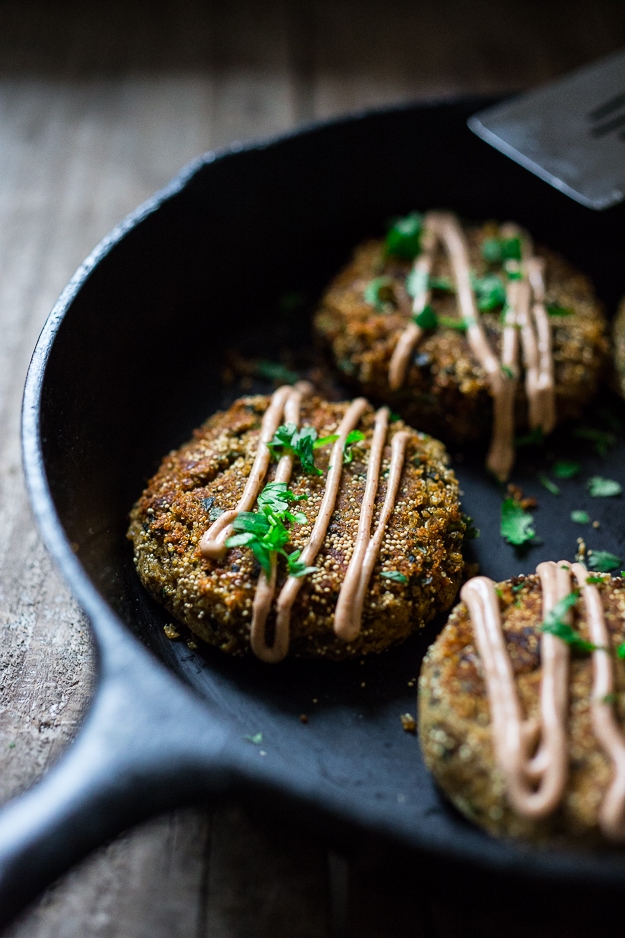 It is in the nature of things to be drawn to the very experiences that will spoil our innocence, transform our lives, and give us necessary complexity and depth.
 Thomas Moore
These protein-packed cakes are made with an ancient gluten-free grain called Amaranth. Lentils and kale give heft and nutrients, while the vegan chipotle aioli, drizzled over top, gives them a flavorful smoky spicy tangy boost of flavor. Not only are these healthy guys gluten-free, they are also vegan and low in fat.
The Amaranth Cakes can also be baked, although I do prefer the crust that develops from searing in
cast iron skillet
on the stove. Serve with lime and cilantro and a fresh zesty Mexican style cabbage slaw or leafy green salad, and you have a healthy and satisfying, protein-rich meal.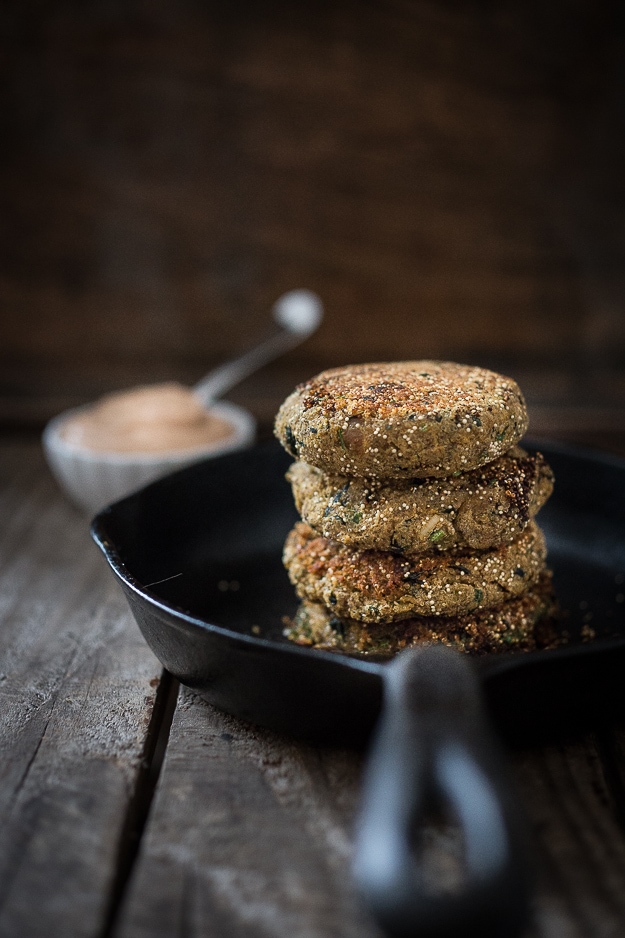 What is amaranth?
Amaranth, if unfamiliar, is an ancient grain originating on the American continent. It was a staple food of the Aztecs, Incas and Mayas, thought to have been domesticated 6000 years ago. Another gluten-free and delicious wheat alternative for those with celiac or gluten intolerance.
In many South American countries, it is sold as street food, often popped like popcorn. In India, Mexico, Nepal, and Peru, it's a traditional ingredient for breakfast porridge. In Mexico, a favorite treat is dulce de alegria -"alegria" is the Spanish word for joy – a sweet confection made from popped amaranth mixed with sugar or honey, very similar to our rice crispy treats.
Health Benefits of Amaranth:
Amaranth is a complete protein—containing all the essential amino acids, including lysine, which is lacking in most grains. High in fiber and a good source of magnesium and iron, it can be found at most grocery stores, health food stores and ethnic markets. Bob's Red Mill is a good source for it.
How to cook Amaranth:
Because of its small size, cooking amaranth is very fast and easy – gently boil like you would pasta, in water for 15 minutes, then drain. The cooked grains hold their shape and can be added to veggie burgers, patties, or your morning porridge for a boost of nutrition. Or for fun, try popping Amaranth, like you would popcorn on the stovetop – the little popped grains look like miniature popcorn.
In this recipe for Southwest Amaranth Lentil Patties, it adds a nutty flavor and pleasant crunchy texture.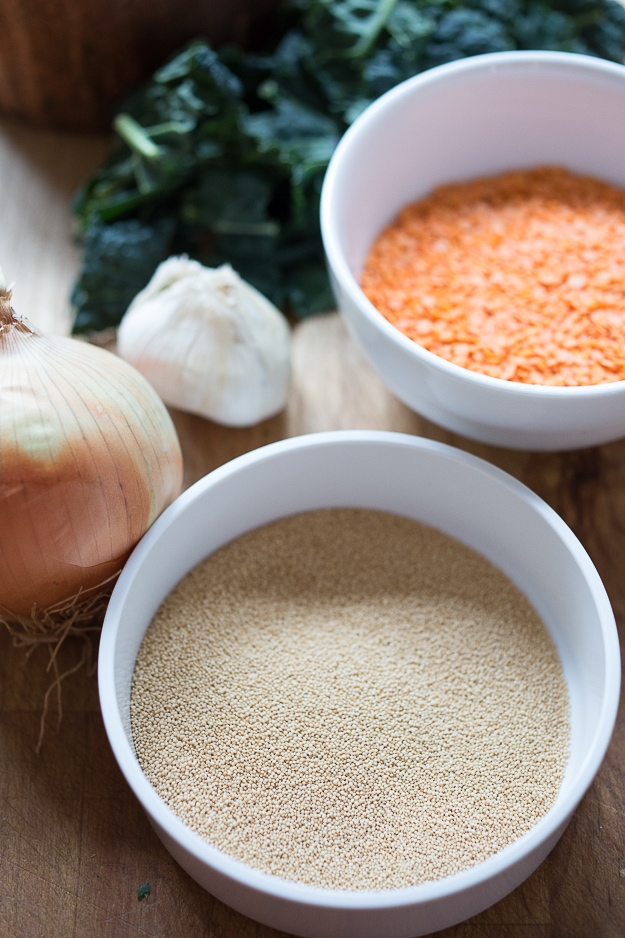 For this recipe, I used split 
red lentils
, because they seem to cook at the same fast rate as the Amaranth.
If using different lentils, cook them separately, then combine.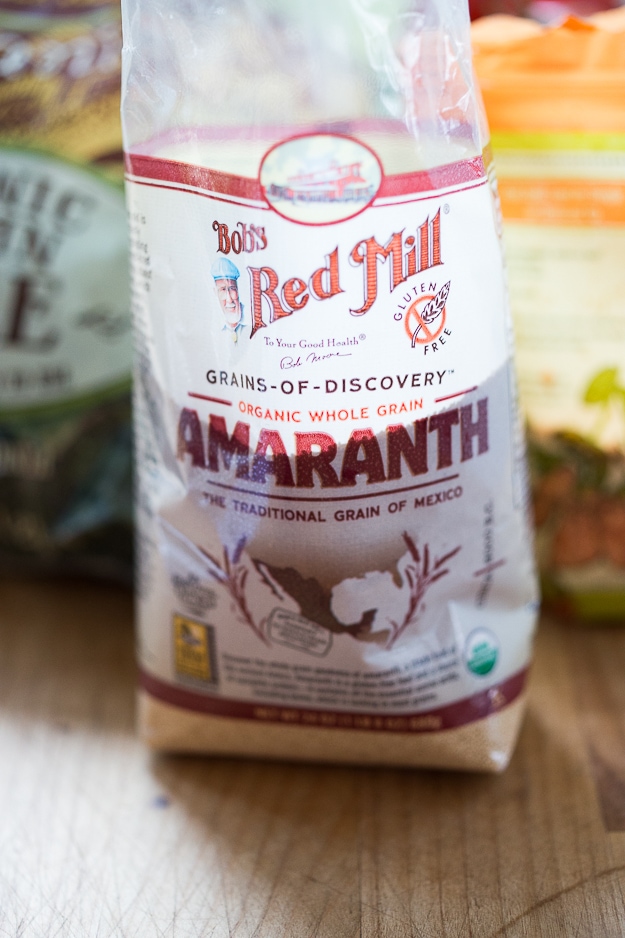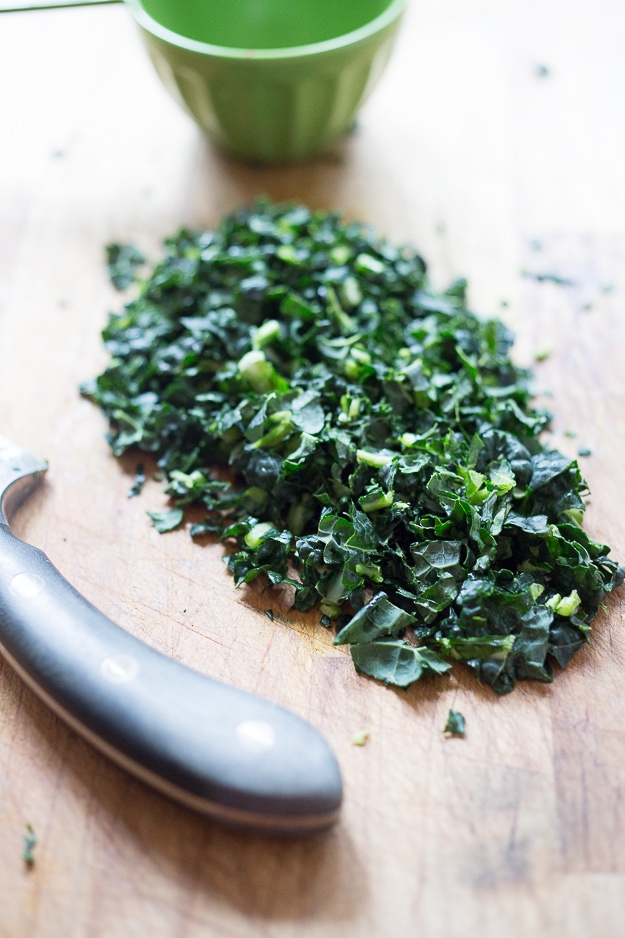 I like to pack these guys with healthy greens, onion and garlic.
Gently sear in a skillet to get a nice crust.  Seared, the crust allows them to hold their form a little better, although I have baked them.
Drizzle with the vegan chipotle aioli- which adds quite a bit of flavor and zest. Don't leave this off.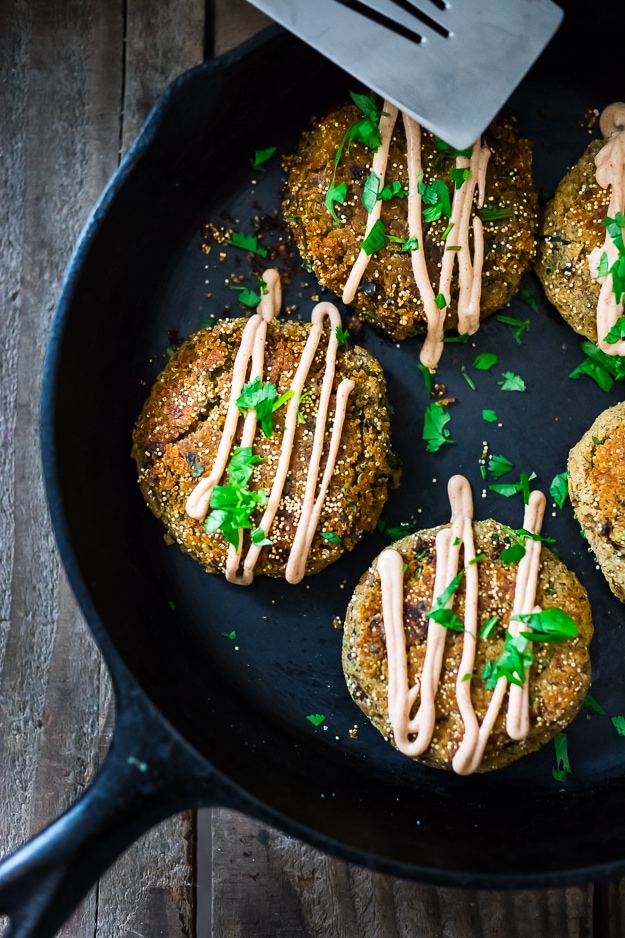 I hope you enjoy this recipe for Amaranth Cakes! Recipe Adapted from:http://gourmandelle.com/amaranth-patties-chiftelute-de-amaran
More recipes you may like:
Print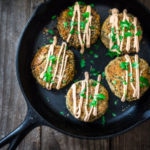 Amaranth Cakes w/ Lentils, Kale & Vegan Chipotle Aioli
Prep Time:

20 mins

Cook Time:

45 mins

Total Time:

1 hour 5 mins

Yield:

4

-6

1

x

Category:

Main, vegan

Method:

stovetop

Cuisine:

Vagan

Diet:

Vegan
---
Description
Vegan,  Amaranth Lentil Cakes with vegan Chipotle "aioli"- a flavorful hearty cake that is full of flavor and nutrients.
---
1

cup

split red lentils

1

cup

amaranth

1 tablespoon

olive oil

1

onion,finely diced

3

cloves garlic, chopped

2

cups

finely chopped kale
1 teaspoon cumin
1 teaspoon chili powder
2 tablespoons ground flax seed (this is the binding agent, so don't leave out)

1/2

cup

chopped cilantro

1/2 teaspoon

salt plus more to taste

1/2 teaspoon

cracked pepper
oil for frying
Chipotle "aioli"
---
Instructions
Add split red lentils and amaranth to a pot. Cover with water and boil for 15 minutes, until tender. Place in a fine mesh strainer and let drain extra well, pressing liquid out. While draining…
In a large skillet, saute onion in oil over medium high heat for two minutes. Turn heat down to medium. Add garlic. Saute 3-4 minutes. Add finely chopped kale, spices and salt.
Add onion-kale mixture to lentil amaranth mixture in big bowl. Stir to combine well. Add ground flax seeds and fold in fresh cilantro. Let cool.
Make Aioli. Place all Aioli ingredients in a food processor and blend until very smooth, scraping down sides. Place in bowl and set aside.
When cool enough to handle, form 2-3 inch patties and lightly coated in flour and dry amaranth seeds. Refrigerate 20 minutes.
Heat 1 -2 tablespoons oil in a non-stick frying pan over medium heat.
Sear patties a few minutes on each side, until golden brown and place in a warm oven until heated all the way through.
Serve with the chipotle aioli and fresh sprigs of cilantro.
---
Nutrition
Serving Size:

1 patty with sauce

Calories:

425

Sugar:

3 g

Sodium:

618.3 mg

Fat:

13.6 g

Saturated Fat:

2 g

Carbohydrates:

59.3 g

Fiber:

9.6 g

Protein:

20.7 g

Cholesterol:

0 mg
Keywords: amaranth cake, vegan lentil cake, lentil amaranth cake