Print
Amaranth Cakes w/ Lentils, Kale & Chipotle Aioli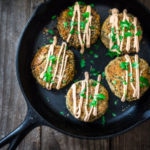 Prep Time:

20 mins

Cook Time:

45 mins

Total Time:

1 hour 5 mins

Yield:

4-6

Category:

Main

Cuisine:

Vagan
Ingredients
• 1 cup red lentils
• 1 cup amaranth
• 1 tablespoon olive oil
• 1 onion,finely diced
• 3 cloves garlic, chopped
• 2 cups finely chopped kale
• 1 teaspoon cumin
• 1 teaspoon chili powder
• 2 tablespoons ground flax seed (this is the binding agent, so don't leave out)
• 1/2 cup chopped cilantro
• 1/2 teaspoon salt plus more to taste
• 1/2 teaspoon cracked pepper
• oil for frying
Chipotle "aioli"
• 1 package silken tofu
• 1/2 -1 teaspoon chipotle powder
• 1 teaspoon coriander
• 1 teaspoon smoked paprika
• 3/4 teaspoon salt
• juice of half a lime
• 1 garlic clove
Instructions
Add red lentils and amaranth to a pot. Cover with water and boil for 15 minutes. Place in a fine mesh strainer and let drain extra well, pressing liquid out. While draining…
In a large skillet, saute onion in oil over medium high heat for two minutes. Turn heat down to medium. Add garlic. Saute 3-4 minutes. Add finely chopped kale, spices and salt.
Add onion-kale mixture to lentil amaranth mixture in big bowl. Stir to combine well. Add ground flax seeds and fold in fresh cilantro. Let cool.
Make Aioli. Place all Aioli ingredients in a food processor and blend until very smooth, scraping down sides. Place in bowl and set aside.
When cool enough to handle, form 2-3 inch patties and lightly coated in flour and dry amaranth seeds. Refrigerate 20 minutes.
Heat 1 -2 tablespoons oil in a non-stick frying pan over medium heat.
Sear patties a few minutes on each side, until golden brown and place in a warm oven until heated all the way through.
Serve with the chipotle aioli and fresh sprigs of cilantro.